Popular Greek Islands and Athens for
1st Time Travelers to Greece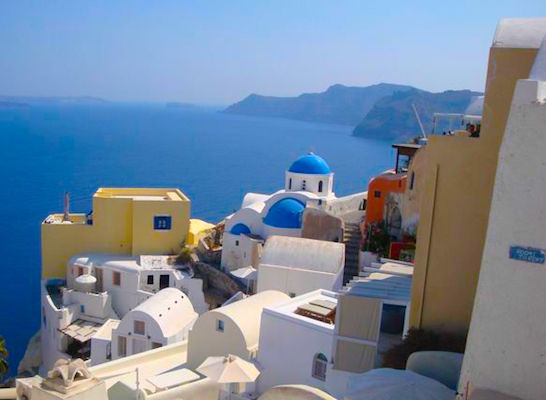 Even if you have never visited Greece before, most likely you have a few ideas of what you want to see, from what you have read or what friends who have visited Greece have done. You probably want to see Santorini because everybody who goes to Greece visits Santorini and every travel agent who books Greece tells their clients to visit Santorini, so I am not going to tell you differently. That doesn't mean you have to though. If you don't like being around tourists then you may want to see how spectacular Santorini is when the tourists are gone, say from November to the beginning of May. Or you may want to go to the Less Known Greek Islands Itinerary and start there instead. But I am assuming you want to visit Santorini and probably Mykonos too. Those are the 2 islands everybody knows. You might also want to visit one or more of these islands: Paros, Naxos, Rhodes, Crete. They are popular too and in the summer it is relatively easy to get between them though sometimes Rhodes can be tricky because it is so far away. My recommendation, assuming Santorini and Mykonos are on the top of your list is splitting 7 days between the two islands.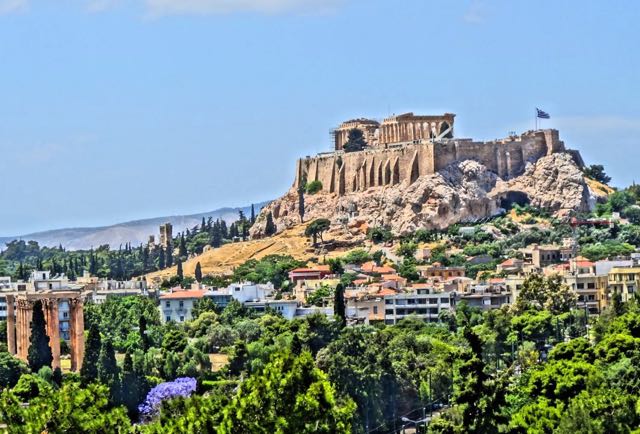 You will want 2 or 3 nights in Athens to see the Acropolis and because you will most likely have to spend your first and last nights in the city. If you want to visit Delphi or Nafplio-Mycenae-Epidavros you will need to add another night. If you want to see the monasteries of Meteora you will need another night for that as well. Of course for the sake of simplicity you can just tell yourself you will come back to see these places next year and just focus on the islands which is what most people do anyway. For Athens you want a hotel in or near The Plaka so you can walk everywhere and be close to the metro too. Plus if you are going to do a mainland excursion or even a day trip, the tour buses actually pick you up if you are at a central Athens hotel. But another reason is because most of the places I write about in my Athens Restaurant page are in the historical center. If you read my Athens Hotels page it tells you where to stay in the city but if you are booking with one of the Greek travel agents on my site that is where you will be staying so you don't have to worry about it.
So assuming you were coming to Greece for 10 days and doing a day trip on the mainland a sample itinerary would look like: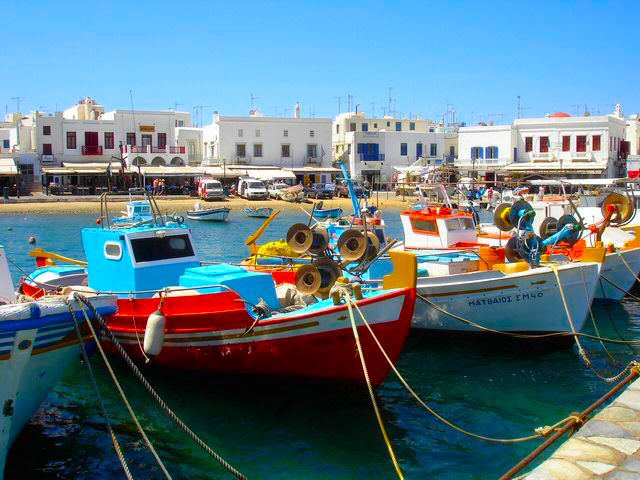 Day 1: Arrive in Athens. Visit the Acropolis in the late afternoon, walk around the Plaka.
Day 2: Day-trip to Delphi or Nafplio. (You need an overnight to see Meteora)
Day 3: Early morning ferry or flight to Santorini
Day 4: Santorini
Day 5: Santorini
Day 6: Ferry to Mykonos
Day 7: Excursion to Delos. Return that afternoon to Mykonos
Day 8: Mykonos
Day 9: Return to Athens
Day 10: Fly Home
Simple. Right? I have not gone into too much detail about what you will be doing on the islands with the exception of going to Delos. That kind of stuff you can decide on your own or your travel agent may have some cool suggested excursions. The easy way to turn this itinerary into your Greek Holiday reality is with my Create-an-itinerary form since once you have an idea of what you want to see and how much you can afford you can just check the boxes and put together a plan with the help of a an omniscient travel agent. Fill it out now if you like. You are under no obligation to book. You can also just copy and paste the above itinerary on to an e-mail and send it to a Greek travel agent and they will love you because probably this is what they would suggest for you.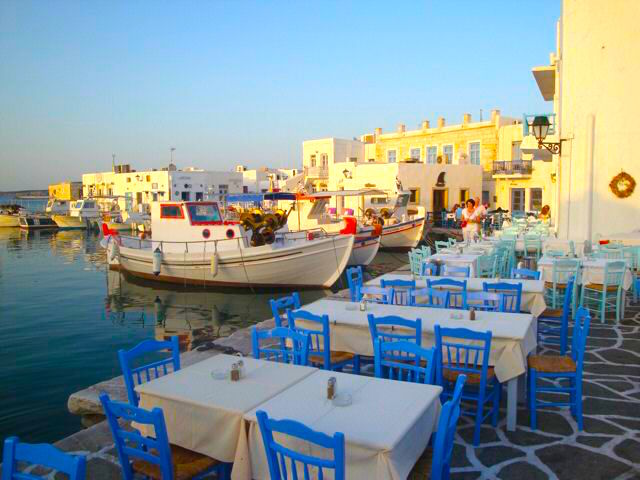 You can also substitute Santorini and/or Mykonos for any of the other islands you would rather visit if you think seeing two touristy islands may be one or two too many. If you have more time you can add more islands and you will probably want 2 or 3 days on each. Or do Santorini with one of the other nearby islands. Paros and Naxos are on the same ferry route as Santorini which means you can island hop any time of the year. Sifnos is a little trickier but if you want to go there Aegean Thesaurus can get you there from just about any island. If you are one of those people who wants to see all the most popular islands in one trip I suggest doing Fantasy Travel's Mykonos-Santorini-Crete-Rhodes Island Hopping Program and let them deal with getting you between them.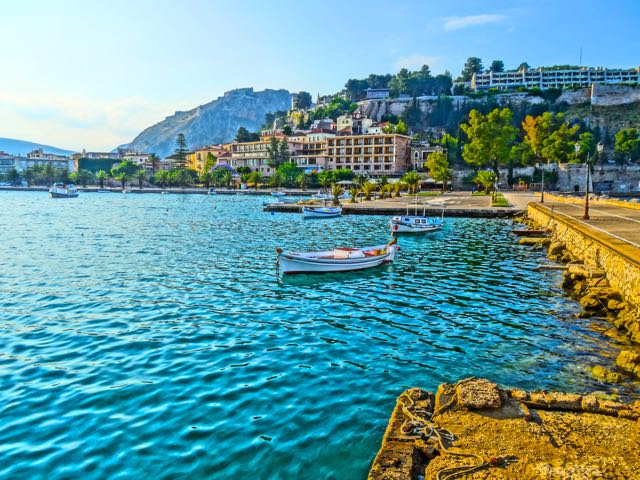 So now that you are probably even more confused than when you started you may want to disregard this whole page and just do Fantasy Travel's Mykonos-Santorini Program and then add 3 Day Classical Tour or any of their many mainland tours which can be anywhere from half a day to 7 days. Or you can also do mainland tours with George the Famous Taxi Driver if you want more flexibility and personalized service.
Another option is to go to the Fantasy Travel or Dolphin Hellas websites and choose from the itineraries they offer that suit your plans. Many people look at these pages and think they are tours. They are not. They are just suggested itineraries that offer value because they have been set up with hotels beforehand. Working with an agency in Greece is the most efficient way to make use of your time and in the end saves you money because there are fewer chances of screw-ups since they are professionals and plan people's Greece trips every day.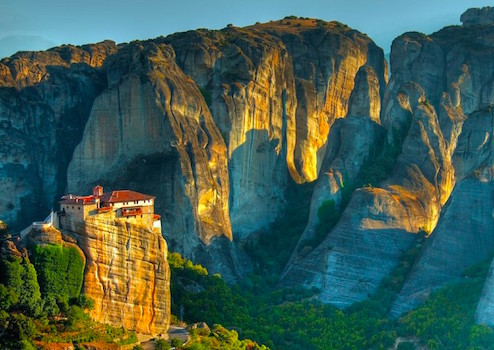 Some travelers might do the mainland part after the islands. Other travelers with more time might do a 5-Day Classical Tour that hits all the big spots (Myceneae, Corinth, Epidavros, Nafplion, Olympia, Delphi, Meteora) or the 7 Day Grand Tour which is even better. If you have more time you can add another island and if you have less time you take one off. Some people choose to do a 3, 4 or 7 day cruise with or without an island. Personally I think it is better to spend a few days on an island than a few hours but some people like cruises. Fantasy Travel actually has a 12 day itinerary that begins in Athens, then you go to Mykonos for 3 days and from there you take a cruise that goes to the islands and Turkey and ends in Santorini, where you get off and stay for 3 days before going back to Athens. It is really the best of both worlds because you spend a good period of time on the two most popular islands and you also spend a day on several others. See Fantasy Travel's Smart 7
Hopefully you have found this page helpful. If not just contact me and tell me what kind of a person you are and I will tell you what to do. If you want to book on your own you can do so using Matt's Hotels of Greece page.