If they were to vote on Kamares most friendly couple, Stavros and Sarah Kaloyeros would win. He's from Sifnos and she's British. Together they will make your stay one you will never forget. The Hotel Stavros is right on the Kamares waterfront with balconies that give a view of the entire bay. Downstairs is a cafe that serves breakfast in the morning, sandwiches and Ice-cream all day, and ouzo and beer anytime. There is an un-official information center in the hotel lobby where Stavros will tell you when the ferries arrive and depart, how to make connections to other islands and even book a room for when you get there. He also rents cars and jeeps, the best way to see the island.
The outstanding attractions of Sifnos include terraced olive groves, beautiful sandy beaches and traditional Cycladic architecture. The island is famous for its high standard of cuisine. the quality of its locally made ceramics and its 365 churches. Sifnos is also a walkers paradise
The port of Kamares is impressively positioned between two mountain ranges. Here you find local potters workshops, pretty waterside restaurants and a friendly relaxing atmosphere. From your balcony you can watch the sunset on the beach and the ships sail in and out of the harbor.

---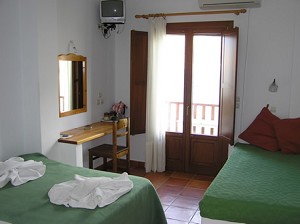 The Hotel Stavros is situated in the village of Kamares and was one of the first hotels in Sifnos. It was built by Stavros' Father and has been in the family for more than 45 years.
Each room contains a private bathroom, sea view balcony, refrigerator, air-conditioning, tea/coffee making facilities, TV, safe and hair dryer. The Hotel Stavros is positioned 10 metres from the beach and has stunning views over the bay of Kamares and the surrounding mountains.
The Hotel Stavros offers a number of different room combinations including a two bed roomed family flat with fully equipped kitchen which can accommodate up to 7 people. There are also inter-connecting rooms and family rooms accommodating up to 5 people.
The reception of the Hotel Stavros provides free internet access and Wifi for guests, car rental, book exchange and general information. For Bookings and more information click here: