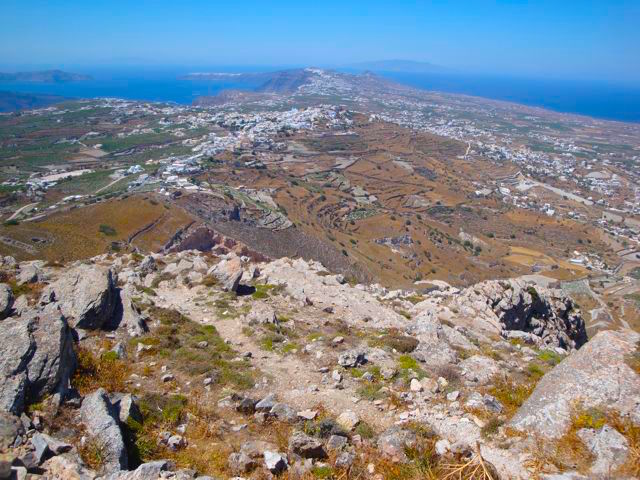 There are a number of inland towns and these are mostly agricultural and light industrial, or at least they were until the tourist boom hit Santorini. Though they don't really fit the classification of 'unspoiled villages' they are as unspoiled as you will find in Santorini and probably for most tourists as unspoiled a place they will see in their lifetime. The town of Pyrgos is in a heavy wine producing area and there are several wineries nearby including Santos which sits below the village, on the caldera, and Hatzidakis, a small winery that is on the road to the church of Profitti Ilias where you will also find the most spectacular view of the island itself, not just the caldera. Pyrgos is a typical white Santorini-style Cycladic village with a maze of narrow streets with steps that lead up to a Venetian Castle (Kastro) which until the earthquake in the mid-20th century was inhabited by aproximately seventy families. On the way up you will pass two churches, one from the 10th century called the Theotokaki of Koimisis and the larger Panagia of Kasteli which was built in the 16th century.
Look for signs to Penelope's Cafe and you will have found one of the best hole-in-the-wall restaurants on the island, a secret I am only willing to divulge because we went there and it was empty and had perhaps the best home-style meal of our visit. There are a couple more tavernas in the square which probably don't need any advertising since most tourists who stop in Pyrgos go there for at least a beer or a soda. Next door to the smaller one, a cafe actually is one of the best and most interesting traditional food shops on Santorini with the simple yet efficient name of Santorini Products. Inside there are shelves full of Santorini wines from all the wineries, their local Canava ouzo, a shelf of raki-tsipuro or tsikoudia in lethal looking unmarked bottles, and even some Santorini micro-brew beer. You will also find jars full of sundried tomatoes, capers, traditional goat cheese in vegetable oil, the famous Santo canned Santorini tomatoes, as well as fresh Santorini tomatoes some grown in pots right outside. There are fresh eggs, local herbs and spices and even Santorini fava, eggplant and tomato seeds packaged to take home with you. The store is also full of local traditional artwork that is far more interesting than anything you will find in the tourist shops of Fira and Oia, all done by the owner A. Karamolegos who is happy to answer your questions about the products in the store or about Santorini in general.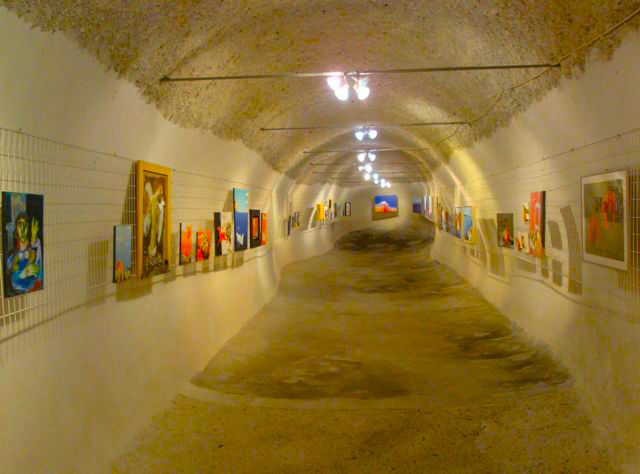 On the northeast side of the mountain that Pirgos is on and really appearing to be the same town is Exogonia which is known for a few important reasons. There once were as many as ten wineries in the village which were destroyed in the earthquake, their ruins scattered around the village. But there are three remaining wineries which include Roussos which has been open since 1846, Argiros Winery which is probably the highest rated wine on the island by American and European wine lovers and publications, and my favorite Art Space Winery which not only makes delicious and inexpensive wines but the underground caves and cisterns have been turned into something of a wine museum and art gallery and is one of the places that should be included on any visitors list of things to do, especially if you are a wine lover since he produces in such small quantities you will be lucky to find it anywhere else on the island. One place you will find it though it in the excellent Metaxi Mas, a Santorini-Cretan restaurant which will probably be the best food you will eat on the island, if not a good portion of your life, also in Exogonia.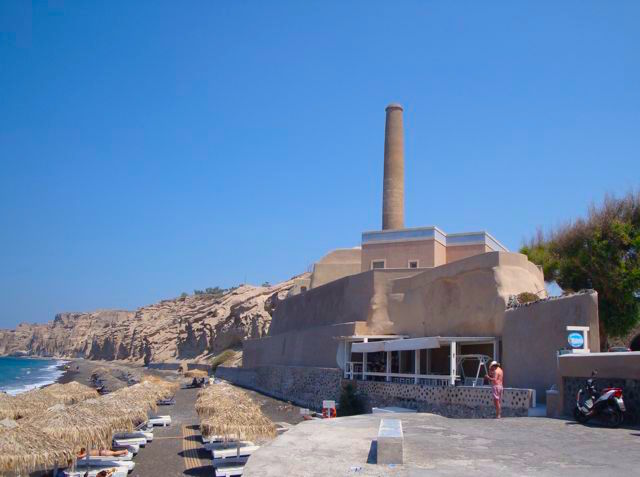 Other traditional villages include Megalohori, an agricultural village that is also home to Gavalas Winery in the center of town and Boutari Winery on the outskirts. The largest village in Santorini is Emporio, on the road to Perissa, a traditional village whose construction is centered around two Venetian castles and the 16th Century Panagia Mesani church. There are eight windmills from the early 19th century on the hill of Gavrillos, which also has Byzantine ruins. If you follow the signs to Vlichada you will pass some Hellenistic tombs carved into a mountain and eventually end up on one of the most impressive beaches where there is the restored D. Nomikos Tomato Factory now a museum, offering its visitors a journey back to the industrial past of Santorini and the famous tomatoes, along with musical and artistic events. It is open from 10am to 4pm every day except Mondays. There are a couple tavernas, one on the sea and two above it which overlook Santorini's marina where the Catamaran sailboat tours leave from. Eat at Psaraki. It is one of if not the best fish restaurant on the island.
Unless you rent a car exploring Santorini will be difficult on your own. If you are arriving for the day on a cruise ship and want to see more than Fira, Oia and the ruins of Akrotiri then I suggest you contact Dimitris at Ocean Wave Tours and he can show you the island, and probably after reading this you will have a pretty good idea of what you want to see. For more detail on these and other villages there is a Santorini Guidebook which comes out every year that fits in your pocket, as well as Santorini Today, both of which are very informative and can be found in various locations around the island including in your hotel.