Hotels, Villas and Travel Agents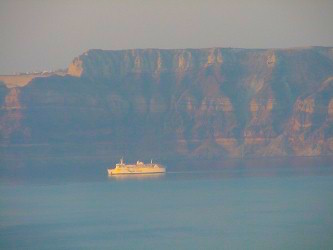 If you use my Create-an-itinerary form you can put together a custom program which includes Santorini and any other islands you like, get it tweaked with the help of a reliable travel agency and get a price for it. It's free and it is really helpful in putting together a trip. Working with a good Greek travel agency will save you a lot of worry because they will take care of EVERYTHING.
For Hotels in Santorini and Island combinations see Fantasy Travel, Dolphin Hellas Travel or Aegean Thesaurus Travel (all excellent agencies, reliable and English-speaking Staff). These agencies can organize your ferries, flights, transportation from the ports and airports and answer all your questions. They can also organize car-rentals on Santorini.
For a listing and descriptions of hotels in Santorini recommended by me and the agencies on my website see www.hotelsofgreece.com or to search for hotels by catagory, price, location and book without using a travel agency see Matt's Santorini Hotels Search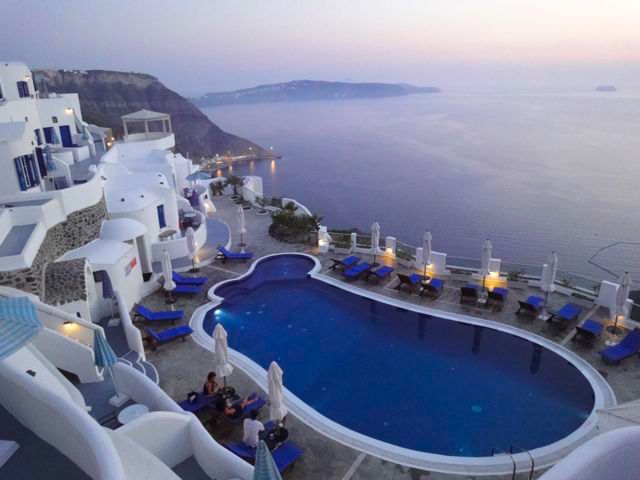 The Volcano View Villas are on the rim of Santorini's famous volcano, with three large swimming pools, restaurant, bar, AC in all rooms and a view so amazing you may never leave the premises. Great rates for a hotel of this quality and highly recommended by everyone who has stayed there.
For Honeymooners or people looking for something a little more special the Volcano View VIP Villas are five stylish, individually designed luxury villas, each with its private swimming pool and a balcony with a breath-taking view of the Aegean.

New Economical Packages: Fantasy Travel has put together a number of packages that offer quality accomodation for economical prices. Most packages that seem too good to be true are actually not as good as they seem, often using hotels that are in areas you really don't want to stay in, to keep the price down. But Fantasy's economy packages feature hotels in and around the Plaka in Athens and are all good quality hotels. I recommend Fantasy Travel's program The Pursuit of Pleasure which is 12 Days and 11 nights in Athens, Mykonos and Santorini including hotels, ferries, transfers, tours, admission to archaeological sites and breakfast starting at 940 euros per person. You can't beat the price for these hotels and this itinerary. Or their 8 day package that includes a 4-day cruise plus Athens-Delphi-Meteora which starts at 595 euros per person. Also have a look at Fantasy Travel's Budget Greece Program which features Santorini and Mykonos. For these and more visit Fantasy Travel's Special Offers Page
Far from the Maddening Crowd: Fantasy Travel has put together a 10-Day Athens-Mykonos-Santorini package which includes a tour of Athens and all transfers and ferry tickets. The package starts at 790 euros per person. What makes it unique is for the Athens part of the trip you will be staying by the beach in Faliron, just 20 minutes from downtown by taxi or 30 minutes by bus or coastal tram. For more information see www.fantasytravelofgreece.com/farfromcrowds.html