Cruises that Stop in Santorini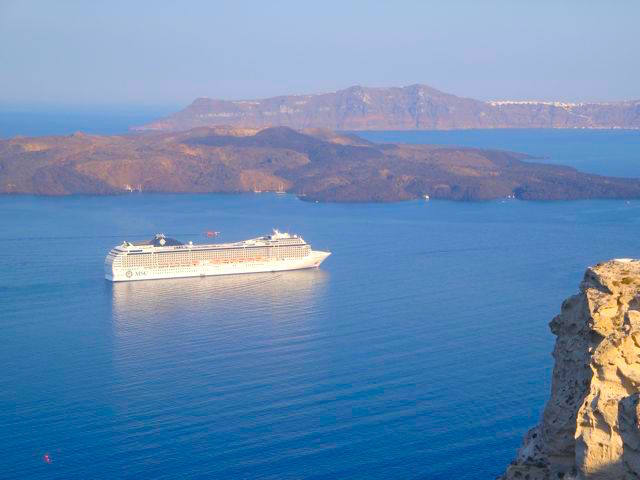 A cruise and spend a few days on Santorini and Mykonos? You can have it both ways. Fantasy Travel's Smart Program #7 allows you to board a cruise ship in Mykonos, sail the islands for 5 days and get off in Santorini and stay there for 3 nights.
For Cruises that include Santorini see Fantasy Travel at www.fantasytravelofgreece.com and Dolphin Hellas at www.greecetravel.com/dolphinhellas and click on cruises.
Fantasy Travel has designed several vacation programs with a combination of different hotel categories in order to create the best value-for-money itinerary, without compromising on the quality, comfort and all with exquisite views! You can increase or reduce the nights of your stay at some of the destinations. See Fantasy Travel's Special Offers page.
Sailboat Cruises and Tours around Santorini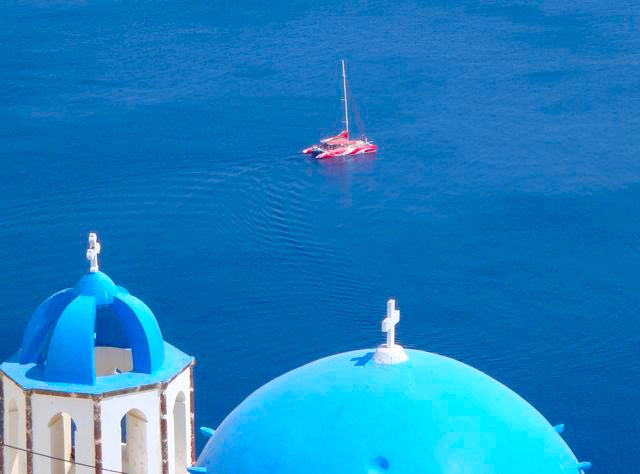 There are several companies doing charters around the caldera of Santorini on catamarans. Most of them include gourmet meals, swimming in isolated coves, and a spectacular view of the island. You can take half-day cruise with Fantasy Travel's Santorini Sailing Cruise
Many cruise ship travelers opt for private tours with taxis and buses like Ocean Wave Tours who have received many raving reviews from cruise travelers to Santorini instead of taking the tours which are offered by the cruise companies because they can share the cost rather than pay per person. You can also find tours through any Greek travel agency.
You can visit archaeological sites and museums with Eugenia Tours, Insight Tours and Ocean Wave Tours and also don't forget Santorini Food Tours and Santorini Fishing Tours
Santorini Today: This monthly info-magazine is free and can be found in many hotels in Santorini. It contains a color map of the island, tourist information, museums, art galleries, important phone numbers (like hospitals, police, emergency road service, port authority, etc), embassies and consulates, transportation, shopping, dining and nightlife. If they don't have it at your hotel ask for it. There is another one available in Athens called Athens Today.