The island of Nisyros is located south of Kos and north of Tilos and Rhodes, a few miles off the Turkish coast. If you make a line from Methana peninsula, through Milos and Santorini you will be following the tectonic plate that is responsible for the rumblings, earthquakes, and the hot springs of these volcanic islands. That same line continues on to Nisyros which until 1422 was a mountain in the sea. That is when the top of the island blew off, leaving a huge volcanic caldera, like Santorini, only not filled with seawater.
Greek Mythology tells us of the battle between Poseidon and the giant Polybotes. Poseidon hurled a huge stone that landed on the giant, crushing him, but not killing him. The earthquakes and accompanying moans, groans, eruptions and sulfur smells come from Polybotes trapped beneath the rock, trying to escape. Of course we in the enlightened modern age know that this is all mythological nonsense and there is a scientific explanation for this, most likely a secret underground city of gnomes and elves working in factories.
Being a volcanic island, Nisyros is rich in minerals and full of greenery as well as some unique plants and flowers and until recently was totally self-sufficient, the food grown on the island being better and healthier than anything they could import. It is a unique island of black rocks, white houses, a few beaches, and like other islands of the Dodecanese chain, medieval castles, or what is left of them, built by the Knights of Saint John. After the island fell to the Ottoman Turks it became a part of Italy in 1911 and officially a part of Greece in 1947 with the other Dodecanese islands. On the small island of Giali in the north there is a large perlite and pumice mining operation. But the other main business of the island is the volcano and the visitors who come to see it from nearby islands for the day or those who stay on the island for several days, and there are a number of restaurants, shops, hotels and rooms to rent.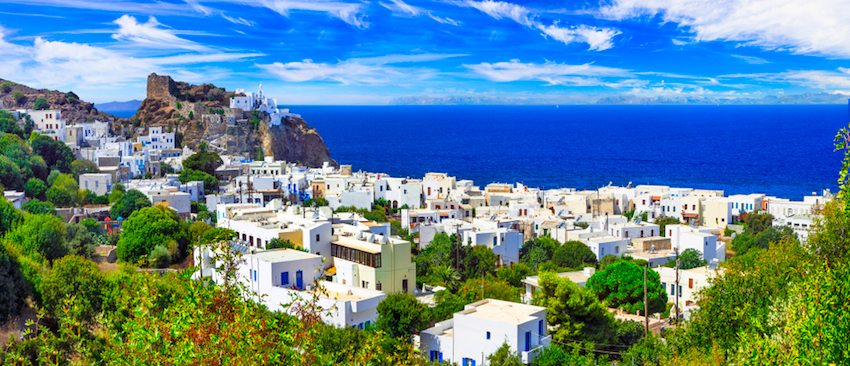 Mandraki by Leoks
Mandraki
The port and the capital of the island, Mandraki is located in the north and sits on the sea below the Monastery of the Panagia Spilianis, which is located within the walls of the 14th century Castle of the Knights of Saint John, with much of it built into a cave. It is actually two churches; Kimisi tis Theotokou (the Assumption) and Agios Charalambos (Saint Charalambos).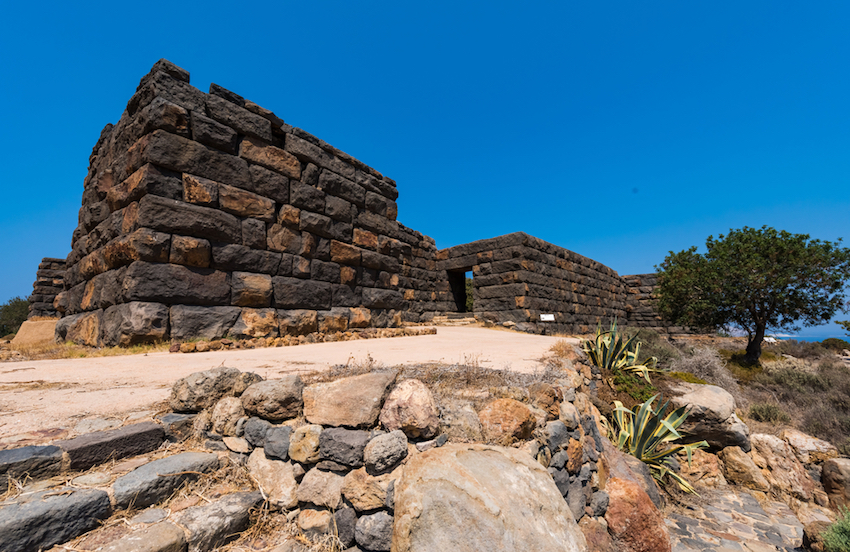 Paliokastro By George Papapostolou
Also on the slope of the same hill is Paliokastro, the ancient city from the 8th century bc which includes the impressive 4th century walls which are basically intact.
The town itself is mostly older two story buildings, with everything a community of 1000 year round inhabitants would need, plus many businesses geared for the summer visitors, many who are Greeks from the mainland and other countries who have their roots on Nisyros. The island is not besieged by tourists like some of the other Dodecanese Islands but there are enough to keep it entertaining in the summer and there are plenty of tavernas, ouzeries and cafes. The Archaeological Museum of Nisyros has more than you would expect to find on such a small island, though not if you consider it covers over 3000 years of history, doing it well, with excellent descriptions in English and staff who are happy to answer questions and even show you around. Very well organized, this is an essential place to visit no matter what your level of interest is in history and culture.

Mandraki By Mindaugas A.
The Port of Mandraki is most likely how you arrived here, unless you come by helicopter, and it is located east of the main part of town. It is an active little harbor with a few excursion boats and small ferries and high-speeds, some local, some connecting Nisyros to other islands, and of course the big ferries from Athens which come a couple times a week and also stop on other islands before and after. Because Nisyros is on the way to Rhodes the large ferries usually stop here between 1 and 4am so if you want to arrive at a reasonable hour you may want to make it part of a larger island-hopping trip. There are a few restaurants in the port and a couple beaches a short walk away.
If you walk east from the harbor you will come to the Iamatika Loutra, the organized hot springs spa whicb has been open for at least 100 years. It overlooks a small fishing harbor and there is a guest house and a restaurant in the complex. The guest house is nothing fancy but if you want to feel like you are staying in a spa a century or so ago with all its simplicity this would be the place to do it. But you can also just go for the baths. It is open from 7am to 11am and from 5pm to 7pm. It cost 5 euros for 20 minutes. Bring a towel and go for a swim afterwards. The hot springs are said to be effective for cases of rheumatism, arthritis, skin diseases and diseases of the circulatory system.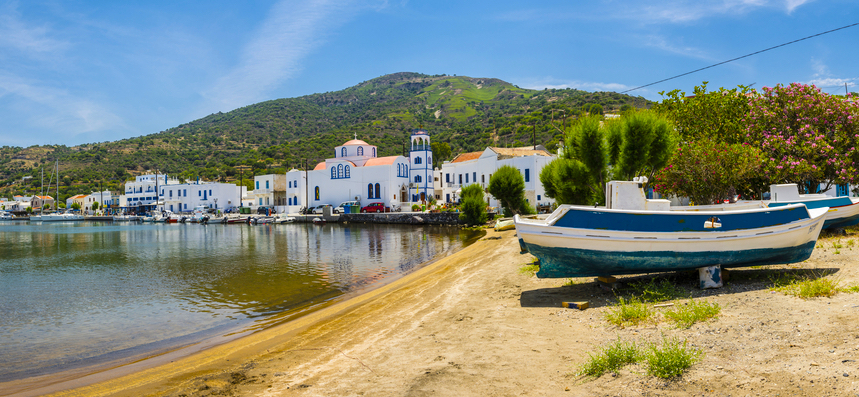 Pali By Nejdet Duzen
Going east from Mandraki you come to the village of Pali, a small fishing village with a nice beach, several tavernas, a few places to stay, and the incomplete restoration of the Ippokratis Ancient Springs, an historical spa that Andreas Pantelides, grandson of the famous doctor who built it, attempted to restore before realizing that this is a project that is beyond the means of any one mortal. If he had been successful it might have been one of the best and most famous hotel spas in Greece if not the world. Instead it is just a very large, impressive group of stone buildings in a dramatic location on the sea.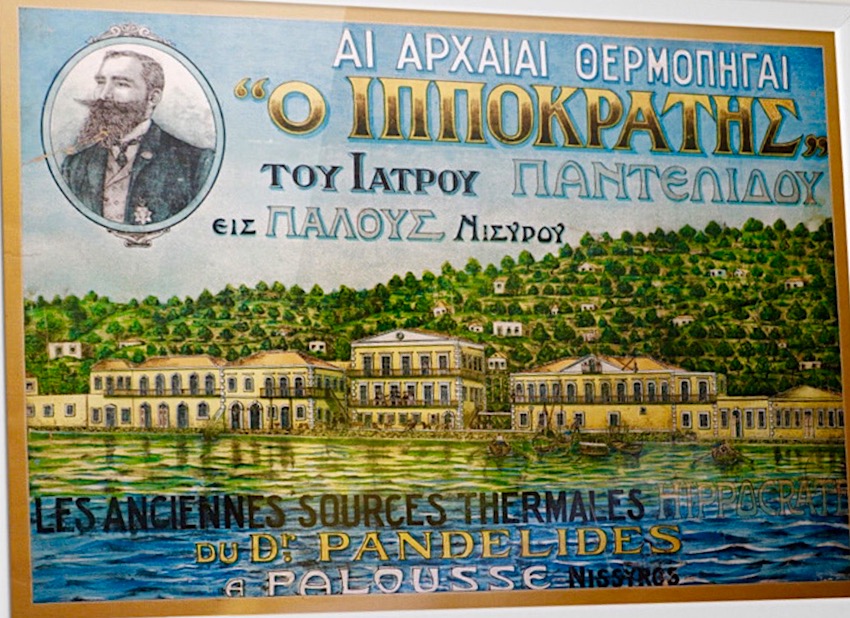 Known as the Dr. Pantoleon Pantelides Hot Springs when it was built in the late 19th century it was visited by people from all over the world. The actual springs were known since ancient times as a cure for various ailments and at one time Ippokratis himself used it as a therapy center. The Romans were here too. The baths were destroyed during the Second World War and never reopened. Currently there is a project to restore it. If you would like to get involved see Les Thermes d'Hippocrate
If you continue along the coast you will come to a series of beaches starting with Katsouni and ending with Pachi Ammos, but more on that later.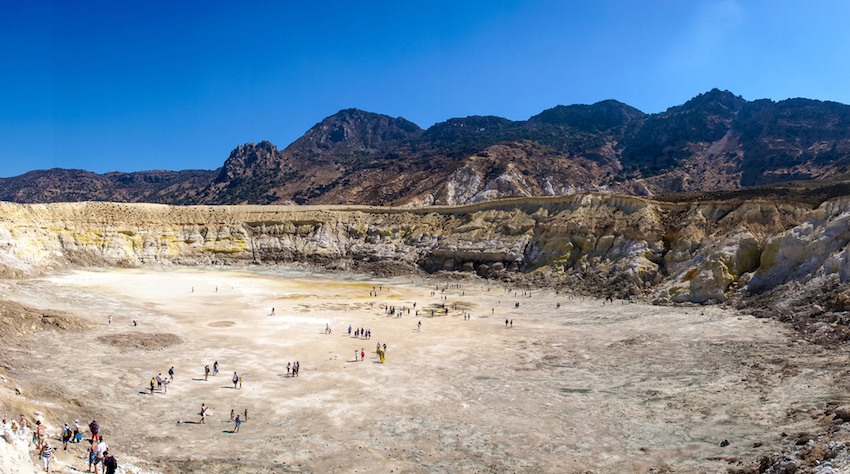 The Volcano
The star of the show, the main event, is of course the volcano which sits in the middle of the island like a lunar landscape magically transported to earth. There are 2 roads to get here from Mandraki. The road that goes east to Pali passes through Emboreios, a small village with a mix of inhabited and ruined houses. By the church of Agia Maria there is a dirt road that leads to a spot where you have a view of the volcano. But most people will continue on the road that takes you into the Stefanos Crater where you can actually walk around. There is an entrance fee and a shop that sells souvenirs and plenty of parking since it is the one place everyone who visits the island does to. Being an active volcano (did I forget to mention that?) means that the ground beneath your feet may be hot, and the smell of sulfur may be somewhat malodorous to put it nicely. But this is a small price to pay for the opportunity to walk around in an active volcano and some people actually like the smell. (If you like the smell of lit matches you will love the island). Forget about wearing flip-flops. They will just melt to your feet and you will spend the rest of the day scraping them off. Wear a hat and plenty of sunscreen, and bring water. There is some walking involved in going into and out of the crater that might be difficult for older people or small children, or healthy people who may have to carry them. But the vivid colors, the sulfur vents, and the landscape from another planet make it well worth the visit and it may be one of the most spectacular places you have ever seen. You can go on your own by rental car or motorbike or there are guided tours available from Mandraki and there is also a bus. A nice way to spend the day is to take the bus there and walk back on the path if you are a hiker. By the way there are signs that say "Enter at your own Risk". It is unlikely to erupt during your visit but you are encouraged to avoid the venting steam and not to fall into the holes that lead to the earth's molten core. There are several craters in the caldera. The main one is Stephanos which is where everyone goes. The last time it erupted was 1881-87 so don't worry. There is a good chance it won't happen again while you are there.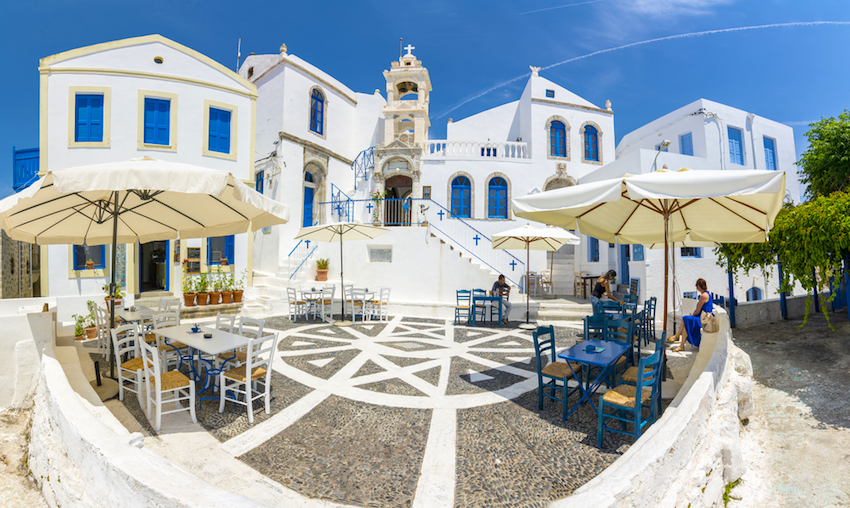 Porta Square in Nikia By Nejdet Duzen
The village of Nikia has some exceptional views of the volcano as well as one of the most beautiful churches in Greece, Isodia tou Theotokou, dedicated to the Panagia (Virgin Mary) and sitting in an elliptical square called The Porta, with a mosaic design by Paschalis Paschalakis, a famous local artist of the 19th century. I believe it is a UNESCO world heritage site. There are a couple cafe/restaurants in the square and if you can avoid being there when most of the tourists are you will find a perfect example of an unspoiled Greek Island village. But try to avoid between 10am and 5pm when the tour buses roll in. If you walk to the peak and the church of Profiti Ilias you will have one of the best views of the volcano and the island. And with free Wi-fi in the square you can impress your friends at home with your photos in real-time. I also suggest wandering around the narrow streets of the village and admiring the traditional island architecture. By the way there are hotels and rooms available in the village if you ask. Don't forget to visit the Volcanological Museum, the first and only one in Greece at the moment.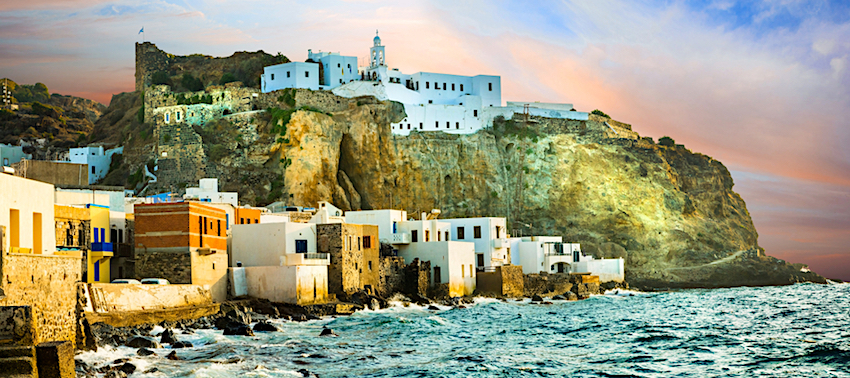 Iera Moni Panagias Spilianis in Mandraki
There are a few monasteries and churches around the island worth visiting starting with the Monastery of Panagia Kyra which has a beautiful view and celebrates the 15th of August with a big panigiri. North of the volcano is the abandoned Moni Nymphio for those who like to hike with a destination in mind. From the church of Profiti Ilias in Nikias you have a view of the entire island as well as several others from the highest point of the island. Also nearby the Monastery of Saint John the Theologian has a great view of the volcano particularly at sunset.
The 18th Century Evagelistrias Monastery can be reached by car from Mandraki or by footpath from the Volcano or the village of Emborios. It is an historically important monastery which played a role in the War for Independence, is well kept, and has a spectacular view of Mandraki and several nearby islands. You may need to ask the caretaker for the key if you want to see the inside of the church. Iera Moni Timiou Stavrou is on the road between Mandraki and the volcano and is known for its panigiri on the 13th of September. This is not to be confused with the previously mentioned Iera Moni Panagias Spilianis which is built in a cave overlooking the town of Mandraki and is the most famous and popular of the island's monasteries, which has its panigiri on August 15th.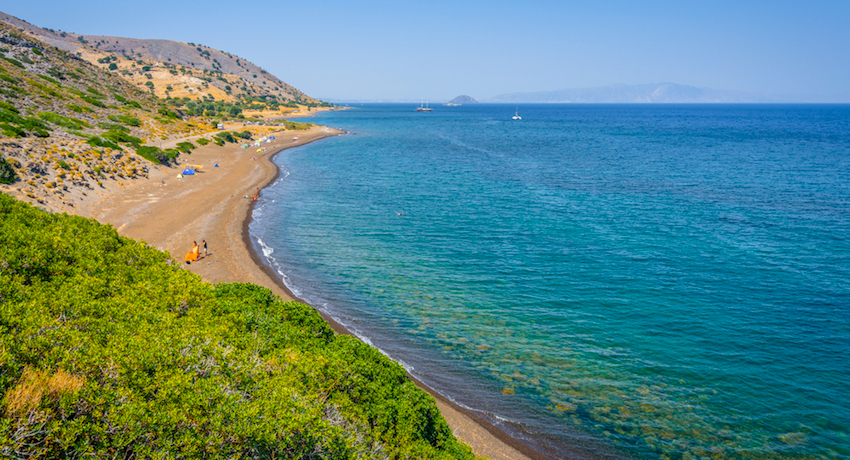 Pachia Ammos by Tom Jastram-Shutterstock.com
Beaches
Beaches may remind you of Santorini, with black sand (well tan-purple-ish according to Marc Dubin), pebbles or rocks, some requiring some kind of water shoes and an ability to keep your balance in difficult situations. As you travel east from Mandraki you will encounter most of them. Nisyros has a series of numbered and color coded paths for exploring the island on foot with many of them ending at beaches. For those staying on the island you can ask at your hotel or at the town hall for a map that shows them.
If you are coming from the Volcano and continue down the road from Panagia Kyra Monastery towards the sea you will come to the black sand beach of Pachia Ammos, though you need to do some walking to enjoy this beach which is considered by many to be the best on the island, especially those who don't believe in bathing suits or paying for camping. If you continue on the road you will come to Lies Beach which has some tamarisk trees for shade and the family run Oasis Taverna, right on the beach serving classic Greek dishes with home grown vegetables, meat and grilled sardines and other locally caught fish. The road follows the coast back to town and along the way there are plenty of places to swim and usually few people swimming and a scattering of tamarisk trees for shade. These beaches may remind you of beaches on the northeast side of Santorini with a mix of sand, rocks and boulders and in many places you may need some kind of water footwear to get to the water and to protect your feet while you are in the water. Anyway you will at least need something on your feet to get across the black sand as the day gets hotter. These beaches are not organized, meaning no sun-beds or umbrellas to rent, and besides the above mentioned taverna nowhere to get drinks, so bring water.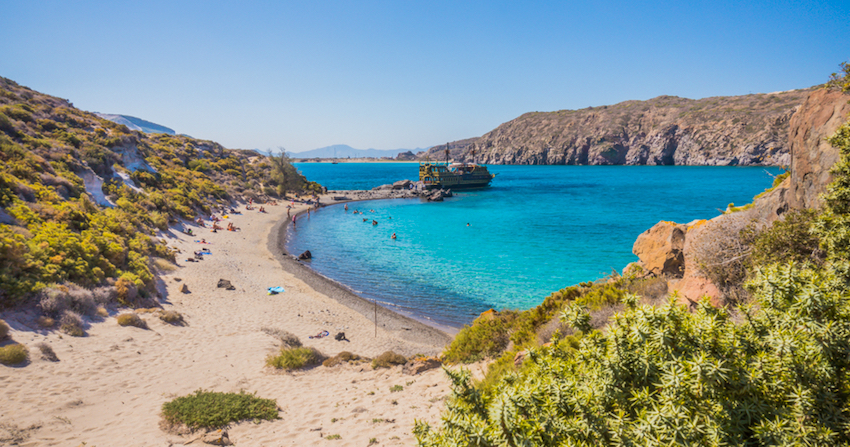 Besides the beaches on the island there are excursion boats to the red and white sand beaches on the nearby island of Giali which are pretty spectacular as beaches go and worth the trip if you are here for a few days. You can find information about the boats from your hotel or in the harbor of Mandraki.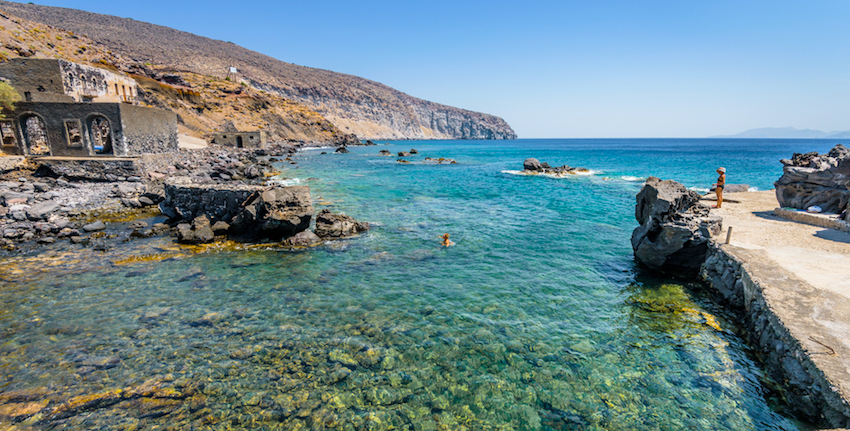 Avlaki By Tom Jastram
The very southern point of the island is the near deserted settlement of Avlaki, a hole-in-the-wall harbor with a small dock which is nice for swimming off or snorkeling, and a rocky beach which will require water-shoes. Facing south it is usually calm and being rocky and unfrequented there is lots to see under water. But the main draw to Avlaki is the hot springs that pour into the sea, the hottest on the island.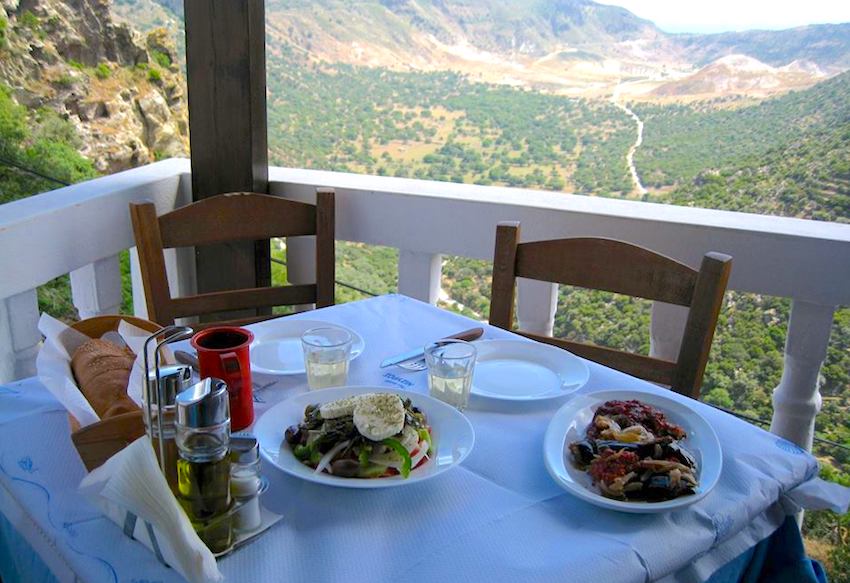 Mpalkoni tou Emporiou
Restaurants
It is hard to go wrong when eating on Nisyros. All the restaurants are good and use local ingredients because they are better than anything they can import. There is something about fruits and vegetables grown in mineral rich volcanic soil that makes them taste better. And the chickens, sheep, goats, pigs and cows that eat them taste better too. And the fish? Well it is all fresh so what more do you want? (If you see kat next to a fish on the menu that means frozen and it usually only applies to squid, shrimp and octopus sometimes). Be sure to try the local krasotyri, a sun-dried cheese aged in a mix of wine, vinegar and salt. Other products include capers, honey, small tomatoes and an almond drink called soumada.
For the island of Nisyros I am lucky to have the expertise of my good friend Kostas Koukios, the owner of Byzantino Jewelry in Athens and one of my main sources for finding good off-the-beaten-path restaurants that I would never have found on my own. His wife Popi comes from Nisyros and every summer they go there. Kostas says...
"My favorite is Mpalkoni tou Emporiou in the village of Emporios with a view of the volcano or the old square. They serve local meat and traditional revithokeftedes and skordalia. Also in the same town and very good as well is Apyria, a family run restaurant, run by two brothers, with delicious home-style cooking. Order the loukaniko (sausage) and their skordalia is famous. For fish the best place is Astradeni in Pali village for kakavia (fish soup) and fresh fish. In Mandraki Irini is good for katsikaki (goat) souvlisto, gourounopoulo (whole roast pig) and papoutsakia. It has a very nice location in Ilikiomenis square and his family owned and run with home-style cooking, generous portions and inexpensive. There is a good Italian restaurant in Mantraki called Bacareto in Busa with an authentic chef from Venice who makes excellent pizza, home-made pasta, and lots of Italian and Greek dishes, right on the sea, with almost everything made to order. Also on the way to Pachia Amos, in the middle of nowhere there is a place where you can enjoy cold beer and burgers!"
Geusea is a modern traditional Greek restaurant, like you might find in Athens, serving creative yet authentic Greek dishes that are pretty close to gourmet cooking yet not expensive or pretentious. And it is right on the sea. Come for an ouzo and meze and you will probably stay for a whole meal. Khokhlakoi Taverna serves good traditional Greek Island food, fresh fish and meat and has a festive local atmosphere. If you walk to the far end of town you will find Oxos, another good seaside taverna serving mezedes and full meals as well as coffee and drinks, right under the monastery, and with a perfect sunset view.
In Nikia you have a couple choices notably Adrioti Meating which is known for the quality of their meat. Nisyros, like the island of Kea, has lots of cows as you may notice as you explore. The two cafes in the square offer mostly drinks, deserts and some mezedes.
For drinks the best place is Enalax in Mandraki which has a sea view and plays rock."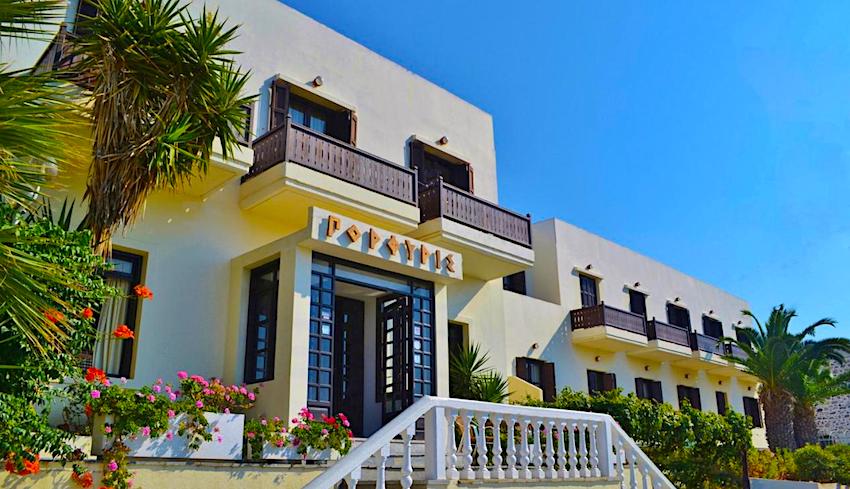 Hotels, Rooms and Holiday Homes
Located a short walk from Mandraki Beach in Nisyros town, Porfyris Hotel offers a swimming pool and breakfast. Its air-conditioned rooms have a furnished balcony overlooking Mount Diavatis and the Aegean Sea. All rooms include a fridge and TV. Each unit at Hotel Porfyris is equipped with a private bathroom with shower. Also nearby Haritos Hotel features an outdoor geothermal pool with medicinal water, and a furnished sun terrace overlooking the Aegean Sea. It has a snack bar and provides free WiFi in all areas. Opening to a balcony or patio, the simply decorated rooms of Haritos enjoy views over the sea or the pool. Each unit is equipped with air conditioning and a wardrobe. Located in Mandraki, Romantzo is just 150 feet from Nisyros Port. It offers air-conditioned accommodations with Aegean Sea or garden views. Facilities include a snack bar and free WiFi in all areas. Opening to a furnished balcony or terrace, all rooms and studios of Romantzo have a seating area with flat-screen, satellite TV. Some units come with a kitchenette with cooking hobs and a mini fridge.
Nisyros Views is a holiday home with a perfect location right in the center of Mandraki. Restaurants and shops in the immediate vicinity. The house is very well equipped with kitchen, lounge area, several bathrooms, washing machine, terraces on two levels, great rooms and a wonderful roof terrace overlooking the sea. Traditional house by the Sea is a detached 2-floor 3 bedroom holiday home with a terrace in Mandráki. The air-conditioned house has a seating area, a dining area and a kitchen equipped with an oven, a microwave and a toaster. A flat-screen TV is offered.
You can find more accommodations by using Matt's Nisyros Accommodation Search Page or Matt's Hotels of Greece Nisyros Page