Ferries to Naxos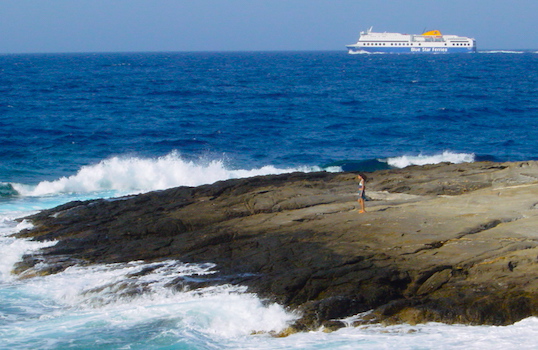 Ferries from Athens port of Pireaus to Naxos are frequent, sometimes as many as half a dozen a day during the summer but generally two or more. That is because Naxos is on the same ferry line as Santorini which is good news if you are going there too but bad news if you are not. It is the most likely ferry to be full though this is usually not a problem except in July and August and maybe Easter and the 3-day holiday weekend that comes 40 days after Easter called Agios Pnevmatos. The cost is about 30 Euros for a seat on the regular ferry (like the Blue Star) and the length of the trip does not require a cabin. The ferry takes about 6 hours. The Hellas Ferries High-speeds are catamarans and take about 4 hours to get between Naxos and Pireaus and cost about 45 euros. Normally there are several departures at 7:30 am every day and then a high-speed and ferry at around 5pm but these things change. Most ferries and high-speeds that visit Naxos do this route: Paros-Naxos-Santorini and sometimes Ios. This means that if you are island hopping these will be the easiest islands to get to. In the summer there are a couple high-speeds that go to Mykonos, Paros, Santorini, Crete and maybe another island or two but just so you know they don't take cars. There are also boats that originate in Syros that go to all the Cyclades Islands and they stop in Naxos several times a week and connect it with other islands like Sifnos, Milos, Amorgos and some islands you have never heard of. But these boats do a different route every day. There are also local ferries that go to the Small Cyclades. There are also daily excursion boats to Santorini, Mykonos and Delos which you can find out about from Despina at the Naxos Tourist Information Center.


Use Ferryhopper to find all direct and indirect ferry routes for the islands of Greece, Spain, Italy & Turkey, compare ferry companies & prices, and book cheap ferry tickets with no hidden fees in one go!
There is an airport in Naxos which can be reached by local bus or taxi. If you are booking a hotel in advance you can request to be met at the airport. If you have booked with a Greek travel agency then most likely transfers between ports, airports and hotels are included.
Recently Welcome Pickups has added Naxos to it's list of islands where they can provide transfers between hotels the port, the airport and villas.