Ferries to Naxos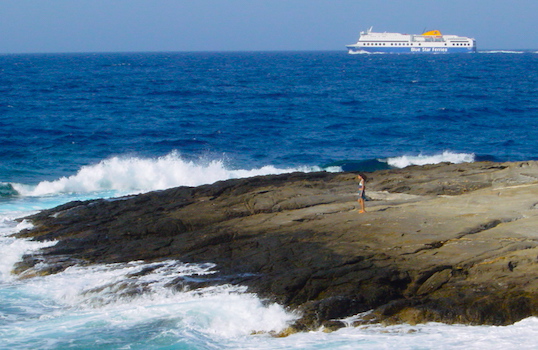 Ferries from Athens port of Pireaus to Naxos are frequent, sometimes as many as half a dozen a day during the summer but generally two or more. That is because Naxos is on the same ferry line as Santorini which is good news if you are going there too but bad news if you are not. It is the most likely ferry to be full though this is usually not a problem except in July and August and maybe Easter and the 3-day holiday weekend that comes 40 days after Easter called Agios Pnevmatos. The cost is about 30 Euros for a seat on the regular ferry (like the Blue Star) and the length of the trip does not require a cabin. The ferry takes about 6 hours. The Hellas Ferries High-speeds are catamarans and take about 4 hours to get between Naxos and Pireaus and cost about 45 euros. Normally there are several departures at 7:30 am every day and then a high-speed and ferry at around 5pm but these things change. Most ferries and high-speeds that visit Naxos do this route: Paros-Naxos-Santorini and sometimes Ios. This means that if you are island hopping these will be the easiest islands to get to. In the summer there are a couple high-speeds that go to Mykonos, Paros, Santorini, Crete and maybe another island or two but just so you know they don't take cars. There are also boats that originate in Syros that go to all the Cyclades Islands and they stop in Naxos several times a week and connect it with other islands like Sifnos, Milos, Amorgos and some islands you have never heard of. But these boats do a different route every day. There are also local ferries that go to the Small Cyclades. There are also daily excursion boats to Santorini, Mykonos and Delos which you can find out about from Despina at the Naxos Tourist Information Center.


Use Ferryhopper to find all direct and indirect ferry routes for the islands of Greece, Spain, Italy & Turkey, compare ferry companies & prices, and book cheap ferry tickets with no hidden fees in one go!
There is an airport in Naxos which can be reached by local bus or taxi. If you are booking a hotel in advance you can request to be met at the airport. If you have booked with a Greek travel agency then most likely transfers between ports, airports and hotels are included.
Ferry Schedules for Naxos
Finding reliable ferry info on the net and booking tickets is not easy if you are trying to do it in the winter and your trip is in the spring or summer. That is because it takes so long for the ferry companies to finalize their summer schedules and even when they are finalized they are subject to change. As a travel agent once said to me about ferry schedules "If it is static (like written) it is probably wrong." The best thing is to use a travel agency in Athens to book your hotels and let them work out the ferry details. It will save you time money and aggravation and they will be able to deal with any problems (like if you miss the ferry). They can also arrange for someone from the hotel to meet you at the ferry. If you are planning on just coming to Naxos and doing your holiday there chances of complications are less because, well, your trip is less complicated. In this case you could use a Greek Ferry Booking Engine and Booking.com and book your hotels in Athens and Naxos. But if you plan to do more than one island, and especially if you are thinking about doing three or four then I suggest using my Create-an-itinerary form to first of all find out if what you want to do is even possible, and second to get help booking it. I also suggest you look at Fantasy Travel's Island-Hopping Itineraries because they may have exactly what you want.
Once the ferry schedules are up you can find them and book your tickets at Ferryhopper.com and pick up your tickets in the port at one of the ticket booths right by where the boat leaves from. This is coming or going and even for multi-island trips.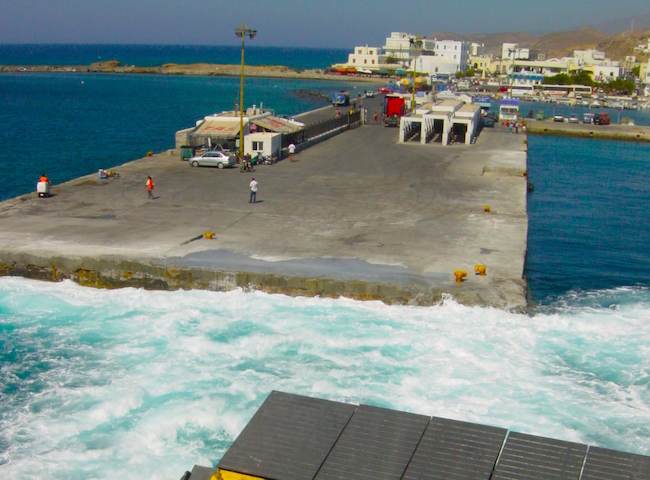 We came to Naxos from Sifnos the hard way. The small boat between Sifnos and Paros was cancelled because of wind and rather than wait several more days we took the high-speed to Santorini and then to Paros. When we got to Paros at 10:30pm we had to run to the ticket office because our ferry to Naxos was arriving in 15 minutes. We got our tickets and made it to the boat. We got off the boat in Naxos and were thankful to see the mini-bus for the Agios Prokopios Hotel waiting for us. If you are traveling in Greece for the first time you will be very thankful for this service I know, because I travel to Greece often and I am thankful when someone is waiting for me at the ferry.
Keep in mind that travel agents in Greece don't make money on ferry and airline tickets so contacting one for this purpose is pointless. They do provide tickets for their customers who book hotels.
Ferries from Naxos to Pireaus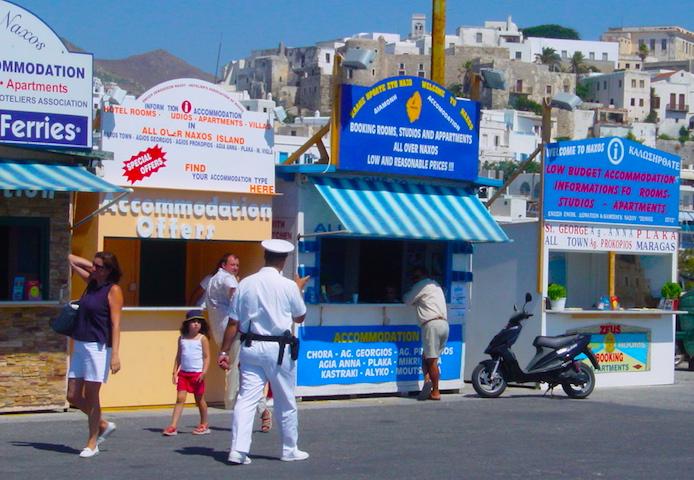 As for leaving Naxos, if your travel agent has not provided return tickets there are many ticket agencies in town and in the port. Zas Travel has been selling ferry tickets since 1981 which is an eternity for a ticket agency. They are a small agency with 2 offices in Naxos Town. They also offer discounted tickets and trips to the other small islands near Naxos and other excursions and activities.
Be sure to get to the port at least 20 minutes before your ferry and it is a good idea to book your tickets at least a day before you go. If you are leaving Naxos on a Sunday or after the 15th of August or the last few days of July or after Easter Sunday buy your tickets well in advance or you may have to spend a few extra days on the island which is fine as long as you don't have a flight to catch. I recommend spending your last night in Athens. Don't book a ferry to Pireaus that arrives a few hours before your flight leaves because if the boat is delayed you may not make it. If you have a late evening flight and there is a morning boat then you can take the chance. Keep in mind that ferries can be delayed by weather. It does not happen often but it does happen. Should it, and you miss your flight you will be happy if you have been working with a Greek travel agency who will try to get you on the next flight and let you know when to go to the airport. If you have booked everything on your own you will need to call the airline and be prepared to spend some time at the airport. Don't worry. You will get home eventually.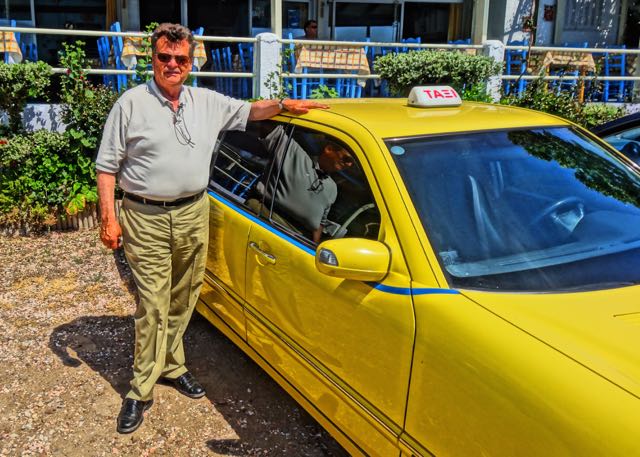 When you get to Pireaus or Rafina or even the airport and you have not booked a transfer there are usually a large number of taxis waiting in the port. If you are still nervous about getting to your hotel or the airport you can arrange this through your travel agent or through George the Famous Taxi Driver who will come any time of day or night and will wait until your ferry arrives even if it is delayed for hours. If you are traveling with your family or tend to get stressed out in chaotic situations (like getting off a boat with hundreds of other anxious people) then I highly recommend this. If you have a flight and are nervous about making it from the ferry to the airport or vice-versa then George is your best bet for getting you there quickly without waiting in line with the other people who need a taxi. He will meet you at the terminal or right where you get off the ferry, holding a sign with your name on it and his car parked nearby where you can escape before the cars and trucks get off the boat and clog traffic.
One of the best ways to see Naxos and explore its beaches and coastline as well as the small nearby islands of Schinoussa, Dounoussa Koufounisi and the other Greek Islands is by sailboat. See my Guide to Sailing in Greece
For booking ferries, flights, hotels or island hopping itineraries that include Naxos see www.fantasytravelofgreece.com