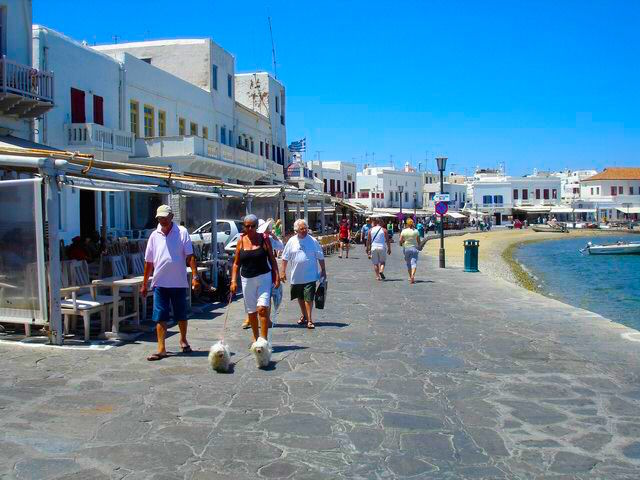 To call Mykonos a 'gay island' is like calling San Francisco a 'gay city'. Sure there are gay bars and homosexuality is not hidden, but unless you are looking for it you may not even notice it because Mykonos is a destination for all types of people. From jet setters to college students and families, Mykonos is Greece's most well known and popular island and the people you see are from all walks of life, from every country, and sexual preference. Even priests come to Mykonos for their holiday.
My experience with Mykonos began in the early seventies when I was a wild high school student and 1000 drachma (around $30 back then) would last me two weeks sleeping on Paradise beach or in the caves on the peninsulas that create the beautiful sheltered beaches the island is known for. At the time there was one restaurant on Paradise Beach, called George's. There were no rooms and most of use could not even be bothered to put up a tent. The only way to get to Paradise was by taking the bus to Platyialos and walking a couple miles down the coast. There were rooms to rent in Platyialos but nothing else beyond besides a couple tavernas.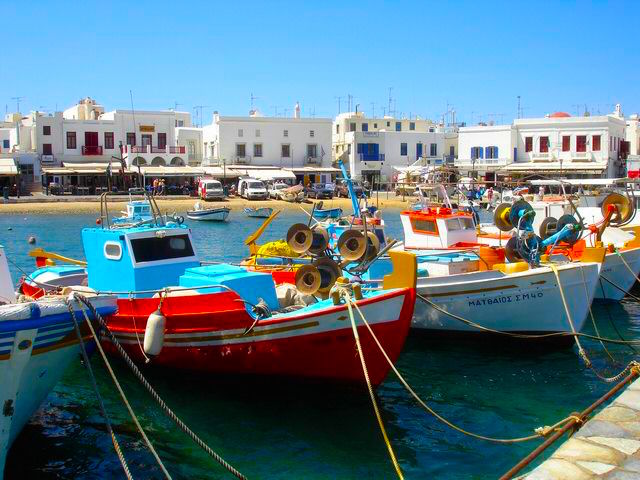 Times have changed and a thousand drachma now will barely buy you a souvlaki if you can find one. (Souvlakis you can find. Drachmas are gone, at least for the time being). Mykonos town in the twenty or more years since I spent my last teenage summer there, has changed dramatically with clubs, bars, boutiques, internationally known restaurants of various ethnic styles and so many visitors that a summer night in town is like Fat Tuesday in New Orleans. Mykonos is not cheap. But if you are on vacation, with money to burn and willing to pull out all the stops the nightlife compares favorably to any major city or party town in the world. The discos stay open till dawn and there is no nicer place to nurse a slight hangover then in an umbrella shaded beach chair a few feet from the sea where one can slowly build up his strength to face the next evening's festivities.
Mykonos is the cross-roads of the hip universe. Everybody goes there, from Keith Richards laying on his back floating in the sea with a cigarette dangling from his mouth, to your favorite TV or movie star and their entourage, moving from club to club in search of action. Famous politicians, designers, newscasters, basketball players and coaches, kings, queens and commoners all make Mykonos their first choice in holiday destination.
Getting to Mykonos
Mykonos is one of the most easy Greek islands to get to. There are many flights a day from Athens and more ferries from Pireaus or Rafina, then to any other island. The ferry boat ride is about 5 hours on a slow boat and under 3 hours on a high-speed. The ferry stops either in Andros, Tinos and Syros or any combination of the three and these are the easiest islands to include with a Mykonos itinerary. There are now highspeed boats from Rafina that can get you to Mykonos in about two hours. But any boat stopping in Tinos a few days before the 15th of August if you are going to Mykonos, and after the 15th when you return is likely to be packed. This is because thousands of Pilgrims go to the Holy Icon in Tinos for the Panagiri (Orthodox Saint Day for the Virgin Mary) and unless you have a ferry ticket in advance you probably won't get on and if you do you will wish you hadn't as it can be very crowded and uncomfortable. There are also summer connections to Mykonos from Crete, Santorini, Paros, Naxos, Ios and couple more of the other Cyclades islands so if you find yourself in a position where you have to travel on these days, ask your travel agent for help with another route or fly. Because the nearby island of Syros is the capital of the Cyclades it has ferry connections to the other islands. But these boats run a different schedule every day so you can't always book hotels on islands and expect to be able to get between them. I recommend Fantasy Travel's Island Hopping Page where you can combine Mykonos with a number of other islands.
Booking Hotels in Mykonos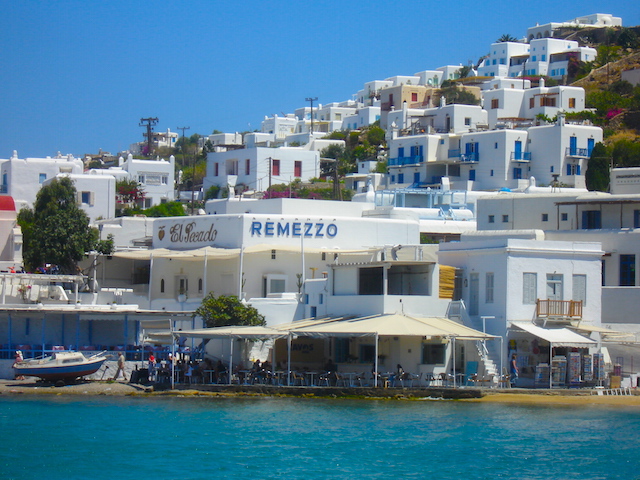 I recommend booking a room before you come to Mykonos. It is possible to find rooms on your own when you arrive in most circumstances though more difficult in June and September and almost impossible in July and August, particularly during the August 15 holiday. By booking a room in advance you will have more choice of where you are and what kind of place you stay in. Plus it's a nice feeling to know you have something waiting for you when you get off the boat, rather then having to walk around trying to find something and then settling on anything because you are tired of looking. Like many islands there will be people at the boat waving pictures of their rooms and if not there is a tourist information office (or there was) but this is usually hit or miss and often these are professionals who are paid per head when they bring a customer to the hotel.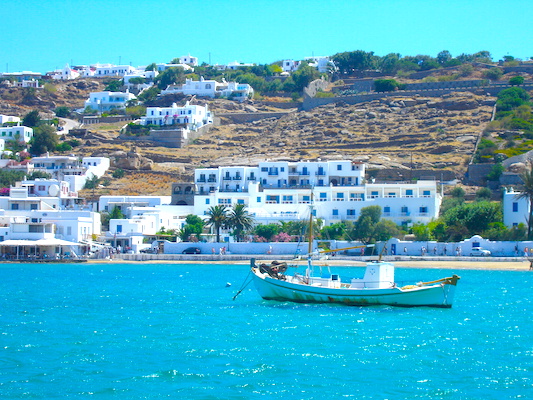 Book your accommodations with a reliable travel agency like Dolphin Hellas or Aegean Thesaurus who can probably get you discounted rates too or Fantasy Travel who not only have cheap rates but can also find rooms when everyone tells you there are none available. By contacting one of these agencies, you will be working with someone familiar with the territory and you can tell them what are your needs and how much you are able to pay. Plus they can assist you with the ferries which is very useful especially if you are going to more than one island. I recommend either staying in town at the Hotel Adonis if it is available or if you want to be on the beach and come to town at night for nightlife then the Princess of Mykonos at Agios Stefanos which is less of a party beach than most of the others. If you use my Create-an-itinerary form you can put together a custom program which includes Mykonos and any other islands you like, get it tweaked with the help of a reliable travel agency and get a price for it. It's free and it is really helpful in putting together a trip. For more about hotels and some recommended hotels see the Mykonos Hotels Page. You can also find and book hotels through Booking.com's Mykonos Hotel Search and Matt's Hotels of Greece Mykonos Page and in many cases book without a cancellation fee. However, keep in mind that this summer both Mykonos and Santorini are on just about everyone's travel itinerary and as the season progresses it will be harder and harder to find a room. So if you find something you like book it now. And if you can't find what you like or everything appears booked solid try Fantasy Travel.
Mykonos Town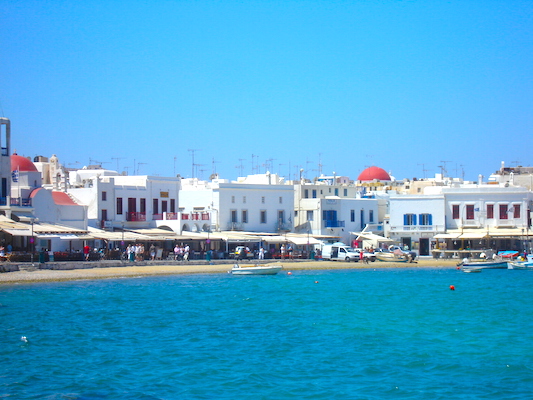 The town of Mykonos is one of the best examples of Cycladic architecture and is a maze of streets and alleys so that you never know where you will end up. But along the way you will see things that may surprise you, from a branch of your favorite boutique that you assumed only existed in Manhattan or Paris, to expensive restaurants owned by famous international chefs, traditional churches, famous jewelry shops, Greek tavernas, fast food joints and a pelican named Peter who would be in his mid sixties had he not been replaced so often. It is quite easy to get lost here but chances are you will find your way out before morning. My favorite shops, which are incidentally the two most practical are the Fruit Center, which of course sells fruit and the International Press Center where you will probably be able to find your favorite newspaper, magazine or book, no matter where you come from. Coming from Kea where the only newspapers you can find are in Greek or Albanian this was like finding paradise. Check out the Gallery of Yiannis Galati, one of Greece's most famous designer-artists and a lover of the island. Thousands of celebrities have visited his little shop. Across the street at Lalaounis jewelry museum they give away the best maps of the island and in the evenings have a wine tasting. The best place for people watching is in the cafes on the waterfront and this is where most people go for breakfast and coffee. Much of the action at sunset is below the windmills in the area known as Little Venice where there are some upscale restaurants and bars and a nice view of the sunset.
Visiting Delos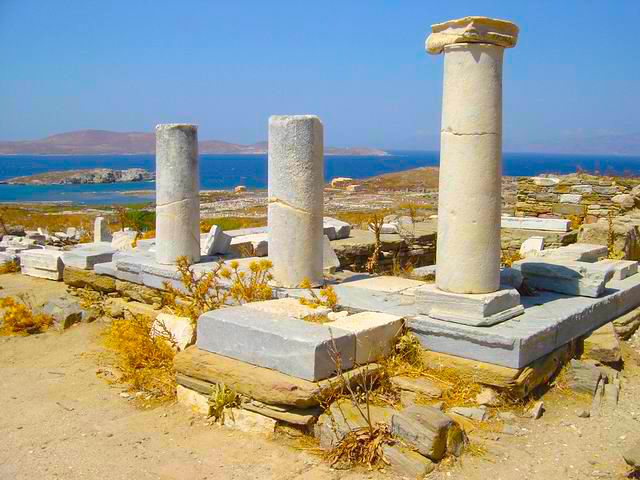 The nearby Island of Delos is uninhabited but is one of the most important archaeological sites in Greece and even the most hedonistic of the Mykonos party-goers finds time to visit the island at least once every few years. It was once a thriving port and commercial center said to be the birthplace of Apollo, and the Delian games were held here. The ruins of the city are quite extensive and well worth a visit, especially in the spring when wildflowers are in bloom. There are numerous taxi boats and tours to the island are advertised in the port of Mykonos. You may have to get up early one morning but the half hour boat ride is an adventure you will enjoy if you have not had too much to drink the night before and don't get seasick easily since it can be a little rough when the wind is blowing. There are tour guides you can hire at the entrance which will make it more interesting depending on how you are feeling. You may just want to wander around and take in as much as you can without having everything explained to you. But few people are unimpressed with Delos, unless they are really hungover, in which case save it for another day. See my Delos Page
Mykonos Beaches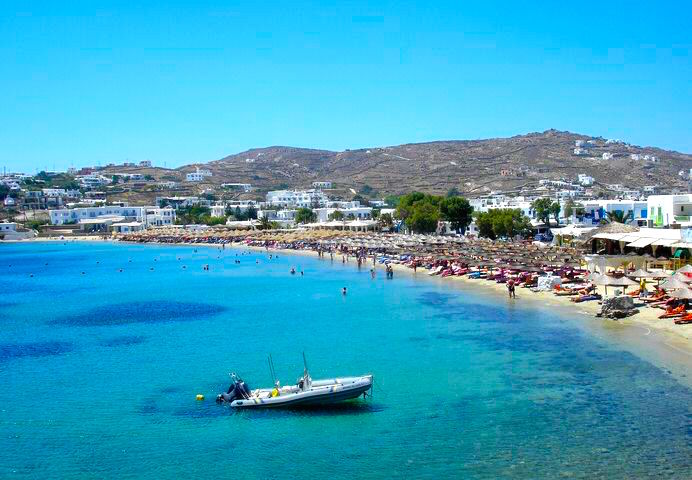 The best beaches are found by taking the bus to Platyialos, which is more of a family beach, with rooms to rent, restaurants, beach umbrellas, and the small boats that can take you to the other beaches. The first beach you will come to is Agia Ana (and most likely pass without stopping), which is usually quiet and still relatively undeveloped. The next stop is Paraga and then the famous Paradise Beach where there is a campsite, music, water sports and a restaurant or two and several hotels. The next beach is Super Paradise which was a gay nudist beach at one time but has expanded its appeal since they built a road to it. The last beach is Elia which was also a nudist beach and now has a couple luxury hotels. You can now drive or take buses to all of these beaches. There are other beaches scattered around the island but these are the most well known and among the best in Greece. Along with Ornos, Kalo Livadi and Agia Anna these beaches face the south which means they are generally shielded from the Meltemi, the strong northern winds that blow in July and August. The popular beaches have beach bars with music, umbrellas and beach beds and during the summer the kind of events you might associate with Daytona Beach during spring break.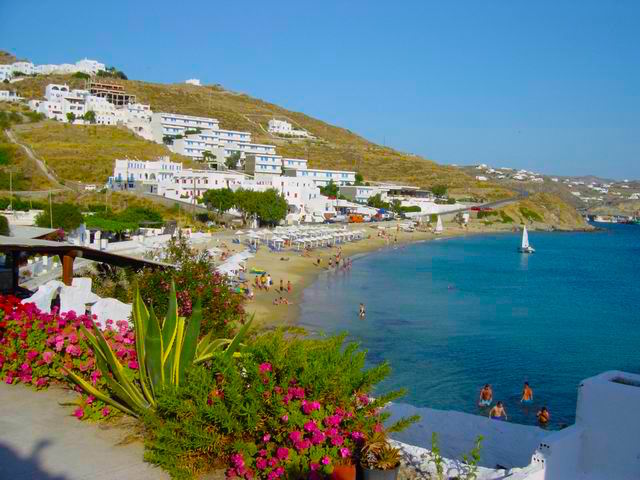 If you are looking for a quiet place to be on your own, well you probably should not have come to Mykonos in the first place. But if you don't mind swimming off the rocks you can find a comfortable place to park yourself and find some degree of solitude on the edges of just about any of these beaches. Any beach that has bus service will probably have crowds. If you rent a car or motorbike, beaches like Ftelia, Panormos-Agios Sostis, Fokos, Mersini, and Kapari and are quiet beaches. Those that face the north are popular with wind-surfers. I like Agios Stefanos which is north of Mykonos town, though it faces south. It is small and unpretentious, and has a couple hotels including the Princess of Mykonos and a nice little fish taverna overlooking the sea called Taverna Vasoula. There are a couple beaches in town including one that is right in the harbor which is OK as far as swimming in harbors go though you probably would not want to spend every day there. But if you want somewhere to send your kids while you sit in a cafe in the port and drink coffee this will probably do. Also within easy walking distance to town is Megali Ammos which is OK when the wind is not blowing from the north. See also my Mykonos Beaches Page
Fantasy Travel's Mykonos Programs
If you are coming to Greece on a budget vacation your money will go a lot further on other less popular islands then it will on Mykonos. If you are traveling with your children you may want a more traditional island that is a bit more family oriented like Lesvos, Sifnos or Naxos, though there are plenty of families that come here and have a wonderful time and you can find budget hotels and food. But if you are young, have money to spare and want to have a wild time, meet new people and possibly have sex with them, you will love Mykonos. Regardless of what your motives are, Fantasy Travel has put together a number of packages that offer quality accommodation for economical prices like their Pursuit of Pleasure which is 12 Days and 11 nights in Athens, Mykonos and Santorini including hotels, ferries, transfers, tours, admission to archaeological sites and breakfast starting at 940 euros per person or their Budget Mykonos-Santorini Program. For those who want to have their cake and eat it too Fantasy's Smart 7 Program includes 3 days in Mykonos followed by a 4 Day Cruise and ends with another 3 days in Santorini. For these and other inexpensive programs that include Mykonos visit Fantasy Travel's Special Offers Page