Mykonos may not have the best beaches in Greece. But if you have never been here before I can pretty much guarantee that they are the best beaches you have ever seen and once you experience them you will be curious where the better ones are, which should keep you coming back. The drawback of many of these beaches are the crowds. But if you are coming to Mykonos in the summer I am guessing that going to a beach packed with scantily clad young men and women, and even unclad, is not going to be a problem for you. The boom-boom-boom of the beach cafe speakers may irritate you at first but you will probably get used to them (after a couple exotic drinks). You may notice a very small number of people are spending significant time in the sea, many of them nursing hangovers and some not even knowing how to swim unless it is in the safety of a pool. Snorkeling is good along the rocks which are on either side of most beaches and the rocky shelves that sometimes run parallel to the shore. Most beaches have restaurants, cafes, bars, theme parties and if you look around you will know how much nudity is acceptable on a particular beach. These are the main beaches of Mykonos and there are even a few remote ones for those who came to Mykonos to get away and can't figure out exactly how to do that. Some beaches charge a fortune for sun-beds and you have to book them in advance, others have sun-beds for people who order food or drinks, some have free sun-beds and some have none.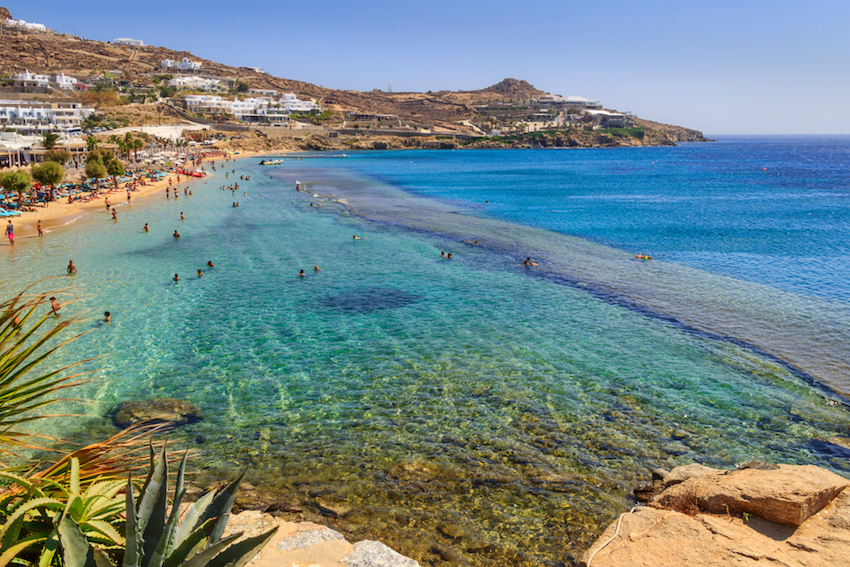 Paradise Beach
This is one of the world's most famous beaches and has changed a lot since the 60's when it was a place for hippies to stop and spend the summer on the way to or from India. Back then there was a taverna called George and Freddie's and a small area to pitch your tent, though most people just unrolled their sleeping bags on the beach in the shade of the stone wall that bordered it. George died not long after the sixties ended and that small taverna is a collection of cafes, cafeterias, bars and restaurants, last I checked still run by Freddie called the Paradise Beach Club where they have parties with thousands of people. You don't have to sleep on the beach anymore and there is Paradise Beach Camping and mini-market and shops and other businesses and enterprises to keep you entertained. The family owned Lino Apartments and the Paradise View Hotel are far enough away so the music should not keep you up at night. If you don't care there are the Paradise Rooms which are right off the beach. If they are fully booked check my Paradise Beach Hotels page.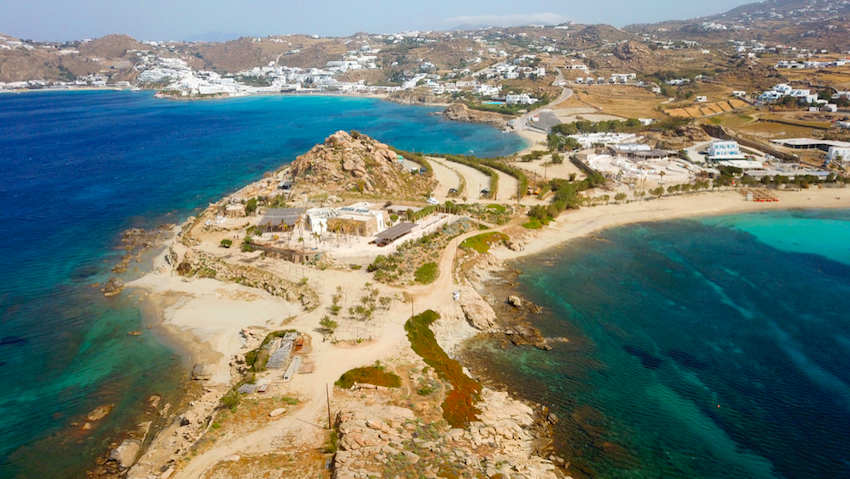 Paraga Beach
One of the smaller popular beaches, Paraga was where I spent many a summer of my youth living in a small cave in the peninsula that separates it from the tiny Agia Anna Beach. There are restaurants, cafes and beach chairs to rent like just about every beach on Mykonos. There is a bus every hour in season and parking for cars and motorbikes and you can catch a small boat here from Platiyialos. The music gets loud and the beach can be wall to wall beach beds but you can go to the rocks near my cafe for privacy and nude bathing. (Can I say that?). Hotel Zephyros has rooms and apartments overlooking the beach, and the bus stops right in front. Otherwise see the Paraga Beach Hotels page.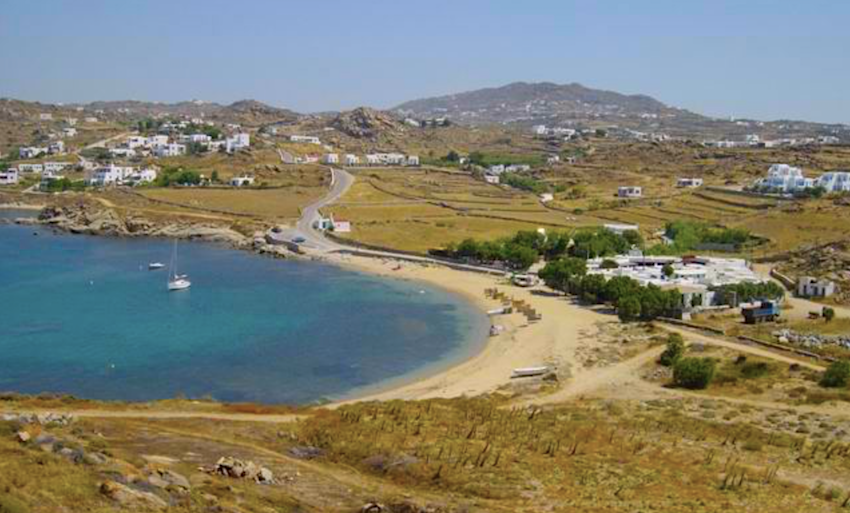 Agia Anna (Paranga)
This is an even smaller beach in between Paraga and Platiyialos. Lots of rocks and seaweed so it is good for snorkeling and nowhere near as busy as the other nearby beaches. Agia Anna on the Beach is a small hotel right on the beach. If they are full there are lots of other places to stay within walking distance. Only Yours Mykonos has apartments, some with kitchens just up the road.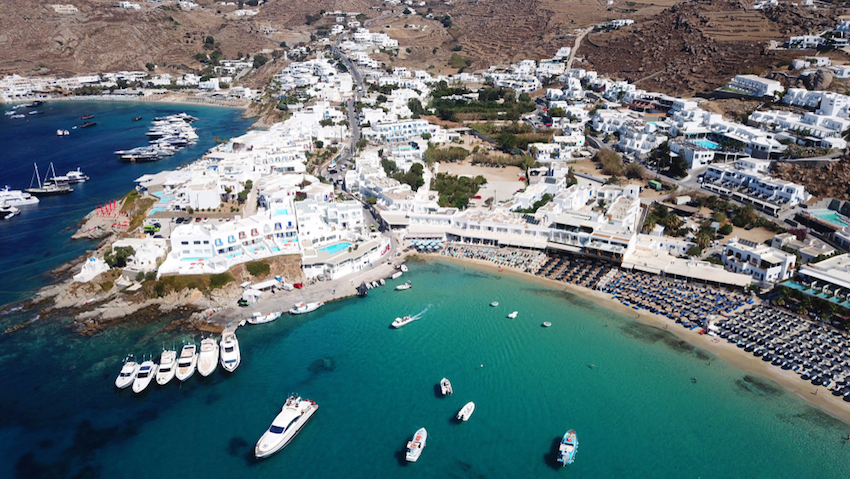 Platiyialos
Platiyialos is pretty much a beach town with a long stretch of sand and dozens of hotels, apartments, bars, cafes, restaurants, shops and whatever else you need to survive on a Greek island. Plus it is only about 10 minutes from Mykonos town by bus, which runs every half an hour. It is usually packed but for ten minutes you can handle it. See Platiyialos Hotels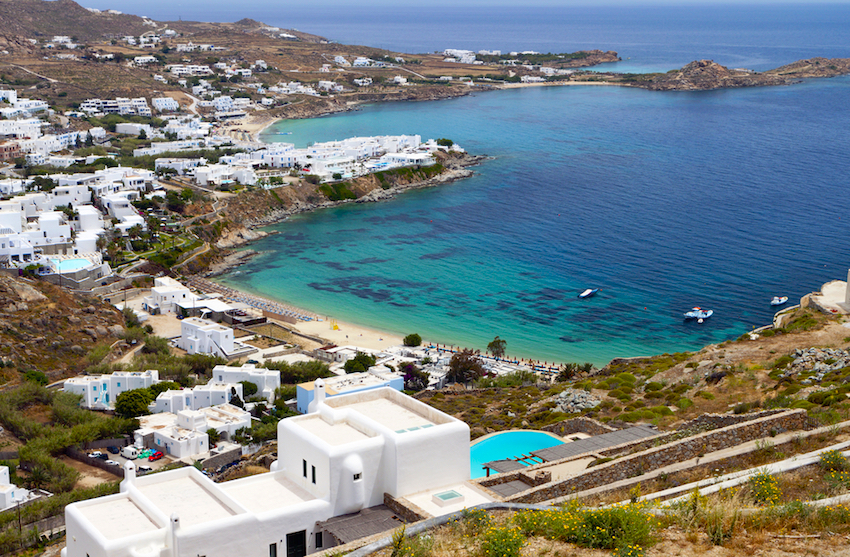 Psarou Beach
Separated from Platiyialos by a small peninsula, Psarou is another popular beach with sun beds and cafeteria's, bars, restaurants and... well you get the idea. The famous Nammos Restaurant is here as well as several luxurious hotels including the Mykonos Blu Exclusive Resort and Kenshu Psarou with their famous restaurants, bars and celebrity guests. But it is not all luxury and extravagance and there are plenty of other smaller hotels, apartments and villas for whatever your budget is. (By Mykonos standards). See Psarou Hotels.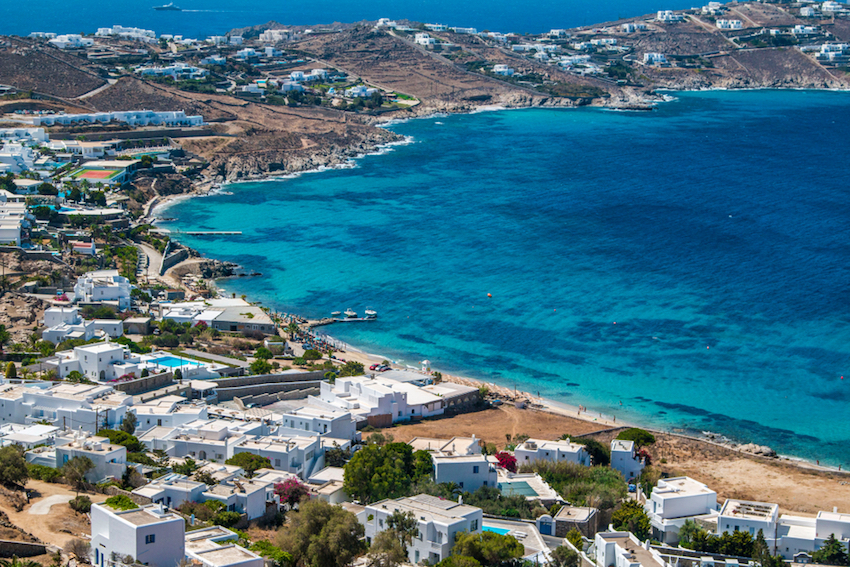 Ag Ioannis
This is the famous Shirley Valentine beach. You haven't seen the movie? You should. The beach is only partly developed and faces southwest so it is usually calm and suitable for children. There are beach beds and umbrellas and loads of hotels and other places to stay. There is a bus every hour and it is only a few kilometers from Mykonos town. The 5-Star Katakies Mykonos of the Leading Hotels of the World, is right on the beach and the Mykonos Grand Resort is just above the beach. The Hippy Fish Restaurant played the role of Kosta's Bar in the movie and they also have the Hippy Chic Hotel which are both popular with Valentinians. But you can find lots of other hotels of different categories and prices as well as villas. holiday homes and apartments. See Ag Ioannis Hotels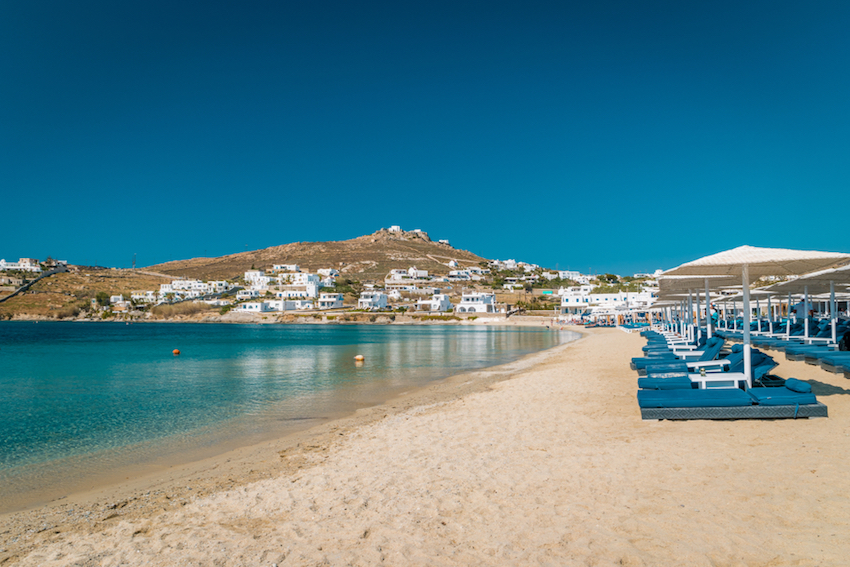 Ornos Beach
The famous Ornos Beach is a well developed tourist beach with umbrellas and beach beds, restaurants, cafes, shops and lots of places to stay. There is an hourly bus and it is easily reached by car or motorbike. The beach faces the south so it is usually calm. Hotels include the world class Mykonos Ammos and the Mykonos Blanc which are both upscale hotels with locations on the sea. But there are plenty of lesser known and less expensive hotels, holiday homes, apartments and villas available. See Ornos Beach Hotels.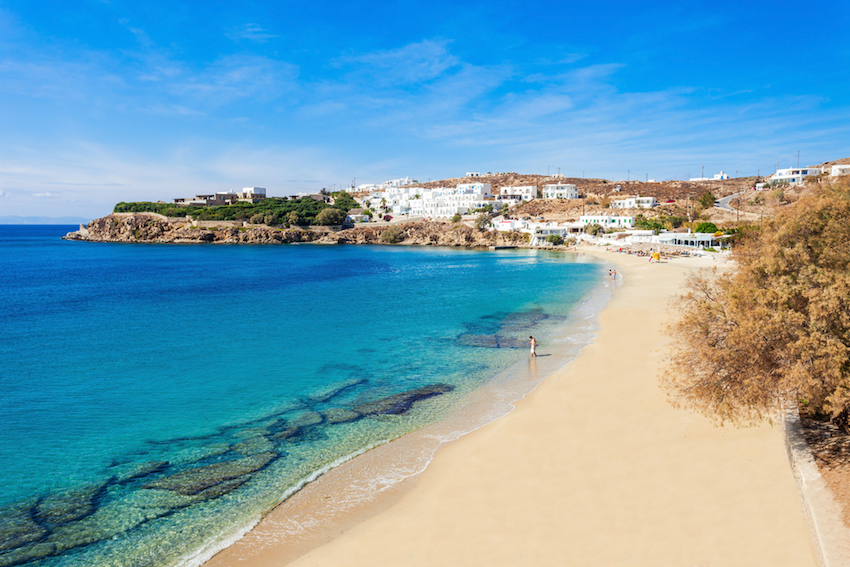 Agios Stefanos
This beach north of Mykonos town has a spectacular view of the cruiseships which dock a few hundred meters away. Facing southwest it is almost always calm and the sea is shallow and suitable for families. There are sunbeds and umbrellas, cafes, bars, restaurants and accommodation nearby and it is a short bus ride to and from Mykonos town. The former Princess of Mykonos is now the Mykonos Princess Hotel one of the best and most well known on the island. But there are rooms and other accommodations and because it is so close to town Agios Stefanos is an excellent place to stay, especially if you like to watch cruise ships come and go. See Agios Stefanos Hotels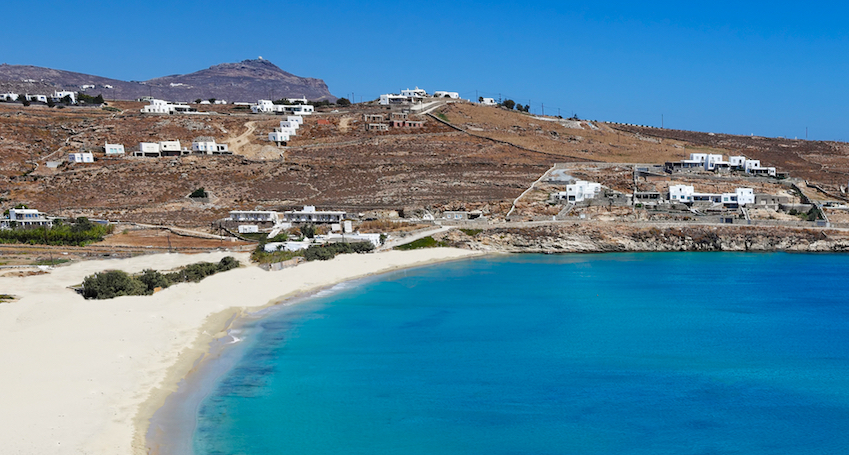 Kalo Livadi Beach
Kalo Livadi is a long sandy beach that faces south and has shallow water and is calm enough for families with small children as most of the southern beaches are, (unless there is a south wind). The bus comes from the bus station by the old port. There are restaurants, cafes and beach bars including the one owned by Lindsay Lohan. There are beautiful luxury hotels like the Archipelagos and the Andromeda Mykonos Villas and Suites as well as family run hotels like The Adonis Rooms and Seaside Studios and Houses which have apartments and studios with kitchens. See Kalo Livadi Hotels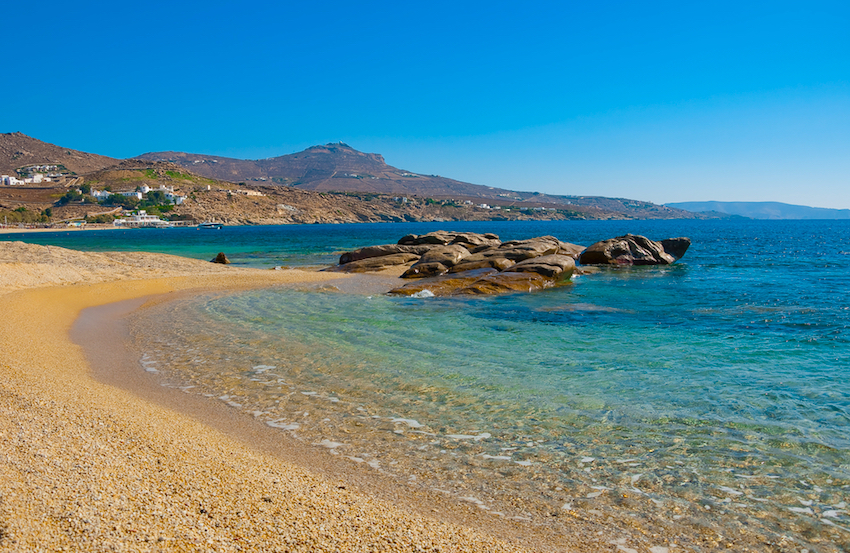 Kalifatis Beach
Kalifatis is on the southeast coast of Mykonos and is a popular beach for windsurfers and people who like watersports. It is one of the longer beaches on the island and also one of the least developed or crowded and much like going to a lesser known island like Serifos or Andros. There is bus service from the old port. There are sunbeds and umbrellas in once section but also some trees for those who don't want to pay for their shade. There are a few fish tavernas and some small shops and cafes and plenty of family run hotels, holiday homes and villas. If you want to go to Mykonos but feel like you are on another island then stay here. See Kalifatis Hotels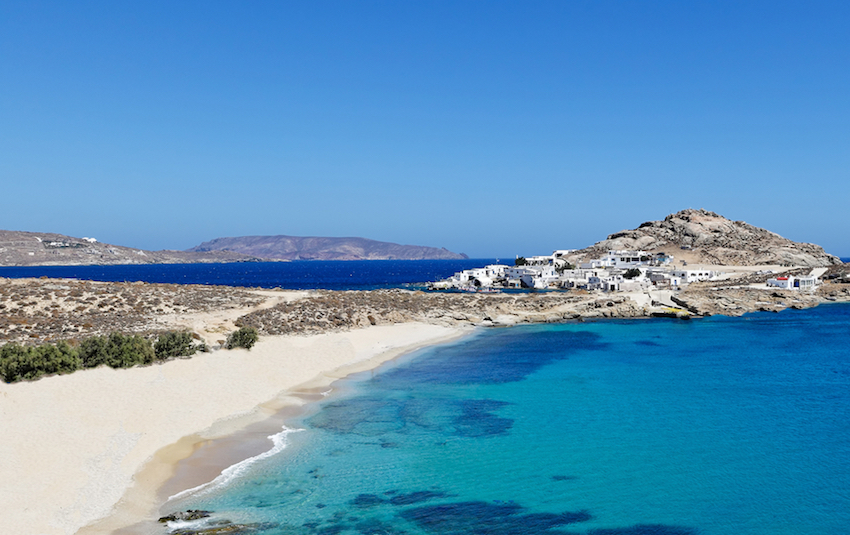 Agia Anna (Kalifatis)
Not to be confused with the Agia Anna Beach next to Paraga this is a small beach on the other side of the peninsula. It is a short walk to the hotels, cafes, restaurants and shops of Kalifatis.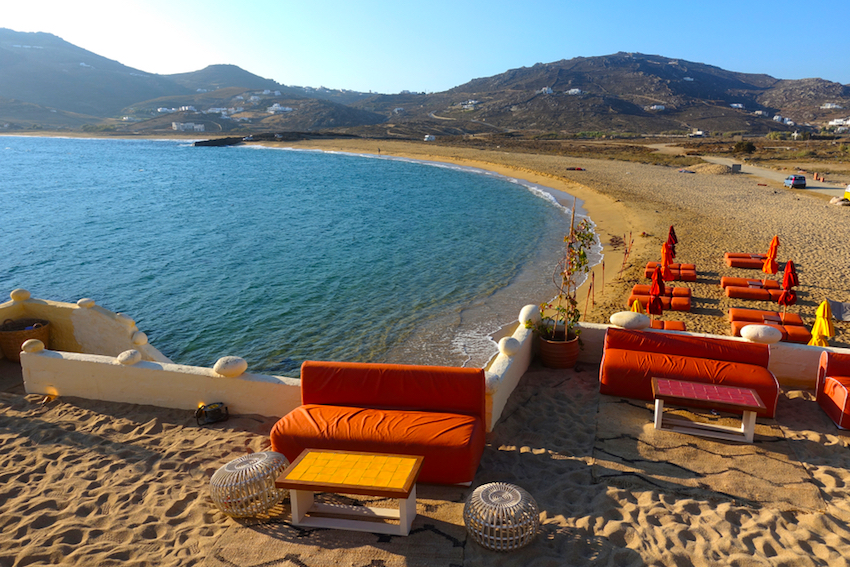 Ftelia Beach
Ftelia Beach faces directly north which means waves and wind during summer meltemi, making it great for windsurfing and when the waves are big enough body surfing. But there are days when the wind is not blowing strongly or there is no wind and then it is fine for the rest of us. You can only get here by car or motorcycle and that combined with the wind makes it one of the least exploitable beaches on Mykonos. There are a few cafe-bar-restaurants and also small hotels and villas in the area. If you want to go to Mykonos but not feel like you are on Mykonos this would be a good place to do that. See Hotels and Villas in Ftelia Bay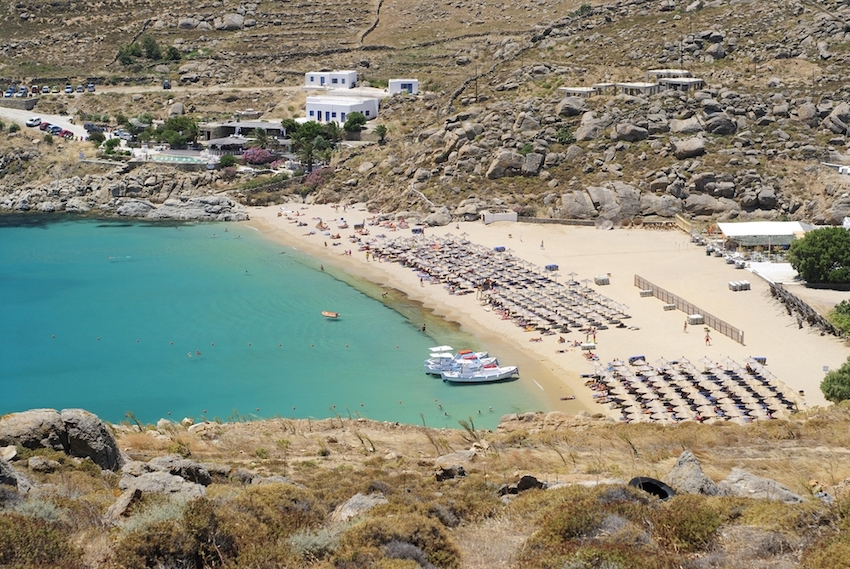 Super Paradise
Super Paradise may be the most popular beach on Mykonos with its own private bus and water taxis coming and going from Platiyialos all day long. There are wall to wall beach beds and umbrellas and in July and August too many people for them so come early or go elsewhere. Restaurants and cafes are on the beach and nearby as are a number of hotels, apartments and villas. See Super Paradise Hotels and pay attention to the photos because some of these places can be quite a climb from the beach. But sometimes that is a good thing.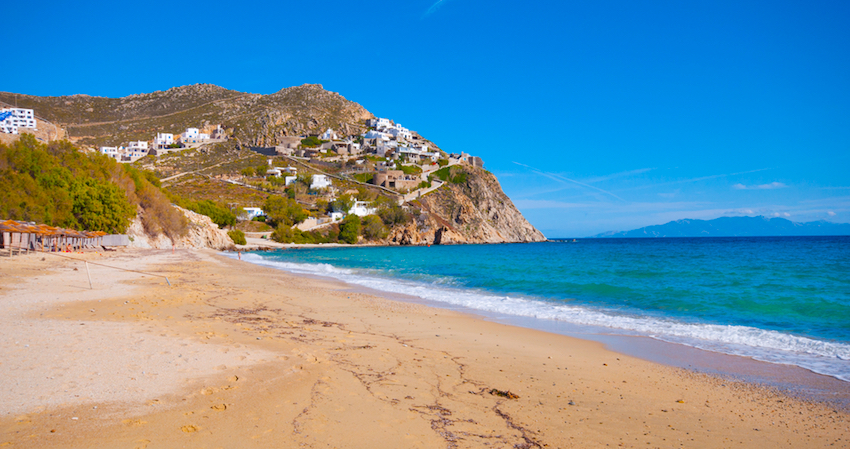 Elia Beach
This is a long beach on the same water taxi route as Paraga, Paradise and Super Paradise from Platiyialos. As in ancient times (the sixties) Elia Beach is popular with gays who are usually on the right side of the beach when facing the sea. There is nude bathing here too in particular the small designated nudist beach on the western part of Elia. There are lots of beach activities and though you would not know it from this photo it gets quite crowded in the summer, but being the longest beach on Mykonos there is usually plenty of room. There are several hotels and villas including the Royal Mykonian, one of the most famous resorts in the world. See Elia Beach Hotels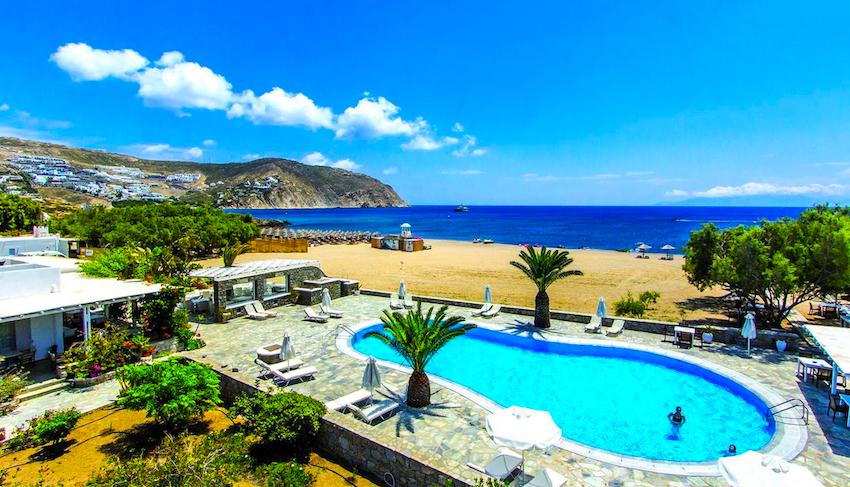 Agrari Beach
Agrari Beach is a just west of Elia Beach and though there is no bus service you can get here by water taxi from Platiyialos. There is a taverna and very few places to stay including the Sunrise Hotel and Suites,(photo) and the Ethereal Apartments. But this is a nice quiet place to stay if you want to forget that you are in Mykonos.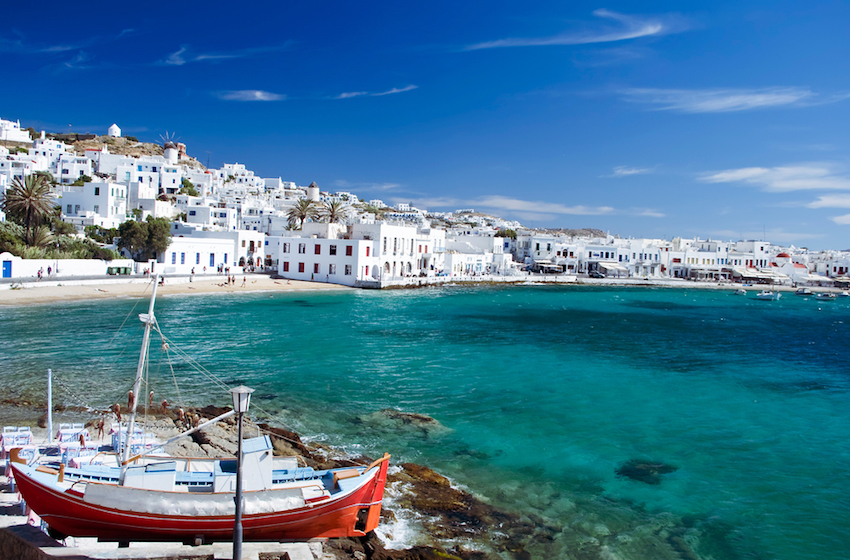 Mykonos Town Beach
If you are in Mykonos for a few hours on a cruise ship and have expolored the village and have to take a swim just so you can say you swam in Mykonos there is the small town beach between the old port and promenade. It is not bad as town beaches go, but it is in a harbor. It probably won't kill you. Lots of people swim there including some local kids. And if you are just there to sunbathe and take a selfie or two then it probably does not matter whether it is clean or not. See Mykonos Town Hotels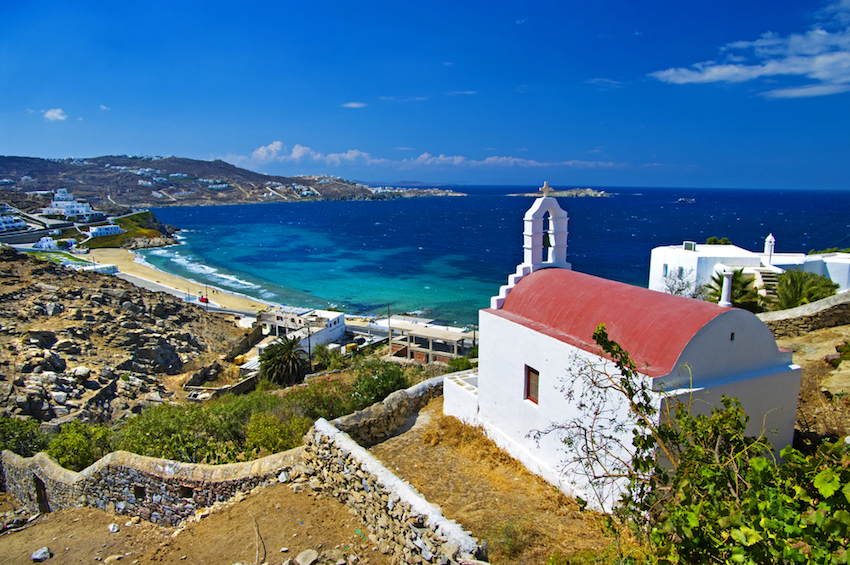 Megali Ammos
Megali Ammos is as close to town as you can get just a short walk from the center and facing north, meaning waves during Meltemi and few people considering its location. But when the sea is calm it is like any other popular Mykonos beach except you have to bring your own umbrellas and beach chair. Loads of restaurants, cafes and hotels nearby including Mykonos Grand Beach, Bill & Coo Suites and Lounge, and The Poseidon Hotel Suites. But any hotel on the southwest edge of Mykonos town is within walking distance so go to Mykonos Town Hotels and use the map. Just a short walk from the center of Mykonos and Little Venice and a two minute walk from Megali Ammos, the family-run Hotel Adonis is where we stayed and loved it.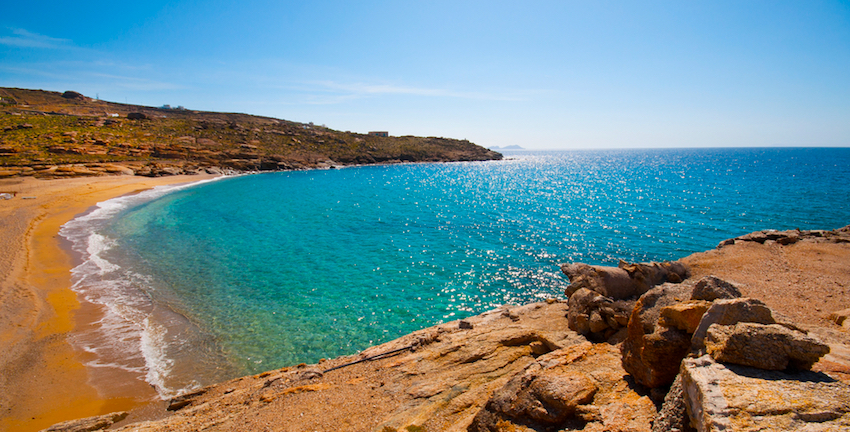 Lia Beach
Lia Beach is a well protected beach that is on the eastern part of Mykonos though it faces south. You can only get here on your own but for those who love snorkeling this is one of the best beaches and there is actually a scuba diving center here as well as a couple tavernas. There are no hotels but there are a couple villas, Emerald Bay Condos, Vlia Mar Mykonian Residences and Villa Nautilia. You will need a car if you stay here. There is another beach nearby called Mini Lia.
Fokos Beach
For those who really want to get away there is Fokos Beach which can only be reached by car or motorbike and has no beach beds, umbrellas or any of the essentials that people who go to the popular beaches want. There is however one taverna, as unspoiled a restaurant as you will find in Mykonos.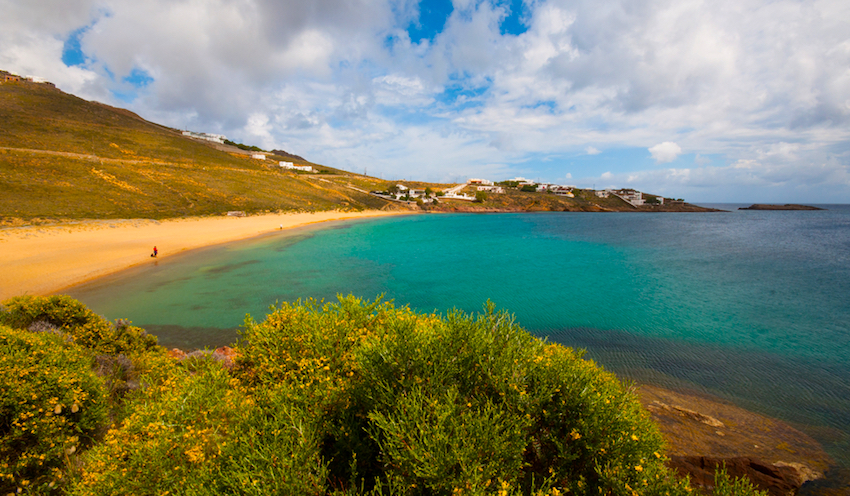 Agios Sostis Beach
So you really want to get away? Can I ask you something? Why did you come to Mykonos? Why didn't you go to Serifos, or Kythnos or Koufounisi instead of the most popular, crowded island in Greece? Well, never mind. You are here and if solitude is what you want there is Agios Sostis. No, you probably won't be the only one here but you will be able to meet other people who want to get away and maybe you will like each other. No bus. No water taxi. And no shade so bring an umbrella. But it is the location of the famous Kiki's Taverna which if it was still a secret I would not even mention it. John Bissylas says to order the hirini brizola (pork-chops). And there are places to stay. Try the Summer Mood Villa or see Agios Sostis Hotels and Villas