A Guide to Kalymnos
by Gill Collins.
I first discovered the island in 1994, when I took my mum with me on holiday following the death of my father. I chose the island because of the fact that it could only be reached by ferry and the romanticist in me just couldn't resist. I also considered Kastellorizo but decided I couldn't drag my aged Mum to somewhere quite as remote! It wasn't the most successful of holidays as Mum fell on our second night and badly broke her wrist. Having visited the hospital, we were seen (eventually) by a "specialist", dressed in a designer suit who then disappeared to fetch some "equipment". He returned 30 minutes later with a plastic carrier bag, inside which were some rather large stones from a beach. He proceeded to tie Mums' arm to a drip trolley and hung the bag with the stones over Mum's lower arm. This was my introduction to Greek traction on a small island! You would think after an experience like that, the last place we would want to return to would be Kalymnos but return we did, the following year and had the holiday of a lifetime. I have been nowhere else since and have no wish to. I visit as often as I can and hope to make the island my eventual home.

Kalymnos is a small island, accessible only by ferry at present, most people traveling to Kos Airport and then catching the ferry from Mastichari. It can also be reached by ferry from Piraeus. I have also travelled via Rhodes in order to enjoy Easter (I shall tell you about THAT later) celebrations on the island. Once the centre of the sponge diving industry, the island now is in decline, relying on tourism which is rapidly dropping due to the large tour operators pulling out. When I first visited there were up to 3000 tourists per week, now they number only a few hundred. The island has SO much to offer, spectacular scenery, beautiful beaches, wonderful food and amazing people, whose hospitality is second to none. They always remember you, from year to year (even the ferry captains) and you are greeted as one of the family. An example of this is YIANNIS TATSIS, owner of the Tatis Apartments in which I stay. He has extended an invitation to my friends who have accompanied me over the years in the summers, stating that they could also stay free in the out of season months. This kind of gesture is so typical of the Kalymnians, everyone you meet has similar tales. On my first Easter visit, the most special of occasions in the Greek calendar, I was invited to Yiannis' cleaners' house to share the family meal on Easter Sunday! The island is also good for climbing and appears on several climbing web pages. It is also featured in a climbing magazine.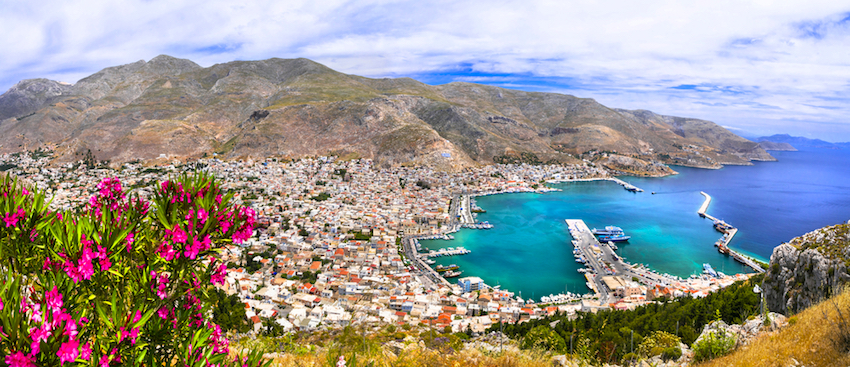 Pothia is the main town in Kalymnos and with a population of more than 12000 quite a large one for a small island. It is the main port of the island and so chances are this is the first place you will see when you arrive. The waterfront is lined with restaurants, cafes, shops, bakeries and hotels and there are several town beaches, Therma, Kasonia and Gefira. Therma has hot springs. The old Chora is the area around the castle which was the old capital of the island in the days when pirates roamed the Aegean. There are two important museums: The Archaeological Museum and the Nautical Museum which both contain artifacts from ancient times as well as exhibits that highlight the more modern history of the sponge divers. For those who don't know it Kalymnos is known worldwide as the island of the Sponge Divers which was the primary occupation of the island for centuries. In the early 20th Century many families from Kalymnos moved to Tarpon Springs on the west coast of Florida turning that town into the sponge diving capital of the world. Very few people are still diving for sponges though you can find them for sale on the waterfront, (and in Athens) and every summer they have a Sponge Festival with food, drink, exhibits and events.
Beaches and Coastal Villages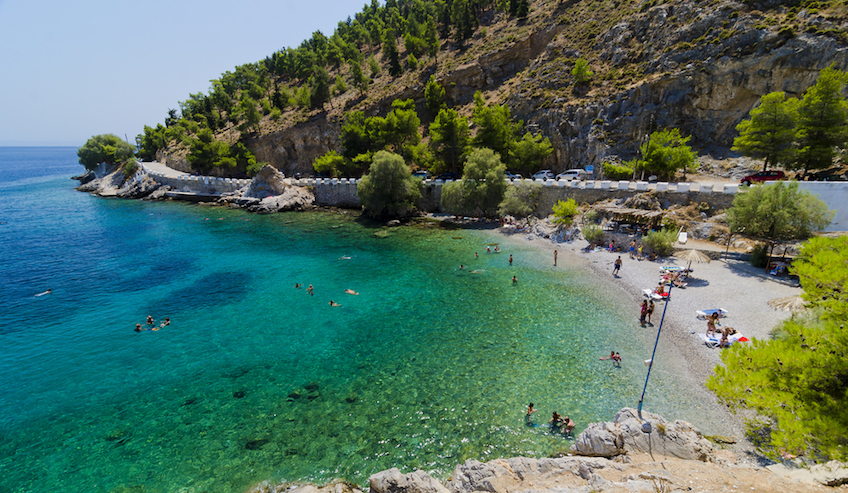 THERMA and GEFIRA:The "town" beaches. Therma (photo) has a taverna. Both close to Pothia- the main town.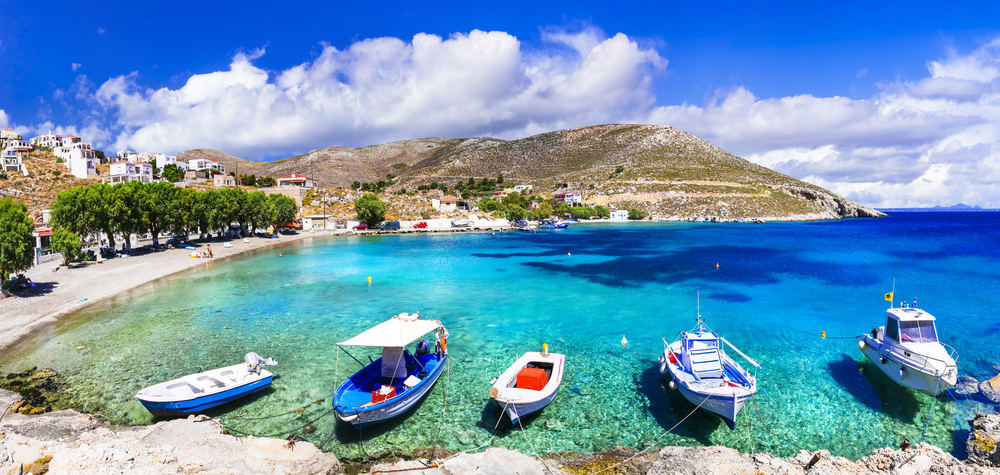 VLICHADIA:The main resort in the south of the island. Beautiful bay. Nice for swimming. Plenty of tavernas/accommodation. A little remote.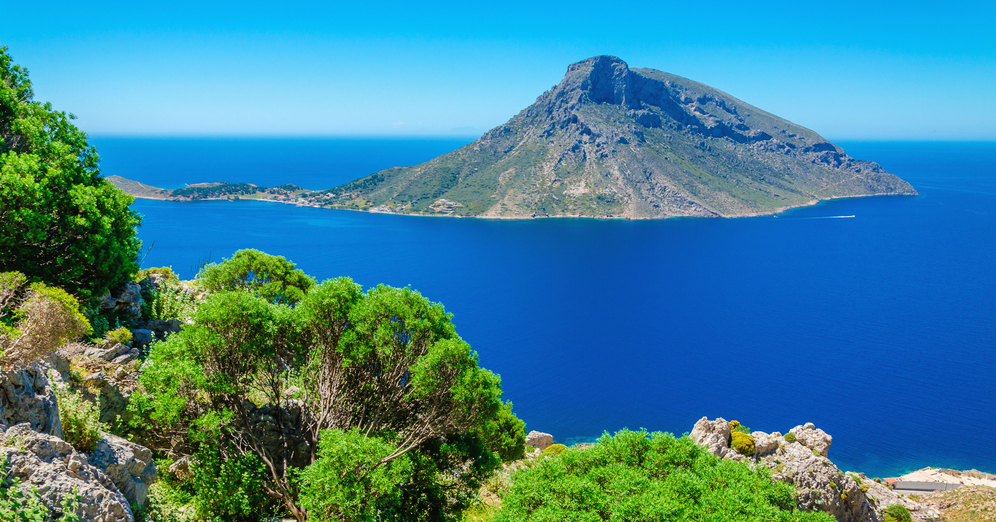 TELENDOS ISLAND: Extremely hot in the height of the season. Little shade. Main beach is Chohlakas and is quite a trek in the heat to the other side of the island from the jetty but is worth the walk. Other swimming along the side of the island facing Kalymnos including a nudist beach and a new sandy beach. Yes! They've imported the sand. Plenty of tavernas. Beautiful church. Some rooms to rent and hotels.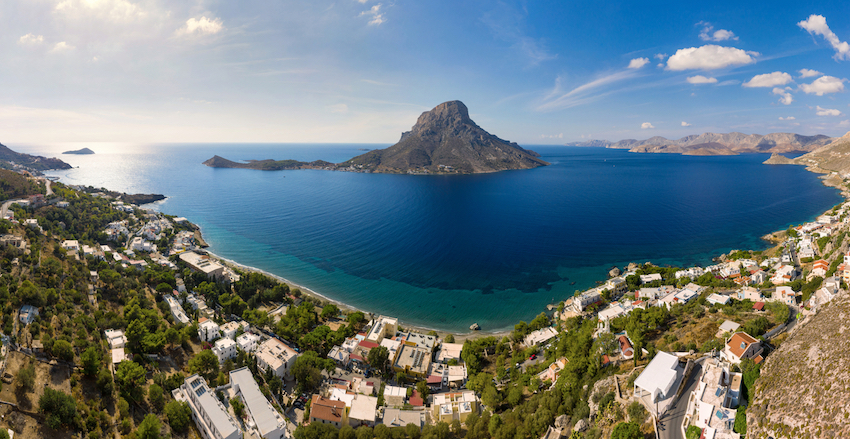 MASSOURI:Main resort on the island. Very large sand/shingle beach. Plenty of sunbeds and a few watersports to hire. Wonderful swimming but beware of current far out. Shelves gently, water really clear, the fish swim right up to the waters'edge as it warms up. Couple of tavernas accessible direct from the beach. Others are reached by several sets of steps along the beach. They're a long climb on the way up of an evening! BUT it's worth it. Tavernas/shops/hotels/apartments/bars all close by. To watch the sun setting over Telendos from the beach in the evening is truly to be in Paradise!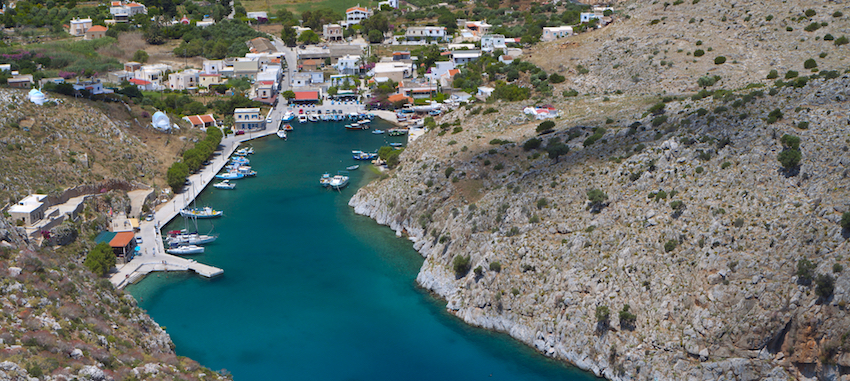 VATHIS:Tiny but amazing fishing village on the other side of the island. Best approached from the sea but the trip boats never give you long enough there. Swimming area. Couple of excellent tavernas. So laid back it's almost stopped! A MUST to visit. In the most fertile valley on the island, the smell of the citrus fruit grown there is almost overpowering in the growing season. There is a "canal" which runs through the village and is teaming with fish. Another great place to wander around.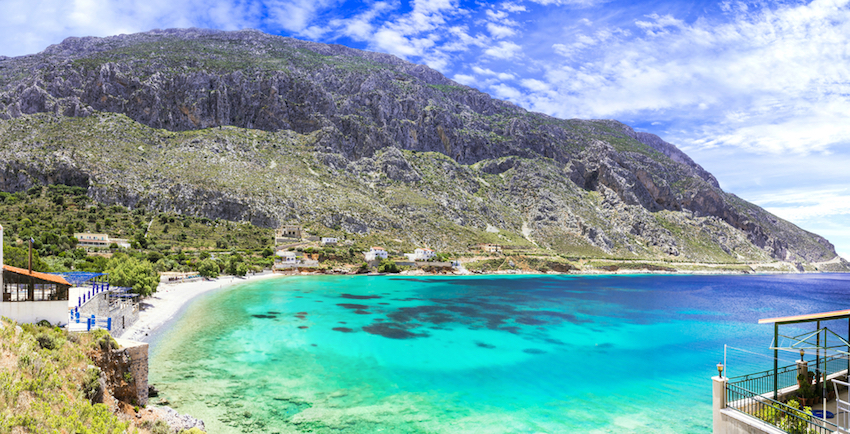 ARGINONDAS:Small pebbly beach at the end of a "fjord". Sunbeds available. Quiet. Taverna at end and slightly uphill serves traditional well cooked food. Wonderful views out to sea towards the fish farms, which are well away from wonderful swimming area.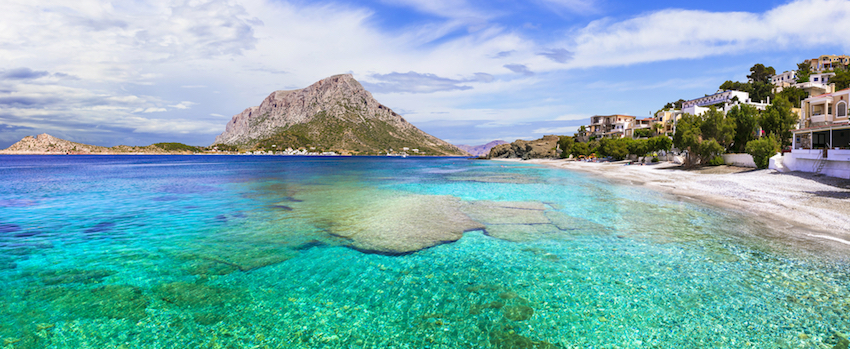 MYRTIES:Small but pleasant shingle beach. From the jetty catch the little ferry boats across to the island of Telendos. Hotels and apartments in abundance. Shops and tavernas all close by.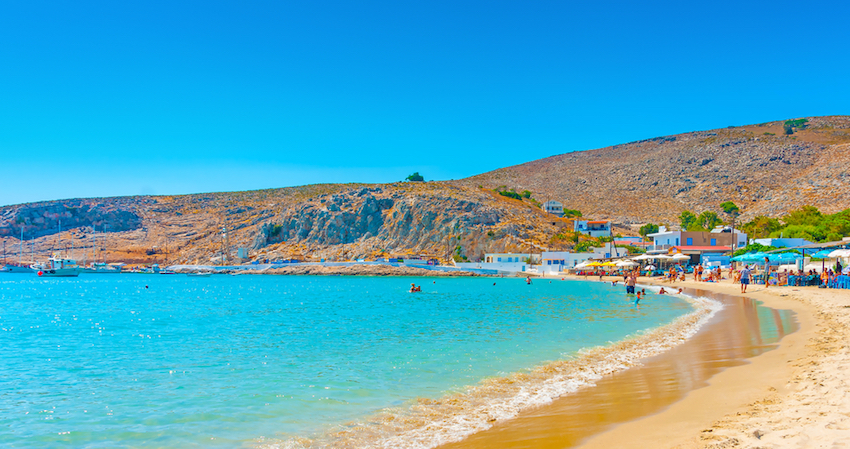 PSERIMOS:This is a small island reached by boat departing Pothia every day at 9am returning 4:30pm. This is THE MOST WONDERFUL BEACH in the area, and could almost be in the Caribbean. Long with fine golden sand the beach lays in an arc around a turquoise bay of shallow warm water with cafes on the sea and some tavernas behind. The local herb seller wanders along the beach with his basket and later the nut seller comes. Only a couple of vehicles on the island, the local donkey is brought down for his drink. A few rooms to stay if you want. Celebrations are held on the beach and Kalymnians visit e.g Paraskevi. IDYLLIC, HEAVEN ON EARTH! Gets busy with trip boats from Kos but they only stay an hour.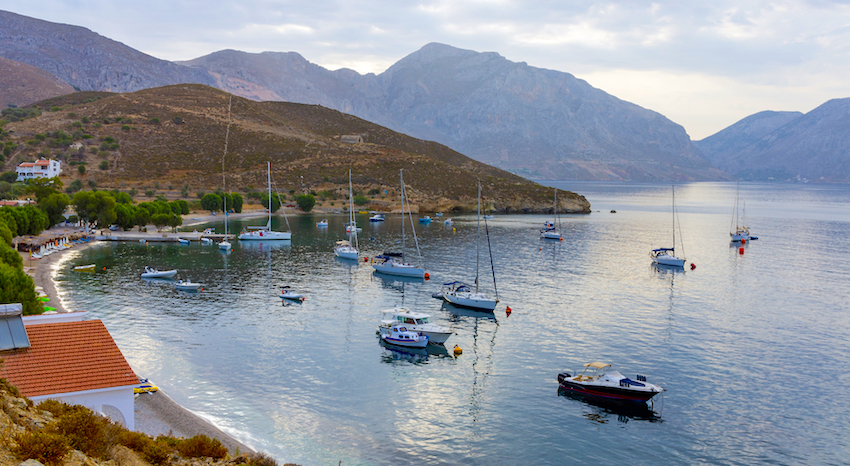 EMBORIOS:Small fishing village with beach and good swimming. Very laid back and remote. Rooms/apartments to rent. Picturesque with beautiful church. Lovely village to wander around. A few tavernas with nice food.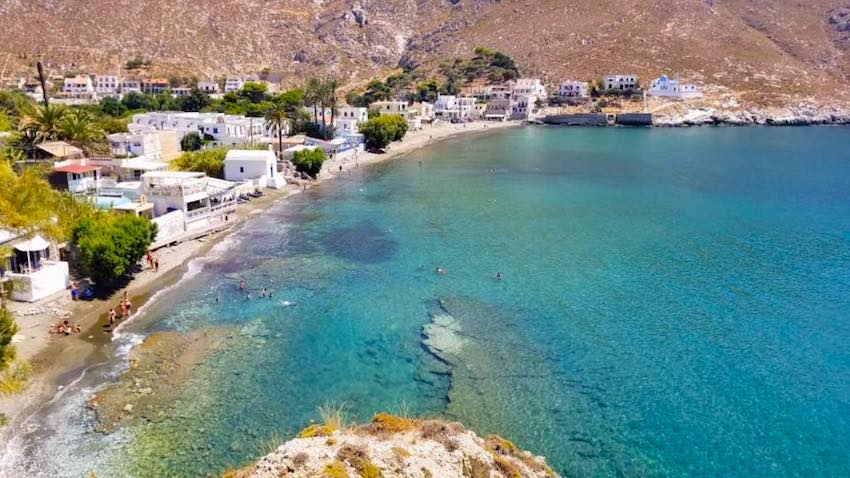 KANTOUNI/LINARIA:Main resorts. Kantouni has a beautiful sandy beach but there are no sunbeds and there is only a small amount of shade. Plenty of hotels/apartments, Kantouni Beach is main hotel. (Thank you Tom Katsadas for the photo)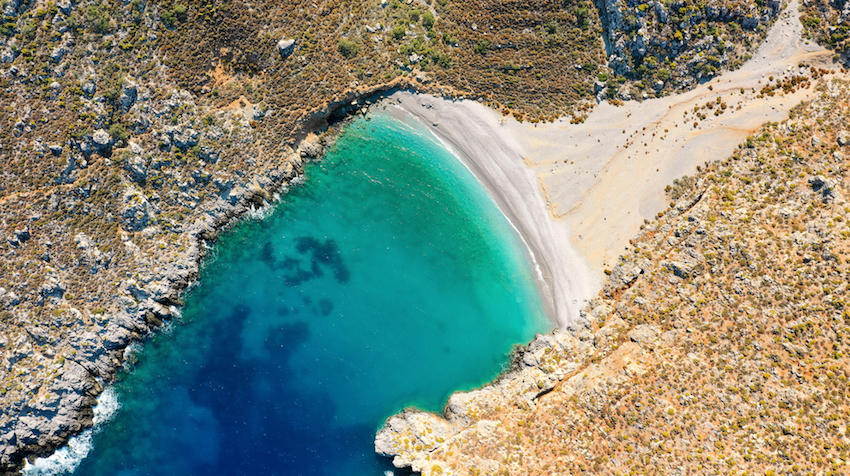 Other Beaches
PLATY YIALOS: Wonderful sandy beach. Sea shelves steeply and sea is quite wild. Taverna on beach serves good food. A few sunbeds available. Looks out to Ag. Kyriaki- a small deserted islet. Extremely popular at weekends.
MELITSACHAS: Wonderful small beach(shingle). Looks right out towards Telendos(neighbouring isle). Sunbeds available and the taverna at the end serves wonderful food. Several apartments to rent. Popular with locals at weekends.
AKTI: Minute beach on the road to Vathis . Apart from Massouri my second favourite. Pebbly but the water is crystal clear. The only taverna is run by an English woman married to a Kalymnian and serves basic food. The goat stew is lethal-don't touch it unless you want to be seriously ill! Beach is reached by a precarious "road"- an exhilarating experience driving a hire car- goodness knows what it's like on a bike but well worth the effort.
There are other numerous small beaches dotted around the island but you need a bike to get there. Also some which can only be reached by boat. Great experience- hire a water taxi from Vathis and get them to drop you off at a beach (usually pebbly). They then come back to collect you at an agreed time later in the day. A real castaway feel but make sure you take water and everything you need with you

Spongediving in Kalymnos
As anyone who has visited Greece will tell you, the country will change the way you view the world. Maybe it is the sunlight that makes everything seem clear. Maybe it's the contrast of beautiful blue skies and emerald seas with the harsh mountainous landscape and white stone houses and churches. And like the rest of Greece Kalymnos will change the way you look at the world. Or at least the way you look at sponges. With a history of sponge diving that goes back to ancient times, this strange creature is neither plant nor fungus but an aquatic animal that attaches itself to a spot and stays there, filtering seawater through its pores for nutrition until it is picked up by a sponge diver or wiped out in a blight. Both of which figure factor in the history of Kalymnos. The first by sustaining the island for centuries and the second causing the collapse of the Kalymnos economy in the 80s sending divers and their families to Tarpon Springs, on the gulf coast of Florida where the sponge were plentiful and had already been settled by earlier in the century by people from the island. Using bell helmets and rocks as weights with air pumped through a hose from the boat above them, divers walked on the sea floor gathering sponges for a worldwide market and the island's fortunes rose and fell with the sponges. Today there are still sponge fishermen though many if not all use their talents to put food on the tables of the restaurants and their own homes catching octopus, sea urchins, lobster and an orange fungus they put in bottles with vinegar, called Fouskas that tastes like... well it tastes like nothing you have ever tasted but I mean that in a good way, unless you hate it, in which case I agree.
But the history of the sponge fishing on the island is in the museums, shops and the photos in restaurants and cafes and you can still buy real sponges on the waterfront. If science has invented something better than an actual sponge, especially for washing your car, I have not found it.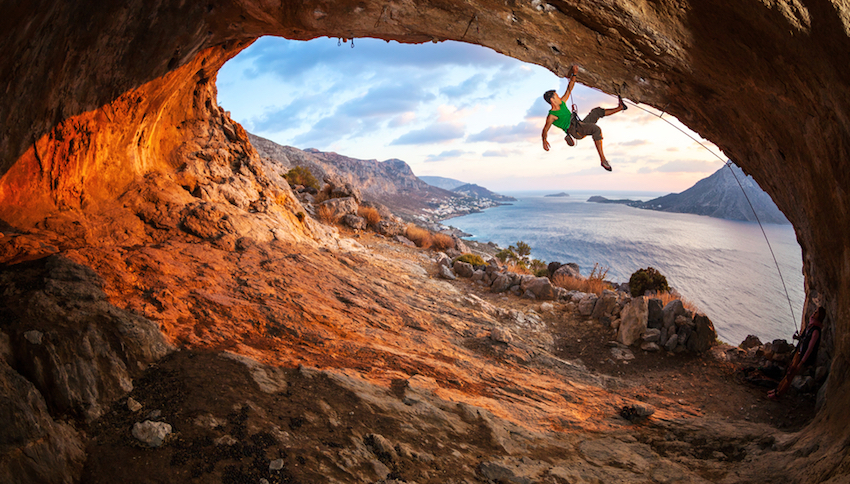 Rock Climbing on Kalymnos
Among sports climbers the island of Kalymnos has a reputation of being one of the best places to climb in the world since it was discovered in the mid 90s and the climbing season lasts 8 months a year with a few stragglers even showing up during the other 4 months. Though you could probably find places to climb on any Greek island, (since they are all mountains rising out of the sea), and in thousands of places on the Greek mainland, Kalymnos, because it was "discovered" early has the infrastructure, Route maintenance, shops, climbing schools and a large variety of places to climb so whether you are a beginner, intermediate or advanced climber there is a cliff face to suit you. There are climbing guidebooks and websites which if you are a serious climber you probably don't need me to tell you about.But if you are a serious climber and you want to know why you should choose Kalymnos instead of somewhere else it is because you are on a small beautiful Greek island with beaches, restaurants and nightlife instead of somewhere out in the boondocks where there is nothing to do except climb or talk about climbing to other climbers. And if you are traveling with someone who is not a climber and are worried that you are the one who is having all the fun, you probably aren't.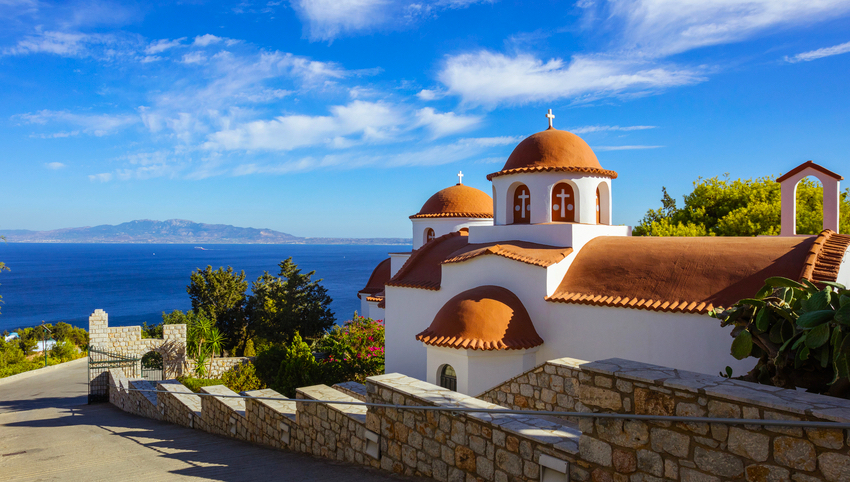 Other Places to Visit
For those who prefer more gradual ascents Kalymnos, like many Greek islands, is full of walking paths between towns, settlements, beaches, churches and monasteries.
CHORIO:The old capital of the island. Some interesting Kafenion and Ouzeria if you want to go native i.e. octopus and Ouzo! Above the village are the ruins of the castle and the old settlement which are fantastic to wander around but it's a mammoth climb so go early in the morning or out of season.
KEFALA: Reached by boat trip, the caves are again quite a walk but well worth the effort.
OTHER CAVES:
Daskalio reached by caique from Vathis.
Kolonostilo reached by walking from Emborio.
Skalia, Damos, Panagia, Chriso, Agia Varvara and Chostos (haven't been to these yet)
VILLAGES: Argos, Platanos, Vothini and Metochi all traditional small villages.
CHURCHES: As to be expected, there are numerous churches and chapels dotted all over the island. I have visited many of them, the chapels at Massouri and on Telendos being well worth a visit. AG. SAVVAS is the jewel in the crown as far as churches go. Overlooking Pothia high up on the hill, the illuminated cross at night looks like a beacon offering safe haven for shipping at night. A MUST but it is a hard climb in Summer. Take a taxi- it's easier.
Kalymnos Restaurants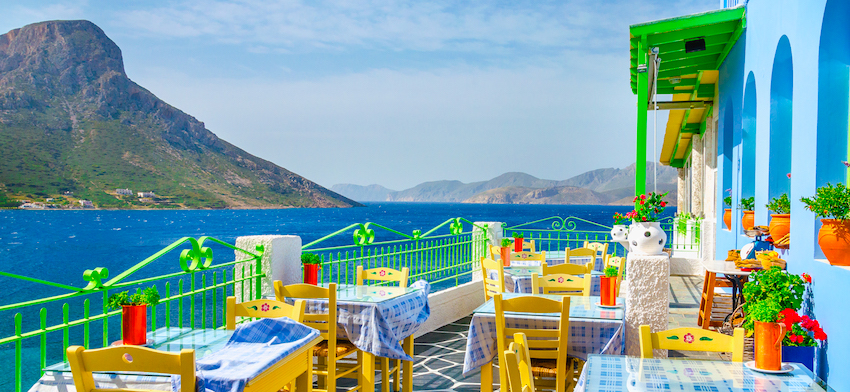 Kalymnos has one of the largest fishing fleets in the Aegean so of course fish is on the menu just about everywhere. But for those who prefer meat go for the local mououri, goat stuffed with rice and giblets, slow-baked in a sealed clay pot, or the fylla which is their take on dolmades, grape leaves stuffed with ground meat and rice. Here are some recommended restaurants...
The family owned Mamouzelos is a legendary seafood restaurant in the harbor of Pothia known for fresh high quality seafood, large portions and friendly service. Nice view and besides the normal seafood dishes you will find on every island they have many specialties like seabass carpaccio, seafood pasta, whole lobster, shellfish, eel, swordfish steaks, squid/cuttlefish risotto cooked in its own ink, grilled barbounia, large salads and seafood mezedes. You get the idea.
Bakalogatos is a small chef-owned ouzeri/mezedopouleion restaurant in the center of Pothia with great food, very popular with locals and Greeks from Athens because of its authenticity. They also have a beach bar-restaurant in Palionissos. It is the kind of place you go the first night, decide you love the food and atmosphere, try another place the second night, and then come back to Bakalogatos on the third night and eat (and drink) every night for the rest of your trip.
Prego Mediterranean Cuisine in Masouri is very famous because the chef Pandelis Vouros was on Greece's Master Chef Greece cooking reality TV Show and his episode was so funny it went viral and he became a cultural icon. But that is not the only reason why people go there. It happens to be a very good restaurant as you would expect if the chef is invited to be on Master Chef Greece. Prego restaurant is known for its fresh creative salads, a wide range of appetizers and dishes from all around the Mediterranean, fresh fish, whole or filet with the option of pre-ordering the fish you desire something in particular. They also have fresh homemade pasta and pizza, and meat, beef and pork grilled to perfection. Pandelis is the son of the Vourlos bakery family, one of the best, if not the best bakery in the Dodecanese, mentioned below. Order the spareribs and let Matt know how they are.
Massouri Restaurant is just off the square in Massouri, behind two large trees and with a wonderful terrace out the back from which to dine and watch the sun set over Telendos, it is run by Stelios and Maria who came from Skiathos many seasons ago. The food is wonderful, they will cook anything to order provided you see them the day before. They have three young children, are a wonderful couple and it's just that little bit up-market in terms of presentation, service etc.
Aegean Taverna is located between Massouri and Myrties this is THE restaurant to go to for that extra special Greek meal. Their Kleftiko is to die for but is not always on the menu so keep an eye on the board during the day. The service is excellent, bread comes warm as a mini loaf complete with bread knife and you are always given Loukoumades free at the end of the meal. Extensive menu – traditional and other, good service. Very popular so you may need reservations.
The Glaros Snack Bar is run by Sue and Steve, an English couple who have lived and worked on the island for many years, located at the top end of Massouri and is ideal for a light meal. Mainly used by regulars in the evenings as a place to enjoy a drink and unwind or for after dinner drinks, Sue and Steve are the real asset here. Steve speaks Greek, knows everything you need to know and they both act as an informal tourist information office. They will help anyone with anything, from advice on where to shop to where to stay and know all the local gossip! A wonderful safe haven. They even serve the "Full English" for those who can't do without it!
Domus on Kantouni beach is run by Michalis whose English is so perfect he can even mimic accents. It is widely acknowledged by the locals as being one of the best restaurants on the island, very posh with linen table cloths etc. It is also one of the few restaurant it's advisable to book reservations. It looks like a beach bar, which it kind of is too, or what they call in Greece a cafeteria, which is a word not used the way you probably do, but it has a large and varied international menu including seafood pastas, salads, sandwiches,crepes, pizza, coffees and cocktails. It is right on the beach and at night it becomes a club. You could spend your entire day here if you are staying nearby.
Just before you arrive at Arginonda, on the left hand side is this traditional taverna run by an old woman and her son called Sea Breeze. It is almost always empty but they always have good basic food on the menu. Rather like being in a time warp, they have private steps down to the sea from which you can swim and are always warmly invited to do so. The view across the bay is amazing and for a quiet, simple meal I can think of nowhere else better.
Zorba's Restaurant is a family owned seafood taverna in Masouri, famous for its fresh meat and fish cooked on the grill. The owner Nick is a great host and the restaurant is popular with locals too. On Sunday they have Greek live music night with dancing.
Vourlos Bakery has a couple places in Kalymnos and one in Kos as well. They have a huge selection of pastries, pastry, chocolate treats, cakes, handmade chocolates, syrup, cookies, marshmallows, handmade jams, buns and the best ice cream you've ever tasted. Also Michalaras' zacharoplasteion in Pothia is known for its galaktoboureko and other sweets.
Rita's Restaurant in Telendos is right where you get off the boat. It is family owned, run by Yannis and Rita who are wonderful hosts. The food, atmosphere, and prices are excellent and faces Kalymnos. Also a great place to go for a beer after a day of climbing.

George J Limberis from Matt Barrett's Greece Travel Guides Facebook Group adds...
"I had 3 great meals in Kalymnos last May: Stoukas Taverna - about a 5 minute walk once you get off the ferry. Great food and the owner told me all about the island. Harry's Paradise Garden in Emborion- lunch in a very lush, peaceful courtyard. No menu - they brought me a pikilia of several dishes. It is an authentic family owned restaurant and the owner is very friendly and speaks English and several other languages as well. They use all local ingredients and vegetarians will find plenty to choose from too. They also serve breakfast and the garden setting is really beautiful. To Kapsouli - one of the 4 restaurants on the island of Telendos. First time I ever tired octopus balls - delicious! Very friendly family place - the owners son was having his 6th birthday party and they brought me a piece of cake. Beautiful island and wonderful people all around!"
And from travel writer Marc Dubin "Kafenes on Platia Hristou is just that, a mezedopoleio with great salads and seafood. Stoukas in Pothia is a reliable bet, with good meat dishes too, popular with the yachties who berth nearby. Melitsahas has two very good fish tavernas, including Anna's (aka Psarokatastasi)."
See also Azure Wine Bar in the Bar's section.
Hotels, Apartments, Villas and Rooms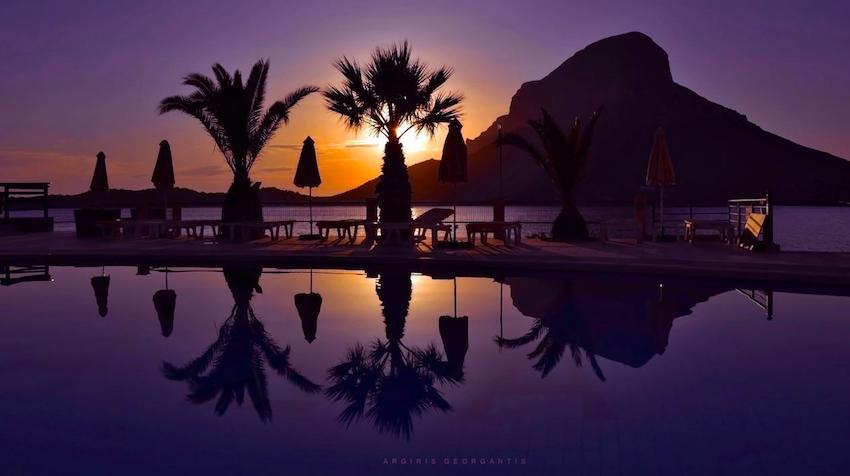 Stayed here with my Mum on our first visit. Brilliant location right next to the beach at Masouri with good facilities, a swimming pool, snack-bar and free wi-fi. All rooms are equipped with air conditioning, satellite TV and fridge. Breakfast is included in the room rate. You can walk everywhere from here. But you may just stay and enjoy the view.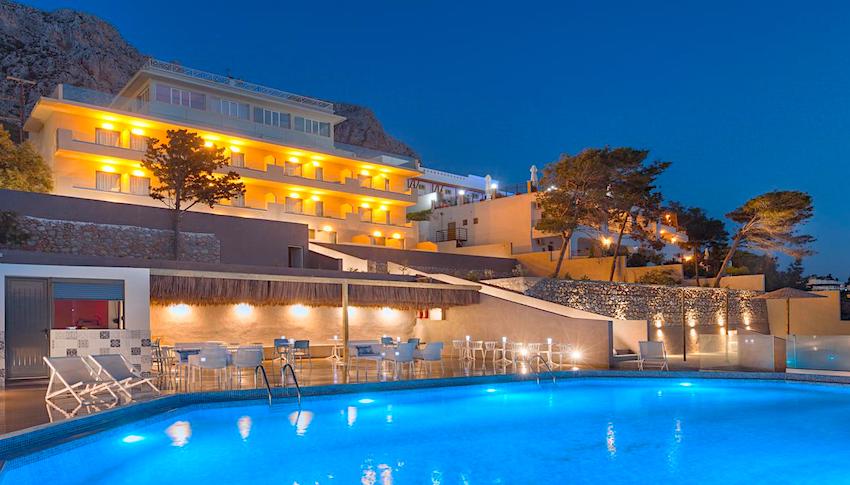 Located on the seafront in Masouri, the 4-star Carian Hotel features an outdoor pool with unobstructed sea views and a spa center including hot tub and offering a variety of relaxing treatments.The hotel has a 24-hour front desk and also offers free WiFi access throughout. Elegantly decorated with modern furnishings and soft colors, the rooms and suites at Carian Hotel are air conditioned and come with a flat-screen TV with satellite channels. Each unit includes a modern, private bathroom and a work desk, while some also offer views over the Aegean Sea.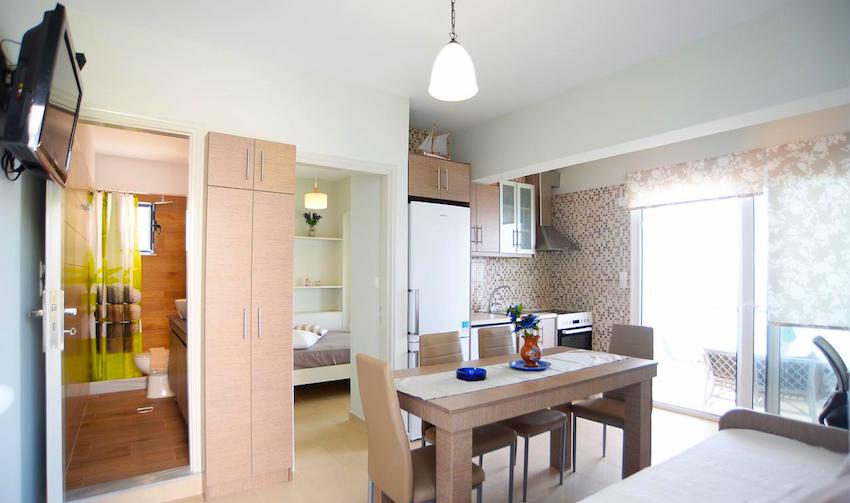 MOUSELIS APARTMENTS is located within a few steps of Platys Gialos Beach and a 15-minute walk of Melitsachas Beach. The air-conditioned units are furnished with tiled floors and feature a private bathroom, a flat-screen TV, free WiFi, desk, a living room, an equipped kitchen, balcony and views over the sea. There's a seating and/or dining area in some units.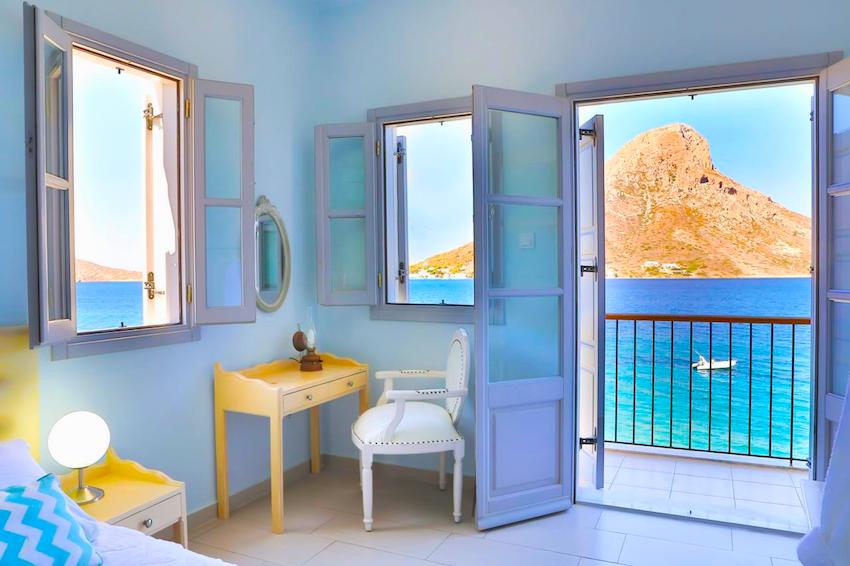 Built right on the beach of Masouri in the MasouriBlu Hotel offers rooms and suites with Aegean Sea views. It features a sun terrace, a garden, and a lounge area, while free WiFi is available throughout. Opening to a furnished balcony or terrace, each accommodations unit in MasouriBlu is uniquely decorated and features a satellite, flat-screen TV. Air conditioning, and a bathroom with hairdryer and free toiletries come standard.
As mentioned above Tatsis Apartments are owned by Yiannis Tatsis, now a good friend. Have been staying there since 1996. Two sizes of studio. Small has bedroom, terrace, bathroom and kitchen. Large has two bedrooms, two bathrooms, dining area, kitchen and two terraces. Located right in centre of Massouri, next to Punibel restaurant. Cleaned daily by Popi, fresh linen every third day. All the studios have views towards Telendos. Four blocks, the top ones have views right across the bay but tend to be hotter than the bottom ones which are in the shade more.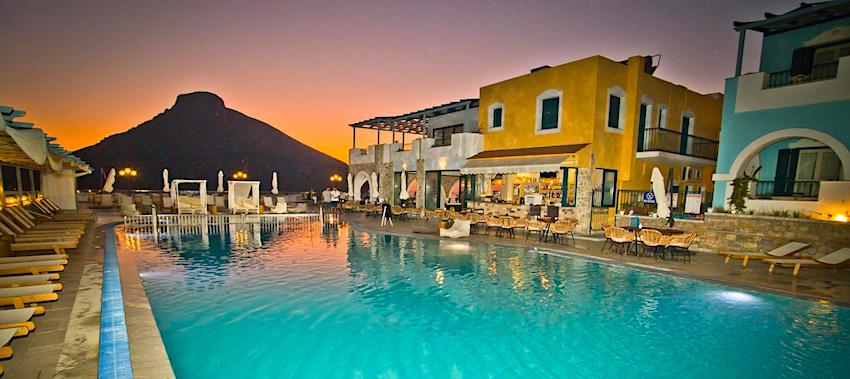 Offering a pool and a fitness center, Elena Village features self-catering accommodations with Aegean Sea or pool views. Facilities include free WiFi access and a snack bar. Kastelli Beach is 500 feet away. Opening to a furnished balcony, all air-conditioned apartments of Elena have a separate bedroom. Each consists of a living room with flat-screen TV and a kitchenette with hobs and dining table. A hairdryer and free toiletries are included.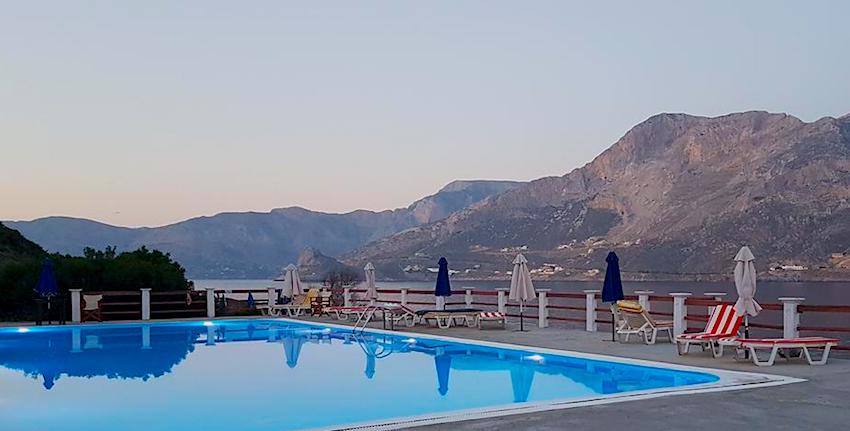 Built on a hillside, within 1,650 feet of Telendos Port, Hotel Porto Potha is a family-run property following the traditional architecture of the Dodecanese. It has a swimming pool and a poolside bar, and offers accommodations with Aegean Sea or mountain views. Rooms and studios at Porto Potha open out to a balcony and they are air conditioned. They come with an private bathroom with shower, while some also include a kitchenette.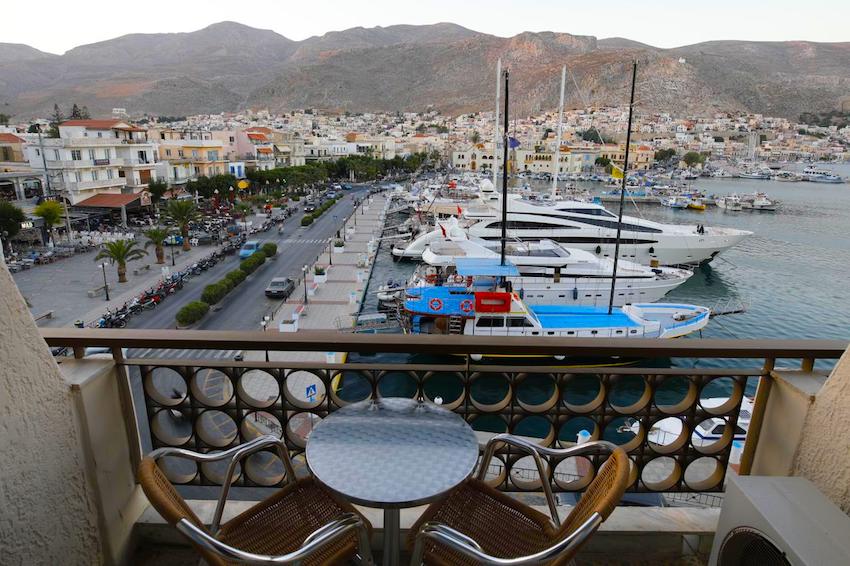 Centrally located on the waterfront in Pothia, the capital of Kalymnos, Olympic Hotel is just 150 feet from the port and 650 feet from the famous thermal springs. It features a bar and air-conditioned rooms with free Wi-Fi and furnished balcony overlooking the Aegean Sea. A TV and fridge are included in all rooms at the Olympic Hotel. Each has a private bathroom with shower.
Offering views of the Aegean Sea, Petra Boutique Homes are located in Arginonta, 650 feet from the nearest beach and a mini market. All holiday homes are built according to the local architecture and come with free WiFi. Fitted with beamed ceilings and built-in beds and sofas, all house open to a private terrace, some with a private pool. Each unit has a fully equipped, colorful kitchen, a fireplace in the living room and a flat-screen TV.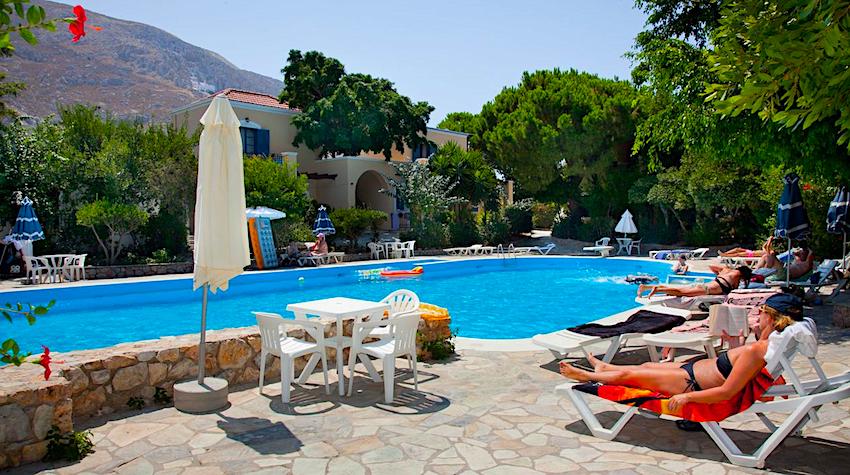 Kalydna Island Hotel provides a scuba diving and a climbing school, as well as a large swimming pool with bar. It is found just 300 feet from Kantouni Beach. This hotel is located 3 miles from the port of Kalymnos and close to the most interesting climbing areas. Guests can make the most of this magnificent area and enjoy mountain biking, windsurfing and trekking. Kalydna Island Hotel is a unique hotel and bungalow complex of luxury construction in a traditional Aegean style. Each room at Kalydna has its own balcony, bathroom with shower and TV.
Facing the beachfront in Vathís, Hotel Galini has a restaurant and a bar. Free WiFi and a 24-hour front desk are offered. At the hotel, rooms have a closet. Complete with a private bathroom equipped with a shower and free toiletries, the rooms at Hotel Galini have a flat-screen TV and air conditioning, and certain rooms come with a balcony. All guest rooms will provide guests with a fridge. A Full English/Irish breakfast is available each morning.
---
You can find more hotels, apartments, villas and Air BnB style accommodations with rates, reviews and photos on Matt's Booking.com Kalymnos Pages and on Matt's Hotels of Greece Kalymnos Page.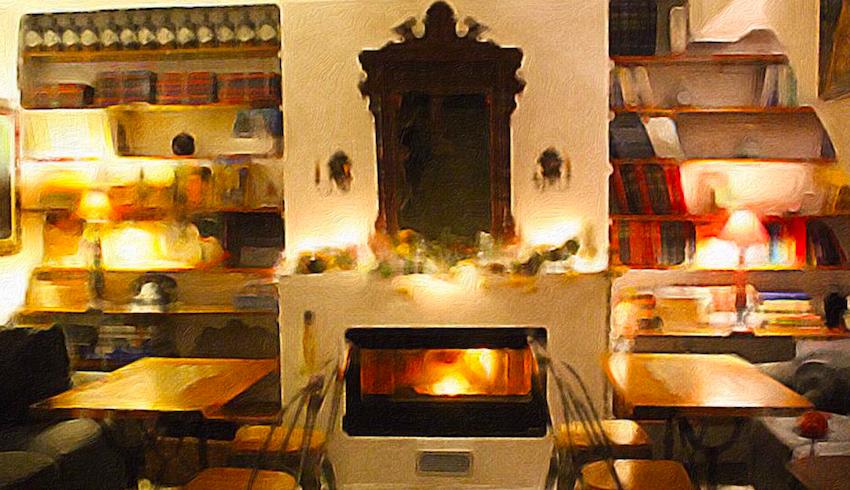 Bars and Nightlife in Kalymnos
You won't have any trouble finding places to drink and listen to music because Kalymnos is loaded with bars and cafes, in the town of Pothia along the waterfront, and on the beaches especially around Myrties. Most, if not all of them are open all day long so you can start with breakfast and coffee and progress through the day ending with a nightcap. And most of them, again if not all of them, serve food and could be considered restaurants. There are several dance clubs that stay open late in the summer.
AZUL: Not your ordinary island bar, Azul in Armeos is a Wine Bar with cocktails with a beautiful view of the sunset and good food in a stylish setting with indoor and outdoor seating. Quiet and perfect for couples with a nice selection of the best Greek wines and imported booze, probably including your favorites. I would have put it with the restaurants but thought it might be overlooked and anyway you should come here for a drink or two and you will probably stay for dinner. And desert. And a nightcap. There is an art gallery and it is open in the daytime for coffee as well. See above photo.
Hammer Wine Bar on the waterfront in Pothia serves pizza and other Italian main courses, appetisers and seafood and a good selection of Italian wines. They have live music in the summer and sometimes karaoke. Open in the daytime too.
NADIR ROCK CAFE-Myrties. Cool bar with cold beers, good music and fresh homemade popcorn, food and cocktails.
BABIS- Myrties- has wonderful swimming pool at back. Extremely friendly, caring, genuine people and good food, it has been open for at least 25 years and was one of the first hangouts for the climbing community.
GLAROS- Run by Sue and Steve (mentioned above). A great place to meet, eat and hang out and make friends. Steve and Sue are wonderful and are very involved with the rock climbing community. Highly recommended.
ROCKIN' BLUES PUB: Despite the name this is more of a younger person's place and you won't hear much rock or blues, but techno heavy on the beat modern stuff. But with new management in 2020 maybe they will play more roots music as the name implies.
MICHAELS- Elies Square. Elies also has the oldest Kafenion on the island and is wonderful to sit in and watch the world pass by.
Sunrise – right on the square in Massouri and run by Nektarios
Fatolitis Snack Bar in Mirties is the place to go for a beer if you are a climber and want to talk about your conquests with other climbers. Beautiful setting, friendly owners, cold beer and alcohol free beer and lots of snacks, cocktails and even a swimming pool.

OTHER KALYMNOS INFO
Being the centre of the sponge diving industry at one time , the island is full of reminders of the past and of course tales of the diving era. Faith Warn has written a book called "The Bitter Sea" which tells the story of the sponge fishermen. There is a sponge factory to visit in Pothia and you can see the sponges being washed and prepared. There are also several small museums in Pothia.
Transport takes a variety of forms. There are plenty of taxis to hire which are relatively inexpensive. Cars, bikes and scooters can all be hired BUT the roads are somewhat primitive and particularly narrow in Pothia, making driving a somewhat nerve-racking experience. There is not much sense of the Highway Code either- traditional Greek driving! But there is a bus service which runs if a little erratically!
There are many customs and folk tales on the island such as that of the sleeping princess whose face you can see on the side of Telendos and the tale of the seven virgins who are supposed to have hid in a cave to escape pirates and who disappeared in the bottomless channel beneath the cave in which they sought refuge.
I have to mention Easter on Kalymnos. It's a wonderful but somewhat disturbing experience in more ways than one!. On Easter Saturday, the lamb is slaughtered and the Mouri, a traditional Easter dish of stuffed lamb that is cooked in a sealed clay pot (similar to what they call mastela in Sifnos), is brought to the village ovens to be cooked until the next day.
Every church on the island prepares a float which forms part of a parade down to Pothia in the evening and the parade is met by the Mayor and council and various ceremonies are carried out. After the parade the fun begins with firecrackers etc being thrown and most people stay late in Pothia. Most worrying by far is the Kalymnian tradition of throwing dynamite! Last time I was there for Easter, we were enjoying a meal down in Pothia near the water front when someone threw a stick of dynamite which exploded just opposite the restaurant but fortunately in the water. It can be quite alarming and dangerous. Several people have been killed with the dynamite over the years but everyone joins in with little regard for safety. On Easter Sunday the ovens are opened and the meal is eaten with all the usual specialities such as dolmades etc. It's a wonderful experience with all the traditional Easter customs; painting, dyeing and cracking eggs etc.
I hope this has given a reasonable overview of the island. If you do manage to fit in a visit call in and say "hello" to Yiannis Tatsis, Jane and her husband at Selene and Steve and Sue at Glaros. You will be made MOST welcome I can assure you.
Gill Collins.
Thanks to Nikki and Vicky and Matt, who contributed to this article.

Getting to and from Kalymnos
There is an airport built in 2006 with flights from Athens on Sky Express and Olympic. When booking your flight make sure it is not extraordinarily long. A direct flight to Kalymnos should take about an hour and there are several flights a week that do that. If it takes more then there will be other stops and layovers involved, possibly an overnight stay on Kos.
People who don't like long ferry rides can also fly international flights to Kos or Rhodes and take a much shorter ride than the trip from Pireaus. The trip from Pireaus takes about 11 hours and boats go 3 to 5 days a week depending on the season. The Blue Star Ferries are the best boats doing the route. in fact they may be the only boat doing the route. Do yourself a favor and get a cabin. The ferries to Kalymnos generally stop in Patmos, Leros, Kos and Rhodes so if you are hoping to go to more than one island those would be the easiest to get to along with some of the smaller lesser known islands like Symi, Tilos, Lipsi, Nissiros and Halki which may have smaller local boats connecting them. See Matt's Dodecanese Islands Page

Use Ferryhopper to find all direct and indirect ferry routes for the islands of Greece, Spain, Italy & Turkey, compare ferry companies & prices, and book cheap ferry tickets with no hidden fees in one go!

For hotels and transportation to and from Kalymnos and assistance combining Kalymnos with other islands contact Fantasy Travel or Dolphin Hellas Travel or Aegean Thesaurus Travel or use Matt's Create-an-itinerary form to get prices or even see if an itinerary is possible or practical.