Southern Evia and the Joys of Karystos
by Diana Farr Louis
If the Karystos district were on Crete the tour operators would have taken it over long ago. It's got medieval castles and ancient sites, miles of beautiful beaches and leafy mountain villages, living traditions and great tavernas – everything a place needs to become a tourist mecca. Somehow, though, Evia, Greece's second largest island, has been overlooked in the mad rush to develop. Is it too close to the mainland, not island enough? Whatever the reason, we Athenians should be grateful such a goldmine lies at our doorstep, just an hour's boat ride from Rafina. At present there are boats only to Marmari, a burgeoning resort town spreading up the hill behind a wide bay some twenty minutes' drive from Karystos. But if you zigzag up to the main road you become painfully aware that prospectors are already exploiting other natural resources.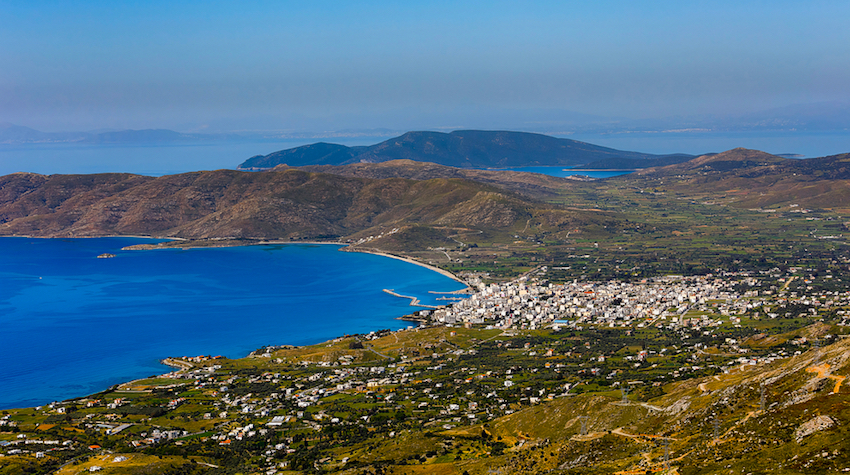 Southern Evia is rich in stone. Over the past three decades, petra Karystou (grey-beige slate) has become the preferred material for terraces, floors and walls in private homes and public areas. The demand was so sudden and so voracious that the road is now a corridor between makeshift depots surrounded by pallets, shards and untidy piles of worked and unworked stone. Evia being even richer in wind, the "mining" of the air is even more unsightly though more ecologically correct than Greece's usual source, lignite. Every mountain ridge within sight sports a colonnade of wind generators, massive white totems with arms whirling to turn Boreas into clean electricity.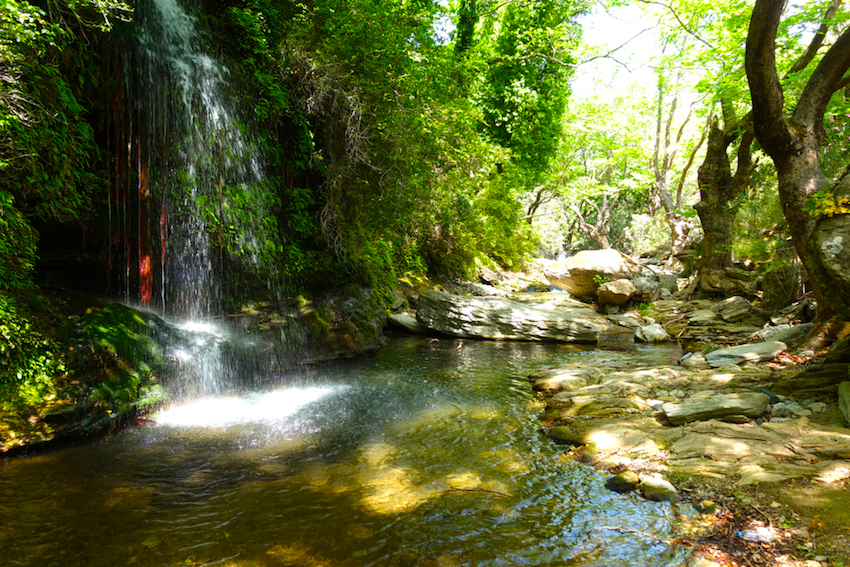 But at least Karystos and the large area around Mt. Ohi (as well as many other parts of Evia) are included in the NATURA 2000 EU program for the protection of natural habitats. Streams gush from the mountainside, swathing its foothills in green even in late summer. Nightingales, blackbirds, warblers and finches trill from thick tangles of blackberry brambles, stout-branched plane trees and fruit trees of all sorts. Verdant villages like Myli, Aetos, Grabia and Kalyvia bring to mind Andrew Marvell's "The Garden": "annihilating all that's made into a green thought in a green shade." Rare peonies grow in a field near Mekounida, a pair of eagles nest in the Frankish Castello Rosso, a house owl is no rarity. Higher up Ohi and to the east stands a chestnut forest, north of it the wooded Dimosaris gorge runs 10 kilometers down to the sea. Paths link all these places, passing Turkish fountains, old stone bridges, Byzantine churches and a Roman aqueduct along the way.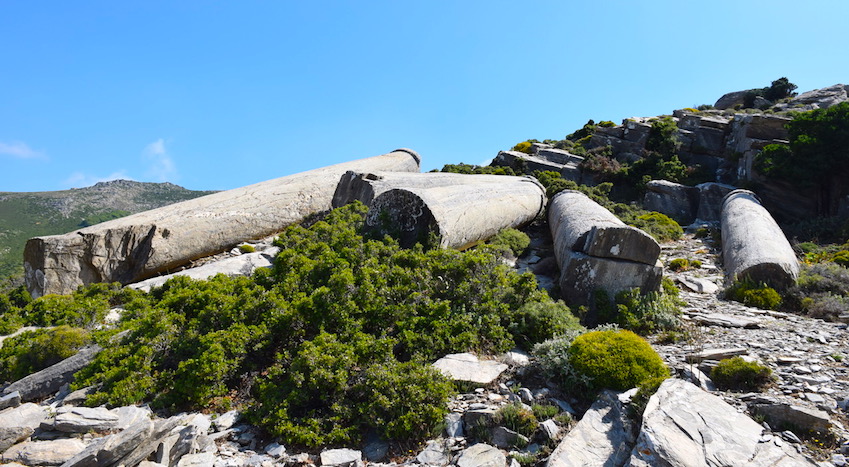 A strange sight, and one probably unique to Ohi, is less than an hour's walk above Myli. Here, at the remains of a Roman marble quarry, lie several columns up to 12 meters in length, tossed like a titan's pick-up sticks. One or two are unfinished, waiting to be freed from the stone. The site is so steep that when I first saw it, I concluded that the workers forgot to plan ahead and had no way to transport the columns to their destination. But I have since learned that Karystos "cipollino" marble (so called streaked with green like an onion) marble adorned Hadrian's Library and the Roman Agora in Athens and were shipped to embellish palaces, villas, temples and forums throughout Italy. Later quarries provided marble for San Marco's in Venice, St. Peter's in Rome, Agia Sophia in Constantinople and – wait for this – the New York Public Library.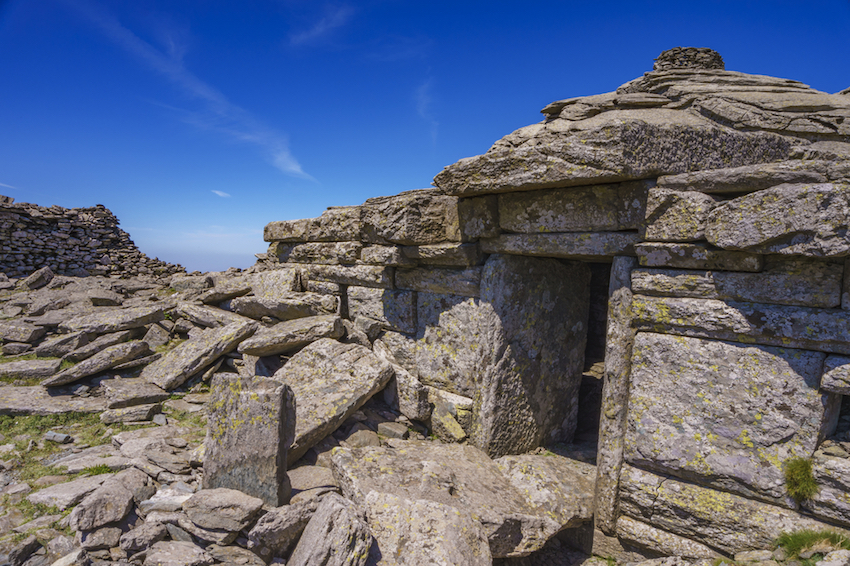 At the peak itself looms something even stranger, the so-called Dragon's House or Drakospito. Scholars are unable to agree as to whether it was a place of worship or a sort of beacon tower, and date estimates range from the 13th to the 3rd century BC. It consists of massive rectangular stones that only dragon-slayers could hoist, but what really distinguishes it is a roof of inconceivably large, overlapping slabs arranged on a slant like giant shingles. One slab has collapsed and when the fog rolls over the mountain, it billows up through the gap like the smoke from a dragon's maw.
Some say that the Drakospito was a very early temple to Hera, for it was on Evia that the goddess was raised and Zeus first noticed her (conveniently forgetting she was his sister). Anticipating her reaction, he tried his usual disguise ploy and turned himself into a little bird, shivering with cold on the mountaintop. She took it to her breast, whereupon Zeus revealed his true form and intentions. "Not on your life," Hera stamped her foot, "no hanky panky without a wedding." Zeus, young and inexperienced at the time, agreed to matrimony, and prehistoric tribes (the Curetes) initiated rites honoring the holy wedding of Zeus and Hera on Mt. Ohi (Οχη), which continued for hundreds of years. Now comes the question, is the name somehow connected with Hera's emphatic "no" (οχι), the "ι" having been replaced by an "η" at some point?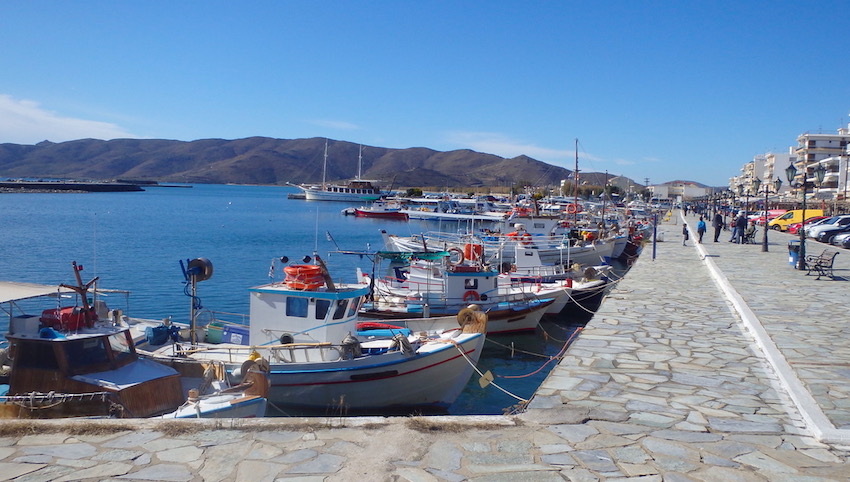 The Karystos waterfront abounds with ouzeris and cafés in which to ponder this etymological problem. Octopus tentacles dangle from special railings, forming a see-through curtain in front of the sturdy trawlers parked three-deep along the mole. One of the blessings of slow tourist development is that Karystos is still very much of a working town where boutiques are far outnumbered by all-purpose emporiums crammed to the roofbeams with old fashioned equipment and appurtenances that might be found in a folklore museum. Cheese-draining baskets, blue talisman beads for mule bridles, rat-proof cooler cages (fanaria) where food was stored in pre-fridge days are just some of the booty on sale. On the first back street parallel to the waterfront, beekeeper Evangelos (Vangelis) Hondronastas pours honey mixed with browned sesame seeds onto a marble counter to make crisp, not-too-sweet pastelli bars. Garlands of local sausage are looped above pale yellow rounds of tourlomotyri and kefalograviera cheese straight from the sheepfold.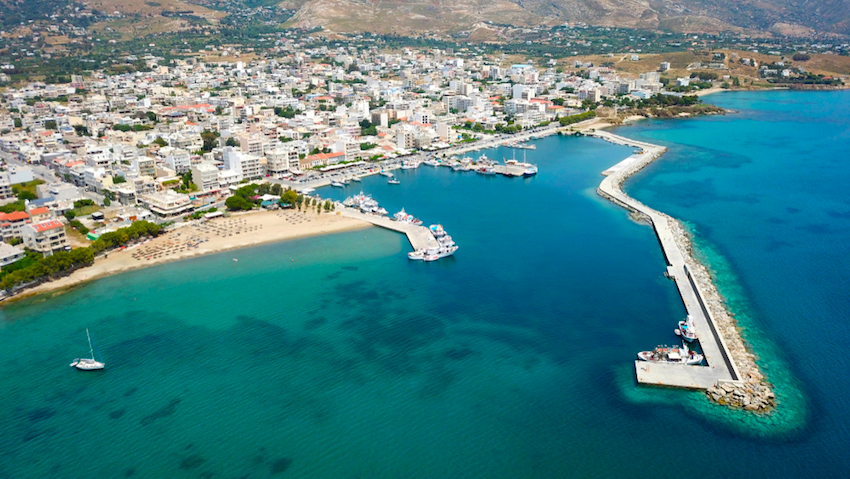 Otto, Greece's first monarch, was so enchanted with the possibilities of Karystos and its huge crescent bay that he dispatched a Bavarian planner to draw up a grid for the new town and even contemplated declaring it his capital. Until his deposition it was called Othonoupolis, and a smattering of neoclassical buildings reminds us of this era. Antiquities, however, are few. Apart from a fenced-off foundation which may either have belonged to a temple of Apollo or a Roman mausoleum, the only other old stones have been inserted into the walls of the Venetian Bourtzi, the small fort east of the port. The large building opposite it is the Yokalion Foundation, which houses the Archeological Museum, an impressive 11,000-volume library and a theater where lectures and performances are a regular occurrence. Besides finds from the Dragon House, exhibits include inscriptions, statues and reliefs – notably a delightful one of an aging Herakles reclining on a lion skin with a wine cup under the gaze of a satyr – from the ancient acropolis up at Castello Rosso (Kokkino Kastro) and from the Montofoli wine estate below it.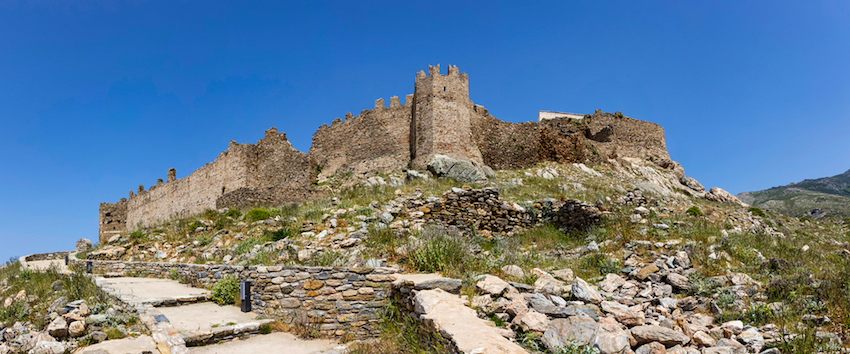 A few more vestiges of the pre-Christian period are to be found in the vicinity of the castle, built by the Lombards in 1205. Named after its reddish stones, it was so well designed that the Turks who inherited it from the Venetians withstood four sieges during the Revolution. Below it the pasha created a garden and a citrus grove on the site of Roman baths. Today they belong to the Ktima Montofoli, a very special vineyard producing an elegant, organic dessert wine from grapes dried on the vine, without added alcohol. Pavlos and Marianne Karacostas, who also own the Cellier wineshops in Athens, have transformed the estate which was abandoned in 1950 into a showplace in just 15 years. Besides planting four grape varieties, they have painstakingly restored its Venetian, Turkish and neoclassical ruins with a rare sense of balance and taste. Says Marianne, who was born in Sweden, "Montofoli probably means Mount of Leaves from the Italian foglie, but I like to think it means folly. You have to be crazy to work as hard as we have." Myrtoa SA, Karacostas' company, also produces colorful, indispensable sightseers' and walkers' maps of the area, Marianne's marmalade and Myrtilos dry white wine.
After leaving Montofoli, I climbed up to the castle and was nearly blown off by a furious gale. The ancients had a hymn they sang to stop the north wind. I wish I knew it because sometimes Aeolos, the god of the winds, whose throne was and is still is on the island of Tinos to the east of Evia, has a tantrum in summer that lasts too long. These endless "meltemia" can be annoying but I find it consoling that the ancients placed Aeolos there and he has remained a constant. In our era where change is the norm, this is reassuring and they are cheaper than air conditioning.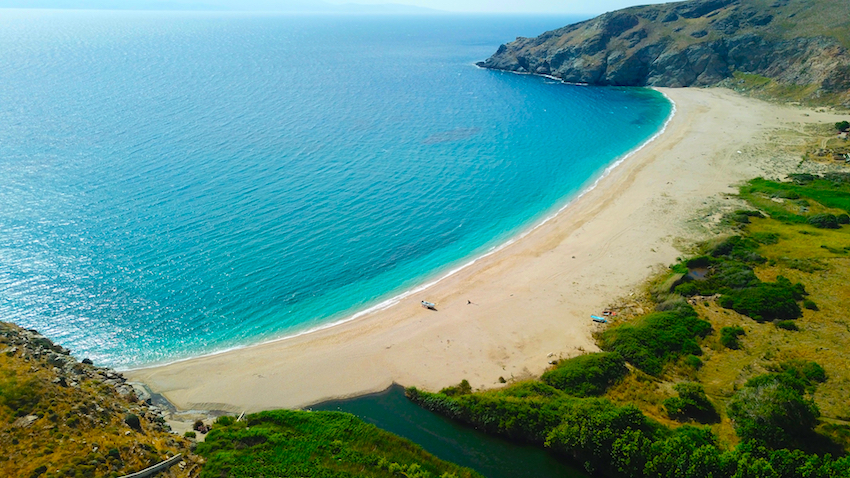 Beaches
Karystos has a number of beautiful beaches some within easy walking distance from the center of town and others in the surrounding coastal areas. Gallid and Psili Ammos have beach beds, food and drinks and are actually in town. Kavos is 5km SE of town and is also what is known as an organized beach, with sunbeds, umbrellas and other facilities. Megali Ammos is on the outskirts of Marmari and though it is not organized it is close enough to the town for food and drinks. Potami is about half an hour or more east of Karystos and has a small river and a couple seasonal tavernas and is probably the most spectacular of the beaches in southern Evia. (photo)

How to get to Karystos
Four ferries per day make the one-hour trip between Rafina and Marmari in winter, 6-8 during the summer. From Marmari it is a 20-minute drive to Karystos. Other ferries leave for nearby Stira and Eretria about an hour further north from Agia Marina (beyond Schinias beach) and Oropos, respectively. If strong winds keep boats in port, you can always cross over the Halkis bridge at the middle of the island. For ferry schedules and tickets go to www.ferryhopper.com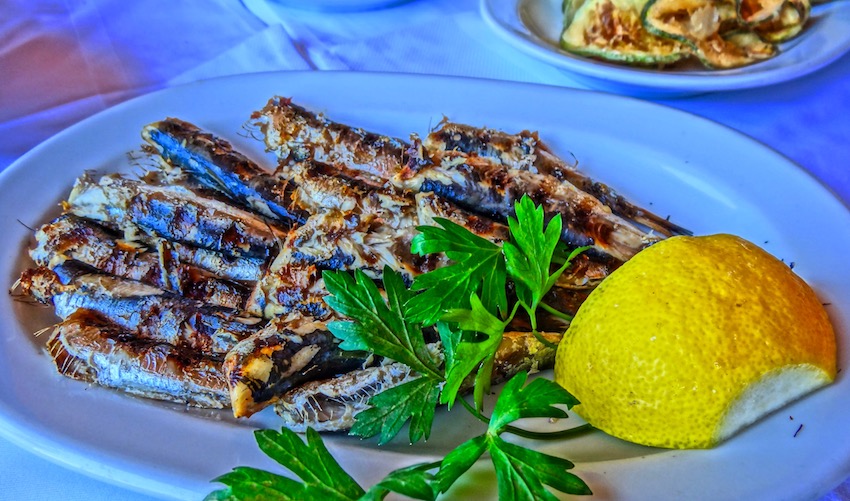 Where to eat and drink
It would be easier to tell you where not to eat, there are so many excellent and atmospheric tavernas both in and outside Karystos. Starting with the waterfront, Agoné, 22240 31358 (also open some evenings in winter; Agoné means the end of a loaf of bread or the hearth), has fantastic home cooking like stewed cockerel, seafood pasta, keftedes, eggplant dishes, and finger-licking salads. The owner Melios Hatzis was raised in an Athens taverna, To Pithari, and is passionate about food and cooking.
Around the corner from Agoné, Gevsiplous by Baxevani (Th. Kotsika 3, 22240 25697, executive chef Vaggelis Roudosis), offers traditional tastes in a new guise, such as lentil salad with tarama mousse from herring eggs, fava with hazelnut vinaigrette, smoked eggplant purée, mushroom risotto, and, the pièce de résistance, feta 'doughnuts' (loukoumades) with a red pepper sorbet.
Marino's has good fish and, in season, fresh local asparagus in season (!) (22240 24126), the Cavo d'Oro (22240 22326) on the first side street west of the main square (look for its yellow chairs) has excellent ready-cooked food for lunch and serves grills and fries in the evening.
To Kyma (22240 23365), right on the beach about 2 km east of town, is the best bet for fish, though its menu also offers 'lamp' and 'goasts' (sic), while To Rema (22240 26204,) in roughly the same vicinity, has great food for good prices, not to mention desserts with a Scottish touch. In the hills, Dimitri's (22240 22604) in Ano Aetos serves the best lamb chops in the area, disproving the rule that the better the view the more mediocre the food.
Visits to Montofoli Wine Estate (Ktima Montofoli) and tastings can be arranged by calling 22240 23951 or by e-mailing info@montofoli.gr
About Diana Farr Louis
Diana Farr Louis is an American food/travel writer and long-time resident of Greece. She has published dozens of articles and three books on Greek cooking – Prospero's Kitchen, Mediterranean Cooking of the Ionian Islands from Corfu to Kythera, Feasting and Fasting in Crete and, most recently, A Taste of Greece with Princess Tatiana. She was the chief travel correspondent for the weekly Athens News from 1997 to 2007 and has written two excellent travel books, Athens and Beyond: 30 Day Trips & Weekends and Travels In Northern Greece, both highly recommended reading for those whose explorations of Greece go beyond Mykonos and Santorini. Feasting and Fasting in Crete includes recipes and anecdotes, history and tradition about the island and is an essential ingredient in any Greek or Grecophile Kitchen. Prospero's Kitchen was recently republished in a new, third edition by IB Tauris in London/Palgrave in the US and is widely available through Amazon and other websites and bookshops. Feasting and Fasting in Crete can be ordered from the publisher, Kedros, books@kedros.gr or in the US from Greece In Print. Most recently, she co-authored the eccentric guide 111 Places in Athens that you shouldn't miss, one of the latest in the successful series by Emons of Cologne which is available on Amazon as are many of her other books.
Hotels in Karystos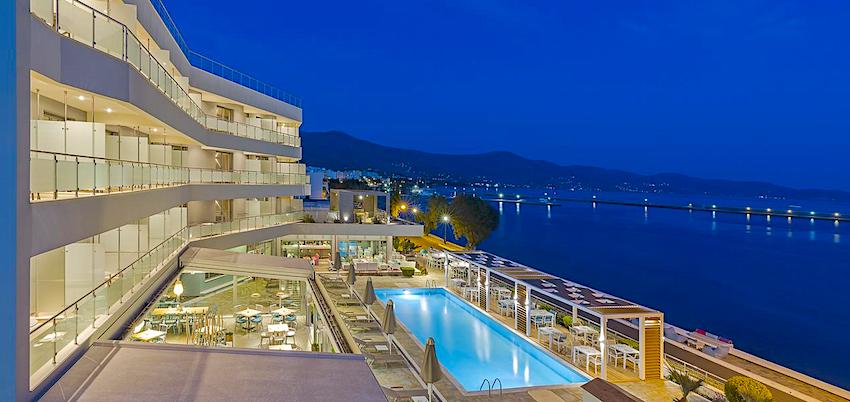 Anastasia Hotel
Centrally located in Karystos, Anastasia is a 3-minute walk from the Western Beach. It offers a pool and an Aegean sea-view restaurant that serves breakfast with homemade breads and organic products. The stylish rooms have free Wi-Fi. Rooms at the Anastasia Hotel are spacious with modern decoration in earthy colors. Each air-conditioned room includes a sofa, an LCD TV and a mini bar. All units feature large, furnished balconies some with sea views. Near the freshwater pool, the bar is surrounded by palm trees and serves fresh juices, cocktails and snacks while playing relaxing music. Click here for photos, guest reviews, maps and booking information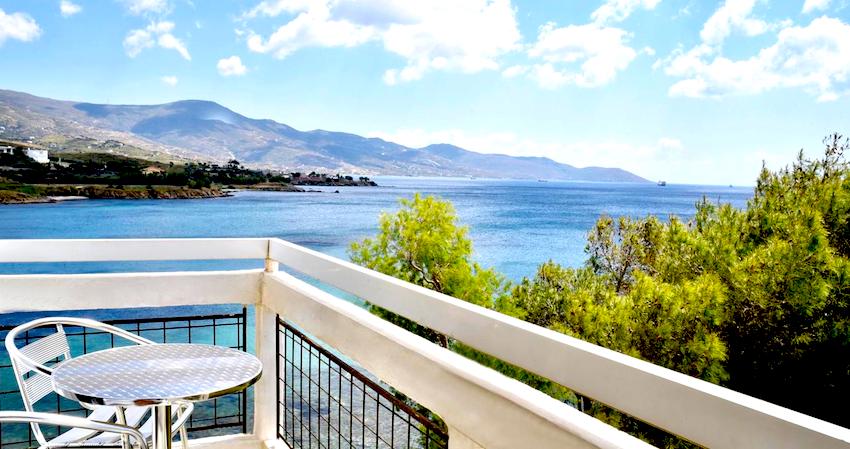 Karystion Hotel
The Karystion Hotel stands in an advantageous position, overlooking the sea, hidden in the tranquility of a lush garden. From a private balcony guests enjoy the views of the bay of Karystos or the park. Guests will enjoy a well-prepared breakfast made with local fresh produce, dishes of Mediterranean cuisine and our home made pudding. Karystion guests enjoy immediate access to the nearby beach (30 feet away) and the center of Karystos (1,300 feet).The Karystion Hotel is along a tree-lined park promontory overlooking the sea. At the park's westernmost boundary, a Venetian tower stands at the edge of Karystos. The town is 1,300 feet from the hotel, which sits halfway on a horseshoe-shaped bay whose pristine, undeveloped beaches stretch some 12 miles to the east and west. Click here for photos, guest reviews, maps and booking information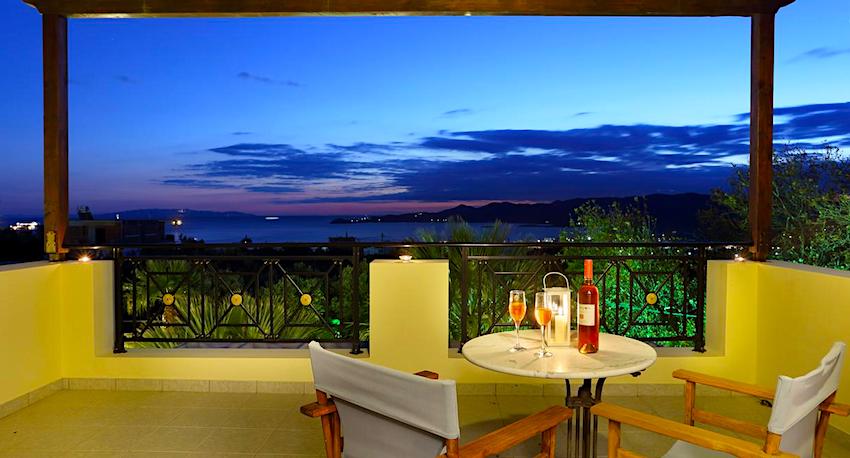 Politia Villas
Quietly located a mile from the center of Karystos, Politia Villas is surrounded by a well-tended garden with a decorative pond, BBQ facilities and a playground for the younger guests. Free WiFi is available throughout. Spacious and air-conditioned, all apartments come with cooking facilities and open to a furnished balcony, some with Karystos Bay views. Each has a separate bedroom and a seating area with flat-screen TV. Click here for photos, guest reviews, maps and booking information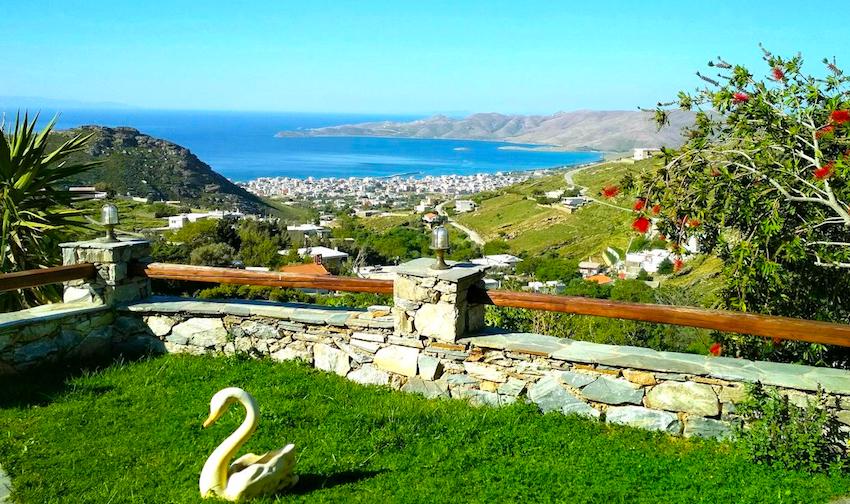 Makronas Apartments
Traditionally built of stone, the year-round Makronas Apartments is located in the village of Myloi. The self-catered accommodations offers a balcony overlooking Castello Rosso Castle and Karystos Gulf. Free WiFi is available in public areas and in some studios. The spacious studios are air conditioned and heated, and include a fireplace. Each has a flat-screen TV and a kitchenette with dining area, fridge and mini oven with cooking hobs. Some units Guests can rest at the outdoor lounge next to the property. The area is ideal for various activities, such as hiking. Various taverns lie within proximity. Several taverns serving local dishes can be found within short walking distance. Makronas Apartments is a 5-minute drive away from the coastal town of Karystos. Click here for photos, guest reviews, maps and booking information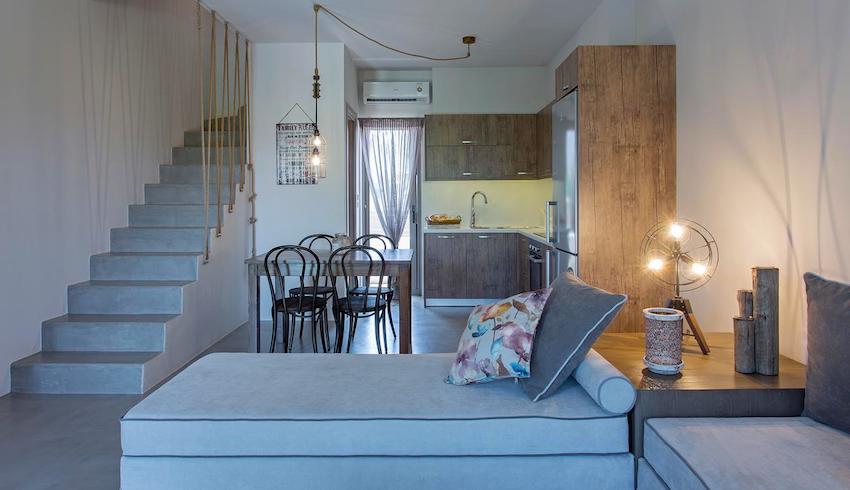 Evais Boutique Houses
Located on the outskirts of Karystos, Evais Boutique Houses features a barbecue and views of the mountain. The nearest beach is at 650 feet. Free WiFi is featured throughout the property. Τhe property consists of detached holiday homes set in a complex. All units are air conditioned and feature a seating and dining area. A furnished balcony is also available. All units include a fully equipped kitchen, fitted with an oven and fridge. A stovetop is also provided, as well as a coffee machine and a kettle. There is a private bathroom with free toiletries in every unit. Towels and bed linen are offered. Click here for photos, guest reviews, maps and booking information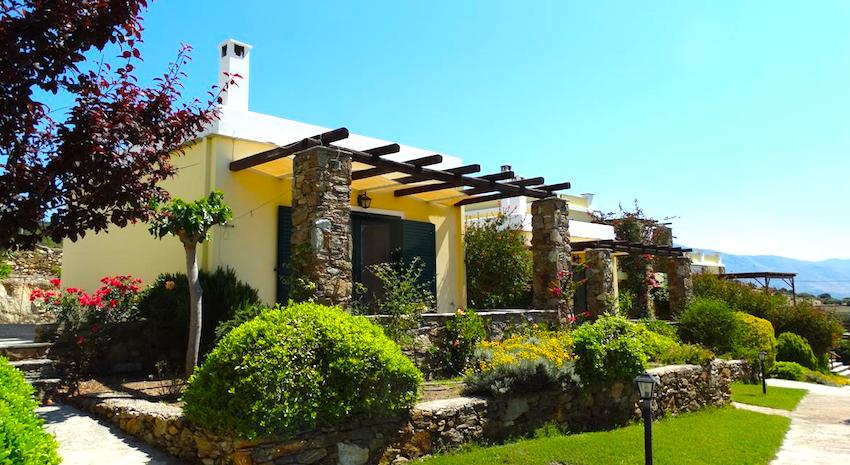 Ktima Nikola
Surrounded by farmland and vineyards between the port of Marmari and Karystos, Ktima Nikola is a complex of year-round bungalows and located in Likorema village. It offers balconies with sea and mountain views. All soundproofed units are heated and air conditioned. They feature a kitchenette with kitchenware, a refrigerator and dining area. They also include a fireplace, a seating area and a TV. Breakfast is prepared daily and can also be served in the privacy of the bungalows. The on-site taverna serves traditional meals and wines made from homegrown and local products. Room service is also available. The 24-hour front desk can provide information on car hires and various outdoor activities such as, hiking, cycling and mountain climbing. Free barbecue facilities are available. Click here for photos, guest reviews, maps and booking information
You can find more hotels, apartments, villas, holiday homes and self-catering accommodations by using the search options on Booking.com's Karystos Hotel Page