Introduction to Evia
The island of Evia is one of the closest to Athens and yet it is one of the most unknown. That is because Evia is so large that there is much to know about it. Second in size to Crete, it stretches from the tip of the Pelion Peninsula all the way south to the coast of Attika. It's southern tip is just a short distance from the Cycladic islands of Andros and Kea though unfortunately there is no ferry connection. If there were, more tourists would come here. As it is, because it is so close to the mainland that you can drive to it, Evia has been and remains a popular summer holiday destination for Greeks and Greek-Americans, Canadians, Australians and others whose families originally came from the island.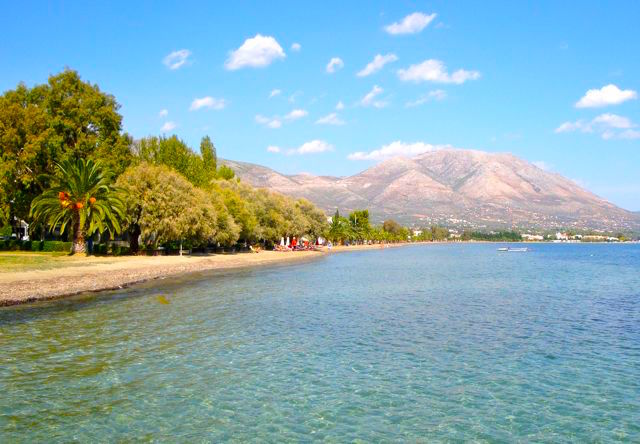 Evia, (pronounced EH-vee-ah by most people and you-BEE-yah by archaeologists and classicists) has a rich history and more ancient sites than just about any island other than Crete. It has been settled by Greeks, Turks and Albanians and some villages you will hear a dialect so strong you won't even understand what they are saying, even if you speak Greek.
The topography of the island is as varied as anywhere in Greece, with sparkling Aegean beaches and coves on its east coast, a mountainous interior with rivers, streams and forests, a west coast that is a mix of beaches, the city of Halkida, large towns, industry, agriculture, beaches and wetlands. And in the northwest the town of Edipsos is the most popular spa in Greece, with hot water gushing from rocks and crevices into the sea and pools of the many hotels and healing centers.
There are several ways to reach Evia from Athens. Which way you choose depends on where in Evia you want to go, because as I said; Evia is a very large island and a very long one. How large and long? From one tip to the other could take you four or five hours by car. You could drive almost to Thessaloniki from Athens in that time. Of course much of the journey will be on narrow winding roads where there is a good possibility that you will be stuck behind a big slow moving truck with nowhere to pass for at least part of the journey. And most likely you will stop to wade in the cool waters of the Kirea river that runs alongside the road that goes north from the modern city of Halkida to the fishing village of Limni, the spas of Edipsos and the beautiful beaches of the northern coast.
Southern Evia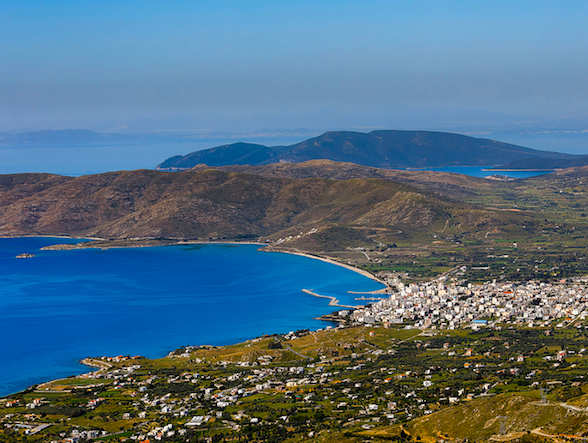 If you want to visit southern Evia, a land that resembles the arid islands of the Cyclades, the ferry from Rafina will take you to the town of Marmari which is a short drive to Karystos, the commercial center of the southern part of Evia which sits in a large bay beneath Mount Ochi. At 1398 meters it is the second highest mountain in Evia. The town of Karystos is known for its beaches, fish tavernas, its Venetian fortress, and folk museum. There are a number of hotels in town and along the coast and for those who plan to explore the whole island going from south to north, this is a good place to spend that first night. There are several small villages in the area and numerous sites from antiquity that are well off the beaten path but accessible to the hearty hiker. Most of the beaches on the southeast side of Karystos beneath Mount Ochi are in small coves, difficult to reach, and due to the currents and winds of the Cavo d Oro, (the straits that run between Evia, Andros, Kea and Makronissos), can be quite rough. But there are nice organized beaches near Karystos, with umbrellas, sun-beds, cafes and changing rooms that are sandy, shallow and good for families, children and snorkeling. The sea around Karystos is very clean since the whole city has been hooked up to a modern sewage and waste treatment system. Psili Ammos, Gallida and Rigia are all within easy walking distance of the town. Alykes and Bouros you will need a car. There are a number of other beaches without facilities within just a few kilometers of town. For those who are interested in more than eating, drinking and laying in the sun Karystos has an archaeological museum, Roman ruins, and the Church of Agios Nicholas. For hotels in Karystos see Booking.com's Karystos Page. Also see Matt's Best Hotels in Evia. For more about Karystos see Southern Evia and the Joys of Karystos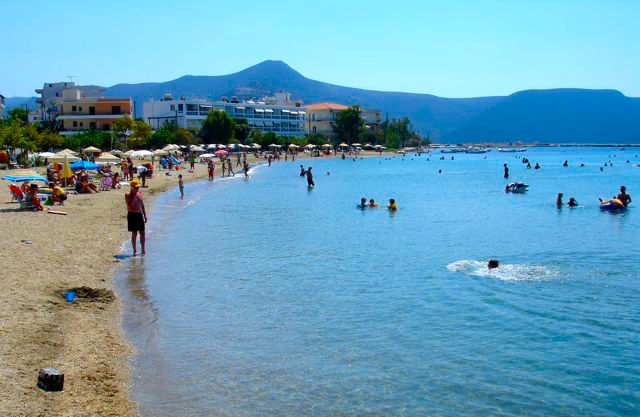 From the small port of Agia Marina on the mainland, near ancient Ramnous, just above Marathon, there are several small ferries that run back and forth to the town of Nea Styra, popular with Greek tourists and Athenians with summer homes. Like many beach towns this close to the mainland the architecture is a cacophony of houses, apartment buildings and fast food restaurants mixed with fish tavernas and fields and farms as you leave the center. The actual village of Styra is an agricultural town a few kilometers inland.
The Dragon Houses in this area are Neolithic monuments that have been a mystery to archaeologists since they were discovered. Debate on when they were built ranges from the 13th to the 3rd century BC. They are called Dragon Houses because of their size. People believes they had to have been built by a very large creature. There are twenty of them in all most near Styra and another above Karystos near the peak of Mount Ochi.
For hotels see Booking.com's Nea Styra Page.
Evia Flashback....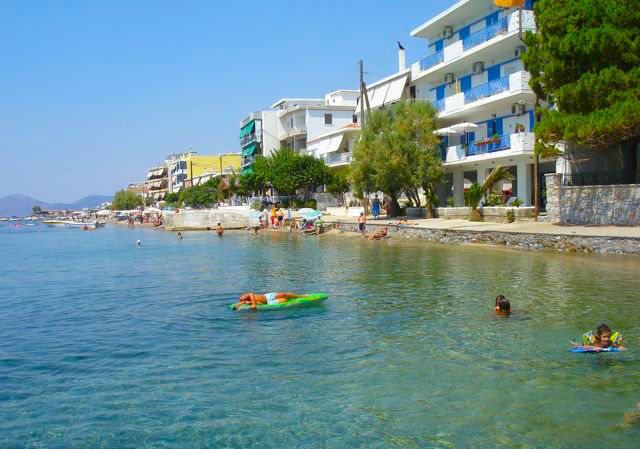 Nea Stira is a Greek resort down, very busy in August. The beach in town is full of little children, so tan from their summer holidays that it looks like they have airlifted Gypsies from all over the Balkans and they are now running wild, chasing each other, diving off the dock, playing paddle-ball and swimming. The ferry docks right in the center of town. There are beaches on either side and the further out you go the more quiet and cleaner the beaches. Not that the beaches in town are dirty. Nea Stira, being so close to Attika has many of the same characteristics of the coastal towns on the mainland. It is made up of apartment buildings and one and two story houses, shops and tavernas and fast-food restaurants with photos of their food. It is also hot as hell and the nice breeze I felt on the ferry is nowhere to be found here and it is not my kind of swimmin' hole as we say in North Carolina. Too many old people. Too many young people. Too many in between. So I take a few photos and then drive to the main road from Karistos to Aliveri looking for the perfect beach with a small unspoiled family-run fish taverna. I can always come back to Nea Stira when it is time to do my Guide to Evia. Maybe. Then again maybe I won't need to.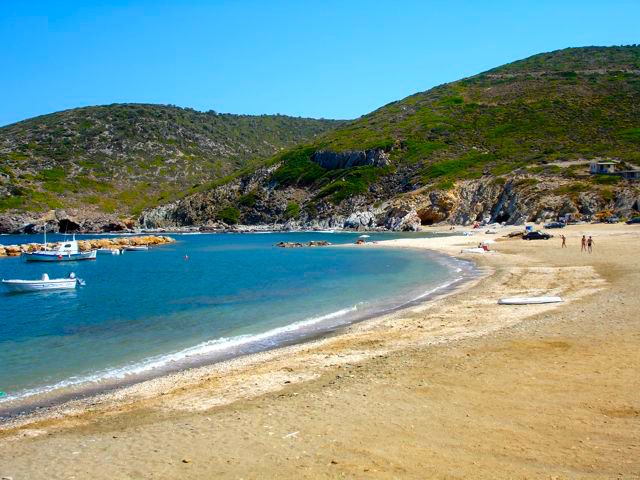 There is a new modern road that runs from Karystos north and along the way there are exits to small villages and remote beaches on the Aegean coast. Check out Parilea Zarakon, on the other side of the village of Zarakes. It is one of those end of the world beaches with a small harbor and a very nice little fish taverna (open only in the summer) that is inexpensive and friendly.
Evia Flashback....
There is a sign for Parilea Zarakon and since parilea means beach I decide to take a chance and drive several kilometers past the main town of Zarakon. I end up in a remote hole-in-the-wall beach village on the Aegean side of the island. At first it seems like I have guessed wrong. I had hoped to find an undiscovered beach with a few (or no) people, and a small unspoiled taverna with fresh fish. But all I see is a small beach, with a wind blowing in from the sea, a tiny port with a few fishing boats, and a cantina being run out of a small trailer. There are a handful of people on the beach which is sort of split in half, once side being open sea and the other a sheltered harbor for a few fishing boats. There has to be a fish taverna here somewhere. This is the most perfect place on earth for one.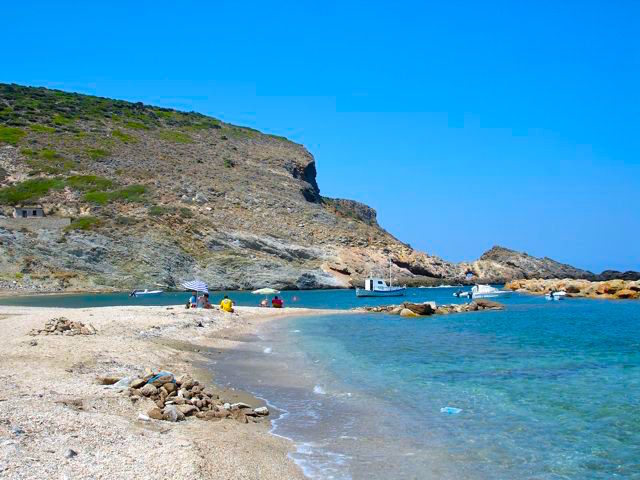 Then on the other side I spot a couple cars and sure enough it is a fish taverna and not your typical beach town variety but the kind you would only find on a remote beach in Lesvos or I guess, in Evia. The patio is almost full but there is one table and I watch the waiter and waitress bringing out plates of fresh fish, horta, salads, potatoes, tsatziki, scordalia, carafes of wine and bottles of beer. I order 2 kolios (mackerel) and their horta with skordalia and a big bottle of water. Inside, the owner and some friends are watching Greece beat Turkey in the World Basketball Games in Japan. Outside it the kind of place you stumble upon and tell just your closest friends, an inexpensive, unspoiled fish taverna on the sea, full of people enjoying themselves on a beautiful summer day. The waiter and waitress are actually brother and sister. He lives in Athens but comes to Zarakon to help his father with the restaurant every summer. The restaurant is called O Kapatanios and as unpretentious a place as you will find in Greece. But you better call to make sure they are open if you are coming anytime but July-August by calling 22230 53463
Most people who come to Evia do not venture as far south as Styra and Karystos and should you drive down one of the small roads that lead to these coastal communities and beaches you will be among the few tourists to have done so.
Central Evia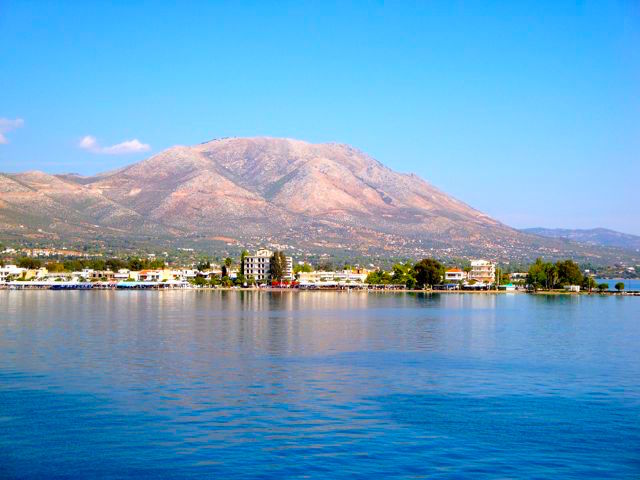 If you take the National Road north from Athens and get off at the exit to Oropos you will come to a small town of restaurants, shops, beaches and boats with a long coastal promenade and a very port where the small push-me-pull-you ferries go back and forth every fifteen minutes to the town of Eretria in Evia. When you factor in the 45 minute drive to Athens you can understand why this is a popular day-trip from Athens. It is also easily reachable by KTEL bus from Platia Egyptos at Pedion Areos.(The intersection of Patission Street and Alexandras Ave)
Eretria has a nice little port area lined with cafes and fish tavernas, a nice town beach and several hotels including the popular 5-Star luxury resort hotel Negroponte Resort Eretria and the 4-Star Eretria Village Resort and Conference Center, both of which are on the road to Halkida. The newly built Avantis Suites Hotel is on the beach of Eretria and has a pool, taverna and other amenities. There are also a number of smaller, less fancy hotels in town, all within walking distance of the beach, which can be found on Booking.com's Eretria Page. Also see Matt's Best Hotels in Evia
The city state of Eretria was a major power in Ancient Greece until it was defeated by the Persians in 490 BC and again by the Romans almost 700 years later. Eretria has a pretty good archaeological museum that contains the findings from the ancient city. The museum is located a few blocks inland from the harbor at Evnomou Kifissou 2. Follow Leoforou Archaeo Theatrou which is the main drag from the east side of the harbor. There are the remains of temples and other buildings scattered throughout the town. The Ancient Theater is in the process of being restored. Built in around 300 bc it had a capacity of 6000 and up until recently was used for performances. It is located on a hill north of town just beyond the museum as are the remains of a Temple to Dionysious, and the partially excavated Gymnasium. Also nearby is the Sebasteion, a temple complex dedicated to Aphrodite and the Roman emperor Augustus, and the Ancient House of Mosaics. These are among the many archaeological sites you will find just by wandering around Eretria street by street.
Evia Flashback....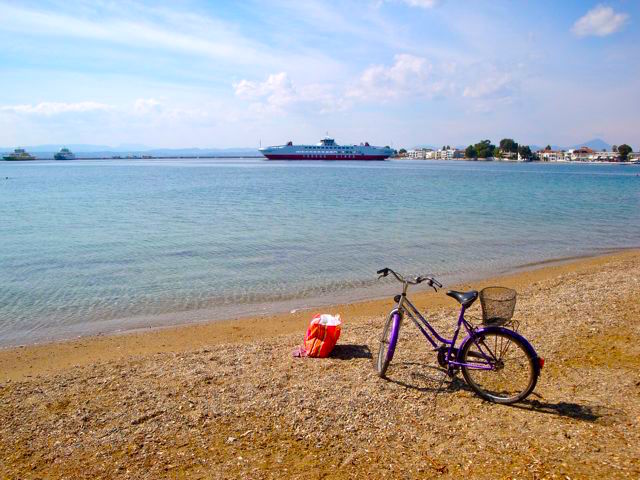 "Our first stop was Eretria where the big, new modern ferry opened its doors to let us out before taking in the next group of cars and trucks headed for the mainland. Eretria is practically a suburb of Athens. My friend Katya has been living there for years, driving to and from the city every weekday so her daughter can attend the Campion International School there. It is not a bad town and there are hotels and beaches and lots of fish tavernas right on the sea where you can watch the ferries go back and forth. We met Katya at a bookstore-internet-cafe called Moments (now closed), a large place and a great concept that it is surprising more cafes on other islands have not adopted if only to sell the daily newspapers. While Andrea and Katya exchanged horror stories of how the new laws will affect their property taxes and ability to exist, I wandered around the town taking photos that will cast Eretria in the most favorable light while avoiding shots (like the giant derelict graffiti-covered hotel in the middle of town) that make it look like Fallujah after the marines have left. Eretria was an important place in ancient times and there are lots of ruins scattered around not to mention the ancient city which has been a project of the Swiss School of Archaeology, on the north side of town."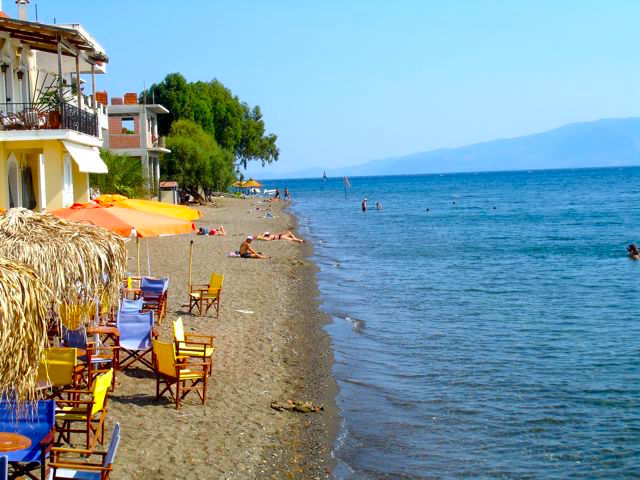 Driving south from Eretria the town of Amaranthos may seem like any small town on the mainland, hardly worth stopping in. But there is a narrow beach just off the main road and a number of nice ouzeries and fish restaurants that are open year round with tables and chairs in the main platia on the sea.
Evia Flashback....
It took about three quarters of an hour to get back to the village of Amarynthos on the bay facing the mainland. We liked the name of this town. Our daughter's name is Amarandi, like the town, which means eternal. It seemed like a good omen and there was a line of fish tavernas and mezodopoulions on the waterfront. We picked one. The right one as it turned out. O Thodoris is a Psarotaverna-ouzerie which means it is a fish restaurant with mezedes, which as anyone who has read my website knows, are the snacks you eat with ouzo. Thodoris, the owner-waiter-chef, (along with his wife) is a former professional soccer player who speaks enough English and knows what a good Psarotaverna-ouzerie should be. We had a couple orders of fresh clams on the half-shell, home made tarama-salata, fried kotsomoures (like barbounia but cheaper), fresh fried squid, grilled octopus, and fresh bread toasted on the grill. I can truly say finding this place made the whole trip to Kalymos worth it. We sat by the sea, the only people in the restaurant, as Thodoris brought us the food two or three small plates at a time. Even George was filled with the spirit enough to allow himself a small glass of ouzo.
If you drive towards the towns of Aliveri and Lepoura where the road to southern Evia begins, you will drive past farms and orchards and some light industry. These villages are mainly agricultural and few tourists visit them. But there are roads leading to Evia's wild Aegean coast which are generally exposed to the north wind. When the wind blows the sea can be rough. Kalamos has a small summer community and a handful of people who live there in the winter. But unless it is summer don't come looking for food. We did and the village seemed like it was a place overlooked by the apocalypse. A few stray dogs. Even fewer people, and a couple tavernas closed for the season. Probably a wonderful spot to be in the summer.
Evia Flashback....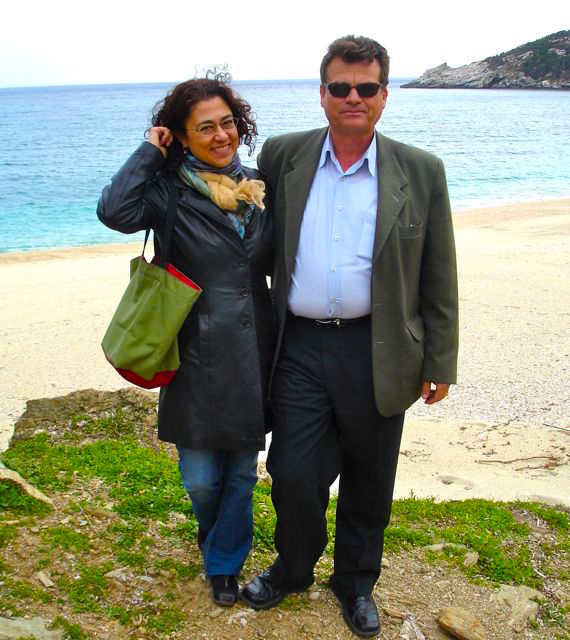 As we got closer to the quiet little port of Kalamos I began to think rationally about what we were doing and the advice Katya had given us. First of all I put myself in the position of being an owner of a small taverna in a remote little village during the month of February. Why would I have fresh fish? Who was going to come to eat in my little restaurant out in the middle of nowhere on a dreary winter day? When the village fisherman came in with his catch why would I buy fish for a restaurant that was not likely to see any customers? If anything there might be a couple frozen kefalo in the freezer, or maybe a box of California squid. It is one thing finding a little out of the way place in the summer when people are exploring the coast in cars, bikes and boats. But the place to eat now would be in one of those little towns we had passed miles back. When we got to Kalymos it was worse than I thought. It was empty. Nothing was open. Not even a periptero. There were some cats, and a stream of water running through the village cutting it in two. We had to jump from stone to stone to cross the street. It was a beautiful little village and a prize to stumble upon in the summer when the houses and rental rooms would be full of people and the fish tavernas too. But for us it was a long way to drive to take a photo of George the Famous Taxi Driver and Andrea standing by the sea.
Head for Kimi for Beaches, Food and the Ferry to Skyros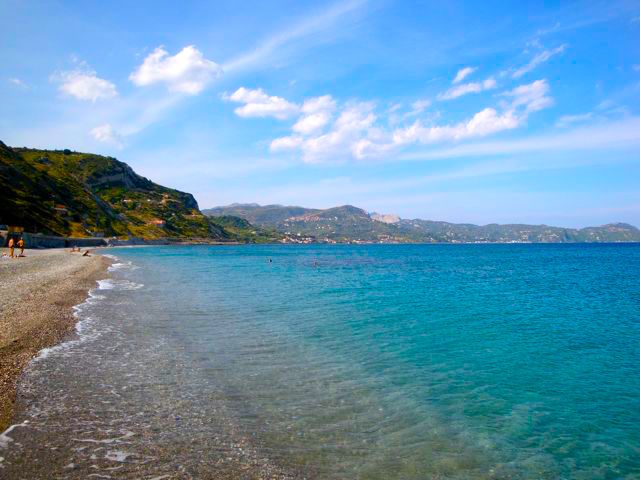 If it is seafood and sea you want, then keep following the signs to Kimi and you will be rewarded several kilometers before you reach the ferry that connects Evia and most of Greece to the island of Skyros. The road which is pretty much completely inland up to this point, bursts out at the sea and a long impressive beach with a small river or lake that in late September falls just short of the sea. You can easily do a day trip here from Athens or keep right on going to Skyros. There are plenty of fish restaurants and ouzeries right on the coast.
The town of Kimi is on the side of a mountain, away from the watchful eyes of passing pirates, while the port, which is called Paralia Kimi, is on a narrow sliver of land between the sea and the mountain in such a precarious spot that some of the road has been washed away by the sea and other parts covered by landslides. There is one spot that the road goes to one lane and if you don't notice the red stop light on the side of the road you will come face to face with a line of cars coming in the opposite direction and you will have to back up all the way with the sea on your right and the collapsing mountainside on your left, not a pleasant situation to be in, but I did it and lived to write about it. Paralia Kimi has a number of psistarias, cafes and fish tavernas on the waterfront but while passing through the village of Platania, Andrea's intuition told her that the Psaras Fish Taverna-Tsipuradiko was the kind of place that people drove all the way from Athens to eat at, while those in Kimi were just for those people waiting for the ferry. She seems to have been correct. While the clouds filled the sky and the sea became darker and angrier with waves breaking along the coast and sending plumes of spray into the air, we dined on clams so fresh they went into convulsions when we squeezed lemon on them, roast potato covered in cheese, a long flat fried cheese pie (tigano-psomo), a half kilo of barbounia and a tiny bottle of tsipuro, just enough to add flavor to the meal but not enough to impair my driving.
Evia Flashback....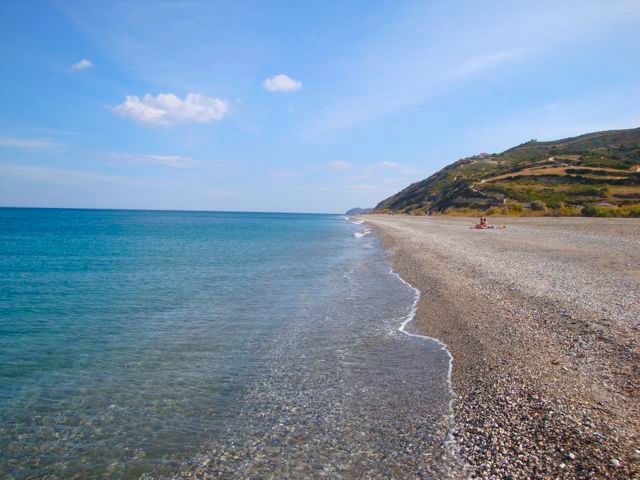 "Like many islands, even the big ones, kilometers go by much faster than miles and within an hour we were on a long beautiful beach called Paralia which simply means beach. There was a river that stopped just a few meters from the sea, a home for wildlife, like those you see in Lesvos, and one of the hotels had paddle-boats and a small dock for their guests to explore it. The sea itself was beautiful, clear, clean and unlike Eretria which faces the mainland where you swim in the Evian Gulf, this is the Aegean. The real thing. With the rains approaching I knew this would probably be my last swim in Greece of the year and I made the most of it, staying in the sea for an hour and delaying lunch so long that it put dinner in jeapordy. There is a moment when you take your first dive and you are underwater in an entirely new environment, of complete awareness, where you think "Ah yes... here I am again" before coming to the surface and adjusting to the new situation with the flood of thoughts, most meaningless, as words once again take over from feeling. In A Course in Miracles they call this a Holy Instant, a moment of complete awareness and it is this feeling, which is really only a moment, that drives me to get on a 10 hour flight and bear the traffic of Athens just to dive into the Aegean sea. It's all an illusion of course, just a product of desire and attaching spiritual significance to it is really just a justification for doing something that feels good to the body (surrounding it with seawater). But just thinking about it makes me smile so it must be good."
There are several hotels in Kimi including the popular 3-star Kimi Palace Hotel which is probably only a 3-star because it happens to be in Kimi where few people want to pay 5-star prices. There are a number of other hotels which can be found on Booking.com's Kimi Page. Also see Matt's Best Hotels in Evia. There is a beach at Mourteri and Oxilithos just outside of Kimi has a long sandy beach called Stomio with a 2-star hotel called the Hotel Stomio Beach on the small river which you can explore on paddleboats and kayaks.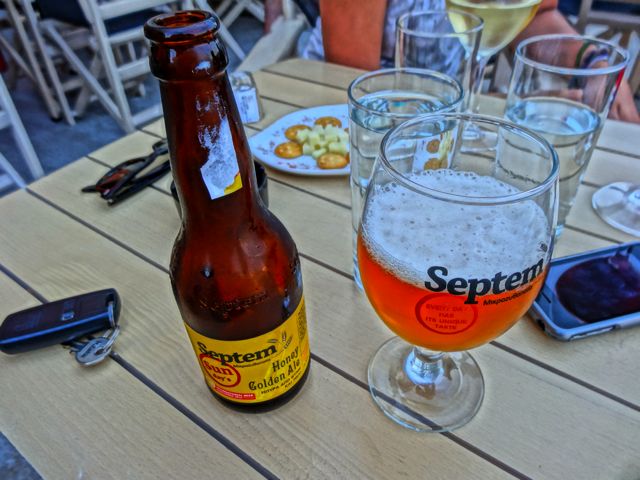 On the way to Kimi or on your return trip, the village of Oktonia has a Frankish castle and some beautiful neo-classic houses. In nearby Avlonari is the 14th century Byzantine church of Agios Dimitrios. Avlonari is famous for its annual street Bazaar which celebrates the end of the grape harvest and runs for eight days from the 6th of October. The village of Orologio is home to one of Greece's best micro-breweries. The Septem Brewery opened in 2009 and have a line of nice beers some named for the days of the week, including a very nice Belgian Strong Ale called Sunday's Honey Golden Ale. Monday is a Bohemian Pilsner. Thursday is an Irish Red Ale. Friday and English Pale Ale. Saturday is a porter and for every day of the week they have the A.C.E Imperial IPA. With a devotion to quality ingredients and the desire to make a line of first class beers, the future of the Greek craft beer industry looks good. If you want to arrange a visit you can e-mail them at info@septem.gr
Halkida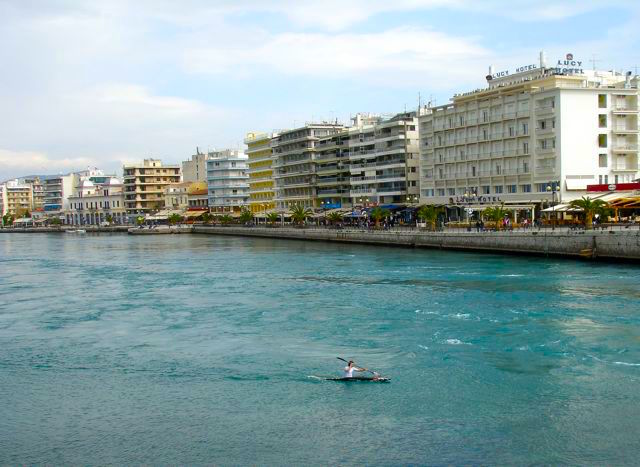 Halkida is a city. I suppose I could google the population but there is no point because whatever it is you will agree with me when you see it. Apartment buildings, supermarkets, a commercial downtown and traffic and all the things you love and hate about cities. It is also the capital of Evia.
Halkida is the easiest place to reach on Evia because you can drive to it. You can also get there from Athens by bus and by train. There is a modern suspension bridge just south of the city that passes over an enormous cement factory that looks out of place next to the beautiful turquoise sea. But save that for when you leave Halkida. Instead take the road to the old bridge that spans the narrowest point of the body of water that separates Evia from the mainland, a distance of fifty feet or so.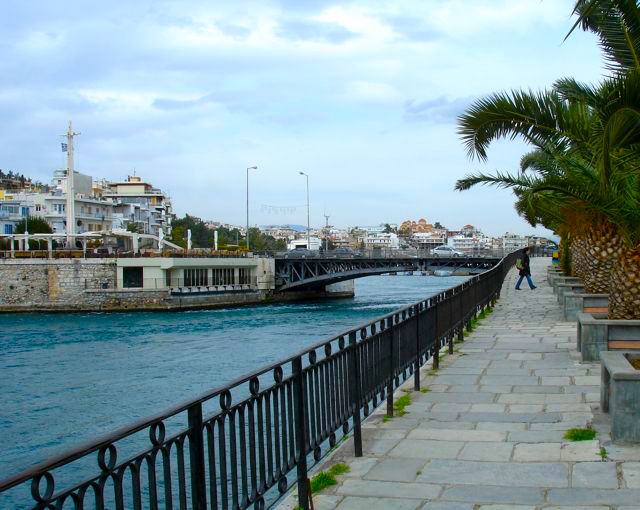 The coastal promenade begins here and goes north past fast food joints, cafes, restaurants, shops and apartment buildings while in the Evripos Channel kayakers battle the swift moving current that even Aristotle could not figure out and finally threw himself into the sea in frustration, or so they say.
To the south of the bridge is the Kastro, an area of Venetian and Turkish houses, the 15th century Emir Zade mosque in the square and the 13th century church of Agia Paraskevis as well as a 19th century synagogue that serves Greece's oldest surviving Jewish community. The neighborhood is home not only to Jews but to Thracian Muslims and Christian Greeks. At the top of the Kastro in the old Venetian fortress, from which the area gets its name, is the folk museum. The Archaeological Museum is located at 13 Venizelou Street and contains artifacts from Ancient Chalkis, another important city-state and ally of Athens.
You can find hotels of all categories and prices with photos and reviews at Booking.com's Halkida Page. Also see Matt's Best Hotels in Evia
Steni and the Search for Provatina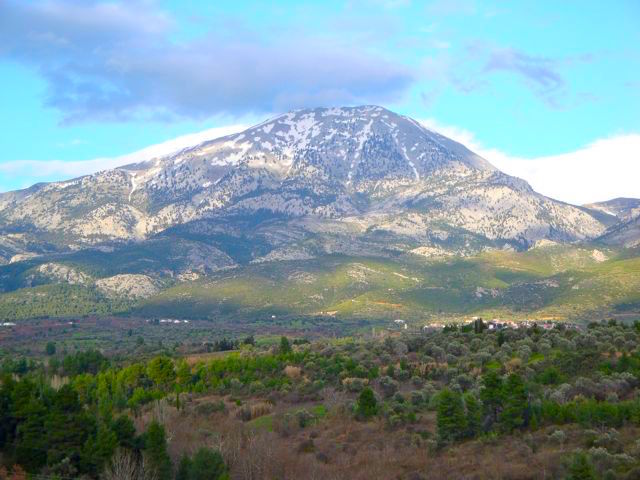 Provatina is mutton. That means an old sheep. Usually, well pretty much always, when you eat lamb you are eating young lamb. In human terms you are either eating a baby, adolescent or a teenager, but rarely an adult. That is because as a lamb gets older the meat gets tougher. But in Greece, provatina is considered a specialty when cooked well, a mistake when it isn't. And the place where they know how to cook it is in Evia on Mount Dirfys in the village of Steni, about a half hour drive from Halkida. In fact it is just over an hour and a quarter from Athens and people come here on Sunday for provatina, paidaikia (lamb chops), roast lamb, goat, kokoretsi and other meats. Steni is also popular with hikers setting off to climb Mount Dirfys and with Athenians who don't only come for the meat but for its cool climate in the summer. You can continue on the road past Steni all the way to the northeast coast of Evia and to Kimi as well. Steni is not a beautiful mountain village in the winter when we came. But it is nice enough and people don't come to see the houses. They come for the clear mountain air and the meat.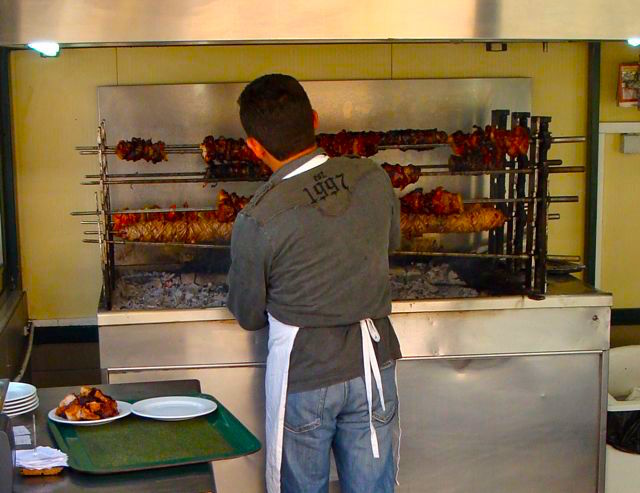 Try the Psistaria Mouria, right in town for provatina and paidaikia or one of the larger restaurants on the road leading out of town and up the mountain. We ate at Karlatiras but they did not have provatina the day we came. The owner asked us "Why would you eat old lamb when you can eat new lamb?" That made sense to us even though we had driven all the way from Athens for provatina. But we were so hungry and Andrea was so irritated by my inability to choose a restaurant we sat inside and we ate the new lamb, roasted on a spit, and it was good, as was everything we ate there. I recommend the kokoretsi, which for those who don't know are the innards of the lamb on a spit, wrapped in the intestines and grilled slowly on the rotisserie. Probably not what you came for but worth eating despite the possible health drawbacks which were serious enough so that the EU tried to make it illegal to serve in Greece. They were unsuccessful. Also the tigano-psomo, the fried bread stuffed with cheese that you can find in many restaurants on the island and their excellent fava (split-pea dip), as well as their very colorful cabbage-lettuce-carrot salad were excellent. The interior of the restaurant could fetch a small fortune on the Antique Road Show and had a wood stove which kept the place warm and cozy and like the other restaurants on the road up Mount Dirfys overlooked a fast running Greek in the forest behind it. I highly recommend a trip here either on your own or with George the Famous Taxi Driver whether it is winter, summer or in between. Just tell him you want to go to Steni for Provatina. Make sure to visit the people selling traditional products on the side of the road who are there on Sunday when the Athenians come.
Northern Evia
The road north once you get out of Halkida is one of the most beautiful drives on the island. Much of it is through mountain forests and then you find yourself in a long valley following the Kirea River where there are several places to stop and wade in the tree-shaded waters. At Strofilia the road splits and you can go north to the beaches and coastal villages that are so close to the Sporades Islands and Pelion that they share a similar landscape with pine trees coming right down to the sea. For historical purposes you can visit Artimissio, where the Persian navy fought the Greeks in 480 BC while at the same time Leonidas and his 300 Spartans were fighting the Persian army at Thermopylae.
"In fact neither navy won or lost! Both had a go at each other for a few days until a severe storm caused terrible damage and casualties to both sides. They independently decided to withdraw from the area to cut their losses, especially as a bigger battle was to be fought later at Salamis, which the Greeks won decisively and which started the withdrawal of the Persians from Greece. That was completed a little later after the battle of Plataea where the Persian army was almost completely annihilated."-Dimitris Langadinos
It is also the spot where the famous statue of Poseidon which is in the National Museum of Athens was found by fishermen in 1928. Agia Anna has a long pebble beach called Angali, with tavernas, cafes and a couple nice resort hotels with reasonable prices, the 4-star Thalatta Seaside Hotel and the Club Agia Anna Summer Resort. There is also a very economical hotel right on the beach, the Hotel Agiali. It's one of the few towns in Greece where you can go horseback riding on the beach. Pefki, the most northern beach town in Evia is popular with Greeks and probably best left for the off-season which is any month but August. Should you end up there, you can find a large number of hotels on Booking.com's Pefki Page.
If you took the westward road at Strofilia you will reach the coast again at the town of Limni with its attractive waterfront and small cobbled streets and the cafes and restaurants that line it's narrow pebble beach. For eating try To Platanos and Avra, both on the waterfront. You can find hotels in Limni on Booking.com's Limni Page.
The beach continues seemingly endless until you reach the Convent of Agios Nikolaou Galataki with its 16th century frescoes, on the wooded slopes of Mount Kandhili. Below it the beaches at Glyfa are among the best, at least in this part of Evia. North of Limni is the coastal village of Rovies, famous for its beautiful sunsets, olive oil and other local products, fish tavernas, beaches with calm clear water bordered by pine forests and a Venetian castle. There are hotels on Booking.com's Rovies page.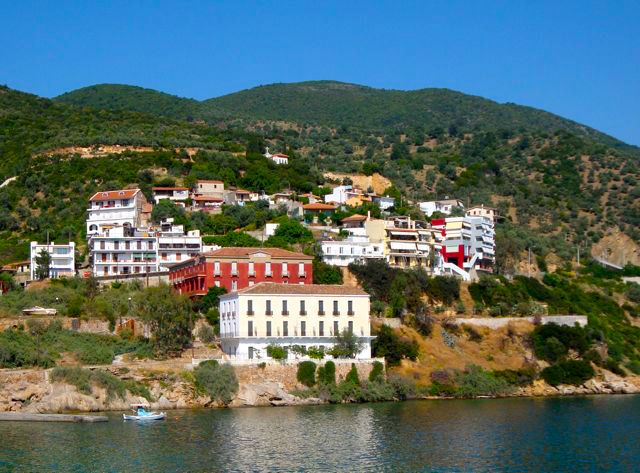 Further north along the coast you come to the town of Edipsos, the most popular spa town in Greece where people have gone to bathe in its hot healing waters since ancient times and is so important that it was one of the first websites I ever made, though few tourists know about it and even fewer visit. But if hot springs and natural healing is your thing then Edipsos should be near the top of your list of places to visit in Evia. There are dozens of hotels of all prices and categories many of which are tapped into the thermal spring, including the internationally renown Thermae Sylla Spa and Wellness Center. If you want to enjoy the hot springs for free just go to the beach where it gushes from the rocks as well as in warm pockets in the sea itself. See my Guide to Edipsos and for more hotels in Edipsos see Booking.com's Edipsos Page which lists over 60 hotels of all categories. Also see Matt's Best Hotels in Evia
From Edipsos you can catch a ferry across to the mainland. Or if you plan to visit the Pelion Peninsula you can go a few miles north to the beach town of Agiokambos and take the ferry to Glifa and connect with the National Road to Volos. Agiokambos itself has a very nice beach and a few tavernas and some small hotels and is worth staying if you want an authentic Greek experience without the bells and whistles of Edipsos. Though that being said, Edipsos is a pretty unique experience.
Evia Flashback....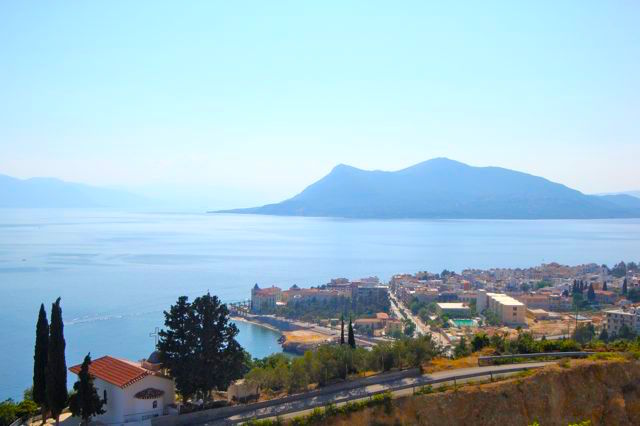 The thought of driving back on the National Road with all the giant trucks and construction was too stressful so we drove to the next town of Arkitsa where the ferry was just leaving for Edipsos in Evia. There was not even time to get a ticket or even back the car onto the ferry like everyone else. I drove right on the boat and actually bought my ticket from the Captain who made sure the ship was going in a straight line before he left the wheel to give me change.
When I returned to Andrea sitting on the back of the boat I bought her an espresso and myself a capuccino-fredo and sat down to talk about my mother's visit and other weighty subjects, but decided to open the conversation with a little light humor and relate my experience on the bridge with the Captain, since I thought it was kind of funny that he left the wheel to give me change in an anecdotal way that is meaningless and not even worth mentioning unless your relationship is so frayed that the safest thing to do is talk about something so silly and meaningless that you can't possibly get in an argument. Wrong.
"How much were the tickets?" she asked.
"22 euros". I lied. They were 26 for 2 people and the car but I anticipated this as a possible trouble spot so I reduced the price.
"What a ripoff!"
"How is it a ripoff? This ferry takes 45 minutes and costs 22 euros and the ferry to Kea takes 55 minutes and costs 40 euros." I was defending the ferry boat, don't ask me why.
"This is just a piece of shit ferry" she said.
"No it's not, it's pretty nice." (I had just come from the bridge and it was a pretty new modern ferry and clean too).
God damn it" and she got up and left to drink her coffee by herself and left me wondering what happened and how did it happen so quickly?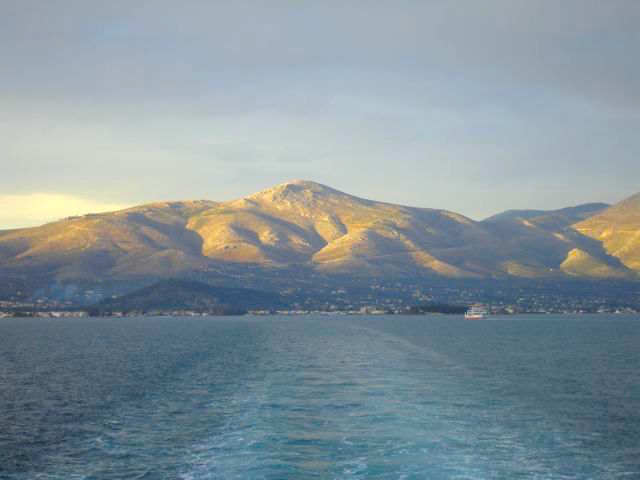 We landed in Edipsos, I took a couple photos, got lost, found the road to Halkida and stopped for a swim at a stone beach along the way, all the while still not speaking. I had decided I was not going to say anything unless I was asked a question and then I would keep my answers short so as not to agitate her, even though I was doing the entire trip back in silent agitation. The road cuts inland and over pine covered mountains and then along a forested river valley past beautiful and spectacular scenery, since Evia, though barely known to tourists, is one of the most beautiful and interesting islands in Greece. But the trip was taking a long time and the silence was deafening and it was not fun, in fact it would have been easier just to go back the way we came on the highway and get it over with. But imagine sitting next to someone for 4 hours and having no conversation. OK, on an airplane with a stranger, that's normal, but with the person you have spent the last 17 years with? But for me the only thing to talk about was why she had exploded and since that would just cause another explosion, and since I did not feel like attempting to tell the cute little story about the ship's captain giving me change, what could I say besides point out live goats and dead snakes on the side of the road.
Anyway we are still not talking and it is the next day. I went out last night by myself. She thinks I went out for a drink. I actually went out for a walk and had a mineral water. Sometimes you need a clear head to know whether or not you have a problem or if you are the problem.
Questions? Comments? E-mail me. For hotels see Matt's Best Hotels in Evia