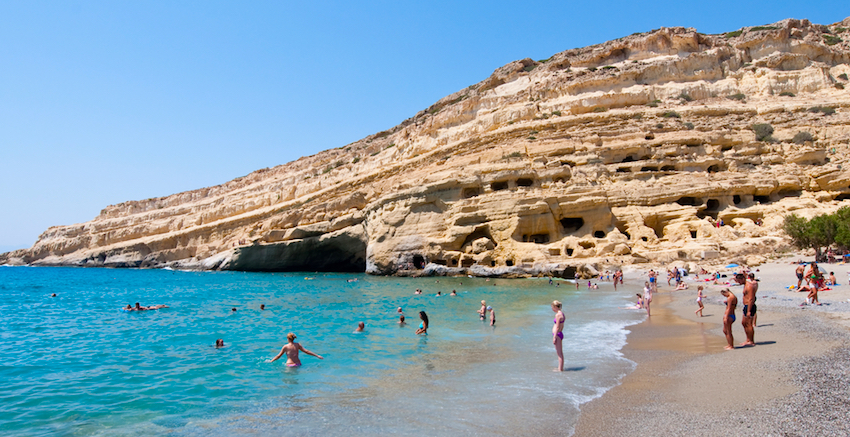 Many of the major coast towns like Iraklion, Malia, have been taken over by British package tours and high impact tourism, meaning big fancy resort hotels with swimming pools, Zorba the Greek restaurants, tennis courts and so on. If you go for that sort of thing, which many people do, then you have some of the best in Greece with a backdrop of one of the most fascinating and beautiful islands in the country. But if you are the adventurous type who shies away from such places just take the boat to Chania, the bus to Omalos and walk down the Samaria Gorge which for hikers is about as good as it gets. Most people stay in tiny Agia Roumeli long enough for a beer and to catch the next boat to Chora Sfakia, but there are rooms to rent and the few days I spent there at the end of my trip down the Gorge were some of my best days in Greece. I have a couple internet pals who rave about Chora Sfakia and Plakias. With the southern coast it is a matter of finding the town you like best.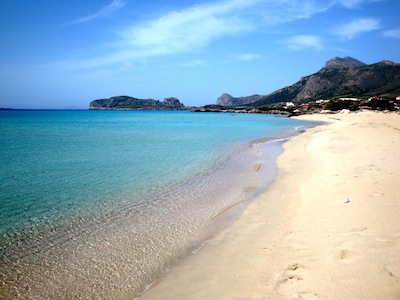 In the north the cities of Rethymnon and Chania have nice old harbors lined with restaurants and cafes and some of the best beaches, like Falasarna (left) one of the nicest in Greece. Heraklion is a city, noisy and crowded but if you stay in the old town, or in a nice hotel in the new town, within walking distance to the old town you may not even notice. If you are coming to Crete by boat from Santorini or going to Santorini from Crete then Heraklion is probably in your plans since that is where the ferry is. But also since Knossos is one of the greatest archaeological sites in the world and it is just outside of Heraklion, you should stay at least a night unless you can stop there on the way to wherever you are going. The South coast is somewhat touristy though not like the north and the beaches are nice and if you don't mind doing a little walking you can get away. The hippie villages of Matala, Paliohora, Agia Galina,and Loutra are busy in the summer though fine in May-June and Sept-October. Try the east or western tips of Crete. Palekastro has several nice beaches that are fairly uninhabited and the most amazing wind I have ever experienced. The beach at Vai claims to be the only palm-tree forest in all of Europe (it isn't) and as you might imagine full of tour buses during the day. Kato Zakrois a small village on the coast at the bottom of a deep ravine cut into the rocks. The western part of Crete in the area known as Kastelli, there are small villages and beautiful beaches. The whole island is full of Minoan ruins, medieval fortresses and active monasteries and a guidebook is essential (unless you don't care about that kind of stuff). Save this island for the off-season if you can. It is big and really a country in itself. Follow small roads to tiny villages and unknown beaches. Boats leave Pireaus for Iraklion and Chania in Crete every evening at around 8 or 9. In the summer there is a daily high-speed to the Cyclades, sometimes more. A couple days a week a ferry connects Santorini and some of the Cyclades to Crete and continues to Kassos and Karpathos and goes to Rhodes, and then returns. There is also one boat a week to and from Thessaloniki which stops in the Cyclades and Skiathos in the summer.
See my Guide to Crete and in particular my Guide to Chania which is much more comprehensive and has a lot more photos.
For travel agents specializing in Crete see Dolphin Hellas or Fantasy Travel and be sure to see Fantasy Travel's Island Hopping Programs, many of which include Crete. You can also use Matt's Create-an-itinerary form to put together your own program that includes Crete.
The Hotel Elounda Mare is listed as one of the top resorts in the world. The family friendly Hotel Ammos, on the beach at Chania is one of the most popular hotels on my website and was runner-up for best value hotel in Europe by the Sunday Times Travel Magazine. For reviews of hotels by category with photos and booking info see Matt's Crete Hotels page or search Booking.com's Crete page. For holiday homes, villas and self-catering as well as Air BnB style accommodations see Matt's Crete Villas page
Lefteris Nikiforakis Taxi Tours of Crete offer a one day tour and a 4 hour tour for people arriving on cruise ships who want to make the most of their time on the island. He also does custom trips and transfers to and from the port to hotels, the airport and anywhere on the island. See his website
You can find ferry schedules and book tickets at Ferryhopper.com