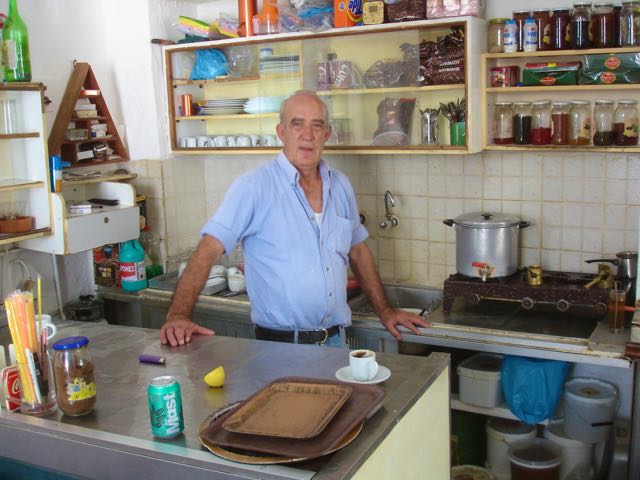 There are two kinds of Greek restaurants. Well there are more but for the sake of this page lets say there are just two. Those that are for Greeks and those that are for non-Greek tourists. Chios, being a Greek island, the type that does not get many foreign tourists but lots of Greek ones, has a large number of very good restaurants. In fact I did not find a bad one. These are the restaurants we did manage to eat at in the short time we were on the island. Chios also being a relatively self-sufficient agricultural island has a good amount of fresh fruits and vegetables not to mention fresh fish and beef, pork, lamb, goat and local sausages. Those who have been to Lesvos will find the menus similar though not exactly. But if you are used to the high standard of cooking and eating on Lesvos, you should not be too disappointed with the cuisine on Chios. If you like keftedes (meat-balls), tomato-keftedes, tiropitakis (cheese pies), souzoukakia (spicy tomato covered meatballs from Smyrna in Asia Minor), saganaki (fried cheese), fresh fish, shrimp, squid and especially if you like them fried then you will be pretty happy on Chios. If you are looking for the ouzo-mezedes culture you will also find it in Chios (Check out the cafeneon in Pirgi-photo). In 5 days it is tough to eat in enough restaurants to write an informative restaurant guide. But believe me I tried.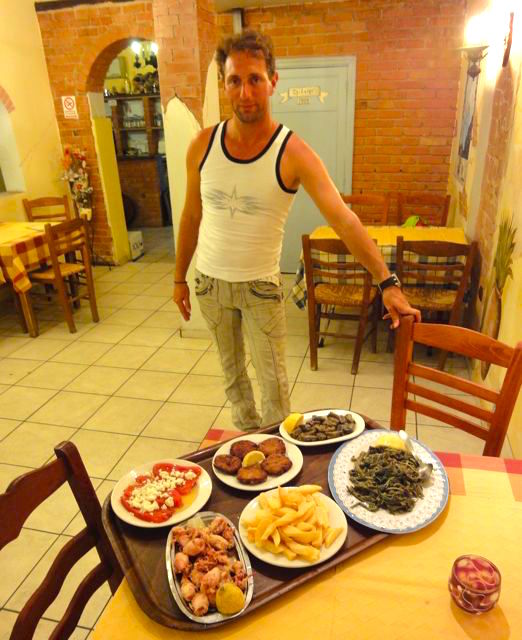 In Chios Town right where the ferry comes in there are several restaurants that call themselves taverna-ouzeries though I would call them psarotavernas (fish taverns). Our favorite one is called Tsivaeri Ouzeri (photo) and their menu featured fried gavros (anchovies), grilled sardines, fried shrimp and a number of other fish sold by the kilo or per plate. One specialty of the island is a fried dish of atherina which are the smallest fish, mixed with onions and flour and deep-fried into a sort of fishy-onion pancake. Its great. They also make it with shrimp. Liasta is the same as gouna which if you have ever been to Paros you will know that it is sun-dried mackerel, seasoned and grilled. Liasta is one of those perfect foods that you eat once and crave forever. Another specialty of the island is tomato-keftedes which are deep-fried tomato balls. Oh yeah. I mentioned three restaurants in a row but there is a 4th. Its a patsa-pizza place. This is a rare combination. Patsa is a working class food made from the intestines of a sheep and is a sort of cure-all, and pizza is... well you know what pizza is. Its a unique combination. I don't think I have ever seen another patzadidiko-pizzaria in Greece. It may be worth checking out. I didn't but only because my wife believes that any restaurant that serves both pizza and patsa can't be any good. I disagree but as long as we are married I probably will never get to eat there.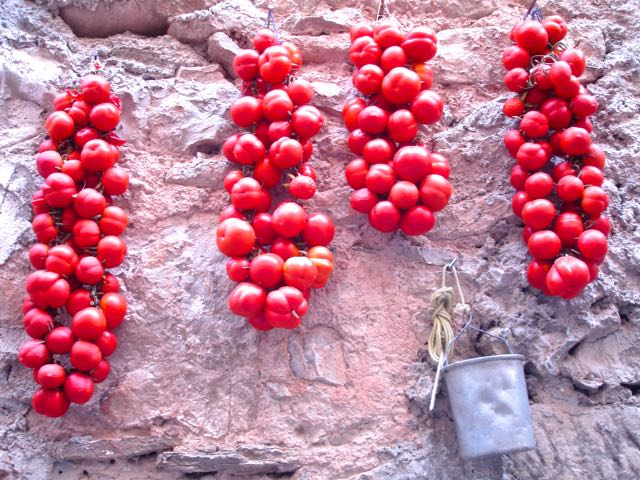 Our first meal was at an ouzerie-mezodopoleion in Chios town called Palio Petrino which was right on the waterfront. Despite the traffic whizzing by and the smell of the harbor, Palio Petrino served some great food, many traditional Chios dishes and the rest of the stuff you will find at any modern traditional ouzerie. Fried fish, saganaki, grilled local cheese with peppers and tomatoes and several varieties of ouzo. Apalarina is the big brand and is to Chios as EPOM is to Lesvos. I liked Kakitsis which was recommended by Glykeria, our host. The ouzos on Chios were all good but the next few places I went to and ordered Kakitsis the waiters seemed surprised and said "Ahhhh. You know Kakatsis" like it was some island secret that tourists were not supposed to know about. From then on I ordered it, until I discovered souma. Mastika is another spirit which is made from the tree the island os known for, but it is more for after dinner.
The best place (least pretentious) for ouzo and mezedes is right across from the main square near the main gate of the castle where there are several traditional cafeneons usually full of old men playing cards. Check out the Ouzerie Akropol or the Agora which both served nice mezedes. Also check in the neighborhood within the castle for the Oinomagereion Ouzeri of Jacovo E Panta or simply Iakovos. Nice local mezedes, ouzo and souma. Sometimes they have live music (unplugged), most of the times spontaneously by regular clients. Don't forget to go to Manara's Loukoumades (fried dough with honey) in the market. Also in the market is the Ellenikicousina (Greek cuisine) Estiatorio(restaurant) which like the traditional restaurants in Athens and Mytilini, serves patsa. These market restaurants are good choices to eat at because they are for the people who work in the market so they can't get away with serving second rate meat or old fish to the guys who are selling it. Like the other market restaurants it is open 24 hours. Check out Vyzantio in the main square.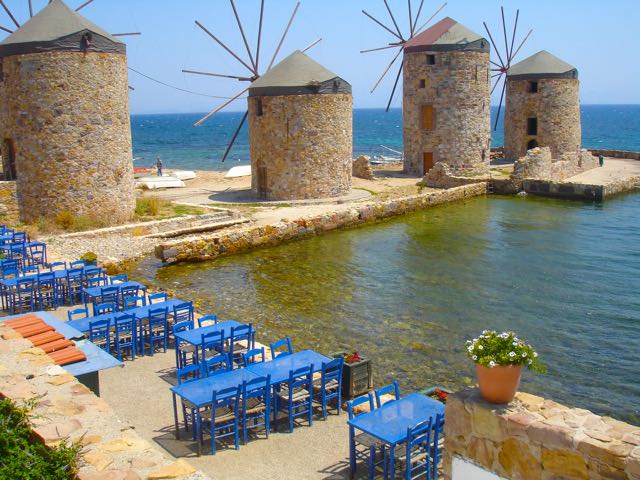 Hotzas is considered one of the best restaurants on the island and some will go far as to say one of the best in the North Aegean. It is a family owned taverna with a nice garden though it is a good 20 minute walk from the port. Still it is worth going since you can work up an appetite going there and you can walk off the calories on the way back. It is at Georgiou Kondyli 3. Another great family owned restaurant away from the port is To Kechrimpari Mezedopoulion at Ag. Anargiron 7 a few blocks above the marketplace. In an old stone beiliding decorated with antiques and old photos they serve a number of Chios-style and Greek mezedes including fried gavros (anchovies), skate, mussels, politiki salata (like a spicy coleslaw), keftedes, fried shrimp and a variety of ouzos to wash it down with. If you have been in Greece for awhile and are tired of Greek cooking or want to take a break for the night you can try La Bussola, an Italian pizzaria-restaurant on the far side of the waterfront near the Chandris Hotel.
Tassos Taverna in the neighborhood behind the Hotel Chandris has received good reviews from Rough Guide but we never made it there to eat. I did walk by and check it out. Its in a house with a large garden and looked a lot more pleasant than the waterfront. The menu was a large one with a lot of variation and included saligaria (snails), lakerda (raw tuna), shrimp with fried onion, shrimp saganaki, your classic grilled and fried fish and many grilled meats, oven dishes and even pastas. It looked pretty good to me and if I had not been in such a rush to get out of Chios-town I would have eaten there. Anyway Rough Guide liked it and they seem to know a good restaurant when they see one, or hopefully eat in one. Then a week or so after I finished this Chios site I got an e-mail from someone who loved Tassos Taverna....
"Though my wife and I have been to the most Greek islands, Chios was one of those we never had a chance to visit till last week. We just returned from Chios the other day. Almost visited all the tavernas mentioned, including Tassos Taverna, which I can tell you is the only taverna worth the excellent food and the money in Chios town... and well deserved the Rough Guide review. Am really sorry that you missed the excellent food that Mr. Tassos personally sits and prepares himself. I ate twice there and met some excellent local people and on the first day was given proper info on where to eat in other villages that we planned to visit."
There are a number of fish tavernas on the waterfront of Lagada. If you have an able designated driver and have a comfortable car you can be there in half an hour from Chios-town.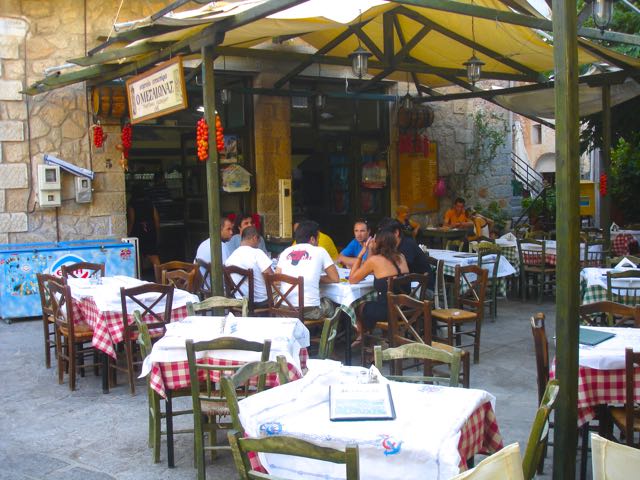 In Mesta's central square the Mesaionas Taverna has a wide variety of local Chios and popular Greek foods. They have a number of oven baked dishes on display and all the usual grilled meat that you will find in any psistaria. Service is good and the restaurant usually fills up by 10pm with locals, tourists and returning Greek-Americans. Despina is a very cool taverna owner and the staff, made up mostly of cousins, brothers, sisters and friends are friendly and fun. The square is the only place to be so most people make a night of it right there, switching from the local Mestousiko wine to the excellent souma that is produced in the village. Bougiourdi is the dish in the photo which I would describe as an oven-baked Greek salad. I know that sounds disgusting but imagine putting all the ingredients of a Greek salad (except the cucumbers) and cooking it like a stew. (Sort of like saganaki I guess). Great for dipping your bread in and by the way Despina had some of the best whole-grain bread I have eaten in Greece. She uses pure and local ingredients in their cooking.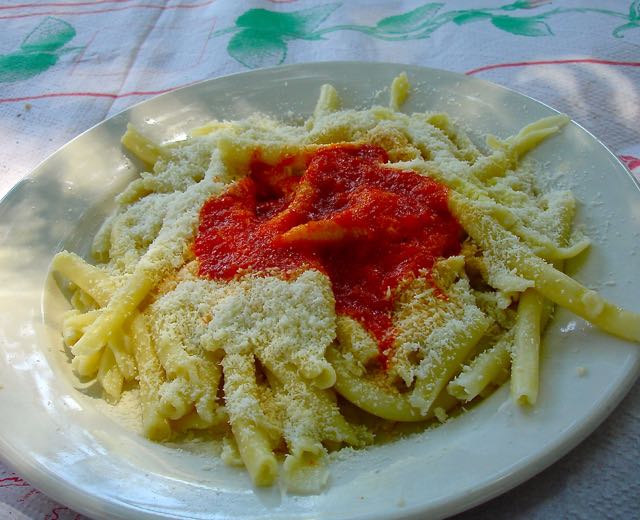 There are also a couple psistaria-pizzaria multi-purpose restaurants outside the walls of the town including Parakathi which is a pizza and pasta restaurant. The pizza is good, baked in a wood oven. Tasos, the owner, also makes nice warm sandwiches for take away, which is convenient if you want to take something to the beach.. In Pirgi the cafeneon-ouzeri with the columns in the main square is worth a visit for the traditional mezedes he serves with his ouzo. If there was a traditional cafeneon like this in Mesta I would still be there. There is one in Olympos too.
In Emporio there are several fish taverna-ouzeri places right on the sea. The Poseidonas is owned by Michael Colombus, another descendant of the guy who discovered America and worth going to get his opinion on the controversy. Next door is the Emporios restaurant. Both serve grilled and fried fish, salads, and the usual island fare and both are good. One of them, I forget which because I took both their cards and got them mixed up, had a great big lobster tank full of some of the largest lobsters I had ever seen. I am not encouraging you to order lobsters. They are expensive and they mate for life.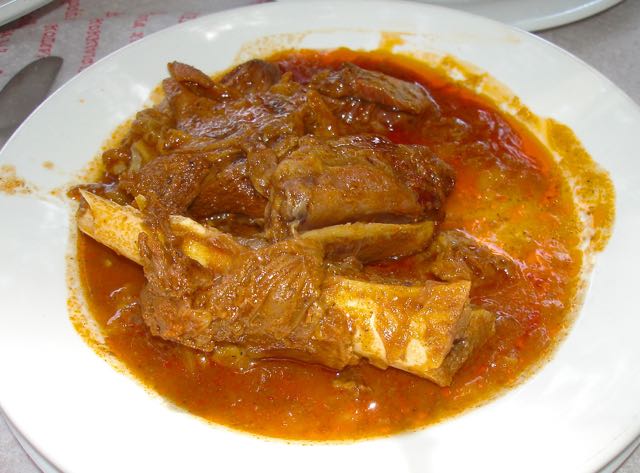 The Makellos Traditional Taverna in the faraway village of Pityos is about as authentic as you will find anywhere with the ladies making their pasta and dolmadakia by hand. This is called cherissia which means 'made by hand'. People come from miles around for lunch and I suppose for dinner though driving home after a couple leaders of wine might be treacherous. Get the pasta with tomato sauce and cheese (photo above) or the goat in red sauce (photo) which was fall-off-the-bone tender. Stuffed zucchini flowers are good, beautiful Greek salads, sadziki and of course the tomato-keftedes. You can also take the bus. It stops right in front of the taverna. If you have a day for exploration and you are in this part of the island, or even if you aren't, this is where I recommend you eat.
If you are on the west coast of Chios the Taverna Metoxi on the beach in Metochi Bay is a good place to stop for fresh fish, boiled marinated octopus and a very fine specimen of a Greek salad. If you can hold out until you reach Limnos, the small beach beneath Volissos there is a fish taverna on the beach there called the Limnos Taverna.
Tired of Greek food? The Golden Odyssey Hotel between Karfas and Chios-town advertises the Chinese Palace Restaurant with 82 dishes prepared by their very own professional Chinese cook, open daily and for Sunday brunch. We passed a Mexican restaurant on the way to Kardamilla. I took a photo but forgot to make a note of where the village was. Maybe somewhere near Lagada. Let me know if you find it and if it is any good.