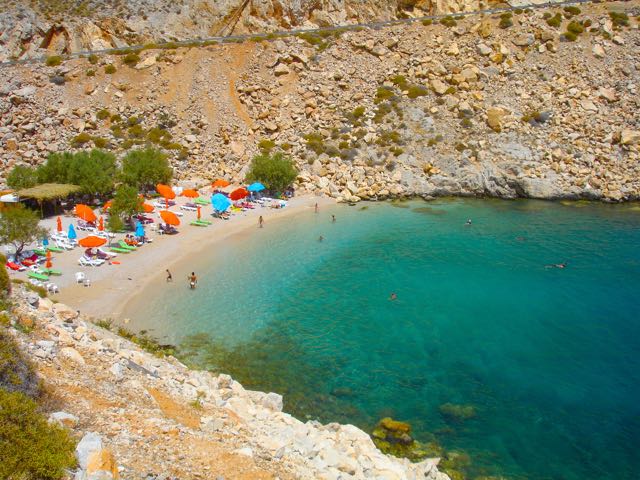 Our last day we planned to leave from Emporio and drive to the north of Chios as far as Kardamila and then return to catch out ferry at 10pm. Unfortunately there is no ring road around Chios town so you have to go back into the traffic hell and then out again, which we did, stopping only long enough to buy some Hyundai AA batteries for my camera which worked exactly ten seconds. We drove along the coastal road by abandoned factories and Lo Beach, which is the public beach of Vrontados, past the signs that advertised Daskalopetra or Homer's rock where he supposedly taught his students. The Monastery of Mersinidi located on a rock high above the sea is known for the ships that passed below, sounding their horns to greet the Panagia (Virgin Mary). We passed the tiny Glaroi Beach in a small cove that looks like it is in danger of being swallowed up by the nearby quarry. To our right was the island of Inousses (actually several islands clustered together between Chios and Turkey) which is known for the large number of sea captains who have houses there. Our first stop was a small bay between Lagada and Vrontados that was full of derelict boats, some half sunken, some being worked on, the kind of places I love though about as friendly as a junkyard full of Dobermans.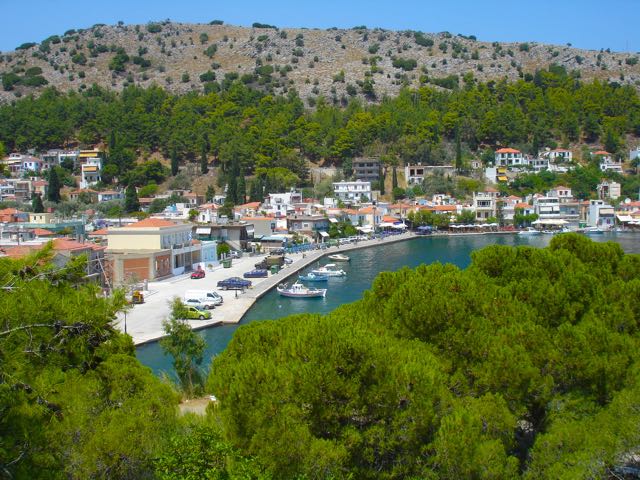 We took a few photos and continued on to the village of Lagada, a small port at the end of a fertile gorge that has a small river lines with fishing boats. There is a footbridge over the river that goes to a tree shaded beach. There are a number of fish tavernas in the town which stretches along the sea for several hundred meters. Its an idyllic spot for lunch or dinner and not a long drive from Chios town. But we cut inland to a small town in the center of the island called Pityos where there was reputed to be a fantastic taverna in a platanos tree covered square that was famous for its traditional food, in particular the hand made pasta. Pityos is a small agricultural town with a round castle on a hill in the middle of it. Not much reason to go there except for the Markellos Taverna, which was as good as advertised and full of Greek tourists and Chiotis who had also driven here for lunch. Not that they had to drive. The bus stopped right in front of the taverna. I had the goat in tomato sauce, while Andrea had the famous macaroni with fresh tomato sauce and local cheese. We also had stuffed zucchini flowers, the island's famous tomato-keftedes (like meatballs but flat and made with tomatoes and flower instead of meat), and my staple, a Greek salad and sadziki. While we ate the women who ran the restaurant were rolling and stuffing dolmades and getting ready to make the handmade pasta.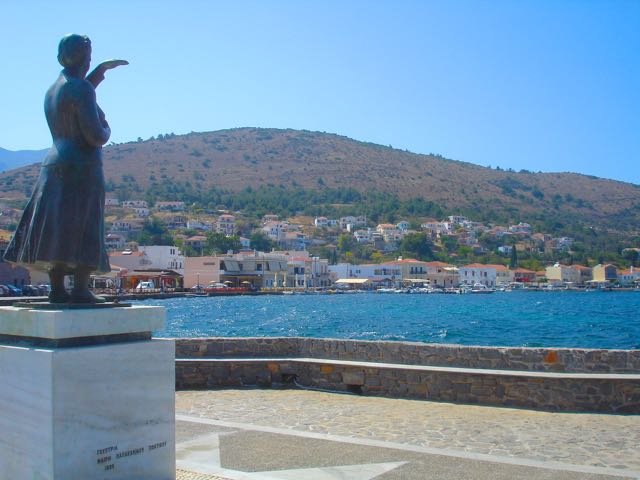 Our nest stop was the port of Kardamilla, famous for the number of men who took to the ships. In the port there is a statue of a Greek sailor going to sea and just down the road on a small islet a statue representing the women of Kardamilla, gazing out to sea. During the middle ages Kardamilla was the largest village on the island. It played an important role in the Revolution of 1821 and supposedly was never captured by the Turks. It is now famous for the many ship-owners who come from here. Kardamilla is not a town that you would call tourist friendly though I would not say it is unfriendly. It is indifferent. But any tourist venturing this far will find some nice cafes, fish tavernas, some beautiful old houses in the lower and upper village, and lots of English spoken. The place is crawling with Greek-Americans, many who are here for the summer and some who have retired in their ancestral village. The port was full of yachts, along with a few fishing boats. There was one junta-style hotel on the beach that looked like the owners had given up on the outside, but I am guessing that any guests here are overflow from the family house.
The upper village was the kind of place I would want to retire to, similar to the traditional villages of Lesvos. The village had a stream that ran beneath the giant platanos tree that covered main square, dry in the summer but I imagine it can run pretty fiercely in the winter. There were two traditional cafeneons/tavernas, one run by an old man who was doing his best to sweep way the leaves that had fallen that day from the trees. The other seemed to be run by kids who were playing a video game or something while the TV blared in the background. But outside both cafes, old men sat drinking coffee and talking, sometimes dropping English words and phrases into their conversation. While Andrea organized the car so she would not have to do it in some hot parking lot in Athens, I drank a Kampos Cherry Soda, made of course in Kampos, Chios.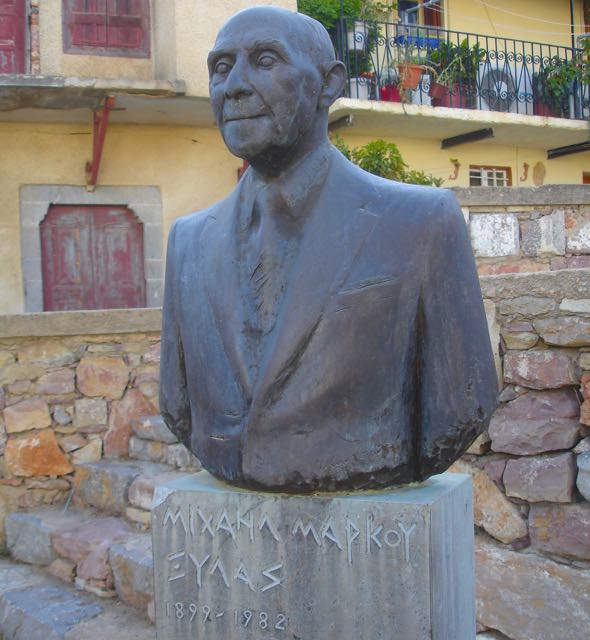 I actually do have a connection to the town of Kardamilla. In 1978 I sailed from New Haven, Connecticut to Genoa, Italy on the ship the Giorgos Xylas, carrying scrap metal. It was one of those character-defining journeys where you discover whether you are cut out for a life at sea. I wasn't. It was so boring that if I was playing solitaire I would attract a crowd of ten or more crewmen, all shouting advice, turning a simple and unimportant game to pass the time into a stressful situation similar to batting with the bases loaded in the last of the 9th with two outs in Little League. The ship was owned by Michalis Markos Xylas who was a patron of the village and whose statue sits outside the church in the upper village. If you lack purpose in your visit to this part of Chios a visit to the statue should fill the void and give meaning to your trip or an excuse to visit the upper village. Kardamilla really felt like I was somewhere familiar. In fact we got to know the village even better after we left. Andrea lost all her keys while cleaning out the car in the square and for the next few weeks several calls went back and forth to the cafeneons in a fruitless search for them. Also of interest in Kardamilla is The Snoopy Center where aspiring young dog actors train to play Snoopy in the next Peanuts movie.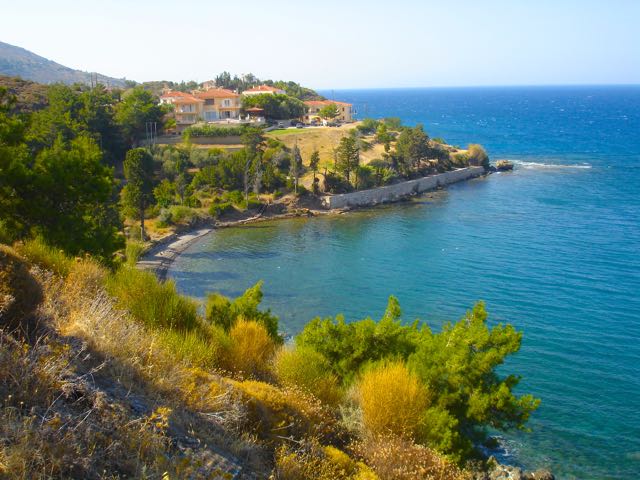 Beyond Kardomilla are a series of rocky beaches which when the north wind is blowing have some pretty big waves and some sheltered wooded coves which don't. There is also a spring at the side of the road near Nagos I believe. Andrea wanted to stop and wash the car there but I didn't. First of all it was a narrow road and I could have gotten killed doing it. Secondly, I like the way the Vitara looks covered in dust and mud. "That's how a 4-Wheel-Drive is supposed to look." I told Andrea. "Like you have been out in the wilderness exploring, not like you have just taken a trip to the mall". You can continue to follow the road around the northeast part of Chios which connects at Katavasi with the road from western Chios back to Vrontados and Chios-town. We didn't. We went back by way of Langada and Pontoukos past a number of fish farms, ending up back in Chios-town with a few hours to spare before catching our ferry to Pireaus. We could have stopped at Homer's Rock. That would have been the responsible thing to do as a travel writer. But we didn't. Sorry.