Chios has a large number of hotels of all different categories as well as rooms to rent. Its just a matter of deciding where you want to stay.
Chios Town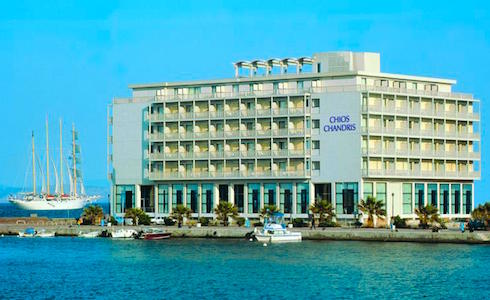 In Chios-town I stayed at the Chandris Hotel which is probably about as good as it gets, at least in town. Terrific view, nice breakfast, a pool, Greek music nights on Friday with a buffet dinner, good air-conditioning and within walking distance of just about anywhere in town. Nearby is the Grecian Castle Hotel which offers year-round accommodations in elegant rooms at pretty reasonable prices in a large mansion with a swimming pool, right on the sea. For more economical accommodations try the 2-star Diana Hotel on the waterfront which has a roof garden with views of the Aegean Sea and a snack bar. It offers air-conditioned rooms with free Wi-Fi. Porto Chios Hotel is within a short walk from the port, the castle and commercial shopping and offers tastefully furnished accommodations with free Wi-Fi and a private balcony. If you want to be close to the ferry Aegean Sea Rooms offers tasteful accommodations with free Wi-Fi access.
Campos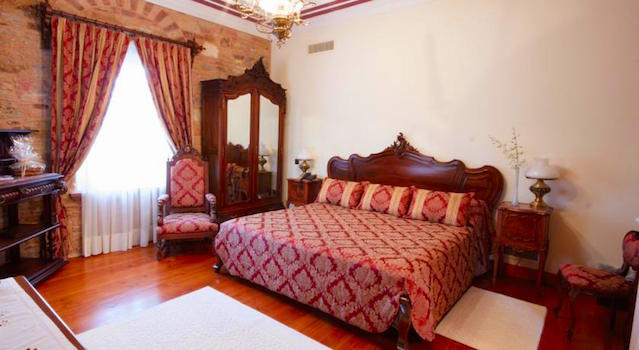 In Campos the Argentikon Luxury Suites have been recognized as one of the 100 Best Villas in the World I guess by Conde Naste or one of those kinds of magazines, or maybe it's a club or something. Regardless, it is hard to doubt that it is one of the 100 best villas, hotels or anything. The former mansion of the Argenti Family from Genoa, if it was not available as a hotel they could sell tickets just to visit it like the Biltmore House in North Carolina where they filmed Being There. It is one of the only properties I have ever seen that had a 10 rating on Booking.com. That means that everybody who stayed there absolutely loved it. So if you want to feel like royalty or Chauncy Gardner for a night or more then this is where you should stay. If they don't have availability, (which is possible so if you want to stay there book it now), it is not the only historical mansion in the area that has been converted into a fabulous hotel. Others include the Archontiko Riziko, The Voulamandis House, The Sourediko,The Topakas House and other amazing properties in Kambos which you can find on Booking.com's Kambos page
Mastic Villages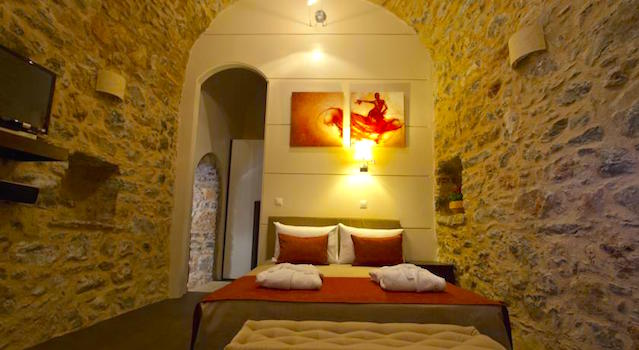 For those who want to stay in or close to the Mastic Villages I recommend a couple places. For those who don't mind spending a little extra for comfort try the Medieval Castle Suites, a hotel and apartment complex in Mesta that combines all modern facilities with the experience of living in a 14th Century village or castle. If you want something more simple but no less pleasant then Anna Floradi Apartments has studios for two or four people, with kitchenette, air-conditioning, refrigerator, running hot water, private bathroom, satelite TV and central heating fore the winter months. We stayed here and they were fine. To Petrino is a traditional 19th-century building. It features free Wi-Fi and air conditioned rooms with access to the grounds or with views of the medieval village of Vessa. Also in Vessa the Traditional Hotel Ianthe is comprised of 2 historic buildings. The Neocalssiko building was built in 1880 and the Kamarospito was built around 1750.
Emporio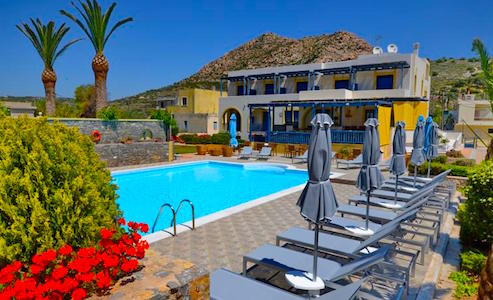 In Emporio which is close enough to the Mastic Villages to visit, we stayed at the Emporio Bay Hotel which was clean, friendly, a 2 minute walk from the beaches, tavernas and the shops, had a really great swimming pool and a lot of nice people who came back year after year, always a good sign. This is probably your best bet if you want to stay on or near the sea. The family-run Haus Fay is located at the central square Emporios village, 650 feet away from the famous beaches of Mavra Volia and Foki. It offers accommodation with a private balcony and free Wi-Fi. The Mastiha Emporios Apartments offers rooms, villas and apartments right on the sea with Free wifi. Hotel Almiriki is located on Lithi Bay southwest of Chios-town. It features a sun terrace with hot tub, a beachfront café-bar, and rooms with free Wi-Fi and like Emporio Bay is close enough to visit the Mastic Villages.
Karfas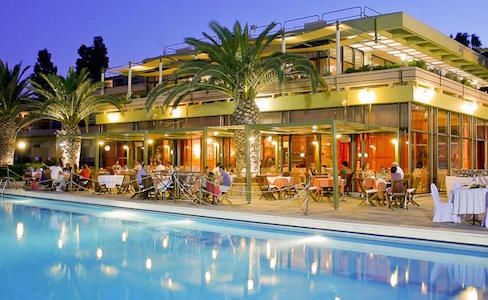 Karfas is a beach town where most of the island's hotels are located. If big hotels are your thing then Golden Sand Hotel is a Catagory A located on the sandy beach of Karfas, 7 km from the center of the town of Chios and 4 km from the airport. Built on 3 acres of waterfront property it has an Olympic sized swimming pool and 108 airconditioned rooms. Aegean Dream Hotel on the beach offers self-catered residences. It features a spa with gym and a swimming pool with free lounge chairs, towels and umbrellas. There are smaller, family run hotels as well like Evagelia Apartments which offers self-catering accommodation with a private balcony overlooking the Aegean Sea. Plaka Studios is a seafront hotel located just 500 ft from Karfas Beach. It offers rooms with kitchen and free Wi-Fi access, some enjoying panoramic views of the Aegean Sea and the sunrise. For more hotels in Karfas see Booking.com's Karfas page.
Around Chios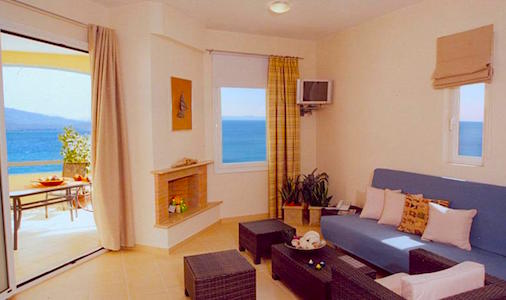 On a low hill right above the unspoiled sandy beach of Vokaria, Amarandos Seaview Apartments features spacious apartments with large sea-view balconies 300 feet from the small fishing harbor of the village, the seafood tavernas and cafes. Featuring a blossomed garden with bougainvillea and palm trees, the family-run Theoxenia Chios is located right on the shingle Agia Fotini Beach in Chios. Its air-conditioned units come with free Wi-Fi and offer unobstructed views over the Aegean Sea. Located in Daskalopetra, Pearl Bay Hotel Apartments offers fully equipped accommodation with a PC, free Wi-Fi, 42" LCD TV and DVD player. All Pearl Bay air-conditioned apartments and suites have a balcony, some with sea or mountain views. Each features a fully fitted kitchen with dining/living area and a spa bath. Located in Volissos, Yasemi of Chios is a traditionally built property offering self-catering accommodation with private balconies overlooking the scenic surroundings. The beaches of Lefkathia, Gonia and Limnos are less than a mile away. Closer to the sea Zorbas Apartments offers romantically decorated accommodation with kitchenette and sea views in the area of Volissos. Situated on a pine-covered hill overlooking the beautiful beach, Volissos Holiday Homes (photo) offers self-catering accommodation with sea-view verandas. It provides free Wi-Fi in some units, and it is within easy walking distance of Lefkadia beach. The port of Limnia with its cafe-bars and tavernas is a 2-minute walk. Volissos rooms are spacious and elegantly furnished. They include a fully equipped kitchen with dining area and come with a TV, air conditioning and hairdryer. Most rooms also feature a fireplace.
You can see these and other hotels on Booking.com's Chios Page with photos, maps, guests reviews and booking information. Also see Matt's Hotels of Greece Chios page for recommended hotels, villas, apartments, rooms and holiday homes.
I recommend booking hotels and ferries through a reliable Greek travel agency who can keep things running smoothly, which in Greece often don't. Fantasy Travel can book hotels on Chios as well as Lesvos and any of the islands in Greece, Athens, trips to Turkey, ferries, flights and tours. If you are planning to visit Chios with other islands or places in the mainland I suggest you try using my Create-an-itinerary form to get assistance from a travel agency or to find out if what you want to do is even possible. There is no charge and you are under no obligation to book so you may as well try it.