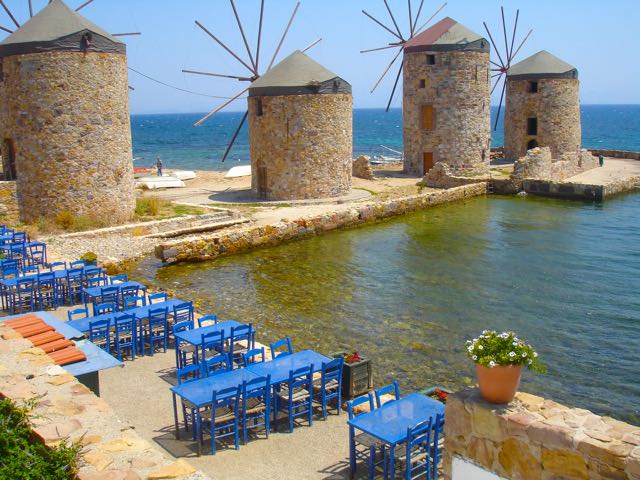 One day I will look at my trip to Chios as a shining example of my own special Greek island neurosis. For me to get off a ferry and not like an island at first is not abnormal. Its fairly typical actually. When I first went to Sifnos all the streets were torn up to make a trench for the sewage pipes with a pile of dirt that stretched the length of the harbor going past restaurants, cafes and shops which had boards as bridges to the tables where customers sat choking on the dust. My first impression was 'what kind of f**ked-up island is this? Yet it became one of my favorites. My first trip to Lesvos had me drinking ouzo morning til night just to survive and yet now it too is one of my favorite islands which I return to every year for anywhere from ten days to a month and usually have to force myself to leave. But after that first miserable night in Chios I was wondering how I was going to last four more and was there any way of going back to Athens without getting back on the ferry Theophilos.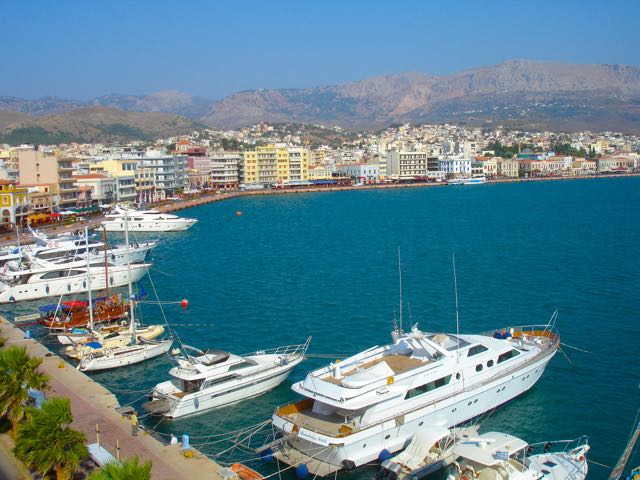 Breakfast helped. The Hotel Chandris is one of the last holdings of the once powerful Chandris family who used to own the largest cruise ship company in Greece. Now their fortunes have dwindled to a few luxury hotels, a 2% share of Celebrity cruises, and the Chios Chandris which though it is not luxury class, is a step above most hotels that you will find in the Eastern Aegean. A beautiful lobby and an even nicer restaurant and lounge area, the hotel also has a pretty nice swimming pool which hosts a Friday night buffet with live Greek music for its guests. A large buffet breakfast had different styles of eggs, lots of breads and cakes, fruits, yogurt, bacon, sausage and pretty good coffee. (Andrea had a double espresso for 4 euros instead). Best of all right next door is a bowling alley. Yes. A bowling alley. I certainly can't complain about the view either since the photo was taken from our balcony. I would have been happy to sit on it all day and night, sipping ouzo and ordering room service while I wrote this entire site by copying bits and pieces out of the guidebooks like Hunter S Thompson covering the Superbowl by watching it on TV from his hotel room. But I would still have to go out eventually and take photos to go along with the guide so it was inevitable that I would have to leave the hotel sooner or later.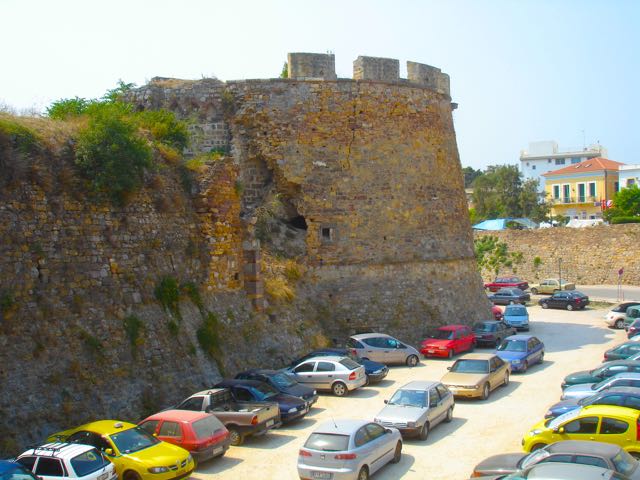 It turned out to be sooner. Fortified and ready for exploration we hit the streets of Chios town cutting up from the harbor to the central market and then down into the castle that contains the old city and its Turkish style houses, a hamam (Turkish baths though not working unfortunately), and enormous walls that rise from the moat, once filled with sea-water, now filled with cars. (It's a parking lot, though one of the more impressive parking lots you will ever see). The castle covers about 4000 square meters and was built by the Byzantines in the 10th century though the walls were later reinforced by the Genovese and the Turks. Though many of the towers described in the writings of the middle ages no longer exist, the walls and gateways are impressive. The Turkish cemetery contains the graves of many notable Turks including Kapudan Pasa Kara Ali, the commander of the Turkish fleet that was destroyed by Kanaris in 1822 after the Turks had slaughtered the inhabitants of Chios. A nearby dungeon next to the Guistiani Museum is where the Turks held the civilian leaders of the island for 40 days before hanging them on April 23 1822. The neighborhood within the castle walls is where the Ottoman Turks and the Jews used to live.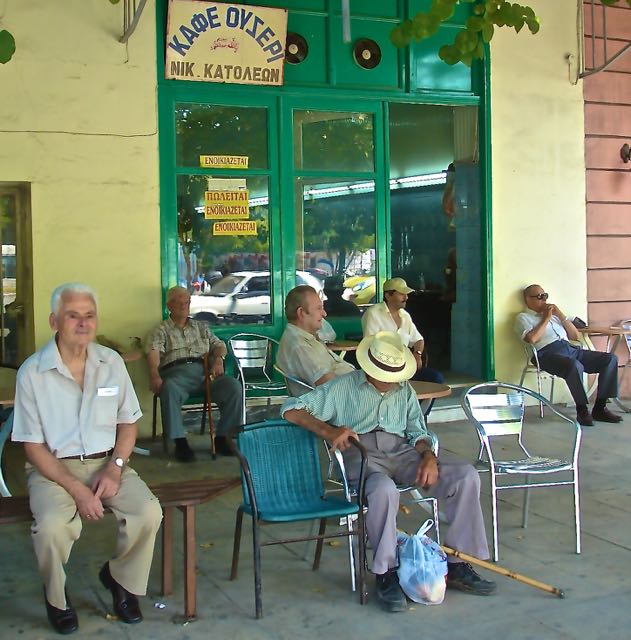 Traffic in the day was not as bad as traffic at night but in a way that was worse because everything moved faster and we were now on foot. Some town-planning might be in order. To make matters worse there is no road that bypasses Chios town. If you want to drive from southern Chios to northern Chios you have to drive back through the city, which adds to the traffic cars that don't even want to be there. Clearly the automobile is the downfall of Chios-town. There seems to be public transport and plenty of it. One of the best places to hang out in Chios is the bus station. Really. There's a bar, and its air-conditioned and there are plenty of buses. But people in Chios-town, like in Athens, are in love with their cars despite the fact that they make the town a lot less livable for those who are on foot. But once you get used to the commotion Chios town is an OK place to be. There is a big central park, Voukianiou Square, with cafes and tables in the shade and a line of old style ouzerie-cafeneons where old men play backgammon, cards and even chess, while the proprietor serves ouzo, souma (tsipuro made from figs) and simple mezedes. On the north side of Voukianiou Square is a column which commemorates the leaders of Chios who in 1822 were hung by the Turks on that very spot.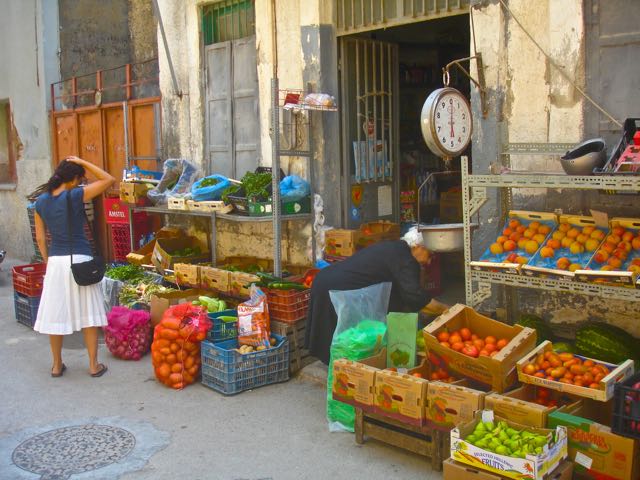 At the east end of the square is an old Turkish Mosque with a tall minaret. The mosque now houses the Byzantine Museum. There is an old style central market with fish stalls, vegetables and even a loukamades shop as well as a couple working class restaurants. If you have never had loukamades you owe it to yourself to try them. They are deep fried dough blobs covered with honey and though they are probably not very good for your cholesterol count they are one of those things that when you find a place that makes them you should try them because they may not exist ten years from now.
When looking at Chios-town you have to keep in mind that most of the buildings were destroyed in the earthquake of 1881. Of the old buildings that did remain and the others that were built in the years following the earthquake, many of these were demolished to make way for modern apartment buildings. As in most places in Greece the local people did not realize that these old buildings of neo-classical or Smyrnian design were what made the town interesting and attractive, until it was too late and most of them were gone. But there are a few survivors and the town seems to have come to its senses and restoration projects are in evidence, especially in the old walled city within the kastro.
The waterfront cafes of Aegiou Street are where it all happens for the island's young people who start there with frappes in the morning and afternoon and mixed drinks in the evenings as the crowds spill out onto the sidewalks. Some are packed and some are empty. If you tried to figure out why one bar was successful while another was not you would have to assume that it is due to trends and has little to do with substance or the type of music they play. The most popular place was an Eastern looking bar with hookahs. For my money the Beer Academy was the place to be, with several dozen international beers including some Belgian Trappist ales and Sam Adams. But in a country where beer drinkers are reluctant to venture beyond the triumvirate of Amstel-Hieneken-Mythos a beer hall may be doomed to failure were it not for the large number of Greek-American kids who come from all over the island to hang out in Chios town at night in the summer. Maybe this is why so many of the bars have a sort of seedy American style feel which I happen to find sort of comforting, like you could walk in, order a drink and have a long conversation with the guy next to you about the Mets or the Yankees or how Guiliani screwed the city and the firemen.
A large number of young soldiers hit the bars too since Chios is a border island. In the past Chios was a popular place to be stationed for obligatory military service. That's because all the men went to sea and left the women behind. "Ahhh Chios..." a former soldier reminisced. "I had ten girlfriends there at the same time. We all did." Its probably changed since then but the number of extraordinarily beautiful women walking the streets of Chios town at night was mind-boggling. If I was single and 10 years younger... (better make that 30 years younger), I imagine I would have a pretty nice time in Chios-town. Being there with my wife just made me feel old. Watching beautiful girls walking by dressed in their summer finest is just torturing myself. Still, is there anything more beautiful than a young woman dressed-to-kill out on the town on a Saturday night in Chios? Probably not.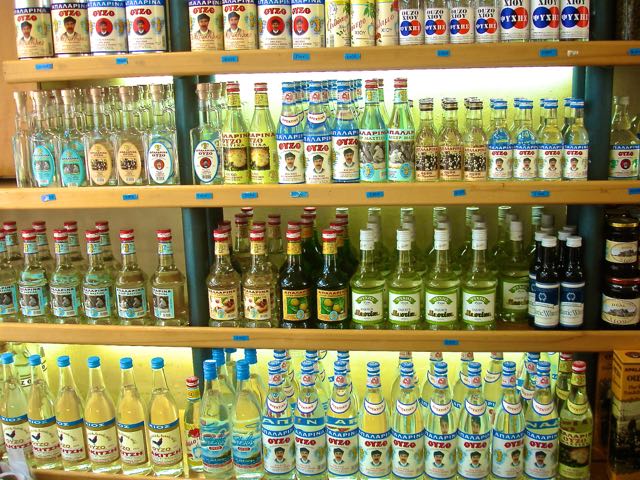 There are several shops specializing in mastica products on the waterfront including the Mastic Spa with shops in all the major commercial centers of Greece as well as in New York, Montreal, Buffalo (?!!) and Toronto, where you can get everything from cosmetics to toothpaste, mastic gum and candy. There is also the Mastihashop which is owned by the Cooperative of Mastika Growers on Chios and has a wide variety of mastika products and information. Other shops sell traditional products from Chios including the many varieties of ouzo. There is also an excellent foreign press shop, perhaps the best in Greece with every magazine you have ever heard of in just about every language you have ever heard. It also sells guidebooks and maps of the island and has a very good English language book section. Of interest to any traveler who needs to keep up with current events and the baseball scores this is where you can get the International Herald Tribune, not to mention USA Today, the Athens News which comes out every Friday and arrives on the first plane of the day, and just about any other daily foreign newspaper. If you don't see it, ask and they probably have it. The waterfront also has many of the fastfood joints that you will find anywhere in Greece.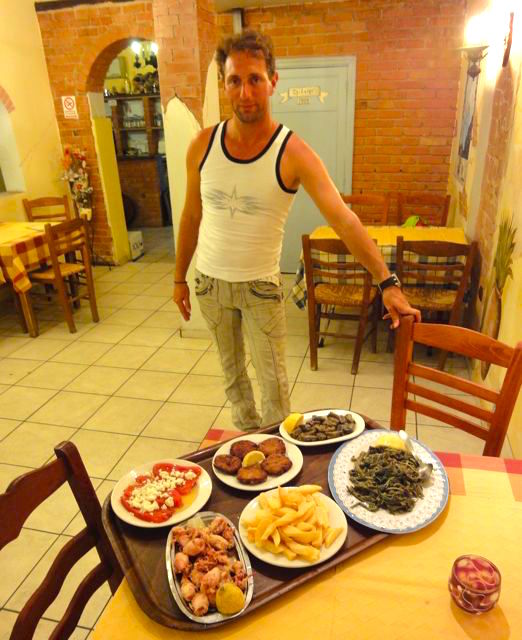 Near the derelict Rex Theater, a local icon which should be restored, are several fish tavernas and ouzeries where people eat while they wait for the ferry. We tried two of them but they all looked good. The menus at all of them were pretty similar. But in the past few years we have been going to the restaurant called Tsivaeri Ouzeri whenever we stop in Chios which is once a year. It is owned by a beautiful young couple and specialize in sun-dried spiced mackerel that is grilled, called gouna on some islands, but here it is called liasta. They make a deep-fried aferinia and onion cake which is also good. Atherinia are the very smallest fish they catch. They also make it with shrimp (garithes). Tomato-keftedes (fried tomato balls), kolokethia-keftedes (zucchini-balls) and normal keftedes (meat balls) are popular. There are also a number for fried fish like gavros (anchovies), gopa (bream) and grilled sardines. The place I wanted to try but Andrea would not even consider it was the first restaurant which specialized in patsa and pizza, a very rare combination, patsa being tripe, the innards of a furry mammal and a health staple of the working class and pizza being... well, pizza. But thankfully we went to Tsivaeri and have been there so often they expect to see us every time the ferry from Lesvos stops in Chios. If you go say hello to Stavros and Vali.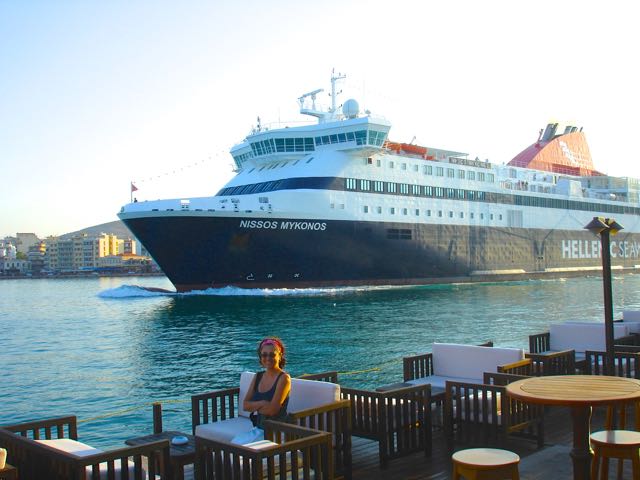 Beyond the waterfront bars of Aigeou street and the restaurants on Neorion Street is the long breakwater pier and the building called the Bourtze, now a cafe-bar where the young people hang out. Its a great place to sit and watch the ships come in and out of the harbor, so close you could have a conversation with the passengers as they pass by. This is also where the ferry boats to Turkey leave from, in front of the customs house. On hot summer nights this is where people without air-conditioning go to escape the heat of the city, some fishing from the end of the pier, others watching people fish and most of them in the Bourtze, drinking. Its a friendly place with young eager waiters and for those of us who love watching boats its a front row seat. Another nice spot to get away and enjoy a nice meal is Milarakia by the windmills in the photo at the top of the page. You have to walk left around the castle and then follow the road towards Vrontado to get there and it will take you at least a half an hour.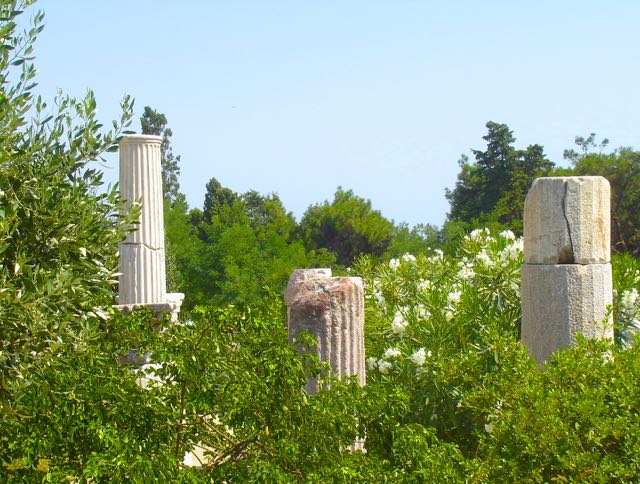 As usual Andrea forced me to go to the Archaeological Museum ("Its your job Matt!!!") which nobody seemed to know where it was, even the people who lived right next door to it. It is hard to miss, a couple blocks up from the waterfront on Mixalon Street which actually starts off as Porfyra street near where the road turns towards the Chandris. The rear of the museum is actually on Museum Street which starts off as Souri Street. (Streets seem to do this a lot in Chios-town making getting around even more confusing.) By going the way of Museum Street which would seem to be the most practical way to find a museum, you have to go all the way around the grounds to find the entrance. Its a big modern building with a surprising number of ancient pieces and a very friendly staff that seem to outnumber visitors by five to one. What makes this museum special is that every item has a lengthy description in Greek and English, eliminating the need for a licensed guide, a good thing since there is only one on the island. Even the lengthy inscriptions on the marble tablets were completely translated, something you rarely see. Greek and Roman statues, a large collection of ancient coins and jewelry and household devices as well as pottery and even an entire ancient mausoleum make the Chios Archaeological museum a must for any visitor to the island and one of the best of all Greek island museums.
Other museums include the Maritime Museum, housed in a beautiful neo-classical mansion several blocks up from the port in a location that if I tried to guide you there would only confuse you. But if you walk up Neofytou Bamba Street and continue going straight until you reach Aplotarias Street, one of the main roads leading out of the city towards the south, make a left and start asking directions you may find it. I didn't. Better just stick with the Archaeology Museum, the Byzantine Museum in the 19th century Ottoman mosque by the central square or the Guistiniani Museum by the central gate of the castle which features Byzantine frescoes, murals, icons and some Genovese art. If you walk up Korai Street from the center of the port you will come to a small square and on your left the Korais Library which houses the Argentis Ethnological and Folklore Museum.
In the summer there are a number of events from beach parties to big concerts in the Dimotiki Stadium across from the Archaeology Museum. While we were there Antonios Remos performed, his two giant 18 wheeler trucks making themselves a complete nuisance on the ferry home, clogging the entrance as they attempted again and again to back into the garage and causing the ferry workers to lose their tempers and take it out on the rest of us. There are several Pireaus style skiliadiko nightclubs where you can see beautiful young popular music (laika) singers in sequins and cleavage being showered with champagne and rose petals til the sun comes up when everyone heads for the patsa joints to ward off today's hangover and be ready for the next evening. You will see posters splashed all over on poles, deserted buildings and even cars and trucks driving around covered in posters, announcing the event through a loudspeaker.
Within Striking Distance of Chios Town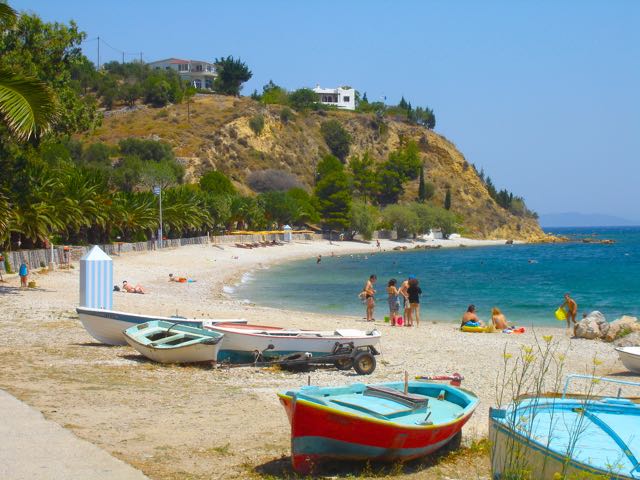 Chios Town is built on a long coastal plain backed by mountains. To the north is the village of Vrontados and to the south the beach village of Karfas. But the term village is not really accurate because pretty much all the land between these 'villages' has been built up turning them into beach suburbs of Chios town. Karfas is known as the resort area of the island. So we skipped it. Vrontados has some nice old mansions and narrow winding streets as well as a couple beaches. But beaches in cities are really for the inhabitants and are popular out of convenience, not because they are particularly nice beaches. People who live nearby can walk to them. But someone visiting the island of Chios would not put the beaches of Vrontados on their 'things to do' list.
Karfas is another story they say. Its not my kind of place but if you like small to medium sized family run hotels, decent tavernas, a long sandy beach and lots of people on weekends and in August then you can check it out and let me know what I missed since I was only here long enough to take this photo. If you are used to the popular beach towns in Crete or the Cyclades then Karfas will seem pretty laid back in comparison. But by Chios standards it is what you would call a 'tourist beach' though then tourists will probably be mostly Greek or Greek-American, Australian or whatever.
As for swimming in Chios Town.... well people do it. (mostly people in their nineties who probably always swam there and always will) That does not mean that I would or you should. Swimming in or near any big city won't kill you. It may be healthier than not swimming at all. But the general rule for me is that when you are in a city the sea is for looking at while having lunch or an ouzo, not for swimming. When you want to swim you drive as far from the city as you can. If you don't drive? Don't stay in the city. In fact even if you do drive don't stay in the city. There are more interesting places to stay on Chios and you can see what you need to in town in a couple hours.
The area called Kampos is a collection of agricultural villages that like Vrontados to the north have become almost a suburb of Chios town. A lush area of citrus trees and walled mansions, some as old as the 14th century, Kampos is the most fertile area of the island and is also known as Lalades for its many tulips. It is said that the Dutch first brought back tulips from here to Holland where they began cultivating them. Now the Municipality of the Kampochora with the cooperation of the Univerisity of the Aegean Department of the Environment is taking steps to reclaim the tulip, perhaps designating Chios as 'Land of the Tulips' and incurring the wrath of Holland who will join the Italians of Genoa who are angry at Chios' claim to be the birthplace of Christopher Colombus and invade the island. Hopefully not though it should inspire some of the more curious Dutch tulip lovers to come for a visit.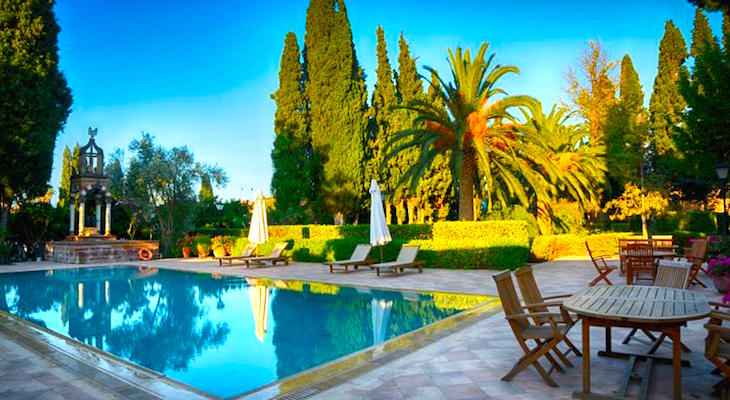 At one time there were over 200 estates here but many of fallen into decay. Many of the remaining mansions have been restored to their former splendor and some like Argentikon Palatial Estates (photo) have been turned into traditional inns. This estate is a luxury hotel with five individual villas, in the kind of surroundings that kings and queens are used to with exotic gardens a large pool and a restaurant, all in buildings that date back to the 1500s. Most walls and buildings of Kampos are built from the local red stone from Thymiana. The high walls hide lush gardens and pebbled mosaic patios, grape arbors and giant pine and cyprus trees. The town of Ag Giorgos Sycoussis named after the monastery of Saint George and the Sycous civilization which inhabited the area, is one of the most affluent villages in Kampos and offers a nice view of the kampos (plain) below. It also has a local souma festival organized by the municipality. Vassileoniko has a number of churches, citrus orchards and a festival to Saint Panteleimon on July 27th. This saints day is also celebrated in the village of Dafnonas which is also known for its ouzo distillery. Vavili has a Byzantine museum and some Genovese mansions that are still standing and also the Catholic Church of Saint John. In the Church of the Ypapanti Virgin you will find icons painted by Hawaiian artist Juliette May Fraser.
In Kallimasia is the 19th Century Monastery of the Pagagia Plakidiotissa. The Folklore Museum of Kallimassia has preserved village customs by constructing an ouzo still, olive oil press, blacksmith, tailor shop, shoemaker's shop and Karagiozis. Their objective is to eventually create an entire early 20th century traditional village. The Popular Art Cooperative of Kallimasia has a shop which sells traditional embroideries, traditional Chios costumes, dolls, sheets and bed covers.
There is frequent bus service to Karfas, the island's beach resort as well as the beaches of Agia Ermioni, Megas Limionas and Agia Fotia. Near the village of Neochori is the Agios Minas Monastery where in 1822 the Ottoman Turks slaughtered several thousand Chiotes. It also has a terrific view. In Thymiana the carnival known as Mostra takes place during the last days of Apokreas with men dressed in island costume dancing the talimi, reenacting the battles between the people of Chios and the pirates during the middle ages.
Cars and motorbikes can be rented on the waterfront in Chios at a number of different places. Keep in mind that Chios is a big island and more suited to cars than motorbikes. There are also the famous red Chios taxis which can get you to many of these places at a reasonable (even negotiable) rate.
Finally...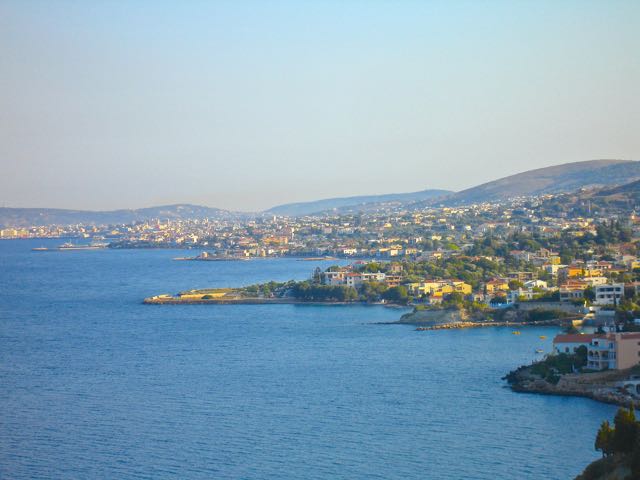 For those of you who are passing through Chios on your way back to Pireaus from Lesvos you have an hour to get off the boat and explore. (Check this with the boat because it may vary with the ferry and the season but every time I have stopped in Chios we had an hour.) In early August there is a festival in the Public Gardens above Voukaniou Square just a couple blocks up from the waterfront on Kanari street. It features local dances, free food and free ouzo, plus lots of art and local crafts and many of the people involved are Greek-Americans who are happy to tell you what they love about their island. Make your way up Kanari Street which should be the street that ends near the front of your ferry (You will know what I mean when you get there.) Walk up Kanari until you reach the main square and the Public Gardens are beyond. If its not August and there is no festival walk along the waterfront and buy some mastica products, or go have an ouzo and mezedes at Tsivaeri Ouzeri by the Rex Theater or across from Pastiras Square. It was this festival that made me want to return to the island and spend more time here. Don't let what I have written about Chios-town deter you from visiting Chios. It just takes getting used to or being prepared (or something). Anyway you can't get to the rest of Chios without going through it unless you know how to fly.