Mainland Greece: Peloponnesos
If you have already done the Greek islands here is another Greece itinerary suggestion that you can sandwich in between your nights in Athens.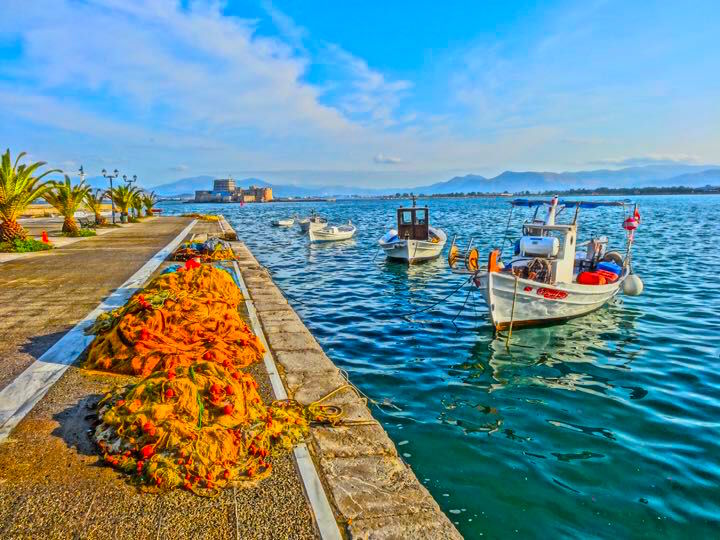 You can rent a car and drive around the Peloponnesos. If you use my Peloponnesos Guide you can get one of the travel agencies to assist you in booking hotels that will enable you to get from one town to another with time to see what is in between. For those less adventurous you can book George the Famous Taxi Driver for a few days and he takes care of all the hotels and you have a driver, guide, translator and friend of your very own to show you around. The easiest way to do the mainland is to go on the tours that the travel agencies offer, even if you think of yourself as the kind of person who does not like tours. The best of the mainland tours in my opinion would be the 5 Days Classical Tour Including Nafplion, Olympia, Delphi & Meteora or the 7 Days Grand Tour of Greece which includes the Peloponnese, Central Greece & Macedonia and pretty much everything that is on the 5 Day Classical Tour. The only reason I would not do these tours is because they don't include places that I would go to in the Peloponessos, for example Monemvasia, Diros Caves and Mystras. But if this is a first time to Greece trip you could do a Fantasy Mainland Tour and get the important sites out of the way and come back next year and do it on your own or with George. The worst way to go is by public bus unless you are so poor that you have to subsist on feta cheese and a loaf of bread a day and then you probably don't have a choice. But the general consensus is that the tours are fun and not filled with only the type of people you find on tours. Sort of like the Greek cruises where you find people who have never been on a cruise before but realized this is the best way to see a lot of islands in a short period of time.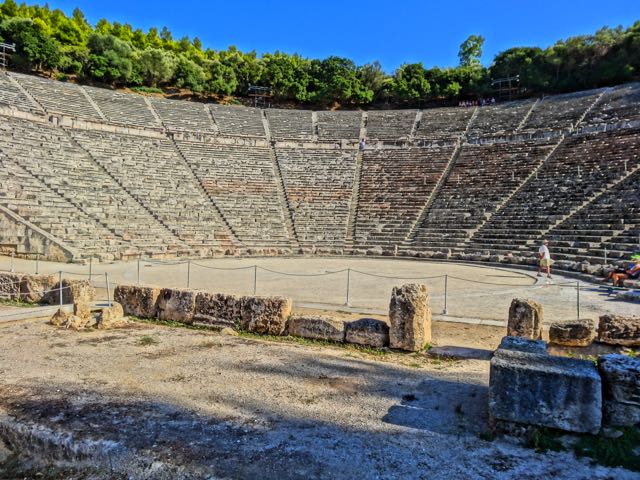 So let's say you have already been to most of the places included in the above tours and you want to explore the Peloponessos either by rental car or with George the Famous Taxi Driver. A good Peloponessos itinerary would be:
Day1: Athens, See the Acropolis etc.
Day2. Car delivered to hotel (Swift Rent-a-car will pick you up at your hotel and drive you out of the city.) Drive to Corinth and see the canal and the ruins of ancient Corinth and Akrocorinth. Continue to Nafplion where you spend the night. You could also stay in Tolon if you want to be on the beach but I prefer Nafplion.
Day 3. Nafplion: Drive around the Argolis and visit Myceneae, Epidavros, Nemea and the dozens of other interesting places in the vicinity of Nafplion including the beaches.
Day 4. Drive to Sparta and have lunch there, then go to the Byzantine City of Mistras. Continue to Gythion. Spend the night there.
Day 5. Visit Diros Caves and drive to the tip of the Mani. Return to Gythion.
Day 6. Drive to Monemvasia: Explore the fortress and stay there one night.
Day 7: Drive to Neapolis to the island of Elafonisos for the day or spend the night. Or you can return to stay at either Monemvasia or Gythion again or even Sparta which has some nice hotels and some good restaurants and is very un-touristy but has an active town square that will give you a pretty authentic Greek experience.
Day 8: Drive along the coast or through the mountains to Olympia. Stay overnight.
Day 9: Visit ancient Olympia. Drive back to Athens or stay a night in Loutraki if you have time. It is just 90 minutes from the airport.
The problem with putting together this itinerary is that I realized I was running out of days. So let's say you could add a few more days to it. What would I do? Well between day 7 sand day 8 I would spent a night in the town of Stoupa or Kardamili and explore the Upper Mani. Or head down to the western of the three tips of the Peloponessos, since you have already visited the other two, and see Messinia, in particular Koroni, Methoni, Ancient Messinia, and spend the night in Pylos and from there drive up the coast to Olympia. There are great beaches along the western coast of the Peloponessos. Any of the Travel Agencies can assist you in putting this itinerary together and coordinating the hotels so all you have to do is show up at the end of the day. If you do the trip with George the Famous Taxi Driver he books the hotels and he actually gets pretty good rates from them since he brings them so much business.
What if you want to see the most important sites on Greece but you want to do it on your own with a rental car ? This is pretty simple and you really don't need me to make up an itinerary for you. Just go to Fantasy Travel's Mainland Tour Pages and click on some of the longer tours, for example the 7 Days Grand Tour of Greece or the 5 Day Classical Tour and click on itinerary. It tells you what to do if you want to do it on your own, which order to visit each place and pretty much how much time you need and when to visit the nearby archaeological sites. They already did the research for you and all you have to do is book the hotels. Of course you may discover as the cost of the hotels, gas, car rental and food start mounting, that you would have probably been better off just booking the tour with Fantasy Travel instead of doing the same exact tour on your own and missing the scenery because you have to keep your eyes on the road. But it takes time and experience to learn these things.
Northern Greece
What about doing a 10 day trip from Athens that skips the Peloponnesos, which you would only do if you have already been there since there is no good reason to skip it? This is what I would suggest: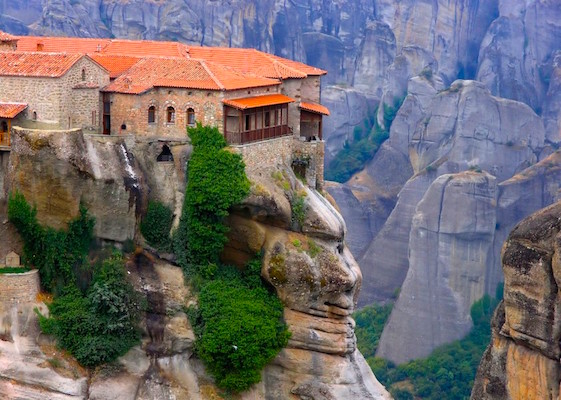 Day 1: Leave Athens and drive to Delphi. Spend the night there or better yet in Galaxidi or Nafpaktos.
Day 2: Drive west to the coast and then north to Parga (or Lefkada but if you go there you probably won't do the rest of the mainland trip)
Day 3 and 4: Drive east and spend the next 2 days exploring Ipirus either staying in Ioanina or one of the villages in the Zagoria.
Day 5: Visit Meteora and Trikala. (Tourists don't really go to Trikala but they have a really nice downtown with a river running through it.)
Day 6: Explore Macedonia. Stay in Edessa or one of those towns I have never been to but have always wanted to go.
Day 7: Thessaloniki. You could easily spend several days here and also explore Halkidiki but I am assuming you only have 10 days to play with. Anyway this is sort of an introductory trip and you will probably want to go back and spend a week at some of these places.
Day 8 and 9: Wake up early and drive to Volos and stay there or one of the villages in Pelion. This is where you will say "Damn, this place is nice. I wish we had more time." Or you could just start with Pelion and skip all those other places.
Day 10: Drive Back to Athens pissed off that you only booked your Greece trip for 10 days.
Hopefully you have found this page helpful. If not just contact me and tell me what kind of a person you are and I will tell you what to do. You can also use my Create-an-itinerary form and a reliable travel agent will come rushing to your assistance and help you put this together. If you want to book on your own you can do so using Matt's Hotels of Greece page.