Going to a Greek Island on your own does not have to be an intimidating experience. Just follow these simple instructions and you will have an adventure which can be duplicated a few thousand times, or as many times as there are Greek islands.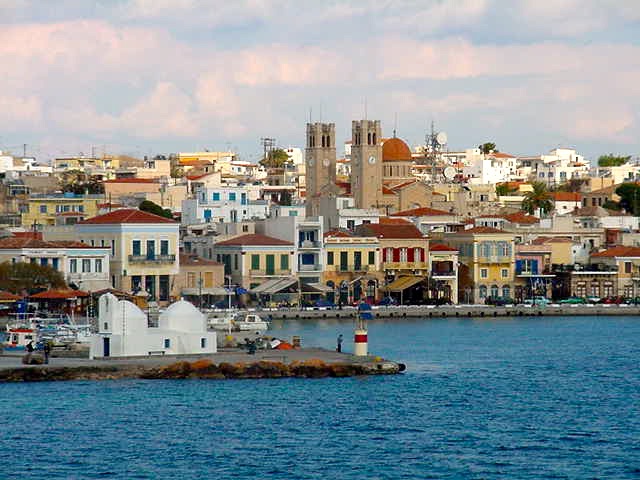 For the sake of convenience I will use the island of Aegina as our sample island, though of course you could substitute any island of your choice. I chose Aegina because it is close to Athens, only an hour by ferry, half that by Flying Dolphin, and because there are boats leaving every hour so I don't have to wake up early to catch a morning boat, the majority of which leave between 7 and 9 am, and I won't need to buy an advance ticket. If this was an early boat you will have asked the concierge at your hotel to have a taxi waiting for you at least an hour and fifteen minutes before the boats scheduled departure. If you tell the taxi the name of the boat, or which island you are going to, he will know exactly where to go. From downtown Athens to Pireaus should cost about 10 Euros. Don't count on the ferry leaving late and you making it in the nick of time. I have actually missed a ferry by a foot. I could have jumped but I did not want to risk falling into the murky waters of Pireaus, (plus my girlfriend was on crutches).
From Athens the 040 goes from the bottom of Syntagma square to Pireaus and the new 049 goes from Omonia to Pireaus. There is also a stop near the Acropolis museum on Vas Amalias Street near Hadrian's Arch on the Plaka side of the street where you can catch the X80 express that goes from Syntagma to Pireaus.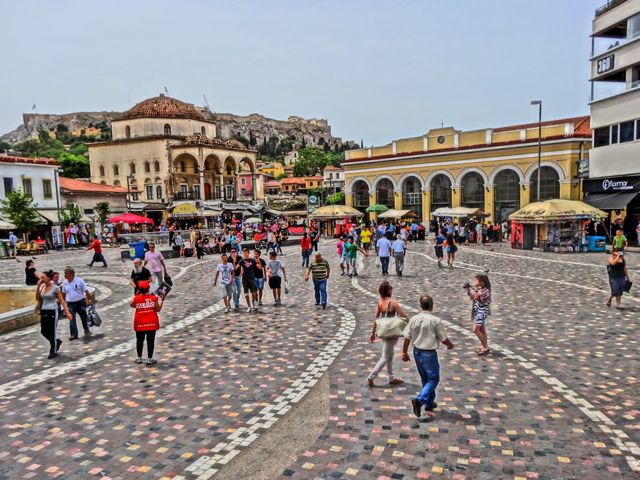 You can also take the Metro, as I do by following the steps that follow. Because I am only doing a day trip there is no need to check out of my hotel, nor is there any need to bring my luggage, which makes traveling today a breeze. All I have is my digital camera and what I am wearing. You may want to bring a day bag with a towel and bathing suit. Your first step is to find the train station closest to your hotel. Most likely this is Monastiraki in the flea market, easy to locate. You can walk down Metropolis or Ermou streets or follow Adrianou until you hit Hadrian's wall at Aeolou, make a right and then your next left on Pondrosou. Inside the train station there are machines to buy your ticket. It's about a euro and a half to Pireaus so stick a coin in and press the buttons until it reads one 1.50. Then when it rejects your money and does not give you a ticket walk up to the friendly guy at the booth, or stand in line and buy two tickets so you don't have to do this again when you come back.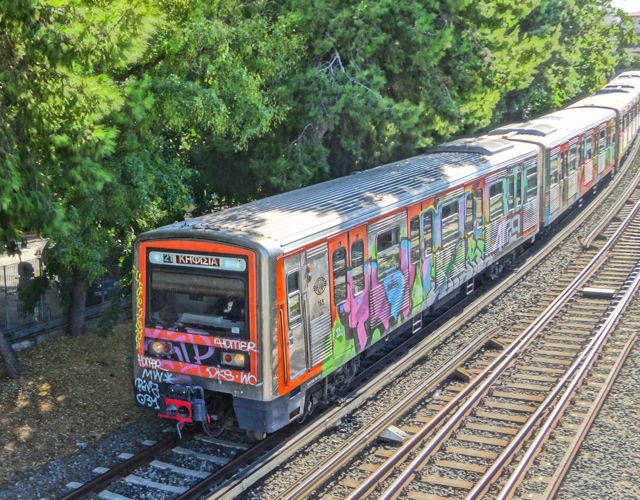 As you face the train tracks you have a choice. Left to Kifissia or right to Pireaus. Go right but not before showing your ticket to the scanner to have it validated (or invalidated since once you get off the train it is useless after 90 minutes). Then walk down the stairs. Wait on the platform for the train to come and when the doors open, hop aboard, just as you would in your own country. Watch out for pick-pockets. They like to create a disturbance and then grab your wallet. But if you have read my article Defeating the Pick-pockets you have nothing to worry about.
Above the doors in the interior of the car is a map of the metro line as it is today. There is one green line that goes from Pireaus to Kifissia in the northern suburbs and that is the one you are on hopefully. There are a couple other lines that zig-zag around it which are red and blue and if you started in Makrianni or Syntagma you probably were on one of these lines to get to Monastiraki. The trip to Pireaus is about twenty minutes and actually sort of entertaining if you look out the window. You will see neighborhoods like Moschaton and Kalithea where you will probably never walk, but are quite nice. Around Thission there are archeological ruins right next to the tracks and at Faliron you cross over a river! Well it's not much of a river. You would not want to swim or wade in it since the percent of water versus other substances is a little low, but at one time it was a real river that emptied into the Faliron Delta where the big Olympic indoor stadium is now.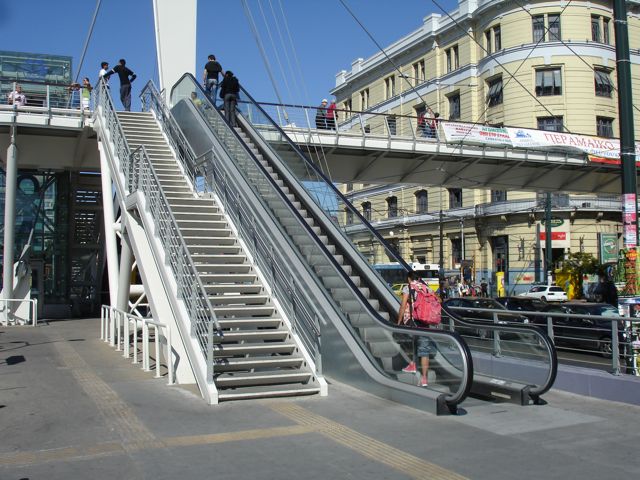 When you get to the last stop in the old Pireaus station walk to the front of the train. You can drop your ticket in the garbage unless you plan on returning within 90 minutes, for example if you miss your ferry. Better hang on to it just in case. If you keep walking straight out the door and take a left there are several ticket agencies on the main street or if you cross the street to where the boats are there are more ticket agencies at Platia Kariaskakis where the bus terminal is. You can also buy tickets at the boat which is the best idea for an island like Aegina which has many boats going each day. If you look through the archway you will see your first ferry straight ahead. (The ferries directly across the street are usually going to Sifnos, Paros, Naxos, and Santorini.) There are some fast food joints on the main street and if you wander around the back streets you can find all sorts of stores to buy snacks or supplies for your trip. Since the trip to Aegina is only an hour away we don't need much in the way of supplies. Getting across the main street is no longer the challenge it once was. It seemed like the light never favored the pedestrians and when it did it only lets them get half way across, trapping them in the narrow median between cars that race by. This was the most dangerous part of the trip and the last barrier between the city and freedom. Happy Note! As of spring of 2006 they have built a pedestrian bridge and you can now cross in complete safety! Once you get across there is a map of where the boats are docked and a shuttle bus that will take you back and forth eternally if you wish. There are also some big signs over the road that point you in the direction of the ferries to the various islands.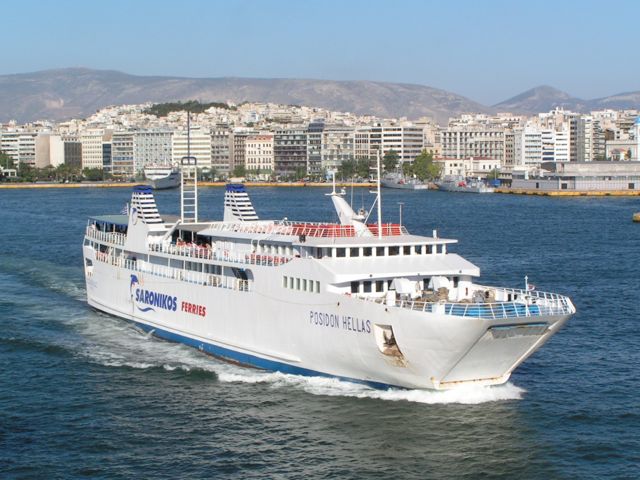 Our Aegina boats are to the left of the peninsula that houses the ticket agencies known as Akti Tzelepi and Platia Kariaskakis. There is a square with a statue of Kolokotronis, a hero of the war of Independence. (This is also where you can catch the X96 express bus to the airport and where the bus from the airport drops you off.) Walk along the dock until you see a boat that seems to be leaving sooner then the rest. They have their departure times and destination written on signs or banners across the stern (boat talk for rear), and there will be increased activity in those that are leaving. You can buy your ticket at the booth right in front of the boat. Kids under six don't pay and under ten pay half price. Normally you will have a choice between first class, second class or deck, but in the case of Aegina, getting a cabin would be ridiculous since you would be at your destination before you figured out how to use the shower. But an island like Rhodes, Lesvos, Crete, Samos, Patmos and even Santorini which are between ten and fifteen hours away, I always splurge for a first class cabin. It costs about the same as flying but it is more relaxing and it entitles you to eat in the first class dining room which is the same food as the self-service cafeteria only they bring it to you and you get to leave a tip. Remember that it is tough to get a cabin without booking early. You probably won't find one if you are buying your ticket at the boat. If you are bringing a car you can buy your ticket to Aegina easily enough in the port, but for other islands definately get it in advance. If you are going to Hydra keep in mind that there are no cars allowed.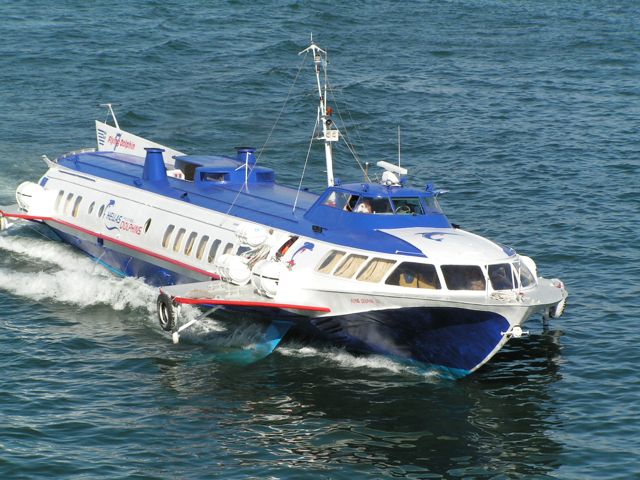 You may decide to sacrifice comfort for speed and taking one of the hydrofoils, either the Flying Dolphins, or the much nicer highspeed ferries and catamarans. These cost twice as much as the cheapest ticket on the ferry, go twice as fast and get you twice as seasick if the weather is bad. When the sea is calm the small flying dolphins are like flying in a big noisy, bouncy, smelly 747. There is almost no space to stand outside and breathe fresh air and their big engines let off a lot of fumes. But they get you there fast and if you don't mind flying you won't mind this. (I don't like either.) The best place to be is by the door beneath the cockpit where it is like riding on the wing of a bi-plane. Hang on. If you fall out they may not notice since most people are in the airplane seats reading. On really rough days the Dolphins can be a little scary. They are not really made for bad weather and it is like flying a B-29 through heavy flak. But unlike a B-29 if the waves get too big the Dolphin stops and sits for awhile. My last Dolphin trip was through the Cava d' Oro, the treacherous straits between the island of Kea and the mainland where mightier ships then the Flying Dolphins have gone down, including the sister ship of the Titanic, the Britannic. They decided this route was too rough for the Flying Dolphins.
Don't be afraid, because no Flying Dolphin has sunk or turned over (that I know of), though they have run over a fishing boat or two. In fairness to them, if you want to get to an island fast and you don't want to fly then take the fly (that's what the Greeks call them). The flying dolphins are now pretty much only sailing in the Saronic because it is rarely rough there and the new generation of highspeed ferries handle rough weather a lot better.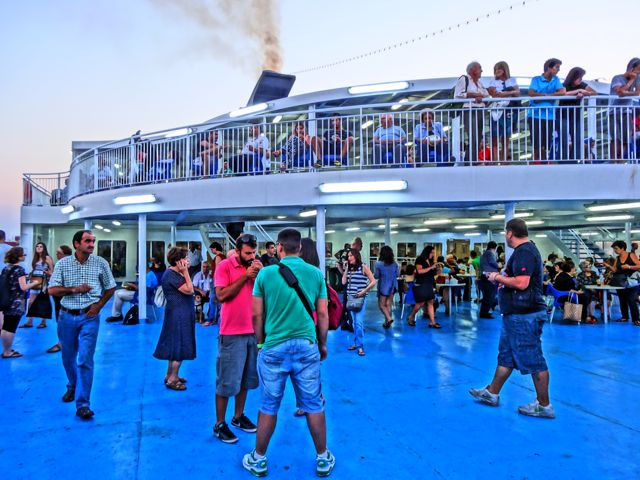 Once you have bought your ticket find a good spot on the ferry. They check your ticket when you get on so have it ready. Other times they check it on board. You can leave your heavy luggage in the car garage by the stairs. There is usually a storage compartment you can fight your way to. Andrea always leaves her stuff there but I take mine with me since I can never remember what I packed where and what I may need in the course of the trip. The lounges , which used to be very smokey are now smoke-free. That means if someone is smoking a cigarette you can ask them to put it out. They will argue with you but then everyone will take your side and he will go smoke on deck rather than risk further humiliation. There is a snack bar and they sell beer and ouzo and almost anything you would want on an hour long ferry boat ride. The bigger ferries have sit-down restaurants and fast food cafeterias.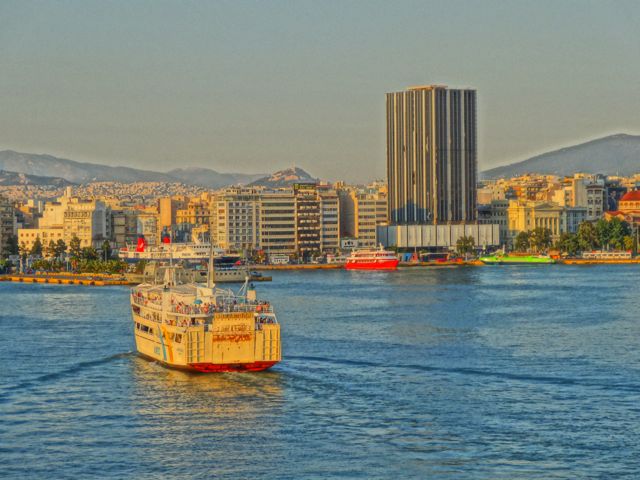 I prefer to sit outside and watch the commotion as the ship leaves and the streets of Pireaus recede. One of my favorite pastimes is seeing all the ferries and cruise ships as we leave the harbor of Pireaus. I get a special kick when we pass the Lesvos ferry boats because they are the last in line and I have been on them so many times it's like seeing an old friend. I always use up about two rolls of film every time we leave for an island just taking pictures of all the ships. The beautiful steel and glass tower you see as you sail away is sort of the unofficial symbol of Pireaus. It is the city's first skyscraper, built in the seventies and never completed because the calculations were wrong and the building was unsafe. So rather than leave a big embarrassing concrete skeleton, a giant version of what you see all over Greece, they decided to cover it in glass and plastic and at least make it look like a real modern skyscraper since that was easier than taking it down. So for over 30 years it has stood there, a proud symbol of ineptitude for all the world to marvel at. When they finally figure out how to tear it down it will mark Greece's entry into the modern age.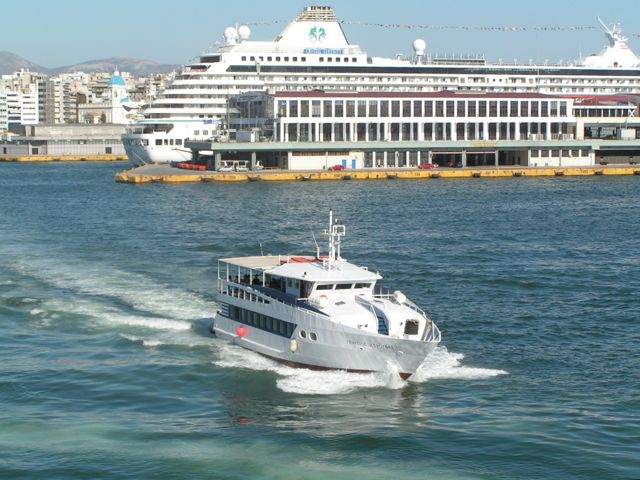 The ferry slowly makes its way through the harbor, passing other ferries, cruise ships, and even some ferries owned by bankrupt companies that they can't figure out whose responsibility it is to get rid of them. Once we leave the harbor the ferry picks up speed and makes it's way through a gauntlet of tankers and freighters that have been anchored outside Pireaus for as long as I can remember though their numbers have swelled. These are ships waiting for repairs, cargo, crew, or the scrap heap. The Greeks have the second largest merchant marine, an amazing claim for such a small country, but they have always been mariners. The hour trip to Aegina can be spent gazing out to sea (boring), or reading the paper. The International Herald Tribune is the perfect length for this trip and you can throw it away in the recycling bin when you arrive so you don't have to carry it around. You can buy the Aegina guide to read on the return trip, better late then never.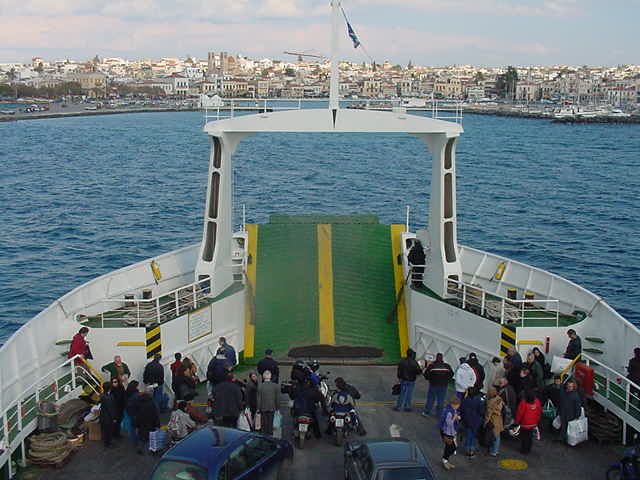 When you arrive in Aegina you make your way to the front of the vessel. Most ships you get on and off in the back but for some reason the ship I was on was different. In the Saronic it depends which island you are getting off on which end of the ship you exit from. If you are going to Methena or Poros you get off in the back. Aegina and Angistri you disembark from the front, I mean the bow. At least on the boat I was on. I know it seems like they are intentionally trying to confuse you but there is a good reason for this. I just don't know what it is. Anyway there are signs that tell you which way to go, not that you will need them. But in general when you take a ferry you get off the way you got on which is from the back of the boat. If this were a popular Cycladic island like Mykonos, Paros, Naxos, Sifnos or Santorini there may be people waiting on the dock holding up signs with pictures of their rooms or hotels. In this situation you just find one that looks nice in location you want to be, whether it is a beach or a town. If you have booked your accommodations in advance there is a good chance that your ride is somewhere in the crowd so look for someone holding a sign with the name of your hotel or even a scrawled word that has some resemblance to your own name.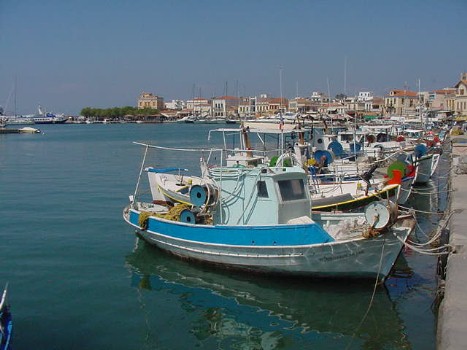 Aegina is not a bad place considering it is so close to Athens. It is a real honest to goodness Greek island with an attractive waterfront, a little white church, plenty of fishing boats and some pretty nice sailboats too. There are two caiques (Greek style fishing boats) that are fruit and vegetable markets. There is a bustling fish and meat market and the small street behind the harbor road is filled with cafes, small shops, cafeneons, people, and closed to automobile traffic. All the cafeneons have octopus hanging in front of them and charcoal grills to cook them for ouzo mezedes. Very civilized. When I get off the ferry I look for a place to sit, have a coffee or a drink, relax and get my bearings. Most islands will have a line of cafes on the waterfront and Aegina is no exception. They are usually more expensive then those on the back streets but the vantage point they give make them worth the extra drachma.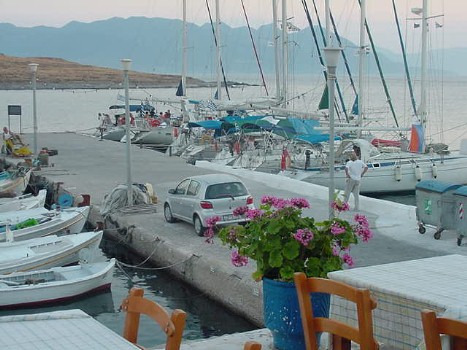 To be honest, I have an ulterior motive on this trip besides enlightening travelers to the simple pleasure of visiting a nearby Greek island. I am going to look at the small fishing village of Perdika where my friends Elias and Katerina have a house. I want to check it out as a possible place to live if I should move back to Greece because they say you can be in the center of Athens in less then an hour from Perdika if you take the Flying Dolphin and the metro. There is a taxi stand right by the ferry boats and the trip to Perdika is a 10 minute drive and costs about $7. Perdika is indeed a small fishing village lined with nice little restaurants, it's harbor guarded by an island that is actually just a big rock and is known for its wild peacocks. I have lunch at a colorful restaurant called Saronis , where the waiter, Dionysious tells me all there is to know about Perdika. The swimming across the bay is some of the best in the Aegean, at least the part of the Aegean within ten miles of Athens. Because migrating fish pass closely by the fishing is excellent, especially for snorkel and spear fishing. The restaurant is owned by a German woman named Claudia who has been here for twenty years. The fried fish, greek salad and sadzicki are excellent. The view is perfect for ouzo and mezedes too. There are many foreigners in the village, some with businesses, others just escaping life in the 'real world'. The main street is above the harbor road and is car free. It is surprisingly Cycladic looking with geometric houses painted white to reflect the sun.
The village is on a peninsula that has been landscaped with stones and is full of wildflowers. There is a large church near the tip and the rocks by the sea have been filled in to make platforms for sunbathing and swimming. It's not Paradise beach, nor is it even Astir in Glyfada, but for being less then an hour from Athens it is not bad. Enough ouzo and grilled octopus I could easily get used to it until it was time to de-tox and recuperate.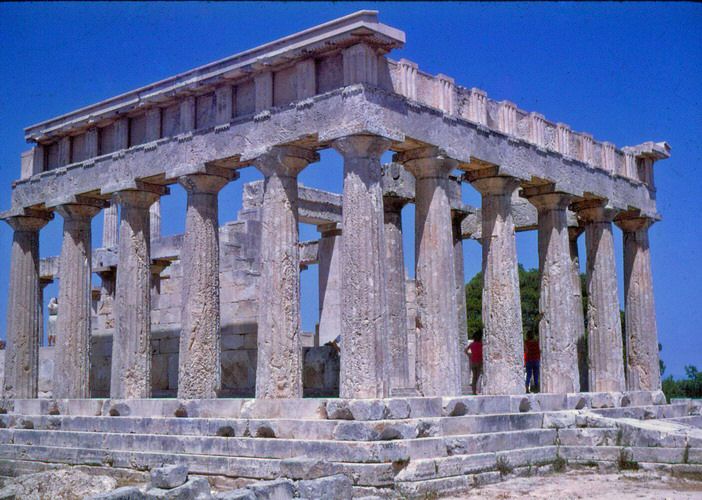 Aegina is famous for two things really. The Doric temple dedicated to Aphaea is well preserved and was built around 400 bc when Aegina's power challenged that of Athens. The other is pistachios. Aegina is The Pistachio Island with trees everywhere and bags of it sold even in the tourist shops. And I would have bought some back with me except I had to run to catch the ferry which I barely made. I didn't even have time to buy the Aegina guidebook so I could have more info in my webpage for the island then what can I get from Lonely Planet, or my own experience as a youth when we used to come to the island to do things we could not do under the watchful eyes of our parents. Really not the kind of info one could put in a travel guide but a lot more fun then taking pictures of fruit boats.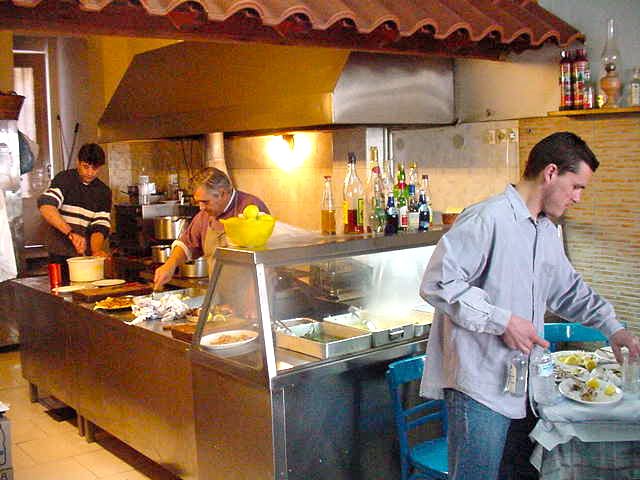 If I had more time I would certainly stop at one of the cafe-ouzeries in the back streets for some grilled octopus, a carafe of Mytilini ouzo if they had it, and maybe a salad. But this would be opening a whole new can of worms and were I to get involved in my surroundings I might even miss the last boat to Pireaus which is around midnight I think. They post the ferry boat and flying Dolphin times on the kiosks where they sell the tickets right on the dock. Anyway I have plans to go out with my new pal David Willett from Lonely Planet Guides, an excellent wine and ouzo drinker himself. My friend Ana works on the Metro has promised to give us piles of information on Athens new subway system and I wouldn't want to miss an evening with so much potential for excitement. (she gave me a pen, a map and a commemorative coin). Anyway Aegina is famous for its seafood restaurants and one of the specialties is sea-urchins. There are several simple seafood restaurants near the fish market.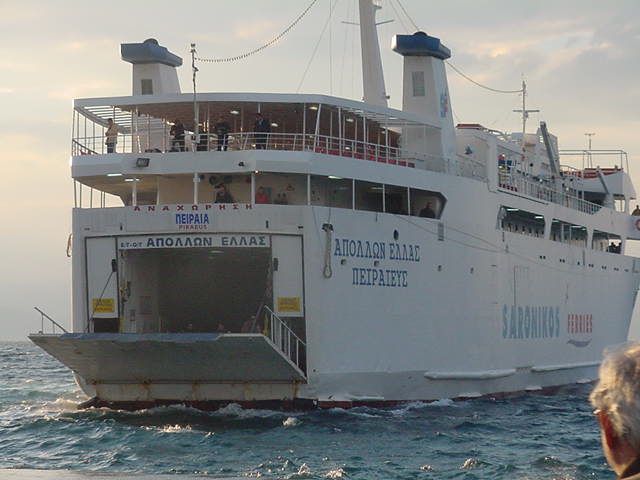 Time seems to almost stand still on a ferry boat. They move awfully slow. The Dolphins race along at a breathtaking 35 mph and the ferries only go half that speed. But before you know it we are once again passing between the tankers and freighters and into the harbor of Pireaus where dusk is setting and the big ferries to Crete, and Lesvos are getting ready to sail. As we pass the Mytilini the last passengers are getting on board and then it will untie the ropes for the overnight journey to Lesvos, a journey I kind of wish I was going on.
Returning to Pireaus I prefer to have a taxi waiting for me. Usually I am beat or I don't want to deal with the chaos, and 35 euro for a transfer from my pal George Kokkotos the Famous Taxi driver is a small fee to pay to avoid it. Most people seem to be in a hurry to get off the boat. Generally I am more laid-back about getting off the ferry, which has worked to my disadvantage at times. Your best bet is to stand at the back of the boat as it docks and scan the buildings for the familiar shape of the railroad station. Then follow the crowd off the boat and head towards the station. Remember to validate your ticket before getting on the train. You can't use the one you came to Pireaus on so if you didn't buy two, buy another one now.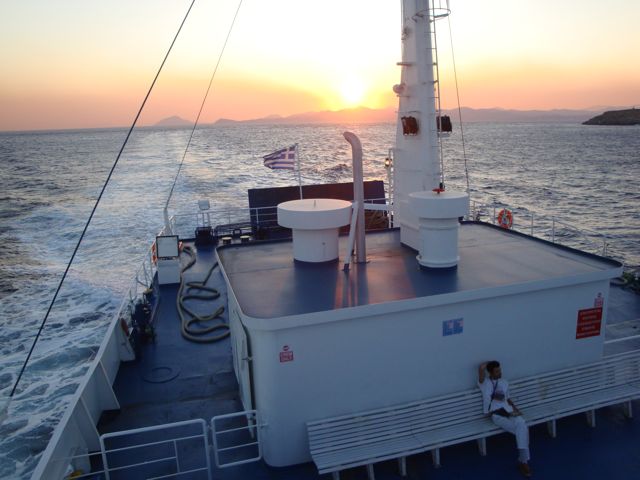 If you are like me on today's journey to Aegina or one of the other Saronic Gulf Islands, you will be back in plenty of time for an ouzo and mezedes at Evi Cafe in Psiri before dinner. But even if your ferry gets in at ten pm or later you can be confident that you can dump your luggage in the hotel and go right back out for dinner because things will just be getting started in Athens. Most ferries leave the islands in the afternoon, except for those that are overnight and they leave between 6 and 9pm and arrive in the morning.
There is a whole new generation of high-speed ferries that are now sailing the islands some making several trips a day from Pireaus to the Cyclades and even going to the islands further away. For info on these and other ferry boats in Greece see www.greecetravel.com/ferryboats.
You can read more about Aegina on my Aegina Page
If you have any questions about How To Go to a Greek Island you can e-mail me.
More Helpful Greece Information

The best way to go to a Greek island if by booking hotels and ferries through a reliable Greek Travel Agency. I recommend Fantasy Travel and Dolphin Hellas in Athens and Aegean Thesaurus in Sifnos. They can take care of all your arrangements including transportation between the airport, ports and hotels. But you can also book ferry tickets through Dolphin Hellas' Ferry Booking Page. (You won't need to for Aegina). You can also get ferry schedules and buy ferry tickets from the excellent Ferryhopper.com
An easy way to book your trip is by using my Create-an-itinerary form which enables you to put together your own plan for Greece and the islands with the help of a Greek travel agent. You can use the form and you are under no obligation to buy.
For those who like booking without using a travel agency I suggest you use Matt's Best Hotels of Greece page where I have picked the best hotels in Greece and made it easy for you to find the right one and book it. You can also follow my affiliate link to Booking.com which features hotels all over Greece with photos, reviews, maps and booking information, most of which you can book and cancel without a charge.
For taxis and transfers between the airport, ports and hotels I recommend George the Famous Taxi Driver. He also does tours of the mainland and Athens.
For information on all the islands see my Greek Island Guide
For information on Athens see my Athens Survival Guide
If you are confused about where to go because all the islands look so good then try Matt's Suggestions Page