Getting to Tinos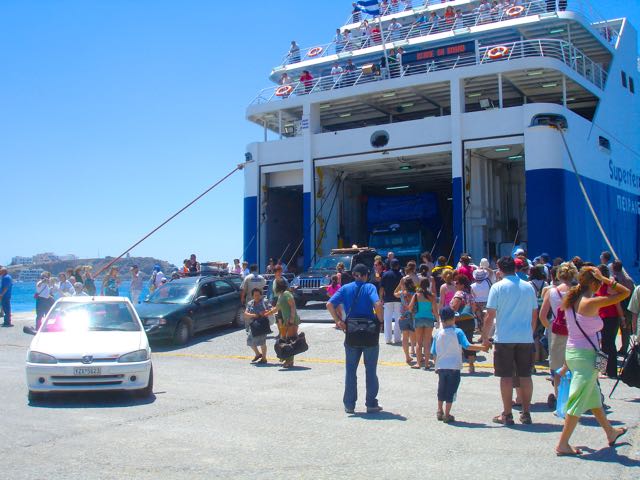 Tourists going to Mykonos have been surprised to discover that you can leave Pireaus on a full ferry and find it mostly empty after Tinos. Coming from Mykonos you may think you have the ferry to yourself only to find after stopping in Tinos that your are guarding the small remaining space you have with your bags while little old ladies fresh from their spiritual sojourn eye your table with envy. Getting up to use the bathroom without clearly marking your boundaries could leave you homeless for the rest of the journey. Because of the religious importance of Tinos and the fact that it shares a ferry route with Mykonos, there are few islands as easy to get to as Tinos in terms of ferry frequency though not necessarily comfort. In the summer there are several ferries a day from the ports of Pireaus, Rafina and Lavrion with connections to Mykonos and Syros daily and other islands throughout the week. Weekend boats, especially late Friday can be very crowded and ferries returning on Sunday are generally packed with pilgrims. Religious holidays? Good luck.
The only way you will get on a ferry to or from Tinos during the heavy travel days will be by booking well in advance or being extremely lucky. But otherwise you should just be able to buy a ticket and get on a ferry if you are traveling on a normal weekday or coming when the crowds are going and vice-versa. The highspeed you may need to book in advance too because even if it is not a holy holiday Tinos is still on the same ferry line as Mykonos where every day is a holiday in the summer. The highspeed will take about two and a half hours and a regular ferry about 5 hours from Pireaus. The trip from Rafina is a little shorter unless the ferry is trying to save fuel and going slower than normal which happens.

Use Ferryhopper to find all direct and indirect ferry routes for the islands of Greece, Spain, Italy & Turkey, compare ferry companies & prices, and book cheap ferry tickets with no hidden fees in one go!
Hotels in Tinos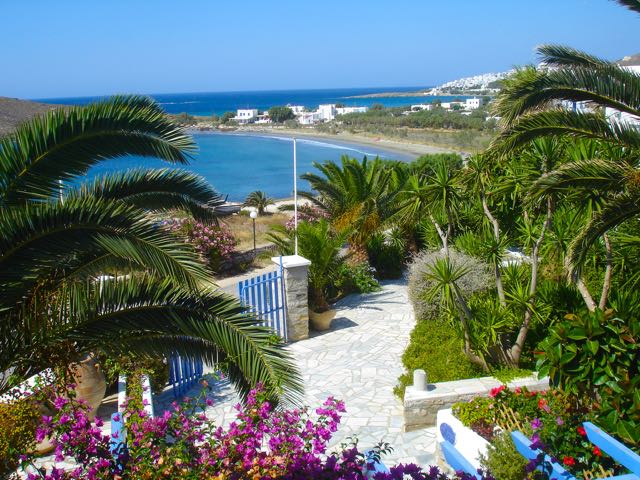 There are plenty of hotels to choose from but I highly recommend the Hotel Porto Raphael in Agios Ioannis Porto as your first option. Its a family run hotel and the family that runs it are friendly, informative, and practice filoxenia (friendship to strangers but hospitality is a good enough description) the way true Greeks should and many still do. The hotel has a beautiful garden, apartments and studios with kitchenettes, TV, telephone and air-conditioning, and can accommodate from two to six persons. The balconies overlook the bay of Agios Ioannis and the harbor of Mykonos as well as the islands of Delos and Agia Irini. Eight of the apartments are easy to access, without steps to accommodate people with special needs(wheelchairs etc). There are plenty of restaurants and tavernas in the area including the excellent taverna in the hotel which serves a great breakfast and an even better dinner on the large terrace overlooking the Aegean sea. The sheltered beach is in the cove right below the hotel, just a few steps a way and another 3 to 5 minute walk is the long sandy beach of Agios Sostis. You won't find a better beach in the Cyclades. There are frequent buses that go right to the hotel from the port of Tinos though you will want a car to explore the island. Still a car is not necessary if you just want to relax and enjoy your holiday. The beaches, restaurants, cafes and the roads and pathways of Agios Ioannis are enough to keep you busy.
Actually it's a pretty funny story how we found the Hotel Porto Raphael, one you may find useful. We were on Syros. Our plans to go to Patmos fell through and we decided to go to Tinos because though we had been in the harbor many times we had never explored the island. So I called Fantasy Travel and got a list of hotels on Tinos and went on-line to check them out. One hotel caught my eye. It was a big fancy beautiful hotel with a swimming pool and a colorful name and a very professional website. Since I can't give you the real name without risk of being sued lets call it the Hotel Polikako. I showed it to Andrea. She didn't like the looks of the Hotel Polikako. Why don't you go to Tripadvisor and see what they say. I was kind of reluctant. "The problem with Tripadvisor is that you have a dozen reviews and some people love a hotel, some hate it and the rest are in between" I told her in my know travel writer way. But in the case of the Hotel Polikako every comment on TA was about how awful it was. The hotel was compared to a concentration camp and the manager to a Gestapo commander. So many people agreeing on Tripadvisor? It must be true.
So much for the Hotel Polikako's attractive website.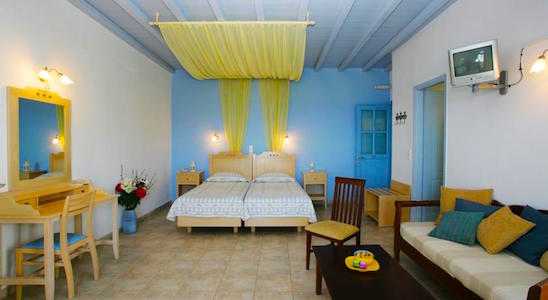 Then I showed her the website for the Porto Raphael.
"Lets stay here" she said right away after looking at one photo.
"Why? What's so special about this place?" I asked. How could she know this was a good hotel from one photo when I had been totally duped by the website of the Hotel Polikako?
She pointed to the picture. "Look at this room. These people have taste. This room is traditional without being pretentious. You can tell that it was decorated like someone would decorate their house, not by some designer they hired to please foreigners. We are staying here and that's the end of this discussion."
And so we did. She was right. The Porto Raphael was great.
The moral is don't rely on fancy hotel webpages created by professional web designers. Ask Andrea. Or ask me and I will ask her.
You can book the Hotel Porto Raphael through Booking.com, Fantasy Travel or directly with the hotel
If Porto Raphael is full other popular areas to stay are beach towns like Kionia where the popular resort Tinos Beach Hotel offers air-conditioned rooms and suites, all with private facilities, balconies, mini bars and color TV and has a pool. (The kind of place Andrea never wants to stay at.) The Cavos Bungalosabove the beach at Agios Sostis have rooms that can accommodate 2-4 persons with a fully equipped kitchen.
More Hotels in Tinos
You can find more hotels, apartments, rooms and even houses through Booking.com's Tinos Pages which also contributes to my website when you book. Here are a few suggestions. Also see Matt's Best Hotels in Tinos Page
Tinos Beach Hotel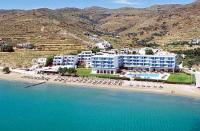 Located on Tinos, which belongs to the Cyclades Islands in the Aegean Sea, this hotel has offered hospitality for 30 years to thousands of guests, including famous artists and politicians.

It is a first class hotel with traditionally furnished and highly comfortable, air conditioned rooms and suites. Peacefully situated on the South-East coast of the island, this hotel is found in front of Kionia beach, sheltered from "Meltemi" - the most frequent north wind on the island. The hotel also enjoys superb sea views over the Aegean. Here you are only 3 km away from the vibrant town of Tinos - the capital of the island - with its traditional buildings and world-famous Church of the Holy Virgin.
Altana Boutique Hotel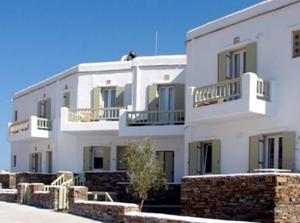 Within 500 metres from the main town of Tinos, Altana is a boutique hotel offering elegant Cycladic-style accommodation with free Wi-Fi. It includes a small swimming pool, a mini gym and a stylish bar. Each with a private balcony, Altana rooms, suites and studios are whitewashed with traditional built-in or iron beds. They all include a flat-screen TV and mini fridge, while most also have a kitchenette. Free cosmetics and a hairdryer are available in the bathroom. The bar prepares refreshing juices, coffees and exotic cocktails. Traditional breakfast buffet, including homemade jams, cakes and pies, is served in the morning. The beach of Stavros is 200 metres away and the village of Kionia is at 3 km. The famous church of the Virgin Mary is 1 km away. Free on-site parking is provided.
Voreades Hotel

Voreades is a family run traditional cyclades hotel, ideally situated in Tinos Chora.
Enjoying an ideal location just 3 minutes walk from the port, 5 minutes walk to the center of the town,10 minutes walk from Panagia Megalochari Church,a few steps away from the first (rocky) beach- the sandy beach,all taverns and shops.

The owners are welcoming and friendly, at the same time being very discrete. Generous hospitality and uncomplicated service are the hotel's trademarks.

Free Wi-Fi and a hearty breakfast are also offered.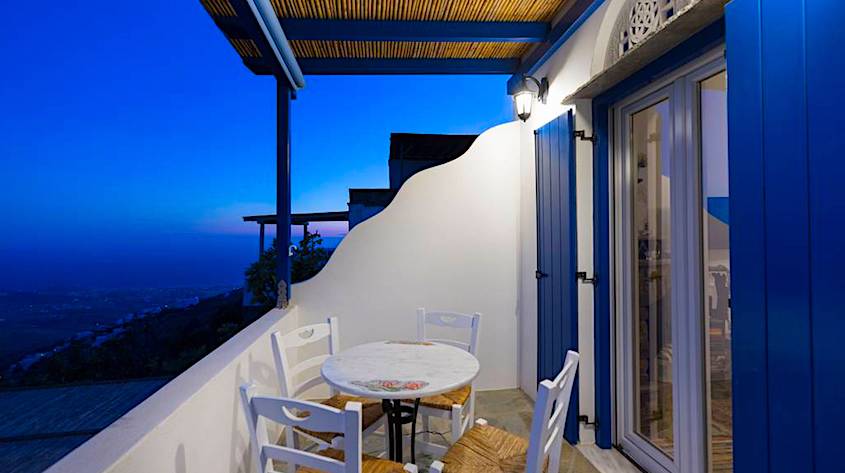 Situated in the highest Village of the Island, Adelphi Cottages are recently built by Antouanette and her sister Dimtra, in the traditional Cycladic and in particular, Tinian style. They have been lovingly decorated, to reflect the personal style of the owners, without detracting from the local Cycladic Tinian norms. They are situated in the quaint Medieval Village of Arnados. This elevation allows for wonderful views of the Aegean, endless views the flickering lights of Mykonos, Delos, Rineia, Naxos and Paros. Offering all the modern amenities one could desire, the Cottages are located within the Village enclave and within walking distance of 5 Tavernas in Arnados and very close to the other Villages that Tinos is so famous for.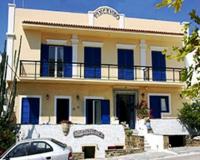 Situated in the religious district of Tinos, this charming family hotel offers a wide variety of well-appointed rooms and apartments complete with a picturesque courtyard and spa facilities.
With its wooden beams and slate flooring, Vicenzo Family Hotel is full of character and charm. Choose from an array of accommodation to suit your holiday needs. Benefit from modern amenities, such as free wireless internet, within a rustic setting.
Start the day with a delicious breakfast on Vincenzo's terrace. Enjoy relaxing afternoons amongst the flowers in the courtyard. Take a short walk to the port or visit the famous Panagia Evangelistria (Our Lady of Tinos).
For health and wellbeing, Vincenzo Family Hotel also provides a variety of soothing massages. Spend some time in the Jacuzzi or try a Turkish steam bath.
Vincenzo Hotel's warm Greek hospitality combined with thoughtful amenities make it an ideal base for exploring Tinos.
Wireless internet is available in the entire hotel and is free of charge. Internet via modem is available in the business centre and is free of charge.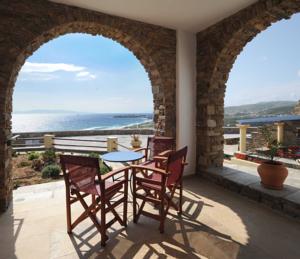 On a hill, 650 ft from Agios Fokas sandy beach, Tinos View Apartments offers Cycladic-style apartments with furnished porches overlooking the Aegean Sea. All units feature fully equipped kitchens and living rooms. Tiniako's apartments are fully air conditioned and include free internet access, TV and CD/DVD player. All apartments have a dining area, a private entrance and access to the yard. Guests are a 10-minute drive from scenic Tinos villages. Just 2 miles away, the town of Tinos has plenty of shopping facilities, restaurants and bars. Tinos View offers free private parking on site.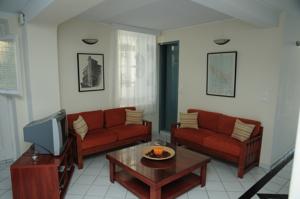 Located by the port of Tinos, the Cycladic-style hotel Agnantio offers air conditioned rooms with private balcony. Only 300 ft from Agios Fokas beach, it features free public Wi-Fi. Each of the rooms has a TV, fridge and private bathroom with hairdryer. Balconies open to views of the port, the Aegean Sea and the dramatic sunsets. Agnantio is only 500 ft from the center of Tinos Town and less than half a mile from the church of Panagia. There is free parking available on site, and free port transportation services can be provided upon request.
You can find more hotels, apartments, rooms and even houses through Booking.com's Tinos Pages which also contributes to my website when you book. Also see Matt's Best Hotels in Tinos Page
Delos and Other Excursions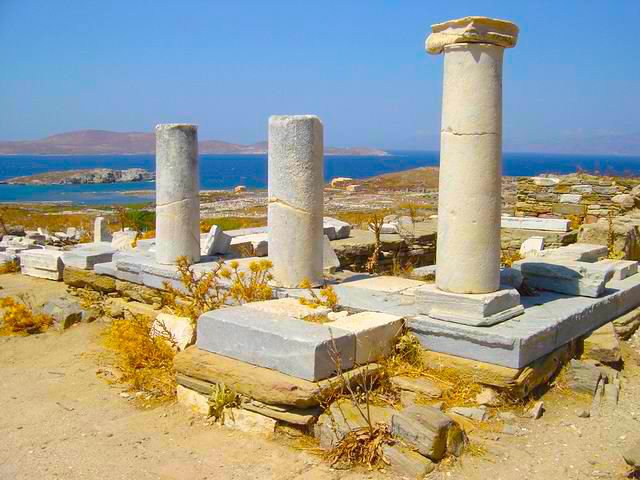 For those whose only purpose in going to Mykonos is because they want to visit the Sacred Island of Delos there are daily excursions there from Tinos as well leaving the port at 9am and returning at 6pm. You can also use the ferries to do day trips to the nearby islands of Syros and Mykonos. Syros is the capital of the Cyclades and has a beautiful port filled with 19th century buildings and mansions and lots of shops. Mykonos is only the most popular island in Greece and another terrific place to spend the day shopping, almost as much fun as Athens in that respect. You can get ferry times from your hotel. You don't need to plan it in advance. Just leave on a day that the ferry schedule will give you the most time on the island you want to visit. Mykonos and Syros are just 20 minutes away by highspeed and 45 minutes on the slowest ferry. You can also visit Andros every day.
Island Combinations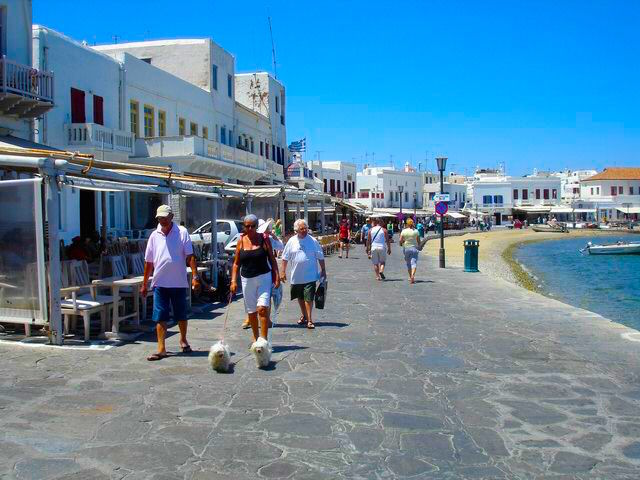 A good island combination would be Mykonos and Tinos with a day trip to Syros. You would be getting the best of both worlds with the cosmopolitan beaches and nightlife of Mykonos and the history, tradition and spirituality of Tinos. A perfect balance with Syros thrown in for its impressive turn of the century urban architecture. Three or four days on each with a couple days in Athens would be the way to go. All three islands have excellent ferry connections with each other. For the other islands there are a couple small ferries that travel around the Cyclades doing a different schedule each day which makes it difficult to do day-trips but if you plan it right you can combine Tinos with just about any island in the Cyclades during the summer. Try my Create-an-itinerary form to see what is possible and how much it will cost.

Use Ferryhopper to find all direct and indirect ferry routes for the islands of Greece, Spain, Italy & Turkey, compare ferry companies & prices, and book cheap ferry tickets with no hidden fees in one go!
Travel Agencies
For planning your trip I recommend Fantasy Travel in Athens. Sure you can do it on your own but having an agency assist you with coordinating ferries, hotels and getting you to and from the ports and airports will make your trip a lot easier and a lot more fun no matter how adventurous and self-sufficient you think you are. Especially if you are planning to visit Tinos in combination with one or more other islands in Greece. Its also nice to have someone who you can call or e-mail with questions or a cry for help if your ferry does not show up. Fantasy Travel is one of the most reliable and professional travel agencies in Greece. You can choose from any of their itineraries that include Tinos or even create your own.
When to Visit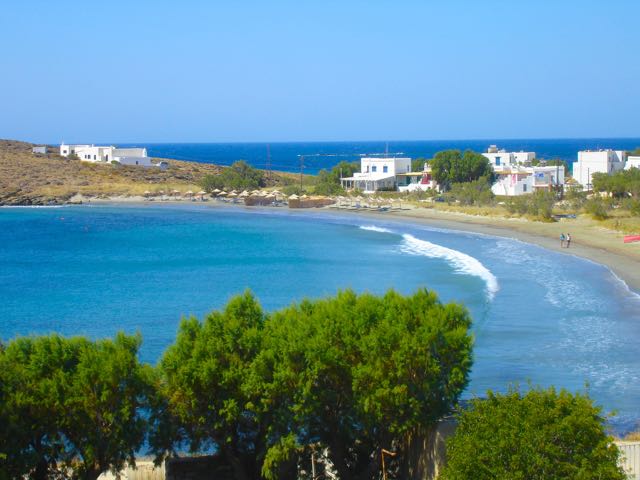 Tinos can be visited all year but like many of the islands when the weather is cold and wet as it can be in the winter you may wish you were elsewhere. The best time to go is May through November though you may not want to be there for the first 20 days of August unless you are staying far from town and have booked everything long in advance. Easter is another busy period as is the 3 day weekend of Agios Pnevmatos, the saint day for the Holy Spirit which like Memorial Day in America is the holiday that foreshadows the summer and everyone leaves Athens for the islands, especially Tinos. Unfortunately it is a moving feast so unless you know when Orthodox Easter is, you won't know when Agios Pnevmatos is. Ask your travel agent. If you get a stretch of nice weather even in the winter Tinos is worth a visit.