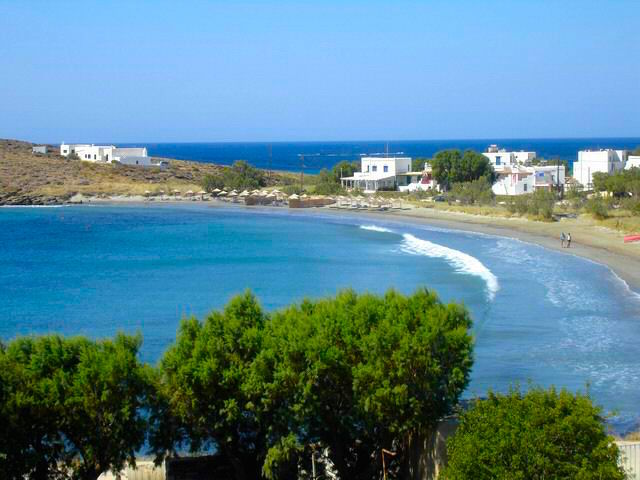 Ten years from now who knows what Agios Ioannis Porto and Agios Sostis will look like. By then many of the small hotels will be enlarged, property may have been bought up and turned into even bigger hotels, farmers will take their money and invest in the stock market or build hotels themselves. But right now this area is as beautiful and relaxed as you can get without feeling like you are out in the sticks. In a way you are. Just a few years ago this was just farms and a few summer houses and rooms to rent. But the beautiful long beach of Agios Sostis combined with the sheltered sandy cove of Agios Ioannis Porto could not stay undiscovered for long when half the country is coming to Tinos to do a pilgrimage at least once in their lives.
We stayed at the Porto Raphael Hotel which sits above Agios Ioannis Porto Bay overlooking the sea and the islands of Delos and Agia Irini, otherwise known as Rinia, and the port of Mykonos just 5 miles away. With a very good taverna which even the locals eat at, beautiful oasis-like gardens and large comfy apartments with kitchens and balconies there is little reason to leave the hotel except to go down to the beach. The bay is shallow and has excellent snorkeling along the rocks on either side.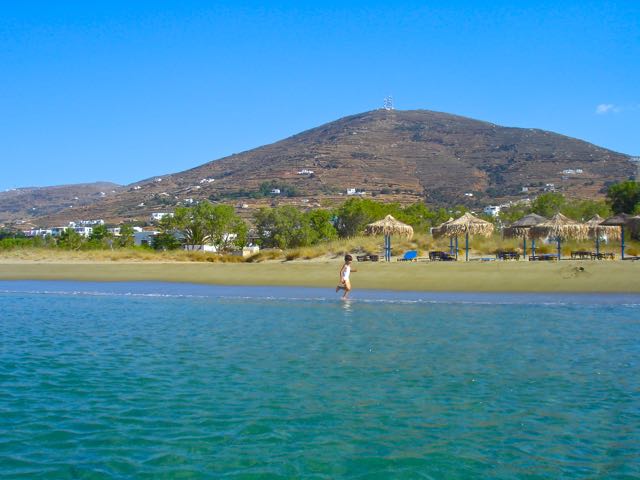 A 5 minute walk along the beach brings you to a small peninsula and the beginning of Agios Sostis Beach which will remind experienced Greek travelers of some of the nicest beaches in Naxos. Being known as the Religious Island has obscured the fact that Tinos has some of the best beaches in the Cyclades. Certainly superior to Mykonos and Santorini, the most popular islands, and with a lot less people to share your space with. Beach development is minimal and you won't find the noisy beach bars that make a day at the beach in Mykonos feel more like a night at the disco where you have to go back to your room to get your Bose Noise Cancellation Headphones. Much of the beach is shielded from the hotels, homes, cafes and restaurants by a line of trees. There are beach chairs and umbrellas and a wind-surfer or two to rent but that's about as far as commercial beach development has gotten.
North of Agios Ioannis Porto are several beaches you can reach by car including Pacheia Amos, just one kilometer away known for its beautiful sand and dunes and the unspoiled beach at Lihnaftia. Going the other way towards Tinos Town is the long sandy beach of Agios Fokas, which begins in Chora and continues to the ancient walls at Vriokastro, has some cafes, tavernas and the Akrotiri Surf Club for windsurfing.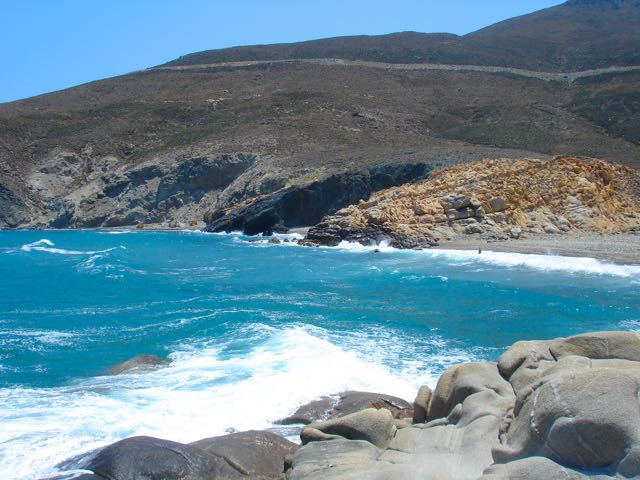 When the north wind is blowing and you want to surf or just battle monster waves drive up to Livada Beach at the end of a long and entertaining mountain road. Its at the end of a small river, just puddles and mud in the summer with a family of ducks that will approach you begging for food. There is a small taverna just before the beach in as remote a location as you will find in Greece, with a menu of traditional Tinos dishes that will make you wish it were not so far away. The beach itself is a sandy and rocky mix that is an adventure when the wind blows from the north but can be like a lake when it doesn't. It is bordered by some spectacular rock formations that look like they landed from another planet. When its rough you need to be a good swimmer or just stand back and watch in awe. There are certainly days when going into the sea is not advisable. But you should make the trip anyway even if there is a north wind and you don't like waves because Livada is a wild and exciting place that will make you aware that you are alive if you had any doubts.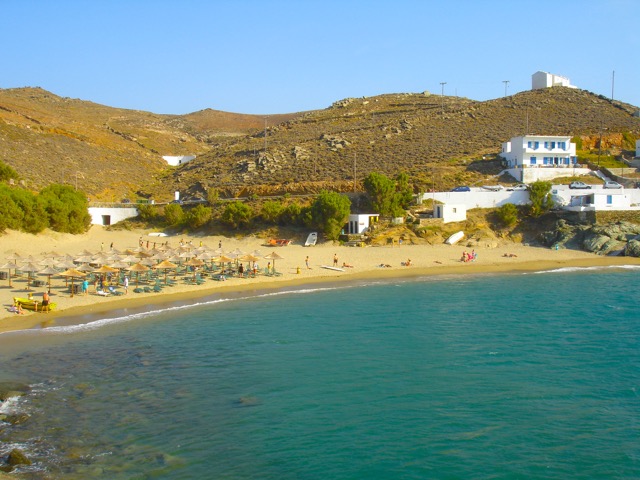 Another wild north wind place is the long sandy beach at the end of the lush valley of Kato Meri. Big waves, wind and spray make this first beach called Megalo (big) Kolimbithra one avoided by all but the most hearty swimmers, except on days when there is no wind or it comes from the south. There is nothing on this first beach except about a mile of kalamia (reeds) and some sea birds. Most people go to the next beach at Mikri (small) Kolimbithra which is more sheltered and has the usual collection of tanning beds, umbrellas and a beach bar as well as a hotel and restaurant. There are several other beaches in the same bay including Mantroklisi, Apothikies and Agios Fylaktos. There is the small island of Drakonissi at the top of the bay and the whole area is a pretty spectacular setting and though there were none the day we went there it must be an excellent place to go windsurfing.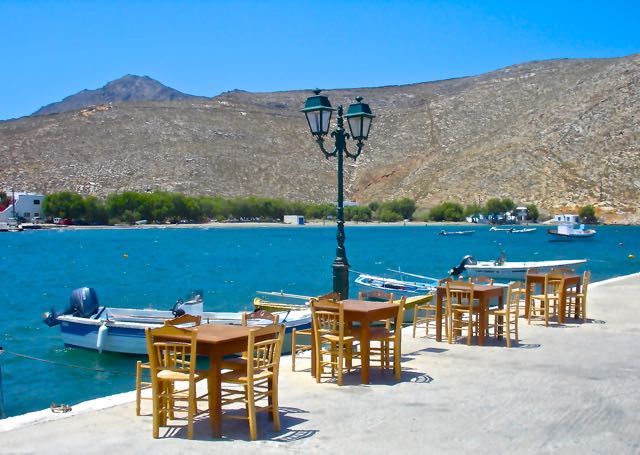 In northwest Tinos below the artist town of Pirgi in the port of Panormos there is a tree shaded beach and several restaurants and cafes. There are a number of beaches in the large bay itself including Agiathalassa, Volia, Stafida and Rohari a long sandy beach with a small village. All of these beaches can be reached by car. Vathi Beach and Platiyialos in between Kolimbithra and Panormos are reachable by footpath. On the northwest tip of Tinos there are two beaches in Pourgia bay called Mali and Koumelas reachable by car. When visiting these more remote beaches be sure to bring water because you may not find any once you get there. Even those beaches that have a small taverna, it may not be open except for July and August.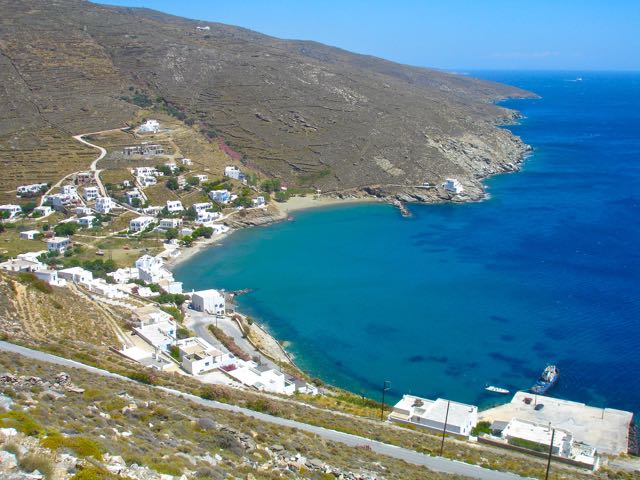 In Southwest Tinos facing the island of Syros there are a number of sandy beaches and coves starting with the remote Agios Haralambos and Latomia. Latomia means quarry and the whole area is full of broken rocks and digging. To get to most of these beaches you will be taking a pretty hairy road downward since the main road runs along the mountainside and the beaches are in small bays and valleys below. Ysternia beach (photo) has a small village and two very nice (and popular) fish restaurants. One is a fairly traditional nuts and bolts psarotaverna (fish restaurant) while the other, called To Thalasaki is a sort of upscale modern Greek fish taverna with interesting appetisers and a menu that would be less out of place in Mykonos, Athens or even New York City than on a remote beach in Tinos. Regardless, its good food and worth the trip but avoid it on Sunday, especially in August when it is packed with people from Chora. You can park in the small harbor and walk to the beach just beyond the town. A few miles down the road another turnoff takes you to Giannakis Beach which is the port of the village of Kardiani (above) and has a taverna or two. The same road will bring you to Kalivia and Agios Petros, both sandy beaches in sheltered coves.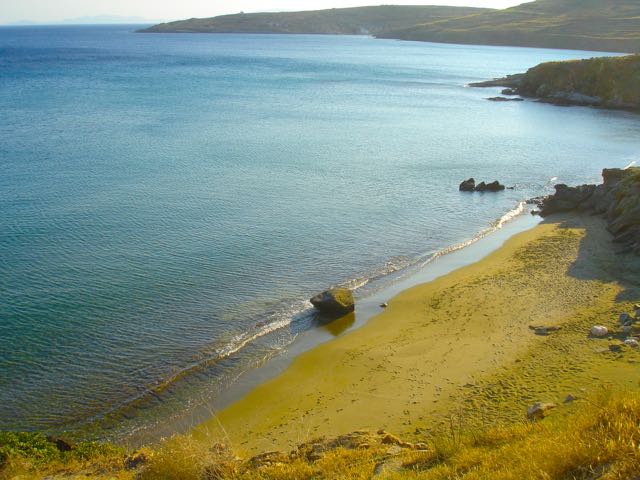 Three more beaches are accessible from the turn-off to the small settlement of Agios Romanos. Apigania beach is to the west and Panousa is to the southeast from Agios Romanos which has beach umbrellas, windsurfing and a small taverna. Kiona Beach is the longest and most developed on the island with hotels, restaurants, cafes and the Temple of Poseidon and Amfitriti right across the street. True beach lovers may find it a bit commercial but it is long enough to escape the weekend crowds though it is hard not to see it as a resort beach and not a spectacular one at that. If you are staying in one of the hotels here and don't see yourself as a tourist beach kind of person you can walk to the west end and there are some coves and isolated stretches of sand where you can have some privacy (photo). If you have a car or good walking shoes there are the nearby beaches of Balos and Vorni which you may find promising. To the southeast there is a small beach in an ancient harbor with a tiny church called Stavrou Limani. Not the greatest beach but in the summer there is a small ouzerie-cafeneon in the church itself that makes this a good place to stop.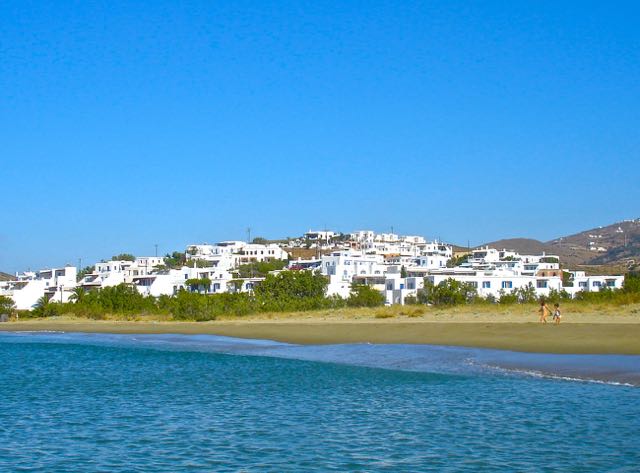 So if you are visiting Tinos and you want to make the most of your beach time what should you do? If you have a car stay in Agios Ioannis Porto, use it as your base and explore the other beaches of the island each day like we did. Even if you waste an afternoon on a beach you don't really like you will always have Agios Sostis to come back to for the last swim of the day. If you don't have a car stay here anyway. There is bus service and these are the best beaches with the least number of people but not so few that you will feel like you are stranded alone on a desert island. The Hotel Porto Raphael where we stayed will have you within walking distance of at least three really nice beaches. I mean how many beaches do you really need, right?