Syros: Capital of the Cyclades
This journal is from a visit back to my first island in Greece, Syros where I lived during the summer of 1963 when I was 10 years old. I would guess it was written around 1996. Anyway it does not matter because not much has changed in Syros which is one of the things I love about it.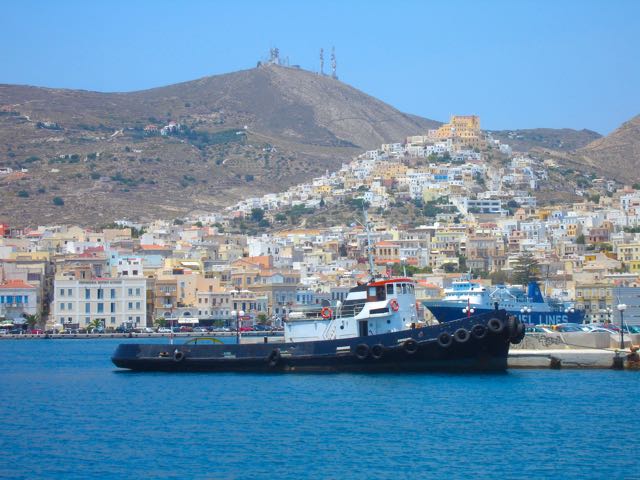 An unusual early cold spell hit Greece in September. We had planned to go back to Athens. Sifnos was completely dead. It was too cold to swim and there were not enough people around to make cafe sitting interesting. We were watching the same shopkeepers and locals wandering around. Phillipe, Tony, Lefteris and the other bar and restaurant owners finally had the time to relax and pursue romantic interests, but there were no women left on the island. They wandered around desperately peering into the restaurants and cafes where people were taking shelter from the cold, looking for unattached tourist girls. It seemed that the few that were around had made the same decision we had: to take the Paros Express. But where everyone else got off in Paros we continued on to Syros. Syros is the capital of the Cyclades and arriving at night is like sailing into the lights of a major city. It's not as large as a major city but it used to be the main port for all of Greece and the harbor is home to a shipyard with dry-docks and several large tankers that are being worked on.
Our ship was delayed in Paros to bring aboard an Egyptian guy who had been injured in a motorcycle accident and was being taken to the hospital here. As we walked down the stairs and through the garage of the ferry we saw him laying on a mattress where the carbon-monoxide could finish him off as the cars and trucks revved up their engines in preparation to leave the ship. We had made friends with an adventurous British couple named Jan and Otter and were planning on a wild evening together after we located a hotel.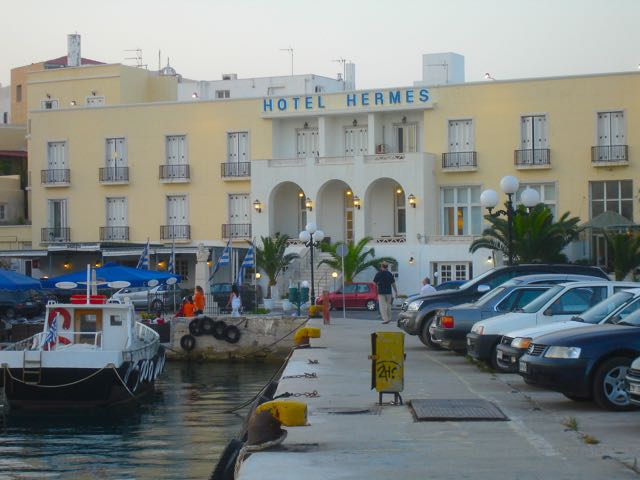 Our first try was the Hermes Hotel, right on the waterfront, where I had stayed with my family for an entire month in 1963. They were booked full so we crossed tiny Kanaris Square to the Kymata Pension which was formerly part of the Greek Navy station. Thirty years ago we would watch as soldiers ceremoniously saluted the flag as it was taken down each evening from the balcony that is now the finest feature of our hotel room. From it we can see the entire waterfront, the comings and goings of the ferries and the day and nightlife which is abundant. The building itself is at least a hundred years old and is on a long narrow peninsula with the harbor on one side and the open sea on the other. The rest of the peninsula is full of historic Naval buildings and one large apartment building style hotel. When the sea is rough a walk along the coast can be a wet one as waves crash and spray the stone streets.
Hermoupolis is a walkers paradise. Plenty of small streets and little shops and cafes tucked away waiting to be stumbled upon. The waterfront is alive with people, cars and commerce. There are plenty of good restaurants and ouzeries and many of the older places have these screened in boxes where they hang octopus to keep the flies off them while they dry in preparation for grilling. There is nothing like grilled octopus and ouzo to begin an evening. Niko the concierge who initially seemed irritated by our arrival and our desire to see other rooms besides the first that he offered us, gradually opened up after he noticed my spear-gun sticking out of my bag. He sent us to an ouzerie called Manoussa in the giant square that is the center of Cycladic government. Our waiter, Stomatis, turned out to be the owner and after a fantastic meal of ouzo, grilled sausages, galeos and skordaya , saganaki and a beef soup I had never seen in Greece, he entertained us with tales of his own drinking history, while his sexy cosmetologist wife had me contemplating infidelity long after the party broke up at three in the morning. When visiting a traditional Greek island it is not a good idea to seduce or be seduced by the tavern owners wife. At least not on the first night.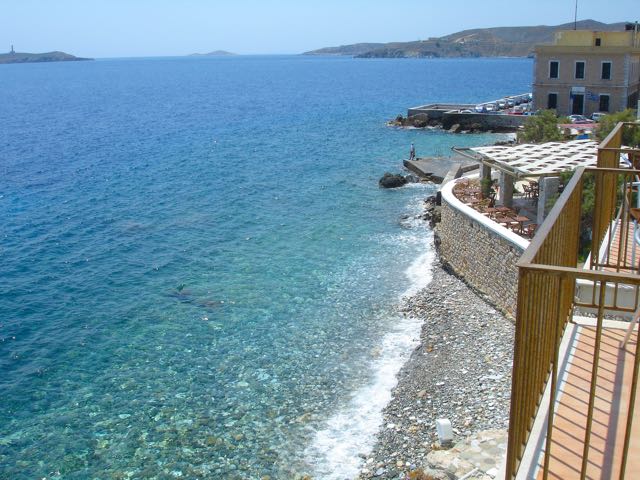 It surprises me how much I remember from my first visit to the island. I knew where our room was in the Hermes from 1963. I walked through the lobby of the elegant old hotel and looked into the restaurant where I ate my first marmalade. Behind the hotel is a small stone beach where we spent our days with the other Fulbright families who were there for orientation, and as I watched the waves break upon the shore I recognized the boulder that protruded just above the surface and I thought to myself "I wonder why they haven't removed that thing yet." I remember body-surfing and always being aware of that rock and where I was in relation to it so as not to shatter my little nine year-old bones. I also recalled a day when the sea was calm as glass and I sat upon that same rock and noticed how unthreatening it was then. The beach was actually a strange introduction to the Aegean sea since it was usually very rough and not at all typical of the sheltered sandy beaches that I am now more familiar with.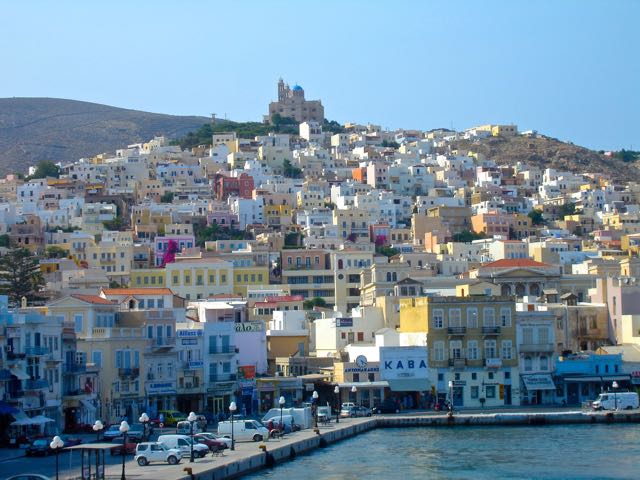 The island is known for Loukoumia or Turkish Delight which is a sweet, gummy, sugar-powdered, nut-filled candy sold in attractive boxes from stores and loukoumia factories all over the city of Hermoupolis. When the ferries stop on their way to Mykonos or from there back to Pireaus, loukoumia sellers run onto the boat to sell to the passengers and then dash to get off before the boat leaves taking them and their candy to Pireaus.
"The winter weather has finally passed and it is late summer on the Aegean islands again. Today we swam on the rocky beach next to the Hotel Kimata. It was cold but bearable. We have switched rooms and now have a balcony that overlooks the entire harbor. I can watch the ferries sail in and out from my bed. Our former room also had a view of the harbor and overlooked Kanaris square and the waterfront, which stays busy until four in the morning. There is a line of cafes and bars that are very active and a restaurant right on the square called the Yannina. They have fantastic lamb, chicken and kokoretsi roasted on a spit, as well as all sorts of grilled fishes and meats and other cooked dishes."
Of special interest is the gambling casino on the waterfront.
Around Syros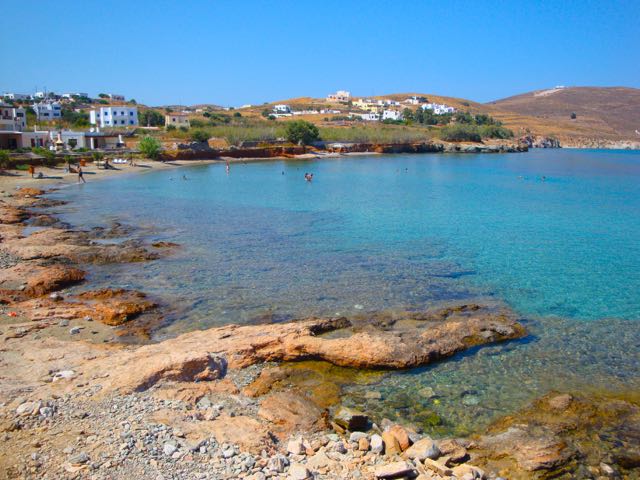 Syros is not known for it's beaches but we found some nice ones. Most of the sheltered coves have small towns around them and though some are slightly touristy there are none that are overwhelmingly so. In comparison even Sifnos seems exploited. Vari was calm enough to swim and the water was clear and blue. There was a hotel right on the beach called the KAMELO that had a restaurant too. In fact most of the hotels on the beaches seem to have restaurants. They are not really like hotel restaurants either. The food is regular everyday Greek restaurant food like that eaten by regular everyday Greeks. The reason is that most of the tourists who visit this island are Greeks, and many of the people who visit these beaches are people who live in Hermoupolis, who come there for a day of swimming. The beach town of Delagratsia was full of old mansions owned by wealthy ship-owners. We drove past Agathopes beach, notable for the Navy base and destroyer parked nearby and a sign that said "No Pictures Allowed."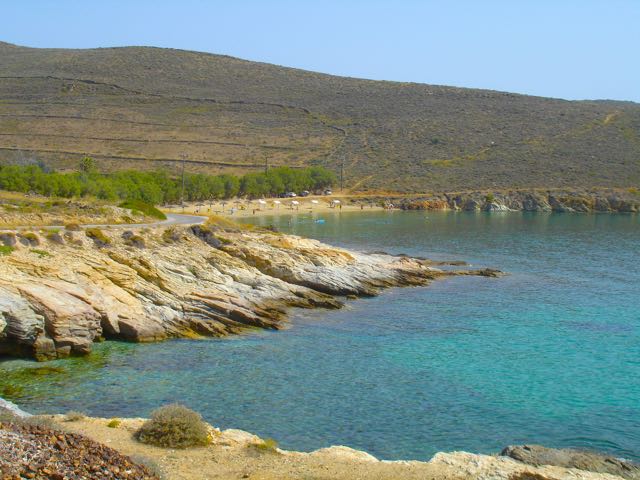 At a small beach called Komito we disregarded a No Trespassing sign and climbed over a fence to get a closer look at an old mansion that was falling into ruin. We could hear music coming from inside and when Amarandi stepped on a stick, a dog began furiously barking and a man came out on the balcony to see what was the matter. We nervously explained that we were just having a look around. He told us he was from New York and this had been his grandfathers house and they spend the summers there. There was an extension cord running from the deserted cafe on the beach all the way to the house and that was powering the television that we could hear. We asked why he didn't fix up the place and he explained that people would just destroy it if he did. There was an enormous well that people had thrown plastic bottles, a cistern the size of a swimming pool (or maybe it was a pool), that was full of black muck. There was an old church full of hay and various other buildings. He told us to feel free to wander around the grounds and then went back to watch TV with his wife who was calling him in.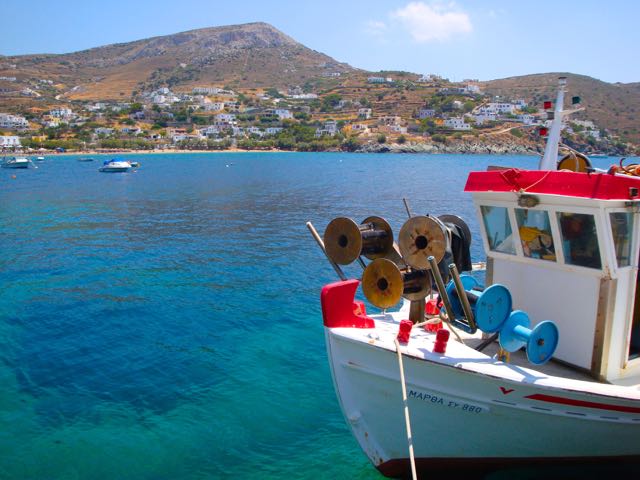 We stopped in Finikas for lunch. Then drove on to Kini which was easily the nicest village and the best beach. Andrea and I had coffees at a small taverna on the beach that was closing for the season the following day. I walked over to the a Hotel which had a restaurant and a snack bar where I spoke to George Zalonis, the owner. Kini is the best spot on Syros to watch the sunset. What surprised me most about Syros is how close all the villages are to one another. You leave the outskirts of one and you come to the next. I think as far as the staying in Syros for a holiday if I was not going to stay in Hermoupolis then my next choice would be in Kini. It seems to have everything you would want in a Greek island beach town. Search Hotels in Kini
Ano Syra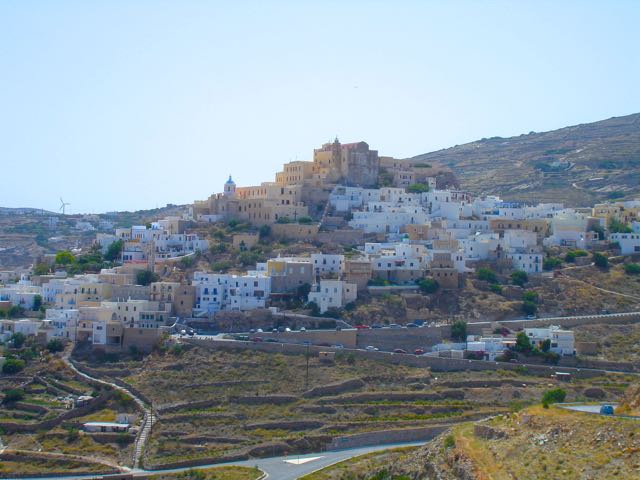 When we left Kini we drove to the top of the mountain and found ourselves looking at the city of Hermoupolis below. Our ultimate destination was the village of Ano Syra which rises above Hermoupolis and is crowned by a Catholic Cathedral.
We parked the car and enter a labyrinth of tiny streets and stairways among houses, shops, restaurants and churches. Our first stop was an old barber who shaved my beard and told us he knew Markos Vamvakaris, the famous rembetika player who wrote "Frankosyrianni", one of the most popular Greek songs. It's about a Catholic girl from Syros and the entire time he was shaving me the song played in my head. I think he was a little nervous because he cut me several times, but even so I found it to be a pleasant experience, like getting a massage, and I vowed to never shave myself again.
With my new fresh face I found the strength to make my way to the top of the village where the view was fantastic. The girls and I had gotten separated but we discovered all roads lead to Rome and met one another at the Catholic church on top.
When we went back down we were told that the Markos Vamvakaris Museum was closed until next summer and we had to be satisfied with standing in Markos Vamvakaris square and looking at his statue. I wondered if three quarters of a century ago, while Vamvakaris smoked hashish and played bouzouki with his pals, he could even conceive that one day there would be a museum, statue and a village square in his hometown named after him.
When we returned to Hermoupolis Andrea saw one more part of the village she wanted to visit which was the area called Vaporia, where some of the mansions of the sea-captains are. But driving through the tiny cobbled streets we became ensnared in a wedding party traffic jam and it took all our efforts to escape and we did not see much. Instead we went back to the hotel and dressed up for my birthday dinner. We had learned to trust Niko the concierge's advice about food and found a tiny Taverna off Miaouli square called Archondiaki where we had dinner after wandering around the streets working up an appetite. The square was alive with activity. The Giant Town hall had several cafes in it and the area seemed to be a popular hangout for high-school students.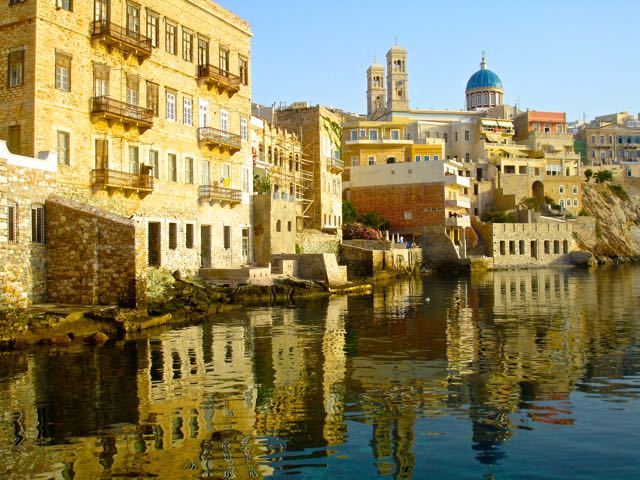 In Mykonos there is a portion of the town known as 'Little Venice'. It's only a few buildings and pretty, but unspectacular. But if that is 'Little Venice' what can you call these great stone buildings that have been battered by waves for a hundred winters? Mykonos is hype. The myth had to be created, the city built from a small village. Hermoupolis has been a city, and a successful one. Now with the restoration of that city it's a unique experience as far as the islands go. This is a place that is waiting to be discovered and once it is may rival cities on the Riviera. It's an intact nineteenth century city. They didn't have the tourist money to tear down old buildings to build fancy new hotels and destroy the town. As we walked through the small streets last night I said to Andrea that this is what the Plaka should be like.
Maybe human nature is the key. Some islands rushed to convert to the tourist industry and in many cases destroyed their charm. Because Syros was a commercial center (Hermoupolis was named for Hermes: God of commerce. Get it?) and not reliant on tourism they restored slowly and built intelligently. The city is a museum and the only blemish are the cars that are everywhere. If they were excluded from the city interior you might be walking around a hundred years ago.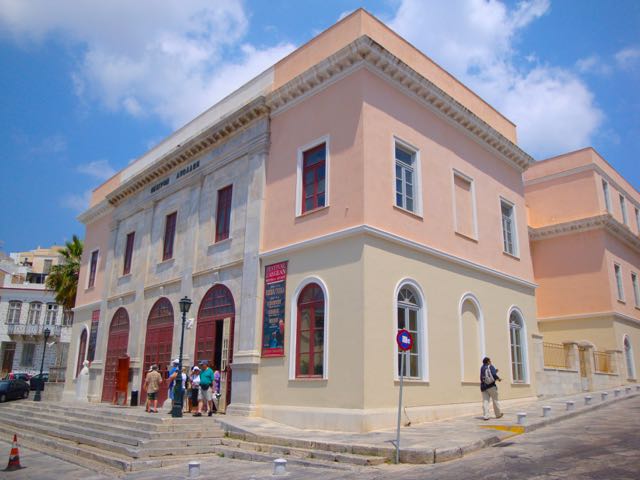 Syros is like an older woman who was once beautiful with many suitors who hears that these suitors are returning. With the help of makeup, cosmetic surgery and some hard work she restores herself to her former beauty, in fact her maturity and elegance may make her more beautiful then she was when she was young. As we wander around the streets of Hermoupolis I see the same thing happening here. Buildings that were in ruins for years are now being restored, or sold to people who can afford to restore them. These are not simple island village homes,but grand old mansions and public buildings because in the mid eighteen-hundreds this was one of the cultural capitals of Europe. The Apollon Opera house was host to a great number of Italian theatre companies and other performers. There were schools that offered a high quality of education, a Philological Institute, a maritime school, a French school, and many other institutions. The Neorion shipping company where the giant tankers are repaired, built it's first steamship in 1854 and the city was a hotbed of commerce. All of this is evident on every street and particularly so on the backside of the city beneath the church of St Nicolas where the mansions rise out of the sea.
Syros harbor is great for ferry watching and the Kimata Hotel is about the best vantage point, particularly room number 6. The balcony is big enough for a cafeneon table and with the sun setting over the mountain and the harbor, it's paradise. Unfortunately with limited time and many ouzeries to explore and grilled octopus to eat, we never did open our can of sardines, our bottle of Ouzo Mini, and the traveling metal ouzo glasses Andrea had bought me in America. There is a long jetty that protects the harbor where old men fish and children take walks with their grandparents. I wish the sea was a little warmer because the rocks of the jetty are an octopus paradise and my mask and flippers are just dead weight in my knapsack.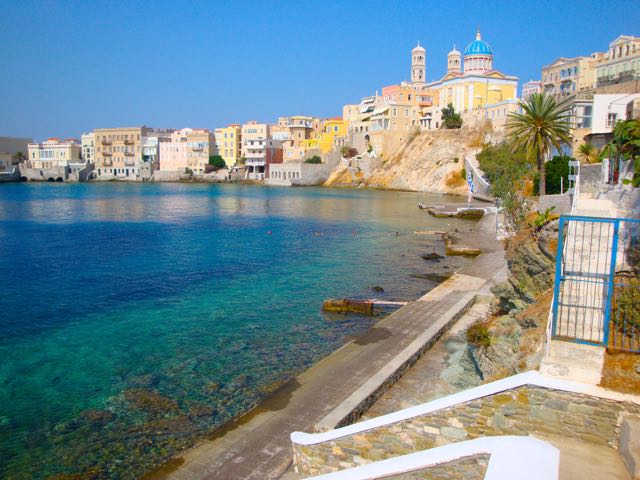 We have settled on the Yaninea Restaurant as our favorite eating place, not only because we love the food, especially the roast lamb, potato crockettes black-eyed pea salad, and large assortment of their dishes, but because it is right across the street from our hotel and I don't have to carry Amarandi very far if she falls asleep.
Amarandi and I swam beneath the sea captain's mansions near Agios Nicholaos church, along with several old men and women who apparently make a daily routine of it. The sea was warm and calm and to swim in clear water, surrounded by large buildings was an unusual sensation and the old people who were doing their daily swim kept up a lively conversation. The old people come here in the morning starting just after sunrise and leave during the hot part of the day and then return after 6, some of them staying till after sundown, just bobbing around, talking about politics or whatever is going on. I can't think of a better way to get your exercise.
Leaving Syros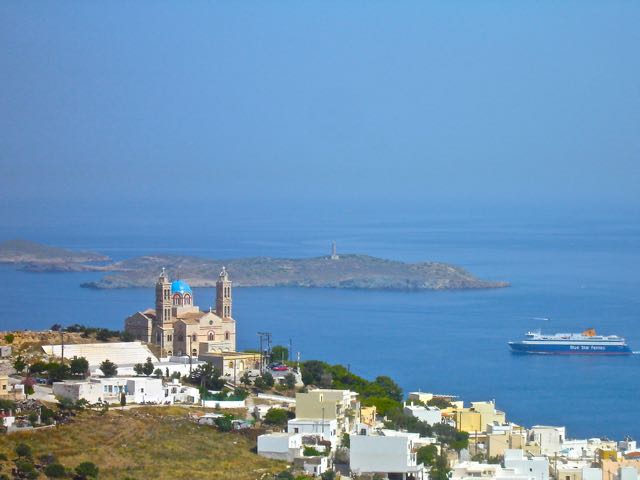 Leaving Syros was hard. I could easily have spent another week there but I can always go back. We booked our tickets for the first boat of the day ominously called the Nais Express. Every time I see the word Express in a ship's name I am suspicious. It's as if the Greek shipping companies believe if they use that word in the name, the ship will go faster. Actually they know that people will believe it goes faster. Usually it doesn't and in the case of the Nais Express, we arrived in Pireaus half an hour after the Nais II which left Syros a half an hour later than we did.
There are several ferries going to Syros every day from Pireaus and Rafina and a couple times a week from Lavrion too. Several high-speeds also stop there and do the trip in less than 3 hours. It is on the same line as Tinos and Mykonos but there are connections to all the Cyclades and there has even been a boat to Lesvos and Chios some years. You can actually come here for the day from Mykonos if you time the ferries right, but if you only stay for the day you will be missing the night and some of the best food in the Cyclades. There is also a state subsidized ferry that originates on Syros and by the end of the week it has gone to all the Cyclades islands, even the little ones you have never heard of. If you want to experience a bit of the real Greece take a trip to Syros. N ot only is it a wonderful island but you can get almost anywhere from here.
You can book Syros and several islands by using my Create-an-itinerary form or by contacting any of my recommended Greek travel agencies. If you don't want to use a travel agency you can also Search Hotels in Syros. You can find more hotels, apartments, villas and holiday homes at Matt's Best Hotels in Syros

Use Ferryhopper to find all direct and indirect ferry routes for the islands of Greece, Spain, Italy & Turkey, compare ferry companies & prices, and book cheap ferry tickets with no hidden fees in one go!