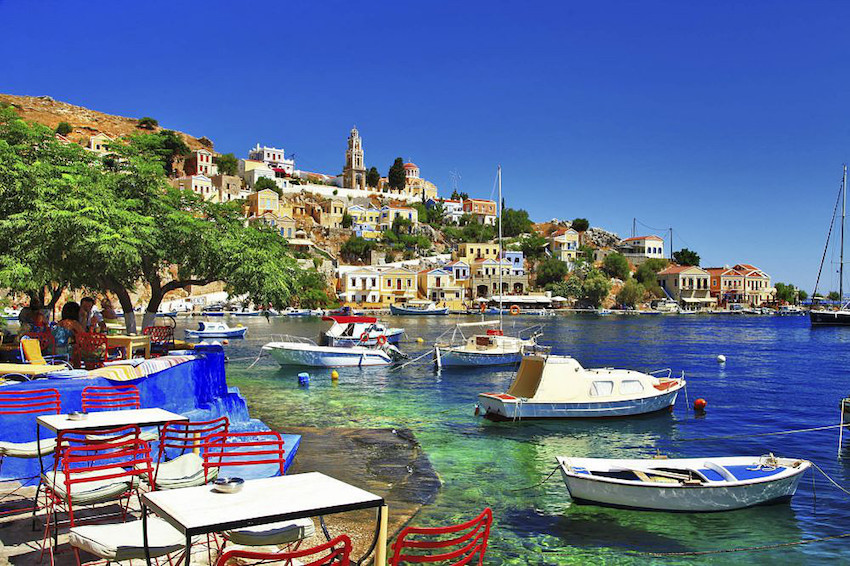 There are no tourist zones as such on Symi. When you visit Symi you are living among the locals and sharing in their lives. You ride the same village bus, eat in the same tavernas, shop in the same supermarkets and pay the same prices as the locals. No theme-park experiences cunningly orchestrated to feed a fantasy here. Symi is an authentic experience in itself.
Symi – Adriana's Story
Symi was never on our cruising agenda. Apart from a few casual mentions from fellow yachtsmen chatting in marinas we had never really heard of the place. That was about to change.
One breezy day in July 1993 we set off from Rhodes into the meltemi, a brisk northerly wind. We were intending to overnight in Astypalia en route to Santorini to see the caldera and then straight up the Aegean to the Black Sea where we planned to over winter in Odessa. Our geologist friend had brought along his fiancée, a young lady unfamiliar with life on the ocean waves, and it rapidly became clear that sailing was not for her. According to the Admiralty chart, our nearest patch of terra firma was Symi. We duly altered course and soon found ourselves in the astonishing monastery bay of Panormitis on the south west side of the island.
Our friends found a ferry back to Rhodes and continued their travels by more substantial means than a 36-foot wooden ketch. Awed by what we saw, we decided to explore this amazing place before continuing our travels. In those days the road from Panormitis, across the island to Symi town, was a roughly bulldozed dirt track along the spine of the island and only trucks and four-wheel drives could attempt it. Intrepid adventurers that we were, we walked. Admiralty charts don't give much topographic detail and 8 miles didn't look very far.
Up steep serpentine bends we climbed, between crudely carved cuttings that opened up to vertiginous views, through pine forests with cool wayside chapels, past golden fields and dusty olive groves, through a barren landscape fragrant with dried sage and down the other side of the mountains to the extraordinary sight of a pastel-coloured toy town opening up at our feet. It took us 4 hours – and another 4 back. There are not many people whose first view of Symi is actually from above. Most arrive by sea into Yialos, Symi's famous amphitheatre harbour, lined with tier upon tier of delightful neo-classical houses. Believe me, the view from above is just as impressive. There was even a ruined castle on a hilltop. How much more storybook can you get?
We cut through the lanes between tight packed houses in the sizzling July heat and found ourselves on a gracious flight of steps which we followed down to the harbour. This, we discovered later, was the celebrated Kali Strata, built by rich Symi merchants in the 19th century to link the old upper village, Chorio, with the new mercantile area of Yialos. The old route, the Kataraktis, was a donkey path running up the side of a cataract at the back of the harbour, leading to the Kastro (castle) and very oldest part of Chorio. We were hooked.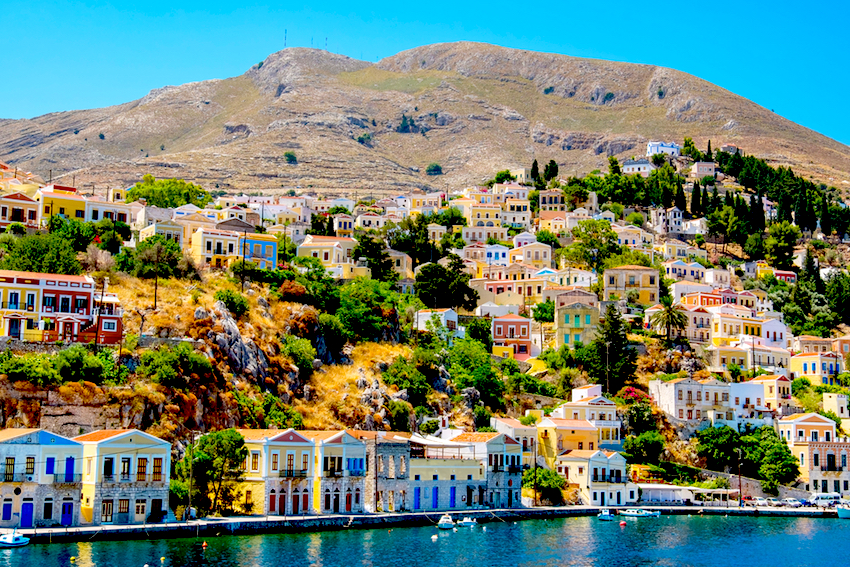 A Very Brief History – that explains why Symi looks the way it does.
With a year-round population of about 3000 people, Symi has schools, families and inhabitants of all ages. Tourism is the main source of industry these days and the population is a fraction of what it was when Symi, then part of the Ottoman Empire, was the economic hub of this stretch of the Asia Minor coast, a few nautical miles away on three sides. The windmills on the crest between Yialos and the Pedi valley ground wheat that was grown across the water and brought in by caique. Sponge-fishing fleets set sail from Yialos to harvest the shallow seas off what is now Libya. Fast boats were built to supply the Sultan's fleet, continuing a shipbuilding tradition that goes back to Homeric times.
In its economic heyday in the late 19th century Symi is believed to have had a population of around 22 000 people and was more prosperous than its much larger neighbour, Rhodes. Consortiums of rich sponge merchants flourished and spent their riches on grand neo-classical mansions, emulating the fashions of the newly independent Greek state. It must be remembered that Symi, like the other Dodecanese islands, remained under Ottoman rule but was then occupied by the Italians in 1912 and only became part of the modern state of Greece in 1947. During the Ottoman time solidarity with the fledgling democracy of modern Greece was expressed in subtle ways, including painting houses Hellenic blue. The present day shades of ochre and terracotta have more to do with the 20th century Italian suppression of these tendencies.
Back in the 1970s, when tourism to the Greek islands was just starting to take off, a very wise Symiot, a man by the name of Farmakides, realized that if Symi was to avoid the fate of Rhodes and many other islands which were disappearing fast under ill-thought tourist developments, something would have to be done. He approached the Ministry of Culture and brought Symi's splendid neo-classical architecture to their attention. There had been mass emigration from Symi in the post war years as Greeks headed for Australia and the USA to escape poverty, leaving many of the houses abandoned and ruined. Some had been damaged during the Second World War. Others had been gutted when their owners stripped them of anything sellable to raise money when they emigrated. This architectural legacy was to be Symi's unique selling point and if nothing were done to preserve it, developers might demolish the lot and build tourist hotels. The Ministry of Culture took note and gave Symi's architecture protected status. A body called the Archaeologia is responsible for ensuring that all restorations and new builds are in keeping with the neo-classical aesthetic. They also look after the Old Town and Lindos in Rhodes as well as other vulnerable architectural and archaeological gems elsewhere in Greece.
Many of Symi's houses have now been restored to their former glory, not through any official funding, but by a combination of foreigners buying ruins and restoring them as holiday or retirement homes and locals earning enough through tourism to be able to do up their family properties. The architectural restrictions imposed on the island mean that all new builds must be in harmony with the existing ones, hotels have to be small and fit into the local aesthetic and only Iapetos and the Old Markets have swimming pools – modest in size and cunningly located so that they blend in with the surroundings.
There are no tourist zones as such on Symi. When you visit Symi you are living among the locals and sharing in their lives. You ride the same village bus, eat in the same tavernas, shop in the same supermarkets and pay the same prices as the locals. No theme-park experiences cunningly orchestrated to feed a fantasy here. Symi is an authentic experience in itself.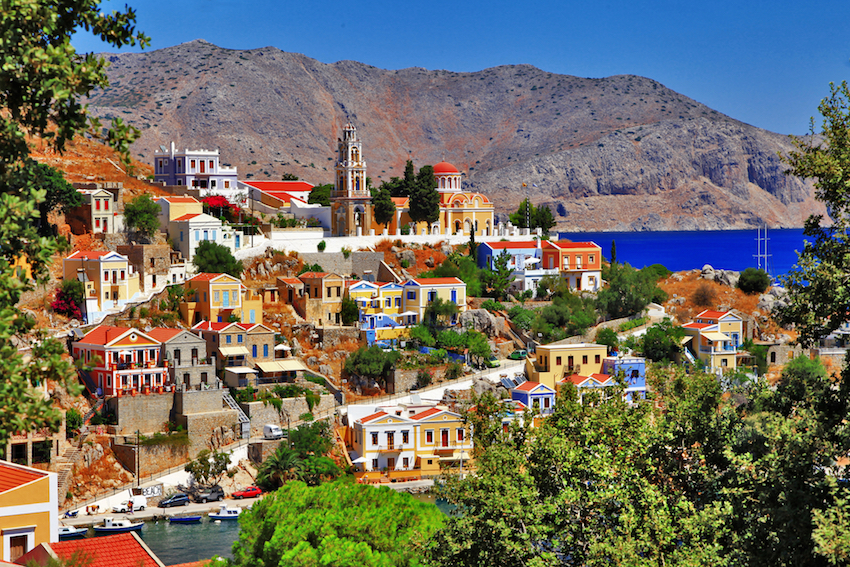 Symi is a famously dry island and for many years was dependent on regular visits from a water ship from Rhodes. Nowadays we have a small desalination plant on the Pedi Road but water is always a scarce commodity. One feature of the local architecture is that each building has some sort of cistern, either integral to the structure of the house or a big black plastic tank tucked away somewhere. Historically the cisterns were filled by the winter rains and then the supply carefully eked out during the summer months. This used to be by means of a bucket on a string through the cistern hatch from above or a tiny tap in a downstairs room in the front wall of the cistern. Nowadays there are electric pumps to pressurize the water supply to the taps. These can, however, be quite noisy when they kick in and a lot of property owners have upgraded to the more expensive submersible kind. It is very rare to find washing machines in rental properties as it is all too easy for over-enthusiastic use to drain a cistern dry. There are two laundries in Yialos.
Houses also don't have lots of bathrooms – aside from the fact that the water pump is unlikely to deliver sufficient pressure for two people to shower simultaneously, the traditional architecture doesn't give a lot of space for fitting them in. Expect to find one wet room style shower room and WC for a house sleeping 4 and regard anything more than that as a bonus. In some of the older properties the only space to fit a bathroom is actually off the courtyard with outdoor access. In a hot climate this is not a hardship. Solar water heaters are common place. The only thing you have to remember with these is that if everyone showers in the evening there is no hot water first thing in the morning as sunshine is needed to heat up the supply. Lavatories on Symi, like elsewhere in Greece and Cyprus, cannot cope with paper or anything else. Symi relies on soak pits and septic tanks and these don't function properly if clogged with paper and other things. Enough said.
Something else to take into consideration if visiting Symi for the first time is that very few places have close vehicle access. Unlike the island of Hydra, to which Symi is often compared, Symi's harbour is very steep, with the houses built into the cliffsides. Steps connect the various levels and it is not unusual to have 100 or more steps to climb from street level to front door. Inside the houses themselves there is more vertical space than lateral and ladder type open tread stair cases may be the only internal connection between levels. Sleeping lofts, called moussandras, are common and separate bedrooms with doors on them are quite unusual in the older traditional houses. Up in Chorio gradients are generally gentler and although you may have a long walk to reach your accommodation, it is likely to be along gently sloping lanes with occasional steps rather than precipitous flights of stairs. Check descriptions carefully when booking accommodation and don't be afraid to ask if you have any mobility issues or are travelling with small children.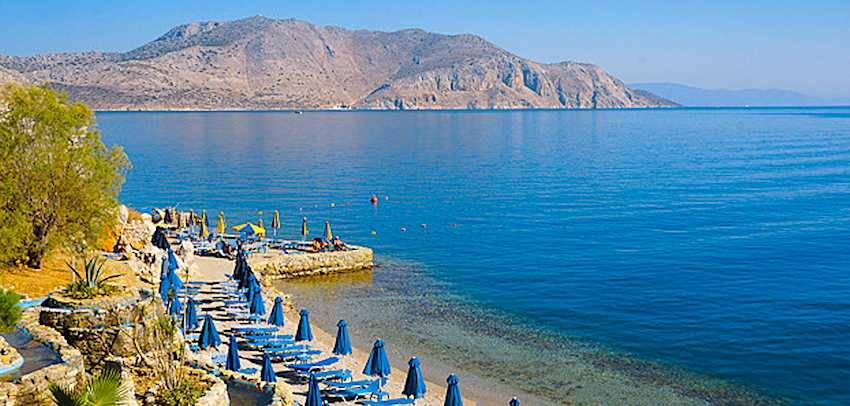 On the Beach
Symi's steep and rugged topography does not lend itself to wide sandy beaches and coastal developments. Most of the island's shoreline drops straight into the sea and you can be in very deep water and yet touch the rocks of the shore with your hands. Most of Symi's beaches are tiny coves and deep inlets that are only accessible by boat or on foot. This makes them scenically spectacular and adds the excitement of a boat ride to a day on the beach. Water taxis operate out of Yialos and Pedi. The ones in Yialos serve Nimborio, Agia Marina, Agios Nikolaos, Agios Giorgios, Nanou and Marathounda. The ones in Pedi serve Agia Marinia, Agios Nikolaos and Agios Giorgios. Apart from Agios Giorgios all the other beaches have small tavernas, sunbeds and other amenities.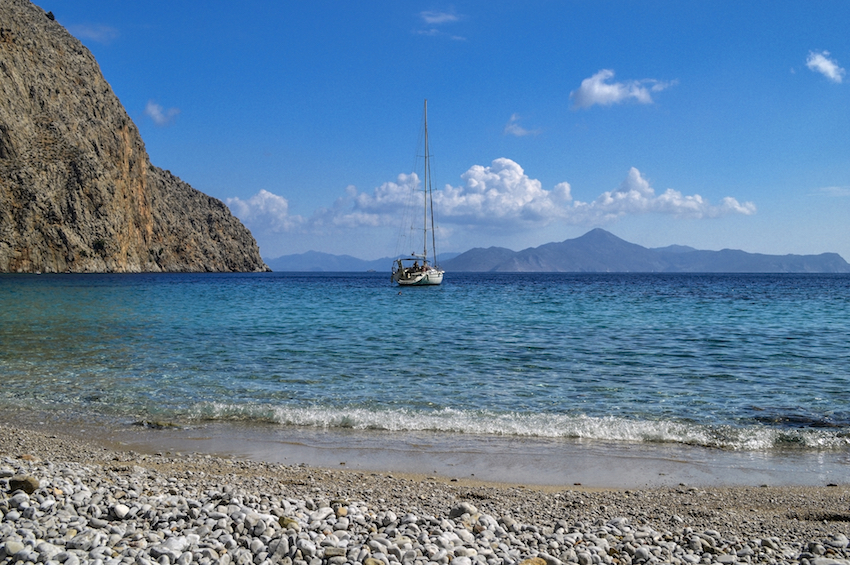 Beaches
NOS or Paradise Beach – this is the town beach, just past the point at Harani. Easy to walk to if you are staying in the harbour it has a restaurant, sunbeds, umbrellas and so on. It is also the only place on Symi where you will find jet skis and water toys.
Petalo – this is on the other side of the harbour to NOS, just as the waterfront road rises to begin its climb to Chorio. It is a board walk with elegant wooden sunbeds, gazebos, a bar and a waterside restaurant that is sometimes the venue for music events in the summer. Quite expensive but you don't have to pay for a water taxi to get you there as it is just off the road.
Nimborio Bay– there are two beaches in Nimborio, the fancy one with the Metapontis taverna and sunbeds then Yiala which has a cantina and is beloved by the locals. There is a water taxi belonging to the taverna which shuttles between Nimborio and Yialos during the day. You can also reach Nimborio by walking along the coastal road from the harbour, by walking over Mavrovouni, the hill at the back of the harbour or by using the water taxi. There is also a tourist train of sorts that goes part of the way along the coastal road. It is about a 40 minute walk from Yialos. People often walk one way and then take the water taxi back to Yialos or walk over the top and come back via the coastal road or any permutation thereof. As the coastal road is quite hot and has no shade, remember to wear a hat and take water.
Agia Marina - This is a secluded bay with off shore island at the entrance to Pedi bay. Offering a more sophisticated dining experience, it also has one of the few lawns on Symi (achieved through a grey-water recycling plant). It is the first stop on the water taxi route and very popular with chic French, Italian and Athenian set in high summer. Yachts sometimes anchor between the beach and the little island. This beach can be reached by water taxi from Yialos or Pedi or on foot from Pedi, walking along the north shore of the bay. There is another foot path from the windmills but this is difficult to find and extremely hot in the summer so only really used by very enthusiastic hikers who know where they are going.
Pedi Bay – this is divided roughly into three beaches along the head of the bay. All three are accessible on foot or by taking the bus or using a hire car or scooter. The first is Apostoli's taverna and beach. This is also a traditional boatyard making caiques. The taverna is old-fashioned and food is usually served mezze style. Don't expect hot plates, designer coffee or a dessert menu. Popular with the locals, yachtsmen and anyone who has been coming to Symi for decades.
The second is the Pedi Beach Hotel which has its own water frontage for guests. Moving past that you will find Katsaras taverna, mini market and beach. This is more sophisticated than it used to be and now serves cocktails and Illy coffee. Underneath the veneer it is still a traditional taverna at heart and you will find all the usual favourites like moussaka and keftedes. Both Apostoli and Katsaras are open in the evening in the summer months.
Continuing round Pedi bay, there is a footpath to Agios Nikolaos Beach. It is easy walking distance from Pedi and the path has been greatly improved in recent years. This beach can also be reached by water taxis from Yialos or Pedi. This is a sandy beach in a creek at the foot of a water course, surrounded by steep hills. A grove of tamarisk trees provides natural shade in addition to umbrellas and sunbeds. The taverna has a traditional menu and is only open during the day. The sandy beach makes it popular with families. The goats are very friendly and curious and may come to investigate your beach bag so keep it zipped up.
Agios Giorgios – St George – this is a spectacular pebble beach at the foot of a huge cliff. There is a tiny chapel – dedicated to St George of course – and nothing much else. Accessible only by water taxi or excursion boat, it is famous for extremely clear deep water and is a popular for snorkeling. The round the island excursion boats usually stop here for their last swimming stop before returning to Yialos. If you go, make sure to take your own picnic and ask the taxi boat to pick you up again at an arranged time.
Nanou – this is at the head of a heavily wooded bay, surrounded by steep hills. The fit and enthusiastic can walk there (about 3 hours from the harbour, then about an hour's descent from where the path leaves the Panormitis road.) Walkers usually do it one way and then take the water taxi back to the harbour after lunch at the taverna. The taverna is very pretty and serves a simple menu of traditional favourites. Only open during the day in the summer. Amiable goats may wander up and try to cadge snacks through the wrought iron fence surrounding the taverna.
Marathounda – this is a small hamlet with some holiday houses, an organic farm and two small tavernas, just before one crosses the isthmus to Panormitis. Be warned, if you stay at Marathounda make sure that you have plans for supper as the tavernas are only open during the day. Marathounda can be reached by water taxi from Yialos or by taking the bus that serves Panormitis monastery. One of the tavernas also has a courtesy car.
Toli Bay – this is accessed by car or organized truck or bus and is the only beach on the west side of the island. One can also walk there, via a foot path from the back of Nimborio or, if starting from Chorio, via the footpath that connects with the road to Roukoniotis monastery. The location is very beautiful and the Dafnes taverna serves a mix of traditional and more sophisticated fare. Their salads are particularly well known. Beach umbrellas and sunbeds are available. It is a pebble beach. There is a jetty which can sometimes be used by small boats but that side of the island is too windy in the afternoons for a formal water taxi service. The taverna has an open-air dance floor for weddings and other festivities. Popular with the locals, particularly people living in the nearby settlement of Xisos. Great location for watching the sunset.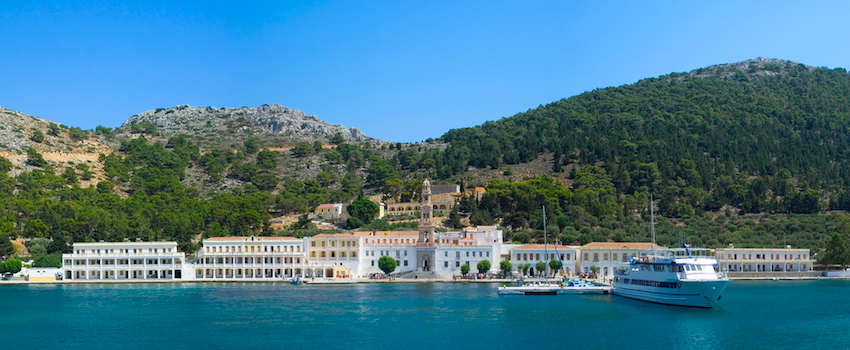 Boat Excursions
These leave from the head of the harbour in Yialos and advertise on chalk boards along the quay. It is best to book the evening before. The Poseidon is the largest with a capacity of 60 and does a range of itineraries for round the island days out with various stops and an all-you-can-eat BBQ lunch, usually on the small southern island of Sesklia. The Maria and the Diagoras are smaller and are ideal to charter for the day for groups of around 20 or so. There are also smaller boats taking up to 10 people which you can charter to take you across to Datca in Turkey for the Saturday market or for a special picnic or outing.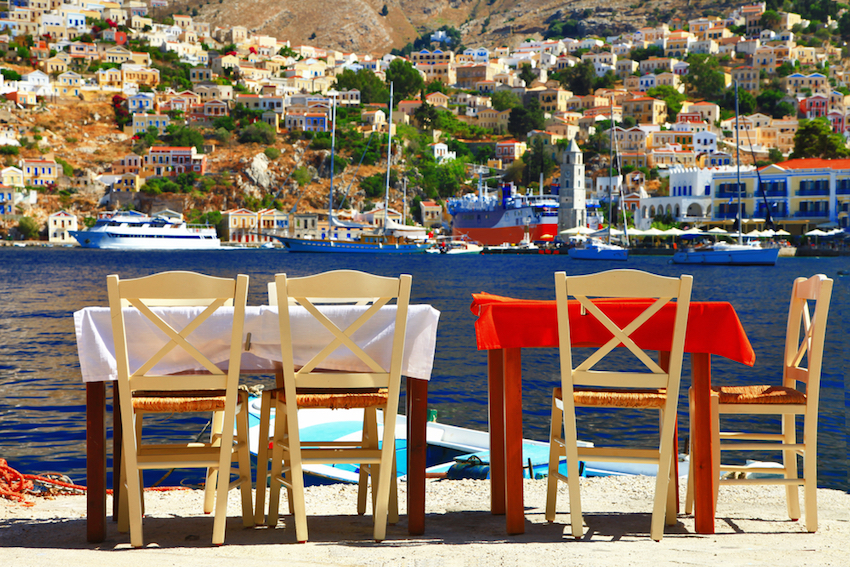 Restaurants, Tavernas, Bars, Cafes and Night Life
Symi has something for every budget. The harbour has gyros bars, bakeries and ice cream parlours, pizzerias and traditional tavernas. You can also find more sophisticated dining. There are too many to mention them all by name so here are just some of the well-known ones.
Tholos, on the water's edge at the point in Harani, just before NOS beach, is justifiably popular and is a good choice for vegetarians. It is advisable to book.
Tsati bar in Harani has steps down to the water and is a popular place for late night after dinner drinks.
The Vaporetto is an elegant Italian restaurant belonging to the Hotel Aliki. The Cava is a seafood restaurant in the ground floor of the building used by Rick Stein for his 'From Venice to Istanbul' film shoot. No, the house is no longer available to rent!
The Nireus Hotel by the clock tower has a good restaurant with a wide selection of menu options. Open to casual diners as well as hotel guests.
LOS is a fancy club type place in the old Katerinettes building where German General Wagener surrendered the Dodecanese to the Allies on VE Day. There is an art gallery upstairs. Even if modern art is not your scene, it is worth going into the upstairs as the building still has the original 19th century painted ceilings and friezes.
Elpida's started off life as a traditional cafeneion. Elpida herself has now retired and her son has taken over. He has expanded the place into a live Greek music venue and ouzeri which is very popular with the younger locals. During the day time it is a good people-watching location with the traditional folding chairs and round tables.
Manos' Famous Seafood Restaurant is in all the guide books and is the one all the celebrities go to dine at. You may find yourself rubbing shoulders with Naomi Campbell or Michael Douglas.
O Lyrus is a traditional ouzeri that has opened at the back of the town square in Yialos, near the town hall. This also serves seafood specialities and vegetarian mezzes. They too have Greek live music. A popular hangout for young Greeks.
To Steno is the third main ouzeri in the harbour. Situated in a narrow building between two lanes, they have converted a ruin into a garden dining experience. Food depends on the whims of the cook and what is in season that day. Also a locale for live Greek music, this time appealing to a slightly older age group.
Families holidaying with children who will only eat what is familiar will be glad to know that there are two pizzerias in the harbour, the Dolphin and the Bella Napoli.
To Spitiko near the taxi rank is another good choice for families. They have a comprehensive menu including items for children. They also supply crayons and colouring in books.
Pandelis is an award-winning seafood restaurant on the harbour front between the taxi rank and the bus stop.
Merakles, the International, the Trata (Trawler) and the Neraida are all four old-school Greek tavernas in the back streets, offering reliably good traditional Greek food.
Charitomeni, an old farm house restaurant on the hill overlooking the entrance to the harbour, offers traditional home-cooking in a fabulous garden setting with lovely views of the harbour. It is a good place to take first time visitors on their first evening as the harbour is spread before them and one can point out the various sites. One of the few places where one can watch the sun set behind the amphitheatre harbour. They often have good vegetarian dishes on the menu.
There are several bars and cafes along the front, varying in price and sophistication. As a general rule of thumb, anywhere that offers mojitos and fashionable cocktails to tourists immersed in iPads is likely to be expensive. Anywhere where the customers are elderly Greek gentlemen twirling worry beads and sipping ouzo from a carafe you are likely to get change out of a 10 euro note. Pachos cafeneion at the head of the harbour where the water taxis depart is one of the latter. A popular meeting place and landmark.
Up in Chorio there are only two tavernas left. Giorgio's is the best known as it has been in existence for about 40 years. Giorgio himself is long gone to the Great Taverna in the Sky but his legacy lives on. They sometimes have live music on Friday and Saturday nights during the summer. The other is Zoe's, another family enterprise with a varied traditional menu. They often have good options for vegetarians.
Chorio does, however, have a well-known café, The Olive Tree, which offers a wide range of light meals, home made goodies and picnic hampers during the day. They also offer gluten free options. A popular breakfast and brunch place in the summer.
There are a couple of traditional bars in the square where people tend to congregate in the evenings. Live music enthusiasts may also appreciate The Secret Garden, a courtyard in the back of a traditional house on Pedi road which has been turned into a bar. Another house-turned-bar is the Sunrise Café.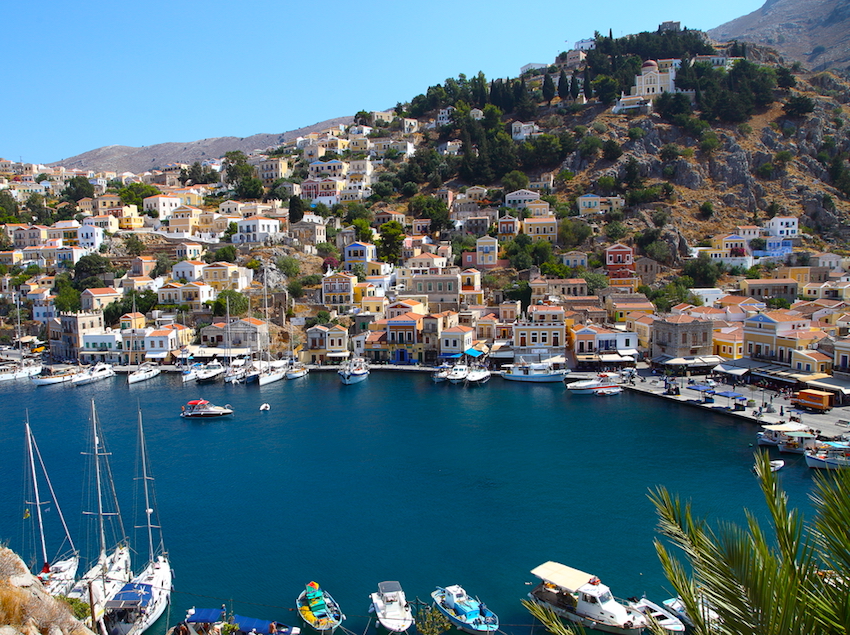 Useful to know
There are two banks on Symi, the National Bank and the Alpha Bank. They are both in the harbour and both have ATMS. In addition there are also several other ATMS that are only operational during the summer season. For reasons inexplicable, they are all in the harbour area.
Symi has good 4G coverage these days. Just be careful if you are on one of the east-facing beaches as your smartphone may lock into the Turkish network and you could have a surprisingly large roaming bill. Most cafes and bars and many tavernas and restaurants offer free WiFi for patrons.
Spacephone Symi at the back of the harbour is the place to go for SIM cards and any mobile phone issues. This is also the Western Union agent. There is also a Moneygram agent at the ACS Courier shop in a lane at the head of the harbor.
There are two pharmacies, one by the taxi rank and one by the bridge at the head of the harbour, off the town square. Many prescription drugs are available over the counter in Greece, as long as you know what to ask for.
The clinic is at the back of the harbour, next to St John's church. The doctors speak good English and are very helpful. The clinic is part of the out-patients department of Rhodes General hospital so there is no charge to see the doctor for initial treatment. You do, however, have to pay for prescriptions and then claim back when you get home. In cases of emergency the doctors will evacuate you to Rhodes by the fastest means possible depending on the nature of the emergency. If there is no ferry going within the time frame this can be the Coastguard boat or even a helicopter.
We are fortunate to have two dentists on the island. Both good in a way that is uniquely Greek. Don't expect receptionists, dental nurses and other frills. You may be serenaded with guitar music or asked to admire artwork before settling down to the job in hand. They can perform miracles with epoxy and blue light. Bridge work and crowns are also done in conjunction with a dental laboratory in Rhodes. Turn around time is usually a week so if you have an accident with the paximadia (Greek rusks) there is no need to remain toothless until you get home.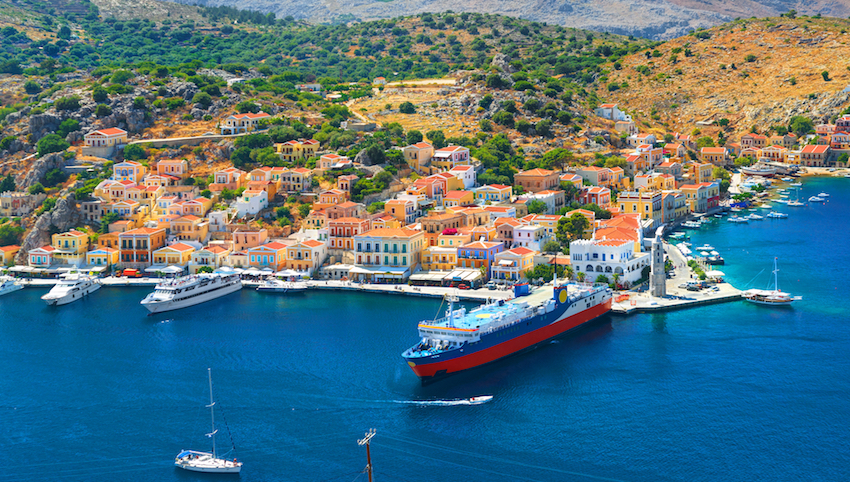 Getting to Symi
Symi itself does not have an airport – there is insufficient flat land to provide a landing strip. The nearest useful airports are Rhodes and Kos. Of these, Rhodes is the more convenient as there are daily ferry connections between Rhodes and Symi in the summer and the journey is shorter – an hour to an hour and a half, depending on the vessel.
Ferries
The economic crisis had a serious impact on Greek shipping and Symi's local ferry company, ANES, was one of the first casualties. Symi is mainly dependent on Blue Star Ferries and Dodecanese Seaways now, both of which slot Symi into much bigger and more complicated routes. Both provide efficient, fast and comfortable connections although the timings may not always be ideal.
ANES is making a hesitant comeback with the Sebeco, a high-speed boat which provides a service just between Symi and Rhodes on a daily basis. As this only came into operation late in the summer of 2018 and as at time of writing in 2019 the summer schedule for this boat has not been released, regard it as a bonus rather than something to make firm plans around.
If you are planning your holiday in advance of the release of summer ferry schedules, you can generally be sure of something leaving Rhodes around 8.30 in the morning during the summer months. Evening or late afternoon connections are not a given.
If you are coming from Turkey, there is no formal or consistent ferry service between Symi and Turkish ports. The usual route is Bodrum-Kos-Symi or Marmaris-Rhodes-Symi and may necessitate an overnight in either Kos or Rhodes, depending on timings and how long it takes for you to get through immigration.
Ferryhopper.com is an invaluable resource for planning your routes and booking your tickets.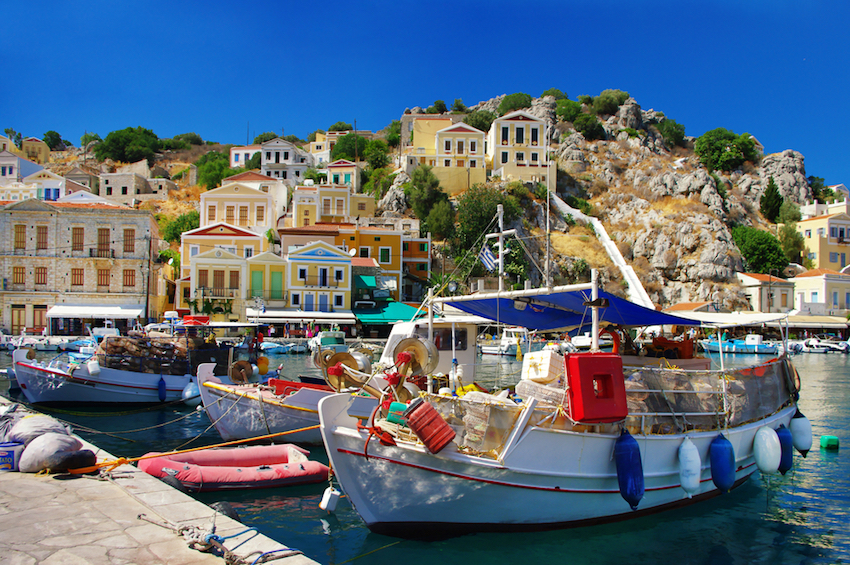 The End of the Story?
Like Goldilocks with the bowls of porridge, we had been to Kastellorizon which was delightful but too small and Rhodes which was fascinating but too big. Symi was just right. So we stayed and the rest, as they say, is history. Adriana Shum – www.adrianashum.com
30 April 2019
Hotels in Symi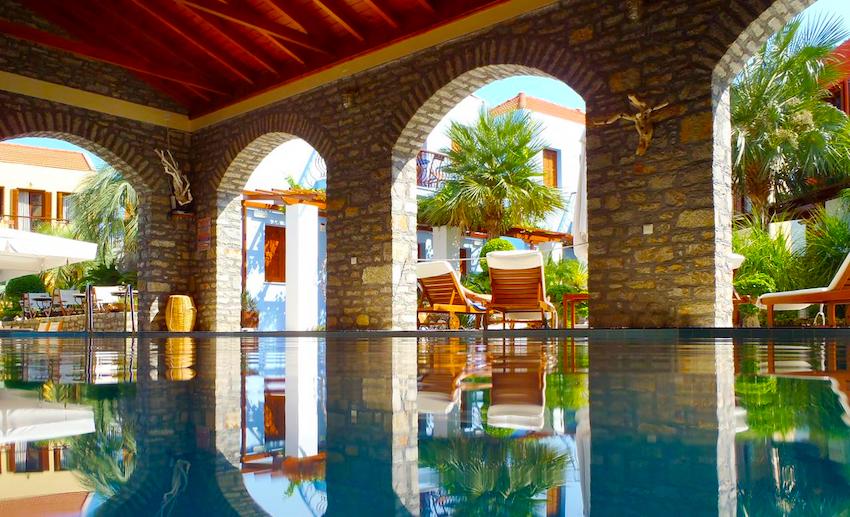 As mentioned elsewhere, there are no large-scale tourist developments on Symi and hotels are small, blending in with the existing architecture. Since the 1970s much of the tourist accommodation on the island has been in restored local houses and the hotels are actually often painted to look as though they are houses. In the harbour the main hotels are the Hotel Aliki and the Hotel Nireus on the waterfront in Harani and Iapetos Village and the Opera House at the back of the harbour. There are also a number of small pension-type hotels such as the Kokona and the Albatros. In Nimborio there is the Emporio Boutique Hotel (part of the Old Markets) and the Niriides Apartment Hotel. In Chorio you will find the Hotel Fiona, the Symi Village Hotel and the Taxiarchis. Down in Pedi there is the newly opened ASymi Residences.
Centrally in Symi Town, Iapetos Village (photo) is surrounded by a garden with palm trees and stone-paved courtyards. It offers traditional accommodation and free Wi-Fi throughout. A free-form pool with a sauna and poolside bar is provided. Housed in the old market place of Symi, the stone-built Old Markets is a 5-star boutique hotel offering uniquely decorated units with free WiFi access. It includes an elegantly decorated bar and a furnished sun terrace. Massage and beauty treatments can be provided on request. Located on the seafront in Charami, the traditionally built Odyssia is 100 metres from Nos Beach and a 5-minute walk from the port. A kitchenette with stove, fridge and dining area is included in all the air-conditioned studios at the Odyssia. It offers a snack bar and studios with free Wi-Fi and balcony overlooking the Aegean Sea. Set on a sheltered cove, between the beaches of Agia Marina and Agios Nikolaos, Pedi Beach Hotel offers free towels, lounge chairs and sun umbrellas on the beach. All air conditioned rooms have balconies. All rooms at the Pedi Beach offer sea or mountain views. Each is equipped with satellite TV and radio, as well as a minibar. In-room Wi-Fi access is provided for a charge, and air conditioning is available during the summer season. Also in Symi town and just 3 minutes walk from the beach. Dorian offers accommodations in Sými with free wifi, a flat-screen TV. Some units feature a terrace and/or balcony with sea views. A refrigerator and stovetop are also featured, as well as a kettle. There is also a kitchen in some of the units fitted with an oven. Traditionally built Grace Studios is a 4 minute walk from the scenic port and central Symi. It features air-conditioned units with free Wi-Fi and a balcony overlooking the Aegean Sea or the Castle of the Knights. A TV, electric kettle and fridge are available in all accommodations.
For more hotels, apartments, villas and studios in Symi see Matt's Booking.com's Symi Pages and use the search options to find exactly what you want. You can also finds hotel on Matt's Hotels of Greece Symi Page
You can get assistance with hotels and ferries by using Matt's Create an Itinerary form

Use Ferryhopper to find all direct and indirect ferry routes for the islands of Greece, Spain, Italy & Turkey, compare ferry companies & prices, and book cheap ferry tickets with no hidden fees in one go!

Symi: A Practical Guide By Clive Davies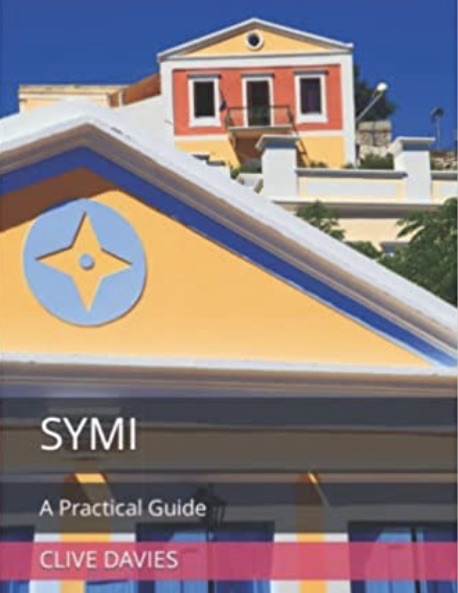 The Island of Symi – A beautiful, yet enigmatic gem, floating in the Aegean Sea. Fought over for centuries and once occupied by the Knights of the Order of St John, Symi has a rich history of sponge-diving and boat building and was once one of the wealthiest ports in the Mediterranean. This wealth has left an incredible legacy, and one of the prettiest harbours in the world, yet the island has carefully guarded its traditions and way of life. Whether you seek history, good food, friendly hosts, beaches with guaranteed summer sun, or just a beautiful place in which to relax, Symi is an Island that makes you want to return again and again. This useful guide provides practical information on getting to the island, when to go, its interesting history, the main attractions, its lovely beaches and much more as well as suggesting some of the many places to stay, eat and drink. Take the plunge and visit Symi - you won't be disappointed.