SKYROS – THE WILDEST CARNIVAL IN GREECE
by Marc Dubin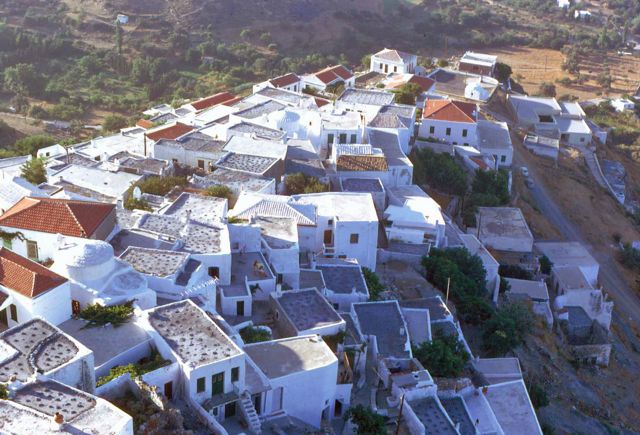 Skyros, notionally the southernmost (and largest) of the Sporades islands, is really sui generis. Isolated from its northerly neighbours, it has evolved on its own over the centuries, and seems an amalgam of different parts of Greece. The light, and weather, are definitely north Aegean; traditional architecture is distinctly Cycladic; the forests remind you of nearby Évvia; the healthy pastoral culture evokes Crete or the mainland mountains. The island has long been known for its excellent meat, cheese and (unlike the other Sporades) fine, limited-production wine, especially rosé.
Skyros comprises two dissimilar parts: larger, mostly pine-covered Merói to the northwest, with its summit at 603-metre Ólymbos, and relatively bare, scrubby Vounó on the southeast, rising to 792-metre Mt Kóhylas (aka Pánoftis). A rather suspect theory holds that these were once two distinct islets, now joined at a fertile, low-lying plain which extends between both coasts. Curiously, despite Vounó's gaunt appearance, it has a fair bit of ground water – potable springs ooze out at Fléa, Loutró and Ahíli hamlets at the toes of the mountain – while Merói not only has more springs but a little stream, the Kifissós, running year-round.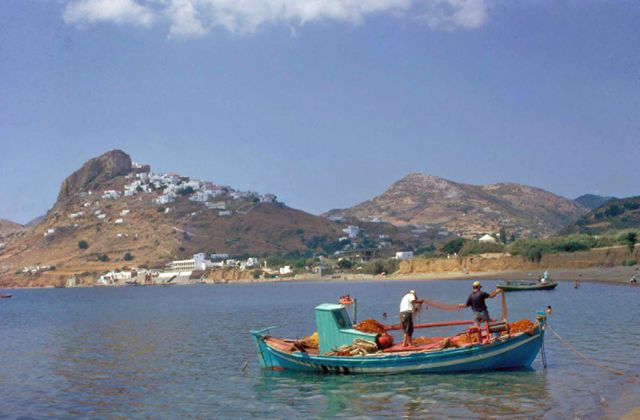 Its strategic Aegean position ensured that Skyros was settled before recorded history; sailing directly from the Dardanelles towards Attica, it would have been the first landfall in a notoriously rough patch of sea. In legend, island King Lykomedes gave shelter to a young Achilles in drag, 'draft-dodging' from the Trojan War, and pushed the deposed Athenian hero-ruler Theseus to his death from the citadel ramparts, in a fit of jealousy.
The island was a vital naval base for the ancient Athenians, Byzantines and Venetians (they stayed for three centuries), and remained important enough to host foreign consuls until the 1800s. Unlike in the Cyclades, Venetian rule did not produce a class of Catholics – Skyros remained staunchly Orthodox and Byzantine in habit, featuring bizarre, local female names (still extant) like Amerissa and Faltaïna.
The locals assiduously cultivated a sailing tradition too, acting as sailors – or pirates – as the occasion demanded. From these peripatetic habits arose the association of Skyros with exotic ceramics: either purchased abroad, or received as booty from other pirates. Thus was amassed a huge collection of plates which can still be seen in island homes, though the local pottery-making tradition is quite recent.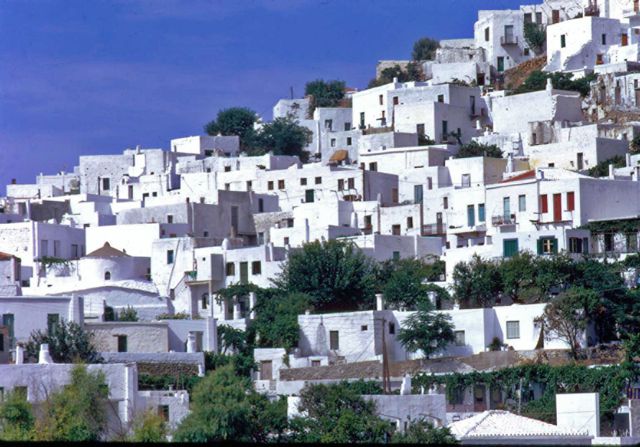 The other quintessentially Skyrian craft is woodcarving in mulberry, resulting in wonderfully intricate room/cabinet partitions (boulmédes), and decidedly less practical salonákia skyrianá, sets of improbably low sitting-room furniture – if you're permitted, try sitting on some to see just how impractical they are. For looking at only, really.
Despite its vibrant local culture, tourism has been slow to take off on Skyros. Access can be tricky; the number of guest beds remains limited; the landscape is rugged rather than postcard pretty; beaches may be harsh underfoot, remote, without amenities and (on the west coast) beset by floating garbage. For years the largest number of outsiders showed up for its lively Carnival rites (see below), and Greek tourists still outnumber foreigners. The island could just about survive without tourism – 900 or so navy and air force personnel stationed on the island (often with their families) provide quite a boost to the local economy, and keep the better tavernas open year-round. All that said, those who do make the trip are assured a warm welcome.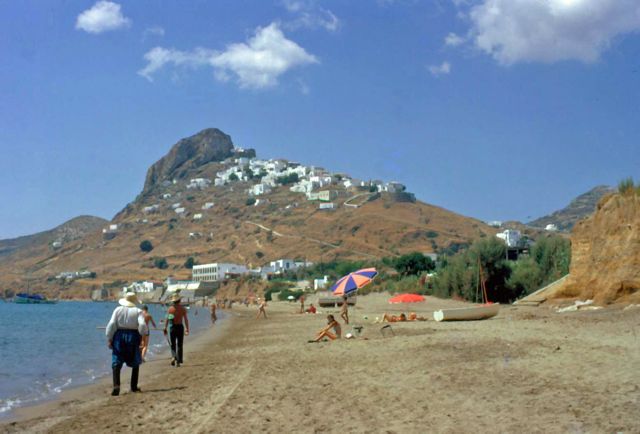 My own first visits, back in the early 1980s, were spent staying in some of the old, quasi-Cycladic houses of Hóra, with their sofádes (sleeping platforms) and domed chimneys covered with plates. Back then there were still old guys in the kafenía dressed in the distinctive Skyrian costume of black round cap, trohádia (hand-made sandals), baggy trousers and vest.
It would be 23 years before I returned, in 2007. The trad-clad geezers had largely vanished, ditto their female counterparts in yellow scarves and embroidered skirts, but the conspicuous friendliness – and the low-key level of tourist development – were much the same, though sleeping in Hóra houses now seemed largely a thing of the past. I went back in 2012 for Orthodox Easter weekend – a bit perverse, given that there are no special local Easter customs on an island best known for its Carnival – but it was refreshing to be part of low-key observances at just three or four churches, and to be accepted, without the snottiness or hostility that can befall heterodox heathens on some other Greek islands.
LINARIÁ AND ENVIRONS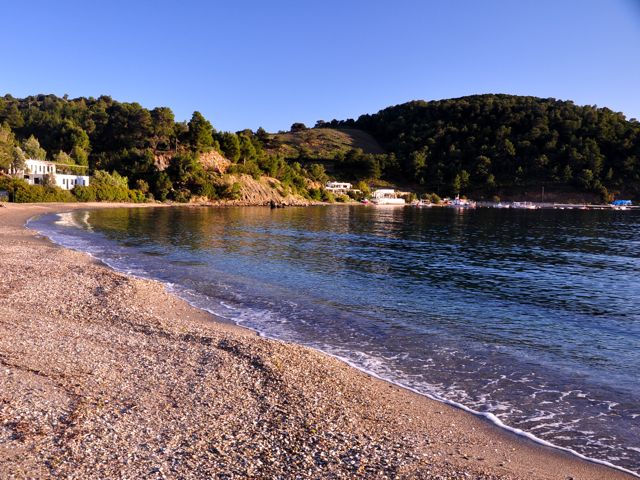 Linariá, on the southwest coast, is most people's rather underwhelming introduction to Skyros. Few will choose to base themselves there in beach season, but we stayed happily enough that Easter at the Linaria Bay Hotel up on the hillside. The big bright spot here is Taverna Platanos, under said quayside tree on what passes for the village square here. The proprietor has a fishing boat, but besides excellent seafood there are local meats, cheeses, wine and tip-top mezédes at fair prices. Worth scheduling lunch here before an late afternoon/evening ferry out.
For proper swimming, you'll have to go two bays west to Péfkos, easily the best, sandiest and cleanest beach on the west coast, with a taverna (untried) at road's end. Kalamítsa, just over the ridge to the east, has a poor, rocky, marsh-backed beach but another excellent taverna, O Pappous ke Ego (tel 22220 92200), a bit more ambitious in decor, menu (and prices), with spit-roasts at weekends.
Heading northeast on the main road towards Hóra, there's little to stop for until you reach Aspoús. Here there's a serviceable beach and yet another standout taverna, Lambros, tops for vegetables, seafood and chops. Ahíli, the next bay over, also had a beach; no longer, it's been mostly destroyed by a now-suspended attempt to fashion an alternative harbour to Linariá, used (if at all) by a few fishermen.
HÓRA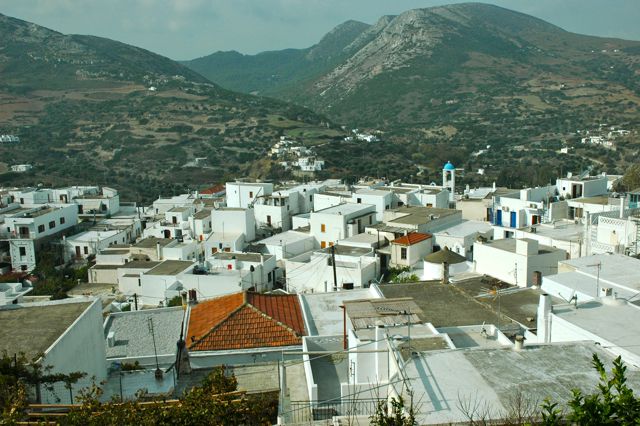 Its white, flat-roofed, sugar-cube buildings spilling off the inland (west) side of a vast rock plug so as to be invisible from the sea, Hóra is very much the main event on Skyros, and home to most islanders. All but the most rogue motor-scooteristas have to halt at the broad lower platía, not by any means the Aegean's prettiest but, ringed by cafés, ouzerís and shops, certainly one of its liveliest. The main agorá lane carries on up and north past a variety of more shops, tavernas and bars, forking here and there.
The main full-service taverna along this is seasonal Margetis (tel 22220 91311), with good bulk wine but, shall we say, variable food when I tried it in 2007 (it was closed Easter 2012); Skyros really excels in remote countryside tavernas with notably attractive prices. There are any number of trendy, equally seasonal bars along the agorá, but we especially liked the year-round kafenío of Manolis Andreou (tel 22220 91276) with its gallery of old photos, offering light snacks and popular with both locals and the more bohemian visitors.
Narrower, stepped lanes, some graced by elegant loggias and arcades, lead up to the Venetian Kástro at the summit, just below which clings the medieval monastery of Ágios Geórgios. Sadly, both have been locked and off-limits since damage during a 2001 earthquake, though scaffolding visible around the castle walls at my 2012 visit suggests that someday they will be open again, to allow the postcard-perfect panorama west over the town's rooftops. In the meantime, the monastery's function and few monks have been shifted to a metóhi (dependency) monastery inland from Mólos.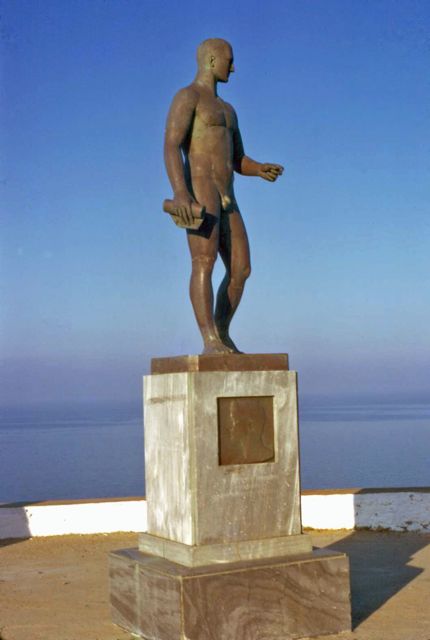 A branch of the main northbound street leads downhill to a round, sea-view plaza, at its centre a nude bronze statue of "Immortal Poetry" (purportedly a memorial to English poet Rupert Brooke, who died on Skyros during World War I). The statue's anatomical correctness caused an uproar when it was installed during the 1930s.
Within sight of the scandalous statue are Hóra's only two conventional attractions. The Archaeological Museum (Tues–Sun 8.30am–3pm) is small but sweet, its highlights including a Geometric rhyton in the form of a Skyrian pony (see below), Proto-Geometric necklaces executed in faience, a vase-rim with eight birds being attacked by snakes and a Bronze-Age pot with ship and octopus motifs. If Athens curators don't get too greedy, there should also eventually be finds from the excavations of Bronze Age Palamári on the north coast. The other nearby highlight is the private Manos Faltaïts Museum (daily 10am–noon & 5.30–8pm/6–9pm in summer; %wwww.faltaits.gr). It's an Aladdin's cave of arcane industrial and household items like a Kavála tobacco press and dismountable furniture, a re-erected typical Skyrian house interior, traditional costumes of each social class, rare documents like the futile excommunication of the Greek revolutionaries by Patriarch Grigorios V (he was hanged anyway by Sultan Mahmut II in 1821) and Skyrian pottery. Covetable contemporary specimens, made by Faltaïts himself, are sold in the gift shop. Either he or his wife Anastasia is usually around to provide a guided tour (extra charge).
The extensive grounds of the Faltaïts museum, in particular its open-air theatre, play host to George Makris' highly worthwhile rebetiko seminar, which entered its fourth year in July 2012. See www.rebetikoseminar.com for past highlights and future editions.
Skyros Carnival
Skyros is (in)famous for its outrageous apokriátika (pre-Lenten) carnival, centred on the remarkable goat dance, done by groups of masked revellers in the streets of Hóra. The leaders of each troupe are the so-called yéri, menacing figures (usually men but sometimes sturdy women) dressed in goat-pelt capes, festooned with huge garlands of heavy sheep bells, brandishing shepherd's crooks, their faces concealed by kid-skin masks. Accompanying them are their "brides", men in drag known as korélles (maidens), and frángi (maskers in a burlesque of 18th- and 19th-century European garb). When two groups meet, the yéri compete to see who can ring their bells longest and loudest with strenuous body movements, or even get into brawls swinging their crooks. For the full story, see Joy Coulentianou's The Goat Dance of Skyros, miraculously still available in Athens from Ekdotiki Ermis (%wwww.ermis-ekdotiki.gr) for €9 – the only proper study in English, published in 1977.
These rites happen on each of the four weekends before Katharí Deftéra (Clean Monday), usually Feb/March, but the final celebration is more for the benefit of tourists, both Greek and foreign. The Skyrians are less exhausted and really pull out all the stops during the preceding three weeks. Most local hotels open for the duration, and you have to book rooms well in advance – the preceding November at least.
BEACH RESORTS: MÓLOS, MAGAZIÁ, GYRÍSMATA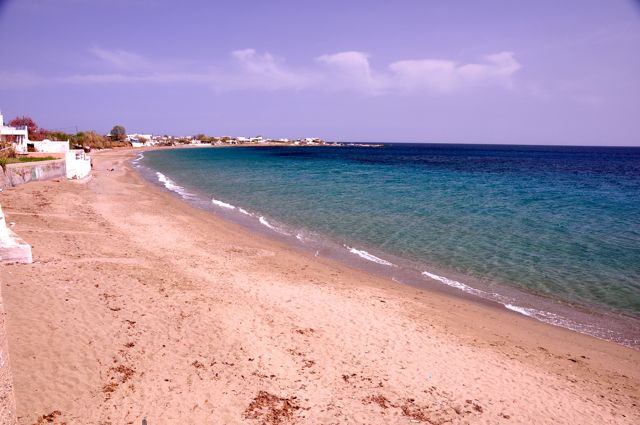 Immediately below the two museums extends the two settlements of Magaziá and Mólos, now more or less joined together. They lie just inland from Skyros' longest continuous stretch of sandy beach, though the mouth of the Kifissós stream divides it. Offshore, some rather peculiar breakwater-like structures have apparently helped keep the sand in place, though they are not entirely successful in blocking washed-up rubbish – you're facing the prevailing north Aegean winds here.
Various tavernas and beach-cafés crop up in the two communities, but head and shoulders above the rest, on each of my two recent visits, is Istories tou Barba, a tsipourádiko in Mólos, just north of the stream, with a nice line in seafood like grilled thrápsalo (deep-water squid) and mydopílafo, tsípouro (of course) and a soundtrack of Cretan music (they're not from there, they just like it). Reservations (tel 22220 9153) suggested or groups. At the far south end of Magaziá, there's a quieter, traditional, non-beachy kafenío, and worthwhile Stefanos taverna (though I haven't eaten there), both near the Ftoulis ceramic workshop (tel 22220 91559), considered the best of several on the island.
At the far north end of Mólos, the beach becomes studded with weirdly eroded rocks at Pouriá, one of the strangest spectacles on Skyros. The 'erosion' is actually the aftermath of quarrying by the Romans and Byzantines; the biggest monolith, next to the windmill-café at the cape, actually has a chapel of Ágios Nikólaos hacked into one corner. The largest offshore islet here, Ágios Ermoláos, is the venue for a lively 25–26 July festival, with little boats coming and going. The road here ends at Gyrísmata beach – long, sandy and very exposed, so for calm days only. The only other facility here is a fish-strong taverna, Stelios.
Skyrian Ponies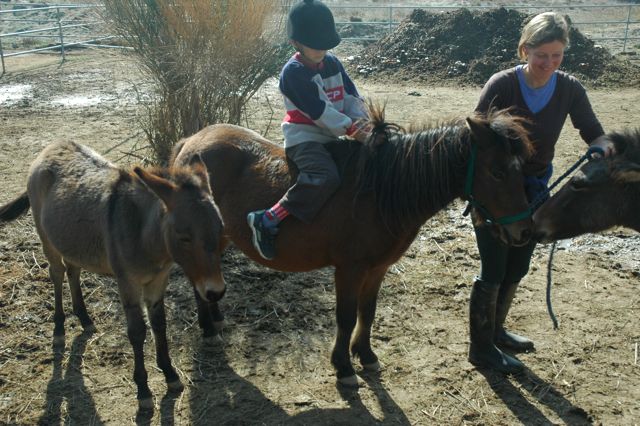 Skyros has a race of native pony, related to the ones living on Exmoor or Dartmoor. They are thought to be the diminutive steeds carved on the Parthenon frieze; in legend Achilles went off to fight at Troy mounted on a chestnut specimen. Until recent years they were used for summer threshing; communally owned, they were left to graze wild ten months of the year on Vounó, from where each family in turn rounded up the ponies they needed. Currently only about 150 individuals survive, and the breed is threatened by the decline of local agriculture, indifference and cross-breeding; this figure includes about twenty sterile specimens fathered by donkeys, who often prevent pure-blood stallions from mating. To be classed as a true Skyrian pony, the animal must be 98–115cm in height, and 130cm maximum from shoulder to tail. The largest concentration of the appealing beasts can be seen at Amanda Simpson'sand Stathis Katsarelias' Skyrian Horse Project (tel 6986051678, https://skyrianhorse.wordpress.com/; daily 11am–1pm & 6.30–8pm), behind the main Mólos supermarket. Donations are gratefully accepted as they get no official support for their efforts to maintain a healthy and genetically viable pony population.
A LOOP AROUND MERÓPI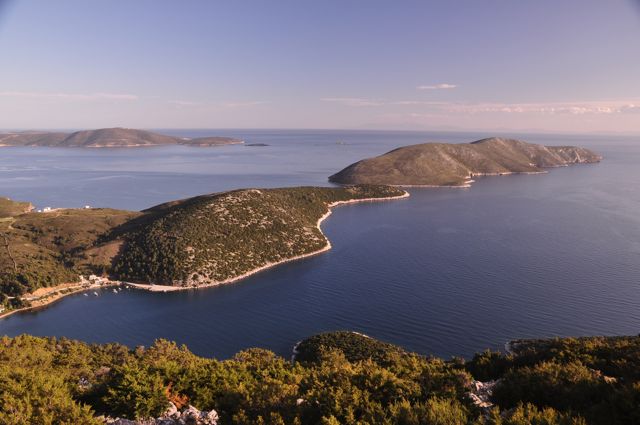 The main road west from Magaziá, signposted for the airport, launches you on a circuit of the Merópi portion of the island. The first worthwhile detour is sandy Karefloú beach, but bring supplies and be prepared for an, ahem, breeze. Next stop might be the early Bronze Age port town at Palamári (Mon–Fri 7.30am–2.30pm), where walkways through the exposed dwellings have been prepared, and much of the landward fortification walls uncovered. Until abandonment in about 1600BC, the place would have had a prime harbour in an adjacent lagoon (now silted up); today's beach is of middling quality.
One of Skyros' top rural tavernas stands nearby at the junction with the airport slip road: To Perasma (aka O Tzanos; tel 22220 92911), with outstanding lamb, goat and cheese dishes, claiming to be open all day year round. Certainly the air force/airport personnel attend in numbers. Again, somewhere I've eaten twice without mishap.
Continuing counter-clockwise gets you to the turning for Ágios Pétros beach, about the most scenic on the island, and clothing optional, but there's annoying reef to cross to reach deeper water. The road briefly skims the water at the next bay, Kalógria (aka Kyrá Panagiá, with a taverna but a negligible beach.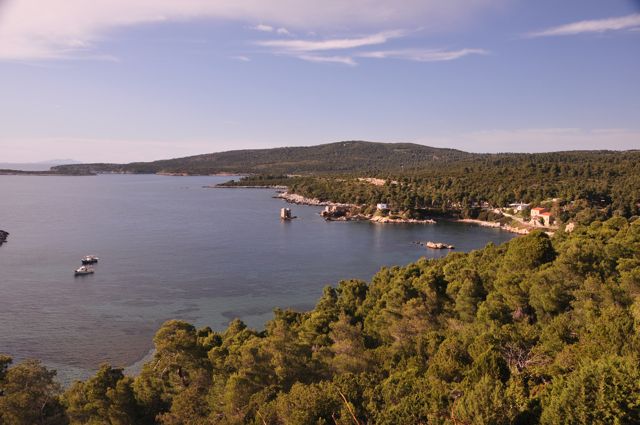 Immediately after you'll arrive at Atsítsa, famous as the local headquarters of the Skyros Centre (www.skyros.com), which divides its seminar offerings between writing workshops (big names like Hanif Kureishi, Sue Townsend and Margaret Drabble have acted as 'facilitators' in the past) and assorted touchie-feelie activities, notably yoga and singles holidays. The beach here is rocky and all but unusable; the strange items stranded offshore are said to be remains of British-built ore-loading structures exploiting nearby mines.
Head south from here on the paved road, not inland on dirt track, to Ágios Fokás bay, which I'm afraid I'll have to slander (grubby, unusable gravel-sand beach on two visits, though you may strike lucky), and a reportedly okay taverna, Kyra Kalis. This is also the heart of the rather dreary burn zone for a major 2007 forest-fire, but you quickly climb out of this en route to the spectacular look-out point of Ágios Pandelímonas, with sweeping views southeast over Péfkos and Linariá towards Vounó. From here, you descend to the Linariá-Hóra road, with a final possible swim at Péfkos.
VOUNÓ
Vounó, the lofty southeast half of Skyros, is little visited for several reasons. There are few roads in, and having a jeep (not many of these available from the rental outlets) would be a good idea. Some of it (clearly posted) is a military zone. And once past the taverna at Kalamítsa, there are no facilities at all.
You're most likely to hear about Vounó ('Mountain') locally as the focus of a fierce controversy, which emerged just before my 2007 visit and was still being hotly debated in 2012. Almost all of its territory belongs to the Athonite monastery of Megístis Lávras, who have announced plans to erect 111, enormously tall wind turbines, potentially the largest (and ugliest) such installation in the world. The power will be sold on elsewhere, bringing little long-term benefit to the roughly 2800 islanders (who are sharply polarised on the issue along clerical/anti-clerical lines), as well as essentially destroying a habitat (including the ponies' main grazing grounds) supposedly protected under the Natura 2000 programme. Given Greece's economic situation, construction is unlikely to start soon no matter what is decided.
Vounó's only serviceable beaches reachable overland are pebbly Kolymbáda and Rénes, the latter at the head of an eponymous fjord popular with yachts. Otherwise, boat trips advertised in Linariá can take you to Sarakíno islet with its white-sand beach of Glyfáda, Rénes, and assorted sea caves on the southeast coast, those of Geránia apparently frequented by rare monk seals.
The prime overland destination in Vounó, however, is the well-tended grave of British poet Rupert Brooke, buried in an olive grove just inland from the main military area at Trís Boúkes Bay, and easily visited en route to Rénes. Serving as a naval officer during World War I, he died of blood poisoning, occasioned by an infected mosquito bite, on a French hospital ship – part of the support fleet for the ill-fated Gallipoli campaign – and was entombed here by his comrades on 23 April, 1915. The marble tomb bears several of his verses, included the oft-quoted epitaph:
If I should die think only this of me:
That there's some corner of a foreign field
That is forever England.
And so there is.
RECOMMENDED WALKING MAPS AND GUIDES
The best two commercial maps for Skyros are the Terrain/Skaï map no. 322, at 1:35,000 scale (available on the island) and Anavasi's 1:40,000 product (best bought beforehand). The Terrain map has fairly useful text on the back, including just two (that's right, 2) quality hiking routes. Between military and forestry 'needs', other trails have been bulldozed into tracks since the 1980s.
ACCOMMODATION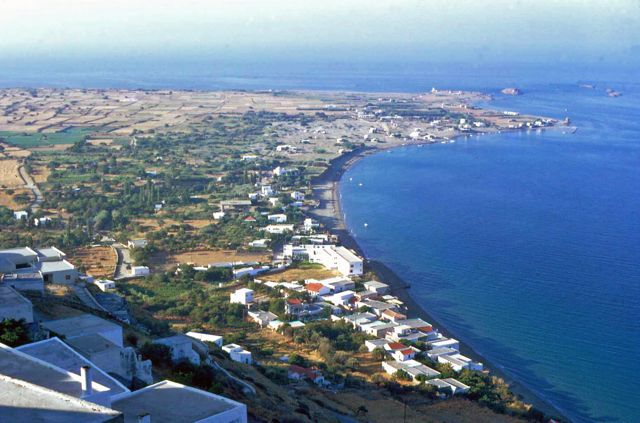 While few Athens travel agencies make bookings on Skyros, Dolphin Hellas Travel does have a number of properties they cooperate with. The Hotel Nefeli is the quality choice for vacations on Skyros Island. Fully renovated to 4* star level in June 2003 based on eco-friendly materials, it is situated at the entrance of Skyros town and consists of three buildings each one with a distinct decorative style. Hotel Dioni offers 17 spacious and tastefully furnished apartments, with one or two rooms with easy access to Aspous beach. The Villa Mantalena is located 200 metres from Gyrismata Beach. It offers traditionally decorated apartments and villas. Each accommodation features panoramic Aegan Sea Views and some have a furnished terrace overlooking the sea. Most rooms have an open-plan kitchen that joins up with a small dining area. Mantalena Villa is 3 km from Skyros Town Centre.Just 50 metres from Gyrismata Beach, the traditionally built 4-star Skiros Palace Hotel offers a pool with poolside bar and a restaurant. Rooms feature a furnished balcony or patio overlooking the Aegean Sea, the mountains or the well-tended gardens. Featuring a pool with sun terrace amidst its well-tended garden, Angela Hotel lies just 150 metres from the sandy beach of Molos in Skyros. The traditionally-built property offers air-conditioned accommodation with free Wi-Fi and a private balcony. Just 30 metres of Acherounes Beach, Pegasus Studios and Apartments offers self-catering accommodation with a balcony overlooking the Aegean Sea and the palm-tree garden. It has a café and it is within walking distance of seaside taverns serving fresh fish.
You can find more hotels, apartments, villas and holiday homes at Matt's Hotels of Greece Skyros Page
GETTING TO AND AROUND SKYROS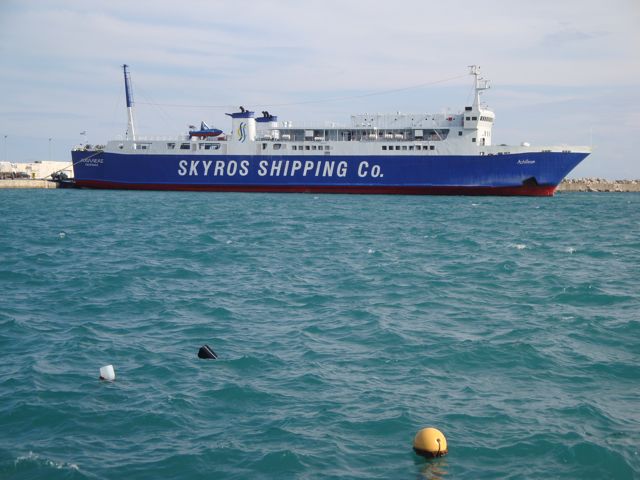 The quickest, but least reliable, way to get to Skyros is by flying. Each year at least one Greek airline provides this service, either from Thessaloníki or Athens, maybe both; currently Sky Express links the island with Thessaloníki, and (in theory) Aegean flies in from Athens until 2015, but their website refused to return booking options when I tested it recently. Although the airport with its jet-fighter-capable runway can accommodate foreign charter arrivals, these are also inconsistent; in any given season there MAY be direct flights from Holland or some Scandanavian countries.
Most people will come by ferry from Paralía Kýmis, Évvia, or (during mid-summer only) the northern Sporádes. There's at least one daily sailing from Évvia (typically in the afternoon, to allow transfers from Athens), returning early the next morning, but at busy times – summer and Easter week – there may be two trips daily, at around noon and early evening. Two or three times a week in summer, the frequency falls to once daily because the company's same, lone boat makes a trip out to Alónissos and Skópelos, looping make to Skyros direct or via Kými. See www.sne.gr for current schedules. If you're in Athens, you can buy a complete bus-and-ferry transfer package from Alkyon Travel at Akadimías 97, by Kánningos Square (tel 210 38 32 545, www.alkyontravel.gr). You can have a pleasant lunch on the quay at Paralía Kýmis – we ate at Ouzeri Maïstrali, which was okay, certainly better than ferry-boat bar snacks.
Once on the island, usable bus services are confined to the route between Linariá port and Hóra. There are a few outlets for scooter and car hire – arrivals at the airport should arrange to have their car brought there, or be prepared for a 25-euro taxi transfer to Hóra. Pegasus/Skyros Travel (www.skyrosrentacar.com) is the biggest outlet for 4-wheelers, but try also Martina's (tel 22220 92022) and Angelis (tel 22220 91888). Vayos (tel 22220 92957) is the go-to place for scooters.
Walking opportunities are patchy, as already noted, and not really a feasible way of getting around pleasantly except for short distances to the beach.-Marc Dubin
Marc Dubin first visited Greece in 1978, fell in love with it, and returned almost yearly until he began living much of the time on Samos in 1989. He has written for numerous travel publishers – notably Rough Guides, Lonely Planet and Insight Guides – and on a variety of topics ranging from renovating old Greek houses and Greek cuisine to back-country trekking and Greek music. Marc has also compiled two CDs for World Music Network: Rough Guide to Rebetika and Rough Guide to Greek Café. He is an accomplished photographer and most of the pictures accompanying his articles on greecetravel.com are his. To contact Marc with offers of writing jobs or praise you can e-mail him through matt@greecetravel.com