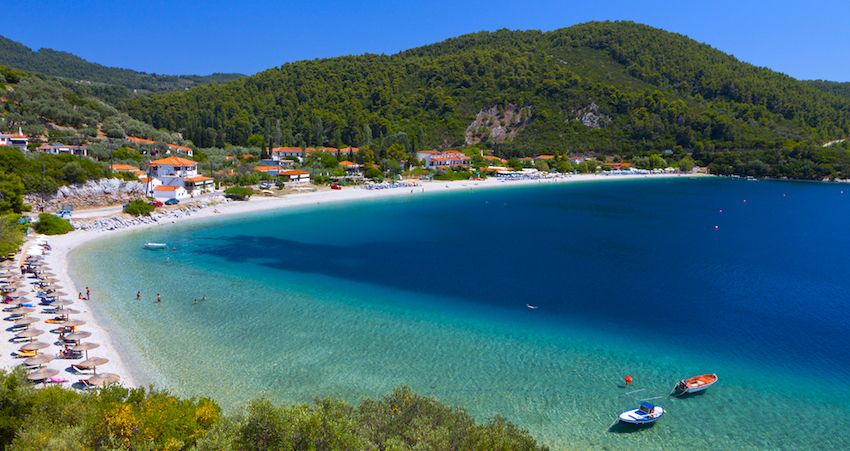 Skopelos – Mamma Mia! Island
By Marc Dubin
Skopelos has always been my favourite Sporade since a first visit three decades ago. It's the best all-rounder of this group that also includes Skiáthos, Alónissos and Skýros – forests and orchards not (yet) too burnt (unlike neighbouring Skiáthos), eminently scenic beaches (pebbly, sandy or both), some excellent tavernas in the harbour hóra (one of the most characterful island towns), plus a not overly packaged feel owing to the lack of an airport. Apparently the honchos in charge of filming Mamma Mia! thought so too, choosing Skopelos as the main shooting location during September 2007. Inevitably locals have cashed in on this with Mamma Mia! boat tours and such, but it's hardly overpowering.
As on all the Sporades, there is scant evidence of ancient times, so the beach-flopping sybarite can flop without missing enormous cultural edification aside from the main town, a few scattered villages and rural monasteries. Geologically, geographically and mentality-wise Skopelos and its neighbours are extensions of mainland Magnesia province and specifically Mt Pílion; musical tastes are firmly urban rather than Aegean, and medieval settlement from the Ionian islands (after Ottoman admiral Barbarossa slaughtered all the previous inhabitants in 1539) fostered a style of Italianate singing.
A distinctive feature of the countryside are prune-drying ovens, scattering next to orchard cottages with their beaked chimneys. Skopelos was once noted for its prune-plums, but the late-summer, labour-intensive, kneaded-by-hand drying process was uneconomical compared to the chemically assisted California product, so the industry largely died out by the 1980s.
For such a lush island, Skopelos has water problems (specifically an undrinkable, extraordinarily hard mains supply), aggravated by new villa complexes near Hóra. If you like to fill up canteens rather than waste money (and litter the landscape) with plastic mineral-water bottles, potable springs are at Metóhi near Evangelistrías convent, above Stáfylos beach and in the Karyá ravine en route to the Sendoúkia tombs.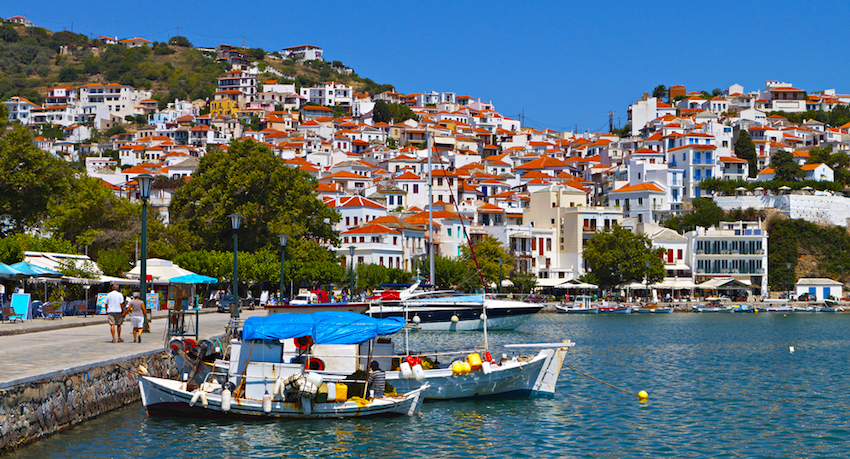 HÓRA AND AROUND
Hóra drapes itself over the westerly slope closing off a broad, north-facing bay, with a ruined Venetian castle up top; tiers of imposing, often slate-roofed mansions and churches – reputedly 123 of the latter, including frequent postcard star Panagítsa tou Pýrgou – reveal themselves to arriving boats rounding the headland. Away from the inevitable waterside commercial strip, the town is decidedly time-warped, with wonderfully idiosyncratic shops of a sort long vanished elsewhere in Greece. Domestic architecture, including some superb arcades and balconied facades, is largely unadulterated with tasteless monstrosities as on most other islands. For more on the local building style, see French Skopelo-phile Marc Held's illustrated Skopelos: The Landscapes and Vernacular Architecture of an Aegean Island (sold locally).
The municipal car-park and KTEL area on the jetty was once the site of thriving, picturesque boatyards. The great Thessalian photographer Takis Tloupas and my humble self captured them in action as late as 1981, but like the prune industry they have since vanished; unlike Skiáthos, Skopelos no longer makes traditional boats on any scale.
Hóra has the best tavernas on the island, and it's easy to avoid the tourist-traps with their photo-menus at mid-quay. As a general (if not infallible) rule, the best dining experiences are to be had on the far, northwest quay. Cheap but drinkable bulk or bottled wine hails from the Dimitra cooperative at Néa Anhíalos, while Apostolakis products mark a step up in quality. Englezos does the standards with an original twist; the menu changes seasonally but www.englezos.gr gives an idea of current offerings. The very last building on the quay is Kymata (aka Angelos), probably the oldest taverna in town and a shrine of magireftá dishes like lamb and vegetables in a phyllo crust and beets with their greens; one lunchtime here in 2007 I was treated to the spectacle of two old fishermen conversing in mantinádes (rhyming couplets), a practice which has largely died out away from Crete. The top seafood venue is Klimataria, next to the dimarhío(city hall), with affordable per-kilo prices for local, non-farmed fish. Inland, Gorgones is the only genuine ouzerí in town, with indoor/outdoor seating, fair prices and year-round operation.
Among after-hours options, one that stands out – and up – is unsigned Anatoli, at the very summit of the kástro, where veteran rebétika musician Yiorgos Xintaris performs (and sells a worthwhile CD) from late June to early September only, when his sons (who accompany him) return from university. Large parties should reserve on tel: 24240 22851.
On Mt Paloúki, flanking the bay on the east, stand three historic monasteries. Evangelistrías (daily 8am–1pm & 5–8pm), visible from town and founded in 1712 as an ecclesiastical academy by the Daponte family, is notable more for the katholikón's architectural details than its two rather gormless nuns, bundled in here as young girls 60 years ago. Secluded Prodhrómou (same hours), occupied by a trio of more with-it sisters, was largely destroyed in the March 1965 earthquake which lashed the Sporades, but preserves fine icons. Sixteenth-century Metamórfosis, an Athonite dependency at the top of a verdant ravine, is being seasonally restored when its surly caretaker monk is about, a process hopefully leaving untouched a colourful dome upheld by four dark coral-rock columns.
In the opposite direction from Hóra, the Palio Karnagio taverna at small sand-and-pebble Glystéri cove – a Mamma Mia! location – is popular at weekends. A turning from the Glystéri road leads west via the lush Karyá valley, along the east flank of 681-metre Mount Dhélfi to the well-marked Sendoúkia, three cyst-type Hellenistic graves with their lids knocked askew by tomb-raiders. They're a short hike away first on path, then a cairned cross-country route; the views over Alónissos and minor islets, especially at dusk, make the trip worthwhile.
ALPHONSE THE PHILHELLENE SPY
Foreign dropouts, well before the hippies of the 1960s, have a long history in Greece. Among the first was Austrian Alphonse, an ostensible fisherman who pottered around Skopelos in a little boat from 1937 to 1939, roistering in the cafés with the island fisherman – until one day after a storm, when his wooden boat was found smashed on a remote shore. But the fisher-persona and drowning/disappearance had all been staged; when the Germans took over as occupiers from the Italians in autumn 1943, the officer at the head of the column marching into town was none other than Alphonse. He repaid the islanders' prior hospitality by ensuring that – unlike Skiáthos and Alónissos, where Nazi reprisals were severe – no harm befell Skopelos, despite the fact that a fair number of the local men had joined the resistance in the Píndos mountains. After the war, Alphonse returned to live out his days (until 1987) drinking with a different set of fishermen at Tríkeri on the tip of the Pílion peninsula.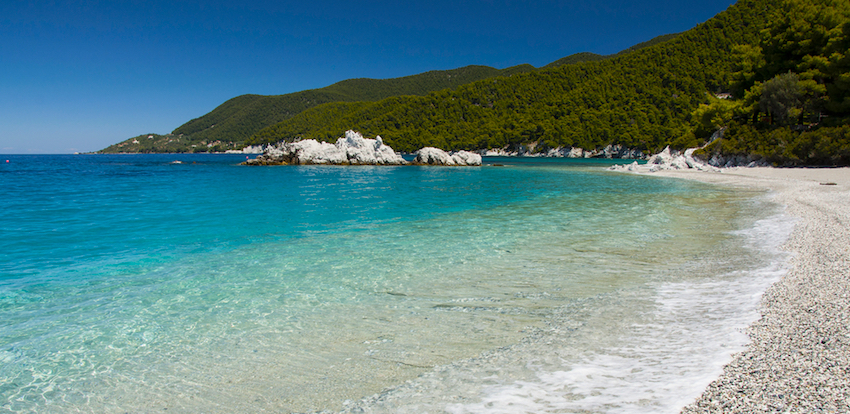 SOUTH & WEST COAST BEACHES OF SKOPELOS
Stáfylos, 4km from Hóra, is the closest proper beach, though small and crowded, with a single, merely adequate taverna at road's end. Better to walk five minutes east over the headland to more scenic, sand-and-pea-gravel Velanió, 600m long with a nudist zone and a seasonal kantína.
Agnóndas, about 3km west, has a small beach but mostly serves as an alternate ferry port; among several tavernas, best is Pavlos, for seafood, unusual mezédes like tsitsírava (pickled terebinth shoots) and Apostolakis bulk wine. There's better, white sand at Limnonári cove just to the west.
As the coastline bends to face west rather than south, the first substantial place is Pánormos bay, popular with yachts owing to its abundant, protected anchorage, somewhat less so with bathers owing to a steeply shelving, gravelly shore. Just around the corner, Miliá beach(photo)is superior, with two 400-metre arcs of tiny pebbles opposite Dhassía islet separated by a headland with a sometimes noisy beach bar at the south cove. Parking in season is impossible unless you patronize the single, fortunately good taverna with its private lot. Kastáni beach, immediately north with its own access drive, was a major Mamma Mia! location but despite this is far calmer, with a naturist zone and no amenities besides a kantína working out of a converted bus. There are more secluded beaches at Hóvolo, outside otherwise dreary Élios (Néo Klíma) village, built to rehouse victims of the 1965 quake, and Armenópetra, with the ship-shaped rock of the name just offshore.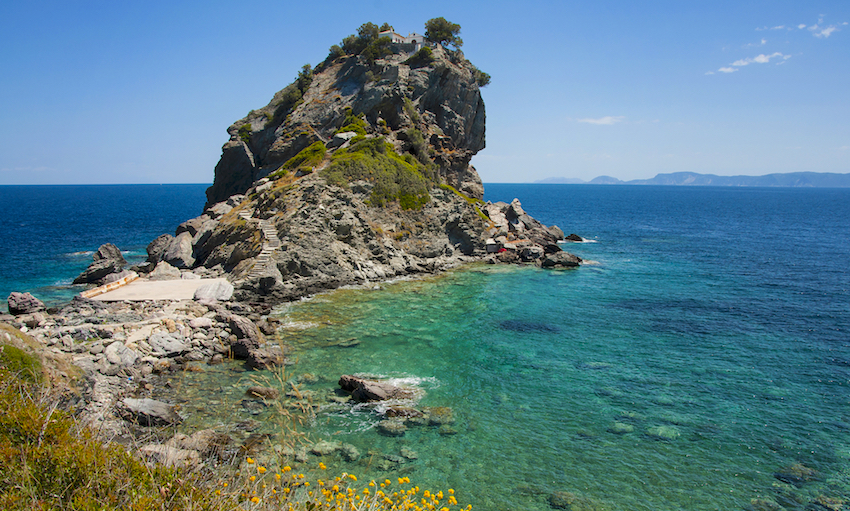 FAR NORTHWEST SKOPELOS
The island trunk road, have passed all the aforementioned beaches, climbs back to civilisation of sorts at Paleó Klíma, the village worst affected by the earthquake and abandoned thereafter, helped along by the junta declaring it unfit for habitation, closing the school and making it almost impossible to get a power hookup. The place was subsequently bought up and restored in variable taste by Greek and foreign outsiders, but it never really thrived in its new incarnation, and there's currently no bakery, taverna or shop. The main attraction is the start of a wonderful 45-minute path, via Ágii Anárgyri hamlet (also bought up and restored) to Athéato, the oldest settlement on Skopelos, barely glimpsing the sea in an attempt to be pirate-proof but with some fine vernacular architecture attracting more sensitive restoration. I almost purchased a house here in 1992; it's still there, unsold, so the legal problems must have proven – as I then suspected – insurmountable.
Athéato lies just east of Glóssa, Skopelos' second largest village, 26km from Hóra, with sweeping views across the straits to Évvia. It's a countrified, ramshackle place stacked in terraces, with lush gardens between the houses. To Agnandi is the (overpriced) koultouriárika taverna, but most locals gravitate instead towards whole roast goat or lamb on a spit at To Steki tou Mastora at the town entrance by the church. A twisty road, and a much briefer cobbled path, lead down to the dozy port of Loutráki, which takes its name from some very ruined Roman baths nearby. There's accommodation here if you need to catch an early ferry, but the tiny beach and three tavernas prove equally unmemorable.
Better beaches are found nearby on the north coast at Perivolioú, with rock overhangs for shade, and at Hondroyiórgis, both reached by dirt tracks. A separate, paved road leads to the local photo-op of Ágios Ioánnis Kastrí (photo), a church perched atop a rock pinnacle conquered by steps; an equally steep path nearby leads down to a decent sandy cove.
RECOMMENDED WALKING MAPS AND GUIDES
Two commercial topographic maps cover Skopelos, both at 1:25,000 scale: one issued by Anavasi (www.anavasi.gr), the other by Terrain (www.terrainmaps.gr). The latter is much newer and likely to be better, as the Anavasi researcher didn't cooperate with local guide Heather Parsons (tel 694 5249328, www.skopelos-walks.com), author of Skopelos Trails and leader of guided hikes in spring/autumn. She gets, unfortunately, very little support from locals, and the number of quality walking opportunities is steadily being reduced by thoughtless bulldozing of old cobbled trails and illegal fencing. An unflattering comparison with Alónissos, where EU money has been skilfully deployed by locals and foreigners working together to rehabilitate an extensive trail network.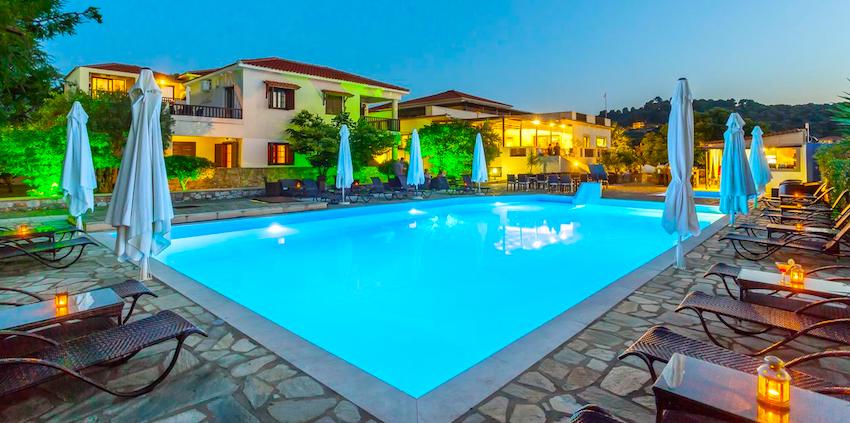 Skopelos Holidays Hotel & Spa
SKOPELOS ACCOMMODATION
While few Athens travel agencies work directly with the island of Skopelos, Dolphin Hellas Travel, Fantasy Travel and Aegean Thesaurus Travel does have a number of properties they cooperate with and with the difficult route you have to take to get to the island it is not a bad idea to work with a travel agent. If you plan to combine Skopelos with other islands or destinations on the mainland I suggest you use Matt's Create-an-itinerary form which allows you to choose the islands, the number of days and get a price with no obligation to purchase.
Among the hotels recommended...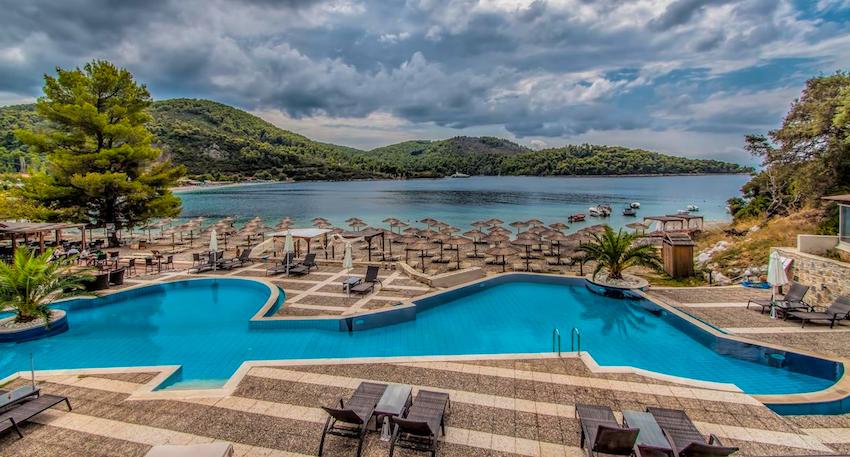 Showcasing an outdoor pool and views of the sea, Blue Green Bay is located in Panormos Skopelos, a one minute walk from the beach. Each one of the 16 Blue Green Bay's rooms, apartments, studio and maisonette are viewing the tranquil crystal clear turquoise waters of a small bay, with the stunning natural beauty and vegetation. They offer facilities like air conditioning (individually controlled), flat TV set and direct dial phone, Wi-Fi internet access, mini fridge, hair dryer, bath amenities and welcome local delicacies. From your private veranda or balcony, you have the privilege of enjoying the view of a stunning beauty offered by the little natural harbor called "Blo", as well as a magical sunset.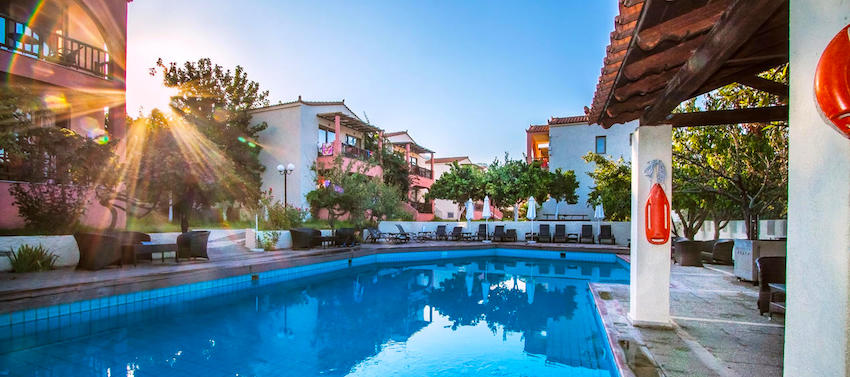 Located in Skopelos Town, Hotel Rigas features a garden and seasonal outdoor pool. All units are air conditioned and feature a TV. Some units include a terrace and/or balcony with pool views. There is also a kitchenette in some of the units fitted with a refrigerator. Crossing the entrance of the main yard with the giant bougainvillea, you are flooded from the scent of lemon, mandarin trees and night flowers that provide a cool shade to the ground-floor rooms of the main building. Its aesthetics and design bring to mind the image of the sunny courtyards of Spanish villas.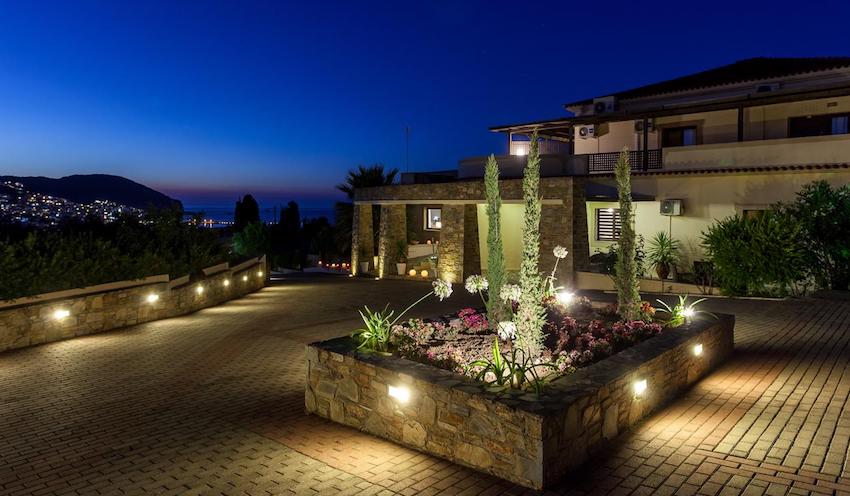 Featuring free WiFi, a seasonal outdoor pool and asun terrace, Skopelos Holidays Hotel & Spa offers accommodations in Skopelos Town. Guests can enjoy the on-site restaurant and every room at this hotel is air conditioned and has a TV with satellite channels. This hotel offers all modern amenities, a fitness center, and the rejuvenation pleasures you always wished to offer yourself, but the pace of the city life deprived you from. The unique atmosphere by the pool and the private gardens, ensures relaxing moments with refreshing drinks at the pool bar, and tasteful experiences at the hotel's restaurant. And with more than 2 generations of experience on weddings planning, a group of professionals will help you create an event perfectly in tune with your own taste, style and budget.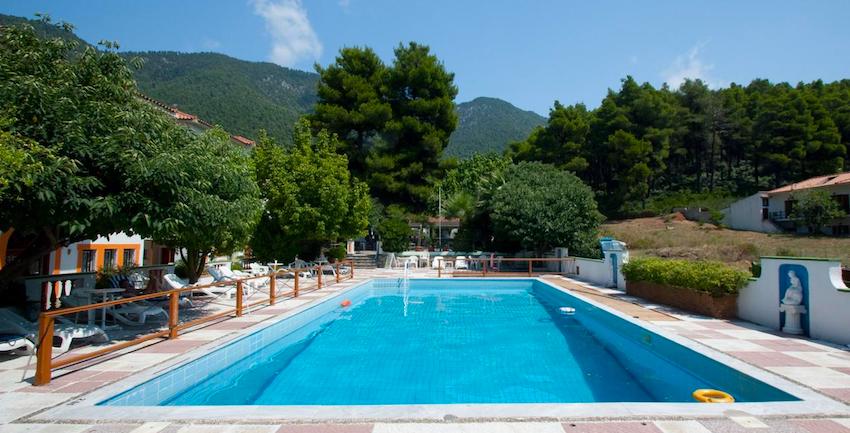 Families love the Elios Holidays Hotel in Neo Klima. Guests can enjoy the on-site restaurant and pool and rooms with sea and mountain views. Built in local architecture on a scenic terrain, embraced by thick pine forests, the hotel is just 500 meters away from the sandy - pebbly magnificent beaches of Elios and Hovolo, and near to Kastani and Milia beaches, acclaimed after the "Mamma Mia" film.Flowers, plants and a huge pine scatter particular color and shade on site while the furnished pool deck assembles the most unwinding and carefree moments. All our little guests shall pumper at the children's pool and lush open grounds. Neo Klima is an uncrowded and convenient tourist resort, an excellent base for all visitors who want to explore the island, and the numerous beautiful west coast beaches.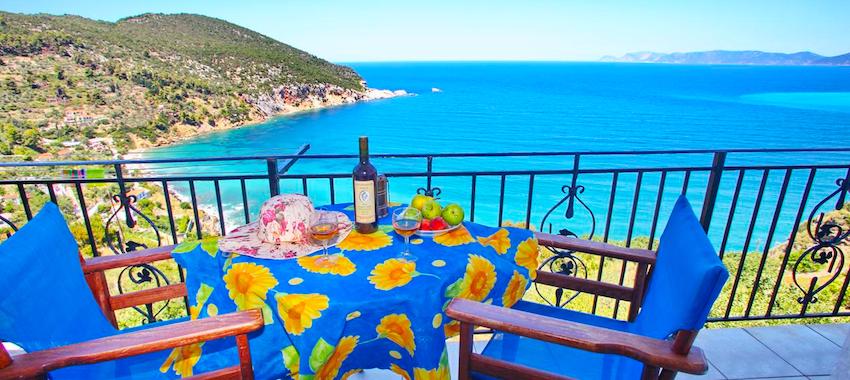 Panorama Studios is located on the hillside overlooking Skopelos Town in the area of Aghios Konstantinos. This quaint family-owned and operated property is made up of traditional rooms which can accommodate couples and families. All of the rooms are spacious and offer fantastic sea views from their furnished balconies. Each room comes with a mini-fridge and kitchenette with cooking and eating utensils.
Skopelos Village is a luxury hotel where Mamma Mia! crew stayed with an outdoor pool and playground. Adrina Resort & Spa is located in Panormos just a 5 minute walk from the beach. The B-Catagory Hotel AMALIA is on the sea, only 500 meters from the port of Skopelos. The B-Catagory Aperitton Hotel is a model of contemporary and traditional local architecture, 200 meters from the port and the town beach. Showcasing an outdoor pool and sun terrace, Anofli Suites is located in Skopelos Town a few steps away from the beach. Just a few metres away from the sea in Neo Klima 1 minute walk from the beach in Neo Klima, Studios and Apartments Meri features a garden, barbecue, and sun terrace. Aegean Wave Hotel in Loutraki offers panoramic sea views from its lovely sun terrace. This charming hotel is just 200 metres from the sea and features free Wi-Fi. Situated on the hillside of Loutraki and overlooking the sea and the port, Hotel Selenunda offers spacious self-catering apartments with sea views, making it an ideal base for exploring Skopelos. Hovolo Apartments are situated on the coastal road in Neo Klima village in Scopelos, at a distance of about 130 metres from the beach. The popular beach of Hovolo is also within easy reach from the complex. The Hotel Denise is built in an ideal spot of the main village of Skopelos as it offers a panoramic view as well as an easy access though the peripheral road or through the picturesque narrow streets.
You can find more hotels, apartments, rooms, villas and houses on Booking.com's Skopelos Page which allows you to use the various search options to find exactly what you are looking for. Also see Matt's Suggested Hotels on Skopelos
For a couple very nice packages which feature Skiathos, Skopelos and Alonissos take a look at those offered by Aegean Thesaurus: 14 Day Sporades Program.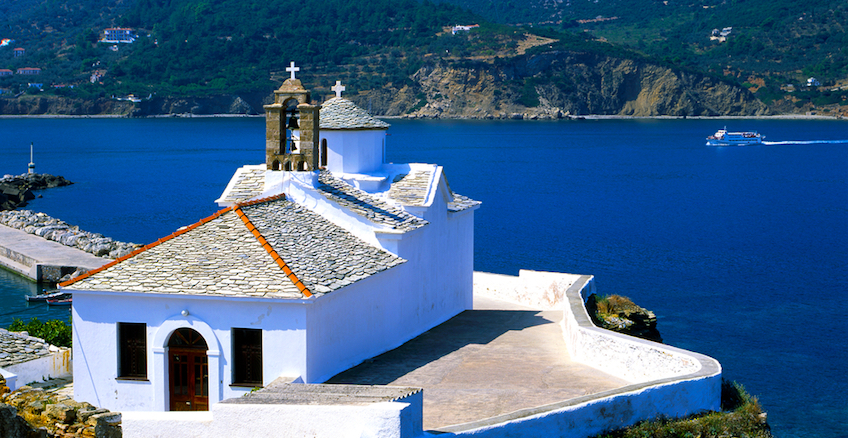 GETTING TO AND AROUND SKOPELOS
There is no flat ground for an airport. Skiáthos has the closest one, but check connecting ferry or catamaran departures carefully or you risk being stranded, especially with evening arrivals.
Skopelos, surprisingly considering its modest size, has three ports: at Hóra, Loutráki and Agnóndas on the south coast, the latter used during northerly storms and potentially by the summer-only line to Thessaloníki. From the mainland, the principal departure ports are Vólos and Ágios Konstandínos. From each, a mix of conventional boats or jet ferries (taking cars) and hydrofoils (foot passengers only) plies 3 times daily in mid-summer, dropping to at most 2 daily in spring/autumn and about 5 weekly offseason. For Ágios departures, Alkyon Travel in central Athens provides a linking coach service a few hours before or you can book a taxi with George the Famous Taxi Driver. You can find ferry schedules at Ferryhopper.com
Greece Sail Cruises and Charters visits the Sporades Islands in their comfortable traditional wooden sailing yachts. Rent a cabin or the entire boat for you and your family and friends.
There are various car- and scooter-hire places in Hóra. KTEL buses from the main ferry quay ply the main longitudinal road to Glóssa and Loutráki several times daily, passing all the southwesterly beaches (or the side-tracks to them) en route. Taxis cluster next to the KTEL terminal. Except to Glystéri, taxi-boat services are absent, and be aware that day-trips advertised to the Sporades Natural Marine Park are a con – you'll spend more than half of the advertised 8-hour duration in transit. Visit the marine park from Alónissos – much closer and they need the business more anyway.
Marc Dubin first visited Greece in 1978, fell in love with it, and returned almost yearly until he began living much of the time on Samos in 1989. He has written for numerous travel publishers – notably Rough Guides and Insight Guides – and on a variety of topics ranging from renovating old Greek houses and Greek cuisine to back-country trekking and Greek music. Marc has also compiled two CDs for World Music Network, Rough Guide to Rebetika and Rough Guide to Greek Café. He is an accomplished photographer and most of the pictures accompanying the articles on greecetravel.com are his. (You can click on his photos above to see them full size.) To contact Marc with offers of writing jobs or praise you can e-mail him through matt@greecetravel.com