Santorini is a shopper's paradise. That is if you associate buying stuff with being in heaven. Most of the stuff you can buy in the Plaka and Monastiraki in Athens, like jewelry, ceramics, fake Greek art, worry beads, and so on, is sold here in the shops of Thira and Oia at higher prices so that when the cruise ships pull into Athens most of the passengers are tapped out and their largest purchase is a souvlaki or a postcard of the Acropolis, unless they bought that in Santorini as well. That being said, besides the normal tourist junk Santorini is full of one-of-a-kind boutiques and galleries and interesting shops that sell local arts and crafts and things that you wont find in Athens, unless they have become so popular that they have a branch there as well. There are over 40 jewelry stores, most of them on the main street in Fira which is how it got the name 'Gold Street'. Though they say 80% is handcrafted most of those hands are in factories and many of the factories are not even in Greece. Handcrafted does not mean handmade. Much of the handcrafted stuff is also cast which is technically handmade since a hand poured the gold or silver into a mold that was created from an original handmade piece to create thousands of copies that look handmade that only a jeweler or someone who really knows jewelry would know was cast. So your unique piece of jewelry may have been ordered in bulk out of a catalog by the shop. If you are looking for unique pieces that you are not going to experience the embarrassment of running into someone wearing the exact same piece at the office Christmas party you want to ask if it is handmade. That is not to say if you love a piece that you should not buy it because it was handcrafted rather than handmade. If it speaks to you then buy it. Personally I would suggest looking for the small shops owned by individual or several jewelers as a cooperative. If a shop is pushing Pandora and expensive watches save it as a last resort after you have exhausted the shops with original and ancient Greek and Byzantine designs.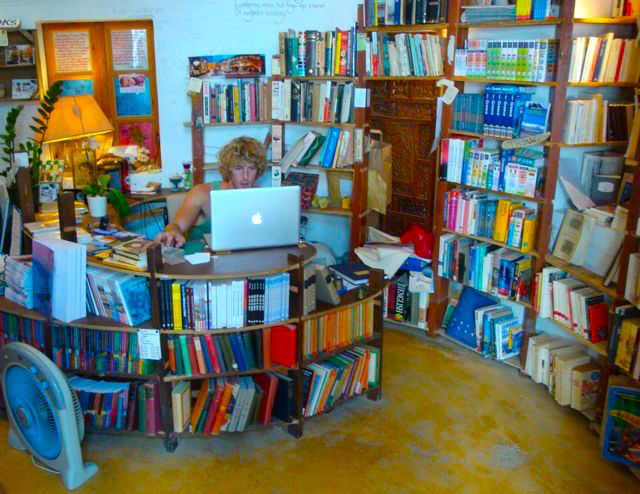 Oia and Fira have several small boutiques with clothes by original designers and there is no shortage of gift shops that have original pieces, some made locally, that will enable you to return from Greece with something other than evil-eye keychains and Ouzo Power T-shirts. In Firostefani, Art of the Loom sells authentic wooden objects from the textile factories of the 1950ís that have been turned into art pieces and in some cases practical items, as well as jewelery, paintings, and crafts made by local artists, some well known and others not so much. Oia has four art galleries exhibiting paintings by known and unknown Greek and international artists, as well as several fashion boutiques and Atlantis Books, probably the best international book shop in the Cyclades, where you can get all sorts of books about Santorini and Greece that you probably would not be able to find elsewhere without a lot of searching. The perfect gift from Santorini? How about the complete works of Nikos Kazantzakis if you want to bring back something meaningful? Chances are if you are not much of a shopper and the rest of the people in your family are, this is where you will end up, as I did.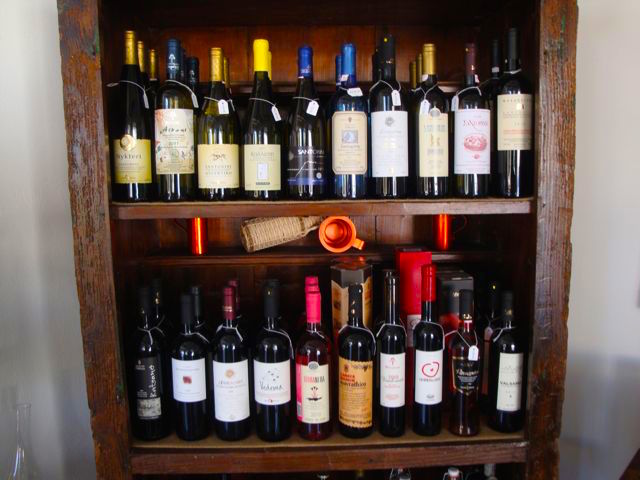 There are several stores selling traditional good from the island, my favorite being Santorini Products in Pyrgos where you can buy anything from Santorini wine to Santorini tomato seeds, as well as original art and crafts. Art Space winery is also a gallery full of original paintings, some by popular Greek artists, others by artists who one day may be popular. One of the best gifts you can bring home with you is the Santorini wine, particularly those that are not available in your home country. When you visit the wineries they can tell you which wines are exported and who carries them which will enable you to avoid the heavy lifting. For those wines you taste that you can only get in Santorini, the wineries will package them so you can carry them home with you without breaking them. We took a dozen bottles of wine that were wrapped and padded by the winery, bought a cheap hardshell suitcase and insulated it with clothing to further protect them, and then flew to Athens, drove to Pireaus, took a ferry to Lesvos, drove to the small mountain village of Vatousa and wheeled them ot the top of the village on cobblestone streets, and we did not break one bottle. Other more durable gifts from Santorini would be the tomato seeds, white eggplant seeds, local Canava ouzo, a bottle of Santorini Raki (or two is even better), or some of the delicious pickled and canned goods you can find in the shops selling traditional products.
Help Support Matt's Greecetravel.com
Do you enjoy using my site? Have you found it entertaining as well as useful? If so please show your appreciation by booking hotels through the travel agencies and the links found on my Santorini Hotels page. The small commission I make on the bookings enable me to keep working and in most cases you won't find them any cheaper by searching elsewhere. You can also use the links to Booking.com's Santorini Page who also give me a small commission.
Join Matt Barrett's Greece Travel Guides Group on Facebook for comments, photos and other fun stuff. If you enjoy this website please share it with your friends on Facebook. If you are appreciative of all the free information you get on my websites you can send a donation through Paypal or Venmo