A friend of mine told me about the three weeks she had once spent in a tiny island in the north Aegean called Samothraki. She had spent her time camping and hiking there with friends in the summer about 20 years ago. My next 'meeting' with Samothraki was when I met a Samothracian who was visiting Crete: 'Samothraki is so much like Chania', he said, something that surprised me since Samothraki is just 17 km in length, while Crete - which Chania is only a small part of - is 260 km in length.
Before my son finished his military service in Alexandroupoli, I vowed to myself that I would visit the island of Samothraki. If I didn't visit it now, when I have a reason to be so far up north, maybe I would not visit it at all. Samothraki isn't hard to get to – but you don't often get there. You need to go to Alexandroupoli to catch the ferry to the island – but you probably won't go to Alexandroupoli that often. (Maybe this will all change once the USA's presence will be more consolidated in Alexandroupoli. The port of Alexandroupoli was lined with USA tanks and jeeps, kept hidden from view on the mainland. You could only see them from the ferry as it sailed away. Recently, the USS Arlington was at the port. The locals were bemused ($$$). But this story is truly a different one for a different time.)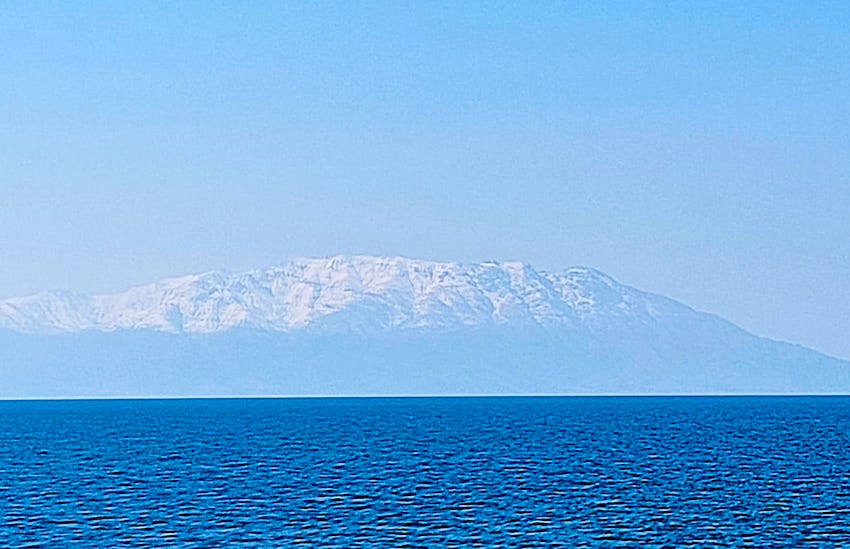 My visit to Samothraki took place during a three-day weekend in late March, when the weather was still quite cool. Viewed from Alexandroupoli, Samothraki looked like a lifeless iceberg rising out of the sea, gleaming below the winter sun. There was still a lot of snow on Fengari, the highest peak of Mt Saos, which rises to over 1600 metres. ('saos' is the ancient Greek word for the moon, which modern Greeks call 'fengari'). For an island just 17 km in length, Mt Saos takes up a lot of space. The settled parts of the island are found on the south side. (South is always more lively, wherever you go, it seems.) Kamariotissa - Samothraki's port, and the most populated region - looked as busy as any other Greek port when the ferry comes in. We had come for a two-day stay with our rental car (hint: rent on the island, and you won't pay ferry costs). Drive north or drive south? We chose south and hoped we had made the right choice as we hadnt booked a room at that stage.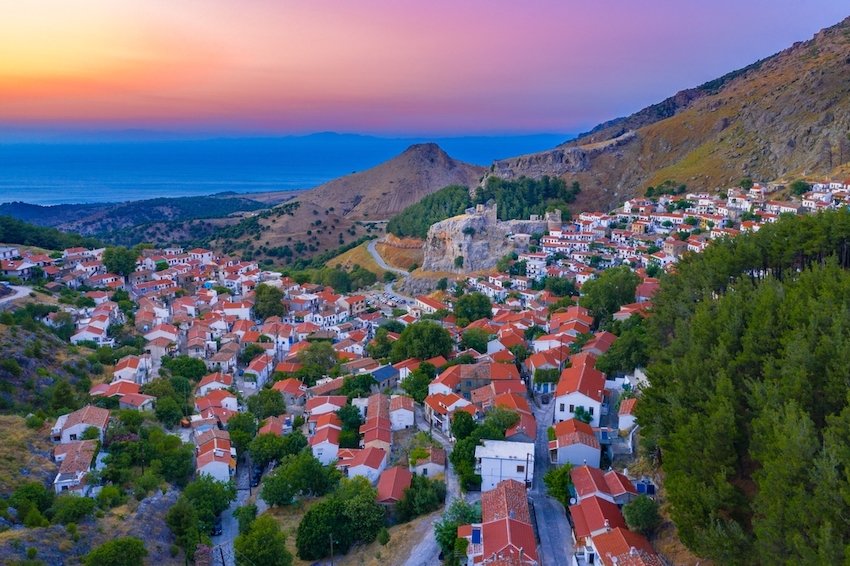 The main town in Samothraki goes by the same name as the island. You can see the whole town's outline as you drive past it, well hidden from the coast, built amphitheatrically, next to a castle, as was the fashion in older times, to stay vigilant against pirate raids. It was almost midday, but a cafe - the only one that looked open - was just opening. A couple of people were sitting outside in the very crisp air having an animated conversation. One was probably the owner. It was the first three-day weekend without covid restrictions and the media was hyping about the Greek islands being full of Greek holidaymakers, just before the foreign travelers were beginning to arrive. With the glorious weather for the season, the islands were probably full, but not this one. It seemed eerily quiet in this tiny town with its tiny homes piled one on top of the other amidst its narrow streets. Travelling to tiny places makes you see how much space you really need; you don't need much.
After a short hike up the castle to marvel at the views of the deep blue sea below the bright blue sky - what a glorious sunny day for spring! - we continued on to the next village, Alonia. Leaving the town behind us, we passed what looked like a waterfall, which we realised was just one of very many on the island. The snow was now melting fast in mid-spring, and the rivers were roaring. The scenery now changed to rather rugged and neglected countryside. We passed what looked a training ground with military installations. A pickup truck drove by … and it stopped behind our car.
"Kalimera," said the middle aged driver, smiling. "What brings you here?" Despite his dishevelled appearance, he had tied his long hair neatly behind his head and was wearing a woolly hat. We greeted him back, always happy to talk to locals. How else do you find out what makes a palce tick, especially one as tiny as this one? He too looked happy to talk to strangers. He was accompanied by what may have been his son, a good looking boy who did not speak a word to us. The whole time we were there, the younger man grinned like a Cheshire cat. And then, another pickup truck drove up … and parked right in front of our car. The driver looked much like the first one. He sat in his car without once coming out of it while we were there.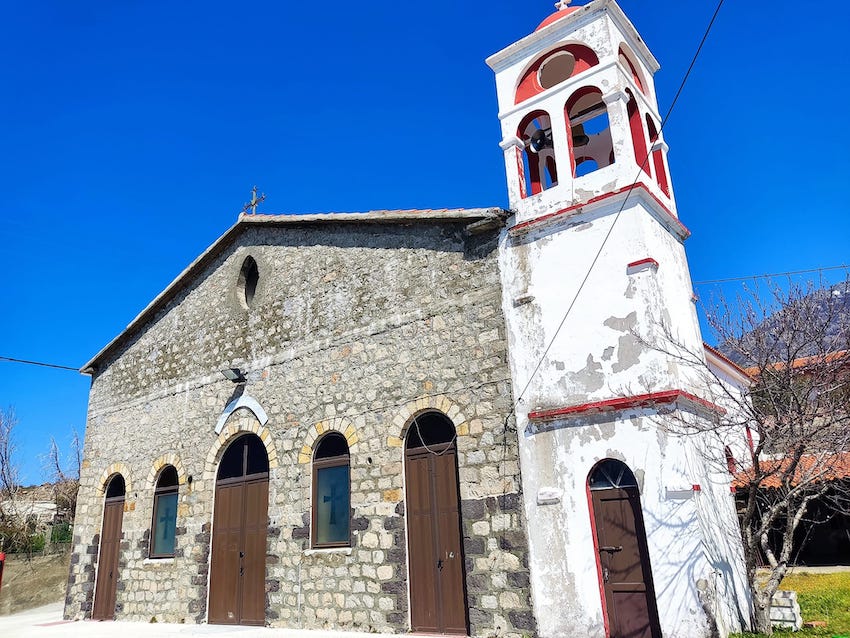 Samothraki is overrun by goats, the main 'cash crop' on the island. It is no wonder that the village church was dedicated to St Modestos, patron saint of animals in the Greek Orthodox church. The farmer told us about the difficulties of raising goats in this economic period when the price of feed and fuel was increasing at unprecedented rates. The village was clearly the main goat-farming region above the coast. It looked rather neglected. Smoke could be seen rising from a very old house.
"And don't forget to delete all your photos of the region" he told us as we tried to get away from his clutches. "The place is highly militarized (he said in an authoritative voice), you wouldn't want to be approached on your way back home on the ferry and have your phone taken off you." Well, no, we wouldn't, and since it never happened, in retrospect, I gathered that he regarded himself as that man in Havana who had self-created his role as guardian of the secrets of his tiny homeland. We drove off slowly, so as not to insult our 'hosts'. "Next time you come," said the farmer, "bring us a Cretan goat bell. They're hard to get hold of here." We promised that we would do that (if there were to be another visit)
Leaving Alonia, the scenery became more uplifting. Bucolic scenes awaited us of bleating goats, their bells tinkling in the breeze, scattered all over the steep hill. The road took us to the east coast, which was deserted. The landscape looked untouched, but there were a number of signs pointing to holiday accomodation. But nothing was open. The tourist season is very short here. Just one pickup truck passed by us while we were there. Google makes Samothraki look huge, with so many placenames, bsuinesses and accomdations packed in one tiny region. But Samothraki does not try to deceive you - it's may be tiny, but you are not so big yourself, and there is plenty of room for everyone. It's not relaly the case that Samothraki is too small; the problem is that the world is so big and we are too used to the idea that that we dont have enough time to see it all. A place like Samothraki reminds you that every step counts.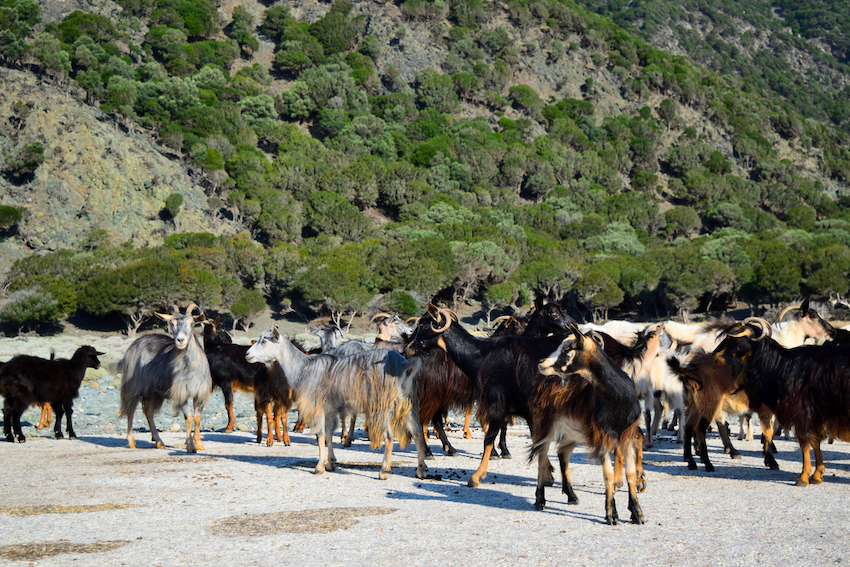 Having had nothing more than a coffee and a koulouri for breakfast, we all declared our hunger at this stage. Maybe we were actually more hungry for human presence. Finding a meal was going to prove tricky. We did a round trip through the villages just above the coast. Although some places looked 'open' - a door was ajar, a chimney was smoking - there were few people to be seen. No one was expecting anyone. There were signs pointing south to what sounded like fantastic beaches, but we came up against untarmacked roads, which meant that human presence would be harder to find now. A huge chunk of land was visible in the distance, the Turkish island Gökçeada, known to Greeks as Imbros.
So we drove back up north to the port town (it took all of ten minutes), where there was indeed human life: a couple of cafes, a couple of tavernas, and a couple of grocery stores that also sold souvenirs were all open, despite the lack of traffic. We chose the busier of the two tavernas. "Do you have goat on the menu?" we asked. Goats goats everywhere, but not a morsel to eat. We settled on some classic Greek seafood dishes - calamari, octopus, fried gavros, fried potatoes, Greek salad, all washed down with a cold beer. There was nothing tiny about that meal: as the saying goes, when you realize there is nothing lacking in your life, the whole world will belong to you, no matter how small your own one is.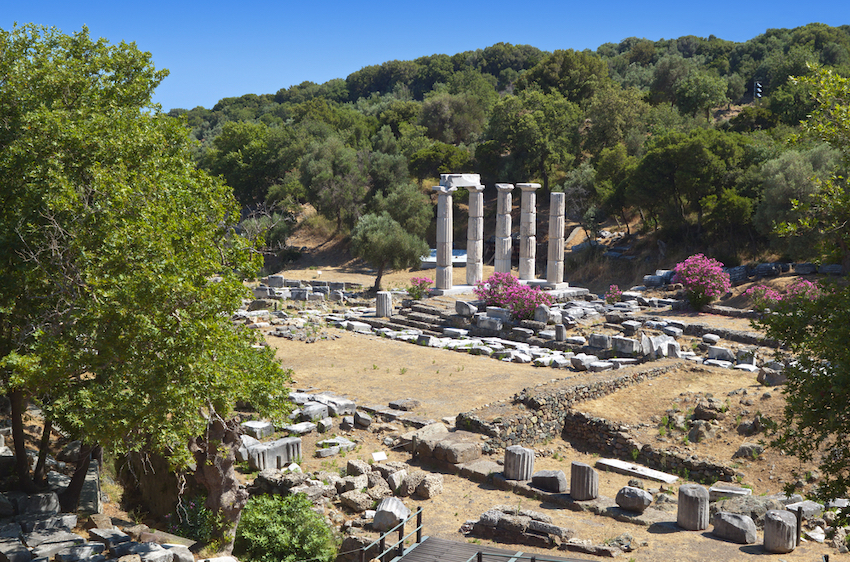 Temple of the Gods courtesy of depositphotos.com
The north coast of Samothraki is quite simply bedazzling. The blues of the sky and sea are brilliant, set against the browns of the sand and the leafless trees were had not quite started to become green. No wonder Samothraki is regarded as the best place to go camping in Greece. Festivals and concerts take place throughout the summer. As we drove along the coast, a sign indicating an ancient site caught my eye. Samothraki was never regarded as a significant place in ancient times, but the Sanctuary of the Gods was considered so mystically important that it was often visited by travelers (even Julius Caesar's son-in-law, apparently). We parked the car and walked over the rocky river to the entrance to the site. It wasnt open but the gate looked 'climbable'. The actual site is not visible from the gates - there are just rows and rows of ancient marble and stone finds at the entrance - but there were no cameras to be seen, so we risked it. What we saw was truly inspiring: a temple with a number of columns remaining upright, set high on a hilltop with the sea just visible from the forested landscape that surrounded it. It felt so perfect. And we were the only ones there at the time to admire it. What more could we have asked for than a peaceful moment for reflection at just how big the magnificent world we found ourselves felt then. As we left the site, we saw a copy of the statue of Nike of Samothrace outside the museum building (closed).
It was late afternoon, and although it was not dark, we did start to wonder if we would find a place to stay here. Our drive continued westwards where we came across the village of Therma. If we didn't find anyone here, we would have to turn back to Kmariotissa to ask for a room. We looked out for the tell-tale sign of covilisation: a smoking chimney, which was coming from what looked like a cafe or restaurant. We parked the car in a large plateia, and walked timidly to the cafe where an old man was sitting in one corner, a woman in another, and a couple of young men close to the door. Two wood fires were burning in the small seating area (the hot spring sun was now setting. There was much more seating space outdoors.
"Welcome," said the old man. "Who washed you up here?" We explained that we were looking for a room for the night. "You're in luck. Some fishermen just booked me out. You get the last one." Marino was an incredible conversationalist. He made us Greek coffee ("that's the only coffee I know"), while Marija (his assistant from Armenia) got the room ready. One of the wood fires was actually being used to warm up the radiators in the rooms behind the cafe, which explains why there were two of them. Marino proceeded to tell us his colourful life story: he was born and raised in this small island and before he had properly grown up, he left it to enter the bigger world. He moved to Athens where he met his Cretan wife (she comes to Samothraki only in summer), and when he was done with sailing around the world in the merchant navy ("I've been everywhere except where you're from" he said to me - I am from New Zealand), he came back home, built the rooms and cafe, and never left the island. He must have had this conversation with hundreds of curious people like ourselves, who want to hear about how and why one would - could - live in such a tiny place. Society makes us believe that to be happy, we must have a lot of things and do alot of things, but it does not teach us the happiness of not having or doing much at all.
"Any chance we can have a meal of goat tomorrow somewhere on the island?" I asked him. Night had descended, but we were mesmerised by Marino's smile, his casual approach to life and old age, and above all, his stories.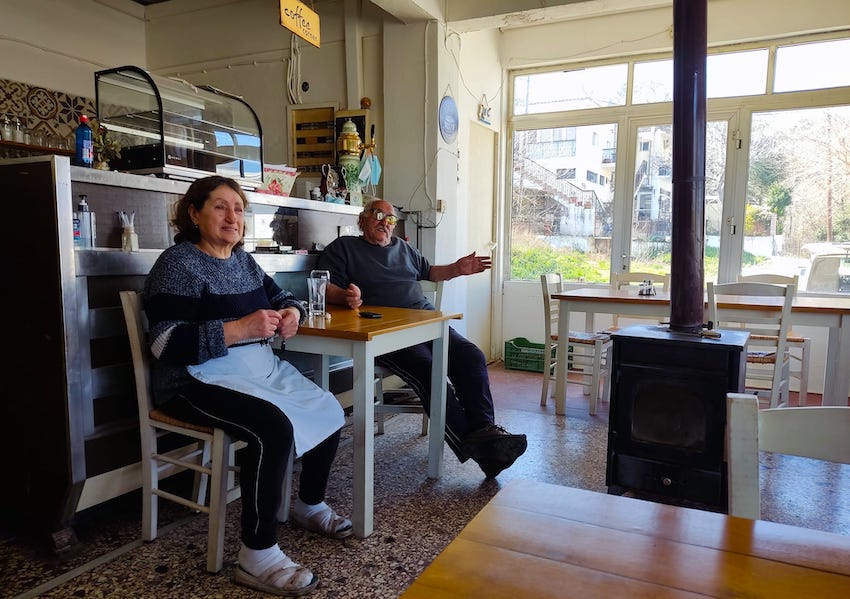 "Sure," he said. "What time do you want it to be ready?" Now I realised how those other restaurants on the island worked. They would all prepare the meal they were going to have, plus a bit more. If no one popped in, they would eat the meal themselves. If there were visitors - I couldnt bring myself to call ourselves tourists, as we were the only ones there - the meal would be specially prepared for them. We arranged for the meal to be ready at 1pm. "Marija, if the meal isnt ready by 5 to 1, you're fired," he joked. Marija laughed. She had been living on the island for 20 years already. The next day, after a fantastic night's sleep, we did river walks and caught a glimpse of the most fantastic warterfalls that we could ever imagine seeing in our life ("Dont get too close," Marino said, "you dont want to end up being ambassadors here." Some people who visited those trakcs took risks greater than their strengths allowed, and never returned to the bigger world they came from. At 1pm sharp, we returned to Marino's cafe and had the simplest meal of roast goat and potaotes, and a green salad. There cant have been more than 8 ingredients in those dishes altogether. - lettuce onion tomato goat potato olive oil salt and pepper You know you have reached perfection when you don't need to add anything, and if you try to remove something, that thing becomes imperfect.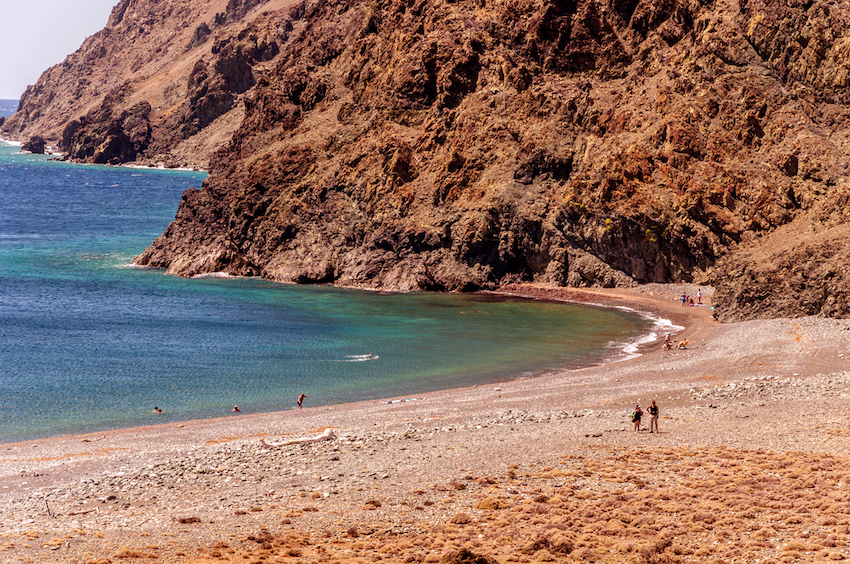 The time had come for us to depart. We had a boat to catch. How I wish I could have stayed on for longer. "Hang on," Marino said. "You didnt visit Kipos." We had seen the signs for Kipos Beach, but we ran out of time. For such a small place, our steps were not enough. Maybe we will end up returning one day to that tiny island of Samothraki, together with the summertime hippies, when there wont be any seating space free at Marino's cafe. Who was it that said that travel makes one modest; you see what a tiny place you occupy in the world.
Hotels on Samothrace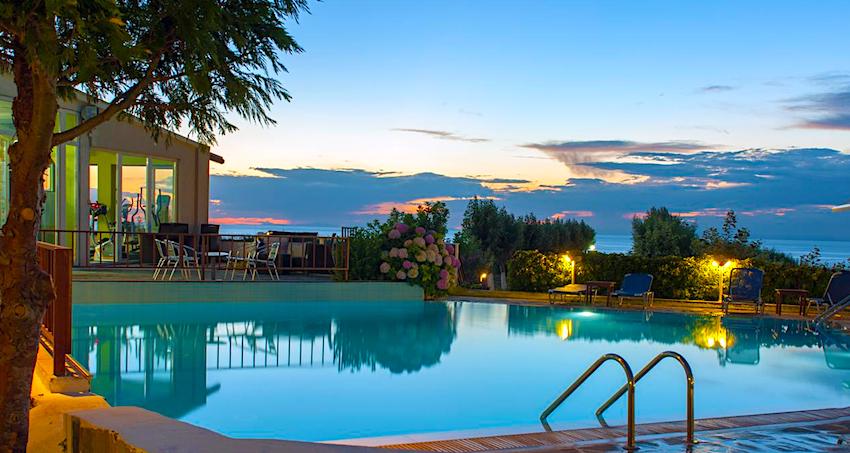 Samothraki Village Hotel
Those coming in the way off-season will find that many of these hotels will be closed. But if you search you will find a few open. In the area of Palaiopolis, Samothraki Village offers accommodation with free Wi-Fi, a swimming pool and separate children's pool overlooking the Thracian Sea and is open in the off-season. Good Vibes Apartments is located in Samothraki and is open all year. The apartment is located on the ground floor and has 1 bedroom, a flat-screen TV and a fully equipped kitchen that provides guests with a fridge, an oven, a washing machine and a stovetop. Towels and bed linen are provided. Featuring garden views, Villa Monte Kariotes provides year round accommodations with a seasonal outdoor swimming pool and a balcony, around 2.4 miles from Fonias Falls. This self-catered villa features a private pool, a garden and free private parking. The villa features 4 bedrooms, a fully equipped kitchen with a dishwasher and a fridge, and 2 bathrooms with a bath.
The port of Kamariotissa offers a number of hotels. Your best bet is the Nike Beach Hotel at the north edge of town—it has sea views, wheelchair access, and is within walking distance of the fun. Located at a hill above the pebbled Makrilies Beach, Eroessa - Samothraki Beach Apartments & Suites Hotel features a 100-m2 pool and a children's playground. The property offers modernly decorated accommodation with free Wi-Fi. Closer to Therma are the lovely Mariva Bungalows, sequestered a short walk from both the town and the sea in a grove of fruit trees, and a bit farther along the coast is the crisp new Archontissa Resort, located directly on the water and offering small apartments with cooking facilities. Budget minded visitors should be comfortable in Therma at the Orpheaus Hotel or the Studios Lakastania, or any of the many smaller domatia that can be easily found along the north shore. The truly budget conscious should check out the extensive campgrounds, which are patronized by people of all ages.
You an also find hotels in Samothrace on Booking.com's Samothraki Page with photos, guest reviews, maps and booking information. Also see Matt's Hotels of Greece Samothraki Page