by Marc Dubin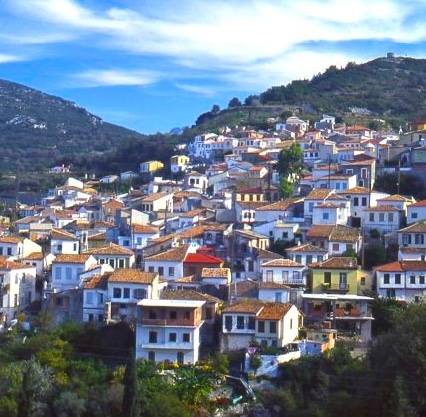 I fell for Samos on my second-ever trip to Greece, just before the advent of charter tourism and while the island was still merely a stage on the Hippie Trail to Asia. The freaks used to camp at Tzamadoú beach, when its spring still ran freely, their first or last stop in Europe before or after the boat to Turkey. That unbelievably turquoise sea made a counterpoint to hillsides shaggy with Calabrian and black pines. Some 30 villages with gaily painted wooden shutters and tile roofs peaked out of the greenery, linked by a network of cobbled trails across the lush stream valleys.
That beach is regimented now, most paths are bulldozed, and as in many spots around Greece the village houses are defaced with horrible flanged tiles or aluminium shutters and doors. The hippies have yielded to a relatively sedate tourism scene, and Samos got some extra bad PR in summer 2000 with a mammoth, week-long fire which burnt nearly half the forest.
But even after that big blaze, Samos remains one of the greener Aegean islands, thanks both to the climate (on the damp side – 80cm of rain in a good year) and the relatively rich soil; old-timers say it's the kind of place where any stick you put in the ground sprouts. On the southern slopes it's true that the terrain is still pretty lunar in spots – and there's been no systematic reafforestation – but on north-facing hillsides new trees are already the size of a child.
Given the scenery and colour spectrum painters have always flocked here, and some world-class artists are still resident full- or part-time. There's a fairly decent music scene too – old rebétika performers Odysseas Moskhonas and Kostas Roukounas were from here, as is still-active Manolis Pappos – and in winter there are plenty of musical ouzeris. Samos is at the tail-end of the migratory seafood trail southeast out of the Dardanelles, which means plenty of fishy things to eat – and the local ouzo runs a good second to Lesvos labels.
AROUND THE ISLAND – COUNTER-CLOCKWISE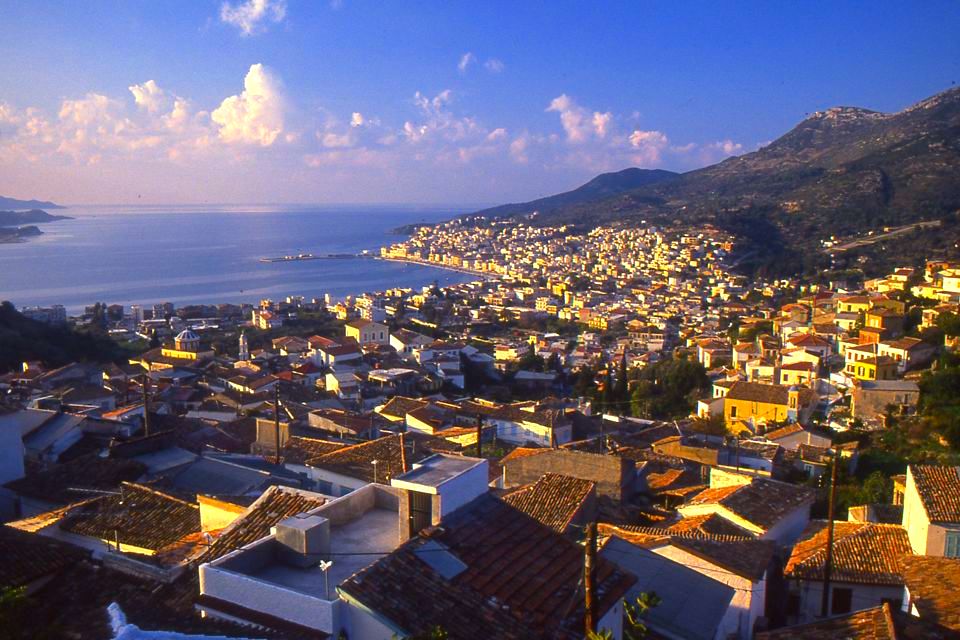 Vathy is very much the provincial capital and, lacking any beaches, an unlikely resort – most hotels which opened in the boom years have closed down or become apartments. One of King Otto's Bavarian architects advised the Samians in the 1840s to arrange their drainage in a grid plan, not radially to a single outfall which would be vulnerable to prevailing winds and currents. No prizes for guessing what the locals did – so when the wind is wrong the bay stinks. Some of the older neighbourhoods with their fine Neoclassical mansions clambering up the steep flanks of the bay remind me a bit of Syros, at a stretch. The 18th-century hillside suburb of Áno Vathy is worth the hike up for its dwindling number of old houses, and an excellent evening taverna next to the primary school – Iy Nostimies tis Ouranias. There's no real reason to stay unless you're on the morning boat to Turkey, but the one must is the Archeological Museum, with most of the finds from the Heraion archeological site spread over two wings: the small objects collection, with unbeatable Archaic art such as the famous griffin heads for adorning cauldrons, and the statue gallery, its star exhibit a huge kouros, the tallest ever unearthed, nearly complete with his Archaic smile. Have lunch (or even dinner) at Artemis (aka Kopanas) by the old jetty (most ferries have shifted across the bay) – very good seafood and mezedes, and where the locals eat after shopping
Kokkari is the first substantial spot west of Vathy, and the island's second busiest resort. Even though I don't think I'd ever stay here again, I have a sentimental attachment to it as the first place I ended up on Samos back in 1980 – in an old house overlooking the fishing-port bay, closed off by one of two mirror-image headlands. Despite changes in three decades since, it's still stereotypically postcard-perfect seen from the right angle, and has always been windy (a windsurf school off the west pebble beach takes full advantage). For a romantic meal out on the fishing port, newcomer Vasiliko's salads and thin crust pizzas can't be beat, though Tarsanas in a breezy lane back from the sea has been there since the 1970s, with time-warped prices, traditional pizzas, a magirefta of the day and bulk wine that's great or lousy depending on the year.
The west beach is too exposed unless you're a board-surfer – everyone else heads for Lemonakia and Tsamadoú, where headlands nicely break the swell on all but the most boisterous meltémi days. I prefer Tsamadoú because the pebbles are better-shaped, the snorkelling is rewarding, and there's an established naturist section to the right – also the island's biggest gay hangout – that catches late afternoon sun.
Tiny Avlakia, just around the corner, is built with its toes in the water and for me is the best spot for a waterside meal on the north coast. There are two tavernas: traditional To Delfini (aka Kyria Alexandra's), with big portions of fish and horta, and Doña Rosa, where an unlikely Dominicana-Greek duo serve up some of the most refined seafood and vegetarian platters around – though it's not cheap. At the far end of Avlakia a steep path leads down from a road curve to a secluded nudie cove, next to bigger, vehicle-access Tzaboú. Both are very scenic with clean water offshore, but I don't like the degree to which the Tzaboú snack bar controls all access to the beach (which by law is public from the winter tide-mark down) and locks the car park at dusk. Don't bother showing up in the meltémi – it's the most exposed beach on the island.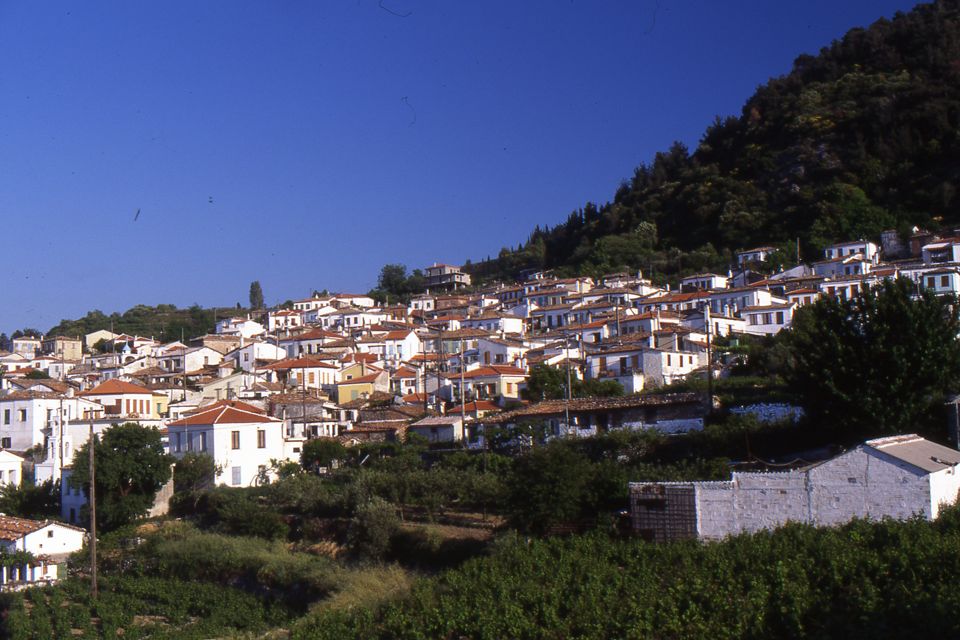 Just inland, the lush valleys around and below the popular villages of Vourliotes, Manolates and Ámbelos escaped major fire damage so walking there is still rewarding. After long neglect, the area's trail network has been minimally cleared and signed, so you can (for example) walk up from Kokkari to Vourliotes, continue to Manolates, then descend to Ágios Konstantínos and a bus back to base. Or leave a scooter in Vourliotes and do a 3-hour loop walk from there to Manolates, Aïdonia valley and back to Vourliotes.
These are "balcony" villages – the view north over the straits to Turkey on a clear day is unmissable. Vourliotes with vineyards all around was always the biggest and most important. Some years ago greedy restauranteurs in the central plateía convinced the municipality to cut down the two mulberry trees that gave such wonderful shade, just so they could squeeze in more tables, so I don't go there anymore. Instead I patronize Iy Pera Vrysi at the entrance to Vourliotes, right next the spring – one of the island's best. They're open much of the year, with decent robola wine (nothing to do with Kefallonia robola – this is a blend of red grapes) in bulk and an amazing range of mezédes.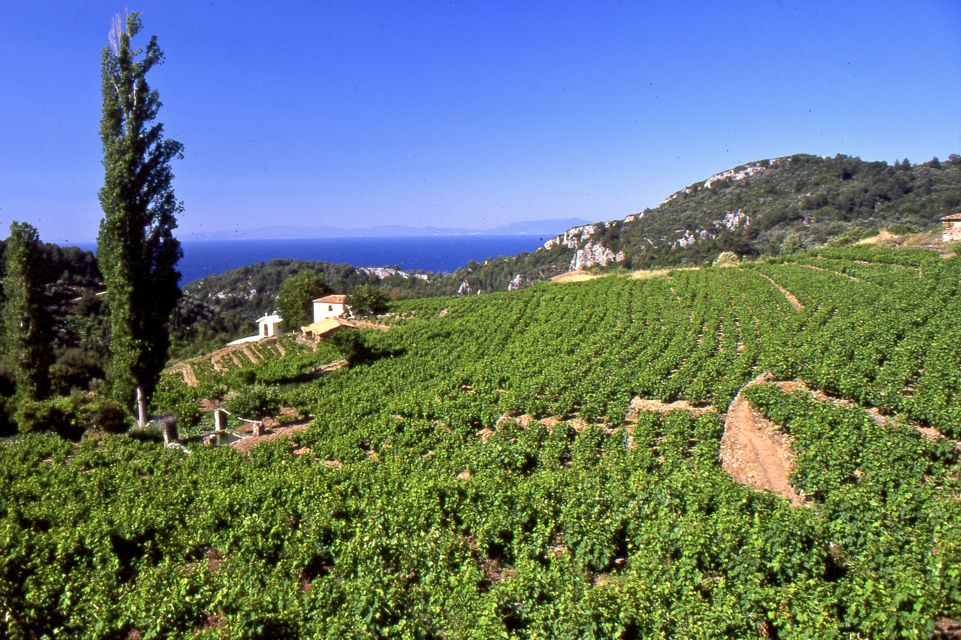 Manolates is a bit higher, more deep-country, and has the best apples in Samos if not Greece (including the Pílion). If you're there for the mid-October apple festival, buy as many as you can carry. There are unusually arty souvenirs for sale, including some excellent (and expensive) raku ware. Manolates has become the 'in' local place to eat the past couple of years; in what must be a Greek-island first, all three central tavernas are good, and two work low season. Kallisti is the cheapest and most down-home (it doubles as the kafeneío) and even on a winter weekend you'll wait for a table. Tria Alfa (aka Pandelis') just up the lane is more creative and expensive, popular with trendies, with excellent wine from Stavrinídes, the next village; tables outside are at a premium. Despina's, under the gazebo by the fountain up the hill, is somewhere in between but only works in summer.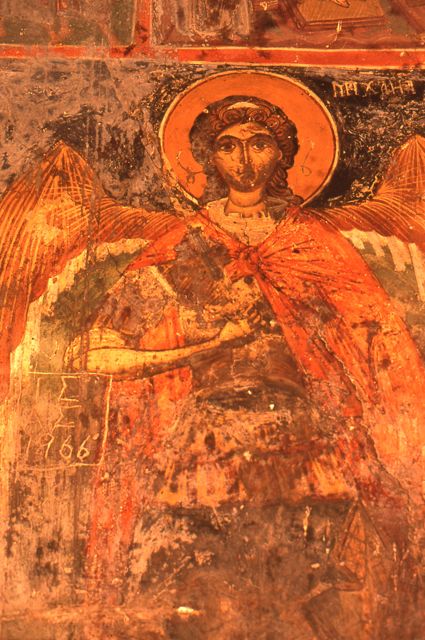 Ámbelos seems set to take a dive into the Aegean far below, that's how precipitous the setting is. It was pretty much the first hill village to attract foreigners, with some artists still in residence. It's also notorious as the epicentre of local Jehovah's Witnesses – for unknown reasons Samos has hundreds of them.
Back on the coast, below Manolates and Ámbelos, is Ágios Konstantínos, which most people like despite there being no real beach. The old honey-toned stone houses straggle along the coast road for some distance until the little fishing port and its notable restaurant: Aeolos, a galley-like spot with tables outside at the base of the breakwater. They do meat and maybe one dish of the day too, but fish is the thing here. In June and early July it's the best spot on the north coast to watch the sun set into the sea.
Heading west, some major, EU-funded engineering has straightened out the kinks in the old coastal corniche route before you pass the side road up to the tongue-twistingly named village of Kondakéïka with its fine ouzerí Arhondospito (all year) and, signposted a couple dirt track kilometres beyond, the church of Kímisis Theotokou at Petaloúda. Samos has lots of these but this has the best Byzantine frescoes, from the late twelfth century. Outside it looks unassuming, like country chapels I've seen in western Crete, but inside (always open) it's glorious. You'll probably have it to yourself except at the August 15 festival.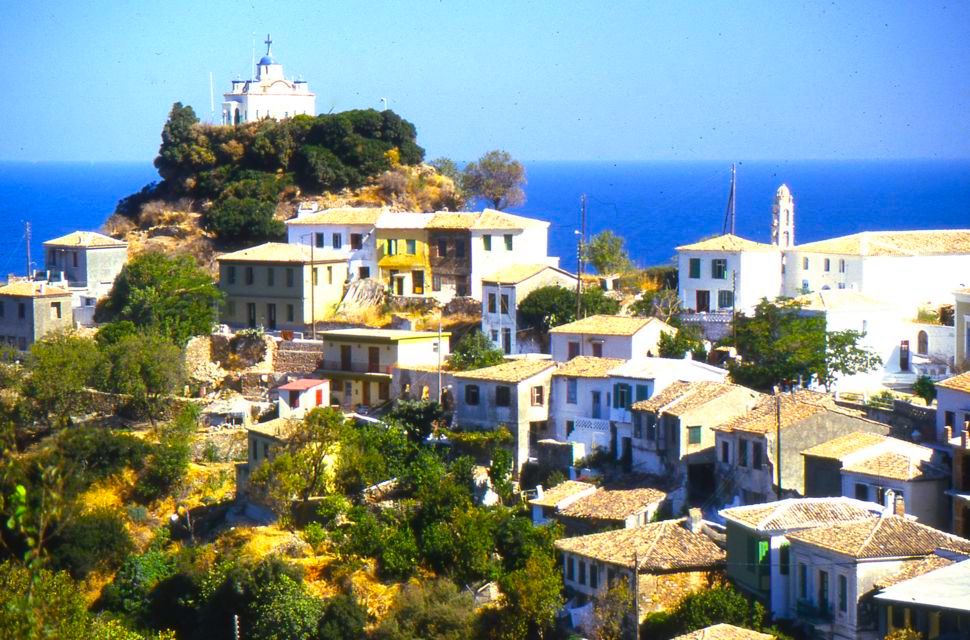 Return to the main highway and you're on the outskirts of Karlovassi, Samos' other north-coast port. It's actually marginally bigger than Vathy, and has the maths/computer science faculty of the University of the Aegean, but is still officially the second town. Karlovassi, unlike Vathy, sits on a plain and has room to spread out. There are some grand, mostly well kept mansions dotted around under palm trees, funded by the now-vanished leather industry based in the warehouses and tanneries of coastal Ríva neighbourhood – the industrial effluent into the sea was so acidic that careless swimmers could get all their hair burned off. The last tannery closed in 1972 but a very good museum of the industry (Mon–Fri 8.30am–2pm) has opened near the westerly river-mouth and all the vast buildings are still there, underutilized except for a few marble workshops and auto mechanics'. Communist poet Yiannis Ritsos was exiled here by the junta (his wife was a Karlovassian) and the street where he stayed is named for him. Central Karlovassi is pleasant and old-fashioned, with a big square and hillside houses overhead – but no real tavernas. Those are all in older Meséo Karlovassi, around the little plateia. Dionysos, for special occasions, has Athenian pretensions in cooking and wine list; Iy Plateia across the way is more everyday – proprietor Nikos is a character and offers good robola wine. But if you're visiting, you'll most probably end up in Limín Karlovassi, where all main-line ferries (and local services to Ikaría and Foúrni) dock. Most hotels are here, but no really recommendable spots for lunch before a late-afternoon boat out
On warm afternoons most of Karlovassi goes 4km west to Potami beach, not four-star but certainly convenient. The river of the name starts inland in a steep-sided canyon with Samos' oldest church, 10th-century Metamorfosis, a proper castle overhead – full of crocuses in October – and, a 100 yards' wade through chilly water, an impressive waterfall. It's no longer exactly secret, and has been equipped with an abseiling rope and a steep stair-path to get you to the top of the cascade. Mind where you step in the stream – some years there are little nippy fresh-water crabs, or even eels brought here by a sea-surge and then trapped.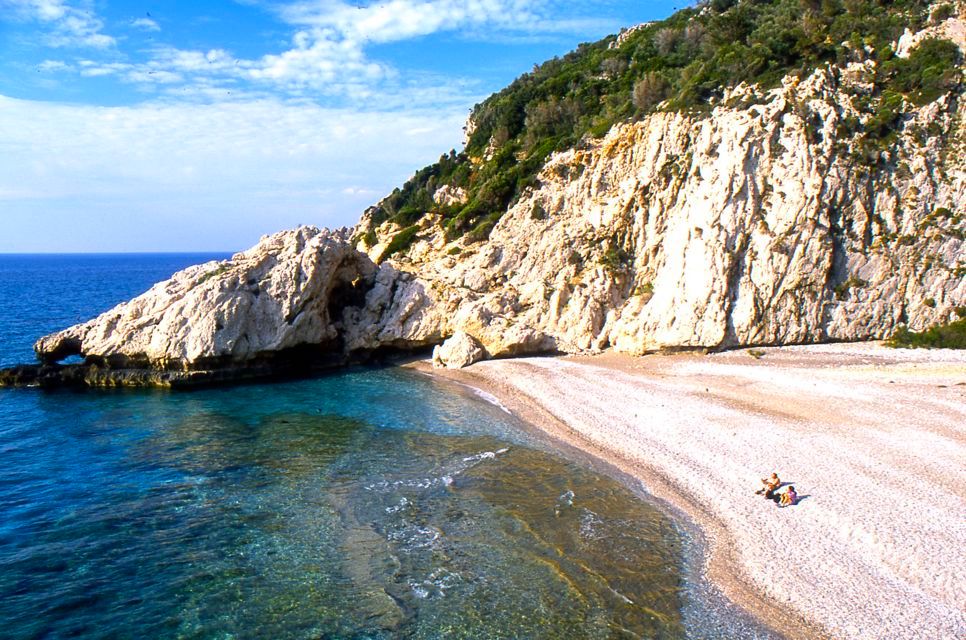 The best surviving walk on Samos is from Potami to Dhrakéï. If you've got a car or a scooter, drive west of Potami on the wide track for about 2km until you see the true trailhead – if the wood sign is down there's usually a cairn. In under half an hour you'll be at Mikro Seïtani, an idyllic little pebble cove with no dress code. If it's full up, keep on another half hour through the half-tended olive groves to giant, sandy Megalo Seïtani, at the mouth of the Kakopérato ravine, with Kerkís mountain soaring overhead. Again you should be able to skinny-dip except when the illegal cottages at the far end of the bay are occupied. They're illegal because the entire coast here is a protected reserve for the sake of the handful of Mediterranean monk seals who still live nearby. One drizzly May afternoon not long ago I was lucky to spot two young ones swimming along the coast between Megalo and Mikro. I didn't have my camera on me and by the time my ladyfriend fished hers out they didn't show up too well from high up on the path where we were, so you'll have to believe me. Beyond Seïtani the trail climbs manageably to Dhrakéï, an absolutely back-of-beyond village looking across to Ikaría. There are several vociferously competing snack bar/tavernas here to have lunch at before starting back to Potami (and probably another swim en route).
If you drive south from Karlovassi instead of west you'll pass below Platanos, famous for its name-checking in the folk song that's the island's real "national anthem" (never mind "Samiotissa"):
As iha nero ap'to Platano
Keh krasi ap'tin Kolona/
If only I had water from Platanos,
And wine from Column (ie the Heraion)…
The water, maybe the best on Samos, gushes in abundance from a cave-alcove on the little square with its huge plane trees. As with other places in Greece with much-praised springs, a legend says that if you drink you'll be guaranteed to return here.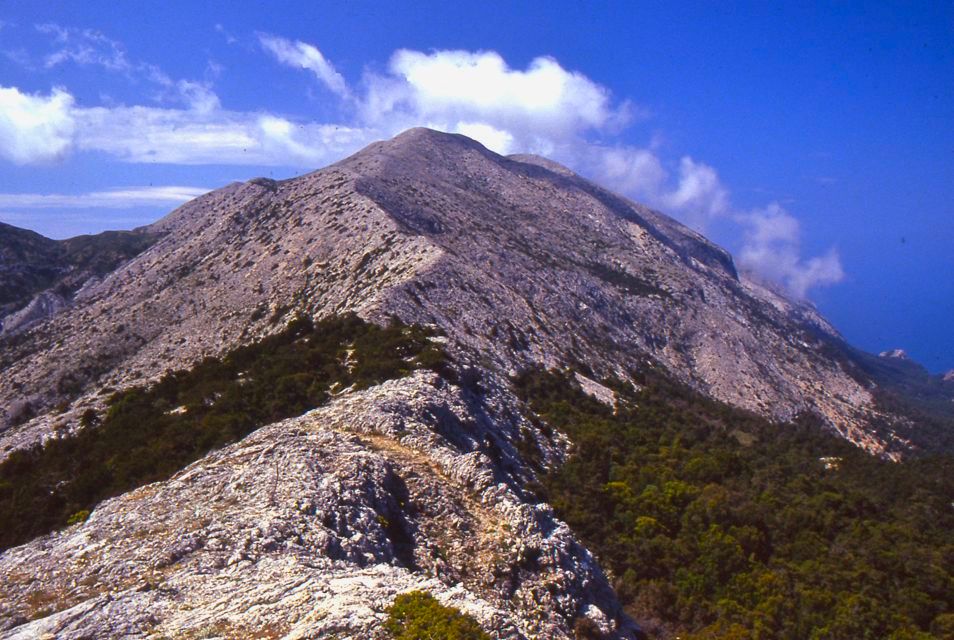 Near Plátanos, there's a fork in the road system; dropping southwest takes you to Órmos Marathákambos, the third of Samos' four ports. It's a dozy place with lots of accommodation and wooden boats being built on the shore, though potentially less dozy now that a yacht marina has been dredged. But most people are staying a bit west at Votsalakia, a long straggly resort with a long straggly beach and all the usual amenities. The best thing to do here is climb Mt Kerkís, which you can't miss. The classic route goes via the convent of Evangelistrías, just beyond where the farm track ends the proper path begins. Don't try it in high summer – you'll be baked on the south-facing slopes – though there is a spring near the top and a small hut for emergency shelter. Just below the summit occurred one of old Olympic Air's worst disasters – on August 3, 1989 a flight from Thessaloniki clipped the ridge in heavy mist and disintegrated with the loss of all on board. They say you can still spot bits of wreckage and scattered luggage but I've been twice since and never noticed any. The gnarlier route up starts from above Kallithéa village, clockwise around the mountain, but it's less obvious – get local instructions.
Beyond Votsalakia is what has to be, in a way, Samos' most ridiculous beach – Psilí Ámmos (West). Wade out 300 yards and you'll still be only knee-deep. Great for kids, very sandy, very scenic. Just to the east, at the end of Votsalakia, is more normally shelving Fournaki with its pebbles always stacked artistically by beachcombers. Overhead is one of the best magirefta tavernas on the island, Loukoullos – better in the evening when all the dishes are finished. They only tend to open June to early September, as both proprietors are normally lawyers in Vathy.
From the main loop road contouring southeast beyond Platanos, various turnoffs drop to the coast. The best is for Ballos, a long pebble beach ending in a sandier cove with caves in back to shelter in: one of the quietest corners of Samos. On the way back up, have a coffee on the square of Kouméïka, with the most beautiful carved-marble fountain on the island. Back on the loop road, there are some honey-and-herb stalls; I like Farm Store, just before Koútsi oasis – I've been assured he doesn't adulterate his honey.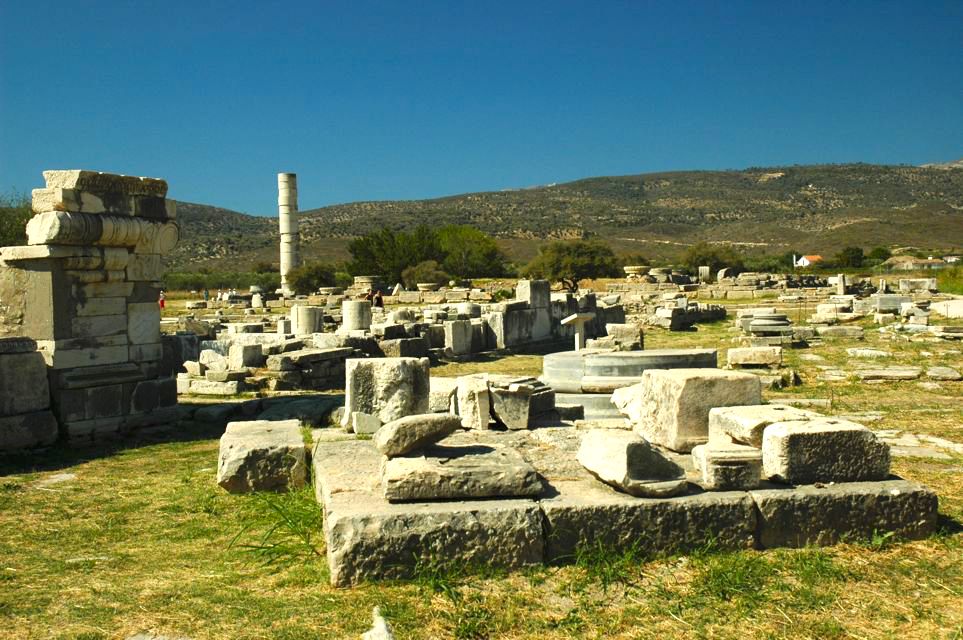 From the "pottery village" of Koumaradéï, with lots of typical, self-emptying koúpes tou Pythagora (Pythagora cups) on sale, there's an eyeful of the great sweep of bay fringing Pythagorio, the airport runway, and the Heraion, Samos' ancient Hera sanctuary – though there ain't much left standing, just a single column that medieval masonry thieves kept intact as a navigation aid. Still, the precinct – especially the exposed Sacred Way pavement – is impressive. Modern Iréon village just next door, with a direct road down from Koumaradéï, started out as a fishermen's hamlet – you can still see their original wonky cottages on the water's edge – but is now a busy, friendly if rather non-descript grid-plan resort which because it faces east is a prime place to watch moonrise over the sea – summer nights around the full moon, you won't get a taverna table for love or money. My favourite spot, especially for lunch straight off the plane, is O Glaros, with just a faded sign out. The family is from Agathonísi, just on the horizon, and Mama cooks up a storm. The food's cheap and very abundant – go hungry. For something a bit more elegant and pricey, try seafood-strong Cohyli just up the road and a block inland – Christina speaks perfect English (after years in London) and does delicate things with her brother's catch of the day.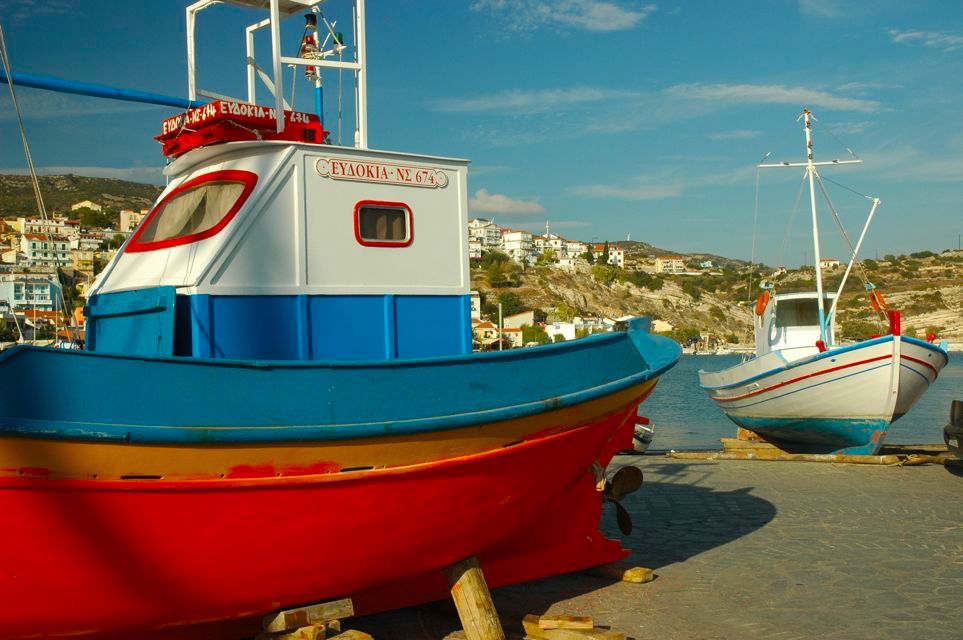 Pythagorio, across the fertile plain around the airport, was the first Samian resort to be developed. It covers the ancient city built by the Archaic tyrant Polykrates – archeological bits poke up here and there, including a Byzantine basilica by the castle (really a 19th-century fortified manor). The harbour is still as good as it was in years BC, full of excursion kaïkia and (though most have been banished to a purpose-built marina around the corner) a few yachts. If you're coming from the northern Dodecanese by hydrofoil or the milk-run ferry Nisos Kalymnos, this is where you'll dock. Accommodation touts meet all arrivals and you may as well follow them to see what they have – often remarkably cheap (if basic). The inner quay is solid with café bars and not much else; most restaurants are tucked away inland. The inner quay is solid with café bars and not much else, though if you head clockwise (northeast) around the bay you'll find a small cluster of acceptable restaurants above a coarse-pebble beach, currently Remataki being the best there.
Pythagorio has its very own, accomplished resident rebétika musician, Ioannis Loulourgas. In summer he's got a souvenir and musical-instrument shop in the backstreets where you can buy some of his own produced CDs (the rebetika ones, not the 'tourist soundtrack' ones).
Pythagorio has an archeological museum nearly as good as Vathy's. Although completed at great expense (and its exhibits prepared) in 2005, owing to one of those great Greek politico-bureaucratic mysteries, it only opened in early 2010. Along with the usual pottery from all eras and grave finds, there's a monumental statue of Emperor Trajan on the top floor, and a hoard of 300 Byzantine gold coins found in a brass jug by a Dutch archeologist in 1983 at a remote nearby bay.
Be sure to visit the newly restored Eupalinian Aqueduct, designed in the 6th century BC by the great architect and civil engineer Eupalinos of Megara, near the modern-day town of Pythagorion. Described by the ancient Greek historian Herodotus as the 8th wonder of the ancient world the aqueduct is no doubt one of the finest achievements of ancient civil engineering.
In the hillside above town is the Efpalínio Órygma, a 1036-metre aqueduct built during Polykrates' time to supply the city with water. Not for the claustrophobic, and you're only allowed about 150 meters along the rock-hewn catwalk that perches high above the actual channel, but it's a superb feat of ancient engineering.
Heading back to Vathy, detour east to the Straits of Mykale, about 1400m wide, one of the narrowest distances between a Greek island and Turkey, which here means hulking Mt Mykale. There's a prominent Turkish islet in the middle, with a lighthouse on it, plus a salt marsh just inland where from December to April there used to be as many as 250 flamingoes resident here, though since 2010 there have been hardly any – birder friends have assured me their flight-path has been diverted to the marshes of the Amvrakikós Gulf in western Greece. Aroundthe corner is sandy Psilí Ámmos (East) cove, with good swimming. I like Psilí Ámmos taverna, on the right, which has good seafood and a long season (including winter weekends).
A TRIP TO TURKEY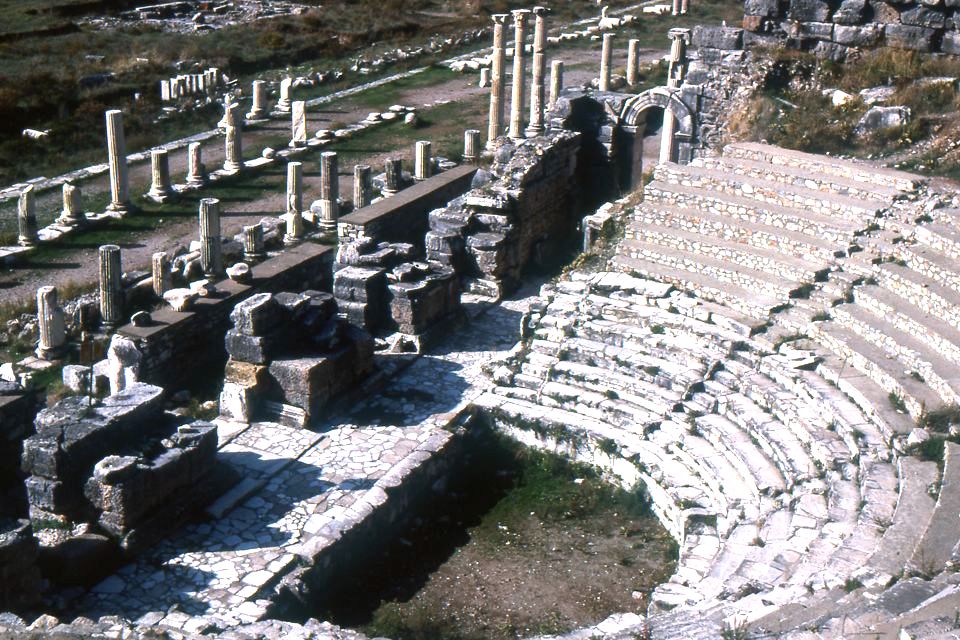 Speaking of Turkey, hopping over (primarily) to visit the sprawling ruins of Ephesus is the most popular day-trip from Samos (after going to Patmos, that is).
In peak season there are two departures daily from either Vathy or Pythagório to the Turkish port of Kusadasi, at about 8.30am and 4.45pm (though the latter means overnighting in Turkey plus mandatory visa purchase, online in advance only). Boats run reliably from just after Easter until about October 25. The journey takes 90 minutes each way, assuming calm seas; in shoulder season, if you put a group together and bargain hard, you can get fares of 35–40 euros round trip (plus 10 euros baksheesh aka 'port tax', collected at the passenger terminal at Kusadasi) – in peak season this can easily exceed 50 euros. Currently the Greek boat is cheaper than the Turkish one.
Kusadasi (Bird Island) is a brash funfair of a resort that keeps reinventing itself to appeal to the tackier end of the mass tourist market. ("Kusadasi is for the Birds" has always been my favourite promo slogan to recommend to the Turkish tourism board. Well, on second thought, maybe not…). Years ago it was Irish come to drink in the self-billed "Bar Lane", now it seems to be Bulgarians and Romanians after shoddy carpets and cheap leather jackets. The hustle starts directly you step out of the massive duty free mall on the quay into a gaggle of taxi drivers ("Hello my friend, where you going…"). If you don't arrive on a tour, you may well find yourself dealing with them to get the maximum out of a short (5-hour-ish) stay in Turkey.
Besides a stop at the taxi-driver's cousin's shoddy carpet farm or cheap leather jacket shop, ancient Ephesus will obviously be tops on your list. It's a vast site needing at least 2.5 hours to see properly; highlights are the façade of the Celsus library, the so-called 'terrace houses' (if they've re-opened) with their fine floor mosaics, the Hadrian shrine, the theatre (still used for spring culture festivals), and what's titillatingly indicated as a Roman ho'house, complete with footprint-petroglyph as a hieroglypic for those in the know. The fact that the Austrian excavators have treated the place more as a civil engineering project than an archeological dig detracts only slightly from the experience.
If you've time for lunch in Kusadasi before the boat back, check out either Avlu, 1 block inland on Cephane Sokak 15, or its near-neighbour Öz Urfa at no. 9, two locally patronized tavernas with honest stews and grills (though beer only at the second establishment).
A TRIP TO FOURNI
When I need an antidote to Samos, nearby, laid-back Fourni is perfect. It's tricky as a day-trip – hydrofoils from Pythagorio that once made it possible haven't called in recent years – but just a quick afteroon journey from Karlovassi. Fourni is all of one, surprisingly large harbour town with a mulberry-shaded, flagstone-paved agora street and a garland of tiny beaches around the arid island's perimeter, mostly in the south half – my picks are Áspa and Kasídi, both sandy rather than pebbly and both naturist. There are plenty of places to stay in town, but waterfront tavernas have declined in value – eat inland along the agora, at either Koutouki tou Psarrakou or Kali Kardia.
Marc Dubin first visited Greece in 1978, fell in love with it, and returned almost yearly until he began living much of the time on Samos in 1989. He has written for numerous travel publishers – notably Rough Guides and Insight Guides – and on a variety of topics ranging from renovating old Greek houses and Greek cuisine to back-country trekking and Greek music. Marc has also compiled two CDs for World Music Network, Rough Guide to Rebetika and Rough Guide to Greek Café. He is an accomplished photographer and most of the pictures accompanying the articles on greecetravel.com are his. (You can click on his photos above to see them full size.) To contact Marc with offers of writing jobs or praise you can e-mail him through matt@greecetravel.com
Practical Information for Samos

GETTING TO AND AROUND SÁMOS
Samos is still a local sea-transport hub, though less important than before; besides at least 3 weekly services from Piraeus, Ikaría, Foúrni and Syros, the local Nissos Kalymnos ferry goes to and from the Dodecanese; there is talk of the Dodekanisos Pride or Dodekanisos Express catamaran extending its run from Pátmos to Sámos in summer 2014, to replace the vanished hydrofoils, but we have heard this talk since 2012 with nothing to show for it. There are also 2 to 3 weekly ágones grammés boats calling from northern Greece, usually Kavála, via intermediate islands. There are several daily flights from Athens, though rarely enough seats in summer when prices rocket. A notionally useful air route on Sky Express, with subsidized prices, also links Samos with Rhodes, Híos and Lésvos two days weekly, but it's not very practical for holiday-makers – there is effectively NO carry-on allowance (a purse or a laptop at most) and a strictly enforced 15-kilo limit for checked luggage, versus 20 to 23 for 'real' airlines plus a proper carry-on. We live in hope of a new tender of the route to someone better, possibly by 2015.
Once on the island, there are swarms of scooters and cars to rent (the latter on the pricey side unless pre-reserved), and usually enough taxis to go around. If you fly in, it's more cost-effective to pick up a car from the get-go at the airport – a return taxi-trip to Kokkari (one of the main resorts) will set you back almost the same as two days' rental.
For those who plan to combine Samos with other islands and Athens your best bet would be to work with one of the travel agencies in Athens who book hotels and ferries and can keep your plans intact. Agencies that work with Samos may not even mention it on their websites but you can still contact them and they will be happy to book it for you after first trying to convince you to go to Mykonos or Santorini instead. See www.athensguide.com/agency.html

Use Ferryhopper to find all direct and indirect ferry routes for the islands of Greece, Spain, Italy & Turkey, compare ferry companies & prices, and book cheap ferry tickets with no hidden fees in one go!
HOTELS IN SAMOS
Below are a few hotels in Samos with links for more information and booking. You can also use Booking.com's Samos Hotel Search to find exactly what you want.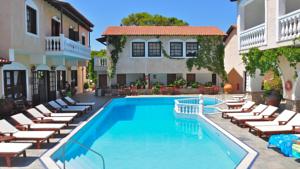 Located in the Kalami area of Samos Town, Ino Village Hotel is considered the best hotel for the money on Samos and offers a swimming pool and restaurant, only 450 metres from the famous Gangou Beach. It features elegant, air-conditioned rooms with balcony. The stylish rooms at the Ino Village feature calming colours and provide guests with minibar, hairdryer, and free Mastic Spa toiletries. Some rooms have sea or pool view. The bar is open all day and serves coffee and light lunches. Elea restaurant serves traditional and contemporary Greek specialties on the vine-covered veranda with views over Samos Town Bay. Guests can relax in the courtyard that features high quality teak sun loungers. Free Wi-Fi access is possible in communal areas. Samos Port with shops, traditional Greek taverns and bars is 900 metres away. Staff can arrange car rental and free private parking is offered on site. For Information, Photos and Booking this Hotel Click Here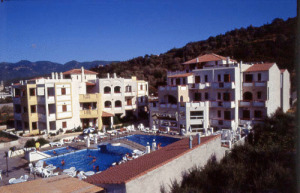 Located between sea and mountain in the town of Karlovassi, the Hotel Anema by-the-Sea offers a relaxing and pleasurable atmosphere all year round. They are a family owned and operated small enterprise dedicated to providing friendly & comfortable accomodations. Owned by two Greek-Canadians, Diamantis Foustanellas and his Ottawa-born wife Toula the studios and apartments are quaintly furnished retaining the island style while the kitchenette is equipped with cookware suitable for light meals. For Information, Photos and Booking this Hotel Click Here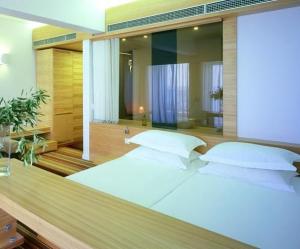 Situated in the southern part of Samos, next to the popular historical destination of Pythagorion, this superb 5-star resort offers a breathtaking view of the Aegean Sea. Doryssa Seaside Resort lies on a long sandy beach that is protected from the wind. A magnificent setting is the result of unique architecture. Environmentally friendly materials, energy saving policies and upholstery made of pure linen create a clean and refreshing ambience for your stay. Special materials have been used in all the rooms in Doryssa Seaside Resort to make your stay as comfortable as possible. For Information, Photos and Booking this Hotel Click Here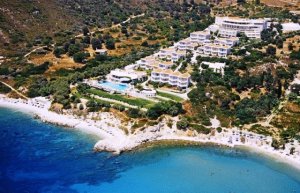 The 40.000 square metres complex that is Proteas Bay Resort Hotel, overlooking a sheltered cove with two naturally secluded beaches, is located in Pythagorion. The luxurious Proteas Bay Hotel boasts accommodations looking out to the sea. Each unit, combining traditional style with contemporary design, offers air-conditioned rooms with king-size beds. Proteas Bay Hotel offers a wide range of deluxe services and facilities including a pool complex and complimentary shuttle service. For Information, Photos and Booking this Hotel Click Here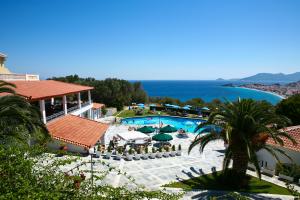 Located on the North Coast of Samos, near the village of Kokkari, the 4-star Arion Hotel is surrounded by a broad expanse of green lawn. The traditional-style, fully-air conditioned rooms are spread throughout one main building and a complex of bungalows. The comfortable rooms are equipped with all modern amenities, including large verandas overlooking the sea. It is only 600 metres from the 2 most popular beaches of Samos Island, Tsamadou and Lemonakia. The sparkling waters are ideal for all kinds of sports. The restaurant specialises in Greek cuisine with daily international dishes. Once a week in June, July and August, our Greek evenings are always popular, with a sumptuous buffet, Greek music and folk dancing. For Information, Photos and Booking this Hotel Click Here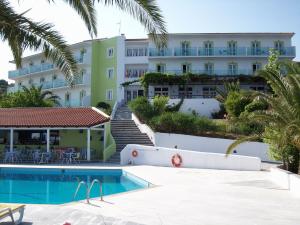 The 3-star Princessa Hotel is situated in about 2 kms distance from Pythagorion, 5 kms from the airport and 80 m from the sea, in Samos. The recently renovated Princessa Hotel is built in local traditional style and disposes of 63 comfortable and tastefully furnished rooms, all with panoramic view of the sea and the mountains of the Turkish Coast. All rooms are equipped with internet connection, satellite TV, air condition, refrigerator, balcony and bathroom. Princessa features a swimming pool with pool bar and a children's pool, a restaurant and a terrace dining room with great views, a private beach and a TV room. The hotel provides frequent bus service to Pythagorion, 5 times a day, 7 days a week. For Information, Photos and Booking this Hotel Click Here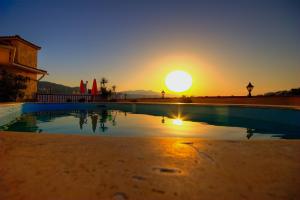 With a charming rooftop terrace offering stunning views of Samos Bay, the 3-star Virginia Hotel provides clean and comfortable accommodation with free wireless internet and complimentary buffet breakfast. Virginia Hotel is situated in Samos Town, overlooking the bay. Each of the rooms is kept spotlessly clean and offers modern en suite bathroom facilities and a private balcony. Check your email using free wireless internet access. Start the day with a tasty complimentary buffet breakfast. Read a book or drink coffee in Virginia Hotel's garden. Relax on the rooftop terrace and enjoy magnificent panoramic views of Samos Bay. Cool down in the pool and enjoy the views of the sea and the mountains. In the evening, relax in Virginia Hotel's bar and catch up with the sports on the plasma TV. Taste traditional home-made Greek cuisine and enjoy the occasional evening of live Greek music, performed by local musicians. For Information, Photos and Booking this Hotel Click Here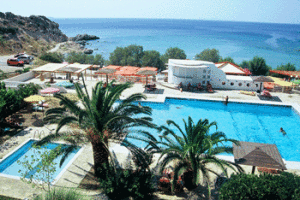 Within 3 km of Pythagorion town in Samos, the quiet, family-run 3-star Hotel Glicorisa Beach is 10 km from the airport and 15 minutes from the main port town of Samos. Established in 1980 and renovated in 2001, the hotel is built amphitheatrically on a hill, overlooking the Turkish coasts and the natural Glicorisa Bay. There is a private beach right next to the pine trees. On the restaurant's large veranda, the family and staff serve your breakfast or dinner as a buffet that covers all tastes. The beach bar serves all kinds of drinks, beverages, ice creams and snacks. In the hotel lounge, you can also find the old fashioned Greek bar with its local wood decoration. For Information, Photos and Booking this Hotel Click Here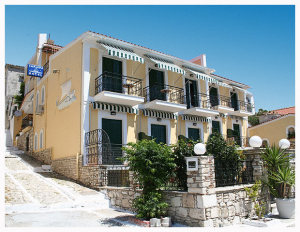 Situated in a quiet area of the lively coastal village of Pythagorion, the 2-star Samaina Hotel is a charming building constructed in traditional Greek architecture, surrounded by a lovely rose garden. The 21 rooms of the hotel have either a balcony or a roof terrace with a view, with most rooms enjoying sea view. Each room features bathroom with shower, refrigerator, ceiling fan or air condition. Samaina Hotel offers tour desk and car rental services and may facilitate in any need for recommendation or advice about Pythagorion or the surrounding areas. For Information, Photos and Booking this Hotel Click Here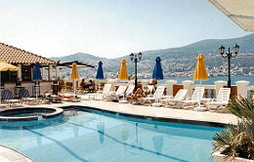 Samos Hotel is a C' class(2-star) hotel situated at the sea side road of Samos town. It is one of the most famous hotels of the island and offers the perfect choice for vacations for those who want to combine the traditional way and the comforts and services of one of the most modern hotels. Perfect cleanness, family atmosphere and the service from our trained personnel are some of the things you will experience staying at Samos Hotel. The Samos Hotel is about 800 meters from the beach of Gaggou, 17 Km far from the airport and just 100 meters from the shopping center of city. The Samos hotel also has an excellent taverna that serves a variety of traditional Greek food. The hotel is open throughout the year and has central heating and Air Conditioning. It has 105 rooms all with, Private bathroom, Balcony, Satellite T.V., Refrigerator, Air Conditioning and Telephone. For Information, Photos and Booking this Hotel Click Here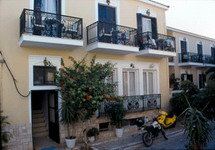 The Labito Hotel is a C-Catagory(2-star) in the beautiful seaside village of Pythagorion on the green island of Samos, in the Northeastern Aegean Sea. Surrounded by spectacular scenery including mountains and sandy beaches with emerald green waters, HOTEL LABITO awaits you. This neoclassic Hotel has built 1988 in the of Pythagorion, only 50 m. from Polycrate's castle and 20 m. from a picturesque sandy beach. It can accommodate 138 people in 69 double-bed, comfortable, air-conditioned rooms with W.C., telephone, radio and nice view from the balcony. It its wonderfully designed courtyard you can relax over a cold drink from the Hotel's handy bar. Each morning they prepare a buffet for breakfast. Fresh coffee or tea, fresh fruits or vegetables, fresh bread, yoghurt, honey, corn flakes, jam and butter, juices, eggs, ham and cheese, or whatever they find early in the morning in the town market. Labito Hotel is a family run business, managed by the Lykos brothers. Their accountability and professionalism, make this the first choice for those who want to have their vacation in Samos. They take good care of their guests and are happy to see them come back again and again for their vacation. It is their wish that all their guests spend unforgettable vacation and feel that they treat them as family. For Information, Photos and Booking this Hotel Click Here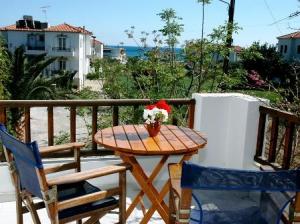 Korali Apartments are located only a 3-minute walk from the beach at Ormos, a very pretty and peaceful traditional fishing village on the south-west coast of Samos. At Korali, guests enjoy the independence and privacy offered by a fully equipped kitchen for self catering. Shops and mini-markets are very close by, but far enough to ensure peace and quiet. Relax on the balcony with beautiful views of the Aegean Sea. Take a short walk to the harbor, which is full of picturesque old and new fishing boats. An evening walk can be especially pleasant. Go for a a stroll in the garden. Continue into Ormos for charming restaurants. For Information, Photos and Booking this Hotel Click Here
For more hotels visit Hotels of Greece or Matt Barrett's Booking.com Samos Page
For more on Samos see Toula Foustanalla's Introduction to Samos