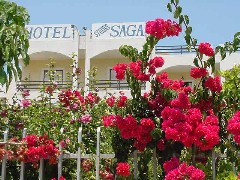 From the moment I walked into the lobby of the Saga Hotel in Poros I knew I was going to be treated well. Not because I was there as a guest of Mike Constantinou the travel agent owner of Greece Accommodations Direct, but because it was obvious that Takis Alexopoulos is the kind of hotel owner who treats his customers as guests and friends. The first thing he did is offer an introductory ouzo in the traditional welcome of the monasteries of Greece and though I was planning on taking it easy for my one night in Poros, I gave in to temptation and the fear that to not accept might be perceived as an insult. Who was it who said "I never trust a man who won't have a drink with me"? Maybe Mike had told him that I was a connoisseur of the finest ouzos in Greece and then to not drink would be an even worse insult since it is common knowledge that I welcome any excuse to drink an ouzo or two, though generally not before sunset (except on weekends of course). But the ouzo gave me a warm feeling about the place and about Takis, and this feeling stayed with me for the length of my stay at the Saga hotel.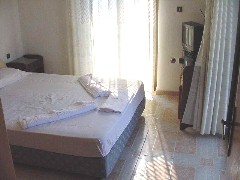 After introductions were made Takis took us up to show us our room, or rooms. We found he had given us a suite of two rooms, one a bedroom and the other a living room with a couch that folds out into a bed, a full kitchen and a balcony with a view of the harbor of Poros and the old destroyer which now serves as a naval museum. Our plan had been simple. After leaving Athens on Friday afternoon we were going to spend one night in Poros with our friend Mike, and then go to Hydra for a couple nights before picking up our rental car in Porto-Heli and driving around the Peloponessos. But as soon as Andrea saw the room she announced that she was not leaving it until Monday. We had Mike cancel our reservations in Hydra and I called Swift Rent-a-car and arranged to have them deliver the car by ferry to Poros instead of Porto-Heli.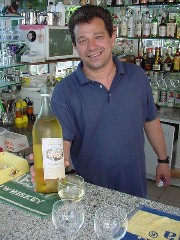 When we called Mike a few days before,to book us a room in Poros our needs were simple. We wanted Air-conditioning for the heat-wave or kafsona which was supposedly on it's way, (though we did not feel it's full effects until we were in the southern Peloponessos). We also required a swimming pool for our daughter Amarandi, who feels more comfortable swimming in a chemical bath then she does in the healthy Aegean sea for reasons known only to children. The Saga had both and with Andrea happily napping in the air-conditioned suite and Amarandi joyfully swimming with the English-speaking children of the other guests I was free to sit at the bar with Mike and Takis to experience some of the other assets of the hotel which were not listed in the brochure. First Takis poured each of us a glass of cold white wine which was excellent. Then he poured a glass of rose, just as good, and I realized that any hopes of staying sober that night were pretty much dashed. They were both made from his own grapes and bottled under the name of Villa Zefi, the name of his wife and his farm across from Poros on the Peloponessos.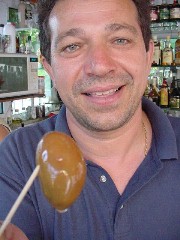 The wine is organic, he mentioned to us,as are the vegetables and the citrus blossom honey he serves at breakfast which come from his own bees and orange and lemon trees. Even Andrea, who has a much more refined taste in wine then I do (I can drink anything once I make it past the first glass), pronounced both the rose and the white wines as perfect and we sat at the bar talking to Takis about the island, his farm, and his family, the three passions of his life.

Takis reached under the bar and pulled out a container of olives, the biggest I had ever seen. They were like eating a potato. You could not eat it in one bite. These were also from his farm and were he to submit them to Guiness he might have the world's record. But even if they were not the world's largest they tasted great which is all you can ask for in an olive though if you prefer them in your martini you may find yourself drinking more glasses than usual since they displace a lot of liquid.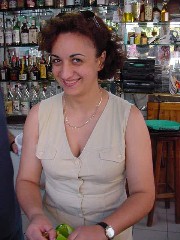 In the meantime his beautiful wife Zefi had joined us. Like Takis she spoke English very well and she told us about the hotel and the guests who return year after year. In fact 70% of the guests are returnees who come every summer for their holidays. While this number is amazingly high it is not out of line with the rest of the island. It seems that Poros is one of those places in Greece where visitors decide they like it and come back year after year. Why not? Nice beaches. Lots of trees, forests, interesting plants and lush gardens, five minutes from the Peloponessos and an hour from Athens. And once you make friends with the locals and fellow visitors, then coming back is like coming home. In testimony an old German couple sitting at the next table told me they had been staying at the hotel every summer for years and just this year had bought their own house down the street. But they still come to the Saga Hotel restaurant for meals and the bar for a beer almost every day.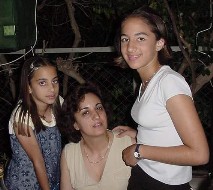 After Amarandi and I went for a walk to take pictures of the fishing boats and the sea at sunset. We returned to find a giant table set for a feast. Takis had ordered fresh fish from the market and was throwing a dinner party where we met his two beautiful daughters Yota and Dimitra, plus several hotel guests and Takis parents. His mother was the owner of a local travel agency and another hotel and his father was the village priest, dressed in long black robes, with a long gray beard and hair tied in a pony-tail. We laughed, talked and drank through the night listening to old rembetika music. Somewhere along the line I thanked them for their amazing hospitality and went to sleep in my air-conditioned room.

For the next two days Takis showed us the entire island of Poros. Though it was tough getting Amarandi to leave the pool, even she enjoyed the visit to the Monastery of Zoodochos Pigi or 'life-giving source' which sits on a pine covered hill overlooking the beautiful Monastery Beach. We drove over the island to the sanctuary and temple of Poseidon which was now being excavated and then stopped for a beer at the Paradise restaurant in the center of the island. Our last stop on the island was at the Poseidon Club which sits above the town of Poros and combines a large swimming pool, bar and nightclub with one of the most spectacular views you will find anywhere.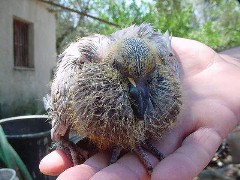 Our next trip was to Takis farm, Villa Zefi, in Galatas on the mainland, a five minute ferry ride from Poros. There we met his numerous rabbits, the biggest I had ever seen, the size of small sheep. He collected the fresh eggs that he and Zefi serve every day for breakfast at the hotel and introduced us to a few new born pigeons which looked like baby ostriches or some extinct dinosaur bird. There were chickens and geese squawking and honking while waiting impatiently for Takis to feed them.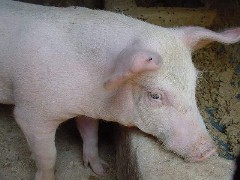 "And over here is my pig" said Takis proudly as he led us to the smelly pen where his favorite barnyard friend lived. Though this friendship would only last until Christmas when his pal would become dinner, I could see Takis had a special affection for the pig.
"Can we let him out?" I asked.
"If we let him out it will take a week to get him back into the pen" Takis responded.
I braved the stench and the flies for long enough to get a decent shot of the pig which was not easy because every time I got close enough to shoot through the wires of the cage he would try to lick the camera. But he was a handsome young pig, slightly shy and I can understand Takis' affection for him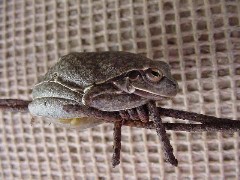 Takis called us over to a fence which had a damp piece of carpet draped over a string of barbed-wire. He lifted the carpet and underneath were three tiny toads, asleep on the barbed wire. They were all named Jimmis, Taki told us. By the time I finally got my camera focused two of them had hopped away, but Takis assured me that they would be back again tomorrow.

When we returned to the hotel Zefi had made a feast for us. Pastitsio, pork-chops from the farm and last year's pig-friend, tiropita and salads with the giant olives and dressed in olive-oil from the farm. Takis brought out a bottle of wine that he had saved for so long that it was like drinking cognac." I save some from every year in these plastic bottles so as I drink it I can squeeze the air out since it is the air which destroys it." The wine itself tasted like a cross between sherry and bourbon.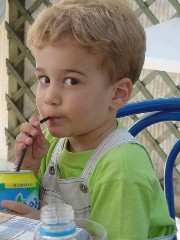 Luckily after this huge meal, Takis was tired because for the past two days he had been telling me that we were going to Askeli Beach to go Para-gliding, which in Poros means being pulled through the air on a giant kite tied to a speedboat. I have to admit that ever since he told me that this was an important life-changing activity that was necessary for me to become more alive, I had been dreading it and praying for some way to get out of it and after the wine and food, even Takis was forced to admit that going flying might not be the best idea now. Of course his daughters were very upset because they had been planning on it all day and though I felt like a coward, I knew that one day I would return and have no excuses and have to go up. When that day came I would accept my fate and probably love it as Takis insisted I would.
But better then risking my life flying over the seas of Poros, we finally met Yorgos, the last member of the Alexopoulos family.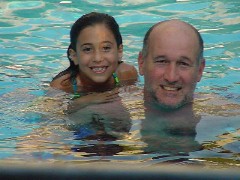 Needless to say our last night we were pretty beat and so Takis, Mike, Zefi and I watched the European soccer finals on the big satellite television by the pool, drinking Corona beers with lime and eating pizza and pistachio nuts.
The funny thing is that when we first were shown our room, one of the things that excited me most was the big Jacuzzi in the bathroom, certainly large enough for both Andrea and I to fit in. But I never got around to using it and neither did she. But I suppose with Amarandi spending 10 hours a day in the pool and with me sampling the wine we had fulfilled our liquid requirements.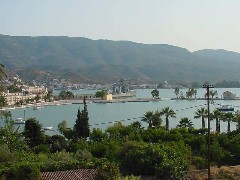 It would be hard to imagine going to a hotel that personified the term 'family run' more than the Saga Hotel in Poros. Even Amarandi was befriended by the little girls of Takis and Zefi as were the other children who were staying at the hotel. And it is not as if you needed to hang out at the pool all day waiting for meals and their entertaining conversation. There are a number of excursions offered by the hotel including boat trips around the island, tours of Myceneae, Epidavros, ancient Trizana, Naphlion and a trip through the Corinth Canal and day trips to Hydra, Spetsis and Aegina. There are water-sports offered including of course the para-gliding that terrified me but may be something you want to do as a rite of passage or for the fun of it, plus water-skiing, jet ski's and whatever else people do in the water. There are many beaches on the island, each a little different from the rest. The hotel has a ping-pong table and there is a full gym next door so you don't have to lose muscle tone. And if you are not the type who lives for physical activity you can always sit on your balcony and enjoy the view.
Leaving was difficult. It really was like leaving home but we knew that like 70% of the other guests we would return. It was not that we were treated as guests, but we really felt we had made true friends that we would always want to come back to visit. With the island's proximity to Athens there is no reason not to stay at the Saga Hotel, particularly in the really hot days of summer. Why be in the city which is always several degrees hotter, when you can be in a nice air-conditioned hotel, with a swimming pool, surrounded by beautiful almost tropical gardens, drinking organic wine, eggs and home cooked meals, not to mention the biggest olives in Greece, served by two of the nicest people I have ever met. And one can't disregard the attraction of good organic wine.
Matt Barrett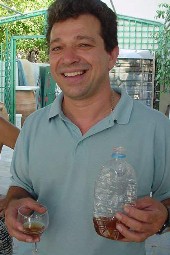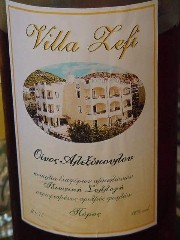 To Book the Hotel Saga through Fantasy Travel go to www.hotelsofgreece.com/saronic/saga or you can book it through Booking.com