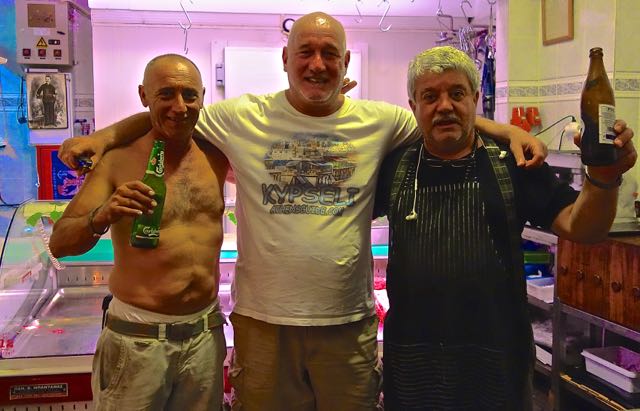 There are many restaurants in Poros and in just two or three days it is not possible to eat at all of them. But the ones we ate at were great, some so good that we returned there on other trips. The best taverna has to be Dimitris Family Butcher Shop Taverna, on the top of the town of Poros, only because I can't imagine a better steak house anywhere. This is the kind of restaurant that people come specifically to Poros to eat at, laying on the beach to pass the time while they wait for dinner. The specialty is the finest fresh steaks: T-bone, Sirloin, Pepper Fillet, Fillet Mignon and other beef, lamb, pork and chicken dishes because as the name suggests, he is a butcher. The butcher shop itself is right across the street and I spent a half an hour in there tasting different cuts of grilled meat as Dimitris shared his dinner with me. (He didn't know who I was either. He just saw I was the kind of person who liked to eat). Dimitris has eight children, many who work here and go back and forth between the butcher shop, the kitchen and the restaurant. We were waited on by several and our meal was cooked by one of the sons.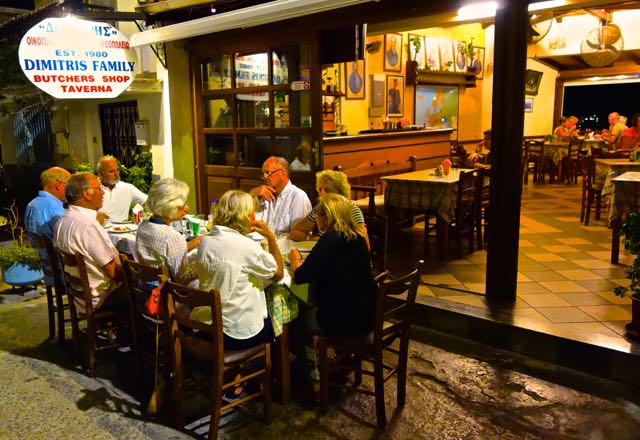 To find the restaurant just walk up the steps and ask for the Church of Agios Giorgos. Or just ask for the Dimitris Family Butcher Shop Taverna and someone will point the way if they don't take you there personally. The restaurant is traditionally decorated, with a view of the port and the bay. It is open all year and during summer the tables go out to the small street in front. All meats are fresh cut and grilled on charcoal straight from butcher's shop so you won't find fresher or better quality. And his home made barrel wine is excellent. There is also a large menu of appetisers and some really nice salads including your favorite traditional Greek salads of course. If you have only one night eat here. If you have two nights eat here twice!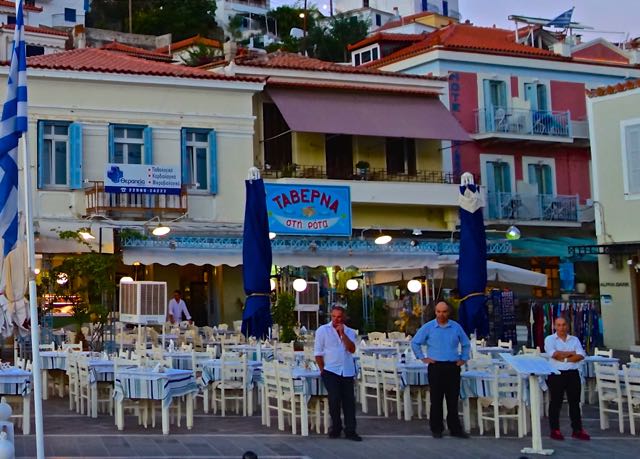 There are many seafood places along the coast, some popular with sailors and others with the town people and some are popular with both. Most of the restaurants are family owned and prices are reasonable. Try Rota right on the waterfront, whose owner gave up his plan to be a priest to open a fish restaurant instead. Also Poseidon Taverna is excellent as is Panorama Taverna and Liz and Spiros' Apagio at Punda if you are staying in that area. The Neorion Restaurant downstairs from the Pavlou Hotel is pretty good if you are staying in that area and don't want to venture into town. It features a traditional Greek menu and a few surprises thrown in. Lots of stuff on the grill including fish and various meat. He serves breakfast in the morning and has espresso too. But night time is when it is really happening as many of the guests eat there as well as the locals.
We had a nice lunch at Mortzoukos Restaurant which was just down the road from The Pavlou Hotel in Neorion, right across from the beach. They had many oven dishes from which to choose and also meats and fish from the grill. The stuffed pork was incredible, and they had excellent retsina from the barrel. This is what we ate:

Stuffed pork with lemon potatos
(Hirino gemista me potates lemonato)


stuffed cabbage
(lachano dolmades)


cuttlefish in wine sauce
(soupia krasato)


chicken with peppers
(kotopoulo me peperies)


Beef and string beans
(moschari me vasolakia)


cheese pies
(tiropita)
but the best part was this.....


Krasi hima right from the barrel