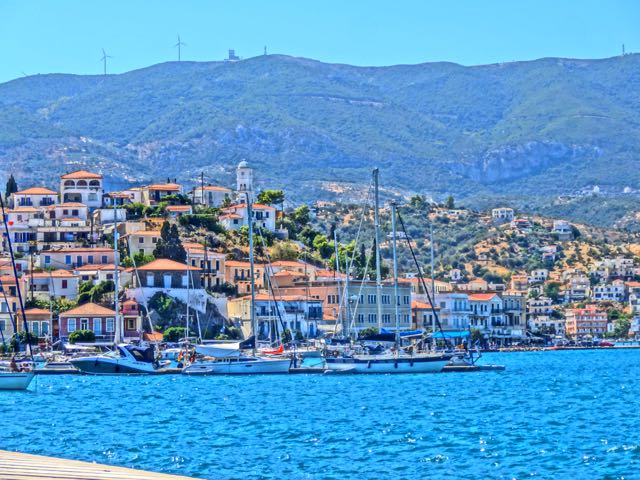 The Nobel Prize winning poet George Seferis has written about Poros:

"... It has something of Venice: the canal, communication between the houses being by boats, luxury, idleness, sensual temptation, something lustful. A place for international lovers, providing much magic. There is something of the closed space here, with the moon high up in the sky, and all day long the copper echo of the music from the Naval School. Last night going up to bed, I stood for a moment on the balcony of my room, staring at the mountain lines opposite..."

Poros Town may remind you of Venice. The main street is the channel that passes between it and the town of Galata on the Peloponessos across the way. Its a very lively area and just sitting in the cafes is entertainment enough on those days when you don't feel like exploring the island or the Argolis or venturing into Athens. A line of small taxi boats on the wharf bring people back and forth to Galati and there is the small car ferries that go back and forth all day long as well. The upper village is very different from the cafes and tourist shops of the main harbor road. The streets are small and winding with many businesses that are not tourist oriented and some of the better restaurants which are frequented by locals and knowledgeable travelers.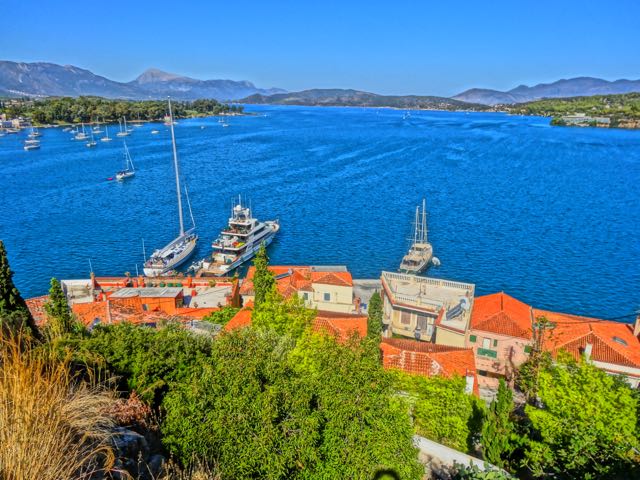 "If I should ever attain the fulfillment which the Buddhists speak of, if I should ever have the choice of attaining Nirvana or remaining behind to guide those who come, I say now let me remain behind, let me hover as a gentle spirit above the roofs of Poros and look down upon the voyager with a smile of peace and good cheer. "
-Henry Miller
The town of Poros is actually an island in itself separated by a small canal from the rest of the island. In ancient times it was two islands, Spheria and Kalavria, which gradually became joined by an isthmus of sand. Kalavria, the larger island was wooded and had lots of water. Spheria, which is now Poros town, was at one time a volcano.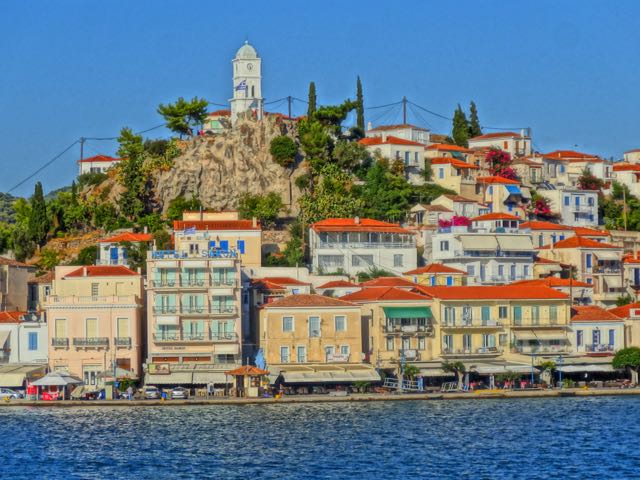 Cafe life is thriving in Poros town and the straits serve as an ever changing screen as ferries, cruiseships, sailboats, passenger ships and water taxis pass through on their way to the other Saronic islands or back to Pireaus. From breakfast and espresso until a late night ouzo there are always people to watch and talk to and prices are reasonable. There is an international press shop where you can buy the newspapers and magazines from wherever you are from to keep up with baseball and football scores and news from home. There is a public market with fish and meat, though what you are going to do with fish and meat in your hotel I don't know. But you can also buy fruits and vegetables. And of course most, if not all of the cafes have free wireless.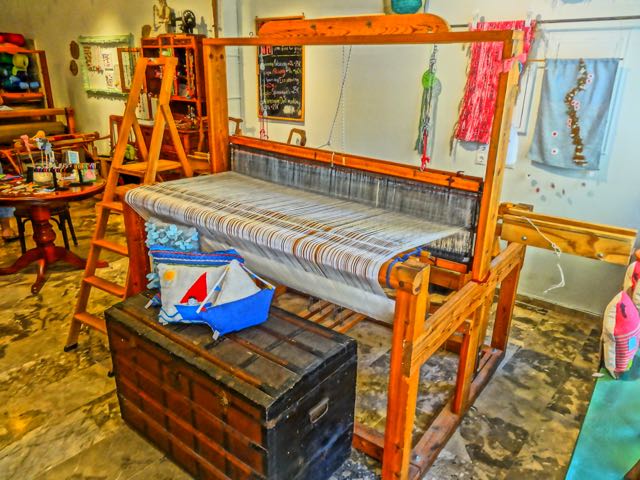 There are the usual tourist shops in Poros, selling the same things you will find on every island. There is a very nice Mpitounis Kava on the port road that sells all sorts of wine and spirits, including some that are made in Poros. Try the Andreou family label who make a white, red, rose and a sweet red, all sold in plastic recyclable bottles. The local supermarket also carries some wine from Poros though most likely all the wine comes from Galata or further. There are several bakeries close to the ferries where you can get a quick meal for under 2 euros as you rush to catch the boat. Poros also has an archaeology museum and Citronne Gallery is considered excellent with major artists exhibiting there. Of particular interest is the family run Ergani Weaving Workshop where you can buy gifts made on a hand loom and even take classes on how to use one. The workshop was founded in 1998 and is located behind the fish market right on the port road. For information on classes you can contact Eleni Pavlou at info@erganiweaving.gr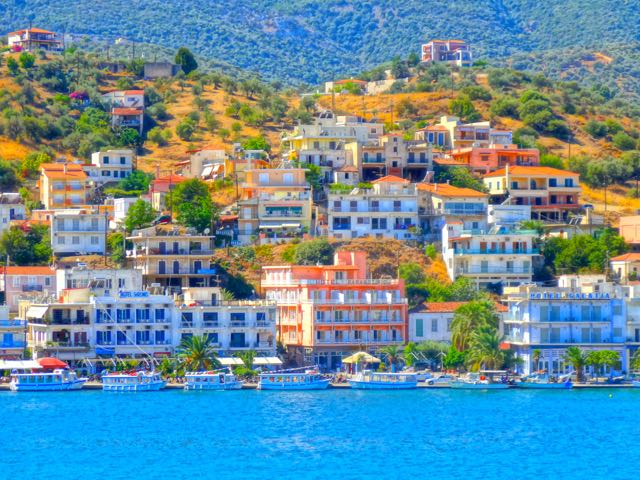 The town of Galata across the Poros straits is the doorway to the Peloponessos. With bus service to Nafplion and other cities, it also serves as an escape hatch because even on those rare occasions when the sea is too rough for ferries and flying dolphins, you can always take a bus or taxi back to Athens, so you never have to worry about missing your flight home. Besides the little taxi boats there are also ferries which cross every 15 minutes so you can have a car on the island and easily get to the mainland. Galata has its own restaurants and cafes and shops too and really the two towns are like one town separated by a river, where people go back and forth. Many people who live in Poros have their farms in Galata and many people who live in Galata have their businesses in Poros.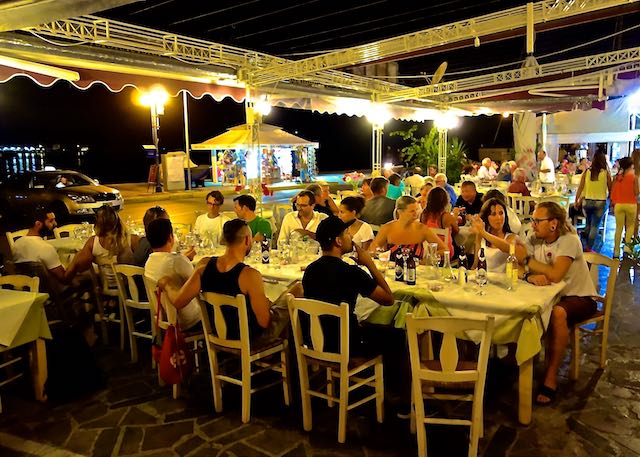 As for night life in Poros, the best nightclub is called the Sirocco which plays European music with some Greek music mixed in and is located just outside of town. Things don't really get started until around midnight but then it goes on until 4 in the morning or later. There are also a number of music bars, divided with roughly half of them playing English music and the other half Greek. Some of the bars are owned by foreigners who visited and stayed forever. Because many people come for weekends the bars can get pretty wild on Friday, Saturday and Sunday nights. If you are like me though you will find a cafe on the sea and have a drink or two and watch the people and the boats and then move on to one of the tavernas mentioned in the restaurants page. One thing you may notice is that how pleasant your restaurant or taverna is will depend on how hot it is and which way the wind is blowing, if it is blowing. My suggestion for those really hot nights is to walk from one end of Poros town to the other and notice the change in climate. When you find an area with a cool breeze find the closest cafe or restaurant that has the most comfortable chairs and plant yourself there.