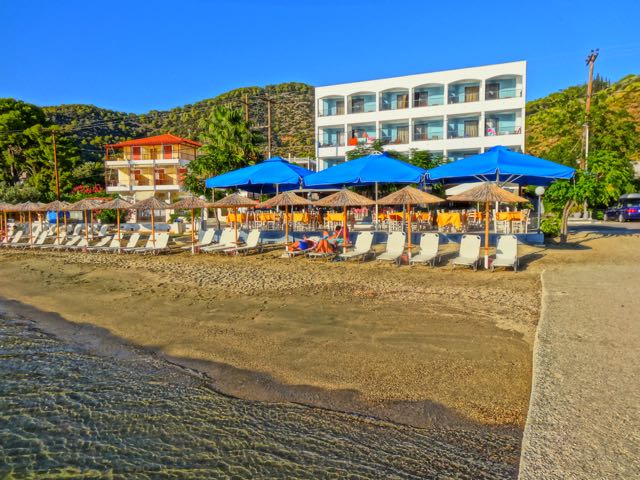 In my opinion, after several trips to Poros, you either want to be right in town, or you want to be within easy walking distance of town. Poros is a small enough island though that pretty much anywhere you stay you will find convenient. There are also buses, taxis, and water taxis to the beaches and you can rent a motorbike or a bicycle since the coast is flat and easy for pedaling. Here are some recommended hotels and information. You can click on the hotel names for more photos, information and instant booking for those who would rather book direct and not use a travel agency. For those who are doing Poros along with other islands I invite you to use my Create-an-itinerary form or to contact Fantasy Travel for assistance. You can find more hotels at Booking.com's Poros Pages or on Matt's Best Hotels in Poros
Saga Hotel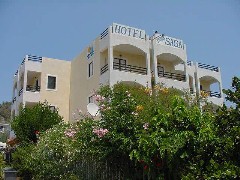 The first choice of anyone visiting Poros is the Saga Hotel owned and run by Takis and Zefi Alexopoulos. The hotel has 23 studios with kitchens and 2 superior apartments. Excellent for families, the hotel has a swimming pool, balconies overlooking the bay, town of Poros and the mountains of the Peloponessos, satellite tv and air-conditioning. They also provide laundry service and baby-sitting for their guests. The pool bar serves a menu which includes pizza, spaghetti, burgers and many Greek specialties with much of the food coming from their own farm on the Peloponessos including the world's largest and perhaps tastiest olives and their own organic wine. On selected evenings they have a Greek barbecue for their guests and friends. The hotel also offers excursions to the islands of Hydra and Spetsi, Myceneae, Epidavros and other archaeological sites on the Peloponessos, just five minutes away, tours of Athens, only an hour away, a night out to a famous bouzouki club in Athens and a trip by boat through the Corinth Canal, plus trips around Poros to the beautiful secluded bays and beaches of the island and it's archaeological sites and monastery. Matt's First Choice
Situated only 150 feet from the beach of Askeli in Poros, Odyssey Suites features self-catered accommodation with a balcony overlooking the Saronic Gulf. A kitchenette with a fridge, electric kettle and dining area is included in all units at the Odyssey. Each maisonette has air conditioning and a seating area with a TV. A private bathroom with a hairdryer and toiletries is standard. The on-site restaurant serves local delicacies such as pies and homemade desserts. Drinks and coffee are provided at the bar. Greek cooking workshops are held frequently as well as special events like group dinners and BBQs with live music in the courtyard. Shops and traditional restaurants serving fresh fish are just 150 feet away. Water sports facilities are available on Askeli Beach. Poros Port is at 1.2 miles. Staff at the tour desk can arrange car rental. Matt's Second Choice
Manessi Hotel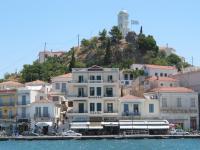 This elegant Neoclassic style hotel is situated at the seafront of the main port of Poros amidst many coffee shops and taverns.

From the balcony of your room, you will greatly enjoy the sun setting over Kimomeni mountain and the view of the port of Poros with the fishermen's boats bobbing on the gentle waves. At Manessi Hotel you will find a feeling of a friendliness and warmth. Staff are happy to help arrange excursions around the wonderful surrounding area. You can hike in the mountains and discover the beauty of the landscape and the hospitality of its people. The hotel provides some unique and thoughtful services such as photo printing, car rental and travel bookings.
Sirene Blue Resort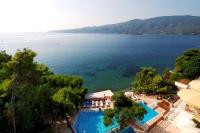 Enjoying a peaceful location in Troizinia, Sirene Blue Resort features breathtaking views of the sea and offers free wireless internet access and complimentary breakfast. Sirene Blue Resort is surrounded by a beautiful pine tree forest in the peaceful area of Troizinia. Guests can relax around one of Sirene Blues pools and admire the panoramic sea views. There is an on-site games room where families can play table tennis and children also have a playground available to them. After spending the day relaxing or sightseeing, Sirenes restaurant is the perfect place to enjoy traditional cuisine and local delicacies. Guests can also enjoy a drink in the relaxed environment of Sirene Blues traditional taverna. Its beautiful location allows guests to escape the noisy tourist areas whilst still being connected to Pοros Islands main attractions. There is a frequent bus from Hotel Sirene to the main port of Pοros, which is just 3.5 km away. Guests can also rent a car through Hotel Sirene and take advantage of its free private parking.
New Aegli Hotel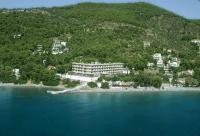 Beautifully situated by Askeli Bay 1.5 km from Poros town, this hotel is one of the best in the area, offering panoramic sea views which captivate all who see them. The surrounding area features a tranquil natural environment. However the stunning scenery can be enjoyed within the comfort of the hotel; the outdoor swimming pool features stunning views of the sea, there is a bar with an outside covered area which provides a beautiful outlook of the seascape, and each of the rooms includes a balcony with sea vistas. As well as comfortable and contemporary accommodation, this smart hotel also offers a refined restaurant, meeting rooms with modern amenities, a piano lounge, internet cafe, video room, traditional musical entertainment at the weekend and a private beach which offers water sports and a seaside bar. This hotel makes for the perfect base for experiencing this wonderful region.
Golden View Hotel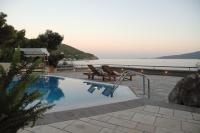 The Golden View Hotel is located in Askeli, Poros' most cosmopolitan beach. Built on a unique and exclusive spot right on the sea, the hotel offers old-fashioned hospitality combined with the most modern comforts - far from every noise or disturbance, and with a superb view of the sea from every room. Guests can enjoy their daily swim on the hotel's own private beach. Recently, the Golden View underwent a complete renovation and now offers increasingly specialized service and many more opportunities for fun and entertainment. The hotel has a fine restaurant, featuring traditional Greek cuisine and fresh fish every day, as well as a cafe and bar on the spacious veranda and in the enclosed salon, right over the sea.
Dimitra Hotel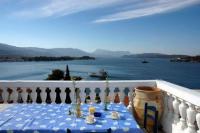 Only a 4-minute walk from the port and close to 2 amazing beaches, this small, hospitable hotel provides a cosy base for your stay in beautiful Poros. The stunning capital town and port of the island of Poros, Trizinia, predominates with its scenery and unique island features, which make the area one of the most charming settlements of Poros. Gifted with various natural beauties, Poros is regarded as an ideal resort for summer vacations or even for a weekend escape from routine, as it is situated at a close distance from the ports of the prefecture of Attica. At Dimitra Hotel you will find a beautiful roof garden for moments of relaxation.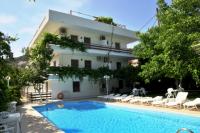 Kaikas is a three storey building, located among lemon groves in Askeli bay- Poros, very close to the sea. The location is ideal for relaxing holidays, as it is a quiet area, only 150 meters from the beach and 2 km. from Poros port and town. All studios and apartments have a balcony or terrace and are equipped with all modern amenities to provide guests with a pleasant, comfortable stay. There is a swimming pool, where guests can relax and enjoy the sun. During the evenings guests may have their drink or coffee at the beautiful gardens. The location is ideal as it offers easy access to numerous shops, restaurants and cafeterias, yet it guarantees a quite and relaxing stay.
7 Brothers Hotel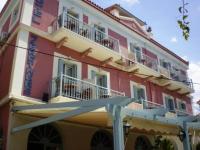 7 Brothers Hotel is a family run hotel, located in the heart of the town of Poros. The location is ideal as it is only a 5 minute stroll from the island's archaeological museum, the famous clock tower - symbol of the island - and the market place. All rooms have balconies, where guests can relax, while enjoying either the magnificent view of the harbour and the coast of the Peloponnese, or the colourful side streets of the town, filled with flowers. Each of the 16 rooms of our hotel is equipped with all modern facilities, to ensure that your stay is comfortable and pleasant. In addition, you will find everything you need to prepare a cup of coffee or tea. The location of the hotels is ideal to explore the beaches of the island and the surrounding landscapes. A number of restaurants, cafeterias and shops can be found nearby the hotel.
Christina Studios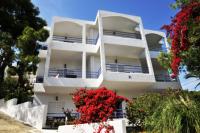 Christina Studios are located in Askeli, overlooking the bay, just on the beach front. The location is ideal as guests can reach the beach ( 50 meters away) and Poros town and port(1600 meters from Poros' port). Christina studios are the ideal choice for those seeking for relaxing holidays. All studios are equipped with all modern amenities to provide a pleasant, comfortable stay. They all feature big balconies, with amazing sea view, where guests can relax and escape from their daily routines. Located in a quite place but yet, close to all shops, restaurants and cafeterias.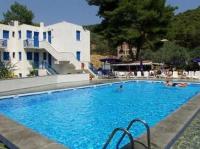 Set in pretty gardens in a peaceful part of Askeli Bay 3 km from Poros centre, this small and cosy self catering apartments are just a 5-minute walk from the beach. Indulge in a peaceful, sun-kissed environment at Cascade Apartments, where you can relax in the swimming pool or simply enjoy a cocktail from the snack bar. If you are feeling more energetic, take the short pleasant stroll to the beach where a variety of water sports are available, such as banana boats, water-skiing and para-sailing. Take time to explore Poros, known for its untouched hillsides, crystal clear waters and idyllic beaches. A small channel separates the island from mainland Peloponesse and can be crossed easily by a small boat or even by swimming.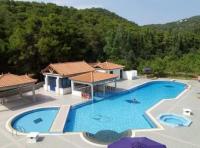 Located in the traditional and picturesque settlement of Askeli, this complex is just 300 metres from Askeli Beach and 2.5 km from Poros town centre. Carefully tailored with respect to the surrounding environment, Vasilis self catering studios harmonises with the natural beauty of the landscape of Poros. You can enjoy the sun and relax by the large property's swimming pool and jacuzzi. Poros is known for its untouched hillsides, crystal clear waters and idyllic beaches. A small channel separates the island from mainland Peloponesse and can be crossed easily by a small boat or even swimming. Poros town is a pretty and serene place with unbroken views across terracotta-tiled roofs. There are lots of tavernas on the other side of the road, and there is a water sports centre in the middle of the beach.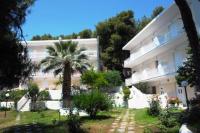 Zontanos Studios Complex consists of three renovated buildings of studios and apartments, located in a quite area among pine trees and a beautiful garden. The location is ideal as it is only 80 meters away from the beach and 1500 meters from Poros port and town. All studios and apartments are equipped with all modern amenities to provide the guests with a comfortable, pleasant stay. They all feature private balconies. Guest can relax among flowers and trees at the beautiful garden, and escape from their daily routine. Very close a number of shops, restaurants and cafes can be found.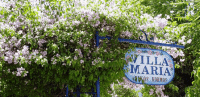 The traditional family-run complex Villa Maria, is situated a 5-minute walk from Askeli Beach on a quiet road surrounded by lemon trees, by a picturesque native pine forest. The high quality accommodation, consists of both self catering studios and apartments;which are. Enjoy a relaxed atmosphere by the Aderes mountain on the Peloponnesian mainland. The main town of Poros Island is a 2 km stroll along the seafront, but is also easily accessible by regular buses and taxis. Askeli offers its own range of seafront bars, restaurants, and supermarkets among its many other attractions. Villa Maria is the ideal base for a stress free and fun filled holiday.
Alkyoni Hotel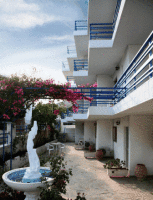 Surrounded by pine trees and green hills, Alkyoni Hotel enjoys a peaceful location, just 150 metres from Askeli Beach and steps away from a water park.

Alkyoni offers a comfortable base for those seeking a peaceful and relaxing holiday. Should you require more nightlife, the vibrant bars and clubs of Poros are also close by.

The popular Askeli Beach is close by and here you can work on your tan, relax with a book or swim in the sea. If you prefer swimming pools, there is a public pool with water slides just steps away from Alkyoni, an ideal place for children.
For more hotels and houses in Poros visit Booking.com's Poros Pages
More Hotel and Travel Information

An excellent alternative to Athens, Poros is close enough so that you can enjoy the sites of the city and still be home in time for a swim before dinner. The island is also the gateway to the nearby Peloponessos and with frequent service to Piraeus you can easily catch the ferries to the rest of the Greek islands. But then again you may never want to leave the island.
For my review of the Hotel Saga and the hospitality of the Alexopoulos family see www.greecetravel.com/hotels/saga

For using a travel agency for booking your holiday in Greece visit the website of Fantasy Travel or contact them by using this form

If you plan to visit several islands including Poros try my Create-an-Itinerary form
For hotels on Poros, Hydra, Spetses, Aegina and Angistri see Booking.com's Saronic Island Page and Matt's Best Hotels in the Saronic Islands