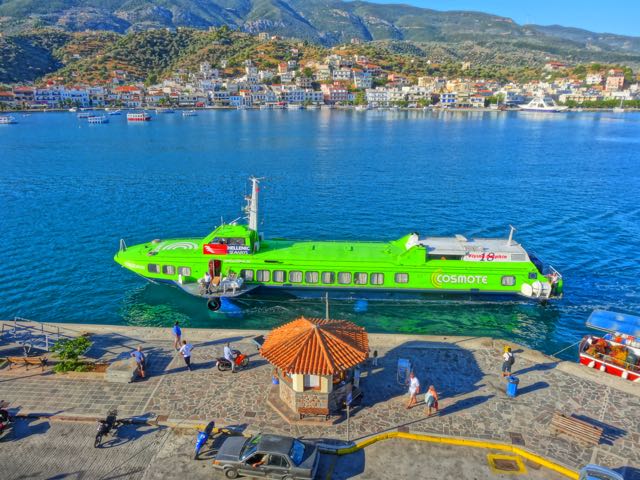 The Flying Dolphin docks directly across the street from the Porto Cafe, at the taxi stand, and while they used to come and go continuously in both directions until night time, presently service has been reduced to one or two a day. They don't stay very long either so your best bet is to wait at the Porto cafe, or another within view of the sea, and pay for your food and drinks when you are served. Make sure you buy your ticket first. When the Dolphin comes in, pick up your gear and walk over, but be sure to ask the stewardess if this is the Dolphin you are supposed to be on so you don't end up elsewhere. She probably speaks English, or at least enough to know whether this is your boat or not. As for coming to Poros from Pireaus, the Flying Dolphin terminal is in the main port just to the left of Kariaskakis Square by gate E8. If you are coming from the metro station you cross the bridge and take a left.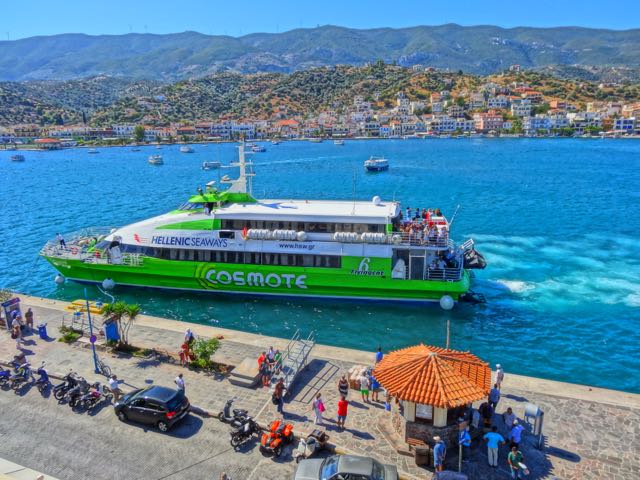 Poros is also serviced by a highspeed catamaran, called a Flying Cat, which is bigger and more comfortable than the Flying Dolphins but travels at about the same speed, which is generally twice as fast as a normal ferry. But it does not take cars. There are several car ferry boats connecting Athens' port of Pireaus with Poros, bringing in travelers, trucks filled with supplies and produce and even commuters with their cars, though service has been reduced in the last few years. Currently they are using bigger boats and doing fewer trips with the car ferries and the last boat back to Pireaus left at 1pm. But if you have a car you can always take it to Aegina and explore there and then take a later boat back to Pireaus since there are a lot more ferries doing that route.There are two ticket offices and the one for the car ferry is close to the ferry port and the one for the Flying Dolphins and the Catamarans is closer to where they come in by the Hotel Saron.
The first boat to Poros leaves Pireaus at 9am and the last boats leave Pireaus around 6pm but check with your travel agent to make sure because this changes by day and by the season. Usually there is a later boat on Sunday. You can find more information about Pireaus and the Greek ferry boats on my Greek Ferry Page. The first boat to Pireaus from Poros leaves at 6am and the last boat leaves between 6 and 8pm depending on the day.

Use Ferryhopper to find all direct and indirect ferry routes for the islands of Greece, Spain, Italy & Turkey, compare ferry companies & prices, and book cheap ferry tickets with no hidden fees in one go!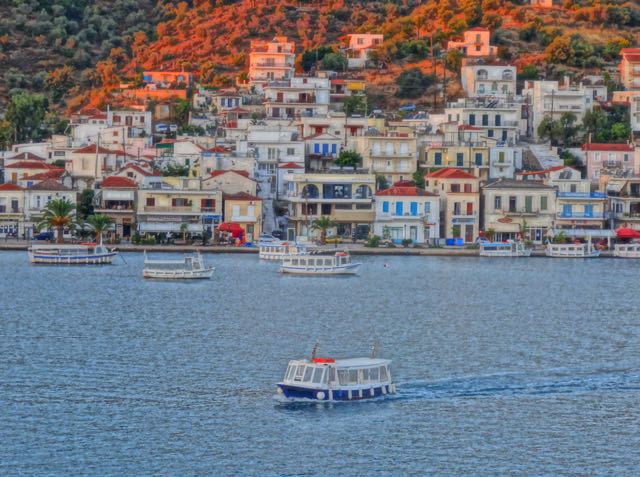 You can't write about ferries without mentioning the taxi boats that travel back and forth between Poros and Galatia, or along the coast of Poros, dropping people off at the hotels and beaches. The taxi boats run 24 hours a day and it is rare the sea is so rough that you can't get across. You can go across for lunch or dinner or do some shopping and the trip is about three minutes long. If you have your car in Poros then the small ferry that goes back and forth every 15 minutes will enable you to explore the Argolis or drive back to Athens if you don't feel like leaving on a 6am or 1pm ferry for three hours. The Poros-Galata ferry costs about 4 euros for a car and the driver and less than a euro for passengers.
There are also cruise ships that come in and dock horizontally, emptying their passengers into the many shops on the waterfront for about an hour or so before loading up and leaving for the next island of Hydra. For the One Day 3 Island Saronic Gulf Cruise to Aegina, Poros and Hydra, the most popular cruise in Greece see my Saronic Island Cruise Page or visit Fantasy Travel's Saronic Cruise page. This is a great way to get a taste of these islands and if you are staying in Athens they pick you up and drop you off at your hotel. It costs less than 100 euros and you get lunch too.
If you need assistance with booking your ferries, hotels or the cruise I suggest you try my Create-an-itinerary Page. It is free and you are under no obligation to purchase anything.