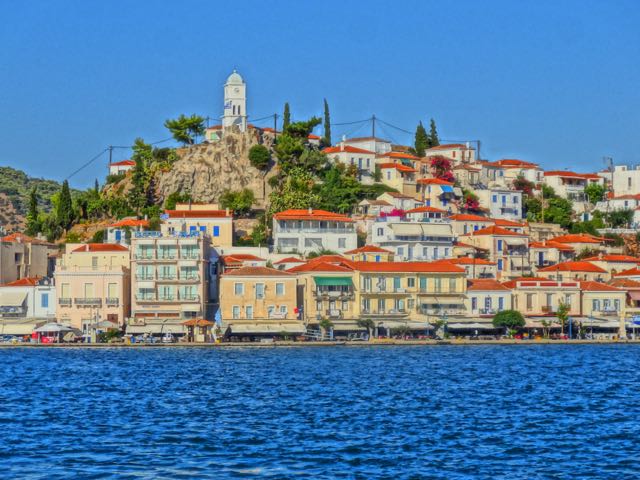 Imagine staying on an island so close to Athens that you could wake up in the morning and in a little more than an hour, be walking around the acropolis, shopping in the flea-market or wandering around the Plaka looking for gifts or a nice place for lunch. Imagine an island that is a three minute boat ride to the Peloponessos and places like Nafplion, Myceneae, Epidavros. Imagine an island that is less then an hour from Pireaus, where you can make ferry connections to Mykonos, Ios, Santorini, Crete, Paros, Naxos, Lesvos, Rhodes and almost every island in the Aegean sea. And if this island was blessed with beautiful forests that came right down to the beach, quality and inexpensive accommodations, great restaurants, water sports and cafe life on par with the best Greek islands, then why would you bother staying in Athens unless you happen to really love big cities?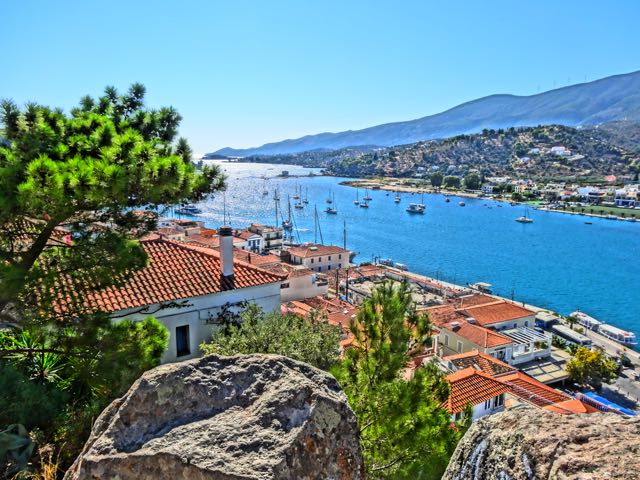 The word Poros means a strip of sea, narrower then a strait, uniting two minor bays. The closest distance between the two bodies of land is 300 meters and during ancient times, according to the author Pausanias, you could walk across it. Poros does not have the incredible long sandy beaches of the Cyclades, but neither does downtown Athens. The beaches of Poros are small, shaded and calm, even on the windiest days. The island hugs the shore of the Peloponessos so that sailing through the channel is like going down a river. Its the perfect island for a day trip but in my opinion Poros is more than that. It is the most sensible place to base yourself if you are planning to see Athens, the Peloponessos and the Saronic Islands. Think about it. You are in Athens and you want to visit the Peloponessos. You leave your hotel for the car rental agency and then have to make your way through the Athens traffic to the National road. In two hours you have reached the isthmus of Corinth and cross over into the Peloponessos. If you are in Poros you leave your hotel, pay the little old guy who runs the water taxi that takes about 3 minutes to get between Poros and the town of Galatia, hop into your rental car (or get on the bus) and you are ready to explore the ruins of Ancient Trizina and the spectacular sites of the Argolis and beyond. Or if you have your car on Poros take the ferry that goes back and forth every 15 minutes.
What about if you want to go to see the sights of Athens? Walk to the port of Poros, get on a Flying Dolphin Hydrofoil or one of the high speed catamarans and be in Pireaus in about 45 minutes. Even the regular car ferry only takes a couple of hours. Then hop on the metro and get off in the Monastiraki flea market, a two minute walk from the Plaka and ten minutes from the entrance to the Acropolis. Spend the day in Athens and then after a quick trip by dolphin or a leisurely ferryboat trip you can be home in time for a swim at sunset, and dinner at a nice taverna. To visit islands in the other chains its even easier. Find the departure time for your ferry to Paros, Naxos, Ios, Santorini or whatever island you want to go to, check the Flying Dolphin schedule for the boat that will give you enough time to make your connection(at least half an hour), and before you know it you will be steaming off into the Aegean. When you return from the islands you can go back to Poros to spend the rest of your holidays until it is time for your flight and be secure in knowing that even on the rare occasion that the ferries are not running due to bad weather you can still get across to the mainland and be back in Athens in two and a half hours by taxi or rental car.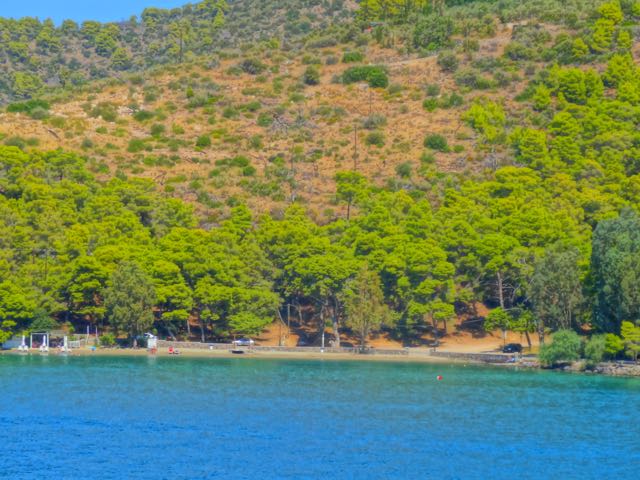 What this means is that if you are one of these people who wants to visit Greece, see the islands and the major archeological sites, but have no interest in being in a big city like Athens with all its traffic and confusion, then you are in luck. Poros should suit your holiday needs very well. But I hear you ask "What about Hydra? Wouldn't that be just as good?" Well, no and simply because Hydra only has the high speeds servicing it and a few trips back and forth will cost as much as a flight to Paris. Poros still has good, old fashioned car ferries for those on a budget. Plus Poros is more of an every-man's island like Aegina and hotels and food are less expensive. So if you are looking for an island close enough to Athens to see the sites and still be home in time for a swim and dinner you should consider Poros. If you need assistance with hotels and ferries try my Create a Greece Itinerary Form.

Use Ferryhopper to find all direct and indirect ferry routes for the islands of Greece, Spain, Italy & Turkey, compare ferry companies & prices, and book cheap ferry tickets with no hidden fees in one go!
Easter in Poros! Spend Friday Saturday and Sunday on the island of Poros, one hour from Athens, taking part in the church celebrations and ending with a dinner of lamb roasted on a spit, wine, dancing and more with hosts Takis and Zefi Alexopoulos of the beautiful Saga Hotel. If you are planning to be in Greece on the weekend of Easter and are looking for something to do and want to celebrate Greece's most popular holiday in a magical way this is the way to go.

Read about Greek Easter and Easter in Poros at www.greecetravel.com/easter

For booking your holiday or accommodations in Poros or for more Information contact Fantasy Travel by using this form