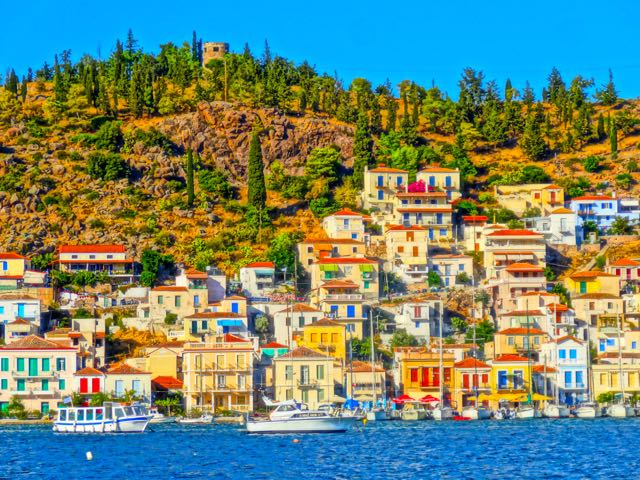 I don't know which affected me more deeply-the story of the lemon groves just opposite us or the sight of Poros itself when suddenly I realized we were sailing through the streets. If there is one dream which I like above all others it is that of sailing on land. Coming into Poros gives the illusion of the deep dream. Suddenly the land converges on all sides and the boat is squeezed into a narrow strait from which there is no egress. The men and women of Poros are hanging out of the windows just above your head. You pull in right under their frosty nostrils, as though for a shave and a haircut en route. The loungers on the quay are walking with the same speed as the boat. They can walk faster than the boat if they choose to quicken their pace.
Henry Miller-The Collossus of Marousi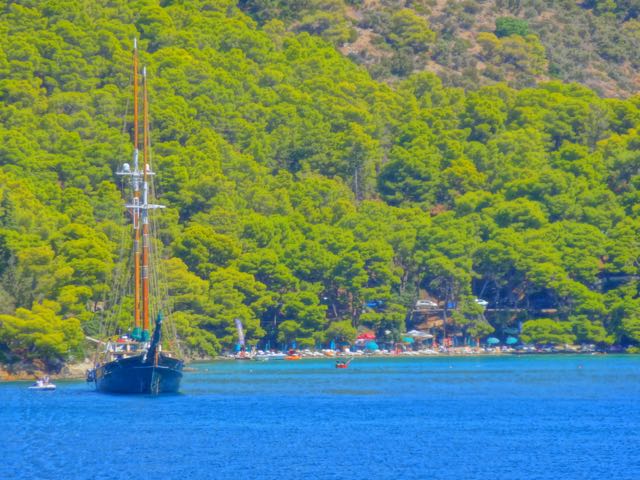 With ferries and flying dolphins leaving every few hours, going to Poros could not be easier. You don't even have to wake up early like you do if you are going to Mykonos and Santorini. The trip there is enjoyable, as short ferry trips often are. I prefer to take the slow ferry boat. I stop at a kiosk and pick up the International New York Times and before I have read the whole thing we have arrived at the island of Aegina. From there the trip gets more interesting as we stop in Methana, a town on the Peloponessos. The narrow straits between Poros and the Peloponessos has always been my favorite ferry trip and I have taken it dozens of times. It always seems to me like we are sailing up a big lazy old river with the mountains of the Argolis on the right and the wooded hills of Poros on the left. In the coves and bays there are sailboats and yachts anchored in safety while the sailors themselves swim nearby, water ski or eat in the tavernas on the shore. This whole sheltered area between the island and the mainland is like a water sport paradise.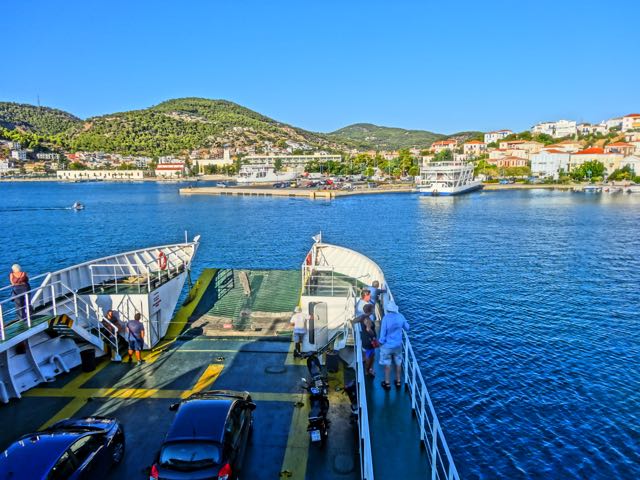 As Henry Miller describes it above, the impression you get upon arrival is that you are sailing down main street. The harbor road is lined with cafes and alive with activity. There are taxis waiting to take you wherever you need to go and the small water taxis that can ferry you to the mainland. There is also a small car ferry boat that crosses continuously, every fifteen minutes all day long so if you have rented a car in Athens it is just a short trip to the mainland for visits to Nafplion and the Argolis. Or you can drive from Athens to Galata in about two and a half hours and then either go back the way you came and spend a night or two in Nafplion. Or you can visit Nafplion on the way there and take the ferry back to Pireaus.