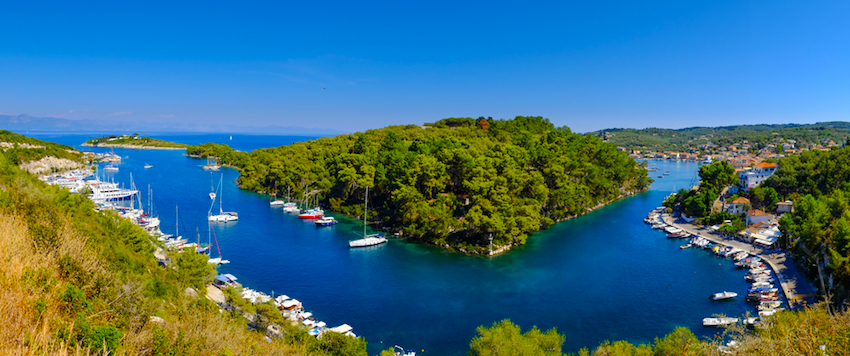 by Elias Dendias
One of the least commercial Greek Islands in the Ionian sea, Paxos (or Paxi) is truly beautiful, with scenery that makes it an artists paradise, with clear aquamarine sea and pebble beaches that have to be seen to be believed. The local people are so welcoming you feel at home straight away! This island has such a hold over people that I guarantee during your stay you will meet more fellow holidaymakers that have been returning for years than first time visitors. Paxos is only 7 miles by 3 can easily be explored by foot, bike, car or boat. A perfect place to wind down, nothing is done quickly here! Just a walk to the beach can seem to take forever by the time you sit and drink a frappe (iced coffee) in one of the seafront cafes, watch a local fisherman bring his catch in to sell or queue in the local bakery for your fresh bread baked in a wood oven, listening to the locals arguing (they are actually only talking but speak so loud and fast it seems they are) half the day has gone! This is the beauty of Paxos.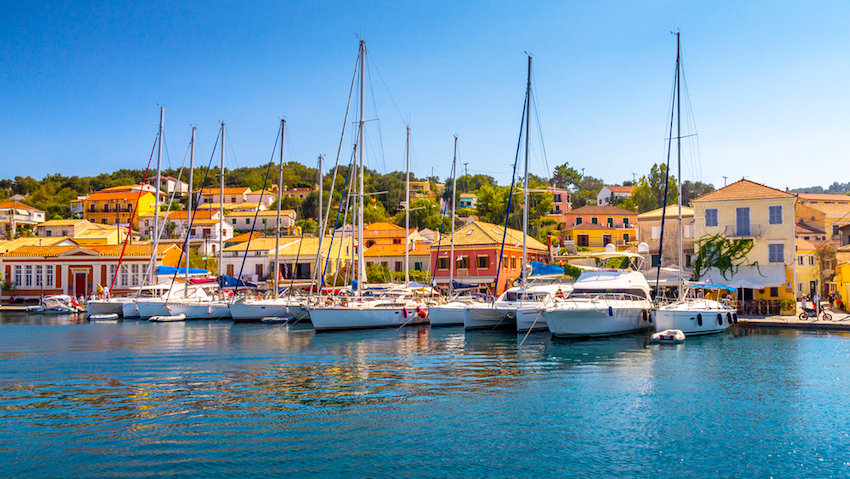 Gaios
The port of Gaios receives ferries, hydrofoils, the sea taxi and the hydro plane from Corfu as well as its share of sailboats. Gaios is the capital of Paxos and the largest town on the island. It is still relatively small and quaint with Venetian architecture, a maze of side streets and a pedestrianised square on the seafront. Restaurants and snack bars are scattered throughout the town and surrounding olive groves of Gaios offering a high standard of local Greek cuisine, traditionally made pizza, pasta and souvlaki. Local amenities include a post office, banks, chemist, doctors surgery, gift shops, gymnasium, jewelry and handmade craft shops as well as the essential supermarkets, bakeries and butcher. Gaios hosts the only night club on the island and its range of waterfront bars is extensive from a quiet traditional café bar to livelier bars playing a variety of music. There are a number of taxis based here and a bus service which is not very regular but when running enables you to get to the resorts of Loggos and Lakka.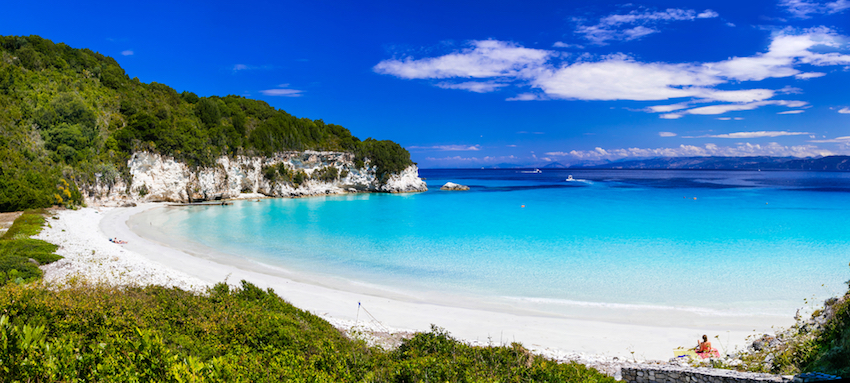 Antipaxos
Sea taxis and caiques are available from the harbour front of Gaios to take you to the island of Anti-Paxos or Mongonissi. Both offer sandy beaches with shallow waters and tavernas overlooking the sea. The crystal clear waters of Anti-Paxos are idyllic and compare with the waters of the Caribbean – a must for swimming and a fantastic day out. Peak season can get very crowded, although people watching during this time can be entertaining!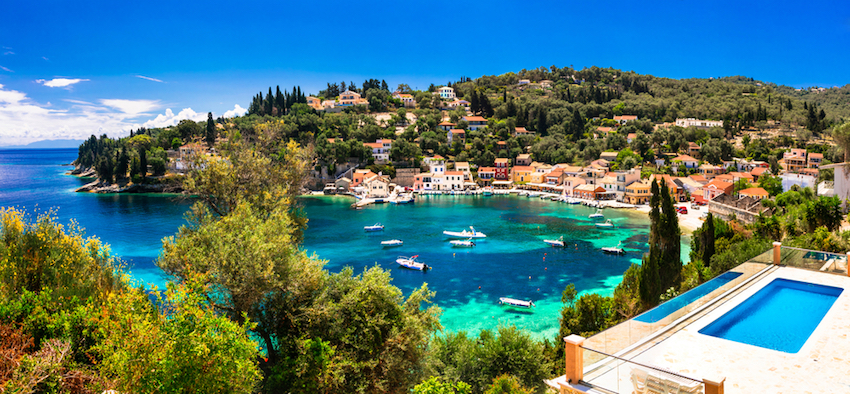 Loggos
Loggos is the smallest resort, a picture perfect postcard fishing village with beautiful beaches on the coastline either side of the harbour. Marmaris beach is shaded in parts by overhanging olive trees, then Kipos and Kipiadi with crystal clear waters further round and currently only accessible by foot or boat. Monodendri is a wide stretch of beach between Loggos and Lakka and has windsurfing and canoes with a beach taverna and is accessible by car followed by a steep walk down to the beach. I fully recommend hiring your own boat enabling you to visit a different cove or beach every day of your holiday. Hire boats are not to be taken to the west coast or Anti-Paxos as the sea can change very quickly and become rough. There are organised boat trips to the west coast and its caves and these are run from Gaios, Loggos and Lakka. This village has probably the highest standard of cuisine on the island with a sprinkling of seafront tavernas, here you can sample local delicacies from stuffed tomatoes to fresh lobster! Exquisite bars offering you strawberry daiquiris, homemade tiramisu or just a great ouzo with surroundings you will never forget. In the evening Loggos is lit with fairy lights reflecting on the water around the harbour, and a blanket of stars above. Local amenities are limited but include a bakery, three supermarkets a tourist office for money exchange, small gift shop selling postcards, stamps and cigarettes, a jewellery shop and the most beautiful craft shop owned by Sarah who designs and makes jewellry, cards and sells a wonderful range of gifts.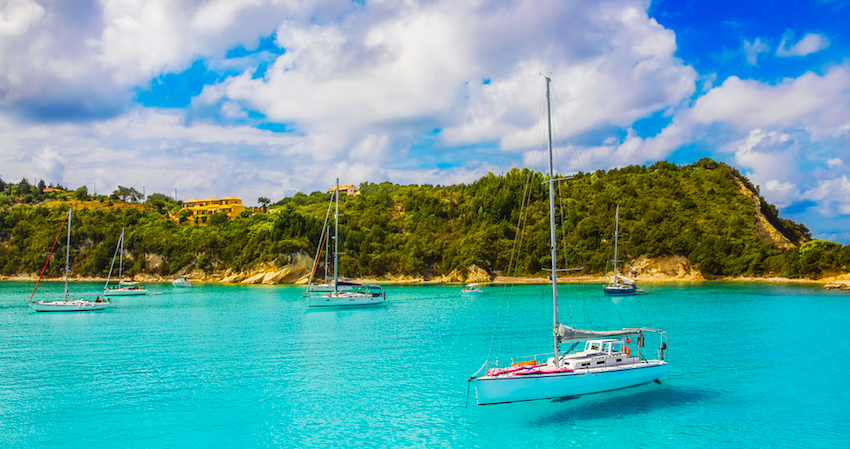 Lakka Bay
Lakka is on the north tip surrounding a large harbour where flotillas and gin palaces can be seen mooring. It has two main beaches with a beach taverna and other beaches are accessible by foot over to the west coast. Here there are two squares, the first you come to on arriving in Lakka where all the locals congregate in the cafeneon for an ouzo or Greek coffee and catch up on the local gossip. There are also restaurants offering local and Mediterranean cuisine, then a walk through the narrow side streets leads to the waterfront and a larger square also housing tavernas and bars. Local amenities include tourist offices for money exchange, a bakery, butcher, beautiful craft shops and mouthwatering cake shops! For those of you interested in water sports water skiing and scuba diving are available with qualified instructors.
Weather in Paxos is like the rest of Greece, very nice from May to October and usually nice the rest of the time with some rain and cold weather in December through March.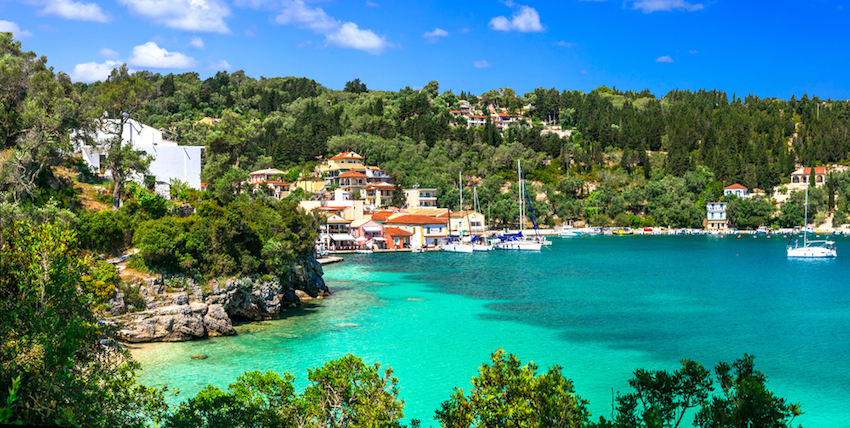 Getting to Corfu and Paxos
Direct flights from all UK local airports are available into Corfu airport during the months of May until October. Paxos is also served by Corfu and then a transfer is required by sea or hydroplane to reach the island. There are various companies offering low cost flights during the summer months, prices and availability change constantly.
During winter months there are scheduled flights via Athens which we recommend, as once luggage is checked in at UK airport it is then claimed in Corfu, also if you miss your connecting flight you will automatically be booked on to the next one. Easyjet operate into Athens and then either Olympic or Aegean Airways from Athens to Corfu, just take into consideration if there is a delay and you miss your connection you will have to re-purchase a ticket.
Flying Dolphin Hydrofoil takes about 1hr from Corfu Town into Gaios harbour and costs about 15 euros per person. Children are half price.
Hydroplane (Luggage allowance is limited to 10kg per passenger with no flexibility)-The flight is 12 minutes from Gouvia Marina in Corfu into Gaios harbour. Approx 35 euros per person, including children.
Sea Taxi can be chartered to depart Corfu Town at a time of your choice and take you to either Gaios, Loggos or Lakka harbour. The cost of this private charter is 270 euros each way. Maximum capacity is passengers.
If you are traveling to Corfu or Paxos by car there are a number of ferry companies that operate from Italy and Igoumounitsa. You should be able to get schedules when you book your hotel. You can also find ferry schedules and book tickets at www.ferryhopper.com
Hotels in Paxos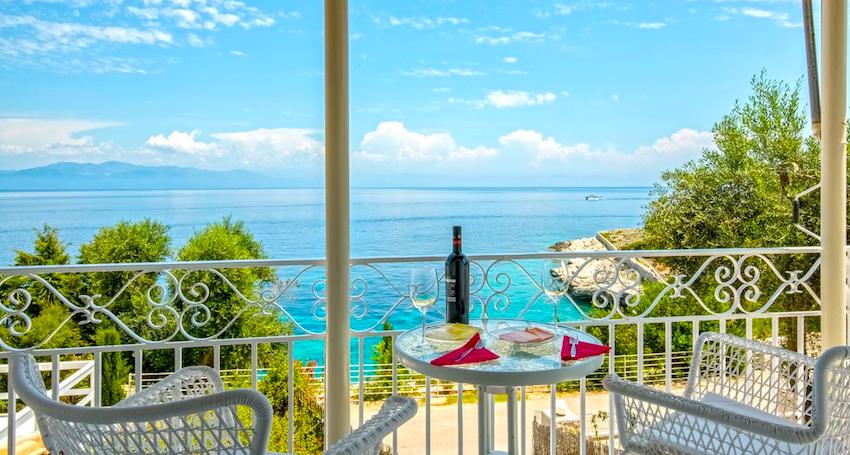 Villa Baronnos
Located just 50 m from the beach, Villa Baronnos in Paxos Island offers rooms and apartments that open to balconies with sea view. It features a garden and a sun terrace. Free Wi-Fi is available in all areas. The air-conditioned units come with a flat-screen TV, a seating area and a fridge. They include a bathroom with a bath or shower and a hairdryer. Some have a kitchen with a stove and a microwave. Various restaurants and a mini market can be found in Gaios, within a distance of approximately 0.6 mi. Balos Beach is at 300 m of Villa Baronnos. Free private parking is possible at a location nearby.
For photos, reviews and more information click here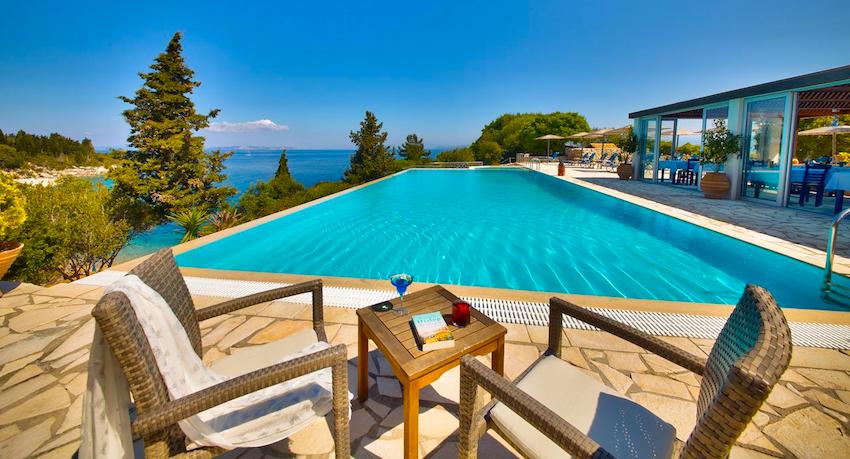 Glyfada Beach
Set amid cypress trees and olive groves, in the fishing village of Loggos, Glyfada Beach offers traditional villas with panoramic Ionian Sea views. It includes 2 swimming pools and a seaside tavern. Each with a furnished balcony, Glyfada Beach Villas feature stone-paved floors and wooden ceilings. They include a kitchenette, a living area with sofa and a private bathroom. Air conditioning is available upon request. The 2 salt-water pools are surrounded by stone-paved sun terraces, while one features a hot tub. Close to one of the pools, guests can find a tennis court shaded by cypress trees. Glyfada Beach also has a small museum exhibiting local artifacts. Featuring a large sea-view terrace, the on-site tavern serves traditional specialties prepared with local ingredients. Soft drinks, coffees and ice creams can be enjoyed at the poolside bar. Within a short stroll, guests will reach the beaches of Monodendri and Glyfada.
For photos, reviews and booking information click here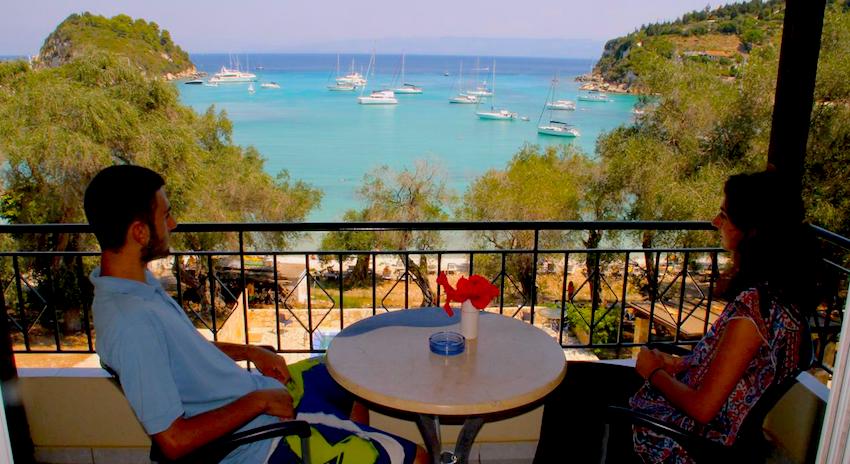 Amfitriti Hotel
Surrounded by lush greenery and only steps from Harami Beach, this family run hotel offers a small pool with pool-side bar and sunbathing terrace, and spacious rooms with private balcony. Each of the air-conditioned rooms of the hotel Amfitriti offers view of both mountain and sea. All of them have a kitchenette with refrigerator and a TV. Right in front of the hotel, guests will find the crystal clear waters of the Ionian Sea, which is equipped with sun beds. Lakka is just 150 metres away.
For photos, reviews and booking information click here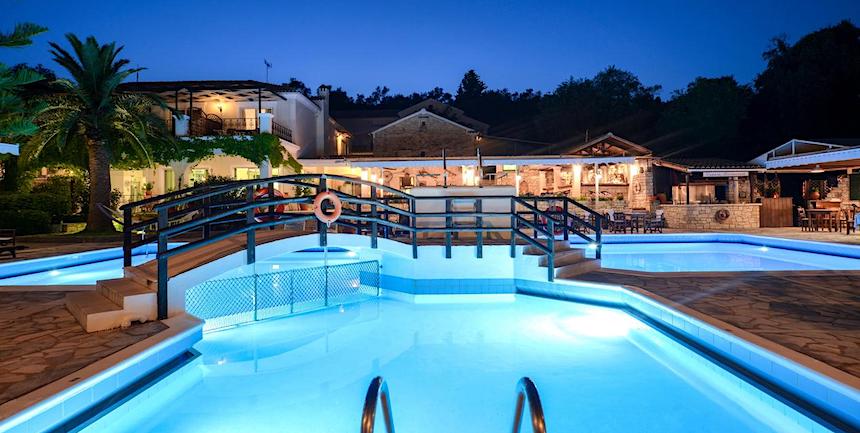 Paxos Club Resort and Spa
The Paxos Club is a tasteful resort which harmonically combines the independence of self contained apartments with he first-class service of an up to date hotel. It is a complex of 26 apartments, newly built in the traditional Ionian style, that can accommodate 2 to 5 people. The hotel is a family business where the visitor can feel the warmth of the renowned Greek hospitality.
For photos, reviews and more information click here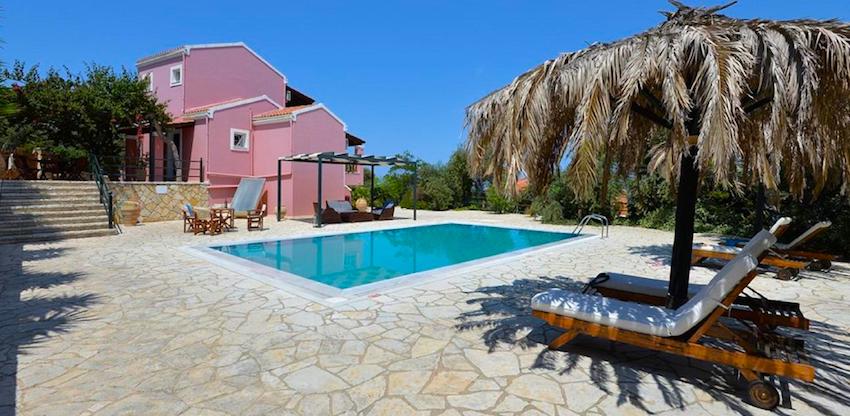 Blue Horizon
Located in Gaios in the Paxos Region, 350 m from the port and a 5 minute walk to the beach, Blue Horizon features an outdoor pool. Each room at this hotel is air conditioned and features a TV with satellite channels. Every room is fitted with a private bathroom. Blue Horizon features free WiFi .
For photos, reviews and more information click here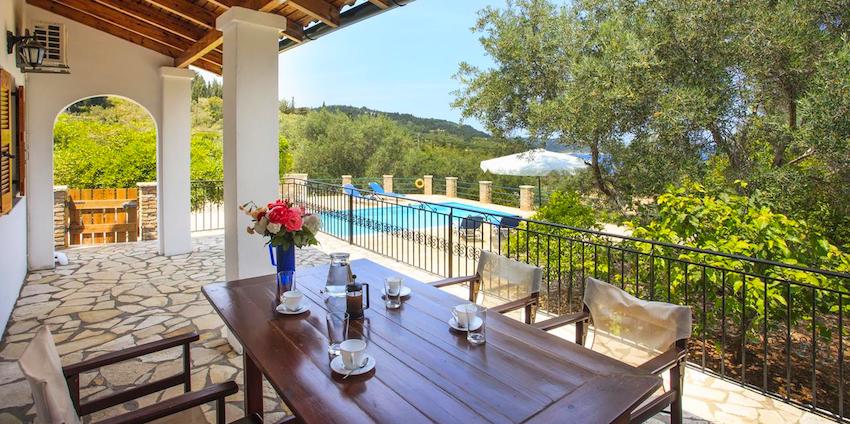 Kipos Villas
Featuring free WiFi throughout the property, Kipos Villas offers pet-friendly accommodations in Gaios, 0.6 mi from the port. Each room at this hotel is air conditioned and has a TV. Some units include a seating area where you can relax. A terrace or balcony are featured in certain rooms. Rooms are equipped with a private bathroom. Extras include slippers and free toiletries. The hotel also offers bike hire and allows pets. Couples in particular like the location.
For photos, reviews and more information click here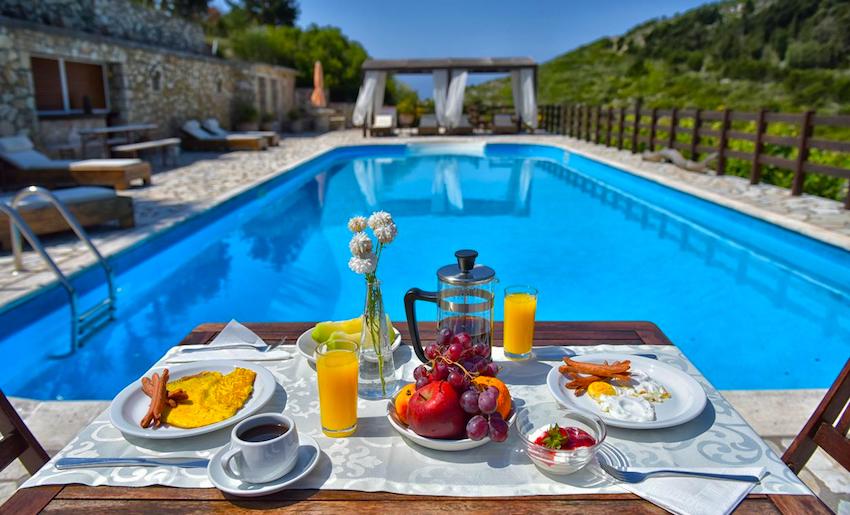 Santa Marina Villas
Just a 1 minute walk from the beach, Santa Marina Villas offers self-catering accommodations in Porto Ozia. The stone-built property features a swimming pool surrounded by a sun terrace with sun loungers. Free private parking is available on site. The accommodations is air conditioned and features a seating area. There is also a kitchen, equipped with an oven. A toaster, a refrigerator and stovetop are also available, as well as a kettle. There is a private bathroom with slippers and free toiletries in every unit. Towels and bed linen are featured. Gaios Port is 1.9 mi away.
For photos, reviews and more information click here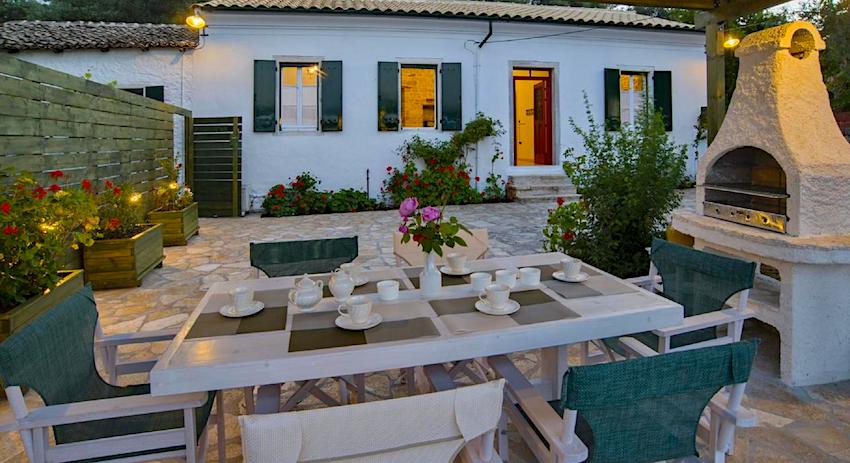 Villa Eleonas
Villa Eleonas is a detached vacation home featuring a garden with a sun terrace, set in Ieromónachos, a 15 minute walk from the beach. Guests benefit from terrace. Free WiFi is featured throughout the property. There is a seating area and a kitchen as well as a private bathroom with bathrobes and a hairdryer. A flat-screen TV is provided. This property also has one of the top-rated locations in Ieromónachos! Guests are happier about it compared to other properties in the area.
For photos, reviews and more information click here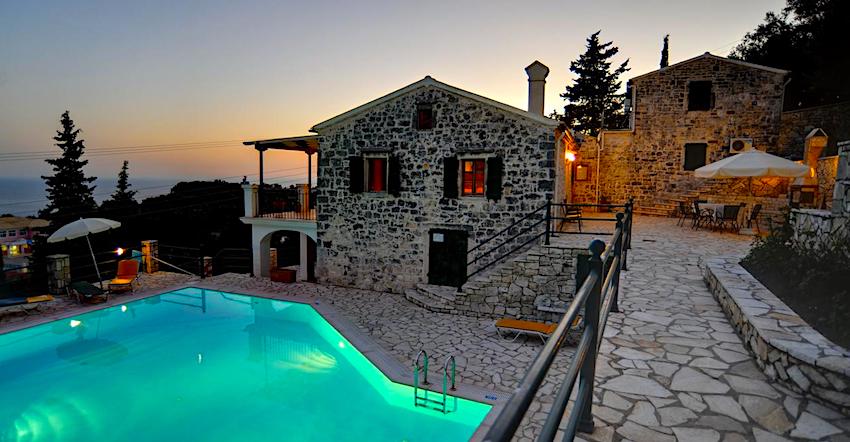 Villa Katerini
Just a 5-minute drive from Gaios Village, the 17-century Villa Katerini offers stone-built accommodations with a private pool surrounded by a stone-paved sun terrace. The split-level villa enjoys views over the Ionian Sea, the pool and the mountain. Fitted with beamed ceilings, dark-wooden and wrought-iron beds, the air-conditioned unit has a living room with fireplace. It consists of 4 separate bedrooms, an open-plan, fully equipped kitchen with dining area and 4 private bathrooms. Facilities also include a washing machine, a dishwasher and a TV with DVD player. Guests can relax at the sun loungers by the pool or at the spacious balcony overlooking the Ionian Sea. BBQ facilities are also available in the terrace for al fresco dining. Guests will find local cafés, restaurants and a supermarket within a short walk from Villa Katerini.
For photos, reviews and more information click here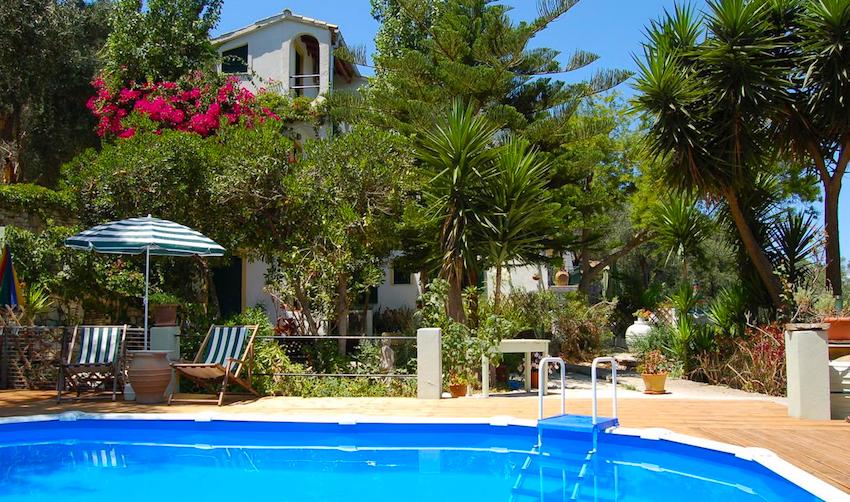 Kanoni Beach Apartments
Located in Lákka, the family-run Kanoni Beach Apartments features an outdoor pool with a furnished, wooden deck amid its blossomed garden. It offers self-catering accommodations with free WiFi and views over the garden, the pool or the Ionian Sea. Opening to balconies, the air-conditioned studios and apartments of Kanoni have a kitchenette with dining table, fridge and oven. Each unit is equipped with a TV, and includes a private bathroom with shower. Guests can relax at the sun loungers by the pool or use the BBQ facilities available at the garden and enjoy al fresco dining. Grocery deliveries can also be provided on request. The center of Lakka, where taverns and shops are features, lies within a 5-minute walk from Kanoni Beach Apartments.
For photos, reviews and more information click here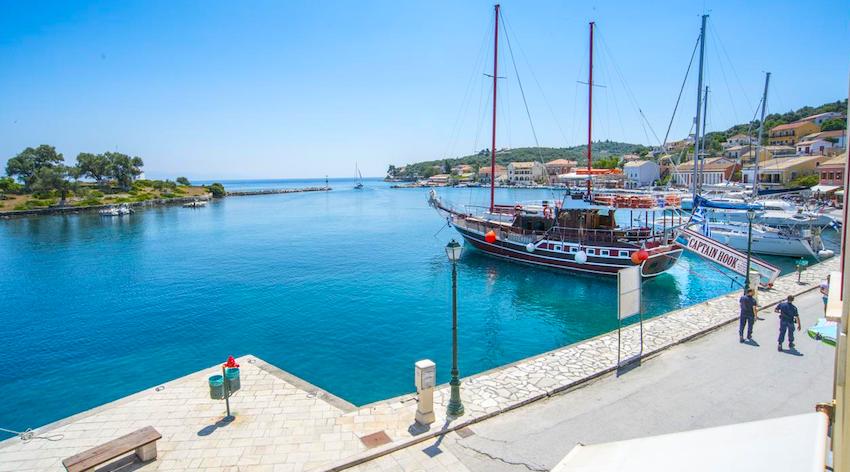 Elena Apartment
Located on the promenade of Gaios, just 300 m from the beach, Elena Apartment offers self-catering accommodations overlooking the Ionian Sea. Shops and restaurants are within a 3-minute walk and the beach is less than a 5 minute walk. All apartments at the Elena have air conditioning and TV with cable channels.There is a kitchenette with cooking facilities and fridge. The private bathroom comes with shower. The seaside villages of Lakka and Longos are 5 mi away. Boats to Antipaxos depart daily from Paxos port right in front of the apartments.
For photos, reviews and more information click here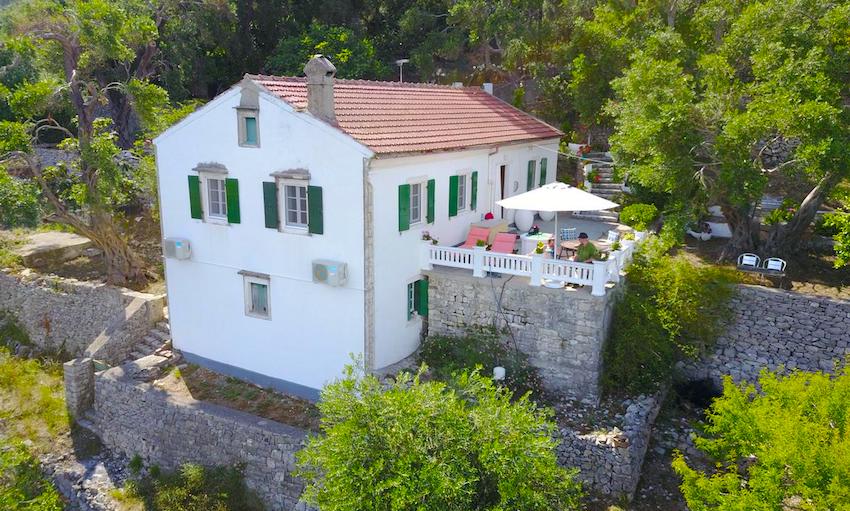 Joanna's Cottage
Set amid a lush, olive-tree garden, Joanna's Cottage is located in Dendiatika Village, within 0.6 mi from Longos Beach. It offers traditional, self-catering accommodations with a furnished sun terrace overlooking the Ionian Sea and the garden. Fitted with wooden and tiled floors and traditional furnishings, the spacious house has 3 bedrooms, a seating area and a fully equipped kitchen with dining area. Facilities include air conditioning, a stove, a microwave and a TV with DVD/CD player. The bathroom comes with shower, hairdryer and free toiletries. Guests can relax under the shade of the trees or at the sun loungers found in the terrace and enjoy the unobstructed sea views. BBQ facilities are also featured on site. Mini markets, taverns and traditional cafes can be found at Longos Village, within 0.6 mi from Joanna's Cottage.
For photos, reviews and more information click here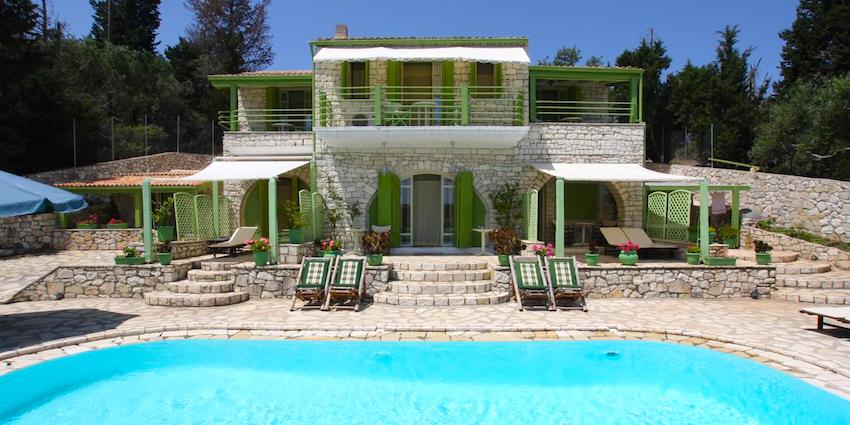 Villa Contessina
Located in Dalietátika, a few minutes walk from the beach, Villa Contessina feautres free WiFi and units equipped with a kitchenette, seating area, terrace and flat-screen TV. A toaster is also available, as well as a coffee machine and a electric tea pot. The home has an outdoor pool and a beautiful view of the sea from the terrace.
For photos, reviews and more information click here
For more hotels, villas, holiday homes, and self-catering accommodations on Paxos see Booking.com's Paxos Pages