Have you ever gone wine tasting on the Greek island of Naxos? Well, there are two wineries on this island but only one offers wine tastings. If you haven't been to Saint Anna Winery, named for the authentic chapel on the property (which is known for women traveling far and wide to visit for it's fertility powers) you are missing out on a wonderful story of blood, sweat and tears of a third generation farmer/wine vintner.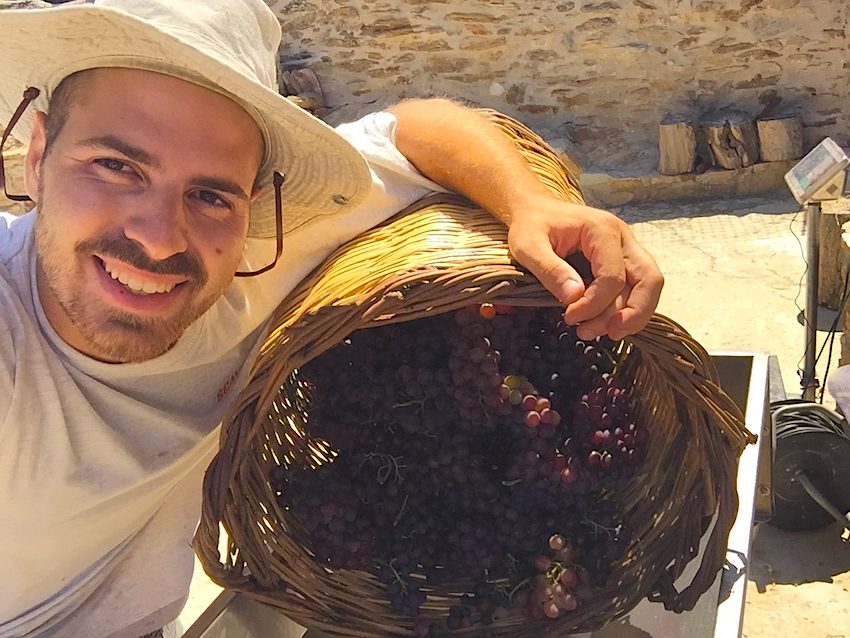 SAINT ANNA WINERY was founded by Emmanuel Petrakis who graduated from the American Farm School of Thessalonica, got his bachelor degree from the Agricultural University and opened the winery in 2016. This 26 year old entrepreneur is pouring his heart and soul into his endeavor. It has always been his dream since he was a young boy to work his grandfather's land and turn his passion into a reality. Not only does he make all of his wine by himself but he also harvests olives from 85 trees, processes them by mechanical means for collective local farm's EVOO (Extra Virgin Olive Oil); and grows fresh vegetables such as tomatoes, cucumbers, peppers & of course the Greek popular eggplant. His grandfather had passed away just 60 days before our visit, in late August, very proud of his grandson and all that he has accomplished.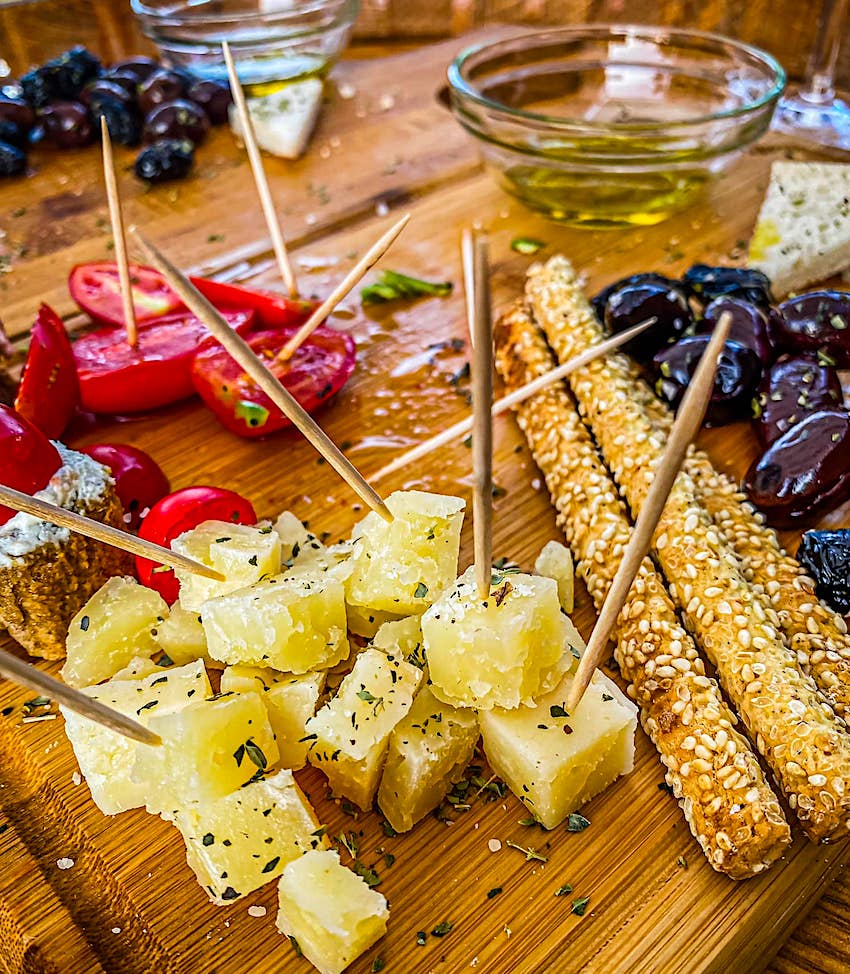 All of Emmanuel's grapes are all locally grown at different villages throughout Naxos. Everything including the wine, cheese, vegetables and olive oil all are locally produced on Naxos. Talk about Naxos pride, they have it here at Saint Anna Winery. The traditional winery, is located in Potamia Village, a place of luxuriant vegetation, rare for a Cycladic island, 95m above the sea level and 7,5 km distance from the town. The winery produces white, rose, red, sweet and dry varieties like Fokiano, Mandilara, Monemvasia, Savvatiano and more Cycladic and Greek mainland varieties.
For just 25 euros (a true bargain) you taste all 9 wines accompanied by the most amazing platter of finger food mostly picked from Emmanuel's handy vegetable garden. My favorite was the sliced grape & cherry tomatoes drizzled with EVOO & oregano, topped with finely diced green peppers, a wine-paired snack to die for! It was so delicious that I forgot to get a photo before I started to devour it. Emmanuel also cleans your pallet with cold bottled water between each new wine change. We felt very pampered. You will not leave thirsty or hungry. You will also hear his story about how he produces 1500 bottles of wine each season, so far.
Saint Anna Winery is getting more popular so he has plans to expand his production equipment and facilities while maintaining the business on his grandfather's property. I love a great story of an amazing dream by a young boy. Keep up the good work Emmanuel. I can't wait to see what you do with your winery in the coming years. If you love to support local Naxos businesses and young entrepreneurs you will hopefully give him your support. This was an amazing experience we had and wanted to share their story. Blood, sweet and tears this guy does all by himself every day. Go give him a visit next time you are in Naxos!! Or visit their website.
Yamas (cheers)!!!