Restaurants, Nightlife and More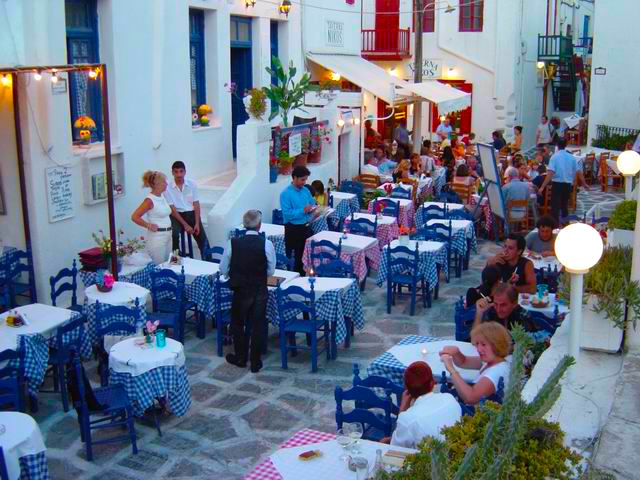 These restaurants I recommend because they are still Greek and relatively inexpensive (not outrageously overpriced): Kounelas, Ithaki (Paradise Beach), Vasoula (Agios Stefanos), and Caprice as long as there are no millionaires distracting the staff. There are many fast-food places and some of them are terrific so don't be afraid that eating will send you home broke. For ouzo get the small pikilia at Sirenes on the waterfront. If you are hungry get the large. It's the last cafe from the taxi-stand. For traditional pastries and sweets visit Anastasia at Mandarinia near the taxi square. The beaches all have tavernas and restaurants, some like the one at Elia, can seat hundreds of people and has a diverse international menu that leans heavily on Greek and Italian food. Paradise beach has a cafeteria style restaurant which comes in handy if you are the type who needs to see the food to know if you want it. Menus are all in English as well as some other languages too and almost all the waitors in Mykonos speak English. In fact almost everyone you will meet will probably speak English.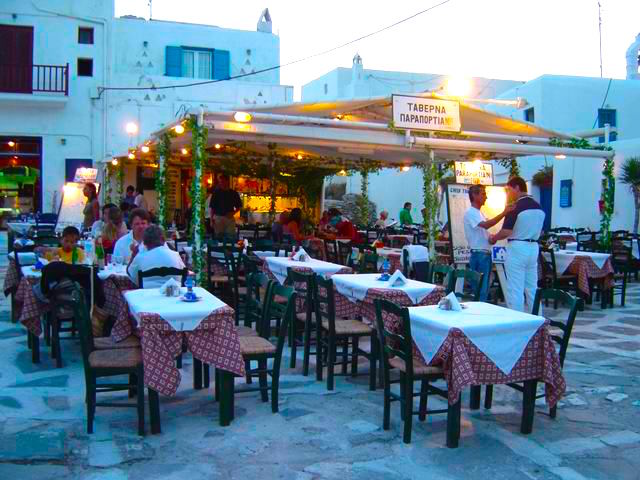 Ann Marie Hanson one of the members of my Greece Travel Group on Facebook recommends Fokos Taverna on Fokos Beach....worth the trip down winding, rocky road with a beautiful bay for swimming, and the reward of a wonderful taverna....very good. Kostanits Taverna on the beach at Ornos has excellent food and service. Get a table on the sand and kick back. Avli to Thodori at Plati Yialos has great atmosphere overlooking the beach with wonderful food and service. Another Greece Traveler, Christine Jackson Counelis adds: Amades, in town is simple and genuine and Vinos is a wine bar for grown ups, with exquisite tapas type snacks. Out of town (always a good idea) go to Mathews Taverna at the old port- great ingredients, well prepared, lovely setting . In Ano Mera try Danielle's for a very special hand made gourmet, and the best hosts imaginable. At Fokos beach the Taverna Fokos has.perfect food on the perfect beach, a work of art in an amazing wild setting. Liasti Taverna on Lia Beach is everything a great beach restaurant should be. Tina Vlachos recommends Cavo Psarou at Psarou Beach. "It was excellent! All dishes were homemade & the beach was beautiful as well. We still talk about that restaurant as being one of, if not the best, food we ate in Mykonos."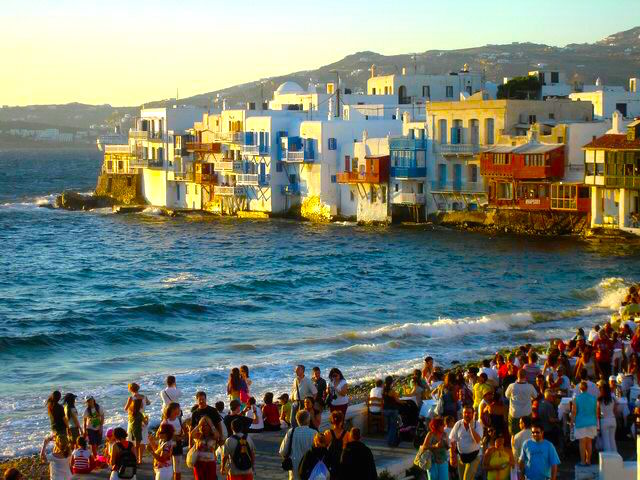 Mykonos nightlife begins at sunset when people meet below the windmills by Little Venice to watch the sunset. There are so many cafes and clubs and bars that it would take all day to list them. Mykonos has the best nightlife in Greece and that means it has the best nightlife in the world. No kidding. There are flyers posted around town or handed out on the street with different events, concerts, openings and whatever. There are a couple local information magazines that have listings and ads for the hottest clubs, whatever they happen to be when you go since they change every year. There are a couple internet cafes in town if your idea of a good time is reading your e-mail or posting your beach pictures on Facebook. Like anywhere in the Greek islands these days most of the cafes, bars and restaurants have free wireless as do many of the hotels.
Daytime in Mykonos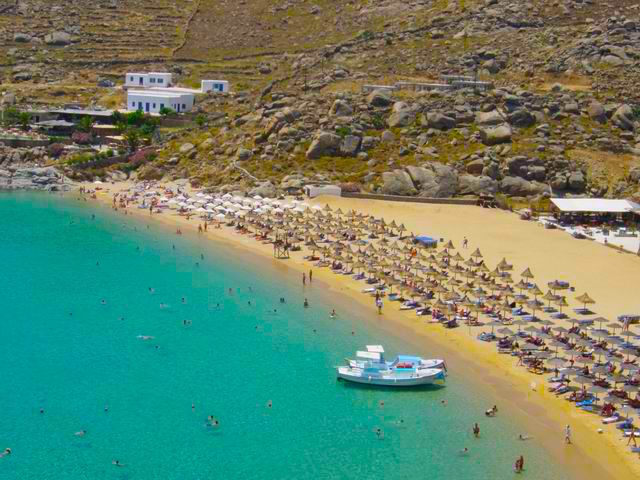 In the daytime people eat breakfast and then go to the beach either by car, bus, taxi, motorbike, bicycle or on foot. Most of the people shopping in town during the day are probably on a cruise ship. Super Paradise is an amazing beach and sort of the pin-up beach of Mykonos, but all the beaches are nice and the more popular ones have lots of activities like scuba diving, water skiing, jet skis and of course once you get away from the sandy part of the beaches and go along the rocks the snorkeling is pretty good. Its clear anyway. You won't see massive numbers of tropical fish like in the Caribbean and there won't be anything big enough to eat you or take a bite out of you but there is a subtle beauty about the Greek underwater life with lots of cool rock formations and some interesting small fish. The beach bars are pretty much an all day party so if you like that kind of thing find an umbrellas and beach bed close to the action. If you don't get as far away from the bar as you can. There can be days when the thumping beat of electronic music will still be in your head long after you have gone back to your hotel for Aspirin.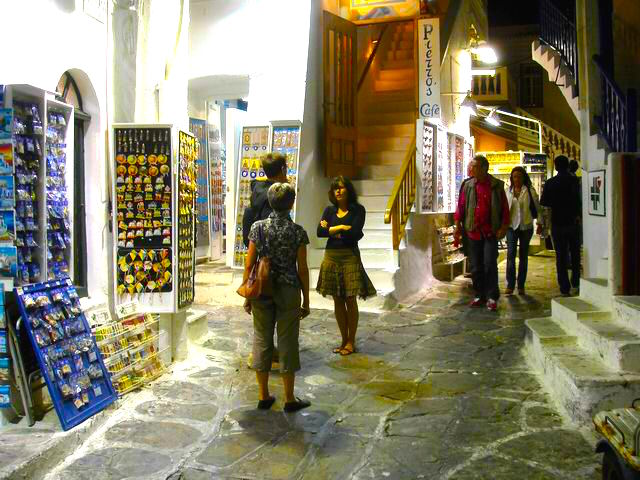 For those who are not beach people and prefer to hang out in cafes and go shopping, the back streets of Mykonos have just about every kind of tourist shop, gift shop, jewelry store, boutique, shoe and clothing shops, and even some gourmet and traditional food shops. Mykonos is known for its louza which is a sun-dried pork loin (Kea has this too) which can be eaten like ham or prosciutto and will probably survive a trip home if you hurry. They also have a local sausage and a kopanisti, a spicy cheese made from goat and/or sheep's milk and preserved in olive oil. It is something like feta, but more intense, and can be spread on bread or used in salads. If you have a fridge in your room buy some louza, kopanisti, and some bread and olives for snacks.
Don't forget to go to Delos! You have to visit one archaeological site when you go to a Greek island and in Delos you have one of the best. Boats leave in the morning from the pier right behind the little church of Agios Nikolaos. See my Delos Page
It is hard to get bored on Mykonos so if you do you should either consider devoting the rest of your life to spiritual endeavors or considering the possibility that you may be clinically depressed and see a psychiatrist when you get home.
A Lone Red Apple by Aurelia: More than a well written Novel, this book has more helpful information about Greece and the island of Mykonos than many of the most popular Guidebooks. For excerpts, reviews and ordering info click here.
More Mykonos Travel Information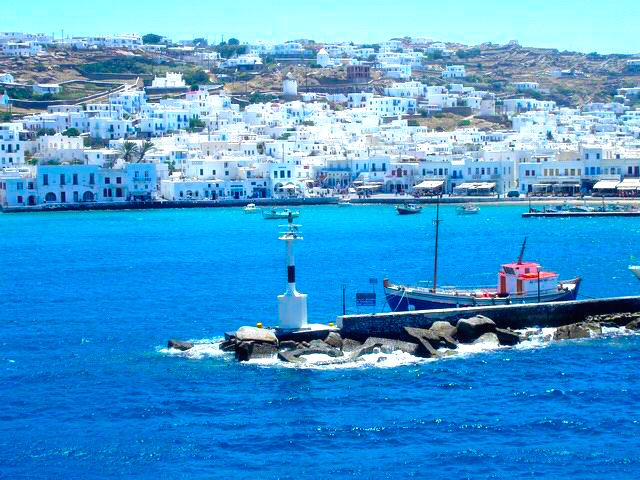 Hotels and Travel Agents: See my Mykonos Hotels page where you have a choice of booking directly through Booking.com or through a travel agency. Also see Matt's Mykonos Villas page for houses, self-catering apartments and Air BnB style accommodations. For travel agencies I recommend Fantasy Travel, Dolphin Hellas and Aegean Thesaurus Travel, all who provide excellent service, have great rates and speak fluent English among other languages. They can coordinate your ferries and your hotels in Athens and the islands and make sure everything runs smoothly and if you have any problems you will have someone to call for help that is in Greece and can be of assistance right away. They know all the hotels and what makes them good, and what might make them not so good, like being next to a disco for example or at the end of the runway at the airport. Little things that might make your stay less enjoyable but may not be mentioned on a hotel website.
You can find hotels, villas, apartments and holiday homes on Matt's Hotels of Greece Mykonos Page.

Use Ferryhopper to find all direct and indirect ferry routes for the islands of Greece, Spain, Italy & Turkey, compare ferry companies & prices, and book cheap ferry tickets with no hidden fees in one go!
Island Combinations with Mykonos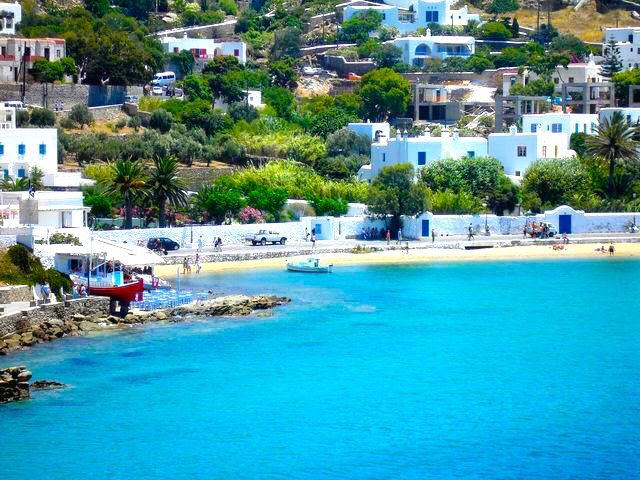 Most people want to do Mykonos-Santorini and in the summer there are usually daily ferries but until the schedules are released nothing is certain and even after they are released sometimes it is not certain that there will be a ticket for you since the high-speeds that do the summer Crete-Santorini-Paros-Naxos-Mykonos route are small. They don't carry cars either. I recommend using a reliable Greek travel agency to coordinate ferries, hotels and transportation and save yourself the angst of uncertainty and allow yourself to have a holiday free from worries. Fantasy Travel offers several Mykonos-Santorini in combination with other islands options on their Vacation Packages, Greek Island Hopping Page and their Classic Greek Programs. These are all worth looking into because they have excellent rates and include some of the top hotels in Athens and the islands. The Fantasy Travel Special Offers Page takes advantage of low rates during certain periods and if they coincide with your travel dates or your dates are flexible you can save a lot of money while having just as much fun as the people who spend much more.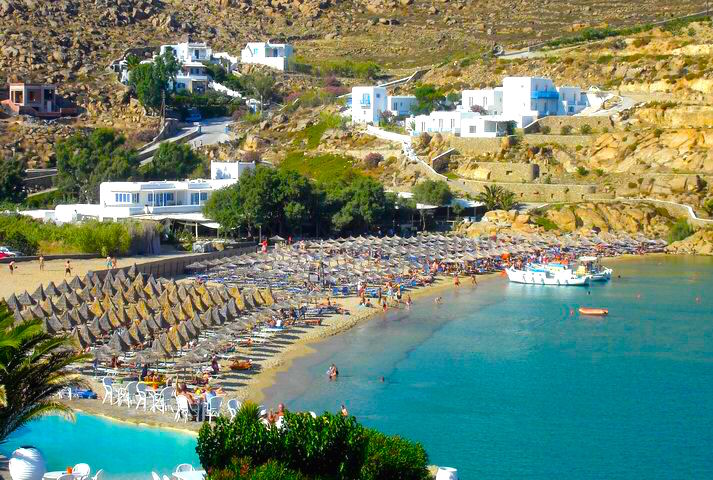 If you feel compelled to visit Mykonos but want to combine it with a less touristy island then try Tinos right next door which is about as different from Mykonos as an island can be. There are frequent ferries, in fact just about every boat that goes to Mykonos also goes to Tinos. Don't stay in Tinos-town which is like a religious version of Mykonos town but without the charm. Stay in the quiet beach communist of Ag Ioannis Porto. You can read all about Tinos on my Tinos Page and if you are interested in a Mykonos-Tinos island combination you can request it on my Create-an-itinerary page. Another nice option is doing Mykonos with my favorite island: Sifnos. It is a little trickier due to the ferry schedules but Aegean Thesaurus can put it together for you since their specialty is Sifnos and the Cyclades. Fantasy Travel's Unique Landscapes features Mykonos, Santorini and the dramatic monasteries of Meteora and includes 4 nights in Athens, but not in the center, in a beaufiful seaside hotel on the Apollo coast.
Cruises and Yachts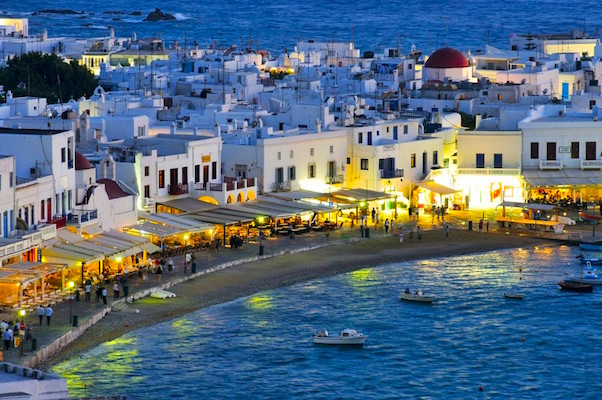 Most Greek Island Cruises stop in Mykonos. If yours doesn't then you booked the wrong cruise. The Greek cruises arrive about 6pm and stay until midnight so you get a small taste of the famous Mykonos nightlife, probably enough to make you wish you were not getting back on the boat. For information on Greek Island Cruises see my cruise page or Fantasy Travel's Cruise Page or Dolphin Hellas Cruise Page for schedules of 3, 4 and 7 day cruises of the Greek Islands and Turkey. I recommend the Fantasy Travel's Smart 7 which includes 3 days each in Mykonos and Santorini and a cruise in between that picks you up in Mykonos and drops you off in Santorini. In between you will visit Crete, Rhodes, Patmos and Ephesus, Turkey!
To rent a sailboat or a yacht and visit Mykonos in style stopping at other islands along the way see Matt's Sailing in Greece Page and you can hook up with a boat and a skipper and other like-minded people if you prefer. There are also smaller boats called Cabin Charters that have about 20 cabins and are like a cruise except you can fit in any harbor (no tenders) and stop at beaches that are only accessible by boat.
There are hotels that cater strictly to gay clientele though it would be pretty hard to find a Mykonos hotel that is not gay-friendly. But if you are traveling alone or with another and want to make sure you are in a hotel with other gay men rather than a bunch of families or a convention of orthodox priests contact Fantasy Travel and they will make certain you are in the right hotel.
There is camping at Paradise Beach and Paraga Beach. There are two diving centers if you are interested in scuba or snorkling adventures. One is at Paradise Beach and the other at Psarous. There are island tours, sunset cruises and a large variety of things to do, all advertised with cards, flyers and brochures in hotels and cafes. Motorbikes are available for renting. Drive carefully because nobody else does.
Swift Car Rentals is a company that works with several car rental agencies on the island and negotiates with them to find you the best deal on car rentals. You can also get cars through Fantasy Car Rentals.
New! This is a great way to plan and book your trip if you have an idea of what islands you want to visit. Fill out my Create-an-itinerary-form and a travel agent will come back with a price.
Ferries and Flights to Mykonos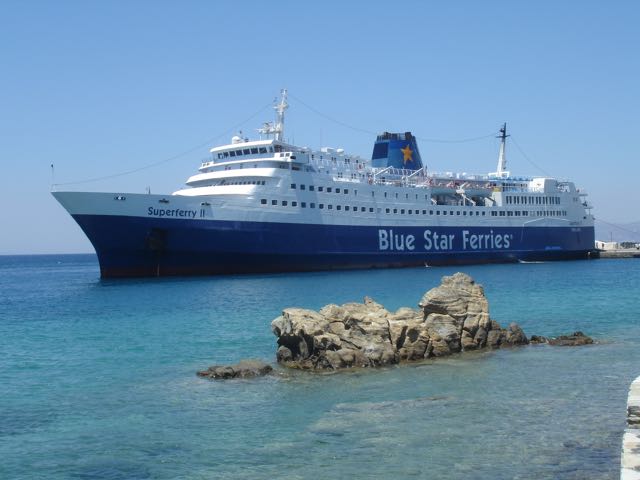 There are several ferries a day from Pireaus to Mykonos during the summer and usually one a day during the winter. Some are high-speeds which take about three hours and the others are regular ferries which take twice as long. The high-speeds usually do not travel in the winter. Getting reliable ferry information is not that easy especially when it is January and you are trying to book your hotels for the summer and the ferry schedules have not been updated yet and nobody can tell you when they will be. I recommend using a Greek travel agent who will have a good idea of what the schedules will be and in many cases discounted rates onthe hotels. They can also make changes to the hotels should there not be a ferry on the day you need one. Once the ferry schedules are up you can find them and book your tickets at Ferryhopper.com and pick up your tickets in the port at one of the ticket booths right by where the boat leaves from.
There are also a couple boats a day to and from Rafina. There are daily connections in the summer to Paros, Naxos, Crete, Syros, Tinos, and of course Santorini. Even in the way-off season there is at least one ferry to Mykonos from Pireaus and from Rafina, usually stopping in Andros and Tinos.
If you arrive from abroad at Athens Venizelos International Airport and you need to get to Pireaus to catch the ferry to Mykonos I recommend George the Famous Taxi Driver. Plus if you have some time to spare, as some of you will, you can do a little tour of the city. For your return to Athens from Mykonos I also recommend using him to get to your hotel or the airport. Otherwise the X96 Bus is the easiest way to get between the airport and Pireaus and it runs 24 hours a day. If you get to Pireaus before midnight the metro should still be running. Otherwise there are usually plenty of taxis waiting in the port when the ferry comes in.
You can Fly from Athens to Mykonos which means you can book your whole trip from the USA, Europe or anywhere and just change planes or in some cases find a direct charter flight. If you are booking your own flight you will need at least 2 hours between your arrival and the departure of your flight to Mykonos and 3 hours for your return. You will also need to pray your flights are not delayed. If the time between flights is too tight I recommend staying in Athens that first night and taking a ferry from Pireaus in the morning. See my Athens Hotels page. I also recommend you spend your last 2 nights in Athens.
Internet Access on Mykonos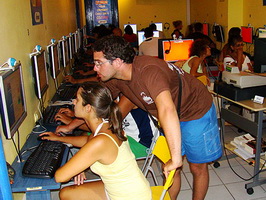 Most hotels now provide free wireless internet so when booking your hotel you may want to check on that option. If you find you have no internet or the internet is just too slow to do anything, at the central Bus Station of Mykonos (in Fabrika) is Fast Internet, said to be the coolest internet center of the island. Run by Alex Valassidis you can surf the Web, e-mail your friends, use the yahoo, aol, or msn messenger, scan, burn CDs, burn photo CD's, print, send or receive faxes, make international phone calls to the States, Canada, Australia, New Zealand or anywhere in the world, in a fully air conditioned environment using wide flat screens in 24 working stations, using the FASTEST line on the island. You'll also find a great variety of mobile phone, accesories, memory cards and digital cameras in case you need to purchase one while you're on vacation! They are open all the season (from begining of April till the end of October) everyday, any day, including Sundays and holidays from early in the morning till' late at night.
Questions? Don't be afraid to E-mail me
I love answering questions about Greece. It gives me a sense of purpose and since I am on the computer most of the day anyway you will probably get a reply quicker than you thought.