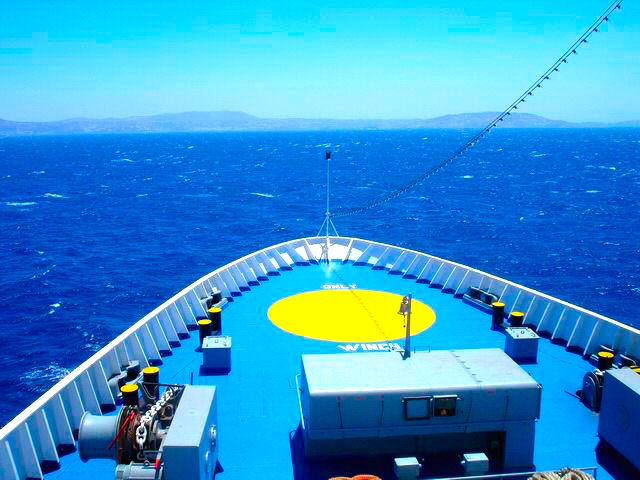 This is looking fore (I think that's what they call it) and you can see Mykonos in the distance just twent minutes away. For those of you who have your thinking caps on you will realize that the distance between Tinos and Mykonos is about a half an hour. Within that half an hour I called Fantasy Travel. The phone call went something like this:
Me: Hello Litza (my favorite agent... well I like them all but she is the one I want to run away and raise a family with).
Litsa: Ah hello Matt. How is the Hotel Porto Raphael?
Me: It was great. But I need a hotel in Mykonos.
Litsa: Why you didn't like Tinos?
Me: No I loved it... it's a long story. But we are going to Mykonos.
Litsa: OK. When do you need it from? Tomorrow?
Me: Actually I will need it in about 15 minutes. I am on the ferry.
Litsa: I will call you back.
5 minutes later
Litsa: You are booked at the Hotel Adonis. Its at the top of the town by the crossroads to Paradise Beach.
Me: Thanks Litsa (I love you and I pray one day we can be together at one of the many hotels that you have booked for me).
I was just thinking the last part. After all I am a professional and I would never allow my own personal feelings and desires to affect my working relationship with a travel agent. Plus I am married, sort of. But it is hard not to fall in love with someone who you can call from a ferry and be booked in a hotel before you arrive on the island.