Leros is an island known for its deep bays, pine forests, beautiful beaches and comfortable climate. Located between Patmos and Kalymnos it has ferry connections to all of the other Dodecanese Islands and it is surprising that it does not receive more visitors. But Iím guessing that if you are reading this you believe thatís a good thing.
Leros Introduction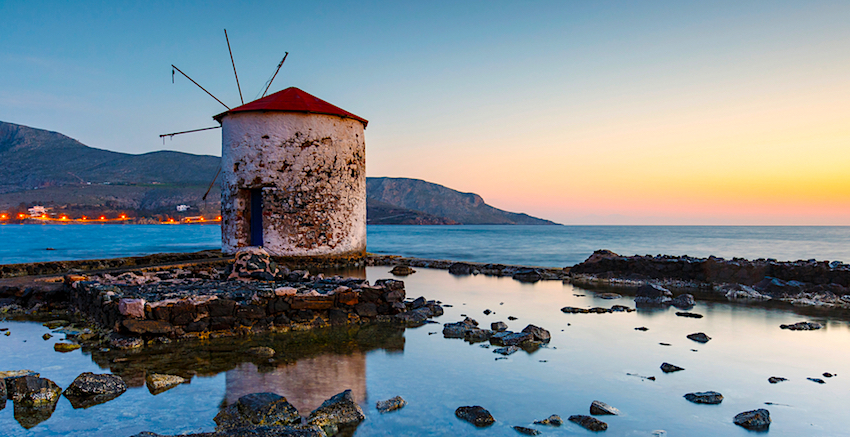 In the not so distant past there were islands where tourism was not encouraged. That is not to say that Greek governments of the past did not want tourists to visit certain islands; they just didnít promote them as heavily as others for one reason or another. Perhaps one reason happened to be that influential people did not want tourists coming to a particular island. For example in Milos, with its mineral wealth the attitude of some might have been that if the islanders discovered how easy it is making money in tourism how are we going to get them back to work in the quarries and mines? For years the amazing beaches of Milos were a secret known to a few Greek hippies and a handful of knowledgeable travelers. Now itís on just about everybodyís to-do list. There is just too much there to keep it a secret no matter how hard you try.
Leros may be a similar case. I donít have the political connections I would need to know if the Greek government did not want tourists to come here despite the fact that the island has everything from beautiful beaches, charming fishing harbors and villages, ancient and modern historical artifacts including a Byzantine castle and an entire city built by Benito Mussolini, among other things. Perhaps the Greek government believed that if tourism came to Leros the local people would not want to work in the hospitals, orphanages, technical schools and other institutions that took over the buildings that were left behind after the Italian occupation of the island. Whether this was calculated or not Leros remains one of the least likely islands that you would have heard of unless you had an interest in the Second World War or your Italian grandparents or great grandparents lived here.
But if it is true that tourism was kept to a trickle to keep people doing the jobs the country needed to be done in this small but very important corner of the Aegean, that reason is no longer justified. Once again these institutional buildings have been abandoned and the islanders are free to earn their living providing hospitality to the few tourists and Athenians who have discovered Leros and to those who will discover it sooner or later. The island is too beautiful, the food too good, the fish too fresh, the history too fascinating, and the people too friendly to justify keeping it a secret. And itís distance makes it unlikely that it will ever be overrun except perhaps by the handful of tourists, no, letís call them travelers, who are looking to experience something authentic and a little more special than the Greek islands they are used to.
Main Towns of Leros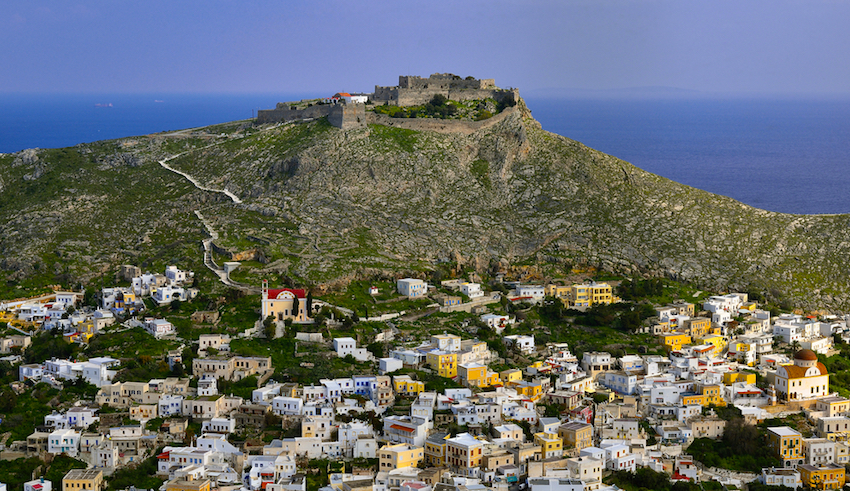 Platanos is the capital of the island where you will find most of the businesses that the locals use, as well as the government offices. It sits between the two coastal towns of Agia Marina and Penteli where most of the hotels and restaurants are.
Above the three towns is the Castle of Panteliou or Castle of Panagia (Lady Mary), built in the 11th century by the Byzantines and in 1309 rebuilt and reinforced by the Knights of Saint John, yes those same guys who built the castle in Rhodes and Kos. It was also used by the Italians during the Second World War. There is also a museum and a spectacular view of Leros and several other islands. It is a large and well preserved castle with a rich history and even if you have come to Leros for sun, sea and sand a visit is still essential. It can be reached either by footpath from the port of Agia Marina or by bike on a winding road past the beautifully restored Leros Windmills. If you are coming from Platanos the path begins by the Church of Agia Paraskevis which used to be the main cathedral (Metropolis) of the island. Or you can take a taxi so you still have the energy to appreciate the castle and views and get your exercise walking downhill instead. The 14th century church Lady of the Castle on the west side of the fortress is the most important church on the island, with a miracle working icon and wall paintings. Like many sites of castles and churches this one sits on the site of an ancient acropolis.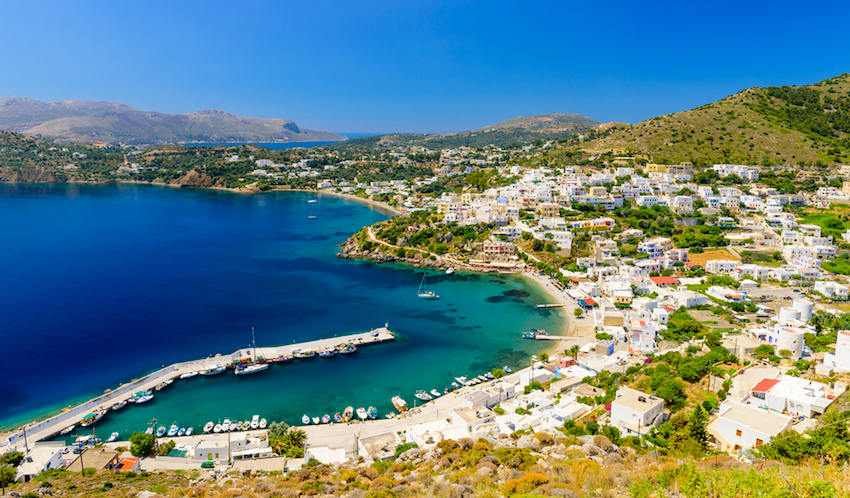 Panteli
On the other side of Platanos is the small fishing harbor of Panteli, also with its own restaurants and cafes and hotels and a beach right in town and fewer bars. Walk south past a rocky headland and you come to Vromolithos, a long pebble beach with a normally calm sea since it faces southeast instead of north. There are tavernas, cafes and hotels too as well as beach beds and umbrellas.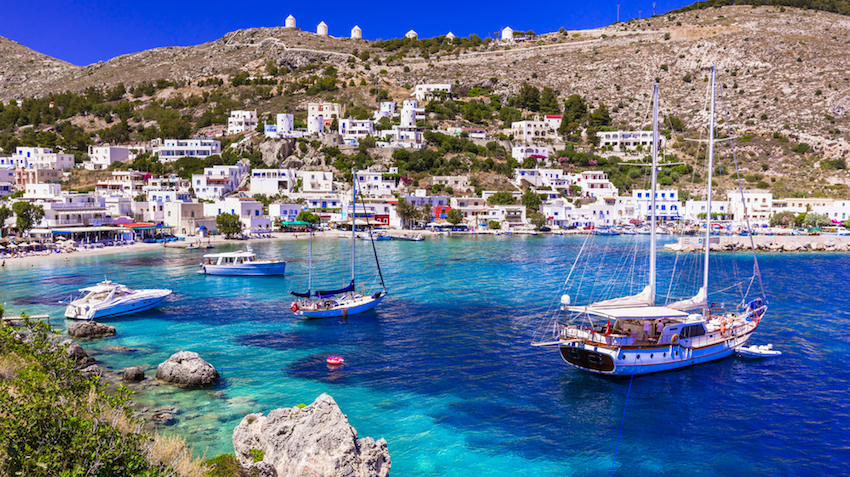 Panteli
Pandeli is the most traditional of the seaside villages with the tavernas and the tables right on the sea where you can watch the fishing boats coming in and out of the harbor. There are lots of hotels, rooms and holiday homes for daily, weekly or monthly rental. Most people over 40 who use my guides will be happy staying in Panteli. If you are under 30 maybe stay in Alinda though if you have transportation or like walking it probably does not matter where you stay. The three towns of Platanos, Panteli and Agia Marina might as well be considered as one big town. Agia Marina gets the north wind, called the Meltemi so it is cooler in the summer and can get some waves during meltemi. (There is a reason there are so many windmills on Leros). Panteli is more calm unless the wind comes from the south, called the Sirocco, which is less common in the summer.
The Friends of Villa Kolkis located above Penteli, promote cultural cooperation between the Nordic countries and the Mediterranean and hosts workshops and seminars in the house of GŲran Schildt and his wife Christine. GŲran Schildt, who died in 2009, was a prolific writer from Finland, with countless books and essays on cultural history, art, journalism, travel, biographies and works of fiction. He is best known for the books about his sailing adventures on his boat Daphne. His widow, Christine now hosts cultural events at the villa.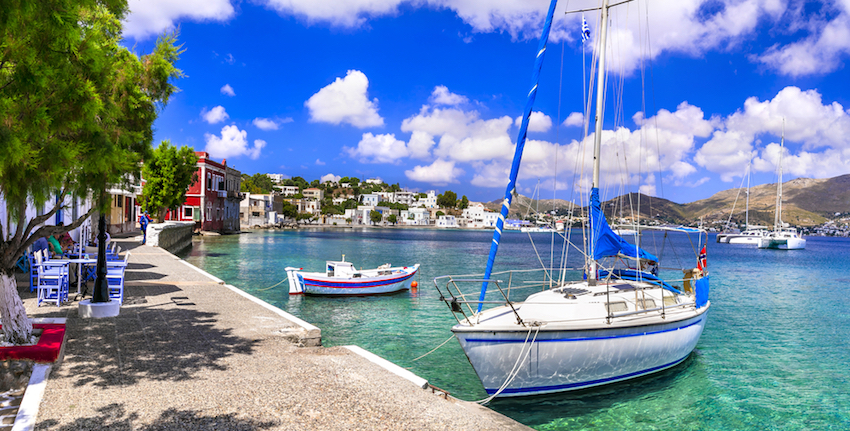 Agia Marina
Agia Marina, to the north of Platanos, is the port for the smaller boats and hydrofoils that connect Leros with the rest of the Dodecanese islands. There are a couple hotels, serviced apartments and holiday homes, (most of them towards Alinda), waterfront restaurants and cafes and shops as well as a tree lined beach. Agia Marina is also the center of Leros nightlife so keep that in mind whether you are seeking it or hoping to escape it, though if you are used to the nightlife of the more popular Cyclades you should find it pretty tame.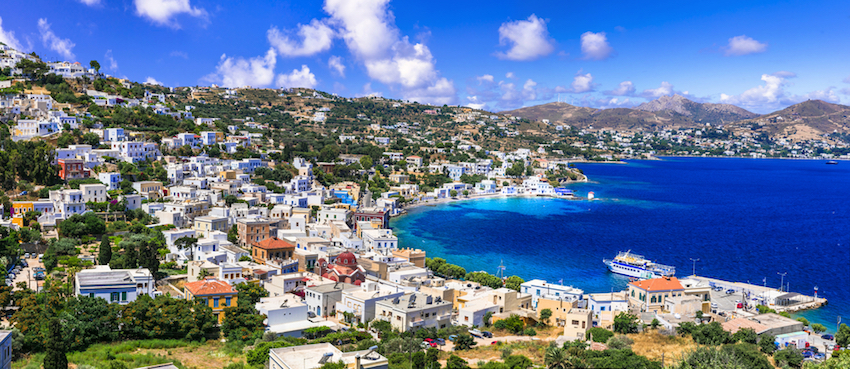 Agia Marina and Alinda
If you continue along the coastal road you will come to Alinda which was settled by Greeks from Egypt whose homes and mansions are evident. There is a long stretch of beach along the road and a number of hotels, apartments and rooms to rent as well as restaurants, cafes and bars. On the way you will pass the Hydrovius Dive Center (Tel. (+30) 22470.260.25). Leros is a popular scuba diving destination, perhaps the best in Greece, with many sunken ships lying just off its coast including the Greek destroyer Vassilissa Olga and the British HMS Intrepid, which were both sunk together in a German air raid on Lakki harbor in 1943. There are also many barges, landing craft and airplanes that can be explored.
A few steps further is the Leros War Cemetery where you can pay your respects to the British soldiers who died here. Further on Bellenis Tower is a Folklore and History Museum housed in a historical building that is an impressive example of medieval fortification architecture with neoclassical elements, more like a castle than a house. Inside you will find photographs, relics, objects of everyday life from Leros and a remarkable collection of war relics from the Second World War.
Open in summer months from 9 -12: 30 and from 18:30 - 20 hours.
Closed on Mondays and in the winter.
Lakki: The Strangest Town in the Aegean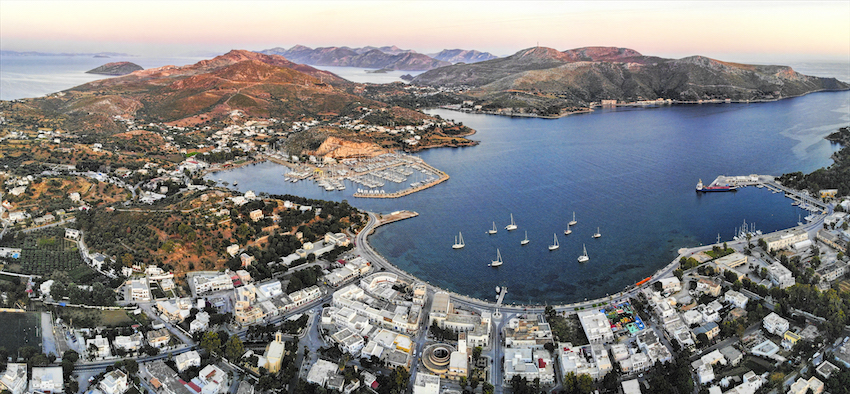 Photo of Lakki by ©Androulidakis Stelios
The port town of Lakki is located in what may be the best natural harbor in Dodecanese and was an important Italian naval base during World War Two. In fact the Italians controlled the island after seizing it in 1912 from the Ottomans and except for two years when the British used Leros as a naval base, they were there for over thirty years, fortifying the island, making the Italian language compulsory and giving citizenship to the locals in their efforts to Italianize the Dodecanese. Mussolini believed Leros was essential for controlling the eastern Mediterranean and in the 1930s created a modern town which he called Portolago, one of the best examples of Italian Rationalist architecture in the world. (Sort of a mixture of Art Dťco, Bauhaus, Fascism and cement). It was a mosquito infested swamp until Mussolini drained it and hired two architects, Rodolfo Petracco and Armando Bernabiti, to create his utopian village to house and service the thousands of Italian seamen and their families.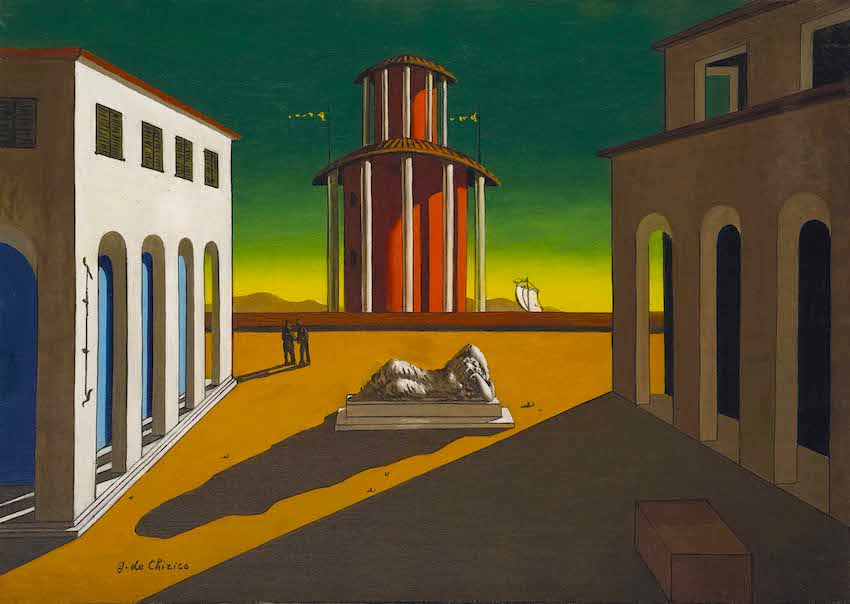 They got their inspiration from the paintings of Greek artist Giorgio de Chirico, the geometry of ancient temples and the optimistic modernism of Art Deco and created one of the most daring and unique experiments in architecture and urban planning. It is a town created from scratch, uncommon enough, but more so because it is completely sticks to the vision of the architects, and as often happens with visionaries they died in obscurity, their masterpiece unappreciated except by a select few.
"Walking through Lakki at night is like walking through an old film set after the lights have gone off and the actors have all gone home." according to journalist Alex Sakalis. The town cries out for World Heritage status though the only UNESCO member I asked had barely heard of it. But if Greece wants to expand their cultural tourism this would be an excellent place to start.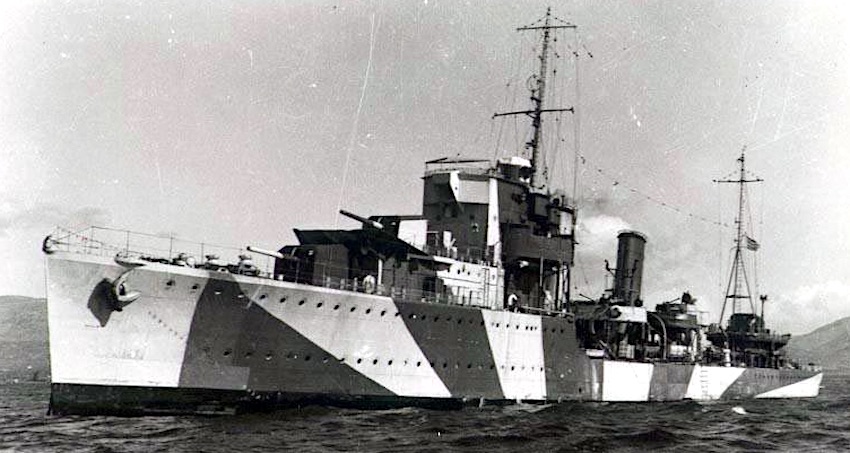 Vasilissa Olga
The island, and in particular the port, was heavily bombed in World War Two, first by the allies, and then after the Italians had surrendered, by the Germans. The Greek Navy's flagship, the Vasilissa Olga, was sunk by German bombers on Sunday September 26, 1943, along with HMS Intrepid, while they were anchored in Portolago. Afterwards the Germans occupied the island until the end of the war. After the war the British administered the island until 1948 when it became part of Greece with the other Dodecanese islands after 700 years of foreign rule.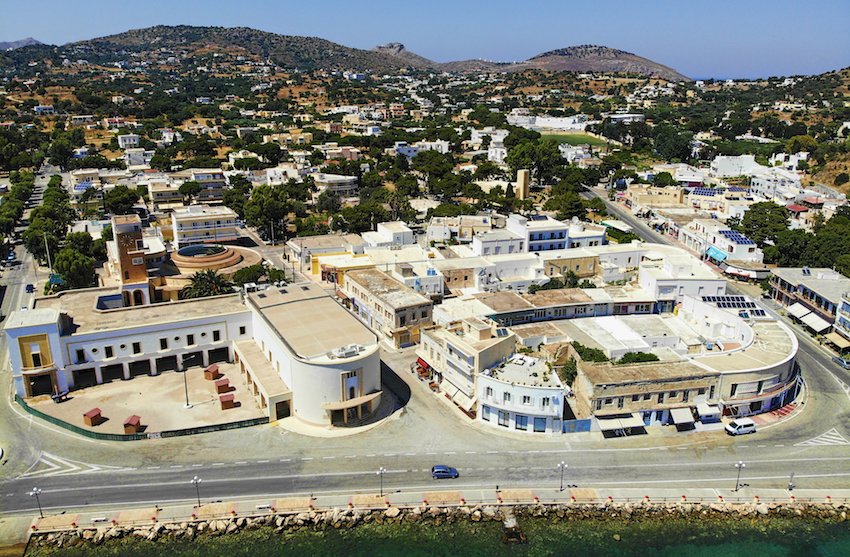 Photo of Lakki by ©Androulidakis Stelios
Once Leros became part of Greece Portolago was renamed Lakki and Mussoliniís showcase city fell into neglect. Eventually the town was somewhat repopulated and some of the buildings were restored and are in use, though many have been abandoned and are in various states of collapse. Make no mistake that this town is an important archaeological site whether it is appreciated or not. If you had never been to a Greek islands and this was your first port you might shrug your shoulders and not be impressed, thinking it looks somewhat modern and familiar. But if you know what a Greek island port should look like then Lakki will seem pretty peculiar to you and you will want to explore the village. It is basically the population of a small village occupying what was originally built as large town or small city of 8000.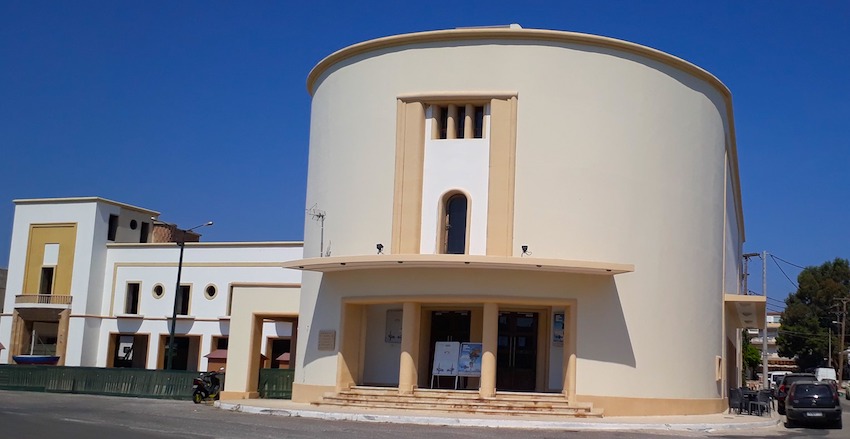 Lakki Cinema photo by Jeni Say
Of note is the Cinema, formerly the Roma Theater, the Church of Agios Nikolaos, formerly the Catholic Church of Saint Francis, maybe the most uniquely modern Greek Orthodox church this side of the Atlantic if not anywhere, the town's clock tower, the elementary school, and the city market.
The whole island is a treasure hunt for WWII buffs with abandoned barracks and other military buildings, tunnels and bunkers and a sea full of sunken ships and downed warplanes. But for those with an interest in architecture Lakki is the main attraction. It is also the primary port where the large ferries from Pireaus come. There are hotels, restaurants, shops, banks, ticket agencies and yacht services at two marinas.
Also while in Lakki visit the nearby War Museum Tunnel with its military vehicles, equipment, and all sorts of artifacts related to Leros during the Second World War located in one of the military tunnels that are scattered around the area. A very important museum that is well worth making time for especially if you have an interest in military history. Just follow the coast road west towards Merikia. Open daily during the summer.
For those interested in the wartime history of Leros read Four's Destiny: A Wartime Greek Tragedy by Michael Powell as well as the sequel Cheese and Chalk. Both are historical fiction, well written, enlightening and perfect reading material for anyone going to Leros. The Alistair MacLean novel and later the movie The Guns of Navarone was based on real events during the Battle of Lesvos, and the large artillery used by the Italians and later by the Germans to bombard allied ships.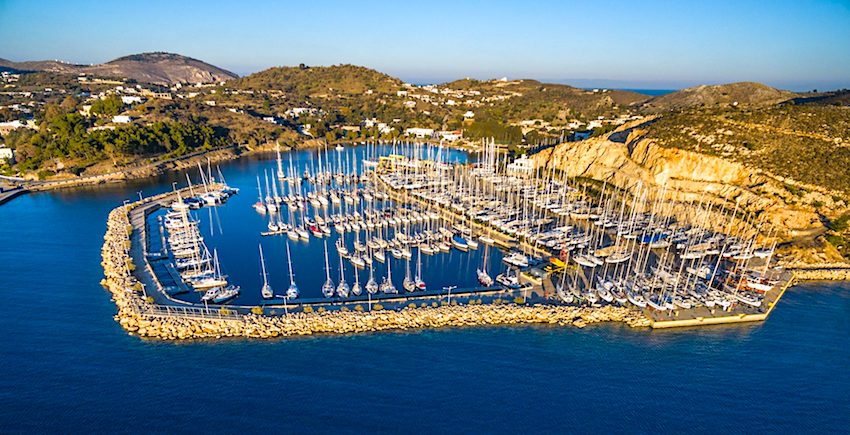 The excellent harbor of Lakki make Leros an important stop for people sailing the Eastern Aegean with 2 marinas in the harbor and lots of restaurants. The ward winning Leros Marina was established in 1989 and was the first Marina and Boatyard in the South East Aegean. It is located at the safest part of Lakki bay, where the Italians used to moor their hydroplanes, completely protected from all the winds. a newly constructed external quay on the south side of the marina, is ready to accommodate any kind of mega yachts up to 50 meters.
The Leros Nautical Club organizes sailing events, lessons, and other sea activities. With the Friends of Villa Kolkis they co-host the International GŲran Schildt Regatta with the which begins in Lakki and combines sailboat racing with cultural activities. It takes place every September.
By the way, the location of Leros makes it a perfect base for exploring the surrounding islands by sailboat. These islands are less impacted by tourism than the Cyclades and are close enough together to make sailing from one to the other easy. For more information see Seascape Sailing.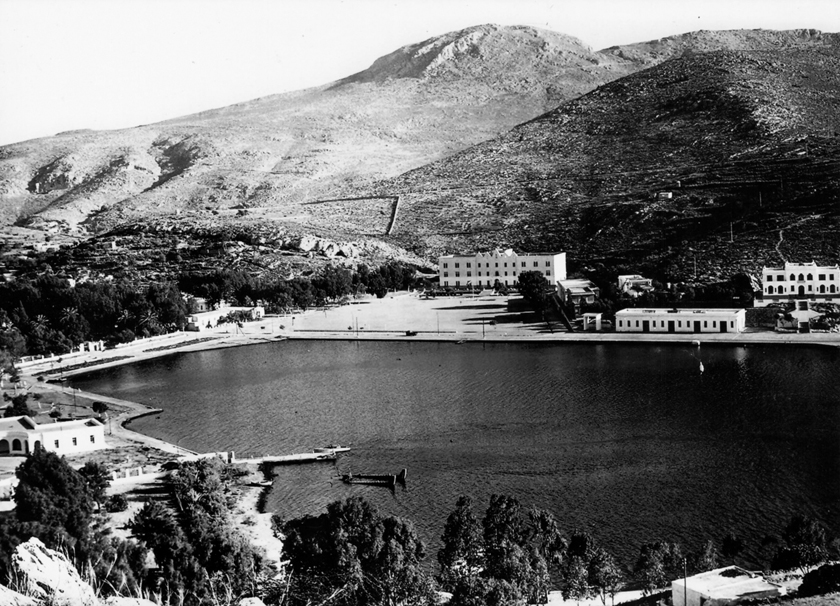 You donít hear much about Leros these days but around 40 years ago it was a major international news story. One of the large military hospitals left behind by the Italians in Lakki became a psychiatric hospital where the worst cases in Greece were sent, not necessarily to be cured, there were only 2 psychiatrists and one general practitioner, but to be looked after. (My cousin spent most of his life and died here). Most of the staff were untrained. Though they did the best they could under the circumstances, since they were really just farmers, shepherds and fishermen and not health care or social workers, the number of patients who were shipped in from all over Greece became so numerous that whatever system they had was overwhelmed and conditions, which were not good to begin with, deteriorated even more. Eventually the situation was exposed by the British press and the Greek government was forced to close down the asylum and send patients to receive community based treatment closer to their homes and families. The scandal was instrumental in forcing the Greek psychiatric system to reform. (I am describing this as diplomatically as I can but this was a terrible place and a complete embarrassment for the country. And it was not the fault of the people of Leros that they were chosen as the location. Blame Mussolini for leaving the buildings that were if not perfect, at least suitable for this purpose.) The hospital was closed in 1997 and the premises are now used to "temporarily" house refugees. Leros has not suffered the kind of violent demonstrations seen on other border islands and it is very usual to see colourfully dressed African women mingling with the locals in the shops in Lakki.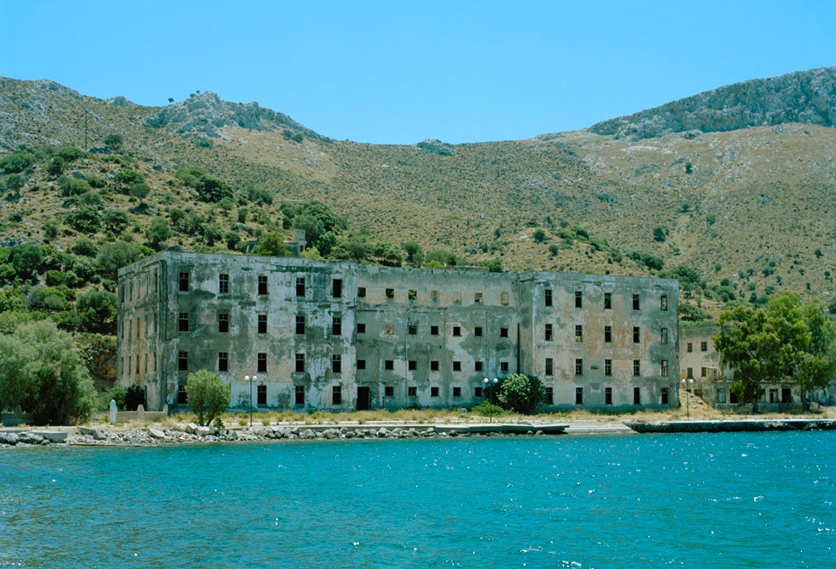 Former Navy Dormitory and Technical School by Yannis Drakoulidis at www.yannisdrakoulidis.com
Some of the other Italian buildings were used for various purposes by the Greek state, for example after the Civil war which evolved quickly into the Cold War, an orphanage was set up by King Paul and Queen Frederica. Many of the children were not actually orphans but the children of imprisoned or exiled communists. Here they were taught to be loyal subjects with traditional values. Later the Italian buildings became technical schools usedto re-educate young leftists. Learning practical skills while housed in former barracks, they were taught strict military discipline and allegiance to King, Queen, Church and Country. The most famous of these Royal Technical Schools is in the former barracks in Lakki harbour.
During the dictatorship from 1967-1974 the island was also used as a place of exile for political prisoners, ie. communists, leftists, hippies, hashish smokers, Theodorakis fans etc. If you are interested in reading more see The Leros Project: Islands of Exile
Restaurants and Nightlife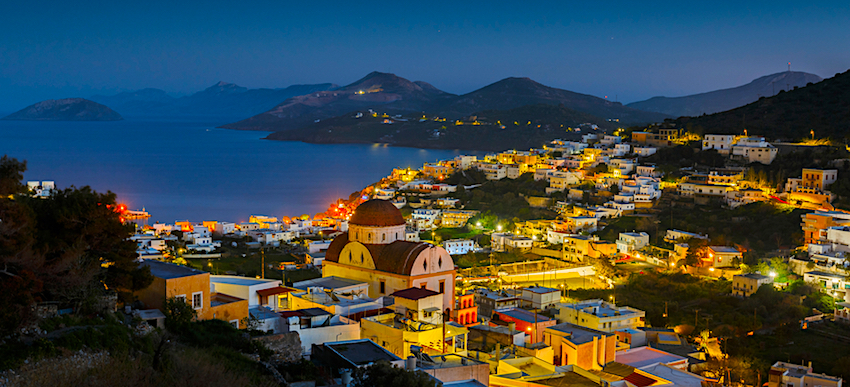 When you get to Leros one of the things you may notice is how many restaurants, normal looking Greek island psarotavernas, the fish restaurants that you find on all the islands, are a step above the usual fried kalamari, grilled sardines, fried gavros and the daily fresh fish sold by the kilo. Yes they have all these things and they do them as well or better than almost any of the more touristy islands. But they also have chefs. Real chefs, some who went to cooking school or at least spend the entire winter watching the Greek cooking shows and experimenting with different recipes, testing them on their friends who have nothing better to do all winter than drink wine and savor the role of culinary guinea pigs. The restaurants below are the most popular and during the normal tourist season you may want to make a reservation if you have your heart set on a particular place. If you forget to make a reservation and there are no tables available all is not lost. Pretty much all the restaurants are good and they all have their own style, combining local dishes with traditional and modern Greek cuisine. Or you can leave your name and cell phone number and go have an ouzo and meze and wait for a table to open up.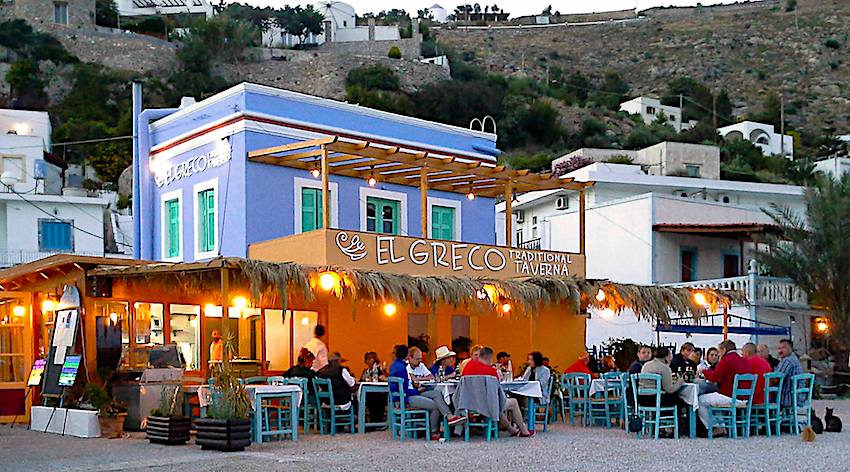 El Greco Traditional Taverna
The El Greco Traditional Taverna right on the sea in Panteli looks like your every day fish taverna with Costas Karpathakis waiting tables and his father inside cooking. But the head chef and creator of the menu is Apostolos Takoulas who is also the head chef Acropolis Museum and has cooked in half a dozen famous restaurants and hotels in Greece. In El Greco they have combined modern Greek bistro cuisine, like you would find in the best restaurants in Athens, with traditional recipes from Leros, at normal taverna prices. This is one of the best and most interesting restaurants you will find on Leros, an island loaded with great restaurants. Make this your first eating stop, make friends with the staff, and save a few nights for your return visit. Open for most of the year, locals come to this taverna for tender sliced pork, juicy chicken fillet with baby potatoes and yogurt sauce and fresh local paidaikia (grilled lambchops!). If you need help ordering just ask Costas and he will guide you through the menu. With tables so close to the water you are almost in the sea, if Leros is your first island and El Greco your first dining experience, you will be hooked on Greece forever. Tel. 30 2247 025066.
They also own the Anemos Studios and if you have ever wanted to live in a windmill staying there offers you that opportunity.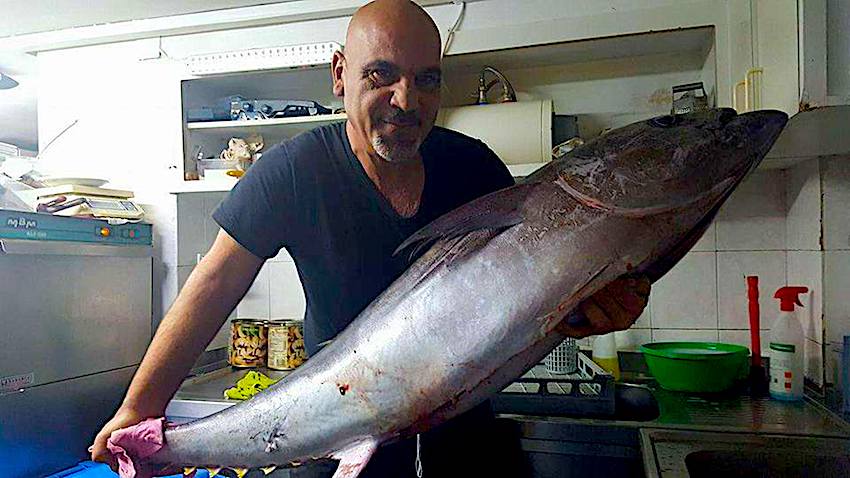 Taverna Dimitris O Karaflas
Taverna Dimitris O Karaflas is a chef owned fish and meat restaurant in Pantelis, in business for almost 25 years, located above the bay with a beautiful view. Known for its fresh seafood and creative dishes like tuna pastourma, Sun-dried mackerel (Iliokoftos), tuna tartare, red mullet cerviche, octopus carpaccio, and a number of seafood pasta dishes as well as your normal grilled meats and fish, fried kalamari and salads. Start with mezedes and if you canít decide what to eat next ask Dimitris and he will make suggestions and probably be quite entertaining as well. And like all fish restaurants always ask what is fresh today. The name means Dimitris the Bald and he is easy to recognize. Reservations required. Tel. +30 2247 025626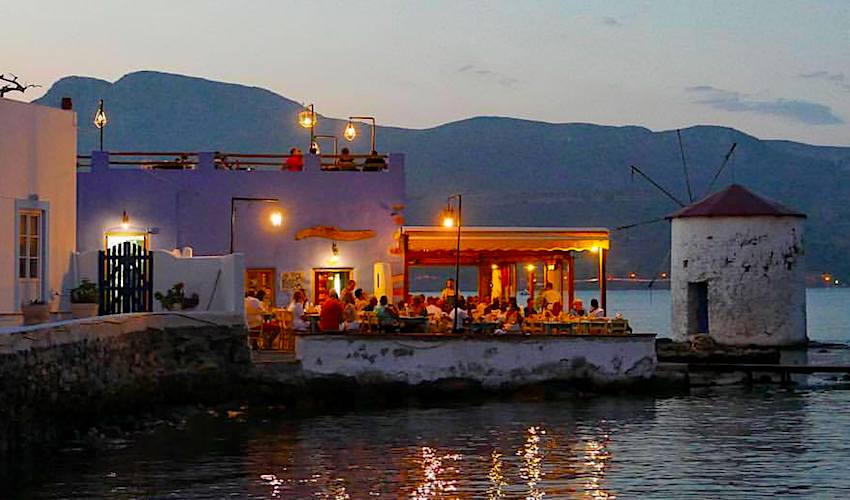 Mylos
Mylos in Agia Marina, is one of the best seafood restaurants on Leros if not the whole Aegean. This family-run restaurant was founded in 2000, and has been gaining dedicated fans from all over the globe mostly from the people who own and charter sailboats and motor yachts but also among Greeks who know good food. It has also been featured in several culinary and travel magazines for its mix of traditional and contemporary Greek/Mediterranean dishes. Try their octopus carpaccio, mullet cerviche, grilled fresh tuna, Armirikia salad with feta cheese and cherry tomatoes, tuna tartare, fisherman's spaghetti, and loads of other dishes made with local products. With a beautiful view of the sea, the town, the castle and right in front of the iconic windmill, they also have a bar upstairs with a variety of cocktails and a large selection of wines, and an even better view. Mylos is the fanciest restaurant on the island but a meal or two here probably won't blow your budget if you even have one. Think of it as like you are having a meal at the best and most expensive restaurant in Mykonos or Santorini only you are paying prices more in line with a lesser known, remote island. Like Leros for example. You will probably want to make reservations though. Tel. +30 2247 024894
Further up the road in Alinda try Alinda Taverna (photo) which is a restaurant belonging to the Hotel Alinda. But it is not just guests of the hotel who eat here. Locals do too which is always a good sign. Simple traditional Greek food at affordable prices, it is located in front of the hotel overlooking the beach and sea. They also have live music some nights. At the far end of Alinda is Prima & Aneplora serving seafood and grilled meat right in the beach with a view of the bay and the castle. Food like Yaya used to cook, if your yaya was kind of hip and modern too.
In Lakki try Lixnari, which is a couple streets up from the sea, a family run fish and meat restaurant serving home grown vegetables and many vegetarian options. Traditional yet modern like some of the better restaurants you will find in Athens. If your taste in Greek cooking goes beyond the usual mousaka and souvlaki then itís worth saving a night for Lixnari especially if you are staying in Lakki. Reservation is suggested just in case. Tel. +30 695 534 2477
Donít let the name of Skipperís All Day Restaurant and Cocktail Bar keep you from eating there. I know it sounds like some kind of fried fish joint from the Atlantic coast of the USA where you leave wishing you hadnít ordered everything on the menu that gives you heartburn or acid reflux syndrome. But it is not one of those. Skipperís is a gourmet seafood restaurant expertly run, with creative dishes, friendly service, and if that is not enough amazing cocktails. Itís right in the Lakki marina so of course they get lots of sailors, some who have come to Leros to eat there because they do every year. Elegant without being pretentious, itís #1 on TripAdvisor so reservations are suggested. Tel +30 2247 026600
Petrino in the Italianate market hall in Lakki is a psistaria or grill house, known for grilled steaks, souvlaki, and chicken, as well as spit-roasted lamb, kontosouvli and all the other things you find in psistarias. Oh, and the owner is a butcher and lived in Texas for many years. I don't know how much you know about Texas but they love their beef and know how to cook it. Think of it as an extraordinary Greek steak house in a place you would least expect to find. It is popular with the sailors so make a reservation: 30 2247 024807
From famous author and opera singer Michael Powell who is practically a local, his favorite restaurants include: "To Steki, in Alinda, Piscopi in Lakki, Dimitras overlooking the bay of Pandeli, Milos in Aghia Marina, Artemis in Blefouti (one of the best) and Fotis Fish Taverna in Gourna. The latter has the most wonderful view over Gourna bay out to Levitha in the distance."
If you are not a fish person Leros has local lamb, goat, beef and pork with pork being the most popular meat. All restaurants, whether they are psarotavernas or other, will have meat dishes and they will also have vegetarian dishes. Much of the produce is local and many restaurants grow their own organic vegetables and herbs.
Ouzo and Meze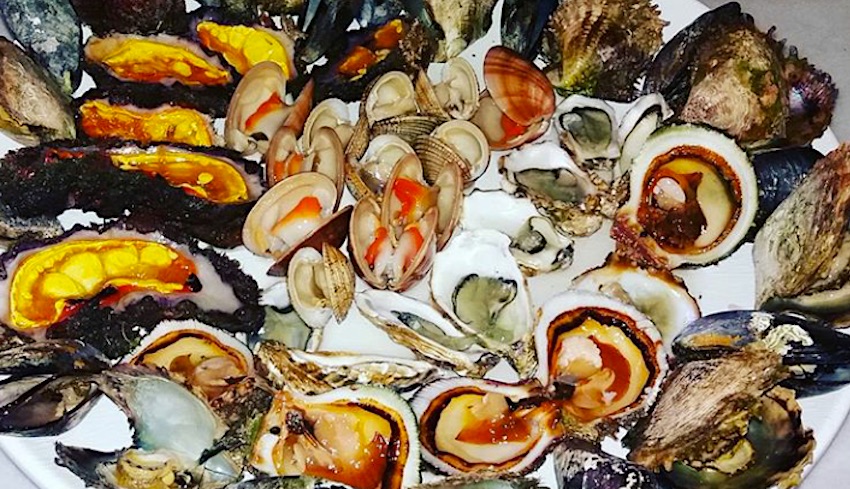 For ouzo, raki or tsipuro and mezedes try Bakalilo in Lakki. It is right in the harbor and has a good mezedopouleion atmosphere day or night. If you are staying in Pandeli no need to travel that far. Just go to O Tzoumas Ouzeri. Or jump in the car or a cab and go to Ouzeri Sotos(photo) in Drimonas for fresh clams on the half shell, fresh scallops, fresh oysters, sea urchin, Grilled octopus stuffed with herbs and feta and kolochtyppa karavida which is like a small lobster without claws that beats it's own ass. That is what kolochyyppa means. Ask for a demonstration. The menu changes every day depending on what the fishermen bring in. It is not only for ouzo and meze either with hearty dishes like pasta with lobster on the menu too.
After Dinner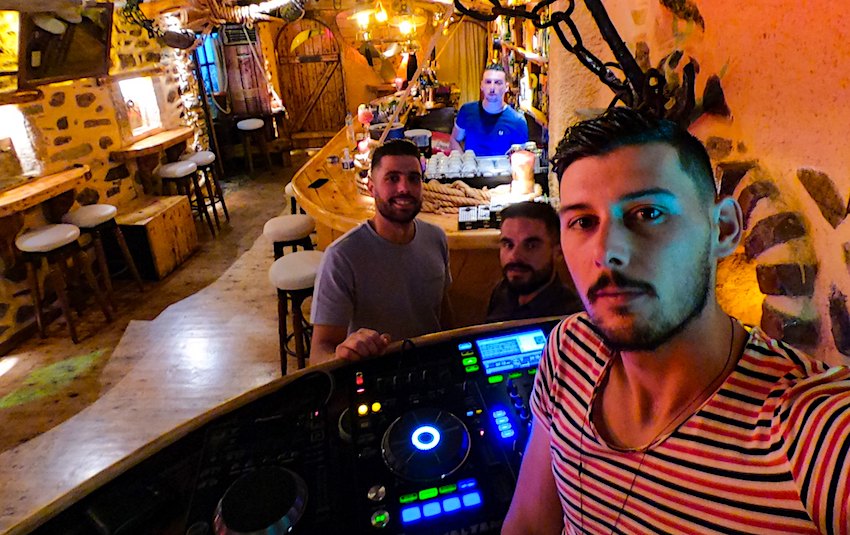 For nightlife Meltemi (photo), is right on the sea in Agia Marina, playing a mix of blues, jazz and rock music. Their friendly staff have a loyal following of locals, travelers and Athenian visitors who applaud them for their taste in music and their drinks.
Calvo Cafť-Pub in Agia Marina is in a beautiful old building right by the sea and serves delicious, imaginative cocktails, desserts and snacks and plays good music drawing a crowd that is a mix of locals and tourists. They have special rembetika nights on occasion as well as other theme evenings. Open in the day for food and coffee and drinks too if you like starting early. They have a nice selection of beer as well, maybe even one of your favorites from home. The crowd gets younger towards Alinda and many of the cafeteria/cafes have music at night. But mostly Leros draws and older crowd so nightlife might mean a long dinner with wine, ouzo and conversation and maybe an ice-cream or traditional sweet before heading back to the hotel.
If you have eaten at Mylos then you might as well just go upstairs and do your drinking there and enjoy the music and the view.
For traditional deserts try Sweet Leros in Panteli which was founded in 1897. With dťcor which resembles a traditional house, for galaktoboureko (custard pie, which they are famous for), loukoumades (deep-fried dough pastries soaked in syrup), almond biscuits, spanakopita, tiropita and all sorts of homemade pastries and sweets made in house from family recipes. Upstairs is a folklore museum. They also serve breakfast and coffees and local liquors. When people finish dinner at the seaside tavernas many of them come here for desert so save room. Try the patsavouropita, a local sweet pie made with oranges, honey and eggs in filo. Also worth visiting are Paradosiako in Aghia Marina and Theiko in Lakki. Ask to try the local pougia which are small pastry pouches stuffed with nuts and honey).
Beaches in Leros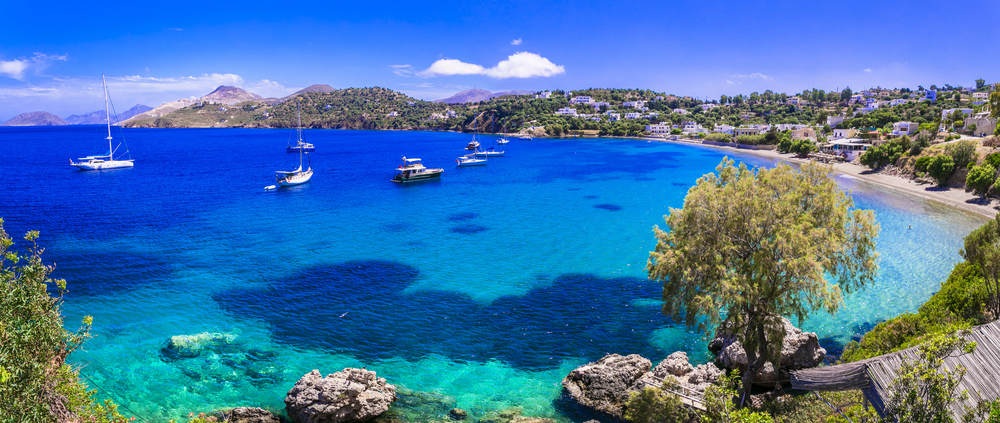 Vromolithos
Like many Greek islands Leros has a long coastline with a large number of sandy and pebble beaches as well as small isolated coves for those who want their privacy. Most of the organized beaches with umbrellas, beach beds and food and drink are located around the large bay of Alinda, Agia Marina and Vromolithos within walking distance of most of the hotels. But if you rent a car or are on a sailboat you will find a variety of beautiful beaches, as you will on most islands.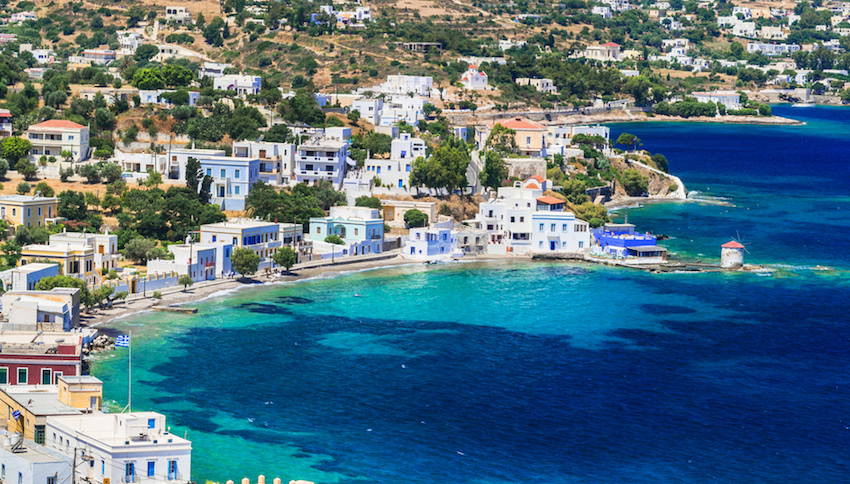 Agia Marina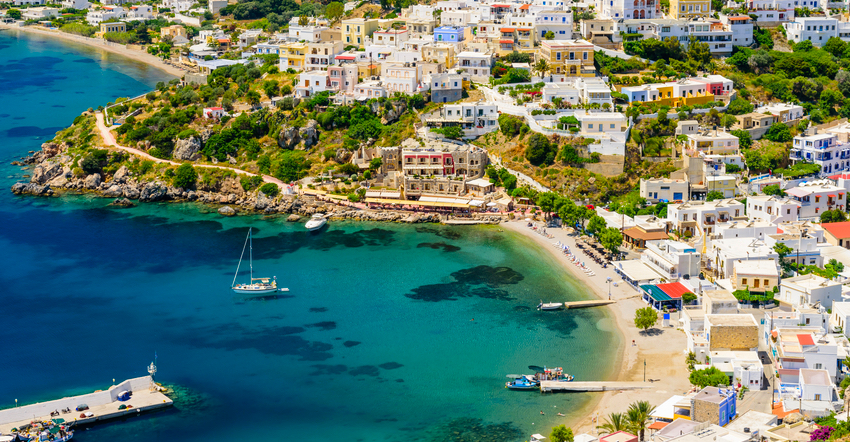 Pantelis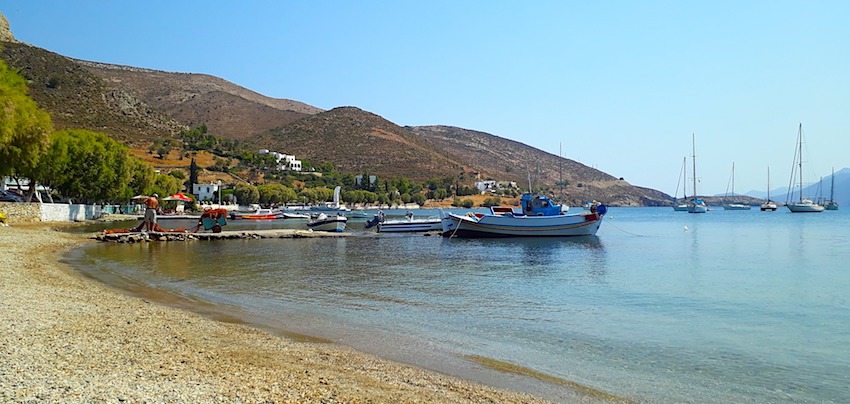 Xirokambos by Jeni Say
Xirokambos in southern Leros has shade trees the beautiful little church of Panaghia Kavouradaina, with its icon of the Virgin Mary framed by the claws of a crab. Gourna is a long shallow, sheltered bay facing west with beaches that are perfect for families with children. There are 2 tavenas as well as beach beds and umbrellas and a row of tamarisk trees for shade. There are also several hotels and apartments. In the same bay, further north is Germanou Beach, also shallow and sandy with beach beds and umbrellas available.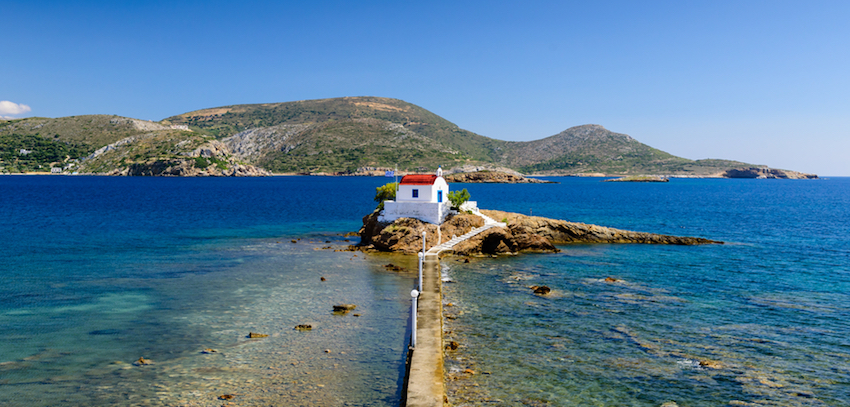 Continue on to Kokkali Beach and Agios Isidoros, the legendary church built on an island connected by a narrow concrete bridge. It was here that a one-handed fisherman found an icon caught in his net, which he rescued. In thanks the Panagia restored his hand and the fisherman built the church in return. Young people come here to watch the sunset. There is a beach here too.
To the far north is Paralia Agia Kioura, a small islolated beach with nothing but sand, rocks, a few bushes and crystal clear sea. Nearby is Blefoutis Beach which is long and sandy and has several small coves nearby, as well as a nice traditional psarotaverna with fresh seafood at reasonable prices in a remote beautiful setting. Keep in mind that during meltemi these beaches in the north can have waves and strong winds. Partheni is a small fishing village on the northern part of the island with a nice harbor of fishing boats and seafood tavernas right on the sea. Nearby is the Leros Municipal Airport and what is left of the Temple of Artemis Partheni. Try to make time to visit the church of St Matrona-Kioura which is now a UNESCO site. The icons in the church are frescoes painted by political prisoners and are totally unique.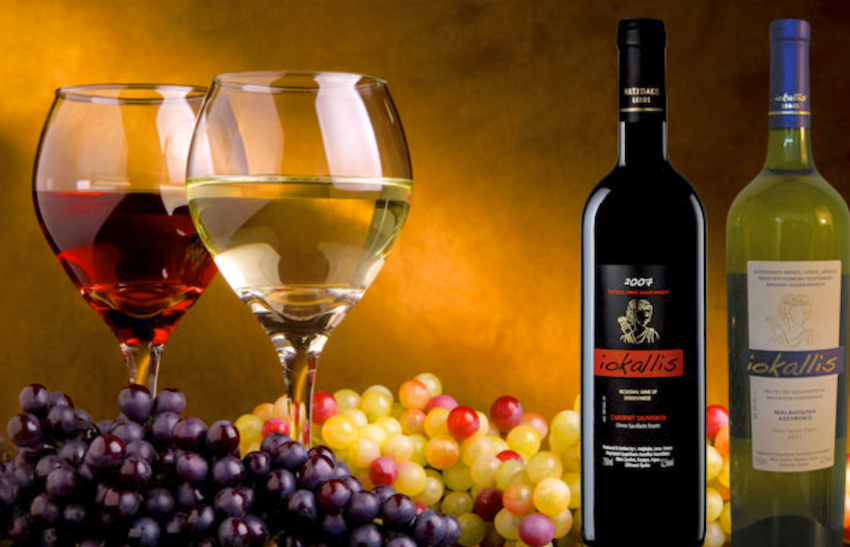 Hatzidakis Winery
Stop in at the Hatzidakis Winery, the only winery on Leros, to meet the family and have a tour of the vineyards and taste their excellent white, red and rose made from Merlot, Cabernet Sauvignon, Malagouzia and Assyrtiko grapes. The brand name of the wines is Iokallis, which refers to the goddess Artemis. The wines are also available at some of the restaurants on the island so ask for it. You can also buy it in some of the local shops. But it is more fun to go to the winery and buy it there and see how it is made. Just follow the signs going north from Alinda but if you call first you may be rewarded with mezedes made from their garden. They also sell their own extra virgin oilive oil. Tel. +30 697 419 5739
Getting to Leros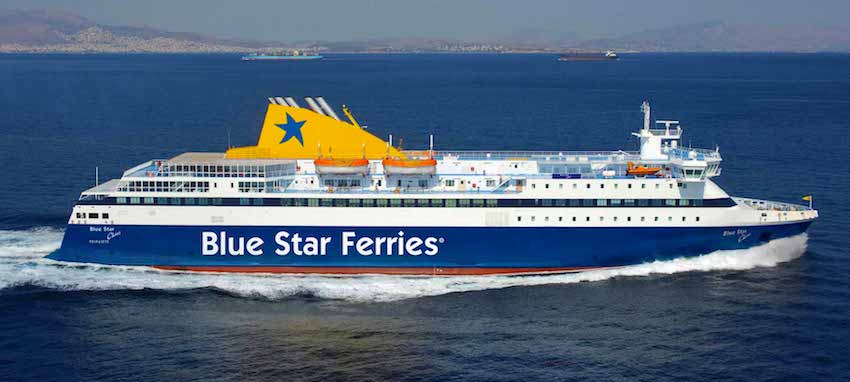 From Pireaus there are several ferries a week going to Leros which also stop in Patmos and continue on to Kalymnos, Kos and Rhodes where they turn around and do the route in reverse. This route is usually on one of the Blue Star ferries which are very nice, have good food and comfortable cabins. I recommend getting a cabin. There are also connections to Samos where you can connect to Ikaria, Chios and Lesvos. There are also connections from neighboring islands using the smaller local boats. You can find ferry schedules and purchase tickets at Ferryhopper.com
Leros has a small airport which usually has one non-stop a day from Athens on Olympic which takes about an hour. You can also fly there on Sky Express but be sure to check how long the flight takes because you may be stopping at several other islands on the way there.
If you need assistance see Matt's Recommended Travel Agencies. Very few agencies actively work with Leros but if you are combining it with other islands, or if you ask nicely they will. You can also try using Matt's Create-an-itinerary form and write in Leros in the comments.
Hotels, Villas and Holiday Rentals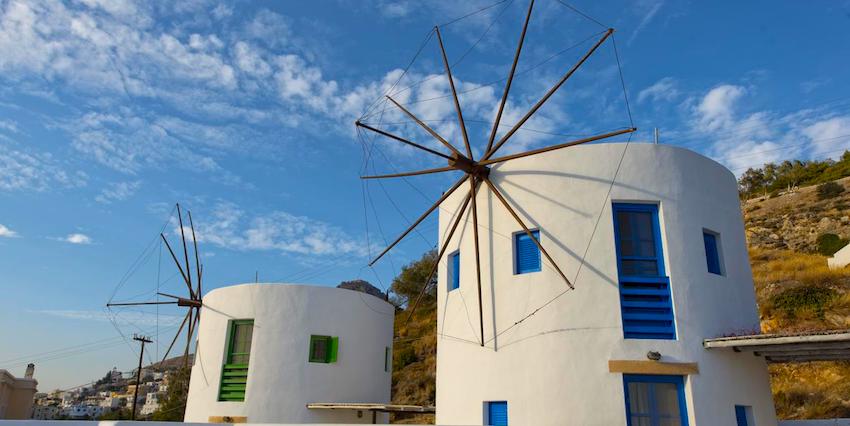 Anemos Studios
Stay in an actual windmill on the hillside of Panteli harbor! Anemos Studios offers self-catering accommodations. The traditionally built property offers panoramic views of the Aegean Sea. All air-conditioned units feature a TV and kitchenette with fridge. The bathroom comes with a shower and hairdryer. Some accommodations types are split-level and offer a sea view while others are built on a higher spot and come with a balcony featuring the same breathtaking view. Anemos Studios is just a short walk away from the ownerís restaurant and a 10-minute walk from the nearest bus stop. Panteli, is a picturesque fishing village with shops and a sandy beach by the bay. There are open-air tavernas, ouzeries and bars by the side of the harbor. Click for Photos, Guest Reviews and Booking Information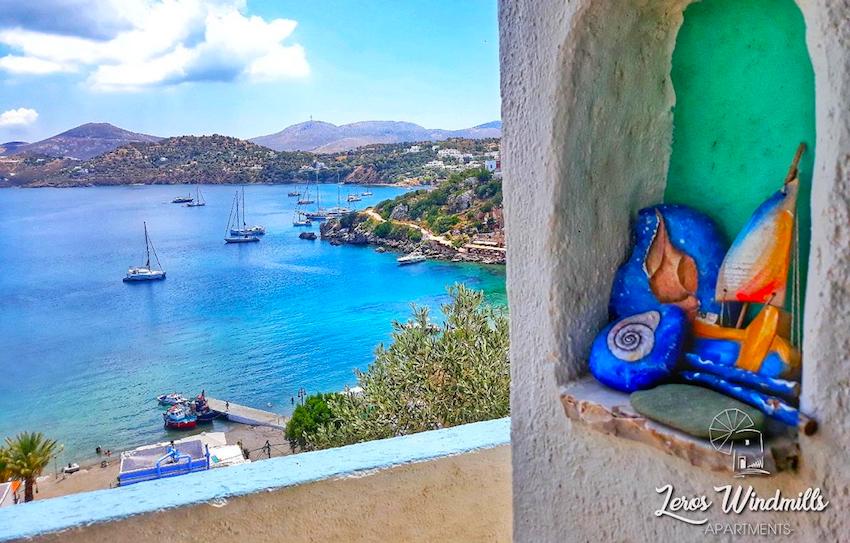 Leros Windmills
Located just above Panteli Beach, this property consists of traditional windmills with cooking facilities and panoramic views to the Aegean Sea, Leros Castle and the surrounding villages. Shops and restaurants are within a 3-minute walk. Featuring rustic decoration in bright colors, with local artifacts and wrought-iron beds, all accommodations types at the Leros Windmills have a kitchen or kitchenette with oven, coffee machine and dining area. Free WiFi is offered throughout. Click for Photos, Guest Reviews and Booking Information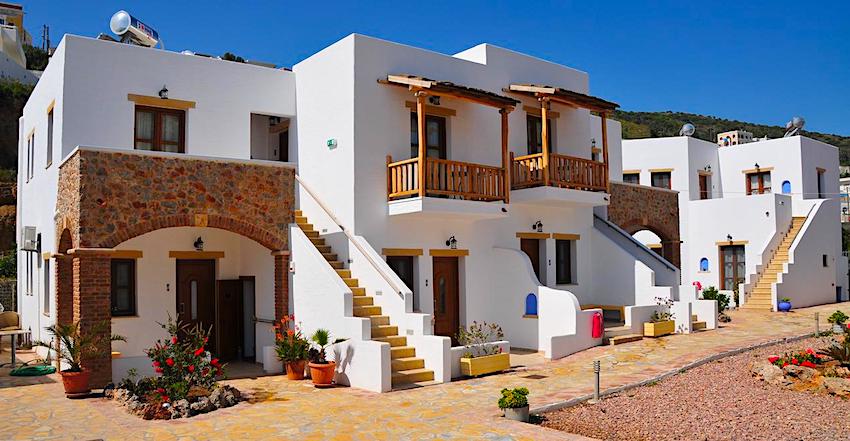 Panteli Beach Hotel
This newly built hotel in Panteli Beach offers studios and apartments with wooden rooftops and white-washed walls. It is just 5 minutesí walk from Platanos, the island's capital. The traditionally decorated, spacious and fully equipped apartments and studios of Panteli Beach and have a kitchen and a living room. Each is air-conditioned and further equipped with free Wi-Fi, a safe and TV. Click for Photos, Guest Reviews and Booking Information
Alinda Hotel
Located right on Alinda Beach, Alinda Hotel includes a bar with a sea-view terrace and a traditional restaurant. It offers rooms with free Wi-Fi access overlooking the Aegean Sea. Alinda rooms are air conditioned and open out to a private balcony. They feature a TV, a mini fridge and they all have a private bathroom with shower. You can start your day with a full English breakfast. Later, you can taste local flavors for lunch and dinner prepared by the owner and enjoy them right by the sea. Click for Photos, Guest Reviews and Booking Information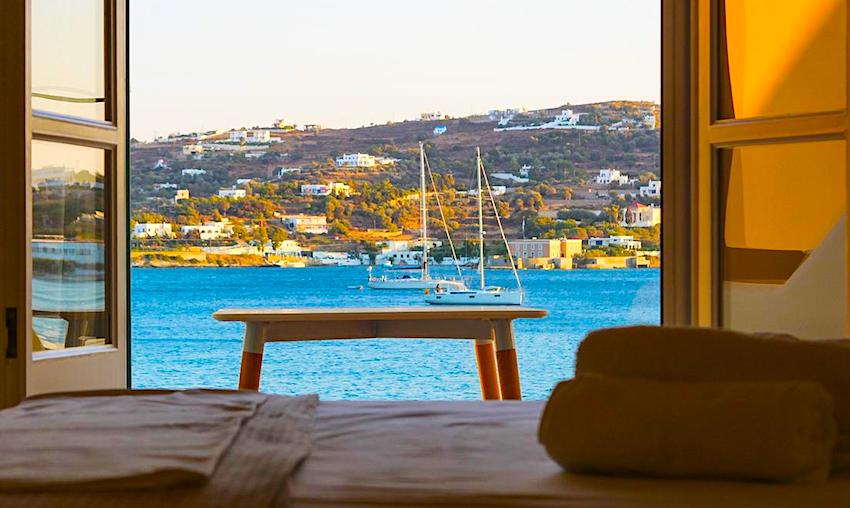 Alidian Bay Suites
Offering free WiFi and a garden, Alidian Bay Suites is located in Alinda. Free private parking is available on site. The accommodations is equipped with a flat-screen TV with cable channels. There is also a kitchenette, equipped with a microwave and fridge. A stovetop is also available, as well as a coffee machine and a kettle. Towels and bed linen are provided. Private bathroom comes with a hot-tub or a shower. All rooms offer a balcony. Click for Photos, Guest Reviews and Booking Information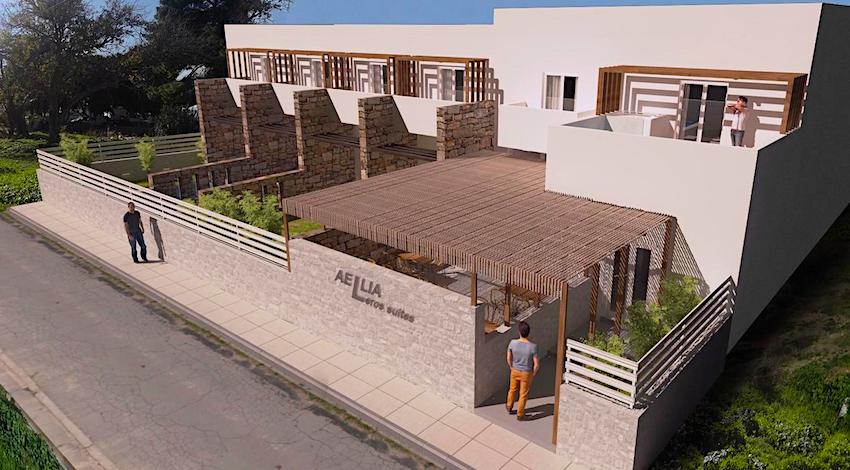 Aellia Hotel and Suites
Providing city views, Aellia Hotel and Suites in LakkŪ provides accommodations, a bar, a shared lounge, a garden and a terrace. Both WiFi and private parking are available at the bed and breakfast free of charge. Fitted with a balcony, the units offer air conditioning and feature a flat-screen TV and a private bathroom with shower and a hairdryer. A fridge and electric tea pot are also provided. Guests can enjoy a continental or a buffet breakfast. Click for Photos, Guest Reviews and Booking Information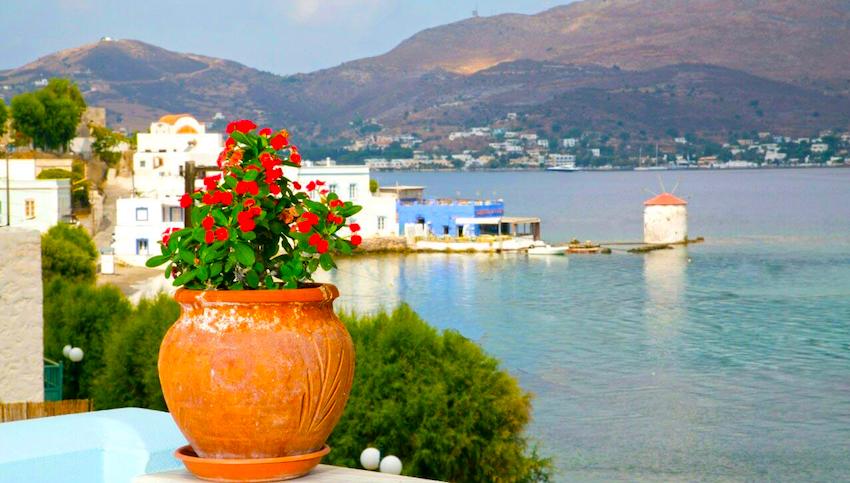 Tassos Apartments II
Offering a garden and terrace, Tassos Apartments II is located just 50 feet from the beach in Agia Marina. The main square is approximately 350 feet away. Didim is 27 mi from the property. The pet-friendly accommodations is air-conditioned and has a flat-screen TV with satellite channels. There is also a kitchen, equipped with an oven. A refrigerator and stovetop are also featured, as well as a coffee machine. There is a private bathroom with a bath in every unit. Towels and bed linen are offered. Click for Photos, Guest Reviews and Booking Information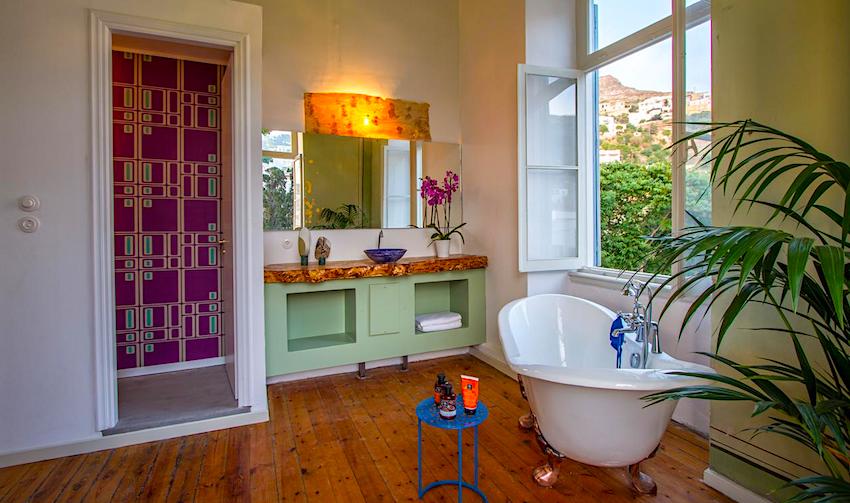 Villa Clara
Housed in a neoclassical mansion, Villa Clara is centrally located in Agia Marina, just 150 feet from the sea. The property has a blossomed garden and offers free WiFi access. Uniquely decorated with pieces from international designers, the rooms at Villa Clara are fitted with organic mattresses made of coconut fiber. Each has a seating area and a modern bathroom with cast-iron bath tubs or showers. All guest rooms at Villa Clara Leros include air conditioning, a wardrobe and free Apivita toiletries. Click for Photos, Guest Reviews and Booking Information
Click here for more hotels, villas, holiday homes and rooms
or visit Matt's Hotels of Greece Leros Page