LEFKADA
by Nick Edwards
When pressed to say which is my favourite Greek island, my default answer is invariably Lefkada. As is usually the case when asked to choose from such an array of eligible candidates, the reason is down to personal connections. My first visit was just after Easter 1984 and came about due to meeting fellow Brits who were teaching in the much maligned town of Agrinion, about an hour and a half away on the mainland, when I was sent there to do some EFL examining the previous December. Subsequently, some of my best Greek friends have turned out to be from Agrinio and as Lefkada is in many ways Agrinio's island, it's easy to see how my affinity for it was forged.
Although it remains the least touristic of the Ionians, at least in terms of foreign visitors, I have witnessed it change quite radically since that first visit, when our motley group had to bump down a very rocky road from Agios Nikitas to splendid Kathisma beach, then a pristine strand where we free-camped and merrily swam naked. Now it has a paved road leading down to several tavernas and hotels, a hi-tech bar and ranks of sun beds and umbrellas. Not all is lost though. As we shall see later, unspoilt beaches can still be found further down Lefkada's magnificent west coast, where a band of milky turquoise separates the cliff-hemmed strands from the startling azure of the deeper waters.
Some people criticise Lefkada as being the island that is not really an island because it is actually joined onto the mainland by a narrow causeway but in my books that simply facilitates getting there and the minute you reach the other side, the contrast from Sterea Ellada (mainland Greece) opposite is unmistakable. The relaxed pace of even the island capital, Lefkada Town, the splendid backdrop of the chalky interior mountains - the island takes its name from the Greek word for "white" - and the ease with which you can reach its beautiful coastline, all mark it out as a top destination.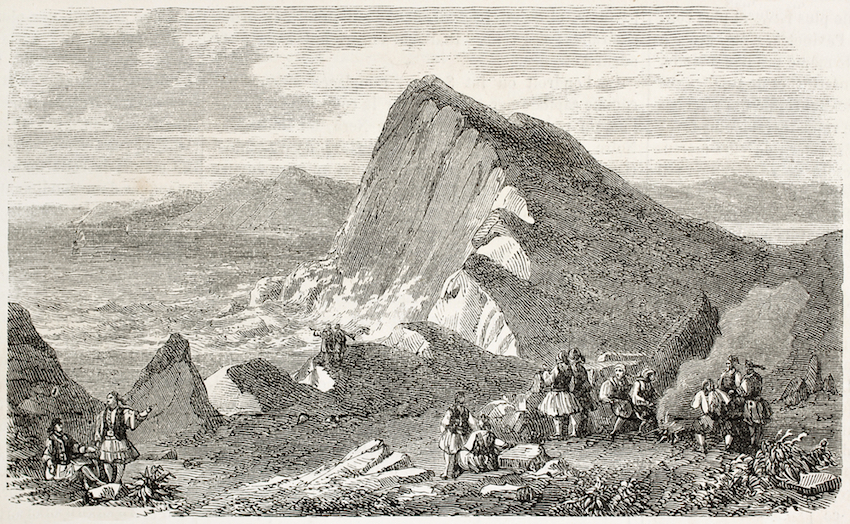 A Bit of Historical Background on Lefkada
Lefkada largely shares the history of the rest of the Ionian archipelago. There is some evidence of Neolithic settlements and in Homeric times the island is supposed to have been given by Laertes to Arcadius, when their children Odysseus and Penelope got married. This myth and the discovery of some Mycenean remains near Vassiliki led respected nineteenth-century German archaeologist Wilhelm Dorpfeld to claim Lefkada was the real site of Odysseus' home, rather than Ithaki.
The island was an important power base for the Corinthians during the Classical period and played a key role in the Peloponnesian War. It became a quiet backwater during Hellenistic, Roman and Byzantine times and it was later under Venetian control for less time than the other Ionians, only around a century from 1684 to 1797. Its proximity to the mainland also made it more susceptible to Turkish raids and although it was never held by the Ottoman rulers of mainland Greece for long, it did undergo short spells of Tourkokratia.
Lefkada also shares the Ionian penchant for music and the arts, boasting its own form of kantades and having been home to some prominent members of the Ionian School of Painting, most notably Panagiotis Doxaras (1662-1729) and his son Nikolaos (1705-75). The most famous man of letters to hail from Lefkada was poet Aristotelis Valaoritis (1824-79) but half Irish/half Greek writer Lefcadio Hearn was also born here and named after the island, although he subsequently wrote more about Japan and New Orleans. The artistic tradition continues into the present day in the shape of the annual Festival of Music, Arts, Literature and Dance, which extends throughout the summer and attracts performers from all over the globe.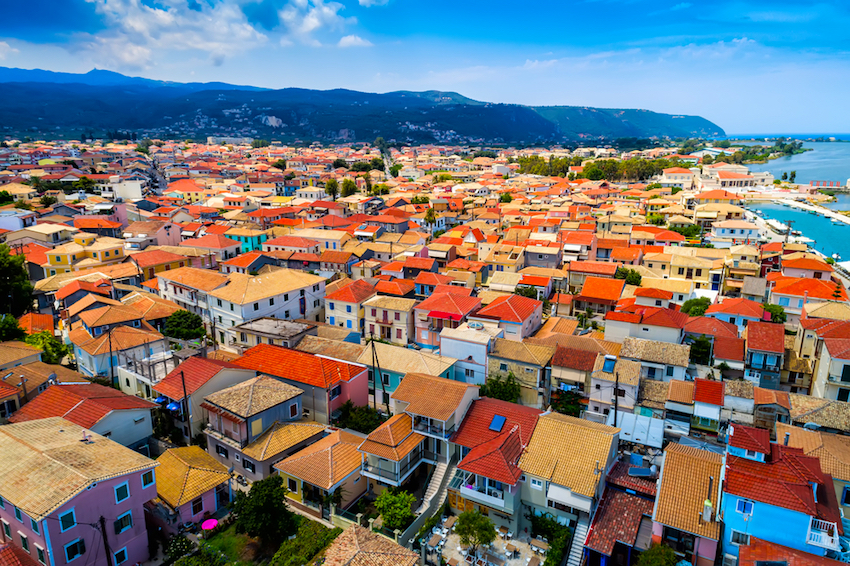 Lefkada Town and Surrounding Area
The island capital, which occupies a flat wedge of land that juts out to meet the causeway from the mainland, constitutes a pleasant introduction to Lefkada. Its manageable size means you can comfortably walk across it in twenty minutes and it is very easy to get your bearings.
The town's largely pedestrianised main street, Ioannou Mela (named Dorpfeld nearer the seafront), is in effect an extension of the causeway and runs directly back from the water. It still has some of the attractive traditional wooden colonnades but these days is lined with fancy shops and trendy cafeterias instead of the old kafeneia and local shops that existed during the eighties. Compact Platia Agiou Spyridonos marks the point at which the street changes name and is another hub of activity by day and night, with enduring cafe-bars such as Casbah. The main street and the smaller ones branching off it hide the town's wonderful little churches, which contain delightful if sometimes dark murals by Doxaras and other famous painters. Agios Dimitrios, Agios Minas, Pandokrator and Theotokou are all worth seeking out and having a peep at. The bizarre collection of bric-brac at the quaint Phonograph Museum, just off Ioannou Mela, provides another brief diversion.
There is surprisingly little accommodation (See hotels at the bottom of the page). There are, however plenty of restaurants on or around the main thoroughfare, two of the best being the evening-only Regantos at Dimarchou Veriotou 17, which offers excellent mezedes and main courses, and Eftychia, in an alley off Dorpfeld, a great spot for oven-baked goodies like swordfish and stuffed aubergines.
The seafront that bears right as you arrive from the causeway is named Sikelianou and has more cafes and bars before leading after about 500m to the small but fascinating Archaeological Museum, which contains fine cultural and religious artifacts from ancient times as well as a room dedicated to Dorpfeld's finds. The moderately interesting Nautical Museum and Municipal Art Gallery are housed in the same building.
The seafront to the left of the causeway passes a park before becoming Golemi, which has a few decent ouzeria and leads to the splendid new state-of-the-art marina, of which Lefkadans are justifiably proud. Beyond that is the recently relocated bus station.
Around town are some worthwhile spots for investigation. Best of these is the strip of land known as Yira which forms a diamond shape with the causeway and is pretty much unbroken and little-used beach, reached by following Sikelianou out past the Archaeological Museum. The section that bears left onto the main coastline where Yira turns right is the more popular Ai Yiannis beach. About 3km up from the back of town you can visit the picturesque Faneromeni Monastery, dating from the seventeenth century, whose most notable features are some stunning stained-glass windows and a peaceful courtyard. Not strictly on Lefkada but worth a visit just on the mainland side of the causeway are the semi-ruined remains of Agia Mavra castle, which was first constructed by the Orsinis in the fourteenth century.


Nydri
The Busy East Coast
The stretch of coast that runs down the east side of the island is by far the busiest and most of the almost contiguous mini-resorts strung along it barely merit a halt, although campers may like to set up at Kariotes Beach in Karyotes, a decent site with a pool and only around 4km from town. Unfortunately, the beaches along here at places like Ligia, Episkopos (another good campsite) and Nikiana share the characteristic of other Ionian east coasts in being rather narrow and pebbly. The outstanding place to stop for a meal along this stretch is just south of Ligia at I Limni, which has a lovely landscaped garden and the friendly owner Maria serves up some of her own creations such as spartiakiko, a mixture of pork, peppers, mushrooms and cheese in a wine and cognac sauce.
The main focal point of the East Coast is the island's main resort of Nydri. This 2km strip of villas, hotels, restaurants, bars, shops and agencies is quite mild by the standards of Corfu or Zakynthos and although the beach itself is not overwhelmingly attractive, the quayside is OK for a stroll or a bite and this is the main jumping off point for ferries to the delightfully quiet island of Meganissi opposite and boat tours of the islets in between, including Skorpios, owned by the Onassis family. A couple of kilometres back from Nydri are the locally vaunted waterfalls but don't expect Niagara. The standout option should you decide to stay here is the welcoming Ionian Paradise, set in a lush garden a short way back from the main drag along the turning to Rahi.
Beyond Nydri, the traffic thins out, as does the frequency of built-up areas and the island really starts to take shape. After rather unprepossessing Vlyho, largely a yacht-servicing boatyard, the attractive Yeni peninsula hooks off to the left. If you follow its coast right round to the end, you will reach the tiny chapel of Agia Kyriaki, where a modest memorial marks the burial spot of Dorpfeld. Heading straight over the steep neck of the peninsula, however, brings you to appealing Dessimi Bay, which has two campsites and the excellent Pyrofani taverna, a great place for fresh seafood.

Syvota
Continuing along the main coast road, you wind up along the ridges of the interior mountains and can choose from several worthy bays to descend for a dip of take up residence. The first option is Poros, also known as Rouda Bay, which has a comfortable stony beach, another campsite with bungalows and the fine apartments and taverna of the eponymous Rouda Bay. Further south, another slip road leads down to Syvota (photo), which does not have much in the way of beach but is popular with yachties and has some good accommodation and eating possibilities. One of the classiest but not excessively expensive tavernas on Lefkada is the Palia Apothiki, converted, as the name indicates, from an old stone warehouse, and producing quality fare such as shrimps wrapped in bacon.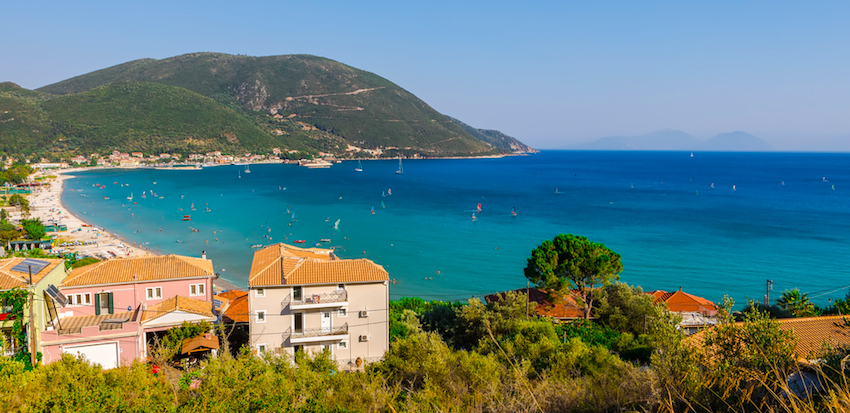 Vassiliki
Not strictly on the East Coast, as it is south-facing and west of the barren corner of the island that ends in Cape Lipso, but lumped in with it for convenience as it marks the end of Lefkada's more touristic side, Vassiliki is second only to Nydri in terms of visitor numbers. It tends to draw a more youthful crowd, many of whom come for the excellent windsurfing - the bay here is regarded as one of Europe's top spots and hosts international competitions. It's a lively place, although none of its restaurants and bars really distinguishes itself. The beach is sandy but the sea predictably shallow. The smaller neighbouring resort of Pondi, at the west end of the gently curving bay, is actually a nicer place to hang out.
The Traditional Interior
Lefkada's lofty interior contains some scenic traditional villages where you can still get a strong sense of the Greece of days gone by. The best area to explore is around Karya, right in the centre of the island. Approachable either from Lefkada Town via Sfakiotes or from Nydri via Vafkeri, Karya is the largest inland village and a centre of fine lace embroidery. Its plane-shaded central square is a great place for a meal or coffee, while watching the locals go about their business. There is also an absorbing Folklore Museum a few blocks above the square. Around 3km south of Karya is the village with the most dramatic location of all. Hemmed in by peaks on three sides, Englouvi, whose name means "encaged", has some buildings that date from the sixteenth century and a charming platia where you can still observe black-clad widows knitting.
On the western side of the island's spine, the two main villages of note are Drymonas and Exanthia, both of which have the odd shop, grill or cafe and, of course, enjoy spectacular sunsets. The other inland nook that is worth a look is in the southeast, off the main route between Nydri and Vassiliki. Here you can divert around a scenic route through the pretty hamlets of Fterno, Vournikas and Syvros. That latter is especially worthwhile and you can visit the nearby church of Agios Ioannis, once a monastery, accessible along a dirt track.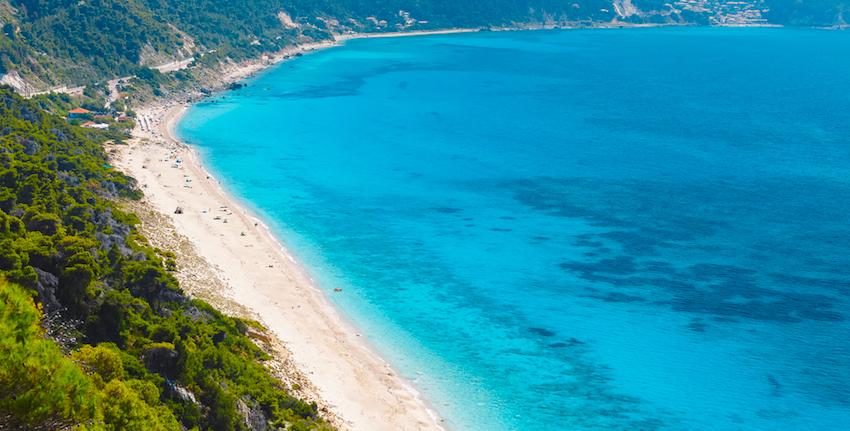 Pefkoulia Beach
The Wonderful West Coast
The main access road from the capital to the exquisite west coast heads west through the uninspiring settlement of Tsoukalades before drifting southwest to the first of the island's truly magnificent beaches, Pefkoulia. Over 2km of coarse sand, its only facilities are clustered mid-strand, leaving the possibility of discreet free camping, especially at the northeast end.
Little over a kilometre further on, crammed into an attractive gorge, is the busiest resort on this side of the island, Aï Nikitas. Although it's been fairly commercialised for a good twenty years now, it still retains a certain charm and offers fine accommodation up the hill at Pension Ostrias and a number of good tavernas, most notably T'Agnantio, just above the small pebbly beach. Regular motor boats ferry folk round the southern headlands to the more scenic beach of Mylos, which can also be reached by a rocky footpath. Around three kilometres further south by road lies the aforementioned beach of Kathisma. This superb wide strip of sand now gets very crowded in high season but even then you can still avoid the worst of the crush if you walk south past the dividing rocks beyond the last taverna.


Plati Gialos
From here the coast road climbs steeply past Kalamitsi, worth considering as a hillside base, as it offers cheaper rooms than Aï Nkitas, and levels out as it bends back south through the smaller village of Hortata, where you can get a fine meal or even a bed at the friendly Lygos taverna. Shortly afterwards, the only main junction in this part of the island allows you to complete the loop back to Vassiliki via Agios Petros and Pondi. However, even if you are based on the east coast, you should not miss the Lefkada's crowning glory, its stunning southwest coast.
The only real village down here is Athani, a fine spot with a good number of traditional houses commanding brilliant sea views. You can enjoy these along with a great home cooking at the aptly named Panorama taverna, which also rents rooms at giveaway prices most of the summer. Nearby are the access points to the island's best and least frequented beaches, Yialos directly below and Egremni, a few kilometres further south. The steep winding roads to both are now paved most of the way but you are likely to have them almost entirely to yourself except in the height of summer, when seasonal canteens open up and provide refreshment and basic snacks.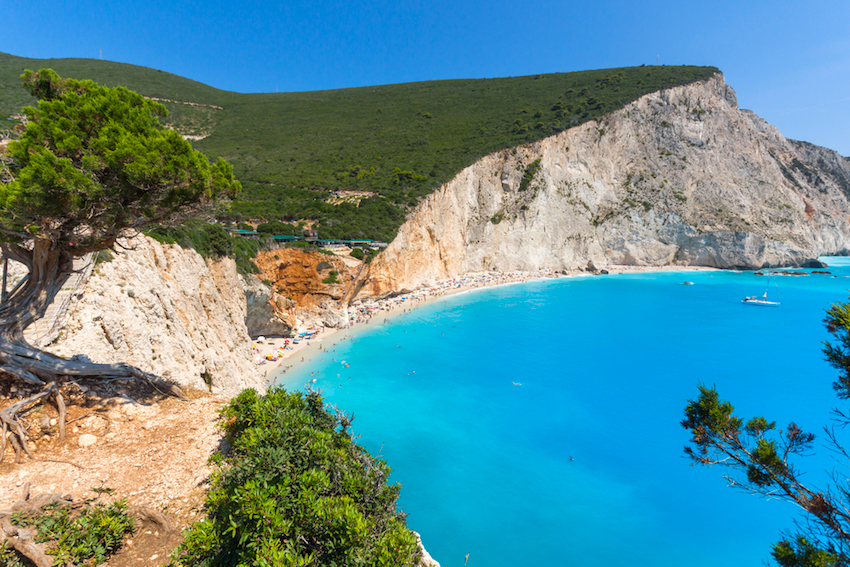 Porto Katsiki Beach
The final bathing spot, still further south, is Porto Katsiki, where the most travelled branch of the coast road terminates some distance above sea level. From the car park you can descend to the attractive set of cliff-backed coves by steps, although you should be aware that they are quite small and also get filled up by daytrippers on boat tours from Nydri and Vassiliki. The other, still unpaved but easily drivable road leads down to desolate Cape Lefkatas, whose towering cliffs were the site of human sacrifices in Mycenean times, a temple of Apollo and a dubious local myth claiming that the Lesbian poet Sappho committed suicide here.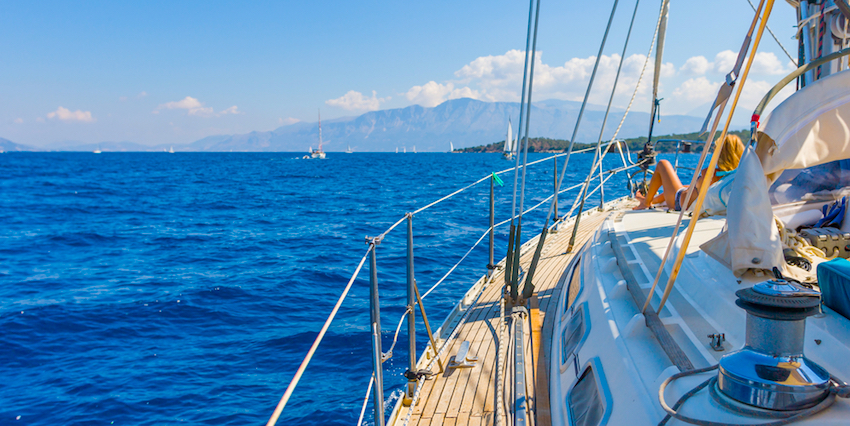 Getting to and around Lefkada
As previously stated, Lefkada shares the distinction with Evvia of being the only Greek island that you can drive right onto without the assistance of a seafaring vessel. The causeway means that Lekada Town is under half an hour by road from Preveza airport, which has flights from Athens most days and charters from the UK and other northern European countries in season. There are also at least four daily buses from Athens and other services twice a week from Patra and Thessaloniki. There are up to seven daily ferry services to the satellite island of Meganissi year round and between one and three connections to Fiskardo on Kefalonia and Frikes on Ithaki between May and October. The island's internal bus service is second only to Corfu's in the Ionians, with over a dozen services daily to Nydri and at least three to Vassiliki, six to Karya and two to west coast destinations such as Aï Nikitas and Athani. Needless to say, vehicle rental outlets abound in the major resorts. And for those who choose to charter a sailboat, Lefkada and the small islands between it and the mainland, not to mention the proximity to Ithaki and Kefalonia, make this one of the best areas in Greece.
About the author
Nick Edwards first visited Greece on a school trip as a student of Classics in 1974 and fell in love with the country right away. He continued to visit while studying Classics and Modern Greek at Oxford University and subsequently worked in Athens as an EFL teacher for most of the 80s. Having had personal connections with the founders of the Rough Guides since the series' inception, Nick started writing on Greece for them in 1992 and has since co-authored the Rough Guides to Greece, the Greek Islands, the Ionian Islands and Corfu, as well as titles on India and the USA. He has also covered Zakynthos for Berlitz and Insight Guides, various press articles and he writes the monthly blurb on the island for easyJet Traveller magazine. You can contact him by e-mail.
Recommended Hotels in Lefkada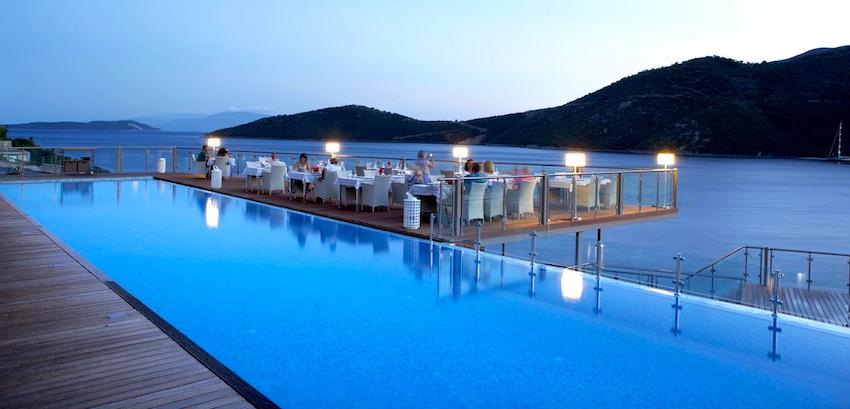 San Nicolas Resort Hotel is a newly built resort overlooking the beach of Mikros Gialos and the neighboring islands of Kephalonia, Ithaca and Arkoudi. The wonderful view and the greenery that surround the hotel, create an irresistible and unparalleled effect. Guests can enjoy a swim or relax with a drink at the hotel's swimming pool with pool bar or at the private beach with additional bar facilities at their disposal.
Oasis Hotel is located in Nydri, just one minute walk from the beach. The hotel has a seasonal outdoor pool and sun terrace, and guests can enjoy a drink at the bar. Free private parking is available on site. Every room at this hotel is air conditioned and is fitted with a flat-screen TV.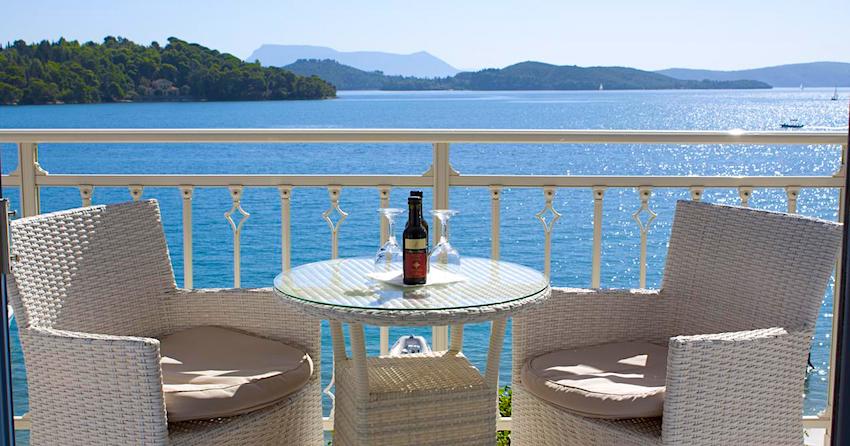 Hotel Nydri Beach offers accommodations with free-wifi in Nydri just a few steps from the beach and offers a unique view of the little islands of Madouri and the famous island of Aristotle Onasis-Scorpio and as well the Meganisi and other smaller islands. Guests can enjoy the on-site bar. Every room at this hotel is air conditioned and features a flat-screen TV with satellite channels. Each room includes a private bathroom.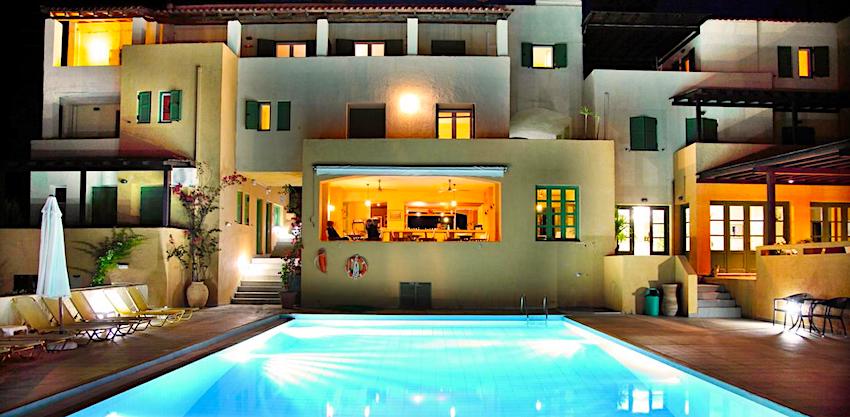 Hotel Scorpios is conveniently located half a mile from Nidri and features a swimming pool overlooking the Ionian Sea and the nearby islands. The hotel includes a restaurant with traditional delicacies and a café-bar, and offers free Wi-Fi in its public areas. The air-conditioned apartments are simply decorated with wooden and iron furniture and feature TV, kitchenette, kitchenware and fridge. They open up to a balcony with views to the sea.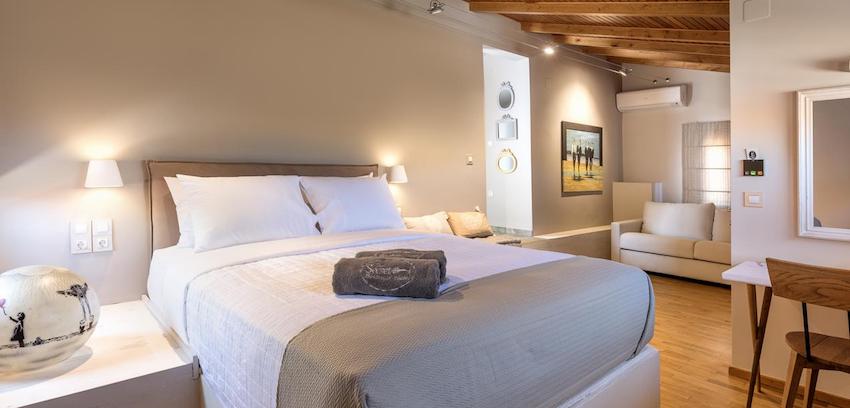 The Secret Boutique Hotel is located in Lefkada Town and features free WiFi access and free private parking. Every room at this hotel is air conditioned and is fitted with a flat-screen TV. Enjoy a cup of tea from your terrace or balcony. Every room is equipped with a private bathroom. For your comfort, you will find slippers, free toiletries and a hairdryer.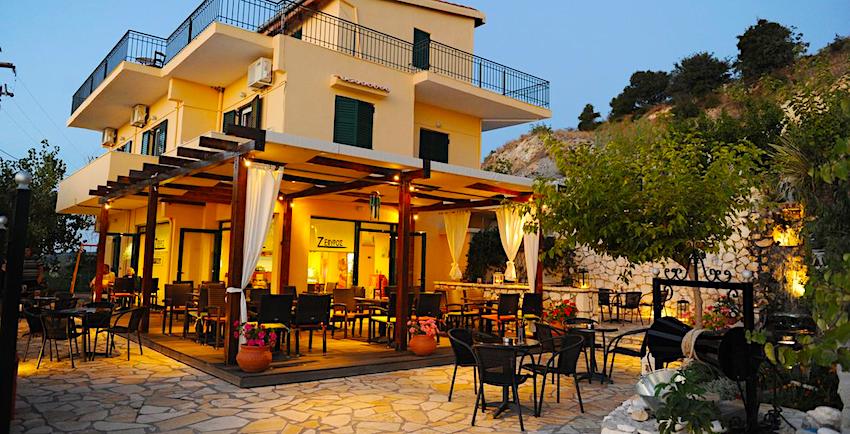 Zephyros Rooms and Apartments is located in Drymon, 6 miles from Lefkada Town. The hotel has an outdoor pool and views of the sea, and guests can enjoy a meal at the restaurant. Free private parking is available on site. Each room comes with a flat-screen TV. Some units have a sitting area to relax in after a busy day. Certain rooms include views of the mountains or garden.
Porto Galini Seaside Resort & Spa is located in Nikiana and has its own private beach and a playground. The resort has a swimming pool, sun terrace and views of the sea, and guests can enjoy a drink at the bar. Free WiFi is available and free private parking is available on site.Every room at this resort is air conditioned and has a flat-screen TV. The hotel also has many spa services, a gym, Turkish baths and an indoor pool.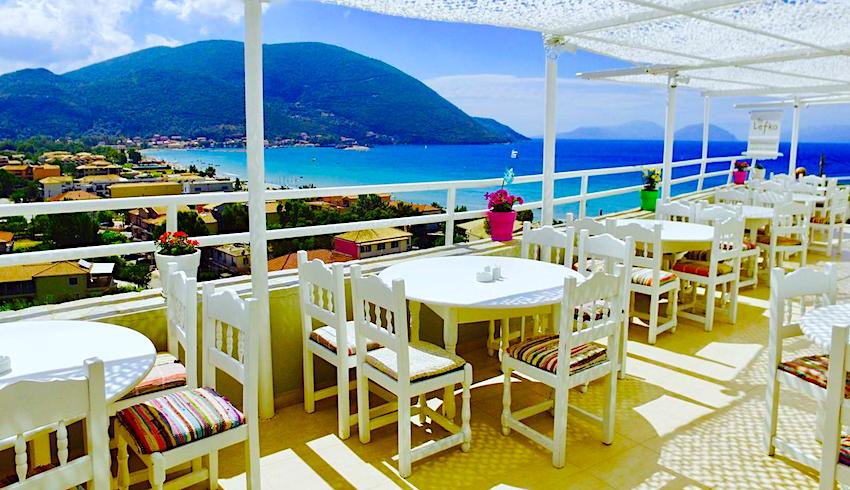 Ponti Beach Hotel is located in Vasilikí with its own private pool, a full service restaurant and is a one minute walk from the beach. Free WiFi is featured throughout the property and free private parking is available on site. All rooms are equipped with a flat-screen TV.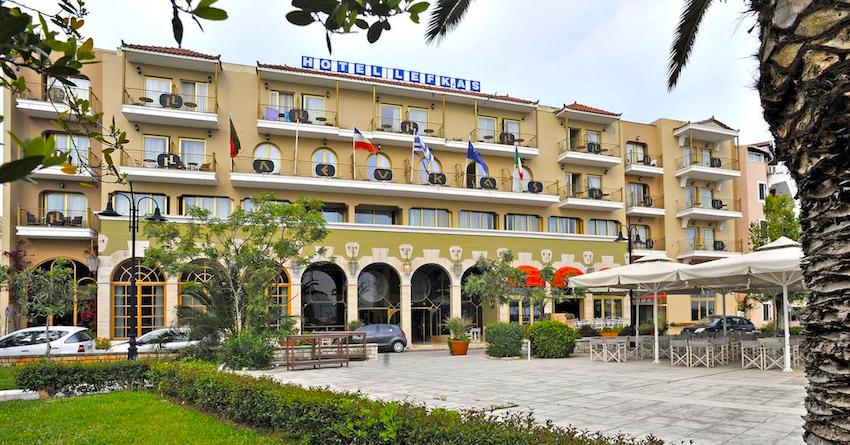 Hotel Lefkas stands at the entrance of Lefkada Town, less than half a mile from the biggest beach of the island. It offers a 24-hour front desk and free wireless internet. The recently renovated 3-star hotel has 100 spacious rooms and suites. All units are air conditioned and equipped with a TV and a fridge. Some rooms have balconies with views of the beach. The hotel's restaurant serves Greek dishes while the bar serves juices, coffee and cocktails from noon until late in the evening.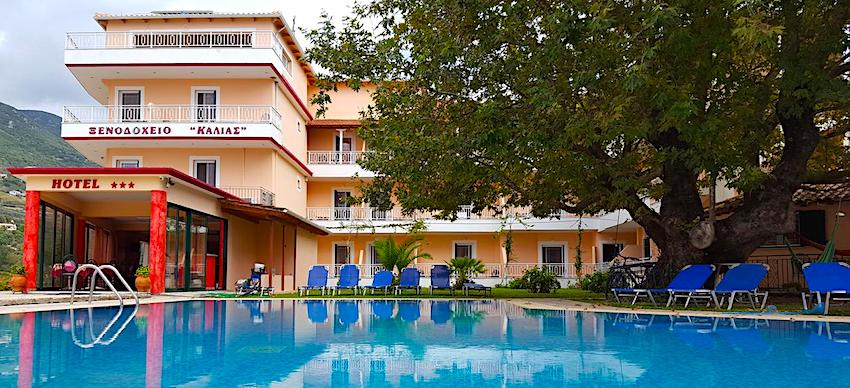 Kalias Hotel is located in Vasilikí just a few minutes walk from the beach and features a pool and free wifi. Rooms have views of the sea or pool. A flat-screen TV is available. Great breakfast buffet including freshly-made local delicacies and extremely friendly and helpful staff.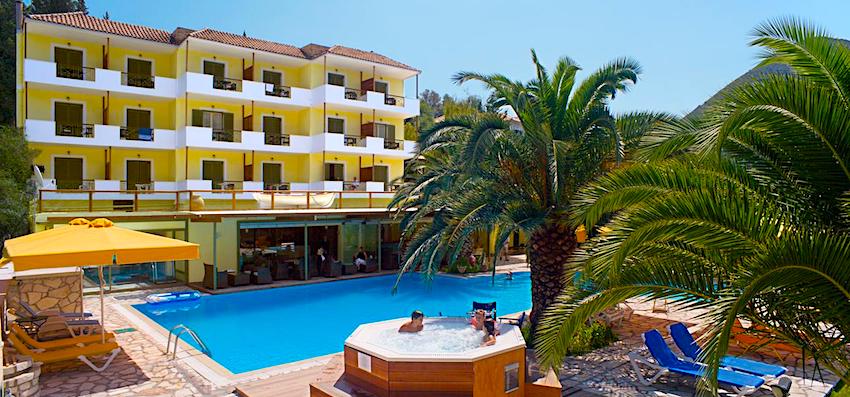 Cleopatra Beach is located in Yénion, a 12-minute walk from the beach and has a swimming pool, hot tub and fitness center. Every room is fitted with a flat-screen TV with satellite channels. Certain rooms include views of the sea or pool.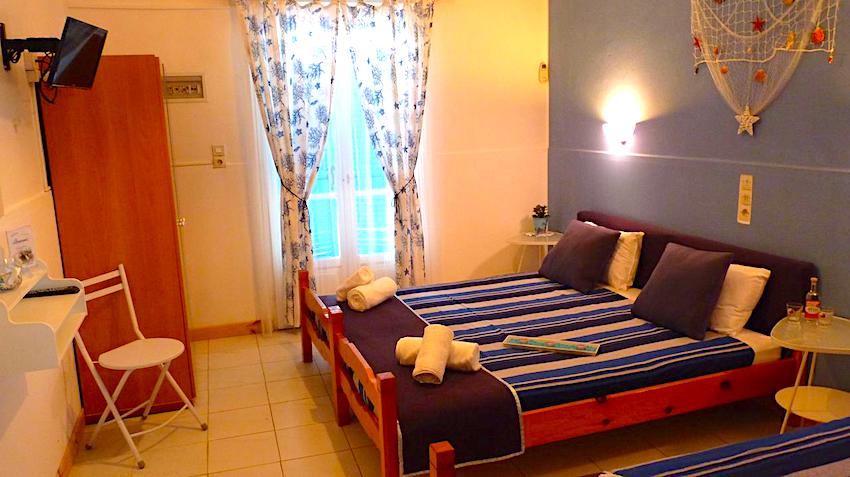 Oceanis Rooms offers air-conditioned accommodation among a lush garden just 150 feet from Rouda Beach in Mikros Gialos Bay. All studios open to a balcony with garden and mountain views. Free Wi-Fi is available in all areas. All units at Oceanis come with a TV and a fridge. Some also have a kitchenette with cooking hobs. Each boasts a private bathroom. Air conditioning comes standard.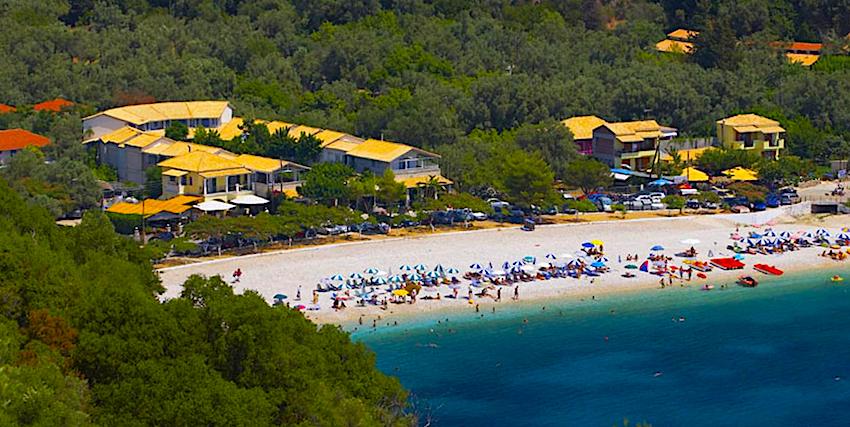 Rouda Bay Beach Hotel is set amidst exotic gardens just a few feet away from the beach in the small village of Poros. It offers rooms with free Wi-Fi and has a traditional tavern serving Ionian cuisine. The air-conditioned studios, suites and apartments open out to a private balcony overlooking the Ionian Sea or the garden. They come with a kitchenette with dining area and a living area with satellite LCD TV.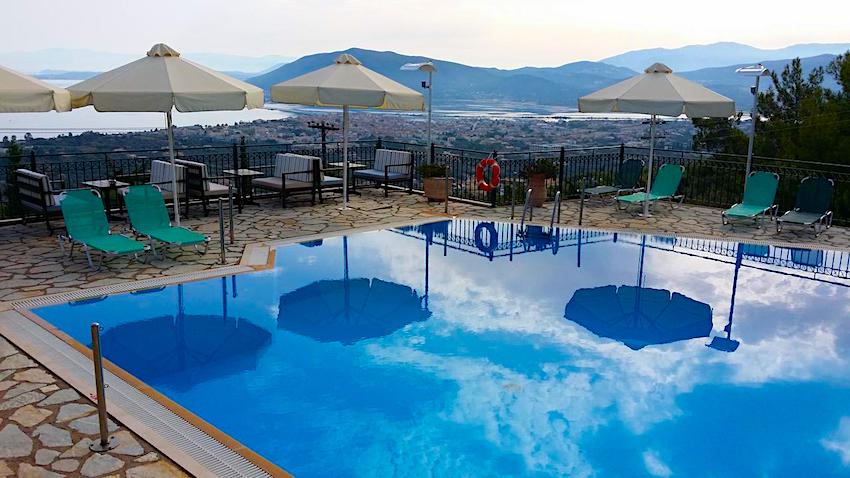 Semiramis is a hotel complex built amphitheatrically, with magnificent view of the Ionian Sea and Lefkada City. It is located in the region of Faneromeni, 3 km from Lefkada city centre. Semiramis hotel has a bar where you can enjoy a coffee or a drink, admiring the panoramic view at the same time, while it also offers a swimming pool for moments of relaxation, verdurous gardens and carport. The modern hotel rooms are equipped with air-conditioning, TV, telephone, fridge and hair dryer, while they also have large verandas with nice view of the sea or the mountain.
Travel Information for Lefkada
For more hotels see Booking.com's Lefkada Page and Matt's Hotels of Greece Lefkada Page.
For Villas, Holiday Homes, Self-catering Apartments and Air BnB style accomodations see Matt's Lefkada Villas Page.
For hotels, rooms, villas and apartments in Lefkada you can contact Fantasy Travel in Athens.
If you plan on combining Lefkada with other islands I suggest you use the Create-an-itinerary form which enables you to plan a holiday to Greece with the assistance of a travel agent in Greece with no obligation to buy. Even if you plan to only go to Lefkada it is worth it because they can book your transportation to the island too.
If you are flying into Athens you have a few options for getting to Lefkada. You can take the bus, which is the cheapest but most difficult method. Take the X93 bus or a taxi to Bus Terminal A. There are 4 buses a day and it takes about 6 hours and costs about 35 euros. Click here for bus schedule
You can also hire George the Famous Taxi Driver to take you and he will pick you up at the airport and even stop somewhere nice for lunch or dinner on the way. If you think you will need a car on Lefkada you can rent from Swift Car-Rental and they will also pick you up at the airport or your Athens hotel. For renting a car in Lefkada or Preveza see RentalCars.com and choose from several different agencies.
Of course the easiest way to get to Lefkada is to fly from wherever you live, to Preveza, most likely connecting in Athens.