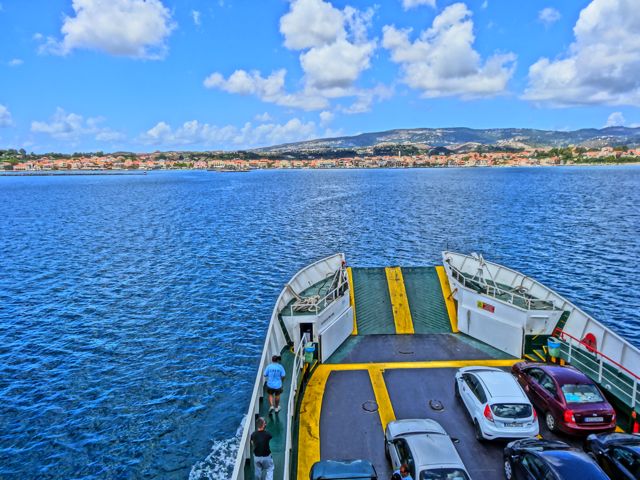 Visitors to Argostoli who walk along the busy waterfront may notice a small ferry loading and unloading passengers, cars and trucks every half an hour or so and wonder which island it is going to. They are actually not going to an island but across the bay to the town of Lixouri.
Like Argostoli and just about every town and village in this part of Kefalonia, Lixouri was also destroyed in the 1953 earthquake and completely rebuilt in the island style that favored durability over beauty. But Lixouri had the misfortune of having another earthquake in 2014 that seriously damaged the port and many houses and businesses. The municipality rushed to fix things enough for the tourist season but even so there were still people living in tents that summer and sections of road that had fallen away that made driving somewhat hazardous.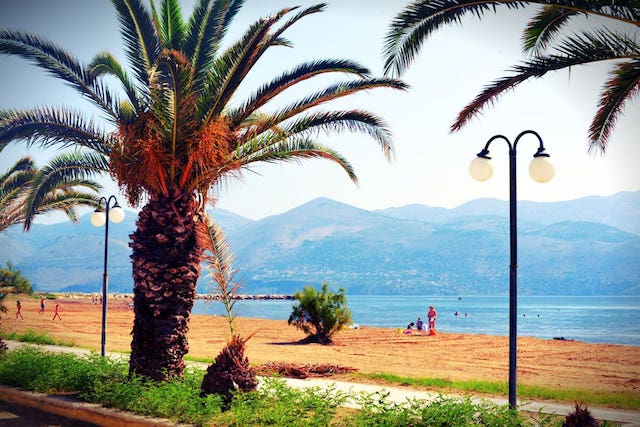 Of course that did not keep everyone away and those who came to Lixouri found a lively waterfront with restaurants and cafes and life going on as it always does and a lively main square. Lixouri was the Venetian capital of the island and is still the second largest city.
Beaches near Lixouri on the Paliki Peninsula include Xi and Magas Lakkos which have tavernas and accommodation as well as the red sand beach of Lepedha. Further on is the beach of Kounopetra with its mysterious rocking stone which unfortunately no longer rocks, and the sandy beach of Agios Nicholaos at the lower tip of the peninsula, which has a small restaurant. On the west coast the beach of Petani is one of the best on the island, with an excellent fish taverna and rooms available. Finally the beach of Porto Atheras is shallow and sandy and has a couple of places to eat as well. For those in search of icons and other holy relics visit the Monastery of Kipouria built in 1759, on the edge of a solid rocky cliff high above the sea on the rocky western coast.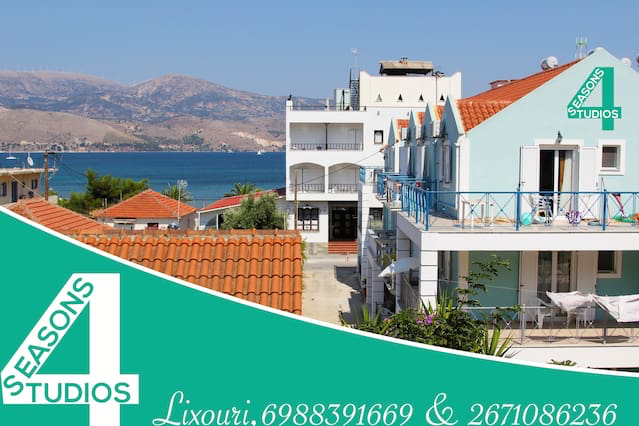 I recommend the 4-Seasons Studios which are owned by my friends Gerry and Pam from Chapel Hill, North Carolina. For those from North Carolina you know Gerry and his brother Dimitris from their Marathon Greek Restaurant in Chapel Hill, Carrboro, Greenville and Kinston. Gerry and Pam retired from the restaurant business and moved back to his native island and built a small hotel apartment building a short walk from the waterfront and the beach. Each room offers air-conditioning, a balcony, kitchenette and hot-water, private baths. Extra roll away beds are available on request. Their place is great for couples, adventurers, business travelers, families (with kids), groups and small behaved pets. Gerry and Pam will take great care of you and if you are from North Carolina you will probably feel right at home and for only 35 euros a night. For bookings you can e-mail them or call (011 30) 698 839 1669 or 267 108 6236.
For more hotels, apartments and villas in and around Lixouri see Booking.com's Lixouri Page and also Matt's Hotels of Greece Kefalonia Page. For Holiday Homes, Villas, Self-catering Apartments and Air BnB Style Accommodations see Matt's Kefalonia Villas Page.