The Road to Fiscardo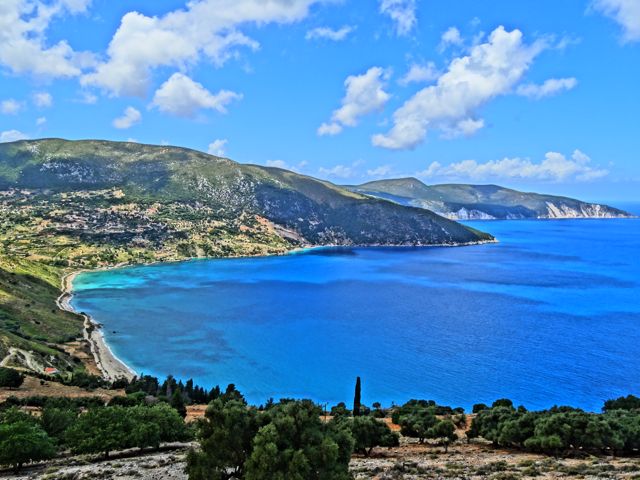 One of the best reasons to visit Fiscardo is the journey from Argostoli. This is truly one of the most spectacular roads in Greece and probably not recommended for the faint-hearted. But those with the courage to make the trip will see amazing views of the rugged western coast of Kefalonia as well as some of the most beautiful and dramatic beaches in Greece. If you are someone who does not like heights a blindfold would be something that might make the trip more enjoyable for you. If none is available or you are terrified but want to see the spectacular views, duct-tape over the mouth is another option which though more painful, will give you more of a feeling not unlike Odysseus with the Sirens. It will also keep you from annoying the other passengers.
Just beyond the village of Angonas close to where the road from Argostoli meets the road from Lixouri is the long sandy beach of Agia Kyriaki near the settlement of Zola which can be reached by a narrow road. There is an excellent fish taverna run by Spiros and Metaxas near the small harbor where you can eat fish caught that morning. A little further on is the beautiful Bouti Beach.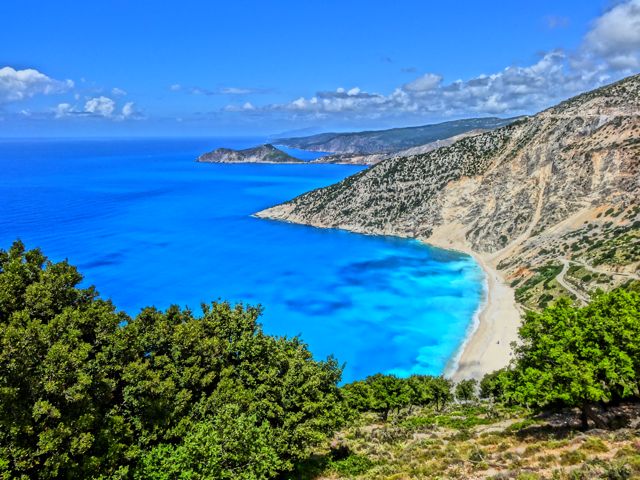 Continuing on you come to the famous beach of Myrtos which has graced many a postcard, poster and magazine cover, being the kind of place that you don't believe what you are seeing even as you are seeing it, as you ask yourself can the sea really be so blue and the sand so white? A road makes its way down the mountain, well most of the way. The earthquake of 2014 caused much of the side of the mountain to collapse and cover most of the road, and when I came they were working to uncover it. So unless you went by excursion boat or helicopter chances are that like me, in the early summer of 2014 Myrtos was a beautiful beach to look at but you could not partake of its crystal clear waters. Those who arrived on the island at the end of July though, found the road cleared and access to the beach hair-raising but passable.
Those who traveled the Argostoli to Fiscardo road in 2014 also found themselves on a long detour beginning in the town of Drakata and making their way on winding dirt roads through the mountains which eventually got them to Assos, adding an hour to what the trip would have taken on the earthquake damaged coastal road (probably fixed by the time you read this).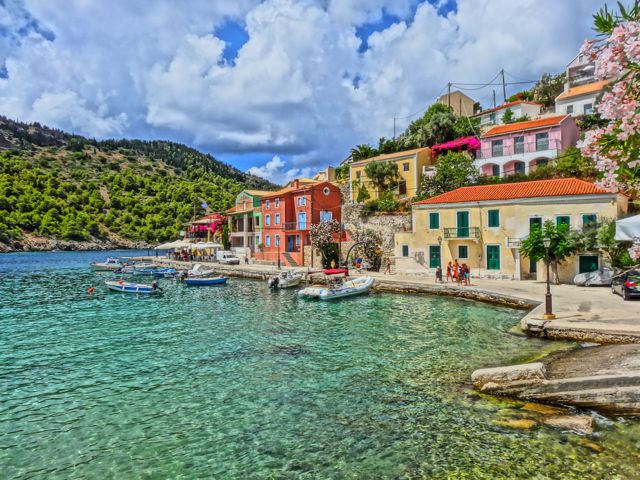 Assos is a unique town on a narrow isthmus below a large fortress and there are a couple stops on the long road down the mountain to the sea where you get an amazing view. When you enter the village the first thing you need to do is find a place to park which is not easy in July and August but should you be successful or should you come in the non-tourist months you will find a lovely town mingled with the ruins of stately mansions left over from the 1953 earthquake, a small but crowded beach in an attractive harbor with pine trees lining the far shore, and several fish tavernas and cafes. Chances are they will be full in the summer but if you are patient and ready to pounce at the first opportunity you should be able to snare a table before one of the less agile diners gets it. For hotels and rooms in Assos see Booking.com's Assos Page. For Holiday Homes, Villas, Self-catering Apartments and Air BnB Style Accommodations see Matt's Kefalonia Villas Page.
As you continue towards Fiscardo the road turns inland passing through quiet agricultural villages where you begin to notice more pre-earthquake houses and buildings and looking more like the Greece you are probably familiar with.
Fiscardo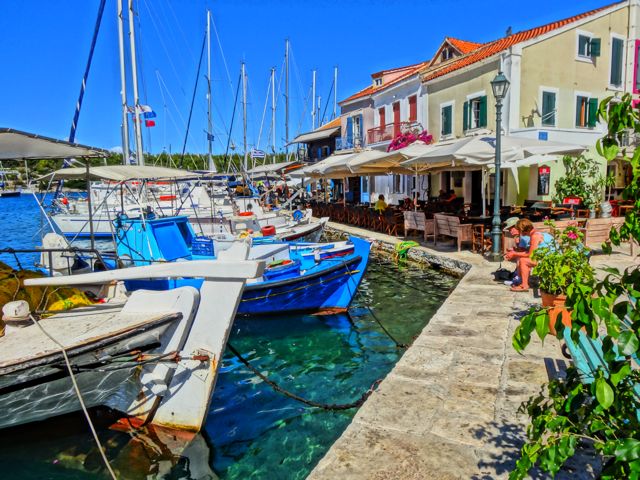 Some 40 years ago my friends Michalis, George and Dorian sailed Dorian's 10 meter fiberglass sailboat (which he called a yacht) to a little known village on the northern most tip of Kefalonia where they spent their days catching lobsters and fish and eating in one of the small tavernas in what was then the unknown fishing village called Fiscardo. For years any island they visited, no matter how beautiful it was, they always compared it to Fiscardo. "Yes, Vathi, Sifnos is a lovely little port, but it is not Fiscardo," they would say and then tell all the reasons why this little port in Kefalonia was the best place in Greece with the cleanest sea, abundant fish, no tourists, and dirt cheap. As they got older and the realities of life began to swallow them up they dreamed of chucking it all away and going back to Fiscardo to live that simple idyllic life they had left behind.
Unfortunately they would not recognize the place today.
Fiscardo is a boaters paradise, which is not to say that it is any kind of paradise for the rest of us who are more land based, even if we love the sea. But the small fishing harbor that made my friends so nostalgic is full, packed so densely with sailboats that you can barely see the water. Fish tavernas and cafes offer the kind of dining experience most people desire when they make their plans to come to the Greek Islands, though instead of gazing at the sea you are more likely to be watching someone showering on the back of his chartered sailboat with tables so close you might get wet or even get shampoo suds in your kalamari.
Clearly the success of the yachting business in the Ionian Islands has been responsible for the boom in Fiscardo and a night in town is a noisy one as tables are filled with skippers, crews and passengers sharing their tales of the sea and favorite coves and tavernas in loud drunken voices in every language. It is the kind of place most sailors love because they can meet other sailors and talk about sailing (and drinking).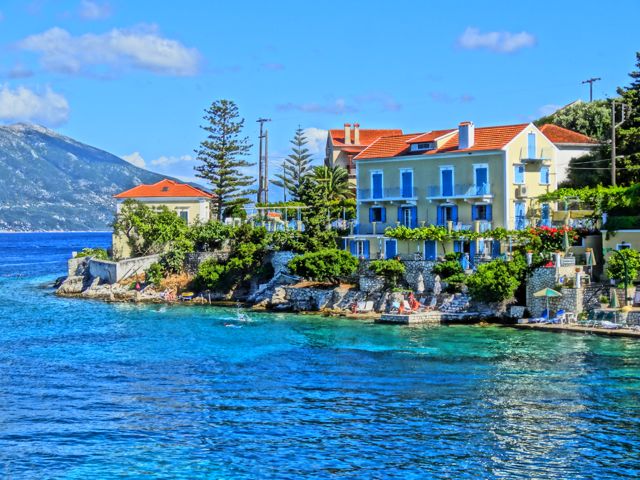 But what about the rest of us? The good news is that Fiscardo is a friendly and attractive place. My brother described it as Hydra but much, much bigger (or maybe he said worse) in an effort to convince me not to waste my time going there. I went anyway. The best time to visit is in the off season when the number of sailors has dwindled to those without jobs or the few who can take their holiday whenever they like, say mid-Sept through October and May-June. Climate wise it is one of the best parts of Kefalonia and there are places to swim in coves and on the rocks around town and at several beaches you need to drive to. There are also excursion boats to and from other parts of the northern side of the island and a ferry to Lefkada that makes Fiscardo for some people the only place they visit in Kefalonia. Does it merit more than a quick visit? I say it does and in that way it is similar to Hydra. It is a beautiful place, the only town not destroyed by the 1953 earthquake, and once you accept that it is not a quaint little fishing village but a very popular yacht harbor you can settle down and enjoy what Fiscardo has to offer which is good food, alcohol and lots of people, and if you have a good spot the added entertainment of watching people who don't really know how to sail trying to park a sailboat without damaging any others. And there are some very nice spots.
Recommended hotels include the highly rated Faros Suites, an adults only hotel on the beach just a 2 minute walk from the harbor. A few steps away are the Anthi Beach Apartments also on the beach. If you want to be right in the thick of things there is the 4 Star Emelisse Hotel right in town, or the more affordable Villa Romantsa in the upper part of the village close to the parking lot. For more hotels in Fiscardo see Booking.com's Fiscardo Page. For Holiday Homes, Villas, Self-catering Apartments and Air BnB Style Accommodations see Matt's Kefalonia Villas Page.