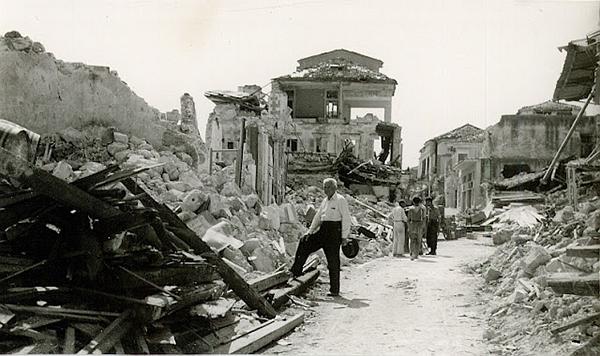 By 1953 the island of Kefalonia had survived the Italian and German occupation and the Greek civil war. But on August 12th it was hit by an earthquake and in a period of 28 seconds the island actually rose 60 centimeters and in the process demolished almost every man made structure on it. Entire villages were flattened and survivors who made their way to the capital city of Argostoli hoping to find shelter and help were shocked to see the entire city, which had contained massive government buildings constructed by the Venetians and the British, flattened as well. The earthquake caused over 100,000 Kefalonians to leave the island for the United States, Canada, Australia and other far away places while the rest remained to pick up the pieces and rebuild their homes and businesses.
Modern Day Argostoli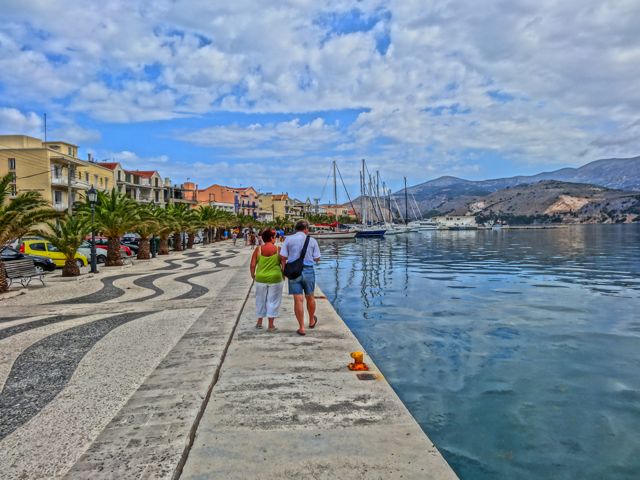 The capital city of Argostoli is a modern town laid out in a grid-pattern and easy to figure out. With a year round population of over 10,000 people, there are shops, restaurants, cafes and an active harbor with fishing boats and the main tourist attraction, the caretta-caretta turtles who feed at the nearby Koutavos Lagoon as well as from the fishermen who toss unwanted catch into the sea. The best time to see them is in the morning when the boats come in. If you see a crowd on the dock, chances are good that they are watching the turtles. The waterfront is a long promenade along Ioannou Metaxou Street, very nice for an evening walk, or a walk to the small pine shaded beaches to the north of town. At the lower end of the harbor is the Drapano Bridge which separates the lagoon from the harbor. Originally built out of wood by the British, it was later rebuilt out of stone and until recently was open to automobiles, but is now a pedestrian bridge. The lagoon is now a bird sanctuary and there are walkways and signs which show the different kinds of birds.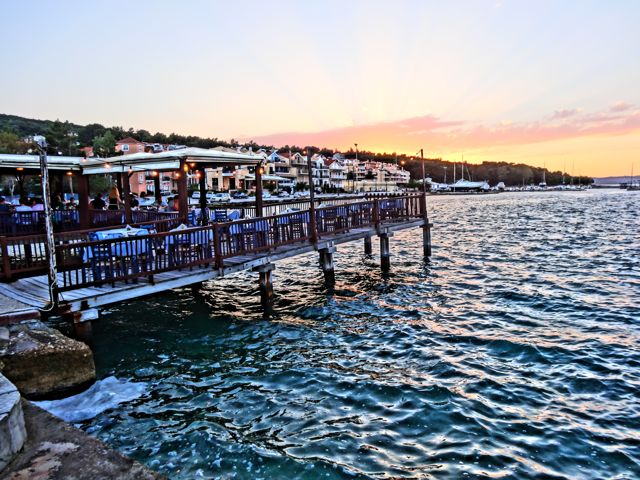 There are several popular restaurants including the Kiani Akti, a mezedopoulion by name but really a very nice seafood restaurant that happens to have a lot of mezedes to go along with their many seafood and pasta dishes. The restaurant is in a setting that would be pretty hard to beat, on a wooden dock on the bay in the north part of town. I would say that if you have one meal to eat in Argostoli then this is where to have it. Order any of their salads, their excellent Kefalonian meat pie and if they have it, their pasta with three different types of clams. Another restaurant, (which we were actually planning to eat at before we came across Kiani Akti) that we were told by friends to go to, is Ampelaki, also on the waterfront at 26 Metaxa Street and a regular winner of Tripadvisor Certificates of Excellence.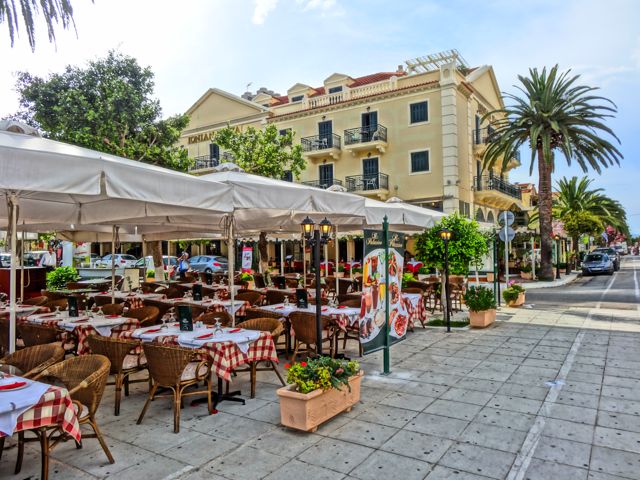 The center of Argostoli is a large square called Platia Vallianou which is actually two squares put together, or a square and a rectangle to be more precise. On the square is the Ionian Plaza Hotel (full when we went and cleaning up some minor earthquake damage) and a number of cafes, pizza restaurants and other places to socialize while eating and drinking. These cafes, bars and restaurants continue north, up Leoforos Vassileos Giorgiou V (King George V Ave) which has been pedestrian-ized for the two blocks up to the square. Going south from the square you pass the Focas Kosmetatos Foundation which is a small museum dedicated to the social and cultural history of Kefalonia, housed in one of the few buildings that survived the earthquake. Further on is the Archaeological Museum which was built after the earthquake, however when we were there it was closed due to damage from the earthquake of January 2014. Just beyond the museum is the beginning of the Lithostroto Pedestrian Mall Street, which is exactly what it sounds like: a street of shops and cafes closed to automobile traffic and one of the best places to sit and have a coffee or a drink while you watch people shopping or going about their daily business or doing their evening volta.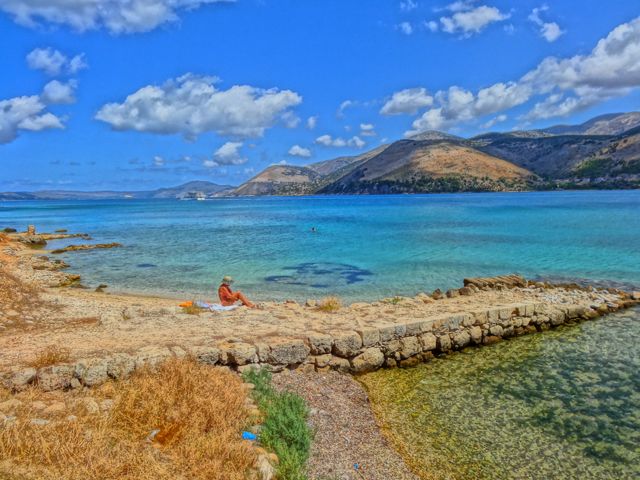 From the waterfront of Argostoli there are two small ferries which go back and forth continuously to Lixouri, a 20 minute trip across the bay. (There was a ferry to Kyllini in the Peloponessos but because of the cost of fuel it has been discontinued and the boats go from Poros, which is the closest port). Along Metaxou there are several hotels including the Hotel Tourist (where we stayed, and it is excellent with the best breakfast buffet of any 2-star hotel I have been to), the popular Mouikis Hotel (where we wanted to stay but it was full), and the Miramare Hotel (where we would have stayed had we not gotten the last room at the Hotel Tourist). The best beaches are in Lassi which you will have to drive to or take the local bus, but if you walk north along the coast you will come to an area where the pine forests come right down to the sea and you can put your beach towel in the shade and swim and snorkel in the clear waters, keeping an eye open for the sea turtles.
Lassi and South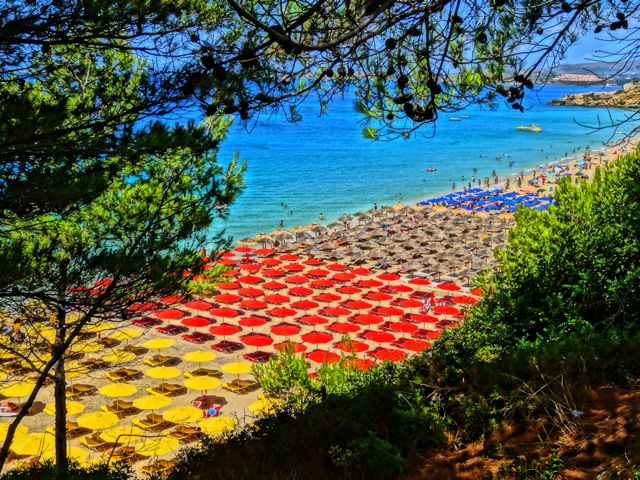 If you follow Metaxas Street north it becomes Fanari Road and curls around the peninsula, past the lighthouse it is named for and brings you to Lassi, the beach resort area of Argostoli. With a climate that is less humid and more breezy than the city, and a large number of hotels, and some of the most beautiful beaches in Kefalonia, this is where most people choose to stay. From the 4-star Hotel Mediterranee, a beachfront multi-story hotel with convention facilities, swimming pool, tennis courts, restaurants and bars, to smaller family run hotel/apartments like Nikos Studios, or Polymnia Studio-Apartments, there is a variety of accommodations available here in all categories and prices. For more see Booking.com's Lassi Hotels Page and for Holiday Homes, Villas, Self-catering Apartments and Air BnB Style Accommodations see Matt's Kefalonia Villas Page. Most likely if you are the kind of person who uses my guide, you won't be wild about Lassi. It is about as touristy as a place can be. But I have to say this: at least they have sidewalks which is more than you can say for Santorini and Mykonos which have a lot more money but don't seem to care if their guests get run over on their way back to the hotel after dinner.
Livatho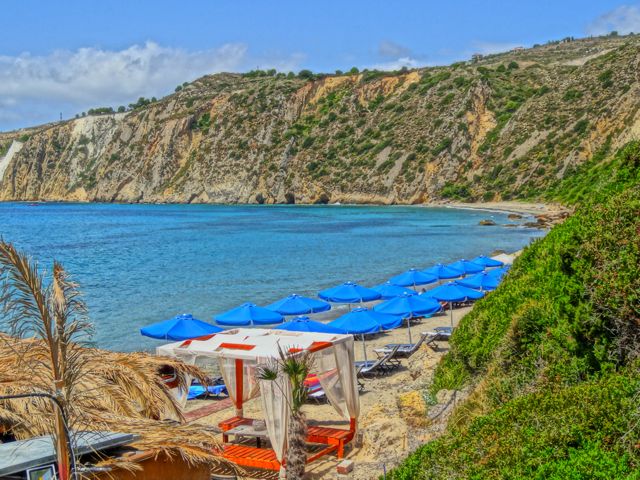 If you continue going south from Lassi towards the airport there is an area of small villages called Livatho, some of which are not really villages, but settlements of villas and modern houses, with names like Svoronata, Metaxata, Minia, Korianna and a few others. This area is almost like a rich suburb of Argostoli, though it is not all villas, there are farms and churches and the airport too. There are a number of hotels and villasin the area, some expensive and others dirt-cheap. Avithos Resort's self catering apartments and rooms offers a seductive proposal for relaxing and refreshing vacation in Kefalonia Island near Avithos and close to Argostoli. There are also some nice restaurants like Avithos Taverna, and To Enetiko at Avithos Beach, and some very nice sandy beaches like Avithos, Ammos, Minia and Ai Hellis which are all close to Svoronata that you should be able to find by following the signs at the big intersections. The area is like a maze of small streets through neighborhoods, villages and countryside, but after a day or so you will most likely have mastered them enough to not get totally lost. You will need a car if you stay here. Really, you will need a car if you stay anywhere unless all you plan to do is lay on the beach and fry and go to the closest restaurant at night, in which case you are probably staying in Lassi or Skala. For those with a car visit Kastro, the Venetian capital of Kefalonia, which overlooks this area, and see the Fortress of Saint George and the Monastery of Saint Gerassimos(1506-1579), the patron saint of the island (half the men you will meet are named Gerassimos, or Jerry). His body, which has never decomposed, lies in the monastery where people come from all over to pray to him and after the earthquake of 1953 there were supposedly many sightings of the saint. The Feast of St Gerasimos is held on August 16th when people come to be healed by him.
Be sure to visit the world-acclaimed Gentilini Winery on the main road between Argostoli and the airport in between Livatho and Lassi, open May through September from 10am to 2:30pm and from 5:30 to 8:30pm where you can taste their Kefalonian Robola as well as several other varieties.
For Holiday Homes, Villas, Self-catering Apartments and Air BnB Style Accommodations see Matt's Kefalonia Villas Page and also Matt's Hotels of Greece Kefalonia Page