Matt's Favorite Restaurants in Kea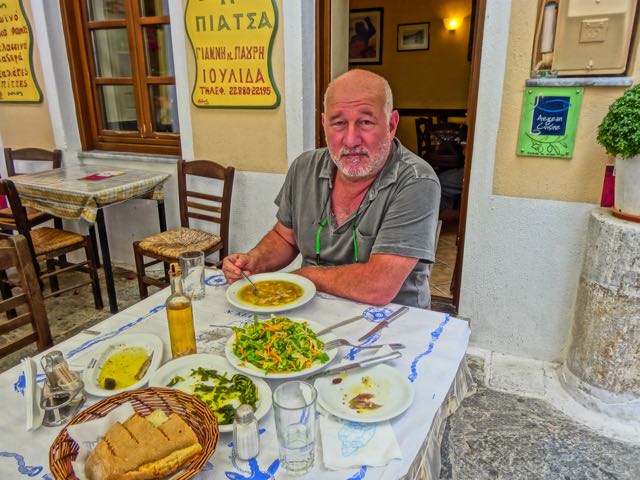 I have spent more time on Kea in the last twenty years, than I have spent on any other Greek island and so these are the restaurants I know the best. When choosing where to eat, it is usually a matter of taste or a particular style you like. These restaurants will give you a variety of styles and I don't think you will have a bad meal in any of them. I have listed them in the order of my personal preference beginning with the restaurants where I go almost nightly when I am on Kea and ending with those that I have tried once and meant to go back to or that friends have told me to try and I have not gotten around to. If you only have one night in Kea and have to choose between these restaurants then I feel sorry for you. Better to come here for a week and try them all. Be sure to ask for the local Red Mavroudi Wine by Red Tractor.
Oinozythestiatoriaon Kalofagadon
Ioulida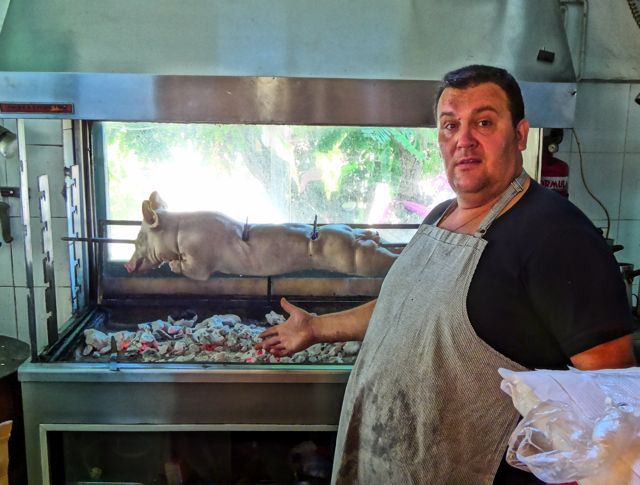 If I am in Kea chances are I am eating here, and on some nights I am at both places since they are right next to each other in the main square. Yannis is one of the best grill cooks on the island if not in Greece. Come Saturday night for roast suckling pig and kondosouvli (pork roast on a spit) or any night for paidiakia (lambchops), steak, roast pork, and excellent oven dishes like the roast lamb and potatoes which I dream about some nights. He also makes the best provatina I have ever eaten. What is provatina? Grilled mutton. Great local red wine made by Yiannis himself and wonderful atmosphere. Favorite of many of the locals and any Athenians who have the willpower to make the climb. Good place for celebrity sightings too. I love the spanakopita which I have for dinner and then order another to take home and have for breakfast. The manindaropita (mushroom pie) is also great as is the kolokithopita(zucchini pie). I love just about everything here actually. I could eat here every day if there were not other great restaurants in hora. Frankisco, Panayotis Coolpan and the rest of the boys are fun waiters who all speak English and enjoy their jobs. In the winter the restaurant only opens on weekends. Try the local red wine which depending on who you ask was either made by Yiannis himself or someone else on the island. It doesn't matter. It's good. It is all good.
Abourkouna Food and Wine
Ioulida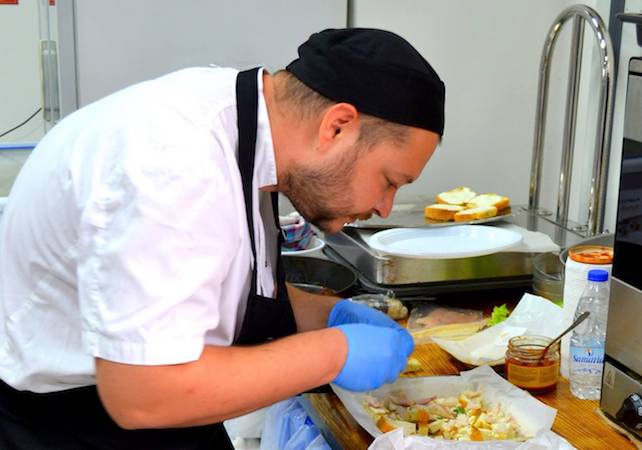 Nicholas Tsakaloyannis Haworth is one of the best chefs on Kea and because he has spent so many years behind the scenes, cooking at hotels and fancy snack bars, many people were not aware of him, except for one summer when he appeared at Vynilo which is where I first tasted his amazing cooking. For years I told him he needed to come and open a nice restaurant in Hora (Ioulida) in the beautiful old building that overlooks the Piatsa, where people could dine in fine style while watching the taxis and buses come and go. Well, good things are worth waiting for and rather than the terrace with bus-stop and taxi-stand view he chose to restore a house in the village, a few steps up from the Piatsa, which has a large terrace with a spectacular view and the food to go with it. The food is Mediterranean/modern Greek and uses as much as possible ingredients from Kea and the Cyclades while the emphasis is on good value for money wines and beers, all Greek and bottled, including some of your favorite Greek microbrews. Speaking of which, their Pork Rib-Eye is slow cooked in beer with sautÚd potatoes, cherry tomatoes and arugula and his Mushroom Risotto is made with Porcini, pleurotus, local red wine and three cheese from Syros. The evolving menu has a number of appetisers, salads and entrees, many of which you might not expect to find in a traditional village or a Greek island, though truthfully, Ioulida is not your normal traditional Greek island village. The Athenians who visit Kea will love it because they don't have to walk up to the Platia in their high heels, and the tourists will love it because it goes beyond their idea of Greek cooking, without actually going beyond Greek cooking.
The Piatsa
Ioulida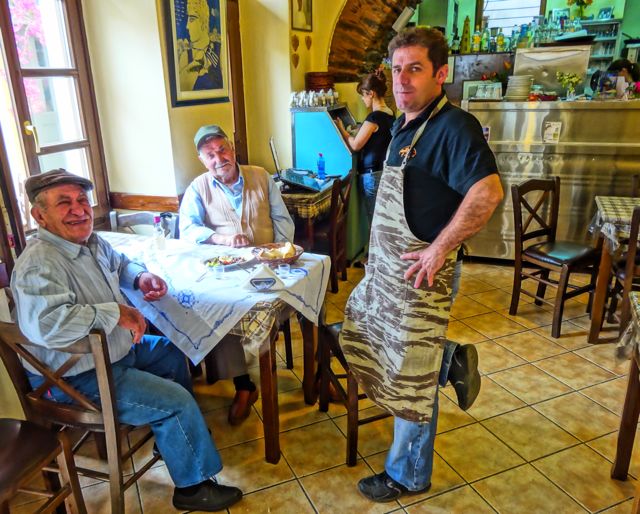 The first restaurant you see when you come through the gate of the village is owned by my Facebook friend Yannis Piaouris. The restaurant has a small outdoor seating area of about 5 or 6 tables and is an excellent place for an ouzo and meze as well as a whole meal. Yiannis is an excellent cook and serves a delicious lamb in lemon sauce, soutsoukakia, beef in red sauce, vleeta, lots of salads and many oven dishes. One morning I had the best cheese omelet I have ever eaten. He also makes something called strapatsada, which is a mix of tomato, eggs, cheese and herbs sort of like scrambled eggs but suitable for breakfast, lunch or dinner. The Piatsa is very small so chances are by the end of the night you will be friends with whoever else happens to be eating there. Good wine too. Probably the best of the restaurants in Iloulida. Good island atmosphere and the only restaurant in the hora that is open every day year-round and very cozy in the winter with some good island tsipuro. Any afternoon there will be people eating and drinking and laughing inside, usually led by Mavromatis the butcher.
Perasma sto Giristi
Giristi (Ioulida)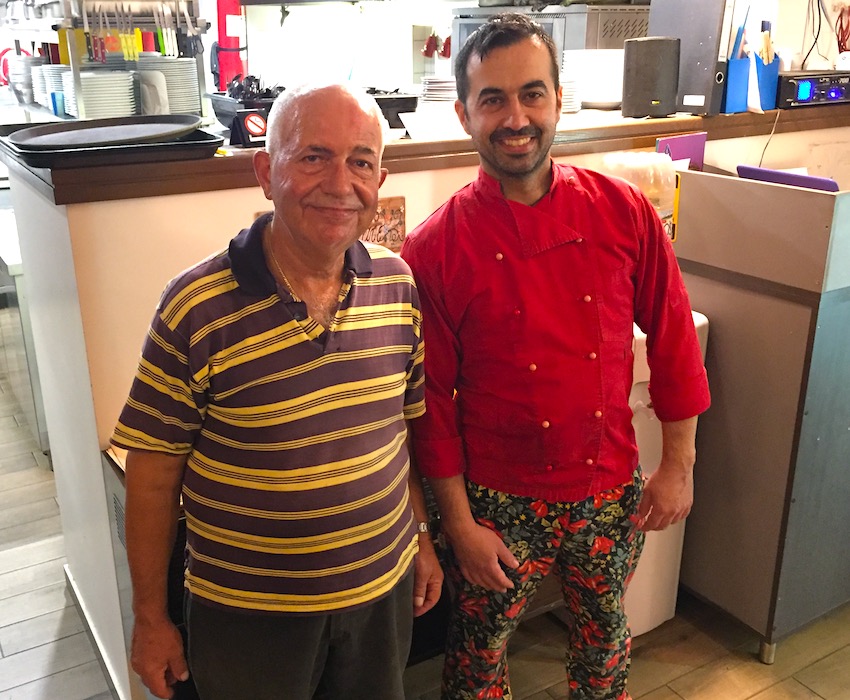 Thanks to my pals Rob and Haris and Kostis I have a new restaurant I can tell you about that I know you are going to love. It is called Perasma and you will need a car (or a taxi) to get there but it is worth it. The owner is Giorgos, who was the chef at the King George Hotel in Athens. Yes that King George. But it is not a high end fancy-shmancy bistro. It is a simple country taverna with amazing food. OK, some of it is not exactly what the locals have gorwn up eating. Few farmers in Kea have eaten Mushroom or Cuttlefish Risotto but if they did they would probably want to eat it again. But most of the menu is the kind of island food you would find inland or on the sea in Kea or just about any Greek island. We went as a group our first visit so I got to try a number of dishes. My favorite was the Kebab Yourtoglu which Robbie ordered. I had the Pansetta (pork belly) which was delicious, and we all shared the Santorini-style Tomato Keftedes, the Pastoruma and Eggs, Melitsana Salata and Sadziki and the amazing Perasma Salata which you should get instead of your usual Horiatiki Salata this one time. My favorite thing was their home-made bread, toasted on the grill with garlic, olive oil and tumeric. It was the best bread I have ever eaten in Greece and I would have been happy to keep ordering more dips to spread on that. I ordered a bottle of Kostis Maroulis' Red Tractor Red Wine and because the others wanted to drink white I had it all to myself. I did not even feel bad the next day. (In case I have not mentioned this before you should buy some at the supermarket or at Aristeos Traditional Goods shop). They have lots of fish dishes, pretty much anything you would find in a psistaria, pastas, some oven-cooked specials and lots and lots of mezedes. Giorgos has help from his father and others on busy nights. It is about a 10 minute drive from Ioulida on the road above the village and they are open year round. It is open 9am to 10pm but we got there at 9pm and left at midnight. Tel 2288 024014
To Steki Tou Stroggili
Korissia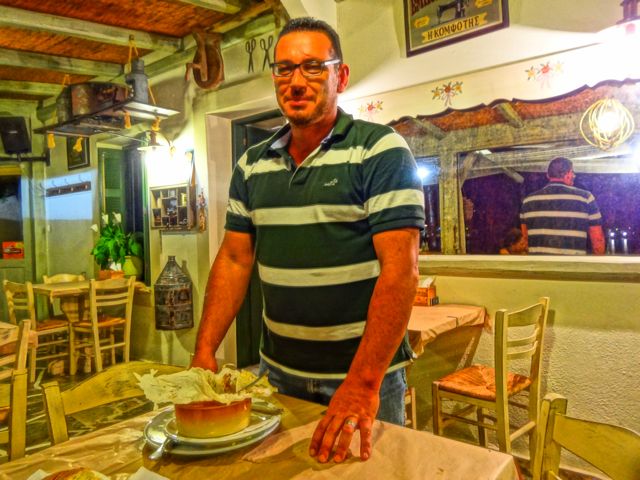 As you enter the port of Korissia by ferry you will notice the large church on the hill right above were the ship is docking. Next to it you will also notice a neo-classic mansion with a sign and probably tables and chairs and perhaps people in them. This is the Taverna To Steki Tou Stroggili which is known to most islanders for its excellent food but not noticed by most tourists and yachtsmen because it is not on the street. There is a road and signs leading to the restaurant, right next to the small cigarette store which is next to Magazes. If you are looking for that quiet, idylic, Greek island taverna with a nice view, away from the street with great food, friendly service and excellent wine, make sure you come here. Try their pork roasted in paper which was recommended to me by Marcie because Kostis comes here all winter to eat it. It is amazing. Succulent pork, slow cooked, with potatoes, garlic and herbs, wrapped in paper that keeps all the moisture in. Also try their Tziotiki Salata, I believe that is what it is called, which is a peeled whole tomato topped with the local xinotiri (cheese like feta) on a bed of almira (a domesticated wild green unlike anything you have ever eaten) with capers and olive oil. Or if you have conservative tastes just go for the Roka- Parmesan Salad and the grilled chicken breast with the best fried potatoes west of Rolando's. It's a big menu and if you love Greek food, or even if you don't, you will certainly find something you like. Dimitris is the owner and speaks English so don't be shy about asking for his suggestions. If you are meat eaters get the mixed grill.
Rolando's Taverna/Ouzeri/Psistaria
Korissia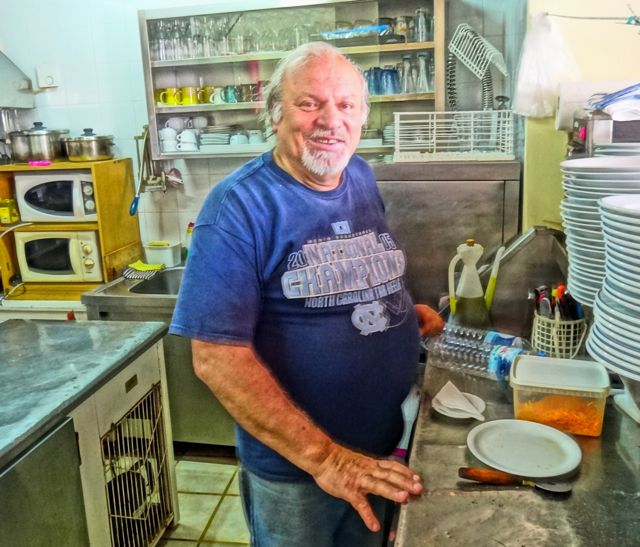 This was my primary hangout and I have eaten here probably a hundred thousand times when he was located at the top of the main platia in Ioulida(Hora). But since he moved to the port I have not come as often. Rolando and his wife Krissa serve specialties from Kea, where she is from and from the island of Corfu where he comes from. His mezedes pikilea that he serves with ouzo is one of the best anywhere. Also highly rated are his fried small kalamari called gonos, fried gavros(anchovies), rooster in red sauce, rabbit stifado, beef tongue, sofrito (a meat dish from Corfu), local beef in white or red sauce, katsiki (goat) in lemon sauce (my favorite), and the best keftedes(meatballs) in Greece. For lunch or breakfast ask for his super-omelet or English Breakfast. He has now added grilled meat to his repertoire including pork-kebabs. Our staple is the vleeta (boiled greens) and the kolokithakia vratsa (boiled zuchinni smothered in garlic and olive oil), badzaria (beets) with scordalia (garlic sauce). Get the fried aferinia (very small fish) with extra onions and you will always come back for more. Also grilled sardines either whole or filet and kolios (mackerel). Rolando makes a greatt mousaka and for vegetarians he has bozakos which is a meatless mousaka. For meat eaters, all the goat, lamb, and beef comes from Kea. This is where many of the X-pats who have houses in Kea eat and hang out and Rolando has become something of a spiritual father to them and the place has a great atmosphere at night, though the plastic greenhouse roof he bought for shade seems to suck in heat rather than reflect it. Hopefully by next year he will have replaced it. But if you go at night you will probably make lots of friends, one of them being Rolando.
To Steki
Ioulida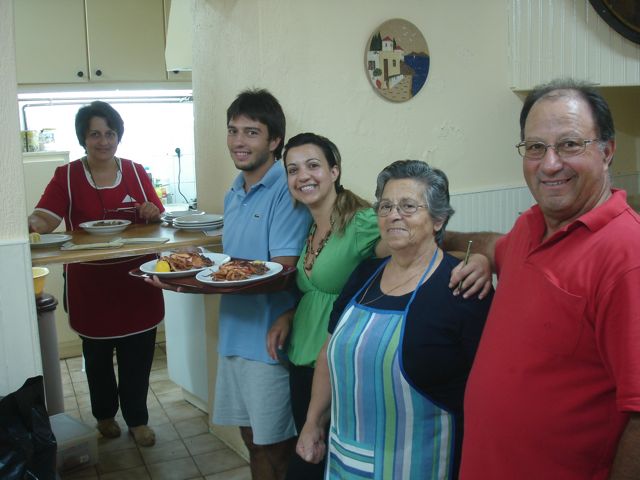 To Steki is a small traditional family run taverna that is on the way to the Lion in Ioulida. They feature pretty much the same food as the other tavernas in Ioulida with a few minor variations but the service is friendly and as all the restaurants in Ioulida the food is good and the location on the edge of the village on the side of a mountain can't be beat. Try their strapatsada which is like scrambled eggs with tomatoes, peppers and feta cheese. Stuffed kalamari, goat in lemon sauce, and a sort of eggplant parmesian like mousaka without the fluff. Son Yiannis is a great waiter and wonderful personality and is not shy about recommending dishes or explaining what they are. If you come on Saturday night and the other restaurants are full then just keep walking up the steps and have a quiet meal here.
O Paparounas
Ioulida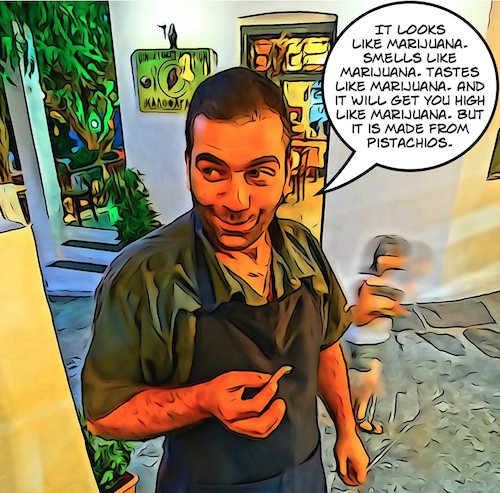 When Rolando opened a new location in the port he sold the Ioulida location to his friend Antonis (aka Cyclades Anton) who has renamed it O Paparounas and added a few items to the menu while keeping a few of the local dishes and the same fun atmosphere that the people who loved Rolando's were used to. The place to be is up on the balcony but with only 4 tables there you have to come early to get a spot. But don't fret because there are plenty of tables in the platia too. I recommend the kolokithia keftedes, (fried zucchini balls) as an appetiser as well as their tirokafteri (spicy cheese spread) made with real jalapeno peppers, or their tiropitakia (mini cheese pies) with honey and sesame. Paparounas specializes in fish too, in fact of all the restaurants in Ioulida it is the only one that serves fresh fish daily including grilled tsipura, grilled sardines, fried gavros, fried kalamari and excellent taramasalata. Adonis speaks half a dozen languages and can explain the origins of every dish and make recommendations based on what is best that particular day. Any of the pasta dishes, the brizoles (steaks), and fresh fish are a good bet as are any of the salads and mezedes. You really can't go wrong here and I would eat here more often except all my friends work across the street and I am more of a grilled meat and potatoes guy and Yannis is the greatest grill-man I have ever seen in my life. That being said, the fried potatoes at Paparounes are the best on the island and having a professionally trained chef in the kitchen means that you are getting food somewhere between a traditional island restaurant and the kind of bistro food you might find in Athens or any major cosmopolitan city.
To Spiti Sti Hora
Ioulida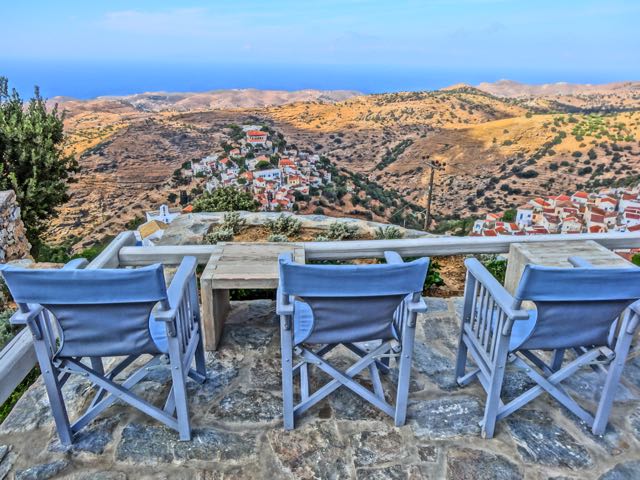 Unless you read this, or have a friend from Kea, or are extremely lucky, then you probably won't stumble upon the excellent farm-to-table restaurant called To Spiti Sti Hora (The Home in Hora). It is located at the very top of Ioulida, so high up that you will have stopped somewhere else to eat long before you ever found it. However it is right below the main road above the village that goes to Kato and Pero Meria and if you look carefully you will see the sign right by the steps that lead down to the restaurant on your left. First of all the view is spectacular. You can see all the way to the Temple of Poseidon at Cape Sounion and the ships pass by in the Cavo d Oro, and at night you can see the lights of Athens. To Spiti doubles as a cafe too so you can come for a coffee and desert and enjoy the view and the breeze (and the free wifi). The food is basically traditional Greek with a modern twist, similar to what you would get in one of the chef-owned Greek bistros in Athens or New York City for that matter. Certainly not something you would expect to find on a largely agricultural island like Kea. But times are changing and chef Vaggelis Marinopoulos has successfully merged whatever they teach you in Greek culinary school with what those of us are used to eating in Kea, and come up with something that is different from any other restaurant on the island. Reservations are a good idea on Friday or Saturday nights in the summer, especially the nights they have live jazz. If you don't have a car just take a taxi. It is open for breakfast, lunch, dinner and Sunday brunch as well as any time of day for coffee. Save room for desert. For reservations call (+30) 2288 029101.
Simos Take Away
Korissia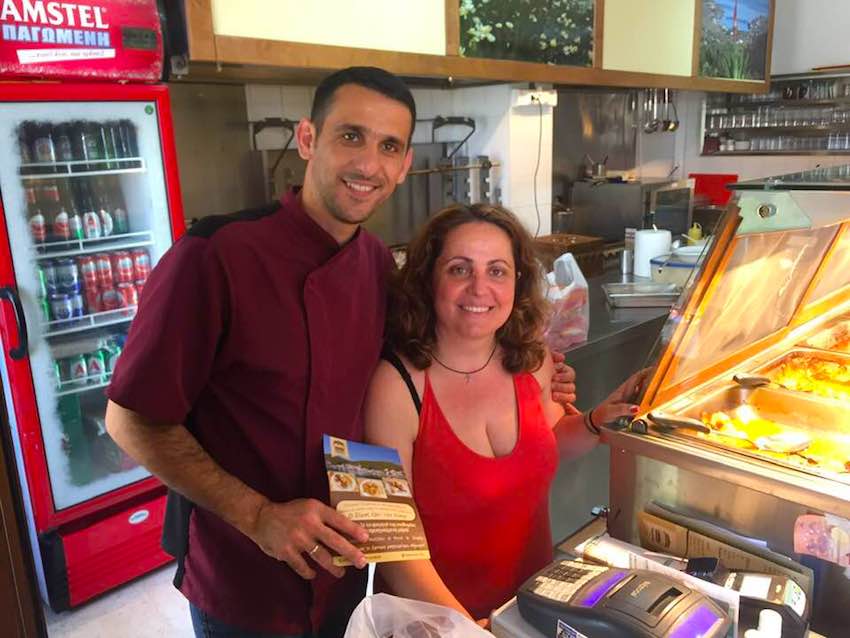 Don't let the words 'Take Away' in the name scare you away. This is Simos, the famous young painter of the island, who has cooked in a number of the best restaurants on Kea including his own and in 2018 even opened a restaurant in Athens. But he is back on Kea and on the road between Korissia and Ioulida where he has opened a combination psistaria (grill-house), mayerefta (oven cooked dishes) restaurant that does do take-away but also has several tables and chairs for dining in a taverna like setting. He also has delicious rotisserie chicken every day as well as several other roast meats. If you are staying in a hotel or house in Korissia and you don't feel like going out to dinner just call 697 410-2438 or 697 321-0595 and order your dinner, or just come by the restaurant and point to what you want. It's all good. He and his wife are good cooks. And ask to see his paintings. I think he should hang a few in the restaurant. Maybe sell them there too.
Otzias Tavernas
Otzias Beach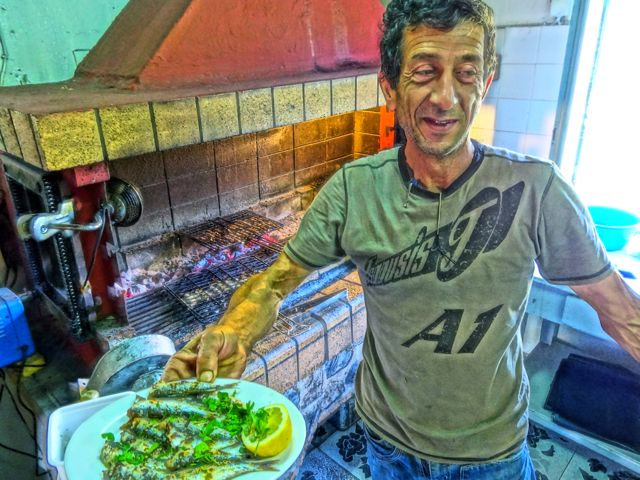 The Otzias Taverna, formerly owned and run by Yannis Stefas, was the best example of what a sea-side fish taverna should be, on one of the most popular beaches on the island. Fresh fish, grilled, fried or baked, and also plenty of meat dishes too. Yannis retired and sold the restaurant to the family that owns Koka Cafe and Holiday Rooms and have spiffed it up a bit and given it a more modern menu while still maintaining the traditional Greek dishes. So you can still get grilled sardines and fried gavros but you can also get mussels steamed in wine and various fish of the day. They have a number of nice salads, the roka-parmesan being our favorite, and a large choice of appetisers and main courses of meat, vegetables and fish. Try their Santorini-style tomato keftedes which will save you the trip to Santorini. And the vegetables come from the family farm right up the street. This is the best place to go for lunch and a swim, being the closest nice beach to civilization, the restaurant being right across the street from the rows of beach beds and tree-shaded playground. It is quiet most nights but go anyway, especially if you are staying in Otzias. As for Yiannis... well I keep the photo of him up in tribute and though I am sorry he sold his restaurant.
For those staying in Otzias just up the street is Anna's which is open year-round. They serve delicious meat and fish dishes and vegetables too. They even have saligari (snails). Very cozy in the winter with the fire going. This is actually one of the best seaside restaurants on the island and if you don't mind walking a little bit from the sea it is a lot less crowded in the summer and as good or better.
Philipos Psistaria
Korissia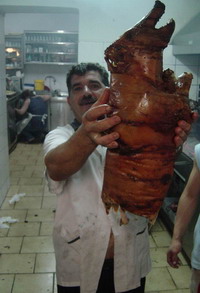 One of my favorite places to eat was Philipos Psistaria in the port of Korissia right at the intersection of the road to Ioulida and the road to Vourkari. On weekends he usually roasted an entire pig but any night you could get paidakia, steaks, good wine that does not give you a hangover most of the time and a really terrific atmosphere. Don't let the picture scare you. This place is great from 10pm on but he lost his lease and is now up on the hill between Korissia and Galiaskari. We have eaten there a couple times now and the view is spectacular and the food is as good as ever. If you want the whole roasted pig or lamb or kokoretsi you may have to wait for weekends in August, but you can go any night and get grilled paidiakia (lambchops), loukaniko (sausage), brizoles (beef and pork steaks) and best of all for some people, their fried zuchini and eggplant with sadziki and their grilled peppers. And the big building that the owners of Philipos original restaurant kicked him out of to build which they hoped would be rented by a bank has been empty ever since..... until......
Taverna to Kampi
Kampi
It is a beautiful summer day and you are driving around Kea. You pass the beach at Pisses and then Koundoros and finally come across a small beach that you see on the map is called Kampi. There are only a few people on the beach and you think tthat this looks perfect, if only there was a taverna. There is. It is called Taverna to Kampi, owned by Manousos and Eleni Psimitis, just across the road from the beach and up some steps where you have a nice view of the sea. It is not a fish taverna though they do have fish. It is more of a home-cooking countryside taverna where you can get oven cooked meat and vegetable dishes, a variety of salads and appetisers including their very good kolokithia-keftedes (like meatballs but made from squash and not shaped like balls), their delicious mushroom pie and paspola which is like strapitsada which is like scrambled eggs mixed with tomatoes, onions, peppers and some kind of meat, probably beef and most likely local. For fish they have fried kalamaraki and marinated gavros. Most likely you will only want a light meal anyway because you are on the beach, far from civilization, and big meals are more fun at night. And they are open at night and are the only restaurant in Kea that plays laika and rembetika music. They are only open in the summer though, and possibly only in August.
Karthea Taverna and Poularakia
Kato Meria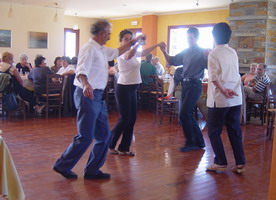 Chances are you won't find this place but if you do you will agree that the Karthea Taverna makes some of the best food you will eat in Greece. Located far away from the port, and from anything except the area known as Kato Meria which is on the way to, well, nowhere really. But they have great food for lunch and dinner and many of the celebrations, baptisms and religious festivals end up here. You will need a rental car or you can take a taxi and arrange to be picked up later. Try the goat cooked in paper and the excellent local wine. Lots of salads and oven dishes. If you are here in the day you will be pretty much alone and probably you won't have time to eat here if you are only on the island for a week. But if you happen to be here on a Saturday night in August it can get pretty festive. The taverna was recently bought by the people who own Anna's in Otzias so the food may be even better now. Next door is Poularakia, which started as an ouzeri-mezedopouleion and evolved into one of the best restaurants in Kea.
The Best of the Rest...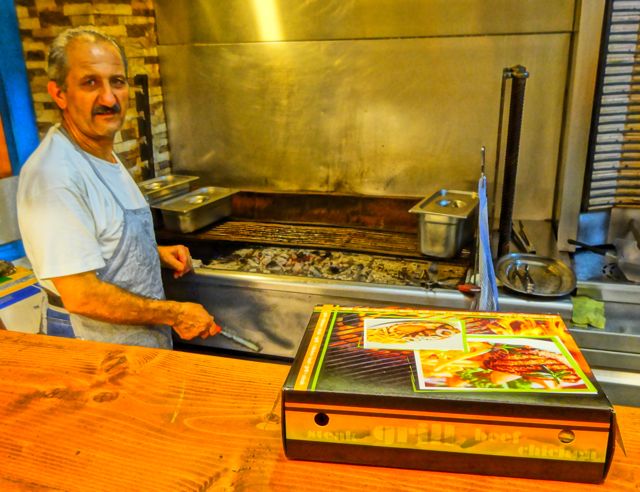 There are two souvlaki shops in the port and another in Vourkari. The one in Vourkari is considered to be the best but they are all good and go beyond your typical souvlaki shops and become something like full psistarias in the summer with all kinds of grilled and rotisserie meats and salads and you can eat in or take out and possibly even get delivered to your hotel, house or sailboat. Lagoudera is one of the first restaurants you will come to when you get off the ferry. They serve a large variety of cooked dishes and really interesting salads and pitas (pies) especially their kremidopita (onion pie), rivithia (chickpea stew) and grilled meats. This is also the best place to eat when you are leaving the island because you can wait til the last possible moment and just cross the street to get on the ferry as they bring up the ramp. Kalomira is on the turn-off to Otzias just beyond Vourkari on the left. If you need proof that this is a good restaurant let me tell you that famed chef Aglaia Kremezi has the farewell dinners for her cooking seminars here and its also where the ducks hang out.... and a little further Enea Korres is considered the best place in Vourkari for fresh fish. It may be the best on the island.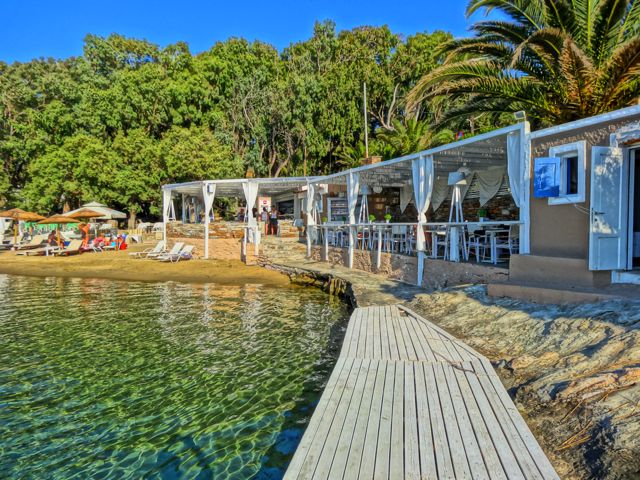 The beach bar in Galiskari which changes ownership so often that I am not going to even bother telling you the name since by the time you come it may be different. But it is the only beach bar in Galiskari and has always been more than your average cafe, with a varied menu of Greek and international dishes.
If you keep driving (or walking) towards Otzias you will see on the left a beautiful little traditional restaurant known as Margarita's, run by an old couple, and they serve the kind of food your grandmother used to make (assuming your grandmother was a Greek from Kea). Everything comes from their farm. In fact there are chickens and goats in the parking lot and they have a fruit and vegetable stand in front of the restaurant. In Koundoros right as you enter the 'town' there is a sign that leads you to a fancy cafe-restaurant right on the peninsula with great food and a really nice swimming spot on the paved rocks below. I think it is called Cavo Punto or something like that. On the main beach what was once a beach bar cafe has now expanded into a full service restaurant that may not be only the best restaurant in Koundoros, but depending on whether Cavo Punto reopens may be the only restaurant in Koundoros... Christoforo Taverna, on the beach at Pisses serves traditional food from Kea and like most restaurants is family run and friendly. People from the area say that Margarita's Psistaria is the best restaurant between Pisses and Ioulida. Butler is a popular cafe/bar/restaurant on the waterfront of Vourkari with a nice patio overlooking the harbor and delicious gourmet pizza and other snacks. Nice wines and cocktails as well and you can't beat the atmosphere, above the comings and goings of Vourkari. And Mandy, who hails from Alberta, Canada, is a wonderful host. The Spathi Beach Bar has nice salads and some snacks and entrees and also coffee and deserts. Guevsi Apolavsi is at the bus stop in Ioulida and has a great view and is a sort of psistaria-ouzeri-snack-bar. And the new Gustosa Trattoria is worth going to for pizzas, pastas and a beautiful rooftop view of Ioulida and the surrounding countryside.
New restaurants seem to be opening every summer so if you see one that I have not listed it does not mean that its not any good. It may just mean I have not been there yet. But I will get there eventually.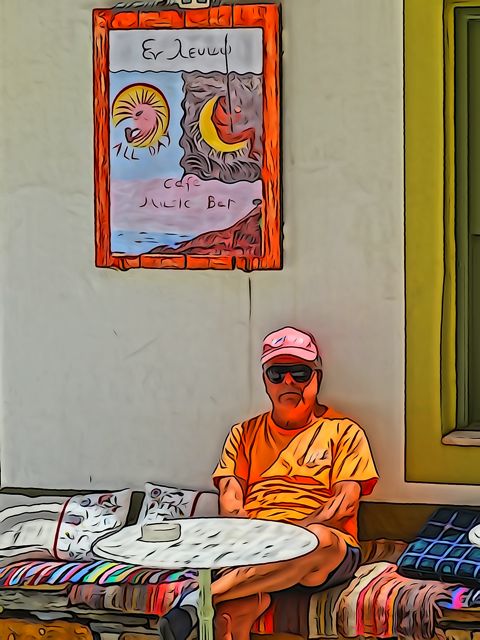 For Cafes En Lefko in Ioulida is a great place for espresso, ice-cream and doubles as a bar with mixed drinks and beers both Greek and imported and a large screen TV for important games. It is a great place to hang out if you have kids because it is right next to Piatsa Delapitsa where they can play on the giant chess board and move the pieces which may be bigger than they are. Further up the street the Panorama Zacharaoplastion can't be beat for watching the sunset or having an after dinner desert. Excellent Greek traditional sweets and ice-cream and amazing view by day or night. Cafe O Filakias is in the Piatsa, next to the Piatsa restaurant and if you are eating there you can order coffee and deserts from next door and you don't even have to get up. They also make the best cocktails on the island. Ioulis House is just past the Archaeological Museum on the way up the hill and they have loukoumades, gelato, lots of pastries and other deserts as well as coffee and drinks. Another great spot for people watching.
In the port there En Plo Cafe in the long stone building right where the ferry comes in which is the least stressful place to have a coffee while you are waiting to take the boat because you can watch the last car drive on and still have time to run and jump on board before it sails away. You should probably pay your tab as soon as you get your drinks if you plan to live dangerously. Great place to sit and have an ouzo and meze or a glass of wine or beer while watching the ferries come and go. Coffee, tea, espresso, beer, traditional deserts, yogurt with Kea honey and nuts, rice-pudding and ouzo and mezedes make Korissos Cafe a good place to be while waiting for the ferry boat as well. Ammos is right on the beach in Korissia and they make a great club sandwich and if you eat there or drink coffee you can use their very comfortable beach beds, chairs and umbrellas.
Join Matt Barrett's Greece Travel Guides Group on Facebook for comments, photos and other fun stuff. If you enjoy this website please share it with your friends on Facebook. If you are appreciative of all the free information you get on my websites you can send a donation through Paypal Or you can use Venmo at venmo.com/Matt-Barrett-Greece