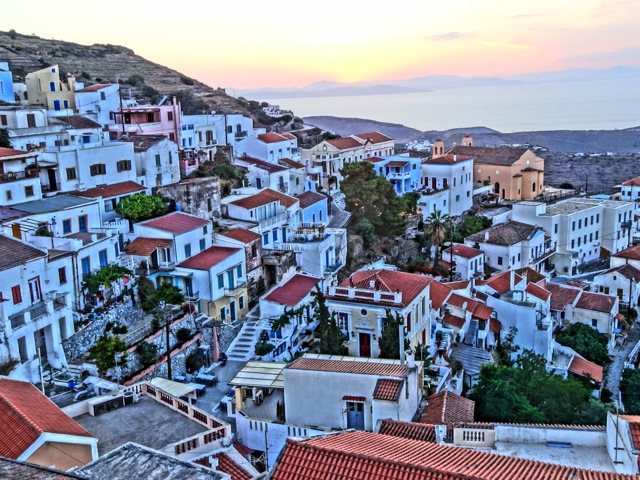 Kea is one of the best islands to buy a house on in Greece for a couple reasons. First of all it is close to Athens. You can fly into Eleftherios Venizelos Airport and in half an hour be at the port of Lavrion to catch the one hour ferry to Kea. Athens is just two hours from Kea by ferry and car. The bus takes a little longer. The other reason is that for an island that is so close to Athens it is still a mainly traditional island. Much of the island is farmland or forest. But it is not too rural and you have lots of shops, supermarkets, restaurants, cafes open year round and bars and clubs during the summer.
There are loads of houses for sale on the island of Kea from luxury villas with swimming pools to simple village and farm houses. Many of these can be found on the internet just by googling. But the owners of these houses are generally looking to get the most money possible for their houses and they know that to do that they need international buyers. That is not to say you can't find a bargain among them. But if you are looking for an inexpensive house in Kea your best bet is to look in Ioulida, which in my opinion is the best place to live. Most Athenians don't want to live here because they can't park at their house. They have to walk up from the parking lot because there are no cars in the village. There are loads of houses for sale that never get on the internet, for one reason, the owners don't know anything about the internet besides the fact that it exists.
So what do you do if you want to buy a house in Ioulida, Kea? The best thing to do is go there and ask around. If you ask a waiter or someone at one of the restaurants they will tell you of one or two and maybe find someone who can show them to you. And the next day you will probably have people contacting you because they heard there was someone in town looking for a house.
Or is that sounds too chancy to you and you are interested in knowing you have someone who can show you what is available in Ioulida you can send me an e-mail
In the meantime here are a few houses that people have asked me to find buyers for...