Introduction to the Study
After a summer of entertaining various friends and relatives on different islands in Greece I finally made it back to Kea to begin my study. I had my trusty Dell Inspiron 8200, several CD's downloaded as MP3 files and a couple videos, all of which I could play through the new speakers system I had bought in Athens, carried with me on the ferry boat, and which would make my little laptop into a super-sound machine. I would need all the volume I could get to drown out the serenity of my traditional surroundings. I was counting on the tranquility of this quiet Aegean island to assist me in my experiments and my study of the music of Deep Purple, and in particular their album Machine Head.
I have chosen the island for a number of reasons. The first being my wife has a house here. In fact this was the only reason, however there was a small coincidence that made Kea the perfect laboratory for me. Several years ago my friend Voula had come to Kea with Deep Purple's lead vocalist Ian Gillian to shoot a video on the roof of the museum. Ian loved the island and the sound of the owls at night. I wish I could tell you more but that is all the info I have and I don't know what song the video was for, what year it was or anything else. But what the hell. It sort of ties the whole thing together doesn't it?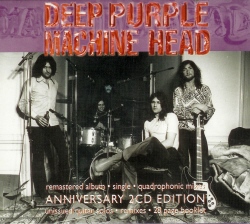 One of the best things about Greece is that you can find versions of albums that you can't in the USA. For example the copy of Machine Head I bought at Ehogram Music was a double CD. The first disk is a remixed version of the album, done by Roger Glover, the band's bassist, in 1997. The second disk is a remastering of the original album. I also have with me the 25th Anniversary edition of Deep Purple in Rock, which in my book if you were stranded on a desert island and could have one album this would be it. I have the last album by the original Deep Purple, with its Heironomous Bosch cover and the Concert at the Royal Albert Hall, Jon Lord's Concerto for Group and Orchestra conducted by Malcolm Arnold. I also have the film of this on DVD plus a documentary on the making of Machine Head. Besides several pages of liner notes from the Machine Head CD I don't have much written information but still I feel I have enough material to complete my work.
For those who don't know the history of the band I will give a brief synopsis. Deep Purple began as a London group in the mid sixties and had a surprise hit in the USA, a cover of Billy Joe Royal's 'Hush'. They had a follow-up with Neil Diamond's 'Kentucky Woman' but the song did not go far and the band was losing focus and direction. Their third album, just called Deep Purple was the best of the original group and is an excellent album, musically speaking maybe their best in terms of having great songs and distanced them from their image as a British version of Vanilla Fudge. Chasing Shadows, Why Didn't Rosemary, Blind and Bird Has Flown are four of my favorites and the song April is a mini classical piece that was a forshadowing to Jon Lord's Concerto for Group and Orchestra. The dismissal of singer Rod Evans and bass player Nick Simper was the first step in creating the classic Deep Purple lineup when singer Ian Gillian and bassist Roger Glover joined original members, drummer Ian Paice, guitarist Ritchie Blackmore and organist Jon Lord.
Deep Purple In Rock is the hardest rock album ever. Or at least the hardest rock album with good songs on it. There are harder rock albums that are un-listen-able to all but the most degenerate head-bangers, but In Rock has been praised by even the most refined fans of incredibly loud music. Even though head-bangers and heavy metal fans see the band as some kind of early gods of the genre they were not heavy metal at all. They played solid hard rock 12-bar blues inspired with a few musical tricks thrown in to make it interesting. Jon Lord was classicaly trained and could read and write music. At the same time as they were recording In Rock, they rehearsed and then performed his Concerto for Group and Orchestra at the Royal Albert Hall. Though I have read some criticism of the concerto I happen to think it is beautiful. I feel the same way about In Rock.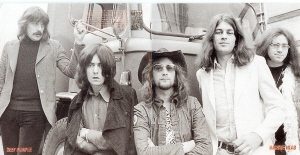 There are a couple key elements to the sound of Deep Purple in this period, which I consider their Golden Age (like ancient Greece!). The first and maybe most important was the addition of Roger Glover who is a solid bass player and combined with Ian Paice to make perhaps the best rhythm section in rock. Ian Gillian's mid-range style was similar to the departed Rod Evans but he could go places where only he and Led Zepplin's Robert Plant dared. Gillian was a great expressive singer ( which is why he got the lead role for the recorded version of Jesus Christ Superstar). Ritchie Blackmore was a very good guitar player by this time. He had always played in a style which seemed on the verge of being out of control but from In Rock he found a way to make this work, adding noise and feedback to his bluesy style. When he switched from his Gibson ES-335 to a Fender Stratocaster he seems to have found his guitar and his sound. The solo he does on Child In Time was always my example when I had wanted prove that he was better than Jimmy Page, who was my friend Peter's favorite. Of course they both pale in comparison to Yannis Spathas of Socrates Drank the Conium but that is another story (more on this later). From my studies in my opinion the biggest difference in the band from the original to the classic line-up was not in personel or musical ability but in equipment. In Deep Purple In Rock organist Jon Lord, rather than play his big Hammond B3 through the traditional Leslie, plays it through a Marshall Amp, giving it this rock hard monster sound, dirty but bright and loud enough to not be lost by the equally monster sound of Blackmore's Strat, also played through a Marshall or two or more. It was this combination that gave the new version of Deep Purple their new sound and changed the way I listened to music and my ability to hear as well.
Note: By clicking on the songs it should open a window on the left which will play the song automatically or if not you may have to click on the media-player image. If Highway Star keeps playing and starts to get on your nerves just turn off the sound on your speakers or it will stop if you just click on another song. Depending on your browser when you click on another song you may have to locate the little window so you can click on it unless you close it each time the song ends. Maybe one day I will fix this. When I tested the site the songs took an excruciatingly long time to load. It will depend on your connection speed. If you find yourself in the unpleasant situation of having two songs playing at once you can go to the top and click off the auto-playing Highway Star.
Phase One of the Study
So here I am on this Greek island at my desk, my head between the two speakers. Out the window I can see the Cavo d Oro and the ships passing on their way to the Black Sea or wherever it is they are going carrying whatever they are carrying. On a clear day I can see the white buildings of Athens in the Plains of Attica, thirty kilometers away. On a really clear day I can see Hydra, Poros and even the mountains of the Peloponessos. I have a terrific view. But I am not here to enjoy the scenary. I am here to listen to Deep Purple.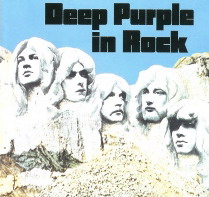 I begin the study by looking back at an earlier album Deep Purple In Rock. The intro to Speed King (You can hear the songs by clicking on the links) begins with about 45 seconds of guitar driven musical chaos, more like the ending of a jam than the beginning of a song, which evolves into a sort of baroque fugue played by Jon Lord's organ. (what do I know about baroque or fugues?) This entire beginning section was left off the US version of the album and I have to wonder why? Did they think that the kids in the USA could not stand the 45 seconds of musical noise and would turn it off and throw their record in the garbage? Or did they think it was too sophisticated with the organ solo? Maybe they thought they would get sued by Vanilla Fudge whose intro to 'You Keep Me Hanging On' is not only similar but Deep Purple admits they copped the idea from this song. Whatever the reason the US version begins with the band coming in all at once on the song's primary riff. Gillian's voice flirts with the abyss as he sings "Good Golly says little Miss Molly as she was dancing at the house of blue lights..." which of course everyone recognizes as Little Richard (right?) It's a dumb song. Two simple riffs and some rip-off lines from some classic rock n' roll. But then comes the solo and we are listening to some kind of jazz thing as the guitar and keyboard have a sort of conversation with each other that we are listening to without understanding what they are saying but liking it anyway.
As I listen to the intro again (and again and again) I have to wonder about Kostandinos, the kid across the street whose father runs the music school and bought him an electric guitar and a bass. I hear him practicing in the little room on his roof and I wonder if I am a bad influence on him or a good one. The parents seem to like us alot. They have us over for ouzo. I ask him if he likes the music I am playing and he nods his head with enthusiasm. I promise to make his son a CD of my favorite guitarists, which I do. The CD has fifteen songs by Deep Purple and three by Hendrix. The father teaches Kostandinos on a classical guitar but since I have moved in I have not heard anything but the electric guitar.
Anyway, when I first moved back to America from Greece, and bought a new copy of Deep Purple in Rock it really took me by surprise the way it just abruptly leaped into the song and left off the intro which really sets the tone for the whole album and in fact makes the musical statement " This is a new band. It's a little different from the old band and if you really only liked the classical stuff you may want to take this back to the store and buy the new Emerson, Lake and Palmer." I took mine back to the store and bought the import.
The showpiece of In Rock is Child In Time, a melody borrowed(stolen) from the California hippy band It's A Beautiful Day from their White Bird album. (I had assumed they stole it from Deep Purple because to me Deep purple was a cooler band). The song is a little tedious until it gets to the guitar solo which I have listened to with great pleasure perhaps a hundred and fifty million times. I know you are supposed to listen to a song all the way through but I usually turn it off after the solo. We will listen to this song later in the study. The best song production-wise and for me song wise is Bloodsucker. I love the precision of the music and Ian Gillian's screams. I was one of those people who wondered why they needed a new singer since I liked Rod Evans, who really had a deep and distinctive voice. When I heard this song for the first time I realized they had made the right choice. Ian Gillian has said in interviews that being the singer in Deep Purple was a tough job because the group played so loud. In the recording of this album he kept on telling his new bandmates that the vocals needed to be a little louder. Ritchie Blackmore replied "Who do you think you are, f**king Tom Jones?" But Gillian was right and some of the songs could have used a little more vocals on top. Instead they doubletracked them and kept them back with the instruments much like the Stones did on Exile. Another interesting song is Into The Fire which sounds a lot like early Blue Cheer (another of my favorite bands) and could be played as a three-piece without the organ, which Blue Cheer was.
We have some new neighbors across the street. He is English and she is Russian. He was hired to be the English teacher at the private school which is also across the street. (we have a big house). I inadvertantly humiliated him one day in the square when I found out he had been here three weeks and not found the bakery which he had to walk past every day to get to his house. I made a little joke about him setting the new record for not finding the bakery, one of those ex-pat kind of jokes that is funny to the guy who says it but causes the poor victim to avoid the other foreigners in the village for the next six months. My friend Kostis says my humor is like a bull in a China shop and I feel pretty guilty about what I said. What is not helping is that today I am listening to Smoke On The Water playing that DUM-DUM-DUM DUM-DUM-DADUM DUM-DUM-DUM DUMDUM riff AT FULL VOLUME over and over and over again trying to figure out what makes this song, and I realize that the poor guy's window is right below mine and the enclosed narrow streets with their stone buildings are creating this echo chamber and I must be driving him nuts. I am probably the English teacher's worst nightmare. He comes to a beautiful little island with his girlfriend to get away from his hectic life at home and enjoy the quiet and solitude, and his nextdoor neighbor turns out to be an American guy doing a study of Deep Purple's Machine Head. What could be worse?
Phase Two of the Study
We drove down to the port today. The little magazine store gets the Athens News on Friday and I need to get the Greek shipping magazine because it has the ferry schedules and people always e-mail me because they want to know what time the boat are leaving for Mykonos and Santorini. We go into the bakery where Andreas, a long haired guy who looks like he just stepped out of Haight-Ashbury in the sixties, sells tiropitas and spanakopitas and other bread products. "What are you doing on the island?" he asks us, curious about two foreigners living here in the off season. "I am doing a critical study of Deep Purple". He doesn't bat an eye. "I went to see them two summers ago on Lykavettos", he tells us. "It was really amazing because I was hearing this music I knew so well, so loud and tight and perfect like the records. But when I looked up on the stage there were these old guys, overweight, with gray hair and beards wearing Hawaiian shirts. It blew my mind".
I am still trying to figure out what makes the song Smoke On The Water good, and if it actually is good.. Everyone knows the story of the song, how the band went to the Casino in Montreax, Switzerland to record an album and while they were watching a concert at that venue by Frank Zappa and the Mothers of Invention someone fired a flaregun which lodged in part of the theater and caught fire, burning it to the ground. The song is about them trying to find somewhere to record this album. They ended up at the old Grande Hotel which was closed for the season and they found a little hallway off the lobby where they set up their equipment and recorded the album which ended up being their most popular, to put it mildly. It is a classic. The little riff of the song "Smoke On The Water" is the riff most often played in guitar shops all over the world, easily beating out "The Needle and the Damage Done" and "Sunshine of Your Love". I am listening to the riff over and over again even though I know the English school teacher across the street is contemplating suicide or worse. I realize that the reason the song sounds familiar is because it sounds like something they would play in a B western when they show the Indians about to attack. Deep Purple have used this audio archetype to tap into the subconcious of all us American kids. Brilliant. I listen to the song again. If they changed the lyrics this song could be the American Indian national Anthym. What if the lyrics instead of being about the burning down of a casino in Switzerland, was about some Indian Massacre or the Trail of Tears. The song could have been like Midnight Oil's "Beds Are Burning" about the aboriginies of Australia. Yeah it seems a little stupid but "Smoke On The Water" would be the perfect American Indian National Anthem. Even the title makes me think of Indians.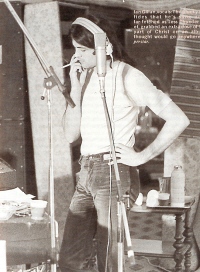 I am looking at the photos of the band in Machine Head and In Rock and I have come to the profound realization that if you had three wishes one of them would be to spend 1970 to 1974 as a member of Deep Purple. Look at these guys. Long hair. Handsome. They can all play their instruments. These guys had fun. And what was I doing in those years? While I was graduating from highschool and working in a horrible luncheonette that I got fired from, these guys were being seduced by the most beautiful girls on earth, getting off every night playing amazing rock and roll, and Ian Gillian was Jesus Christ in his spare time. If you were not Deep Purple in 1972 then it was not worth being a rock star. You have to wait for the next thing to come around like being the first person to visit Mars. I read a story about Ritchie Blackmore in a restaurant and he did not like his steak so he called the waiter over and threw it against the wall. "The best thing about being a rock star", he said "is that you can do whatever the fuck you want". OK. If I were a rock star, flinging a steak against the all would not be on the top of my list of things to do. But the point is that if I were in a restaurant and I did not like the steak I would probably be too timid to even tell the waiter. Ritchie Blackmore can make a public spectacle of how bad the steak really is. Being the world's best guitarist has it's perks even if you are not the world's best guitarist.
Phase Three of the Study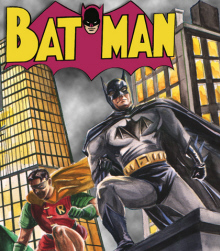 On our little balcony there is a drainpipe that goes up to the roof of the house. Behind the drainpipe there is enough room to squeeze a small rodent, for instance a bat, which there are several of who live there. They also live under the ceramic tiles of the roof. Every evening when the sun goes down they fly out and go off to do whatever it is that bats do. I hope it is to eat grasshoppers because there is an epidemic of them all over the village. They are everywhere. Squished on the street. Landing in your food at the restaurant. There is a kid who has been collecting them in a big plastic water bottle. He has fifty-seven of them. What does one do with fifty-seven grasshoppers? What does this have to do with Deep Purple. Quite a lot actually. The song Space Truckin' was actually inspired by the Batman Theme according to Ritchie Blackmore. I think it is my least favorite song on the album but Amarandi likes it and she is almost 11 so her tastes have not been corrupted yet. I remember being sixteen years old and playing that little riff on guitar but now as I listen I realize it is the Hammond organ playing it, not a guitar. I think this song used to bug me because of the Grateful Dead. In my mind there were no groups further from each other than Deep Purple and the Dead. That rambling, laidback style of the Dead had nothing to do with the hard-rock precision of Deep Purple. So why was there a song on the album called Space Truckin' with the 'g' left off? OK. What else could it be? Space-Chugging? This makes sense. Deep Purple were not a drug band, I am sure some people will be surprised to know. They were they kind of guys who have their fun in a pub, not in some acid party. I don't know why I always pictured these guys stoned, jamming like old jazz and blues guys. But that's not the case. The boys in Deep purple were working class musicians who liked their pints, played football on the weekends, and wrote concertos in their spare time. Variations on the Batman Theme could have been an entire album if they were less Deep Purple and more like Emerson Lake and Palmer. Anyway this is the kind of song that when it is playing when one of my highly educated and culturally aware ex-pat neighbors comes over I am sort of embarrassed to be listening to it and so I explain that I don't really like the song because I think it is really dumb, but I am doing a serious study of it. My neighbors have written books or have syndicated columns in European magazines and newspapers so I doubt that when I tell them I am studying a song like Space Truckin' they are very impressed. It may be better to say nothing at all and just pretend I like the song.
Phase Four of the Study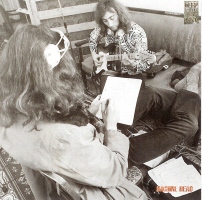 Today I came to the startling realization that Deep Purple never did a Rock Opera. What was their problem? Every band does a rock opera. It is generally accepted that the first Rock Opera was the Kink's Arthur: The Rise and Fall of the British Empire, followed closely by the Who's Tommy and SF Sorrow by the Pretty Things. Jethro Tull had Thick As A Brick which nobody understood while the Beatles strung together some bits and pieces of songs on the second side of Abby Road to create what seemed sort of like an opera but was actually just a bunch of unrelated songs stuck together. The list goes on and on. Well maybe not but since that does not fit in with the point I am trying to make lets just move on. So with all these bands doing operas where was Deep Purple? Ok they did do a Concerto for Group and Orchestra but so what? I mean anyone can write a concerto. Telling a story through music is something totally different. The closest Deep Purple came to a concept album was Machine Head and the concept lasted for exactly one song which was "Smoke on the Water". Concept albums are tricky because you have to have a great lyricist as well as someone who can write good tunes. Ian Gillian was a great singer. As a lyricist he was probably a notch above many of the band's fourteen year old fans, but I don't recall ever tripping out on the profound lyrics of Deep Purple as I did with say, Jethro Tull for example. Not that Jethro Tull lyrics were profound. They were just at that level where you had to stop and think about what they meant. Ian Gillians words were there to fill in the space between the intro and the solos. The key to his lyrics is there has to be at least one cool line even if it has nothing to do with anything else in the song.
If you look at the liner notes in the Machine Head Anniversary 2 CD Edition there is a photograph of the actual sheet that Ian Gillian wrote the lyrics to Smoke On The Water. The first line of the song which is:
"We all came down to Montreux on the Lake Geneva Shoreline...."
Pretty smooth actually. But crossed off were the original words:
"We came down to Montreaux to see what we could find...."
Not exactly a good start for the lyrics of one of the most well known songs in the world. But if you are handsome with long hair and a voice that can shatter mirrors you can be forgiven for not being Byron or Shelley. As a lyricist myself I can honestly say that I have written songs that are better than anything on Machine Head, at least lyrically. But very few beautiful girls have followed my tour bus around America and if I went to the town hall in Kea and asked if I could shoot a video on the roof of the museum they would chase me out of the building.
People who discovered Deep Purple after In Rock may not realize that they peppered their earlier albums with jazzed-up versions of cover songs. The last time they did this was on the 1969 Deep Purple album with the Donovan song Lalena. Yes, that Donovan. Yes, that Lalena. I have included it here because it really illustrated the difference in the two versions of the band. It would be hard to imagine the Gillian-Glover version of the group doing this song. In fact I bet some people won't believe this is Deep Purple.
Phase Five of the Study
If you have a hangover you know that the right combination of aspririn and coffee can get you to a tolerable level where you can face the day. But what does one do on a Greek island after months of conversation at a level of Greek that is normally spoken in the second grade, when the days are spent looking forward to the night and whatever fish Rolando will be frying up for dinner and maybe with a little luck a conversation with some disoriented traveler who ended up in the village because the island looked nice on the map. When you have the blues so bad that you don't have the energy to pull yourself out of it, is there anything you can do?
Yes there is. Turn up the volume of your stereo and put on Machine Head. From the intro to the song Highway Star until the song takes hold you can feel an excitement building up in you and when the whole group kicks in and Ian Gillian starts singing about his car you are suddenly alive even if you don't have a car or live in a village where they are not permitted. They say this is the best song ever written about a car. I happen to think "Cruisin Music" by Eric Carmen holds that distinction. But Highway Star is the best car song ever written in five minutes on a tour bus, then rehearsed at sound-check and performed that night as part of the show, which gives you an idea of how good a band Deep Purple were. The cool thing about the Roger Glover remasters is that he has included everything on the tape. You hear the drums begin and the instruments come in one at a time until you realize you are in familiar territory and suddenly the song begins. "Nobody gonna take my car gonna race it to the ground. Nobody gonna beat my car gonna break the speed of sound..." Not the most brilliant of lyrics but when you are writing about a car it does not have to be great poetry. It just has to rhyme. But the music has to be good and the combination of straight-ahead rock, combined with some clever modulations and guitar-keyboard interactions, and with some amazing drumming makes this the type of song you can put on at a boring party and have everybody up playing air-guitar before the first chorus.
I have about 100 CDs downloaded onto my hardrive as MP-3 files. No, I didn't get them off the net. I don't believe in piracy, but I am no fan of the record companies either. These are all CDs I bought that I put on my computer so I would not have to fill up an entire suitcase with them. But for all the complaining and the editorials about piracy I think the music industry is getting what it deserves, though as usual it is the musicians who are stuck in the middle and really getting screwed. But they would get screwed regardless. A few years ago a couple friends of mine invented the technology that would have saved the recording industry from piracy. All the record company had to do was utilize this program and it would automatically cause pirated music or film to gradually disintigrate after it was downloaded. In other words you could download the new Matt Barrett album and listen to it in it's entirety but after a few times the quality would get worse and eventually you would have to buy it if you liked it enough to do so. Great idea right? The music industry thought so and so did all the other media and software companies my friends met with. For a year they talked to every major media company in America about their technology, and the eyes of these companies lit up at the prospect of a Napster-less universe. But did they make any offers? In every case they tried to pry enough information from my friends so that they could get their own technicians to figure out how to do it so they could get it for free. (None of them could figure it out though a couple lifted things they liked from it and used it.) Finally my friends gave up in disgust and went back to being musicians and studio technicians. So all these media companies that have spent millions fighting priracy, taking 12 year old kids and their parents to court, and lecturing us on the dishonesty of 'stealing music from the artists', had the answer to all their problems and rather than pay for it they tried to steal it!
So while I would not condone downloading music from the internet, in my opinion it is just the little thieves stealing from the big thieves and if musicians are smart they will steer clear of the whole music industry and do it on their own like me. See www.mattbarrett.net/music
Phase Six of the Study(Fieldwork)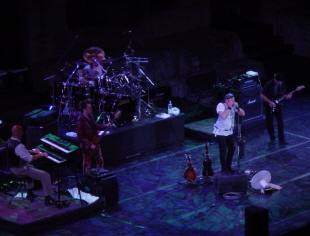 It is unlikely that Deep Purple will do a concert in Kea. Maybe another video on the roof of the museum but I would not count on that either. In fact the chance of me hearing Deep Purple live in the course of this study of their music, is pretty slim. However, I did go to Athens to see Jethro Tull at the ancient theater of Herod Atticus, below the Acropolis. As far as I know they were the first rock group to play in Herod Atticus, unless you want to stretch the defination of the word 'rock' to include Yannis and Vangelis, which I don't. My friend Harry was supposed to score us tickets but by the time he got around to it they were sold out. So I put my friend Dorian Kokas on the case. Dorian is the kind of guy who can get you anything you need in Athens. Not like James Garner in the Great Escape, who was the American in the POW camp who could steal anything, German ID cards, chocalate bars, cigarettes and whatever you would need in a German prison camp. Dorian is the guy who goes to all the offices and hounds bureacrats into giving him the papers he is paid to get, or making endless phone calls to find long lost army buddies or relatives. His talent is driving people in public service crazier than they already are. In Greece people who work for the state are there for one reason. They want to be paid to do nothing and they want social security when they retire from doing nothing. Dorian's job is to make them do something.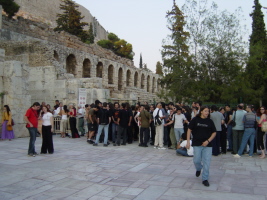 So when Harry dropped the ball I called Dorian who said he would find tickets. One month later he had exhausted all his connections. Getting tickets to Jethro Tull was more difficult than getting backstage passes to the Acadamy Awards. There was nobody you could befriend, bribe or sleep with that could get you one of the 3000 or so tickets to the show. So the night of the concert we did what any good red-blooded Greek-Americans would do if we were in the USA. We stood outside the ancient theater asking for tickets. "Eisteria?" We asked everyone. Actually I realized right away that Dorian was a lot better at this than I was. Within five minutes he got one in the upper section. We offered the guy more than the face value but he refused to take the money. Then we nabbed another, this one in the very front section. Same thing. The ticket-holder did not want any extra money even though we were more than willing to pay. We got out third ticket and we were set. Andrea was on her way by taxi from her aunt's apartment in Kypseli. A woman saw us and asked in Greek if we had tickets for sale. Dorian told her how we had gotten ours and she said she was to embarrassed to beg for tickets. "What the hell?" said Dorian and he went back to the crowd and continued asking for tickets to give one to the woman. A minute later a DJ from an Athens FM rock station gave him a free complimentary ticket he had which Dorian gave to the woman. It was in the front row.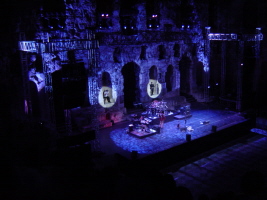 Herod Atticus or Heroidion was built in 161 BC, excavated in 1857 and restored in the 1950's, the perfect place to see a concert. The seats of this outdoor ampitheater are made of marble and the whole structure is made of stone. Though the ancient technicians and sound engineers probably did not have electric guitars and amplifiers in mind when they built it, the humans packed inside soaked up much of the sound which otherwise would have been echoing and bouncing off the rocks and walls of the Acropolis. The crowd was an interesting mix of middle-aged Greek professionals and kids and there were even a couple ya-ya (grandmother) types, arm in arm, dressed in black, either looking for a place to sit or a run-away granddaughter. There were not more than a handful of foreigners in the theater but between songs Ian Anderson told his stories in English and everyone laughed at the funny parts. The band was tight, as I am sure they always are since Ian Anderson is such a perfectionist. The strangest moment of the whole show took place during Martin Barre's guitar solo. In front of the stage is a big orchestra section surrounded by a row of seats for the VIPs who usually arrive late and who they always wait for to start the concert. Normally in a theater in other countries you would make use of this big open semi circular space by putting in seats or allowing people to stand or dance. But during the Jethro Tull concert this space was empty until someone from the right side of the audience used it as a short-cut to get to the exit door on the left side of the stage, returning the way he had come with a bag of chips or whatever he was carrying. It was sort of a grey area but Ian Anderson treated it as if the guy had walked across the stage juggling and up-staged the band. He humilated the fellow after the song had ended, suggesting he had wet his pants during his visit to the toilet. To me the funny thing was that he was the only person who had cut across this wide empty space. It wasn't part of the stage. It was this nether zone between the spectacle and the spectator, though perhaps from the stage it was seen as some kind of sacred ground. Nothing against the music and I hate to say this but it was the most memorable part of the concert (besides the two grandmothers). You can click on that last photo to see it larger.
Phase Seven of the Study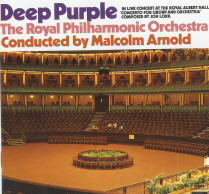 Back on Kea and I am watching Jon Lord's Concerto for Group and Orchestra on DVD with the speakers cranked. This is a BBC Production of the concert, performed at the Royal Albert Hall in London. The Royal Philharmonic plays with the band and is conducted by Malcolm Arnold. It is really a remarkable film, the sound quality is really good and if you have a ten year old daughter who loves rock music this is a great way to introduce her to classical. I don't know much about classical music. I know I like Mozart and that when I listen to him that something good is happening to my brain. Maybe someone who really knows classical music would think the Jon Lord's concerto is crummy. I don't really care because it moves me and when I was a musician playing in some North Carolina bar and everyone in the place was talking to each other except for one person who was listening in rapt attention then it was all worth it for me. Well, maybe not. If she is a beautiful girl and we hit it off after the show then it was all worth it. If the one person listening is a guy then I assume he is gay and then I have to worry about if he comes on to me after the show and why can't he be like the other drunk idiots and leave me alone and let me play my sad music publicly in peace. Or maybe he is not gay but is an A&R guy who came down to check out some of the local young bands and just happened to catch me and thinks I am the best music he has heard in years and will contact me, and of course never does. (This has happened.) But what does this have to do with Jon Lord's Concerto for Group and Orchestra? Only that musicians are ego-maniacs and only an ego-maniac would compare himself playing to a roomful of drunks and one gay guy in North Carolina to Deep Purple performing with the Royal Philharmonic Orchestra at the Royal Albert Hall.
In the Concerto's first movement everything is going pretty normally for a concerto for group and orchestra until the guitar solo. It is a classic Blackmore solo, played on a Gibson ES-335 instead of the strat we have grown accustomed to seeing him with, and it is perhaps one of the greatest ten minute electric guitar solos ever recorded at the Royal Albert Hall. The interesting thing is that it was not supposed to be a ten minute guitar solo. It was supposed to be a normal length guitar solo, whatever normal is for a concerto, but Ritchie Blackmore just keeps on playing and playing and playing. It's no big deal for the rock band because they know they just have to wait for their cue from Blackmore which will signal the end of the solo and they can all come in. But the guys in the orchestra are looking on with expressions of amusement while Malcolm Arnold goes through his sheet music wondering "where the bloody hell are we?" Besides the vocal segment of the second movement it is my favorite part of the concerto and while this stunt may have pissed off the guys in the band it makes the album better. The second movement is really something special so I have included it in this study. It is the most song-oriented of the three movements of the concerto. Click here but be patient because you are downloading a movement from a concerto which is generally longer than a rock song. If you don't have high-speed access don't bother.
Phase Eight of the Study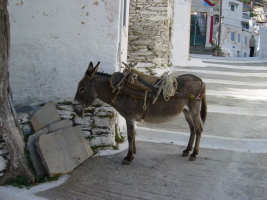 I have come to the profound realization that coming to one of the quietest and most beautiful islands in Greece to study one of the loudest rock albums is not the best idea I have ever had. It is one thing to go to Greece to study the classics, to read Homer and Plato or the modern poets like Seferis and Ritsos, but what person in his right mind comes to listen and study Deep Purple? In America when it is time to cook dinner I pour myself an ouzo or raki or a glass of red wine and put on the stereo some Stamatis Kokotas or Babis Tsertsos or Papayiannou or Kalderas and pretend I am in Greece. Here in Kea among the bleached white Cycladic houses and olive trees I am listening to Smoke On The Water and trying to treat Machine Head as if it is on the same level of the great works of art and music instead of some stupid rock album. And what does that make me? A genius? It's sort of like the food critic of the New York Times coming to Greece to write about Big Macs. But just as I am doubting the importance of my work I put on Highway Star and crank it up loud enough to drown out the church bells and realize that this is my destiny and if I don't undertake this task then who will?
I taught Amarandi how to play Smoke On The Water today, at least the part that every kid who plays guitar tries to play. In the Machine Head documentary, Ritchie Blackmore eloquently explains how the intro is not chords as most people think, but harmonics. He shows us on his ornate spanish guitar which probably cost as much as I make in a year, while sitting in his castle with a full suit of armor behind him. Blackmore is older now, with a pencil-thin mustache that makes him look more Spanish than British. He seems calm and gentlemanly, not the wild maniac who terrified roadies, groupies and promoters or threw steaks in restaurants. He seems sort of like an aristocrat or Spanish nobleman, as he teaches us the notes to Smoke On The Water, just as our guitar teachers did when we were kids.
In the documentary the interviews with Blackmore are always in the castle. The interviews with Roger Glover are in the studio and he is able to show us some of the things you might not notice by isolating the different instruments. Roger is probably the biggest fan of the album and seems to understand it better, probably because he has listened to it a few thousand times more than the other guys. Jon Lord is interviewed at his organ, in what looks like his basement, probably on some estate in the English countryside. Ian Gillian, and Ian Paice are always together, in a pub. They both seem like the kind of guys I would be most comfortable hanging out with. Not just because they are in a pub. Actually they all seem pretty cool. If they ever wanted to come to Kea and start a band we have plenty of space for a rehearsal studio under the house in what used to be the stable. But if that happened the English teacher across the street would definitely lose his mind. Imagine if you went to a quiet Greek island and it turned out that your little white house was across the tiny street from the room where the remnants of Deep Purple were rehearsing their new band. I wouldn't have the heart to do it to the guy.
You would think that being on a Greek island, besides Deep Purple there would be plenty of other music all around wouldn't you? Think again. Those days of sitting at your favorite taverna or cafeneon listening to old laika and rembetika songs are on the endangered list. Most people have heard of ASCAP and BMI. If you look on your records and CD's you may see those letters. These are the publishing companies that collect royalties for the musicans. What you probably did not know is that all over the world, and especially in Greece, any bar, club, restaurant or cafeneon that has a CD player, a cassette player or even a radio has to pay a fee to them for the music that is played since in theory they are making money off the music because the people who came to eat are listening to it. So rather than pay this 'music tax' many establishments simply don't play music. This is why when you go to these traditional little cafes and restaurants there is a TV on instead. Can you imagine a bigger scam? How about charging the restaurants for the air their customers are breathing? Now as a musician I have some compassion for the plight of those of us who depend on these royalties to survive. Michael Jackson would be out on the street if the Greek equivelant of BMI-ASCAP guys weren't coming to Yanni's Taverna to collect his fair share. George Dalaras would be sweeping the pavements of the Plaka at carnival were it not for the work of these companies. But isn't this a case of throwing out the baby with the bathwater? Going out in Greece is all about atmosphere. Listening to Tsitsanis is atmosphere. Having some stupid Greek talk show or abnoxious commercials is not. So people stop going out because at least at home you can hear good music. Or they go to the expensive places that make enough so they can pay off the music people. Now you go to a cafe and the fishermen are watching soap operas or women's volleyball. An organization that is supposedly representing musicians should not be going around acting like the Mafia.
Phase Nine of the Study: More Fieldwork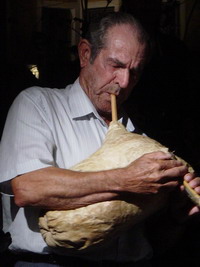 We attended the Traditional Music Festival of Kea and I came up with some really great ideas for a band, with a little inspiration from Ian Anderson of Jethro Tull. The primary instrument of the festival was the tsambouna. It's a goat. They kill it first and then skin it, taking the skin and I assume eat the meat. They seal all the holes in the goat skin and stick a horn on one place and a mouthpiece in another and it makes a sound like bag-pipes or an alien invasion. So what if we took this instrument and a band of the stature and musical ability of Deep Purple and made it the next big thing? It is a well known fact that singers like Ian Gillian and Robert Plant who could scream their heads off when they were young must now approach their songs differently since they can no longer hit those high notes. You can see for yourself. Pick any Led Zepplin or Deep Purple song where the singer lets go and really screams, like Child In Time or Communication Breakdown and try singing it an octave lower. Doesn't really sound right does it? And there is really nothing a singer can do except be embarrassed and try to get through a song that sounds wrong to a stadium full of people. What if instead of even attempting the difficult part, Ian Gillian pulled out the tsambouna and began wailing on it. Can you imagine the excitement and pandemonium? Of course he would have to come to Kea and learn the instrument but George Harrison went to India and in a couple weeks could play the sitar well enough to have it on a Beatles album so what's the big deal? The tamboura is much easier to play than a sitar, though as with any instrument mastery can take a lifetime. But you don't have to master an instrument to play it in front of an audience that has no idea what it is even supposed to sound like.
Anyway if you want to see and read about the tsambouna go to the Kea Traditional Music Festival page and I am sure you will agree that this is a terrific idea for Ian Gillian or any singer who has lost a step or two. If you want to hear the tsambouna so you can imagine what Deep Purple would sound like if they added this instrument click here.
Phase Ten of the Study: Discussion of The Blackmore Question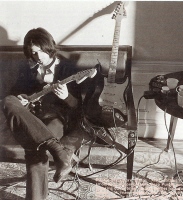 Today's discussion is one that musicians have debated for years and one that may not ever be proven either way. The question being: Is Ritchie Blackmore really good or is he just cool? Personally I like the way he plays. Fast, macho, he has some great moves onstage, and a few of his solos, in particular the one in Child In Time is breath-taking. But is it good guitar playing? Is it really virtuoso guitar or is it just a bunch of stuff that sounds neat to teenagers and people who think playing guitar is the easiest way to get a girlfriend? I always thought he was a good guitar player, even on the early albums where it sounds like he is on the edge of -out-of-control, or has crossed over into that realm without me realizing it. Even in the solo in Child In Time, which is my favorite, along with Why Didn't Rosemary, from the third album, a real guitar player will hear impurities, unharmonic reverberations, gaps and perhaps a wrong note or two. But for me it just sounds so cool I don't really care. I wish I could play as fast and look as cool as him and amaze my friends and attract a girl who thinks that a real man plays a strat and knows how to use a whammy-bar. I wish I had not lost my hair either. I think if I had not lost my hair I would be playing as well as Blackmore. I would be thin and my clothes would look really good on me. I would be as good as I am on air-guitar but with a real guitar. I would smile a lot more than Ritchie but in a cool way that said "I know I am great". Why is it that some people lose their hair and some don't and why is it that rock stars are usually in the group that don't. If you look at the normal population the percentage of men that lose their hair is much higher than the percentage of rock stars who lose theirs. In fact I can think of only Elton John, Phil Collins and Michael Stipe (James Taylor is not rock). Is it possible that a lof of these guys have lost their hair and wear wigs? Is this one of those subjects that is taboo in the world of music? Thirty years ago Paul Simon looked like he was going bald. For the last twenty he has had hair that looks like the Beatles did on their first album. I remember when I was kicked out of The Dads, a guy said to my girlfriend he thought it was because the other guys in the band thought they were going to make it big and back then there was no way you could have a bald guy in the band (unless you were Spirit and the bald drummer was the guitarists dad.) So losing your hair is one of the worst things that can happen to you if you are a rock star. It can mean the end of your career, friendships and even musical ability as one slides into a downward spiral of self-pity and sexual frustration and eventually has to get a real job.
A rock star would probably do anything to keep his hair. Anything. Even sell his soul I bet. Even get a transplant.
So what does this have to do with Ritchie Blackmore being a good guitarist or not? I don't know. But let's say I did get a wig and played incredible guitar and leaped about the stage like a gazelle, bursting staccato riffs from my axe. Is there a way to keep a wig from falling off? Is there some kind of velcro or is it glued on or something?
A few weeks ago when Brent Lambert and I were taking this old CD by Socrates from 1972 and remastering it, we were listening to the solos of guitarist Yannis Spathas when I said "He sounds a little like Ritchie Blackmore". Brent, who is one of those guitarists who can play as good as he wants, replied "Yeah only this guy is really good". It really got me thinking. Could it be that Ritchie Blackmore is a lousy guitarist and that I, like millions of other testosterone filled young boys, was hoodwinked into thinking he was some kind of master and that people who really knew how to play lead guitar had little or no respect for him? I suppose I will never know the answer to this but just for fun, if you are a guitar player, or even if you are not, do the Ritchie Blackmore vs Yannis Spathas Test.
You have to admit one thing, even if you are a guitar player who believes he could wipe the floor with Ritchie Blackmore. His solos are fun to listen to. They are interesting and entertaining. Maybe a good comparison would be to the way Keith Moon played drums. He was a joy to listen to but many drummers thought he was sloppy. Moon himself admited that he had a row of tom-toms so that if he missed one he would hit the next.
Ritchie Blackmore sometimes sounds like that to me. Whether this is the note he meant to play or not it sounds good to me. Why Didn't Rosemary is an old Deep Purple song from the original band with a great guitar solo that to me is a sort of forshadowing of the future. It is from the album titled Deep Purple, which was their third. Neither Ian Gillian nor Roger Glover are in the band. To further date the song it is about the movie Rosemary's Baby which was a big hit at the time, I think around 1969.
But to make myself clear on the issue of whether Ritchie Blackmore is a really good guitar player, regardless of what any other guitar players say, if I could play guitar like anyone it would be like him even if I had to wear velcro to keep my hair on.
Phase Eleven of the Study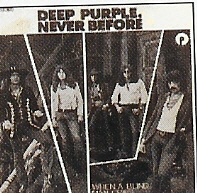 The best song on Machine Head is Never Before. I don't think anyone expected Smoke On The Water to become the monster song that it was and according to the group they believed that Never Before was going to be their big breakout hit single. The band had not had a hit since they covered Billy Joe Royal's Hush in a sort of Vanilla Fudge style back in the sixties and surprised everyone, probably even themselves. Never Before seems to have everything, sort of like Deep Purple's version of Alright Now, a nearly perfect song. But for some reason it did not catch on and even on the album I barely noticed it until now. It was just one of those other songs on Machine Head, like Lazy or Pictures of Home or Maybe I'm A Leo. Well let's face it. Machine Head is not a brilliant album songwise. But the songs are just the canvas and the performance of the band is the art itself. You have to think of Deep Purple as an improvisational rock band with every member interweaving individual bits of virtuosity within the framework of the song. If Ian Gillian got on stage with an acoustic guitar and performed Highway Star or Smoke On The Water he would be laughed off. The songs don't stand on their own without the band. With the exception of Never Before, which is simply a great song, should have been a hit, and may be for someone else someday. The flip side was When A Blind Man Cries, which Ritchie Blackmore did not even want on the album. I think he was right. It's not a bad song but it seems like it would be out of place on Machine Head. I think of myself as an expert on song placement on an album and I could not come up with an order where Blind Man would fit in. Since I brought it up, had I produced Machine Head, the second song would have been Pictures of Home followed by Maybe I'm A Leo rather than the other way around.
Phase Twelve of the Study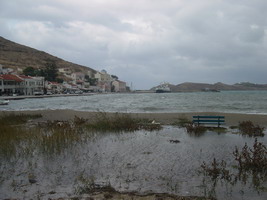 It is getting cold here and yesterday it rained so hard that the streets were like rivers. It is probably time to leave the island and anyway Andrea thinks I am having an adverse affect on the people here. Yesterday an old man came by leading his donkey, loaded down with jugs of water from one of the fountains. He was whistling Smoke On The Water. It is beginning to blowback on me in other ways. I spend much of the day listening to Deep Purple usually quite loud so towards evening I want a little silence and some time to relax and hear the birds. That's when little Konstandinos breaks out his electric guitar and begins blasting the same riffs I have been playing all day. I suppose I deserve it. But does the English teacher deserve it too? I have not seen him in weeks and realize that if something terrible had happened to him in his little apartment I would not have heard his cries for help.
Another forgotten song and one of the best on the album is Pictures of Home which again is a simple melody that enables the members of the band to improvise where they may, including the drummer Ian Paice who is one of the most respected drummers among drummers. From the viewpoint of someone like me who has played in bands with drums, recorded with drums and even had friends who were drummers, the drums are a complete mystery to me. Drummers are not just musicians, they are athletes. (They also have the best girlfriends of anyone in the band.) But despite being completely ignorant of the mechanics of drumming and what makes a drummer good in the first place, in my opinion Ian Paice is one of the best drummers in rock simply because he is pleasing to listen to. His fills are imaginative and his playing solid, and on some songs you can actually listen to the drums as a lead instrument as you can with, for example Carl Palmer on ELP's Trilogy album, but for the most part he is one of those drummers who knows exactly what to play and when to play it. Keep in mind that the solos in most of the songs on Machine Head were improvised at the time of the recording. Nobody sat down and wrote out their solos, except possibly in Highway Star. The members of the band are reacting on tape to the individual solos, which makes Machine Head almost a sort of live album without an audience. An early Deep Purple song which features Ian Paice and is sort of the inspiration for the drum cadenza in the Converto is Chasing Shadows from the 1969 Deep Purple album.
Our friends have stopped coming around. They used to enjoy visiting because I would put on some old rembetika songs and have some ouzo and mezedes and we would drink and eat and talk about politics or some of the interesting historical aspects of the island. Now they come over and I have Machine Head on at full volume and hand them a bag of pistachios and a beer and shout above the music trying to bring to their attention something about a particular song that they may have missed the last few times they came to visit and I told them about it. Sometimes when I see my friends at the cafeneon they will move their lips and pretend to be talking so that I will think that I am going deaf from listening to so much Deep Purple. They do this all night sometimes and in the end I just ignore them and drink my glass of ouzo and eat my fried gavros and think about sunny days in June on a remote beach with Machine Head blasting out of my boom-box.
I woke up today and it was cloudy and raining and I was depressed. I had to ask myself why on Earth anyone would come to a Greek island and write about one of the loudest rock albums ever made? The idea seemed so brilliant at first. Why did it seem so pointless now? Had my time spent here on Kea somehow matured me? Or was I just sick of listening to the same songs over and over again? Maybe it's famous writer syndrome like when you have had so much success that you think that anything you write must be good, sort of like Bowie or the Stones. Who will take the time to read this study? I can't even make myself proof-read it for spelling errors.
Conclusion
I suppose like any serious study I have to come to some kind of conclusion about the album and my last few months here. I realize that it would have made a lot more sense to come to this island to study the archaeology, or the raising of cows, or bee-keeping or just about anything besides Deep Purple's Machine Head. I realize now that not that many people give a damn about Machine Head, and now I have become one of them. I realize that if you look at something you really like, too hard, you may not like it as much. And if you look at something that you thought was just OK thirty years ago you may like it more at first, but if your tastes have matured you may end up liking it less than you did thirty years ago. I think the most interesting thing I learned is that if you make a documentary about the making of an album like Machine Head, you can get a lot of rock and roll writers to act like scholars and speak as if it is something important in the history of mankind. Let's face it: No wars were stopped because of Machine Head. No lives were saved. Nothing really came of this album except Deep Purple made a whole lot of money and fifty million kids learned how to play the intro to Smoke On The Water. In a way it was kind of a mediocre album that opened the door for guys like Peter Frampton. Musicians who could not make a 'great' album could make a mediocre album and still sell millions. Deep Purple may not have tried to make a great album. Machine Head is not their Sgt Peppers or Rubber Soul. Machine Head is the album where Deep Purple realized that if they created music at their own level they would have a bunch of concertos and mini-symphonies and be a band like Procul Harum, respected by their peers but commercially unsuccessful. Or they could take their ability and play simple music as well as it can possibly be played (maybe even better), and have massive success. As Peter Townshend said: "Play to the level of the audience". To the average bloke, the intro to Smoke On The Water is as sophisticated as music gets. Anything beyond that may as well be Brahms or Bach or Phillip Glass for that matter. If you want to be successful and reach the largest audience make simple music.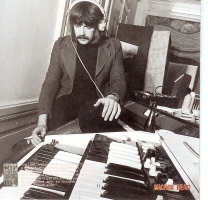 That being said, I now truly believe that Jon Lord is the most aptly named performer in rock music. Jon Lord is God. His composing and organ playing is what made the band so special. That is not to say the band would not have made it without him. They looked good, they could all play, they were hard workers, and good songs are not essential to success. But the Hammond and the classical influences that he injected into what would otherwise be just heavy rock and roll was revolutionary in a way. Not that he invented it. What he did was refine it so that instead of the 10 minute Vanilla Fudge style pieces that were just embellishments surrounding pop/rock songs he injected the classical, and jazz influences into the standard rock and roll format, usually in the solos. Any band would be lucky to have Jon Lord. To have both him and Ritchie Blackmore in that band at that period of time is enough to make one believe there is order in the universe. I also came to the stunning realization that whether this was Deep Purple's Golden age or not I wouldn't know because with the exception of Made In Japan, which was a live album that featured many of these songs, I never listened to another Deep Purple album again.
I realize that next year when I come back I need to be more careful about the subject I choose to study, especially in an environment as fragile as a Greek village where people have been doing things the same way for hundreds of years and the introduction of something as benign as a piece of music that has never been heard here before (like Machine Head so loud it drowns out the church bells) can have an effect on the people and village life. But this year was a learning experience for me and in the end, though there were some frustrations, it will help me with next years project, A Critical Study of The Stooges: Fun House.
See you then. Matt Barrett: matt@greecetravel.com