Those on the hippy trail who stumbled upon Koundouros in the 60's and 70's would probably not recognize the place now. But if you are a family with money to spare and love the sun and the sea there is probably a villa that is perfect for you if you are into that kind of thing now.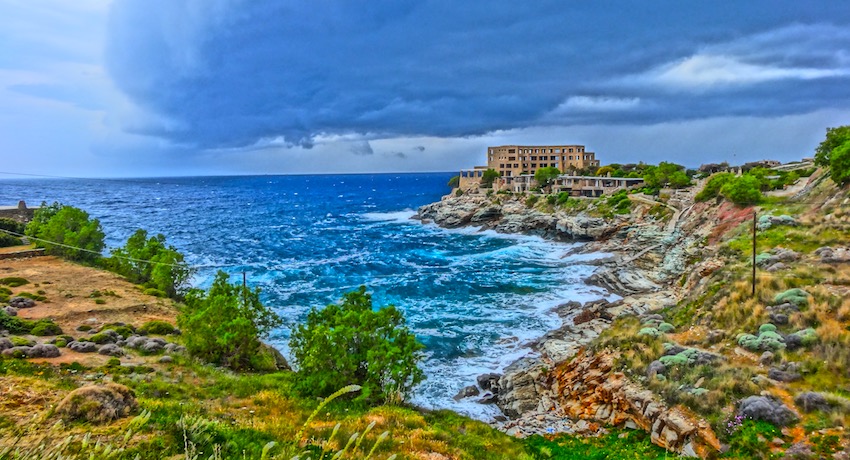 The first place in Kea I went to was Koundouros. Even before I went to Korissia, which is the port and the first place everyone goes to unless they arrive by helicopter. But in the early nineties during the Golden Age of the Flying Dolphins that left Zea Marina every hour to the Saronic Gulf Islands, there was a once a day hydrofoil to Kea. The first stop was Kea Beach, which was a large resort in Koundouros that was popular in the 70s but never quite got off the ground after a major renovation. The main building that was for years an ugly cement skeleton is still there, now encased in local stone, and giving the impression that maybe one day it may actually become a hotel, or something.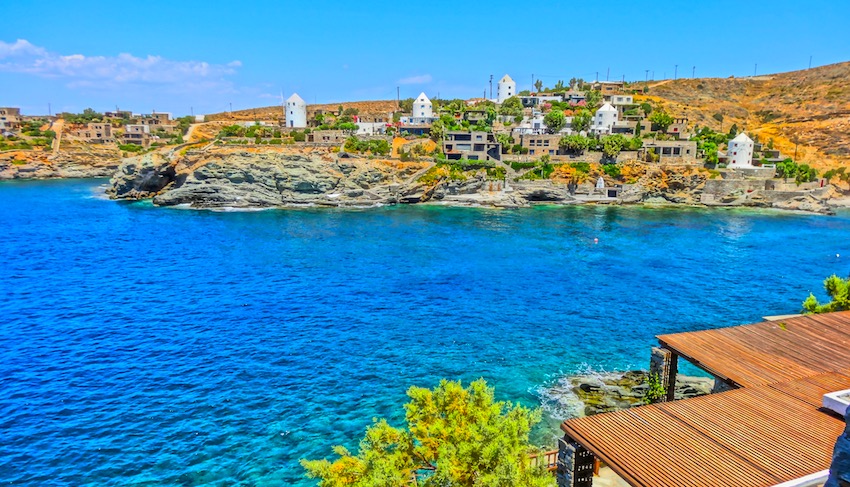 Also part of Kea Beach were the windmills and small cabana like houses which are now summer and weekend homes and holiday rentals surrounding the two coves, one of which has the small concrete dock where the Flying Dolphin stopped before continuing on to Korissia.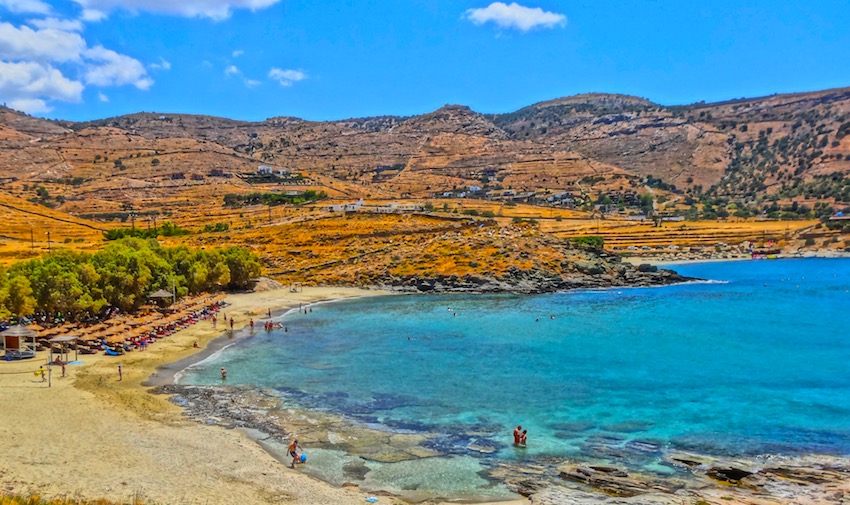 Koundouros has a number of beaches, all in sheltered coves of different sizes. Some have cafes, restaurants, beach beds, umbrellas, water sports and other tourist amenities while others are just tiny stretches of sand and a few big rocks and maybe a tree or two for shade. The main beach is probably the most popular beach on Kea due to it being sheltered from the north wind and the fact that they have spent a lot of money to make it like something you would find on Mykonos though with fewer people, lower prices and more Greek.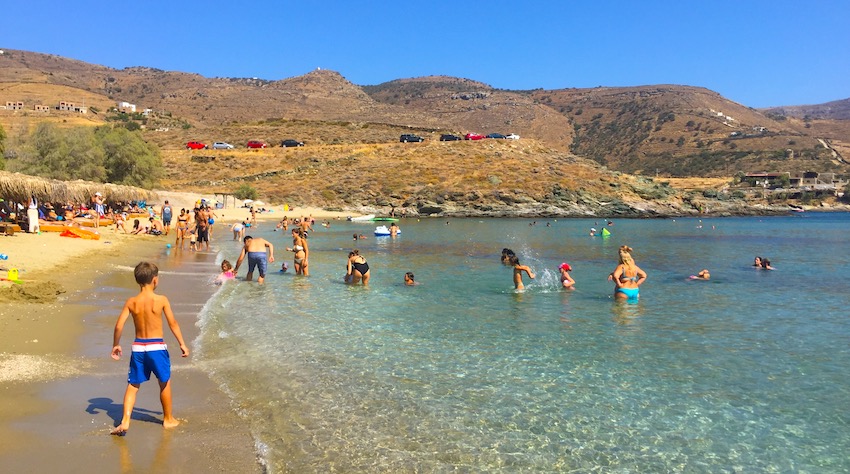 There is not really a town of Koundouros. It is a series of hills with expensive villas and summer homes and it seems like every year there are more being built. In the old days there were a couple restaurants that had rooms for rent, notably Manos and Saint George, which were pretty spartan and cheap. But Koundouros is now high end and most people who stay there are in villas. If you stay here you will need a car if not just to have a choice of places to eat. There is a seasonal restaurant/cafeteria at Koundouros Beach and a couple cafes at other beaches which if you are not too high up you can walk to. But for any kind of authentic traditional Greek taverna experience its a long way to walk to the restaurant in Kambi (which is great) or the two or three in Poisses. Like several hours. But Porto Koundouros is a good restaurant, more Mediterranean than traditional Greek, more beach bar than taverna, and they serve breakfast too. If you are staying nearby you should be happy with it though make sure itís going to be open if you are coming in the off season. Driving from the nearest taverna back to Koundouros with a belly full of paidaikia and wine will test your driving while inebriated skills to the extreme.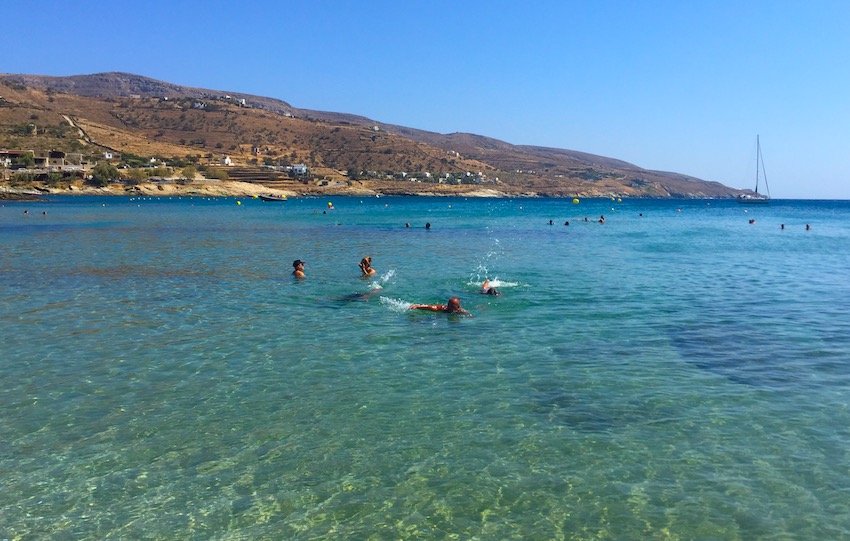 For me Koundouros is where I go if I want that developed tourism Greek Island beach experience with beautiful women slathered in oil cooking in the sun, getting up every 20 minutes or so to take a dip and show off their bikinis, while I paddle around trying not to be too obvious that watching their short journey to the sea is the high point of my day. Though more than likely I am there because my wife and daughter wanted to come to see and be seen and Iím just along for the ride, or more accurately, to drive them. But during my once or twice a summer visit to Koundouros I am always surprised at how nice it is there, like a more civilized version of what youíd find on the most popular tourist islands.
Where to Stay in Koundouros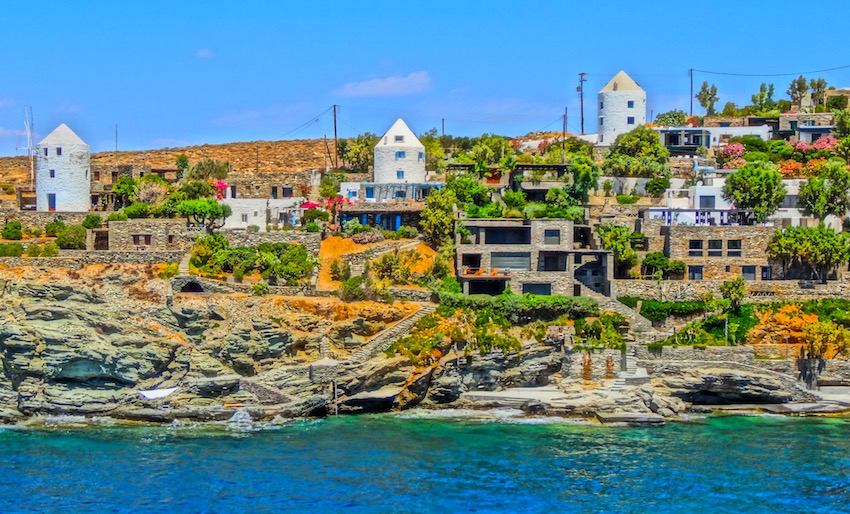 As for where to stay on Koundouros itís pretty much villas and holiday homes. Some are owned by families who rent them out during the summer and others are owned or managed by companies who jumped in during the big AirBnB boom and are now wondering what they have gotten themselves into. If it was me I would let them stew and stay in or closer to the main towns where you have a good selection of restaurants, cafes and shops since itís a 45 minute drive from Koundouros to the nearest supermarket. But I can understand the appeal of staying in a beautiful stone villa with a pool and a view of the sunset, Koundouros to Kambi being the only beaches facing west that have accommodations where you can watch the sunset.
Porto Koundouros Villas is located on the beachfront in Koundouros. Free WiFi is featured throughout the property. All units feature a cable flat-screen TV and CD player. Some units include a seating area and/or terrace. There is also a dining area and a kitchen equipped with an oven and toaster. A refrigerator is also offered, as well as a coffee machine and a kettle. Featuring a swimming pool, a bar and a garden and views of the pool, Iris villa is located in Koundouros and provides accommodations with free WiFi. Each unit has a patio, a fully equipped kitchenette with a fridge, a seating area with a sofa, a flat-screen TV and a private bathroom with shower and a hairdryer. Some units include a dining area and/or a balcony. Located right on the beach, in Koundouros, Villa Aphrodite features self-catering accommodations with a flat-screen TV and free WiFi. Guests will find a beach bar, a restaurant and a cafe within a short walk. All air-conditioned units include a fully equipped kitchen, allowing guests to prepare their own meals. Sea and Sun House is a 2 bedroom villa with a spectacular sunset view. There is a seating area, a dining area and a kitchen complete with a dishwasher and an oven. Towels and bed linen are provided. Other facilities at Sea and Sun House include a sun terrace.