Kea could be the next popular island in Greece. Maybe not for everybody. But for certain travelers who come to Greece with an open mind and a desire to experience Greece as the Greeks do, Kea has a lot more to offer than the islands you have probably heard of.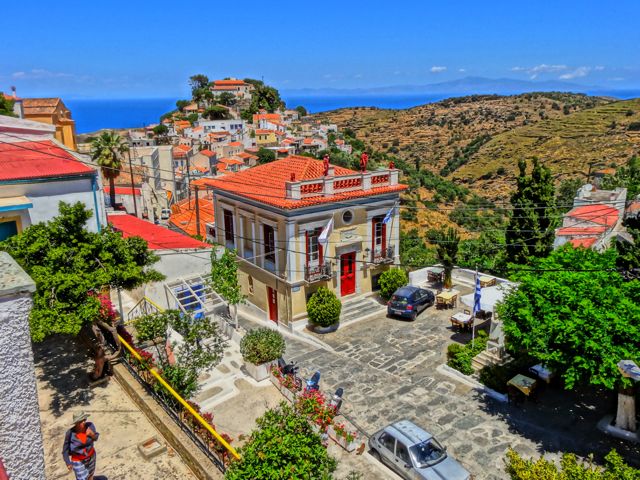 In Kea there is no organized tourist industry pumping out slices of Greece for travelers who make the Greek islands this year's destination, the Carribean the next. Until recently there were several decent hotels, but not of the quality people find in Mykonos and Santorini where hotels are like biospheres that make the rest of the island unnecessary if all you want is a little relaxation by the pool, a nearby supply of liquor, and someone to make your bed. You could find a small hotel in Kea and it would be simple and clean and cheap. Unlike some places in Greece though, the hotel would not be your pleasure oasis from where you occasionally venture out for a taste of the local culture. It was a room with a bed and maybe a kitchen and pleasant garden that you returned to after a day (and night) of exploration. That has changed. Kea now has hotels that rival those of the other islands, with air-conditioning, swimming pools and room service. But for some of us this is not why we come to Kea. But for those who do it is nice to know they are there.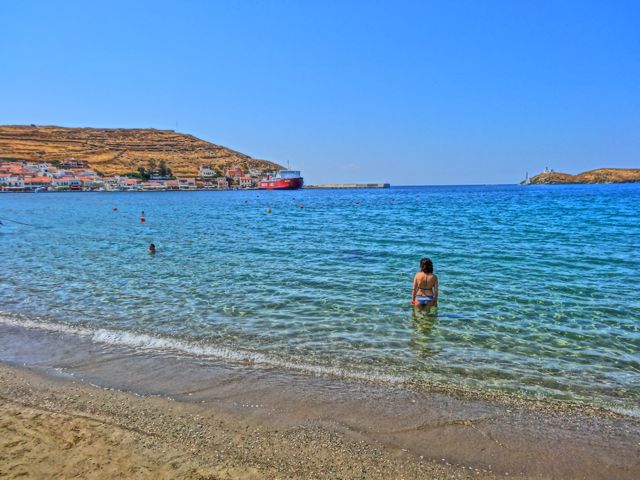 The island of Kea, despite being the closest Cyclades island to Athens, in terms of tourism is just coming out of the dark ages. Why is that? Very simple: Even though it is close to Athens the only ferry connection is from the town of Lavrion on the other side of Cape Sounion. There are no regular boats from Pireaus, the main port of Athens, so getting to Kea is a bit of a hassle. But that is about to change because the new international airport at Spata is a 45 minute drive from Lavrion and already the docks have been built for the new ferry hub for people who wish to head straight out to the islands and skip Athens, at least at the beginning of the trip. When that happens the island of Kea is sitting there with the traditional qualities that are found on some of the most remote Greek islands, waiting to embrace the tourism of the 21st Century. With a little luck and planning it will embrace the right kind of tourist. The type who has come to find the Greece they have read about in the books of Lawrence and Gerald Durrell (or Andy Horton for that matter). A quiet beach with a small taverna or two, a traditonal village in the mountains and ancient paths over mountains and hills through fields of wildflowers and terraced gardens and orchards.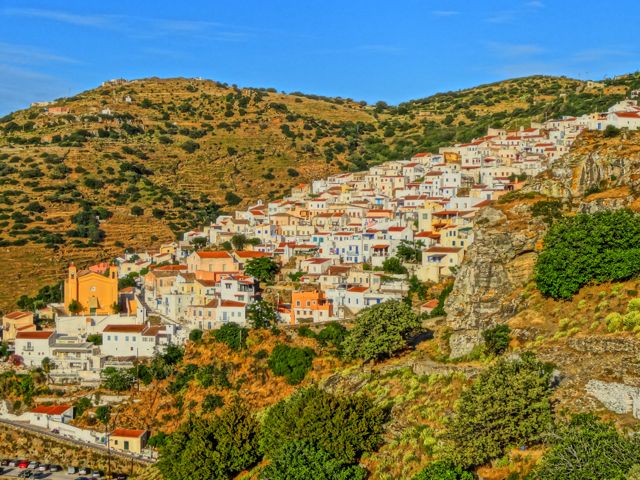 Kea is a strange and slightly mysterious island. It is one of the largest in the Cyclades and there are loads of excellent beaches, many archaeological sites and one of the most amazing traditional villages in Greece. But the people who have survived without tourism for the last 5000 years don't seem that anxious to embrace it. Some would call them unfriendly. But the fact is that they are not really unfriendly or hostile. They are just Keians (or Tziotes actually) and even if they seem a bit aloof it is just their manner and when you get to know them they are as hospitable as any islanders. At least this is what people who know them say. It takes awhile for an entire population to put on a happy face for the tourists. Give Kea time and they will be as friendly and welcoming as the domatia-kamakis on the island of Paros. For now appreciate the Keians for being what they are: farmers and fishermen whose island has survived the invasion of the Athenians and is now preparing for the inevitable invasion of the tourists. The question is will they be tourists looking for a sun, booze and beach or will it be tourists who are more related to the travelers of the 19th century who were more like students of the world seeking new tastes and experiences?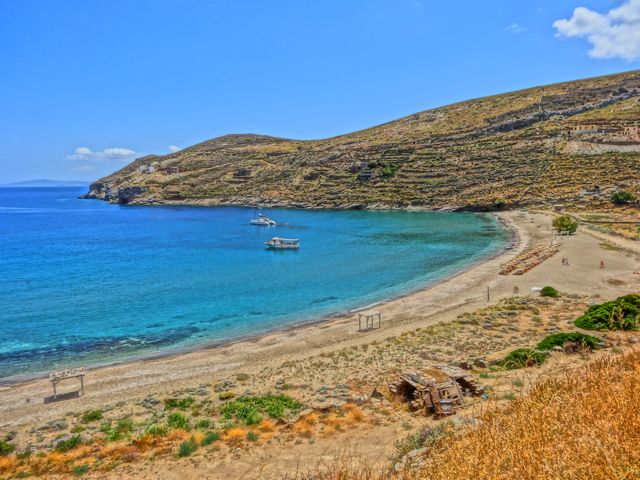 If you are looking for the Greece of beach chairs, umbrellas and throbbing loud disco music, you probably want to keep going past Kea and get off the boat in Mykonos or Santorini whenever such a ferry line comes into service. In the summer you will find beach chairs and umbrellas on several of the beaches but with the exception of Galliskari and Korissia, the only music is the sound of the sea. If you are looking for a place where you have to work a little harder for your pleasure or be patient and watchful and let it come to you, then visit Kea where you can walk through mountain ravines and come upon ancient cities and walk down thousand year old stone streets past farms that have been there for centuries. An island where a short walk past fountains and springs brings you to a giant stone lion that with a big smile on its ancient face has guarded the terraced hills since before the days when Socrates walked the streets of Athens. But it's an island where you can also get a strong double espresso at just about any cafe and for people like me who like to walk but need a little bit of prodding this is essential.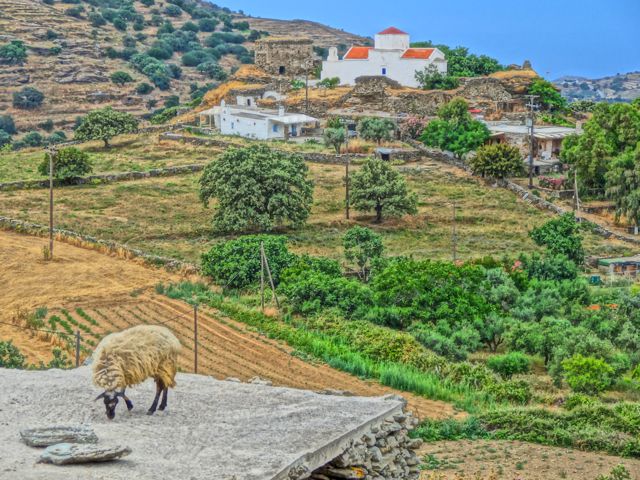 Kea has a lot to offer and until the island gets it's tourism into motion you can experience a Greece that has begun to disappear and still be within a couple hours of Athens. And hopefully when they do get the tourists they will be of a quality that appreciates the island for what it is, and the people who promote tourism on the island will realize that what they have is unique and not try to become the next Mykonos, Paros or Naxos. With a little insight they may realize that you don't have to cater to the lowest level of traveling society in order to be successful in the travel business. By keeping Kea as simple and authentic as it is they will be inviting a class of travelers that is unknown on some of the islands that have become replicas of what a Greek island is supposed to be.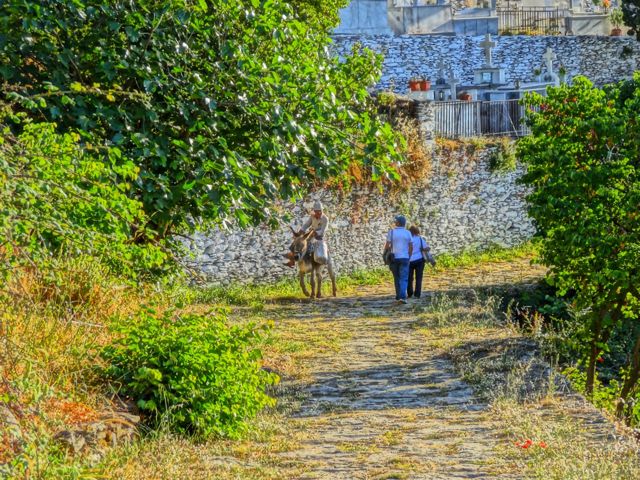 Kea is for people who think creatively. Kea is for people who breathe deeply and become high on mountain air and a salt breeze from the sea. Kea is for people who will walk for five miles to stand on the steps of an ancient temple where a lost city once honored their gods. Because even though Kea has beaches as beautiful as any of the other Cyclades islands, where it really shines is inland with ancient terraced fields everywhere and fertile valleys and ravines that wind through the mountains. The island has a network of ancient footpaths and roads and anyone who loves walking will appreciate the beauty of Kea, especially in the spring when the winter rains have turned the hills green and the wildflowers are everywhere. Though it appears barren when you first approach it, Kea is rich in olive trees, fruit trees, almond trees and the oak trees whose acorns, which were used to make dye, were the primary livelihood of the inhabitants for centuries.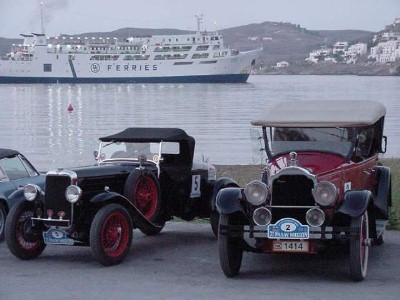 You never know what 20th century surprises Kea has in store. One summer when we came during June the island was full of vintage cars and I spent the first several hours taking pictures before taking a taxi up to my wife's family house in Ioulis. How often to you get to see cars like these in such a setting? If you like vintage cars show up on Kea during the month of June and maybe they will be there again and if you can't make it you can always click here and see my photo collection from that day. But if you don't care about vintage cars and just want to go to an island that is for now, unspoiled by tourism with nice beaches and beautiful countryside and enough ancient sites to keep even the most classically educated professional archaeologist happy then come to Kea. You can rent a car or motorbike and explore the back roads and come across ancient towers and farms that have been there for ages.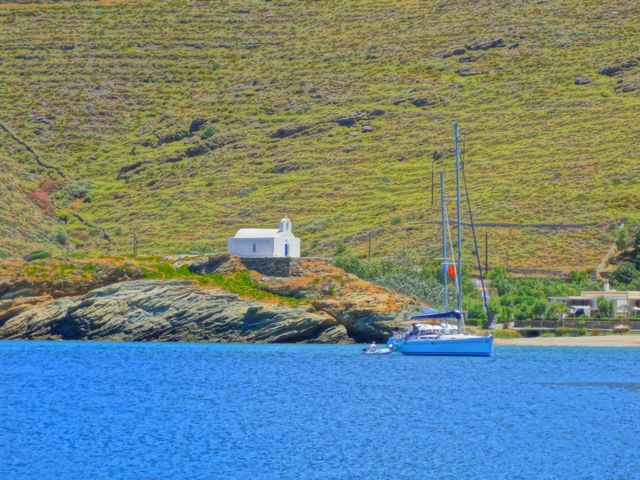 There are 130 churches in Kea of all different shapes and sizes including the three cathedrals, (one of whose clock and bell tower is about 20 feet from my window and rings on the hour and half hour).There are also numerous shrines and several Byzantine monasteries. The patron saint of Kea is Agios Haralambos who reportedly saved the island from a plague in 1823. His name day is celebrated on February 10th. The celebration of Carnival, or apokreas, the period before lent, is a time of music and parties particularly in the countryside. During the festivities leading up to Easter, the entire island flocks to the chora (Ioulis). On Friday there are three processions through the streets, each from one of the towns 3 cathedrals. On Saturday night is the midnight mass and the lighting of the candles and early Sunday morning is Easter dinner. When someone dies in Kea the family hosts the Dinner of the Dead, called the Makaria which is less a grieving than a celebration of the person passing on to the next phase of the cycle of life and death. There are numerous other festivals and church celebrations whose dates can be found by asking someone on the island. Many of them feature dancing and live music played by the outstanding violinist Antonakis Zoulos, the former assistant mayor of Ioulis. (When I first created this page sometime around 1998 I mistakenly wrote that Zoulos was the Mayor of Kea after misunderstanding what he had actually told me. When it was pointed out that he was actually the assistant mayor I changed it. But since then several popular guidebooks have written that the famous violinist Zoulos was the mayor. I wonder where they got their misinformation?)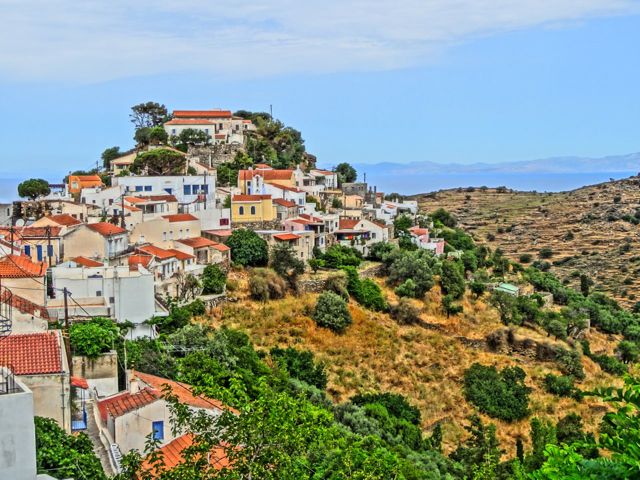 Kea is the island that I may end up living on someday. That's because my wife's family comes from here. Yes I would probably rather have a house in Sifnos where I have lots of friends and the cooking is said to be better, or in my grandmother's village in the Peloponessos with my old friend and mentor Jack Marlowe to keep me company,(now deceased so I guess that plan is out). But I know that Andrea generally gets her way in these matters so I have to accept the fact that when I finally move to Greece it will most likely be here. But once there are more boats connecting Kea to the rest of the Cyclades it would be tough to think of a better island to live on, especially since they have built the new road to the airport from Athens and cut another hour off the time it takes to get here. You can be in Lavrion in about an hour from central Athens and 30 minutes from Venizelos airport. The new ferry Marmaris Express makes the trip from Lavrion to Kea in exactly one hour. (Almost in answer to my prayers there are now connections from Lavrion and Kea to many islands.)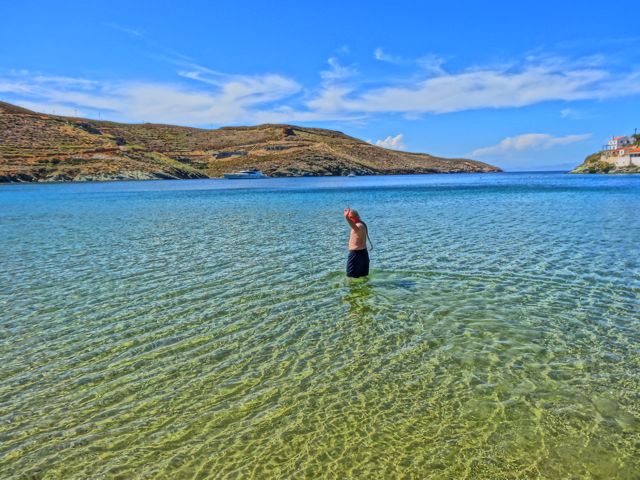 So in anticipation of the future popularity of Kea, this is my website for the island of my wife's family, the island closest to Athens that feels like it is the furthest. Kea is not for everyone, but it may be for you. And maybe if I can convince enough smart, culturally oriented travelers to visit the island, not only will it be more interesting for me and the locals, but it will also make it unnecessary for the islanders to try to attract the sunburnt hordes who would be better off having their sights set on beaches and bars of Mykonos. In the meantime it is just me, my wife and daughter, the islanders, the Athenians, the foreign artists and writers who were smart enough to buy homes here, a few thousand Albanians and a handful of tourists. We will all be here if and when you finally decide to come. Until then we will be taking walks in the countryside, going to remote beaches, eating at Rolando's and Yiannis, listening to Zoulos, watching the freighters sail by at sunset with the island of Makronissos and the mainland of Attika in the distance, smelling the wild herbs and hearing the call of donkeys and the crow of roosters instead of the endless revving of motorcycle engines. And drinking espresso of course.