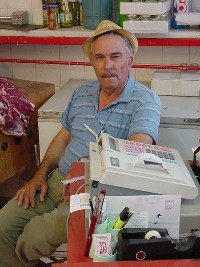 The late, great, Antonakis Zoulos was one of the finest traditional violin players in all of Greece and a living legend in his time. I have not been to a panagiri or wedding where Zoulis did not work his magic over the crowd and his performances would begin at dusk starting slowly with bouzoukia and ending at dawn in a frenzy of violin notes and dancing. I have listened to him from my bed as the notes from his violin began competing with the roosters and the waking birds on an August morning and wondered how on earth he was making the sounds he made. The sounds that Zoulos was able to do coax out of the violin are no less remarkable than what Jimi Hendrix did with an electric guitar, fuzz, wah-wah a few thousand watts of amplification. And and the later it gets, the better he played. The last two celebrations I experienced in Kea did not end until the sun came up and one, a baptism, went almost until noon.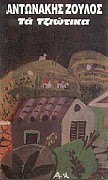 Andonis Zoulos was also the vice mayor of Ioulis, the capital of Kea and one of the few politicians in Greece who has recorded an album of traditional music. In fact I would go out on a limb and say it is one of the finest albums of traditional music that I own. With a bluesey voice and his amazing violin work, Zoulos, accompanied only by Panayoitis Perdikaris on laouto recorded 13 songs from the island of Kea. The title Ta Tziotka, means the songs of Kea (Tzia). These songs are lively and the album well recorded. I am not certain where, if anywhere you can find this now. You can probably ask at the Town Hall or at Aristaios Traditional Food Market in Milopotamos on the road to Ioulida. E-mail them and ask
There are several festivals a year that Zoulos played at, the biggest probably the name day of Mary, the Mother of Jesus, known in Greece as the Panagia on August 15th. Festivals for saints are called Panagiris. Other festivals on the island are Agia Triada, Agia Anargiri, Agia Marina, Agios Emilianos and the festival of Agios Yannis Prodromos on the 24th of June. The period preceding lent, called Apokreas is a time of partying in Kea and there always seems to be some kind of wedding celebration going on in the main square. When we would hear about one of the smaller panagiris that was not as well known the person telling us about it would add "...and Zoulos will be playing!" Which meant even if you have never heard of this church and the panagiri you should come because there will be food and drink and probably go on all night long.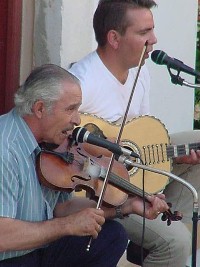 If you have a highspeed connection you may enjoy these videos I took at a baptism in July if 2005. I had been sitting at Rolando's watching the dancers and listening to the music until about one am when I decided to go to bed. I woke up just as the sun was rising and the music was still going on with Zoulos and his young guitar player sounding like they could go on forever. They did. Until noon. Just as amazing is that the guests were still dancing. One day they will say to the little girl "At your baptism Zoulos played and we danced until noon!" Watch in the first video as the dancers come up and have a conversation with him as he is trying to play a solo, then to get his attention throw money in, or towards his box. Everytime somebody wants to dance they drop in a 50 euro bill or more. I would estimate that Zoulos pulls in the kind of money at a panagiri in the square what rock stars make in a good sized arena. Amazingly, when his good friend Giorgos Grekas, the young butcher died in a car accident, Zoulos decided he could not play in the square for two years since Giorgos had been such an integral part of the festivities.
For a sample of a life performance of Zoulos I recorded at a wedding during the summer of 2000 click on the following links. The first song was recorded in the late afternoon and the others at night which is why they are a bit hard to see. But the sound quality is ok. Not as good as the album though.

Antonis Zoulos died in 2019 and Kea will never be the same without him.