Ios: Where Spring Break lasts all Summer....
There is no island in Greece like Ios. There is no place in the world like Ios! Some might tell you it is like Spring Break in Daytona Beach or Panama city or even Cancun but the reality is that those places are tame compared to Ios. The island of Ios is an all out international party of college age people that lasts from June until the end of August on one of the most beautiful of the Greek islands. And for those of you who are older and can do without the partying Ios in the off-season is like any other Greek island: The best place you have ever been.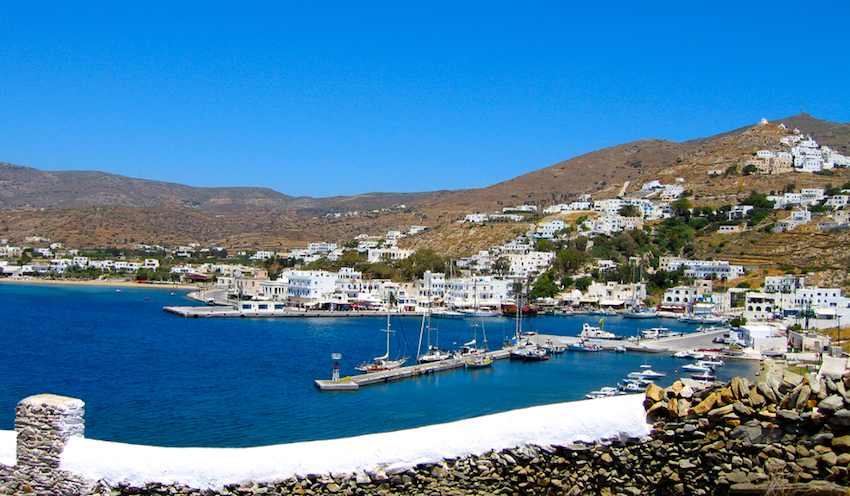 First impressions in Ios can be deceiving.... You arrive after a 7 hour boat trip from Athens to what looks like a typical port village, with cafes and restaurants lining the square. But the old Greeks who play tavli in the cafeneons are few and most of the people hanging out are young, tanned and healthy looking considering they have probably been partying until dawn every night. Because once the sun goes down, this quiet port and the typical cyladic looking village that overlooks it from the hill above, literally rocks all night long. Those innocent little white geometric houses open their doors to become discos, bars, rock clubs, boutiques, snack bars, cafes, restaurants and anything you need to cause or cure a hangover.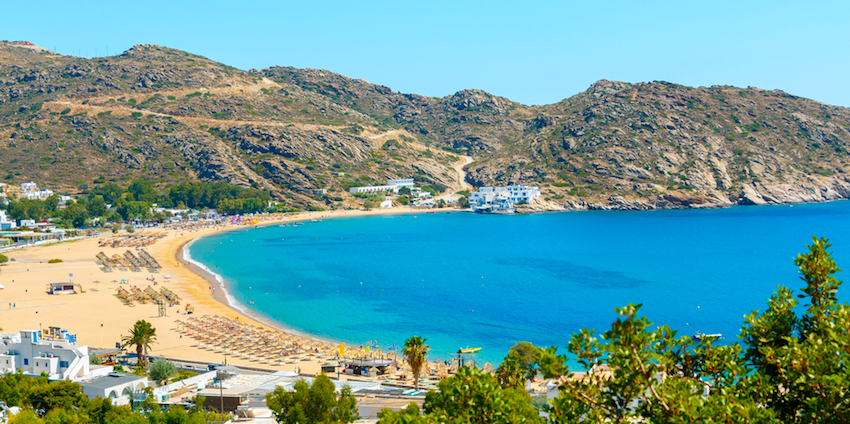 Days on Ios are spent on the beach with Milopota being one of the longest and finest in Greece, packed with young people of every shape and color, from every country on the planet and perhaps some planets beyond. It's a time for swimming and meeting people in the cafes and restaurants that share the beach and for some it's the time to get an early start for the evenings festivities if not a little hair of the dog. There is a wide range of water sports including scuba diving, windsurfing and some of the more obnoxious variety like jet skis or being dragged behind a speedboat on a giant floating banana. Around the island of Ios there are other beaches including Manganari which can be reached by small boat or by bus. Rooms can be rented there as well. Other beaches on Ios include Valmas beach, a ten minute walk, Psathi beach across the island and Kolitzani which is almost in town.
When the Greek sun begins to go down and the air begins to cool people make their way up the road to town, passing clubs and bars on the way. It may take a couple days to find the bar that suits you the best or you may find they all suit you. You may find that none of them suit you but you don't really care because you are happy to be there. Many people begin their evening by watching the sunset from the Ios club, listening to classical music, a tradition at least since I was first there in 1973. Once the sun has set it becomes a disco and you can remain there and wait til the new crowds arrive or you can have your choice of several dozen other night spots. The main square in the upper village, so peaceful in the day is so full of young people at night that you can barely get from one side to the other. There are Irish pubs, jazz bars, rock clubs, slammer bars, discos and believe it or not even a bar that plays Greek music. As for restaurants you will find all your typical Greek fare and some places that are not so Greek and not even fare. There is a Mexican restaurant, Italian, Indian, and a Greek Taverna called Christos, with fresh fish caught with their own boat.
Though renown worldwide as the party capital and with a reputation that has lasted decades, Ios is also popular with older people too. Whether these are the same travelers who came here twenty years ago and are reliving their youth or sharing it with their families ("Look honey those are the steps where Daddy passed out on ouzo for the first time and woke up stark naked with his clothes nowhere to be found.") can only be ascertained by asking each person individually. ("Old man. What was it like here in the seventies?") But don't be afraid to approach them. They will be happy to share those stories that they can remember. I know I am.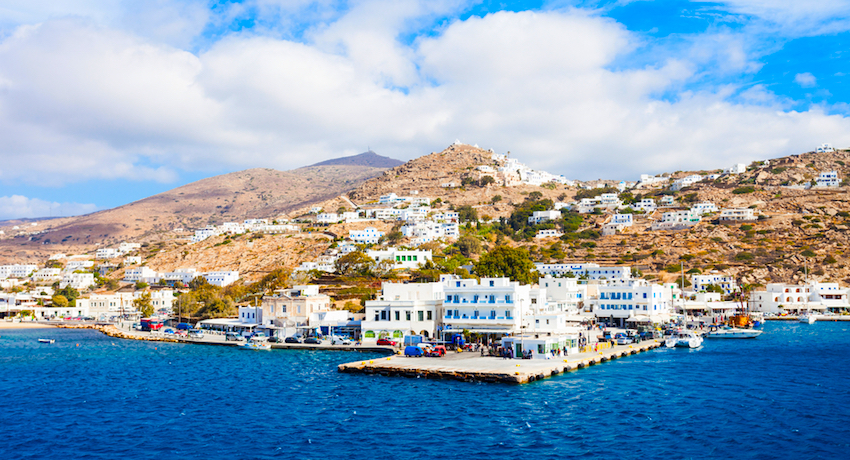 The worst part of Ios is trying to leave. I know that when our holiday was coming to a close it took us several trips to the port before we found the strength and courage to get on the ferry back to Athens and even then we would have jumped off except for a hippy couple who had jumped on and blocked our escape as the boat was leaving the dock. But you can also leave for other islands since Santorini is an hour away and Mykonos two.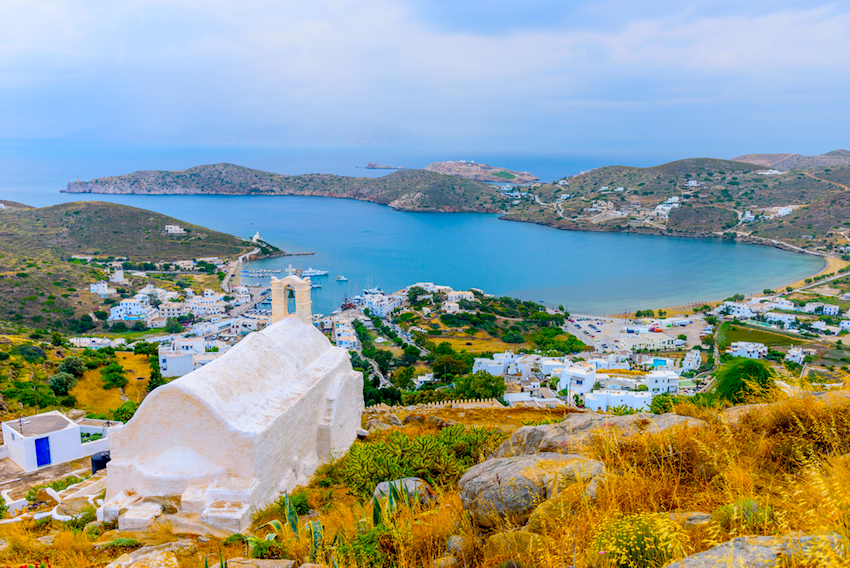 There are rooms to rent but in July and August you may want to book in advance so you don't spend all your time unsuccessfully looking for one. There are campsites too including the famous Far-Out camping which is sort of the cultural center of the island, with a bar that is open 24 hours a day, two swimming pools, a restaurant, basketball courts, volley ball and watersports. It's like a college town without the college (or the town).
Speaking from experience, I am old and grey now, but my time in Ios I will never forget. I made wonderful friends. I had great girlfriends from all different countries. I drank more then I ever thought capable and I was amazed at how quickly a serious hangover can disappear when one has the clear blue Aegean sea to nurse you.
If you are of college age and you had fun on springbreak, or you didn't... go to Ios. Guaranteed to blow you away. You may never be the same.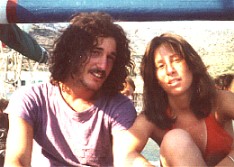 Matt Barrett and friend Jill in Ios 1973
Travel Information for Ios
For more info, ferries and accommodations visit Dolphin Hellas or Fantasy Travel. Both agencies have island-hopping trips that feature Ios in combination with Santorini, Crete, Mykonos and other popular islands, as well as great rates for hotels on Ios and in Athens. For students and budget travelers contact my friend Giorgios at Aegean Thesaurus Travel who probably has the lowest rates for any of the hotels on the island that you will find and also provides great service.
For ferry schedules and tickets I recommend Ferryhopper.com where you can book your tickets and pick them up at the port right by the boat.
I recommend Fantasy Travel's Island Hopping Packages which offer low prices and they take care of all the details: 1)Athens-Ios-Mykonos 2)Athens-Paros-Ios 3)Athens-Ios 4)Create-your-own-Ios-itinerary
If you are traveling to Ios and are on a budget or want to save your money for some of the other things this island has to offer take a look at the Markos Village Hotel in Ios Town, close to the nightlife and still easy walking distance from the beach (and it has a pool and free wireless internet). Going with a group? Rent a sailboat. It can be cheaper than staying in a hotel. Going alone? Join a flotilla.How about a cruise on a cabin charter with twenty or so cabins that stops at the islands the big cruise ships can't?

You can also find hotels and descriptions on Booking.com's Ios Pages where you can find reviews by other travelers and in many cases cancel a booking without a penalty. You can use the search options to find rooms, apartments with kitchens, villas, houses and more, by price, location and customer satisfaction.
For more Greek Islands Visit Matt Barrett's Greek Island Synopsis and Greece Travel Guide
If you arrive from abroad and you need to get to Pireaus to catch the ferry to Ios I recommend George the Famous Taxi Driver. Plus if you have some time to spare, as some of you will, you can do a little tour of the city. For your return to Athens from Ios I also recommend using him to get to your hotel or the airport. When the ferries arrive in Pireaus there are usually just 3 or 4 taxis waiting for several hundred disembarking passengers. You will be very relieved to see a guy holding up a sign with your name on it.
If you need to spend the night in Athens either on the way there or back I recommend the Hotel Attalos which is on the metro line from the airport and to the port, it is inexpensive, clean, has a great rooftop bar with a view of the Acropolis and you can walk to all the historical sites, museums, restaurants, clubs and shopping areas.
Thank you to Fantasy Travel for the above photos.
Ios Hotels
If you are eager to book your hotels in Ios and don't want to go through a travel agency here are some of the most popular. Click on the hotel name for more photos and booking information. They are listed from highest category to the lowest.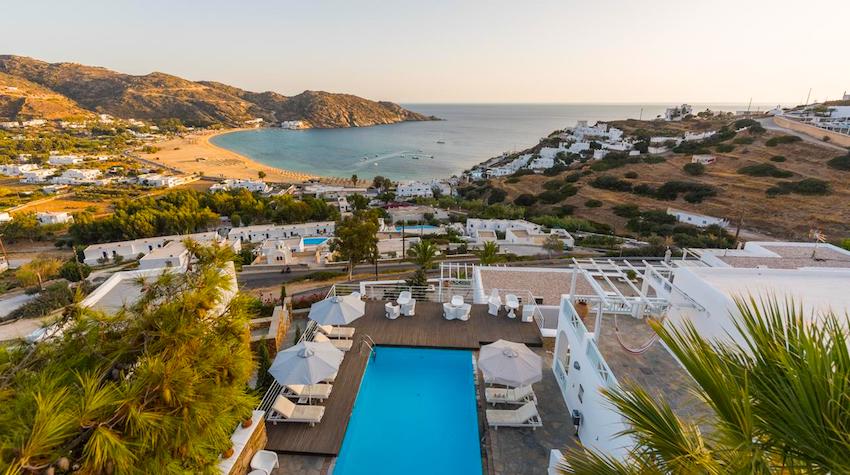 (Photo above) With the calming view of the Aegean Sea and Mylopotas Bay, this hotel makes the perfect choice for a relaxing holiday where your body and soul come first. Cool down on the top of the world; the swimming pool is situated on the roof of the hotel and has the most incredible view. Here you can stay away from the crowded beach and stay fresh in peaceful surroundings. Enjoy the amazing sunset with an exotic cocktail from the pool bar and some chill-out tunes. Spend some time in the spa or the gym to revitalise yourself before you venture to the nightlife of Ios. To experience Far Out Hotel & Spa is to experience a world of tranquillity and well-being for body, mind and spirit.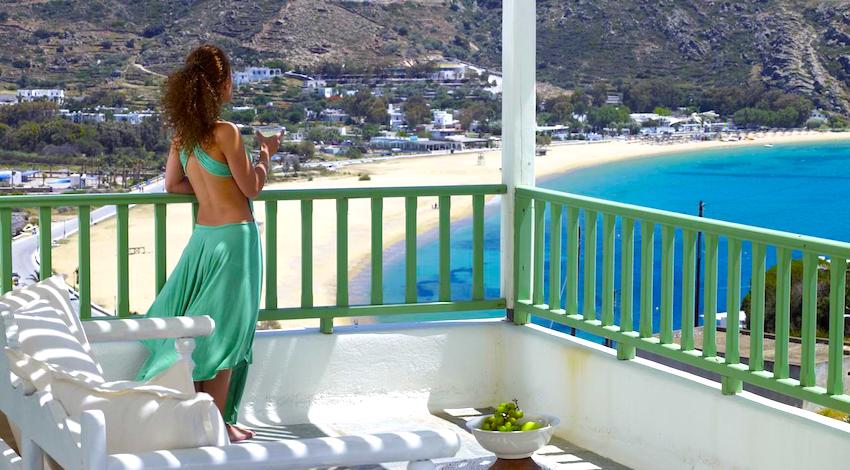 Over an enchanting bay, merely ten minutes away from the harbour of Ios, in the famous beach of Mylopotas you can find the Levantes Luxury resort. What will really sweep you away is the amazing view of the neighboring islands and the bay, part of the Cycladic landscape. The Resort is built according to the traditional architecture of Ios, with large surfaces made of stones collected from the neighbouring mountains. The effect beautifully combines the whiteness of the building with the blue colour of the sea.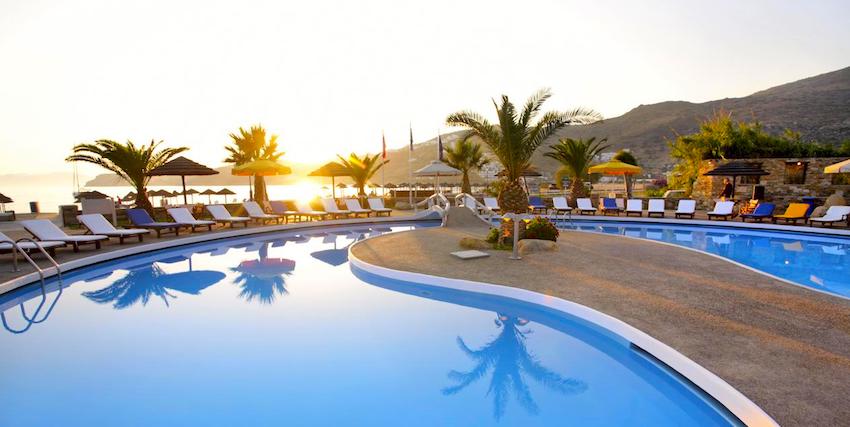 The Far-Out Village Resort Hotel was built in 1995, harmoniously designed in the traditional Cycladic architecture and set on the beautiful Mylopotamos Beach. The hotel was set on the site of a typical Ios summer style villa and has kept the shaded gardens surrounding the white buildings and the main house in its original style.
Situated on a hillside with breathtaking views facing the setting sun, this traditional hotel is just a short walk from both Ios Village and the beach. Liostasi Ios Hotel enjoys a picturesque setting, just a short walk from the captivating bays of the island. The deluxe hotel offers a variety of stylish and comfortable rooms to meet your individual needs. Spend the day relaxing around the outdoor pool or in the soothing Jacuzzi. In the evening, relax with a drink on your private balcony as the sun sets.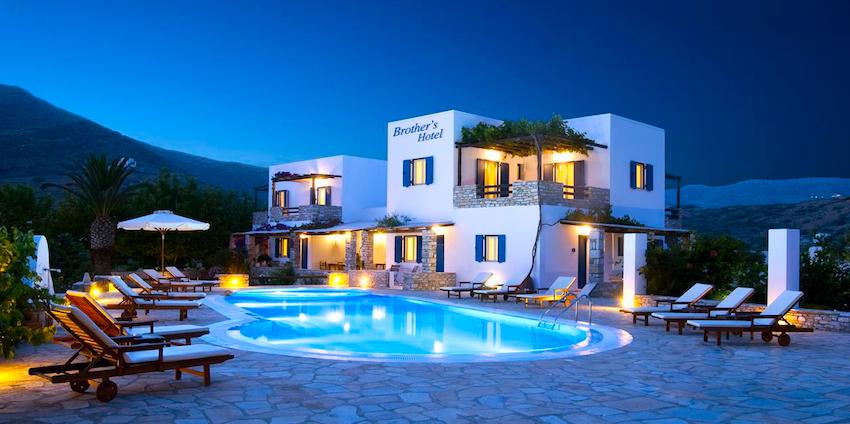 Welcome to Brotherís Hotel, where comfort, quality and style meet budget accommodation. Situated near Yialos beach in Kambos Valley, within walking distance of Ios Port, this family-run hotel combines a peaceful location with modern facilities. There is a beautiful open air swimming pool, ample parking space and a bar that serves a range of refreshments and snacks. Rooms are spacious and well-equipped to ensure a comfortable stay, each with a private balcony with views of the pool, sea or gardens. The Brothers Hotel offers a peaceful, family atmosphere for a perfect getaway.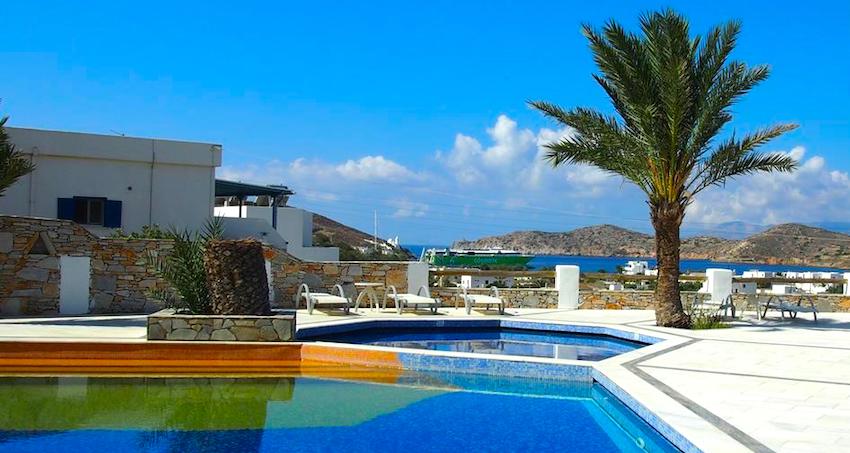 Situated just between the village and the port of Ios, Homerís Inn Hotel is an excellent base for travellers seeking the best of both worlds. Enjoy a cocktail at the pool bar, after a swim in one of the largest outdoor swimming pools in Ios. Admire the lovely views of the port and Yialos beach from the spacious breakfast lounge. Take the 10 minute walk to explore the village or reach the port in just 5 minutes. There is also a very regular bus service, from right outside Homerís, which can take you to Mylopotas and Koumbara beach. Recently refurbished, Homerís Inn offers all modern amenities, including wireless internet access, air conditioning and satellite TV.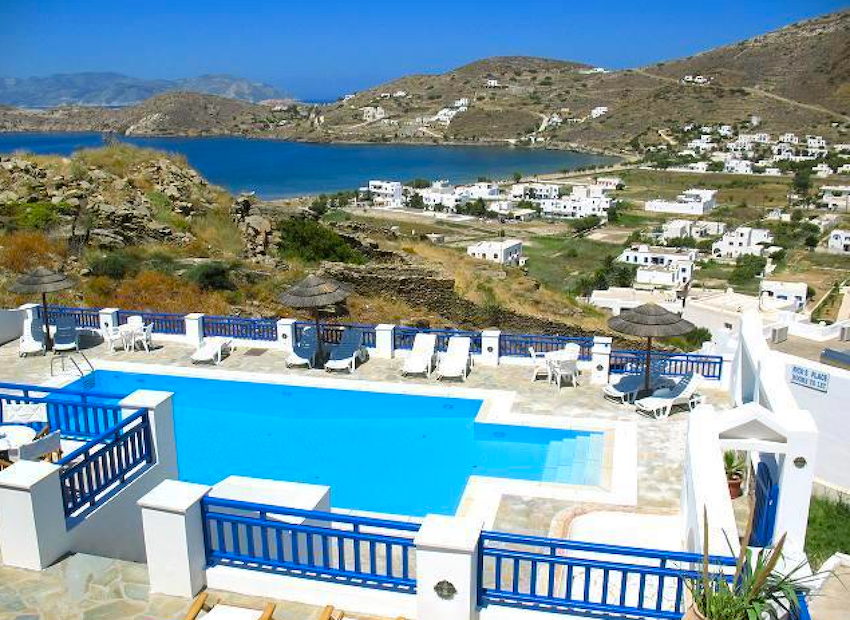 Peacefully situated and overlooking the beautiful resort of Yialos, this modern yet traditional hotel has been built according to typical Aegean architectural styles and offers wonderful panoramic views. This convenient location provides easy access to all areas of greater Ios. The beach, the port and the city centre are within easy walking distance. In the vicinity you will also find an active nightlife, excellent transport links and modern amenities. There is a large outdoor swimming pool with free loungers, parasols and a smaller pool for children. The bright, light interior is designed and decorated in a traditional style which generates a very homely feel. The hotel also includes a restaurant and bar. With a warm atmosphere, stunning vistas and comfortable accommodation, this picturesque hotel features all that you can wish for in a holiday in this beautiful area.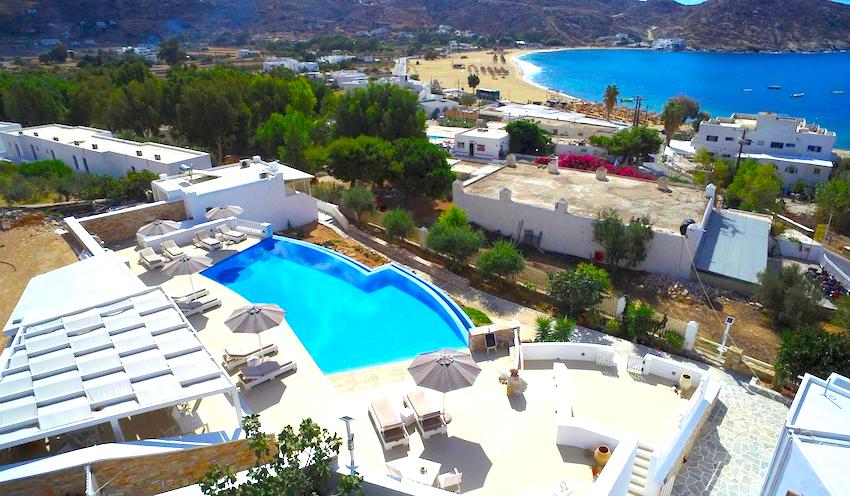 Galaxy Hotel enjoys a privileged location, since it is located in Mylopotas beach, just 3 km away from Chora, and only 50 meters away from the beach itself. The hotel is built with the philosophy and the simplicity of Cycladic buildings, and it harmoniously combines white and stone, in a way that harmonises with the natural environment. A garden with particular care, offers the dew and the shade of green, to the rooms of the hotel and the visitors. Very near the hotel is the bus stop with very frequent itineraries to the Chora and the harbour as well as other regions of Ios.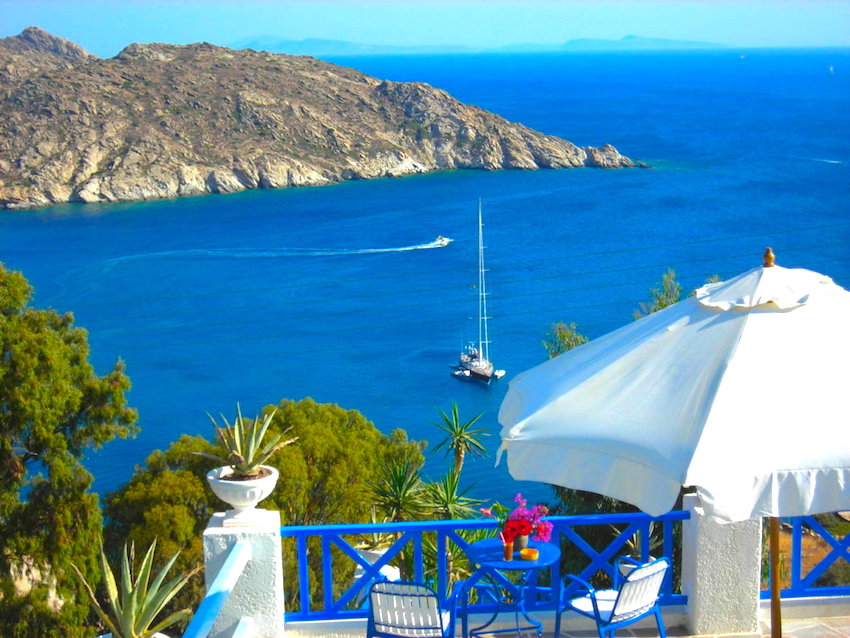 Pelagos sudios are located in Mylopotas, only 750 meters away from the beach and 650 meters from the main village. Pelagos offers quite family atmosphere and great views to the Aegean Sea.
All rooms are modern equipped, with mini bar, shower, safety boxes, verandas and view of the Aegean Sea and Mylopotas beach. Guests may enjoy their breakfast in the sun terrace, while enjoying the blue sea views. The location is ideal to explore the island of Ios and its beauties. Free transfer is offered from the port.
Mare Monte hotel is situated on the beach, only a few hundred meters from the main port of Ios. Offering a beautiful view of Yialos beach from one side and the mountains of Ios island on the other side, the hotel enjoys a privilege location in a peaceful surrounding. The rooms come with an en suite bathroom, and all modern facilities, as to satisfy the needs even of the most demanding guests. At the swimming pool and poolside snack bar you can enjoy your drink while taking in the sun. You can start your morning with a rich buffet breakfast served in the breakfast room. The Mare Monte Bar is designed to sweep away the weariness of the day.
See more hotels in Ios
or use Matt Barrett's Create an Itinerary Form and we will help you with hotels and ferry tickets. You can also find Villas, Self-catering apartments, holiday homes and Air BnB Style accommodations by using Matt's Greek Villas Search and on Matt's Hotels of Greece Ios Page.

Use Ferryhopper to find all direct and indirect ferry routes for the islands of Greece, Spain, Italy & Turkey, compare ferry companies & prices, and book cheap ferry tickets with no hidden fees in one go!